Enter dates to see full pricing. Additional fees apply. Taxes may be added.
Completely renovated space with beautiful hilltop view of Bethlehem and beyond. Convenient to historic downtown Bethlehem with lots of restaurants and shopping, Sands Casino, Lehigh and DeSales University, Moravian College, Black River Vineyard, Promenade Shops. Plenty of private, well-lit and secure off street parking. With over 1,400 sq ft of space this residence is perfect for a single person, a couple, or can easily accommodate 6+ people. Feel free to stay 1 night, a week or even a month!
Please note that there are stairs from the parking lot leading up to the loft, and the loft itself has 2 floors so there are stairs inside as well. The 1st floor provides the main living area, along with a full service kitchen, dining area, washer & dryer, half bath, the master bedroom, and a full bathroom. There are 3 bedrooms on the 2nd floor along with a full bathroom. The kitchen is equipped with a Keurig coffee maker (coffee and tea K-cups provided), gas stove, dishwasher, toaster, plates, glasses, utensils and pots and pans so you can feel free to cook any of your meals, or visit one of the many restaurants in and around downtown Bethlehem. Upon check-in you'll find some of our fresh eggs in the fridge from our free range chickens. And for those over the age of 21, you are welcome to request a complimentary bottle of hand crafted wine from our high quality and locally grown grapes. Pets are welcome with approval from the owner and an extra fee. Satellite TV is available in 3 rooms. 100% accessibility of the loft. This is not a shared space. We live nearby which makes us easily accessible with any additional requests. Just give me a call! The day of check in I will provide you with the access code to the loft.
The loft is located on the top of a hill, thus no easy access for walking. South Mountain Park is located within a 1/2 mile drive. There are also plenty of places to walk in and around downtown Bethlehem, including Sand Island. Personal vehicle, Uber, Lyft, Taxi. Current Rates: $160/night for use of 1 bedroom, 2 people. If more than 1 bedroom (2 people) is used, there is an additional $20/night/bedroom.
This is the perfect place for a group or family to stay while exploring Bethlehem. Everything about the experience was great. We were even met with a complimentary bottle of our host's delicious wine. Would definitely stay here again.
Liz
January 2017
The BRF loft was absolutely awesome! Beautiful home and a very nice location. We were visiting with some friends and loved how close to Allentown we were!! Communication was a breeze and I would definitely recommend staying here!
Kacie
December 2016
Lovely place, lots of space. And thanks for the homemade wine! Delicious!
Dave
February 2017
This was an amazing experience and Kris made it all the better!! I am so happy we chose to stay here. I quick trip to the mountain, secluded enough but had wonderful stores/ restaurants/ bars/ breweries/ all around. Bethlehem is full of character and the loft made it that much better. We will love to stay again.
Kimberly
February 2017
This was a very nicely appointed home with the best mattresses we've encountered! The local fresh eggs and wine were very nice touches! Kris was very attentive and went so far as to ship a pair of glasses that were left behind. Definitely recommend, but be careful pulling out of the driveway.
Nancy
December 2016
Communication It's been a pleasure chatting with Kris on the place and has been on top of the reservation from booking to when we left. She's provided quick answers when needed and quickly helped me out when I needed to add a couple more names to the reservation. She also was very helpful with keeping me up to date with check-in and directions to the home. Location There's plenty to see and do within a 20 minute drive from the house. We got to visit several places around town and enjoy the area. It was also not too far from Allentown where we got to chill at the AHL All Stars game. There's plenty of rolling hills and views from the home. And during the evening, it's nice and quiet. Amenities I admit, this is an awesome place. There were 5 adults on the trip and we all had our own rooms. The kitchen is spacious with plenty of amenities. The TVs and the reclining chairs in the living room made it feel like we in a theater. A group of us sat there and watched at least 3-4 movies reclined and enjoying watching it all on a big screen. The bedrooms all had nice memory foam mattresses to sleep on. And ample lighting in each room. One thing to note though is that there are some stairs to climb in this loft. One set of stairs outside the building to get to the second floor. Another set of stairs when entering the home. And one final set of stairs between the main floor and bedrooms upstairs. So if you're booking and planning to have big luggage, daily trips with a gear or with the elderly, it may be something to consider.
Eric
January 2017
Kris was a great host. The loft was very clean tidy and spacious. We arrived to fresh wine, bread and cage free eggs from the farm, delicious! Communication was easy, check in was even easier! I definitely would recommend this loft to anyone staying in Bethlehem !
Tina
February 2017
Nice space!
nick
January 2017
Room type
Entire home/flat
---
Property Type
Loft
---
Accommodates
6
---
Bedrooms
4
Bethlehem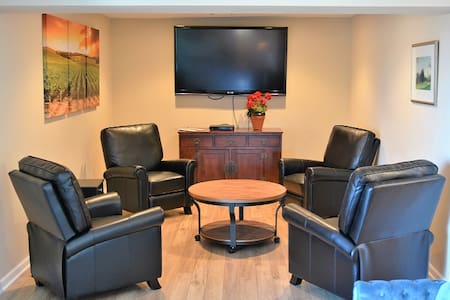 Bucks County Country Oasis-Lakeside Barn and Nature Preserve. Come lose yourself in the majestic scenes and sounds of this lush Bucks Country destination. Watch the blue herons, hike and fish the lake and streams, 60 acres. Rental Contract
Stay in an enchanting barn dating back to the 1800's and just redone as a guest house and sanctuary. Experience all the luxury of a modern oasis with professional kitchen, new bathroom, wifi and AC. Access to Nockamixon Lake and park including hiking trails, boat rentals and picnic areas. Included in the property rental is the private guest house, onsite free parking, pool access and a private pond with canoe. I myself or a representative will be at the property to welcome you and answer any questions you may have during your stay.
Yafa's farm is a dream. It's far more beautiful than the pictures. The house is lovely and looks out onto the pond. We spent a long time canoeing in the pond, enjoying the sun and watching the heron and beaver who live there. We also loved walking around the woods that surrounded the pond. Yafa was an amazing host, exceptionally warm, nice and inviting. We can't wait to stay there again.
Victor
October 2015
Wow! This was the perfect weekend getaway from the city. Yaffa's home was just as described. It is truly a unique space and you can tell a lot of love went into creating it. It is also conveniently located to fun relaxing activities. We went to great park with hiking, kayaking etc as well as a vineyard and farm with pick your own fruits/veggies..I would absolutely return.
athena
September 2016
Yafa's guest house is BEAUTIFUL. The property is gorgeous, the house well-appointed, pool spectacular. Yafa was a very generous host as well, having left the juiciest tomatoes, peaches, prosecco and other foods for us when we arrived. There were some issues with the plumbing, but Yafa was quick to respond and take care of the problem. Would recommend for a group of 2-3 people.
Alexandra
August 2015
Yaffa's guest cottage and property is beautiful and HUGE! The pool was lovely and sitting by her little lake was also a pleasure. The guest house was very clean and mattress was comfortable. She left us a bottle of wine and lots of breakfast supplies. TAKE NOTICE: This is a "guest house" that means you will be sharing the property with Yafa if she is home. Luckily she was out of town when my husband and I were there so we felt we could roam the property without having to ask for permission to do anything. I'm not sure how the experience would've been had she been there but we had a fabulous and romantic wknd! And she let us bring our dog which was amazing!
Whitney
July 2015
Very welcoming and beautiful property. If you are looking to escape, this is a great location. There is no television and very limited internet access, but a very serene setting.
Michael
July 2016
We had a wonderful time at Yafa's guest house & her property was fantastic! She was so sweet and hospitable & made us feel extremely welcomed. Like many of the reviews before us she left us several food items in the refrigerator and a beautiful plate of freshly picked tomatoes & peppers. The guest house was lovely & positioned right next to the small pond on the property. We saw several animals including deer, blue heron, and a small beaver swimming around, it was such a beautiful escape from NYC. We would definitely go back and Yafa made the experience just that much better! Btw she also gave us some of her home made tahini treats…yummy!
david
September 2015
An idyllic get away with an exceptional host!
Felicia
September 2015
The place was more beautiful than portrayed in the pictures. It's very scenic and unique which is why I chose this location. Yafa was very accommodating and attentive to anything I needed.
Samuel
September 2015
Room type
Entire home/flat
---
Property Type
Loft
---
Accommodates
3
---
Bedrooms
0
Perkasie