Discover that you enter into a flower clean garden where white doves flying around the old mansion from the 1908th Light Lund B & B is decorated like an old seaside hotel with two doubles. There are views of the Sound and balcony in both rooms, and the beach is 50 meters from the house. Østværelset have direct view of the Sound from the bed and seating. Organic breakfast with specialties from our own breeding blah. eggs and honey can be ordered for 100 kr. or coffee / tea, honey and a crossaint for 50kr.
Come to Light Lund B & B and get new forces at sea. There are two large rooms with a balcony overlooking the Sound. Østværelset is bright and decorated in Nordic style. You can lie in bed and watch the sunrise over the ocean. There is a large shared bathroom with shower and tub.
The house is situated in the charming old Snekkersten right by the beach. Snekkersten small grocery store is next door and is open every day. The surrounding area has much. For example. take a walk in Egebæksvang forest, enjoy the beach, swimming or fishing. In ten minutes walking distance is the small local Snekkersten Harbour with Cafe '. Here you can experience a unique collection of traditional fishing boats. Elsinore is the next and last town on the east coast. The city has a long history with houses dating back to the 1600s. You can go in the narrow cobblestone alleys where hollyhocks meanders up the crooked houses in different colors. The city also holds good handelsgågader and a wide range of cafes and restaurants. Kronborg Castle is on UNESCO World Heritage list, and it provides the setting for Shakespeare's tale of Hamlet. Beside Kronborg lies Elsinore Culture Yard and Bjarke Ingels Museum Maritime, which has won many awards. In the old city center you can find Sct. Mary's Church which houses the old Benedictine Monastery and Elsinore City Museum that tells the city's history. In Humlebæk is the world famous Museum of Modern Art: Louisiana. It is in general a good idea to bike or take a tour along the north coast, or visit the Fredensborg Castle, where the queen lives in summer. A trip to Copenhagen is also exciting with the endless possibilities. Take, for example. a trip in Tivoli or shopping on the high street.
This place is paradise on earth! After one night and Margrethe's breakfast we extended for another night. We loved the room, the sea, the animals and Margarethe's lovely company.
Pascal
2016-09-19T00:00:00Z
Margrethe Liv was an amazing host, and the room and surroundings was perfect.
Lea
2016-06-10T00:00:00Z
I so much enjoyed my stay at Lyselund. The delightful hosts served a healthy breakfast with home made honey that tasted of the surrounding flowers. I enjoyed the late morning sun on the large balcony of the south room. The fresh sea breeze was refreshing. I will visit again.
jens c
2016-06-18T00:00:00Z
Open window on the sea. Our stay at Snekkersten was peaceful, inspiring, thanksfully to Margrethe. I'd love to come back again to this amazing landscape. Thanks!
David
2016-08-11T00:00:00Z
A really beautiful house and a very cozy and sunny room... Fall asleep with the sound of the sea and wake up with an amazing sunrise on the sea is priceless!!! Margrethe and her husband Morten are wonderful hosts, helpfull and welcoming. My boyfriend and I have been there only for a short time, but I recommend to everyone to spend there al least one week a year to relax and enjoy the peace of the place.
Laura
2016-08-26T00:00:00Z
A very warm and friendly welcome by our host Margrethe. Very nice room, the bed was fantastic. Only 10 min. walking distance from the trainstation. The view over the sea and to see the sunrise is very beautiful. Great breakfast.
Neeltje
2016-09-30T00:00:00Z
clean place and smart people there. à lot of small attentions. they are doing their own honey here. from our bedroom we can see the sea.
Hervé
2016-07-12T00:00:00Z
This will be one of my most memorable Airbnb experiences! I only spent one night with Margrethe, but I wish I had stayed more. Her home was beautoful, and the town is so peaceful. It was a really nice break from the hustle and bustle of Copenhagen. They let me borrow one of their bikes and I road up the coast for about 15 minutes to Helsingborg, which was a very nice city with some beautiful architecture. If I had more time, I would have loved to take the ferry across to Sweden. Margrethe offered to put together an amazing breakfast, all with I gradients either from her own garden or locally sourced - eggs from her own chickens, honey from her bees, fruits from her backyard, homemade hummus, fresh baked bread. This was truly an amazing way to start the day. The room itself is fantastic. So comfortable and nicely decorated. The window looks right out onto the sea, what an amazing way to wakeup! I urge you, if you are spending time in Copenhagen, come up here and spend a couple of days with Margrethe and her husband. You will not be disappointed.
Mitch
2016-09-13T00:00:00Z
Room Type
Private room
---
Property Type
Bed & Breakfast
---
Accommodates
2
---
Bedrooms
Snekkersten, Denmark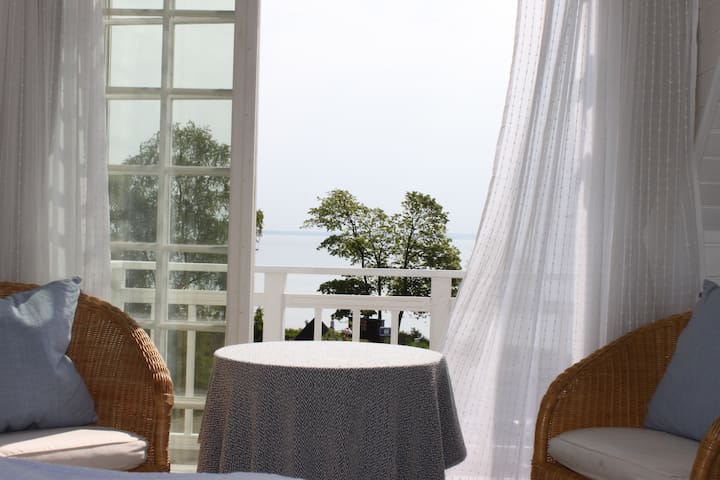 Annex in Espergærde, a small town 40 minutes from central Copenhagen. The annex is placed in our backyard. It's a very quiet place, and close to a train station, where you can get a train directly to the central part of Copenhagen. Espergærde is a beautiful city, with a small beach, lot's of green areas, cafes and a small shopping-center. It's also close to Louisiana, the world famous museum of Modern Art, and Helsingør where you can take a ferry to Sweeden in 20 minutes.
Ditte welcomed us in her warm and cozy independent house. The place is perfect for short or long stays being fully furnished and with all comforts. The forest around the village is nice, the perfect spot for a weekend outside the big city. Thank you Ditte!
Gabriele
2017-03-21T00:00:00Z
Room Type
Entire home/flat
---
Property Type
Cabin
---
Accommodates
2
---
Bedrooms
Espergærde, Denmark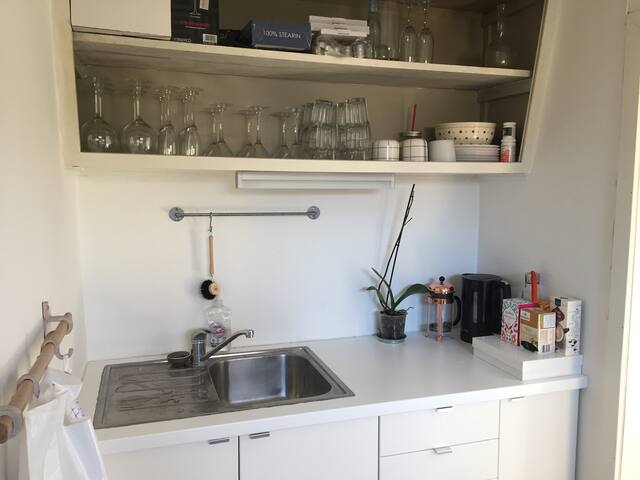 Cosy self-contained guest house of 53 m2. Close to Louisiana, Kronborg and Frederiksborg Castle. Forest and beach within walking distance. Five minutes walk from the coastal line and with only 35 minutes by train to downtown Copenhagen.
Small house with separate entrance, kitchen, bedroom and toilet/bathroom. 2 double beds + 1 single extrabed if necessary.
Espergærde is a village where everything is within walking distance. The cosy little harbour holds a few retsaurants and a nice city beach. The Egebæksvang forrest is big enough for walks all year round, but to small to really get lost. A nearby shopping centre contains three supermarkets, a delicatessen plus a dozen other shops.
Great house, good location if you want to see Copenhagen or other stuff in the neighbourhood. The host really made us feel like being home!
Koen
2016-11-14T00:00:00Z
It is a very nice place, really calm and confortable. Urlik is really a great host!!
Riki
2016-10-30T00:00:00Z
We recommend Ulrik's cottage. It's great for 2 people. For walking or cycling to the beach or to the forest...visiting nice places around and Copenhague not far away.
france
2016-11-23T00:00:00Z
Really nice place to stay when you are in Espergaerde. Ulrik was really nice and he even put some things in the fridge for me, so that I have some basics for my first breakfast. I will definitely stay there again when I come back to Denmark.
Daniel
2017-03-17T00:00:00Z
Ulrikin majoitus sijaitsee rauhallisella asuntoalueella. Majoitus on erillinen oma talo, jossa on kaikki tarpeellinen. Majoitus on erittäin siisti ja nykyaikainen. Varustelu pitää sisällään kaiken tarpeellisen pitkäaikaiseenkin oleskeluun. Mukavana lisänä saapuessamme oli Ulrik hankkinut keittiöön "tervetuliaispaketin", jolla pääsimme alkuun ilman kaupassa käyntiä. Voin suositella Ulrikin majoitusta todella lämpimästi.
Kari
2017-03-26T00:00:00Z
Ulrik er en udmærket og imødekommende vært, som bor i huset ved siden af. Boligen er som beskrevet og Ulrik installerede desuden en opvaskemaskine i den første uge af opholdet, som var yderst tilfredsstillende. Boligen ligger i et område, hvor der er dejligt stille om natten, tæt på jernbanestation, et indkøbscenter med tre supermarkeder, apotek og adskillige andre forretninger.
John Sixten
2017-03-04T00:00:00Z
Room Type
Entire home/flat
---
Property Type
Guesthouse
---
Accommodates
4
---
Bedrooms
Espergærde, Espergærde, Denmark
Nice apartment on 140 squaremeters, located on the Beach close to forest and shopping. Come and enjoy the very light summernights and feel the salt sea. The ocean is very children friendly.
140 Square meter Apartment with two levels. Ground level with main entrance with laundry room along with newly rennovated bathroom. First floor: small toilette with two rooms, one with ocean view and one with forest view. Beds for 5 adults and 1 extra beds for children can be fixed. New kitchen next to living area. Second Apartment available. This Apartment is the same size as the first and accomodates the same amount of people. Equipped with similar amenities.
Apartment is 20 meters from public beach. Snekkersten's smal but cozy harbor is around 800 meters away. There is a grocery store a very short walk along with many cozy restaurants. Forest is directly behind the beach. The forest is perfect for running and walks with the Family. Helsingør lies only 5 kilometers away and Copenhagen lies 38 kilometers South.
Betina was a perfekt host and the appartment was really cosy and beautifully decorated, situated right on the beach. For other families with small children it would probably be good to know that the stairs up to the living area are steep and that the traffic on Strandvejen is quite heavy at times. We still had a very nice stay with two small children and can really recommend Betina as a host!
Ulrika
2015-07-11T00:00:00Z
I adore betina's house and the location. She's a lovely host. My second stay and I'll be back!
Hallie
2016-09-05T00:00:00Z
Betina help me a lot for the days I stay there. She is the very good , very kind beautiful lady. I am sure I will live here again.
weichong
2016-06-17T00:00:00Z
Betina was great and the apt was very clean. Great location close to the water and very quiet. We accidentally stayed a little pat the check out time but Betina was very accommodating.
Cat
2016-08-15T00:00:00Z
We spent a great time Betinas very cozy place. Everyting was exactly as described and the area is beautiful! I can absolutely recommend to stay there.
uriel
2016-08-07T00:00:00Z
The apartement and its surrondings was absolutely perfect! We really enjoyed our stay at Betinas apartement. She made us feel welcome and all practical was easy. I really recommend staying here.
Annika
2015-06-21T00:00:00Z
My girlfriend and I had a great time staying at Betina's beach house, which was exactly as pictured and described in the listing. She and her family were great hosts, with the perfect attention to our needs without ever being intrusive, such a great experience. We felt completely at home, and had the best easter trip with walks on the beach, trips to Copenhagen and Helsingør (All extremely accessible by train or car), all in all just a great relaxing time. Also a great place to stay if you want to experience the calm and beauty the coast provides, while still being close to the bustling city of Copenhagen. This has definitely become our home away from home, and we will without any doubt be back soon. Thanks Betina and the rest of the family for a great time! See you again soon. Nicolas & Marisa
Nicolas Bertelsen
2015-04-07T00:00:00Z
Even though unfortunately we did not get to personally meet Betina, she was the nicest. We went to celebrate our daughters first birthday and we had a great time. She had prepared everything so beautifully! The apartments are lovely and very well located. There isn't a lot of outside space available straight outside the house but there is much lovely nature to explore around!
Mafalda
2016-05-09T00:00:00Z
Room Type
Entire home/flat
---
Property Type
Apartment
---
Accommodates
5
---
Bedrooms
Snekkersten, Denmark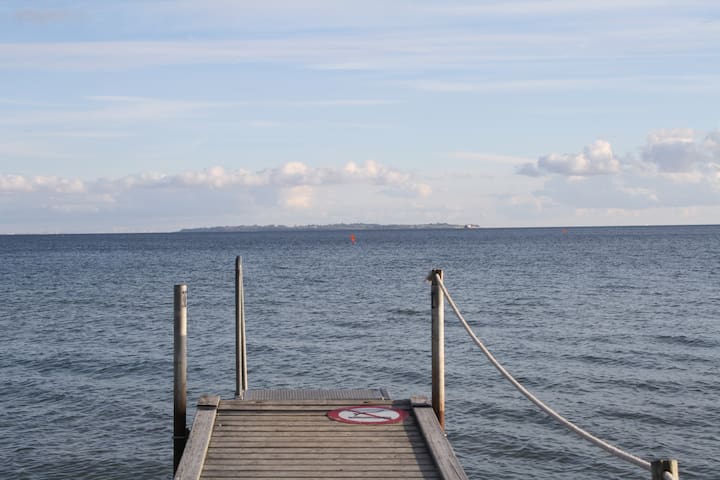 A short walk to the beach, a bikeride to many great North Zealand sights (Hamlets Castle, Louisiana - Museum of Modern Art, etc) and not to forget: Only a 25 min carride away from Denmarks sprawling Capital - a home with an ideal location.
Cool spacious non-detached house great for families (many toys, playhouse, bikes, childbikes, scooters, rollerskates etc and a large cargobike (ladcykel) for 1 adult and a couple of children). Minimalistic, functional furniture, large spacious rooms and all modern amenities such as 40' LCD, DVD, WIFI, Wii-player, Nespresso-machine etc. South and West faced terraces with sun until sunset.
Espergærde is an attractive coastal town with great beaches and a certain holiday feel during the summer period. The closest beach is only 5-7 min. away by foot (15 min from a fine large beach - and the charming Espergærde harbour). You will find a couple of beautiful forests and the wellknown - Louisiana Museum of Modern art within walking/biking distance from our home. Elsingore is only 7 km away with Kronborg (Hamlets castle), 400 yr old houses, Northzealands largest skatepark, an Aqaurium and a ferry to Sweden. In 15 min. by car you can reach Denmarks oldest and one of the most charming holiday towns: Hornbæk. The rest of the beaches on 'the danish riviera': Gilleleje, Rågeleje, Tisvildeleje and Liseleje are all within 20-35 min. away.
We had a great vacation in Karin's wonderful home which is perfectly located to discover the region. Kopenhagen is not too far away and the famous Louisiana Museum is just a short distance away. The house is very nice and we enjoyed having a full equiped kitchen as well as a washing machine and tumble dryer. We were very happy with our choice to stay in Espergaerde!! Thank you Karin for entrusting us your beautifull home!!
Stephanie
2014-08-10T00:00:00Z
Karin and her family have been great host, who even welcomed us at their place. We warmly recommend them. We stayed for a week and enjoyed every minute of it. Modern house with all facilities (fully equipped kitchen, washing mashine, tv, stereo, etc.) , garden and veranda with grill and a parking space for our car. From their place we were able to explore the region by bicycle and and car.
Mark
2014-07-13T00:00:00Z
Had a lovely stay here, would highly recommend.
Rod
2017-01-12T00:00:00Z
We stayed for a week at Karin's home, and had a really lovely time exploring Northern Sjælland. It also happened to coincide with when summer finally arrived in Denmark, so we really made use of the outside space. Our 4 year old daughter loved the playhouse in the garden, and us adults enjoyed relaxing on the terrace in the evenings.
Myra
2016-07-28T00:00:00Z
Vi har haft en dejlig ferie i Karins dejlige hus i Espergærde. Kommunikationen var fin og huset, terrassen og haven var rigtig dejlig. Fine offentlige transportmidler til København.
Hanne
2016-07-20T00:00:00Z
Vi havde nogle rigtig skønne dage i Karins smukke hjem. Kommunikationen var god fra starten og Karin var hele vejen igennem venlig, imødekommende og hurtig til at svare. Et rigtig behageligt ophold hvor vi følte os velkommen og et hjem som passede godt til vores behov. Tak for lån :)
Michelle
2016-08-05T00:00:00Z
Wir hatten eine tolle Zeit in Espergaerde. Karin's Haus war der perfekte Ausgangsort für unseren Strandurlaub mit unserer kleine Tochter Ella. Das Haus ist gemütlich und modern eingerichtet, mit allem was man während eines Urlaubes benötigt. Wir waren eine Woche dort - der kleine Garten war der perfekte Ort für unsere zweijährige Tochter.
Julia
2016-08-14T00:00:00Z
Meget venlig og yderst ked af misforståelsen angående ankomsttidspunktet. Prøvede sit yderste for at kompensere for fejltagelsen.
Torben Gejl
2016-07-10T00:00:00Z
Room Type
Entire home/flat
---
Property Type
Townhouse
---
Accommodates
6
---
Bedrooms
Espergaerde, Capital Region of Denmark, Denmark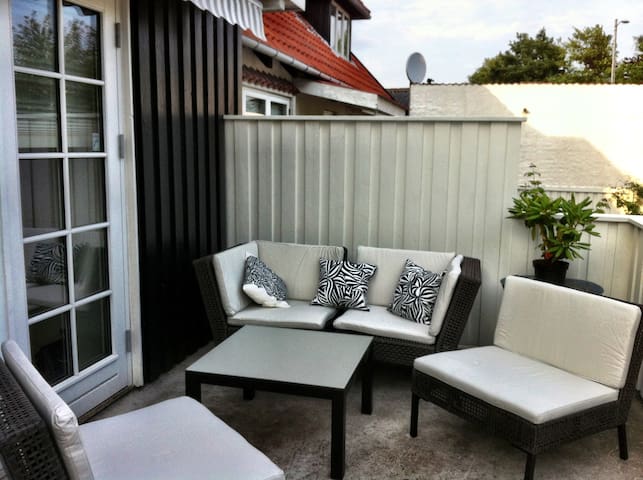 Welcome! This is for you who appreciate "Simple Living". Beautiful garden and deck. Homemade breakfast. Near beach. No TV. The environment seems to have a healing effect on my visitors. Mini creativity/painting Workshops available on request.
This cottage is near the costal line and only 4.7 km from Louisiana, the Modern Museum of Art. You can also enjoy a walk at the beach, or spent time at the small local harbor and/or go for fresh fish & chips. Our local authentic Italian Cafe Divino offers some great meals. Only 7.1 km to Hamlet's Castle in Helsingoer. Frequent ferries from Helsingoer that will take you to Sweden in only 20 minutes.
Espergærde is a unique small beach town with a very friendly and safe atmosphere. It is easy to get around. We have the forest and the beach within short walking distance (less than 1 km away). Shopping facilities within walking distance.
My stay at Michala's cottage was wonderful! Michala went above and beyond to make me feel comfortable and even took me to/from train stations. The cottage itself is very nice, as is the guest bedroom. Great beaches town getaway with an awesome host! I'd definitely recommend staying here.
Holly
2016-09-12T00:00:00Z
My stay at Michala's beautiful cottage was one of the best accommodations and experiences I have ever had! The location is a perfect one for getting out of busy Copenhagen (yet not far away) and Michala's cottage is perfect for a relaxing stay. Michala is so welcoming and made me feel relaxed and comfortable right away. Her breakfast is amazing (homemade and delicious) and my stay was the perfect balance between relaxation, exploring a different part of Denmark and spending some time with Michala. Thank-you again Michala for the most special and memorable stay!
Rebecca
2016-08-21T00:00:00Z
I was made to feel extremely welcome. Michala even cooked extra fish cakes and vegetables to accompany my pasta I brought with me to cook. She was brilliant to talk to and I would definitely stay again
Mitch
2016-08-07T00:00:00Z
Michala we extremly polite and welcoming. Speaks fluent english and were at all times making sure that I had a nice stay
Exalight
2017-03-29T00:00:00Z
The house of Michala is very comfortable and cosy and situated in a quiet neigbourhood. The garden is wonderful to relax. The place is well located to explore the coast to the north of Copenhagen. Michala made me feel very welcome. Even though she was not even there herself, there was breakfast provided. When she returned from her holidays, we had very nice conversations. In one word: perfect place to relax!
Karen
2016-07-25T00:00:00Z
Michala has been a great hostess. The room and the house felt just like home. Breakfasts in the garden - a very good start of a day. with homemade bread and tasteful porridge. The absent of tv really relaxing. A really good choice!
Marie
2016-07-17T00:00:00Z
Precisely perfect and perfectly convenient to everything! This stay was even better than I had anticipated and truly provided the best of both worlds that Denmark has to offer. Her home is only a 10-minute walk to the train station (and shops) which made it easy to pop into Copenhagen or Helsingor for the day, and then return to the peace and tranquility of her area. The Louisiana Museum is literally minutes away by bicycle (which she will loan you!) and is not to be missed. Michala is an exceedingly kind, cultivated and generous host, and has created a warm and artistic environment. The bedroom is spacious, charming and peaceful. Her breakfasts are lovely -- homemade bread! -- particularly if the weather is nice and you can breakfast on the lovely back porch, surrounded by flowers and visiting birds. I really cannot say enough good things about this stay.
Robyn
2016-09-25T00:00:00Z
LOVED! Staying at Michala's house. I felt very welcome inmediately. I was coming for two nights but soon I decided to stay an extra night. She is very warm, her house is charming , close to the beach, aprox 1.5 km. and beautiful forest near by. Ideal place if you want to visit the Louisina modern art museum, which is GORGEOUS!!!! and also the Kronborg castle. She also gives you an healthy and delicious breakfast with home made made bread. Michala is lovely and she offers you a perfect place to relax or move around the beautiful area. I already made reservations for 4 more nights. LOVE IT!
Nicole
2016-06-04T00:00:00Z
Room Type
Private room
---
Property Type
House
---
Accommodates
1
---
Bedrooms
Espergærde, Denmark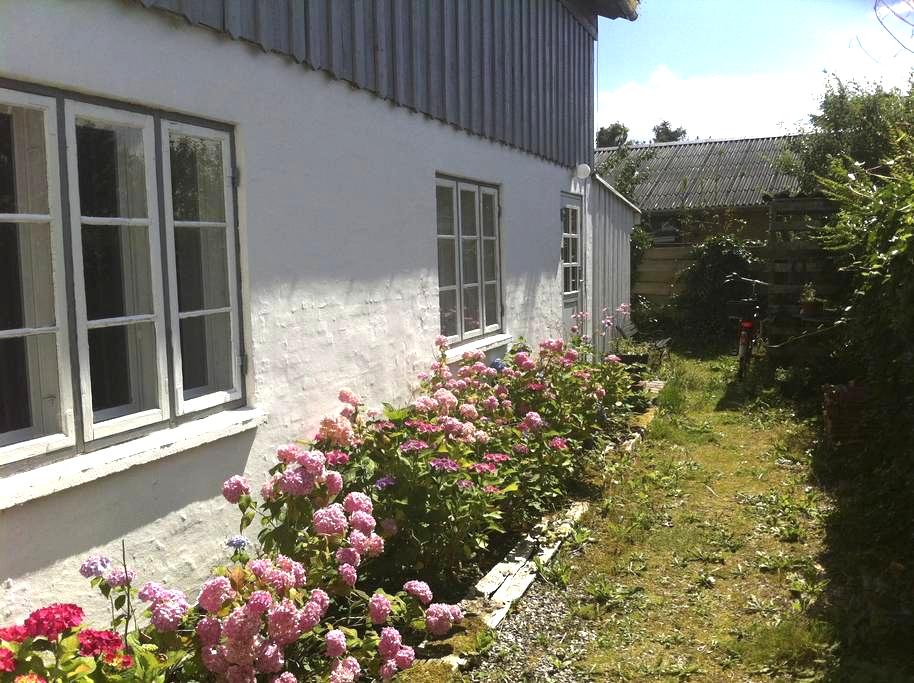 70 m2 apartment with own kitchen, bathroom and balcony. It is part of a horse farm close to the forest and Beach. 30 min from Copenhagen and 2 min from the highway. 10 min drive from Louisiana, Kronborg Castle and Fredensborg Castle ( the queens summerresidens).
Fantastic location in the contryside 4 km from the sea and next to the forest.
Silent during evenings back to nature
A simply gorgeous apartment to stay at, horses in the backyard, super friendly and well traveled hosts with good stories.... what else can you wish for? Perhaps a cute red cat? Check! This lovely place has it all!
Olga&Timo
2016-09-04T00:00:00Z
We stayed two nights in Anettes appartament. It was really nice, the appartament itself is super nice and the area around with felds and forest butifull. Annette is a great host as well!
Mikael
2016-01-31T00:00:00Z
Live in the countryside, peaceful and comfortable. One big room and a well-equipped kitchen, bathroom is comfortable. 15 min walk from the station. Poul and Annette are so nice.
Sinan
2016-12-31T00:00:00Z
Annette's place was very nice and spacious and in beautiful surroundings. Annette was also an excellent host and very responsive with questions. We would definitely stay here again!
Dirk
2016-09-09T00:00:00Z
It was a very nice stay, very lovely people
Benni
2017-01-19T00:00:00Z
We were on a cycling tour of Denmark and needed a place to stay between the Louisiana Museum and Frederiksborg Slot at the last minute. Annette and Poul responded quickly, were very welcoming, and we enjoyed a comfortable night's stay in their apartment, which is more like a private home than a private room. Everything was as described and we enjoyed chatting with them as well. Communicating with Annette was easy and she responded very promptly. Highly recommended!
Dan
2016-05-01T00:00:00Z
A-ma-zing! Better then 5 star hotels: the private stylish house at the country-side. The place you want to leave at. Really, it is one of the best accommodations we've ever had: clean, super cozy, a lot of space in the nature... All the best to Poul and Annette and thanks again and again for creation such a place!
Alexey
2016-11-05T00:00:00Z
Annette and Poul were very nice to us! They made us to find the place easily and they were very communicative! The place is very beautiful, clean and cozy! A real Danish experience! I highly recommend this place =)
Elisa
2016-11-01T00:00:00Z
Room Type
Private room
---
Property Type
Apartment
---
Accommodates
2
---
Bedrooms
Kvistgård, Helsingør, Denmark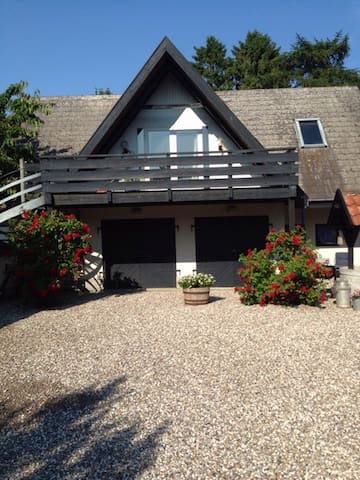 Our home is situated 1 km from the coast, Louisiana, train station and shopping. 2 km from one of the best golf clubs in DK . 2 km from nice harbours, fine restaurants and fishstore.0 km to the forest 30 minutes to Copenhagen city and 1 hour to Copenhagen airport by train. You will love our home because it is very light, comfortable and modern decorated with Danish modern architecture and art. Nice and calm and friendly nabour hood. Our home work well for families, friends and busines
Modern home decorated with scandinavian design and art. Fully equiped with washingmaschine, Cooker, diswasher, outdoor gasgrill ect. 3 floors: kitchen and dining room at 1 floor, bedrooms at 2. floor and living room/extra beds at 3. floor. There are 3 outdoor terraces - one on the top roof with view over the forrest
Very nice neightbourhood - young and elder families lives here. 1 km from the children friendly beach 1,5 km from the famous art museum Louisiana 500 meters to grocery shopping. 2 km from one of the best golf clubs in DK - Simons. 2 km from nice ports, fine restaurants and fish store. 0 km to the forest 1 km to the organic farmshop Årstiderne. Many cosy small towns to visit on bicycle e.g. Espergærde, Snekkersten
Room Type
Entire home/flat
---
Property Type
House
---
Accommodates
6
---
Bedrooms
Humlebæk, Capital Region of Denmark, Denmark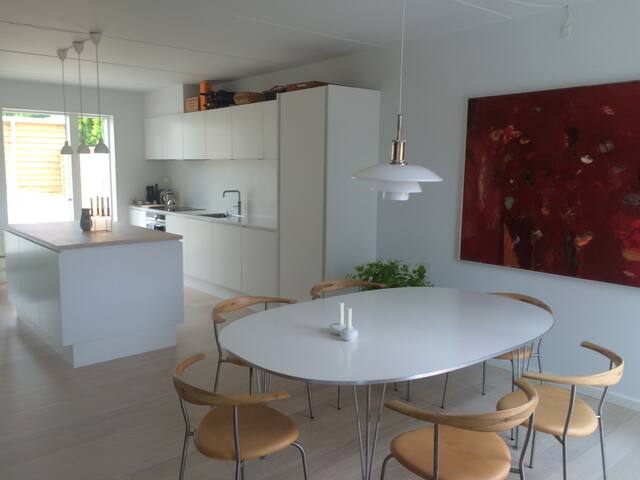 Our house is close to Museum of Modern Art Louisiana. 12 m. Walk Humlebæk Harbour , 10 minutes walk Helsingør ( Elsinore Castle ) 8km White sandy beach, walking distance less than 500m. Shopping centers. 2km. You will like the quiet neighborhood. 2 bicycles are free to use for your convenience.
As we have Satellite tv we receive a lot of International Channels in English like CNN,BBC World,Al Jazeera, French ,Italian,Spanish,German,Chinese,Japanese as well.
Our neighborhood is very quite and safe.
We very much enjoyed our stay, the house was beautiful and extremely clean. It was also in very close proximity to Copenhagen (around half an hour drive) and good value for money.
Joanna
2016-10-10T00:00:00Z
Wonderful house. Comfortable and clean and a short ride away from the city. Would come back in a heart beat.
Elena
2016-09-22T00:00:00Z
Claus was very friendly and caring, the house simply has everything and also the fridge was well filled. The small little garden was delicious and the way to Louisiana museum and to beach and ferry short.
Christian
2016-09-12T00:00:00Z
Claus and Jette were welcoming from the start of booking their lovely home! They met me at the gate and gave me a full tour of their home. They had breakfast stocked which actually lasted through my stay. They are excellent hosts and the house was a lovely change from a hotel. I will definitely stay again and recommend this to my colleagues at Coloplast! Thank you Claus & Jette and Airbnb! Cindy
Cindy
2016-09-11T00:00:00Z
Room Type
Entire home/flat
---
Property Type
House
---
Accommodates
2
---
Bedrooms
Espergærde, Denmark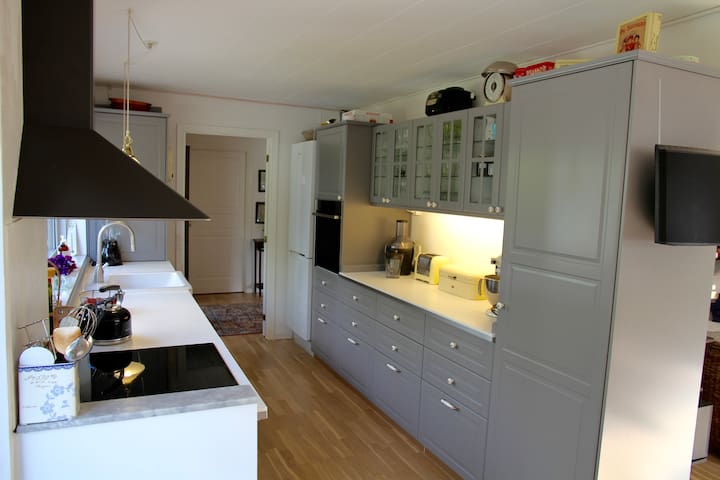 Welcome to our family house in cosy local area. Very quiet and private, spacious room with couch, desk, 2 beds. sleeps up to 4. Big bathroom right outside the room. Wardrobe. Tub for children. Access to garden and playgrounds. Delicious homemade eco breakfast.
Playgrounds, wood, fields and museum with activity centre nearby.
Very friendly neighborhood, lots of local activities, ball games, table tennis, open and tolerant neighbors. Extremely safe. A wide range of trains and buses within walking distance. (100-800 m)
Room Type
Private room
---
Property Type
House
---
Accommodates
2
---
Bedrooms
Espergærde, Denmark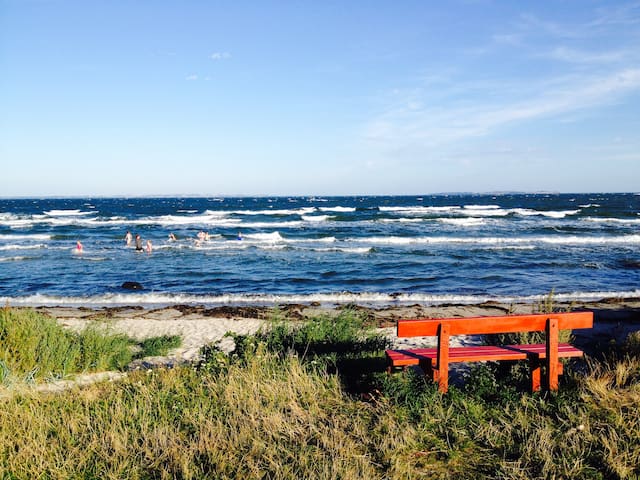 Perfect holiday house for family with small children, trampoline and rabbits in the garden, 10 min. walk to beautiful beach and Louisiana art museum modern art exhibition with unique børnehus. 5.min m.tog to station every 20 min for the direct Kbh.
Room Type
Entire home/flat
---
Property Type
House
---
Accommodates
4
---
Bedrooms
Humlebæk, Nordsjælland, Denmark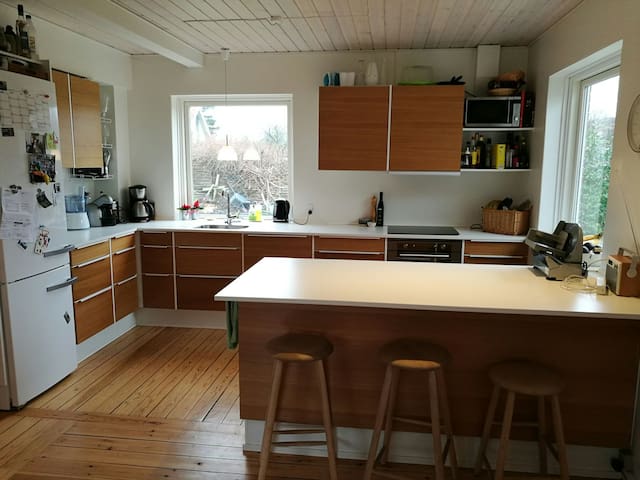 The house is located in a quiet and beautiful area of Espergærde. 10 min. from a family beach, 10 min from a station with direct train to Copenhagen airport and Central station (35 min.), and 10 min to a beautiful forrest. It is a charming little beach-town with a good italian restaurant, the best ice-cream in the area, several pizzaria and a center with good shopping possibility. 15 min. from the famous art museum Louisiana.
Room Type
Entire home/flat
---
Property Type
House
---
Accommodates
6
---
Bedrooms
Espergærde, Denmark
Welcome to our small house for two adults (+child). Please observe: You can only book min. one week. Here you have 5 min to everything you need: beach, forrest, shoppingcenter, train. 30 min train ride to Copenhagen center, 15 min to Helsingør (with the Kronborg castle), and ferry to Sweden...
Nice and quiet street, no traffic. You have your own garden with beautiful flowers.
Espergærde is a small village on the coastline between Helsingør and Humlebæk. In Helsingør you will find lots of restaurants and shops and the Kronborg castle. From Helsingør you can take the ferry to Helsingborg in Sweden. In Humlebæk you will find the famous museum (URL HIDDEN)
Das Haus entspricht absolut den Angaben auf der Homepage. Es ist fantastisch! Wunderschön, ruhig und sehr stilvoll eingerichtet. Wir haben uns sehr wohl gefühlt! Obwohl wir Paul & Yvonne nicht persönlich gesehen haben, hat die Schlüsselübergabe bestens geklappt. Paul hat eine ausführliche Liste mit hilfreichen Tipps und Infos bereitgelegt. Ausserdem durften wir ihre Velos ausleihen, was zu einem noch tolleren Urlaub geführt hat. Wir würden jederzeit nochmals im Haus von Paul & Yvonne übernachten! : )
Rebecca
2016-07-26T00:00:00Z
Paul und Yvonne sind sehr gute Gastgeber. Wir haben sie nicht persönlich kennengelernt, da wir in ihrem privaten Haus gewohnt haben, aber Paul war immer erreichbar und hat sich nach unserem wohlergehen erkundigt. Die Nachbarschaft ist sehr nett, die Nachbarin Christine hat für uns die Rolle der Ansprechpartnerin vor Ort übernommen und uns sogar vom Bahnhof abgeholt. Paul hat uns einen ausführlichen Willkommensbrief geschrieben, mit vielen, vielen Tipps zu Unternehmungen, wo man Läden findet, Räder leihen kann und wie die Haushaltsgeräte funktionieren. Im Kühlschrank stand ein Sekt für uns bereit. Das Haus ist klein und süß sauber und wirklich (URL HIDDEN) wie auf den Bildern. Als Wohnhaus von Paul und Yvonne natürlich auch sehr privat. Paul hat das gut gelöst indem uns Fächer bzw. Schränke freigeräumt wurden und andere als privat gekennzeichnet hat... Da wir leider sehr regnerisches Wetter hatten, haben wir ein bissschen mehr Zeit im Haus verbracht, als eigentlich geplant und waren umso mehr froh, dass wir so ein gemütliches Heim hatten.
Taborah
2016-07-11T00:00:00Z
Room Type
Entire home/flat
---
Property Type
House
---
Accommodates
3
---
Bedrooms
Espergærde, Denmark
Hyggeligt sommeridyl ved vand og strand.Skønt hus,130 kvm på gammel sommerhusgård, med udsigt til Øresund og Hven. Huset er ideelt til 4-6 personer, 3 værelser. Dejlig have og terrasse, 500 m til dejlig strand, og havnemiljø med cafeer. 30 minutter fra København.
Huset er dejligt med spisekøkken, dejligt soveværelse med balkon og havudsigt , 2 værelser og hyggelig stue med skøn udsigt. Huset oser af charme og historie. Her er mulighed for at sidde privat i haven, grille og nyde dejlige gåture til vandet, 2 strande med sandstrand og badebroer. Huset er vores hjem hele året og vi håber i vil nyde det.
Vi bor 500 meter fra vandet og ser på det fra vores hus. Skoven ligger super tæt på medgode muligheder for ture og udendørs træning. Havnemiljøet er hyggeligt og bruges meget af de lokale. Vi bor tæt på de store slotte Kronborg, Fredensborg slot og Frederiksborg slot. Det er nemt at komme til badebyerne Hornbæk og Gilleleje. Sverige er lige på den anden side af sundet og vi nyder udsigten til svenskerne. Espergærde har et Danmarks ældste indkøbs center med mange butikker og supermarkeder. Der er en p- plads på matriklen til eventuelt bil.
This was one of our favourite AirBnB stays on our trip through Denmark and Sweden. Lotte and her daughters made us feel like family from the moment we arrived. The flat was clean and bright and an easy walk down to the beach. Our kids spent many hours playing on the trampoline. Everything from the thatched roof to the cobble stone courtyard made for a very "hyggeligt" Danish experience. We would highly recommend Lotte's place. I wish we could have stayed longer.
Robert
2015-09-04T00:00:00Z
This is the best apartment at the Danish coast! Lotte and her daughters are the perfect hosts - welcoming us and showing you where to go (3 minutes walk to the beach! and only 30 minutes walk to Museum of Louisiana) and what to do (in our case tips for kids; castles and the best big sandy beaches up north). The apartment exceeds expectations by far! It's a lovely cosy place, with a basic and clean interior, very nice kitchen and small bathroom, with so much eye for details in design. It was perfect for 4 people, the kids lying on the sofa bed. It was very sunny, and we could use the patio, and the kids could jump the (private) trampoline! Did i mention this is only half an hour drive along a stunning coastline to Kopenhagen? Just book it, you will see for yourself ;-)
Yvette
2015-08-05T00:00:00Z
The host canceled this reservation 62 days before arrival. This is an automated posting.
Catherine
2015-09-04T00:00:00Z
The host canceled this reservation 16 days before arrival. This is an automated posting.
Anne-Katherine
2015-09-04T00:00:00Z
Fantastic cute and cozy cottage with all the most modern amenities. Only a short distance from Copenhagen and central to all the sights in North Sjaelland and conveniently close to Espergaerde town and harbor, Kronborg and other must see sights. Loved the layout and furnishings of the cottage. Very, very nice - we will be back soon! Lotte is extremely friendly and a great host, everything was perfect. 10 out of 10 stars
Ole
2015-09-01T00:00:00Z
Nous avions appelé Lotte dans la matinée pour l'informer de notre heure d'arrivée en aprés midi et elle était là, avec son sourire et sa bonne humeur, pour nous accueillir chaleuresment, nous faire visiter les lieux et nous indiquer tout ce qui est à voir dans les environs! Lotte parle remarquablement anglais et est très ouverte sur les autres cultures, ce qui a permis d'échanger beaucoup tout au long du séjour! Le logement est tout à fait ce que nous attendions : indépendance tout en partigeant un peu la vie des danois! La petite ville d'Espergaede est conviviale et idéale pour ceux qui cherchent tranquilité et rencontres locales. Elle se situe à une demi-heure environ de Copenhague, en train ou en voiture, très facile d'accès pour visiter, sortir le soir, ... Merci Lotte pour ton accueil et au plaisir de se retrouver!
Carlos
2015-08-14T00:00:00Z
Vi blev modtaget og fik god information om bolig m.v. . Dejlig velkomst og vi blev positiv overrasket, for der var lagt sengelinned på alle senge og håndklæder, og viskestykker frem, og det havde vi slet ikke forventet :-) Dejlig bolig, meget lys og venlig med en dejlig lukket have, som er helt ugenert med dejlig siddeplads og grill.
Allan
2016-07-12T00:00:00Z
Wir wurden sehr freundlich und persönlich aufgenommen. Lotte ist eine herzliche Gastgeberin und die Ferienwohnung spiegelt dies wieder, genauso herzlich erging uns mit allen weiteren Bewohnern des Grundstückes, auch den Vierbeinigen. Die Ferienwohnung ist sehr schön und auch sehr sauber. Die Ferienwohnung liegt so ideal für unsere Wünsche, kurzer Weg zum Strand, schöner Spaziergang zum Museum Louisiana, nur unsere Zeit war kurz bemessen, so dass wir sehr gern wiederkommen wollen. Herzlichen Dank nochmal liebe Lotte und einen herzlichen Gruß an deinen Nachbarn. Hoffentlich bis bald mal. Birgit und Hans
Birgit
2015-08-20T00:00:00Z
Room Type
Entire home/flat
---
Property Type
Villa
---
Accommodates
5
---
Bedrooms
Espergærde, Denmark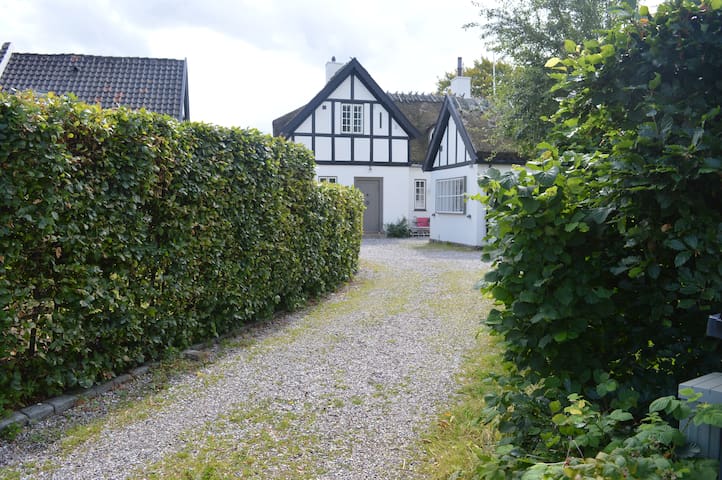 Our house is a two-story house in the charming Humlebæk in North Zealand. Large living room, dining room, small functional kitchen with dishwasher, washer and dryer in the basement. Conservatory and pleasant garden with a sandbox, small bonfire and garden furniture. The house is in a quiet area safe for children and nearby there is a nice playground. Beach, forest and the charming harbor and shopping and public transport around 5 min. away by bike.
Close to beach and forest and Kunstmuseum Louisiana.
Room Type
Entire home/flat
---
Property Type
House
---
Accommodates
3
---
Bedrooms
Humlebæk, Denmark

Original fisherman House near the ocean and forest located in the old Espergærde City. The forest, the harbour, the beach and the cozy maritim environment with café and restaurants reached in less than 2 minutes walk. Set back from the beach road, beautifully situated almost at the edge of the woods to Egebæksvang forest and less than 150 meters to Espergærdes marina with a southern cafe environment.
Original fisherman House near the ocean and forest located in the old Espergærde City. The forest, the harbour, the beach and the cozy maritim environment with café and restaurants reached in less than 2 minutes walk. Set back from the beach road, beautifully situated almost at the edge of the woods to Egebæksvang forest and less than 150 meters to Espergærdes marina with a southern cafe environment. Train to Copenhagen and shopping is within comfortable distance (about 400 -500 m). By car about 30-45 min drive to Copenhagen. The house, dating from 1898, is located in a small, cozy private road. The house is 100 m2 divided into 2 levels. The house has been fully modernized inside in 2015. Moreover, there is a brick outbuilding of 20 m2 containing, inter alia, tool shed, utility room and storage room. The house contains: Entrance hall with stairs to the first floor, bathroom, kitchen, dining room, bright spacious living room / kitchen with a sense of being close to the forest and the sea. 1st floor contains compartment with built-in cabinets and 3 less bright rooms. Property area is 400 m2 with a small garden and terrace where the sun can be enjoyed all day.
Dette gamle fiskehuset er nettopp pusset opp til å bli en perle. Originale detaljer som et nydelig tregulv er inntakt. Fint nytt kjøkken og koselige soverom på loftet. Beliggenheten er veldig bra i en stille blindvei rett ved skogen, og det tar bare et par minutter å gå til strand, et par kafeer/restauranter (italiensk iskrem ved havnen må prøves!) Våre to små gutter satt stor pris på den deilige hagen, og både store og små har hatt glede av bøkene i huset. Vi kan absolutt anbefale dette stedet!
Nina
2016-07-25T00:00:00Z
Room Type
Entire home/flat
---
Property Type
Villa
---
Accommodates
5
---
Bedrooms
Espergærde, Denmark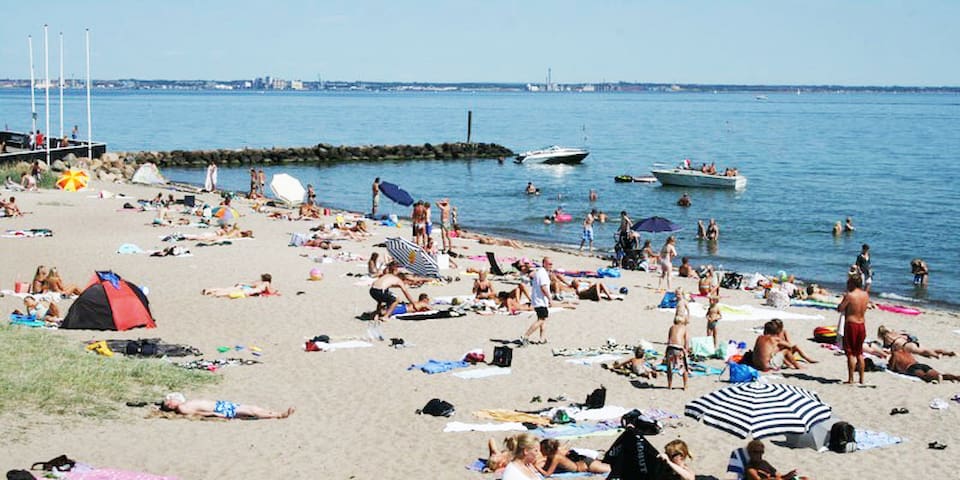 Cozy familyhome 132 m2 with large livingroom and sunny terraces and garden in an attractive area. Close to the beach and close to great Northzealand sights - and still within easy reach of Copenhagen (25min by car/train). The modern museum of art: 15 minutes walk. Kronborg castle in Helsingør/Elsinore 10 minutes by car/bus. Fredensborg castle: 15 minutes by car. Frederiksborg castle in Hillerød: 25 minutes by car. The beach is a 2 minutes walk from the house.
The house has 4 bedrooms, 2 toilets and one shower, a combined living-/diningroom and a kitchen where you also can eat. There are 3 terraces and a garden. Lots of birds in the garden, beacause of a creek next to the garden. There are 2 hammocks outside, a grill, a sunshade, toys/games for playing outside, that you are free to use. There is a tv, with only danish channels. DVD player and a loudspeaker with a jackstick for fx your phone. In the kitchen you can use all the spices we have. You can park next to the house. We have our own parking in front of the house, for up to 3 cars.
The neighbourhood is very quiet.
Room Type
Entire home/flat
---
Property Type
House
---
Accommodates
5
---
Bedrooms
Humlebæk, Denmark
Estimates cottage ambience with modernist clean lines. Large windows with view to greenery. The living room has direct access to the beautiful terrace. The house is located half an hour from Kbh.10 min. drive from some of Denmark's most beautiful beach.
Close to some of the best beaches in the green surroundings with beach friendly lake, lies our beautiful and modernist townhouse with windows from floor to ceiling. Obvious to keep your holiday here, if you also have a couple of live wires (children) with him on tour. The house has a lovely wooden deck where you can enjoy a nice siesta. The house is furnished functionalist and relaxed with a scent of summer!
Lovely relaxed atmosphere, many scenic areas. close to beaches and woods. Only 5 min. drive from the museum Louisiana. Close to the beach road with many good restaurants and cafes. Furthermore, there will always be a cute neighbor you can ask for help and guidance.
We loved our stay in the cosy and stylish 'La Casa Familia'. The clever architecture made that -while not a big house- it comfortably sleeps four adults and two children. We loved the furnishing with many (Danish) design icons. A bonus was the dolhouse that our two daughters enjoyed playing with. Malene made us feel very welcome upon arrival, beautiful photo books had been laid out on the table. In short, we would love to come and stay again!
Michiel
2015-12-28T00:00:00Z
It has been a great pleasure to stay with this host ..... Lovely surroundings and sweet welcoming neighbors :-) throughout positive ..... Highly recommend anyone to stay at this host :-)
Pernille
2014-07-05T00:00:00Z
La Casa familia is a perfect spot for relaxing holidays. The house is really confortable and has everything you can need. The neighbourhood is nice and safe with a lake and families living around. It is also a great place to travel around the island with beaches, castles, and copenhagen within a short drive. The host were great. Jacques welcomed us with a big smile, beers and all the explications we needed. We can only recommend to stay at their place.
Simon
2014-07-15T00:00:00Z
The house was clean, really well equipped and comfortable. It is really well located (close to the coast, Louisiana museum...). Malene's father met us their when we arrived and was really friendly. I recommend.
Marine
2015-09-14T00:00:00Z
Malene's parents greeted upon our arrival and provided useful info about the neighborhood. Easy access to the local attractions and on/off freeways. Excellent kitchen supplies! Both kids had a great time with the doll house and plenty of toys/games to play. Thank you !
Josephine
2015-07-31T00:00:00Z
The reservation was canceled 9 days before arrival. This is an automated posting.
Gitte
2014-12-21T00:00:00Z
A very nice & cosy place, with everything you need. Good location close to interesting sites (Helsingør, jaegerborg dyrehaven,...) Very friendly owner, and good communication
Bart
2016-08-02T00:00:00Z
We had a great time at 'La Casa familia' with our family (3 adults and 1 kid). We loved the house. It's spacious with a lot of light. Very comfortable. Everything you need is there. When we arrived Malene and Jacques welcomed us with a little treat and fresh flowers. Very welcoming. The house is located in a nice, friendly development. I loved to run through the fields. By car we were in 10 minutes in Fredensborg or Helsingor. Also Copenhagen is very close by. There is even a train station in walking distance. We recommend this house very much and will come back the next time when we go to Denmark.
Judith
2015-06-28T00:00:00Z
Room Type
Entire home/flat
---
Property Type
House
---
Accommodates
6
---
Bedrooms
Kvistgård, Denmark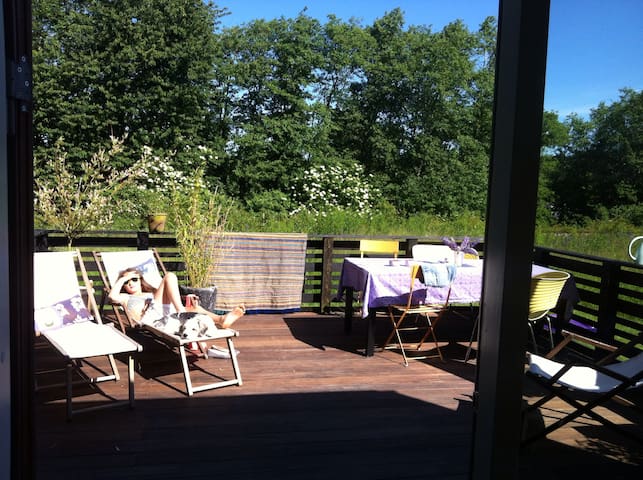 Enter dates to see full pricing. Additional fees apply. Taxes may be added.