Enter your check in date in the format dd-mm-yyyy
Enter your check out date in the format dd-mm-yyyy
Listings you can book without waiting for host approval.
7 Bed & Breakfasts
· Favoriten
7 Bed & Breakfasts
· Favoriten
Enter dates to see full pricing. Additional fees apply. Taxes may be added.
This July and August, you can try one of these 100 highly-rated homes, at all price points, and experience a local's view of Sonoma. 24-hour check-in, Instant Book, and local wine and snacks let you just sit back and enjoy your trip.
Place is very Close to U1 line and U4 and U6 lines. You can take the Tram for any connections right from the door steps.. You'll love my place because of the location and the and easy. My place is good for couples, solo adventurers, business travelers, and furry friends (pets).
The host canceled this reservation 24 days before arrival. This is an automated posting.
思敏
Amol is a great host. The room was clean and spacious. Great break fast.Thanks a lot.
Maximiliano
December 2016
Amol was a wonderful host. He was attentive to giving me good directions and offered helpful suggestions. The room was pleasant. I especially appreciated a good table for a work space and everything was very clean. Public transport is close at hand and you can be in the city center in 15-20 minutes, quite easily. There is also a grocery at the corner which is quite handy. A great place to stay.
Terry
December 2016
The host was very helpful and the room clean and comfortable. The location was near the city center. Overall we recommend it.
Konstantina
December 2016
Room type
Private room
---
Property type
---
Accommodates
2
---
Bedrooms
1
Favoriten, Wien
If you look for a cosy, quiet room and a delicous breakfast ( please give a donation into my piggybank!) with a funny and interesting "elder" lady you are right here! make yourself at home. Feel free to use my kitchen - coffee, tea, spices and herbs a for free! 5 min to the wonderful Amalienbad (art nouveau indoor swimming pool and sauna) 7 min to U-Bahn, 15 min to the citycenter, 20 min to Therme Oberlaa, 35 min to the Danube, 7 min to the best icecream of town ;), to the shoppingstreet and marketplace, even to the wood you don't need more then 15 min!
Veronika is a gracious and generous host and made me feel most welcome from the start. The pictures and descriptions here accurately describe the apartment. The bed was very comfortable and the entire apartment was spotless. I look forward to spending more time with Veronika on my next visit to Vienna. One note: the directions to the flat from the airport were somewhat confusing. I made it ok with the help of my phone.
Timothy
May 2014
Veronika welcomed me, she was very friendly and welcoming. And she gave me to super tips about Vienna. Thank you for all your help and kindness
sungka
November 2016
I absolutely adored staying in Veronikas home. She was very welcoming and the apartment is beautiful and really well looked after. I stayed for a month and by the end of my stay I really felt at home. If you are considering staying in Vienna, Veronikas place is a great home base if you have a longer stay and don't need to be staying right in the middle of the city.
Ella
August 2015
Completely as described and expected, thanks
greg
June 2016
Veronika is a very sweet host. I liked her and her house very much. When I arrived at night, I was scared of the neighborhood due to graffiti on buildings but Veronika explained that it's a very nice neighborhood.
Nithin
May 2015
Veronika's place was heavenly! It was my first time away from my country and yet I had no problems finding her place (also thanks to the excellent public transport of Vienna). Veronika was away from Vienna when I arrived, but her brother, George was there to welcome me; and he gave me a really good reception. We have become quite good friends in the short meeting. I stayed alone in Veronika's place but had no problems in anything. The kitchen was stuffed with all kinds of goodies for me! And it was really really nice of Veronika to give me access to whole of her house and put so much trust on a stranger that too from a different continent and culture. Although she was not around during my stay, her warmth was there in her beautiful house. Thanks Veronika.
mainak
July 2012
Veronika is a great person and her place is very beautiful, convenient and indeed special. The well equipped kitchen is a big bonus. I highly recommend the place!
Amir
April 2015
My stay was super enjoyable, Veronika really make me feel like home. Super relaxed and easy going. I hope I've been a good guest too as much as she was a great host! :) If I'm back in Vienna I'll be staying here again for sure.
Alessandro
June 2016
Room type
Private room
---
Property type
---
Accommodates
1
---
Bedrooms
1
Favoriten, Vienna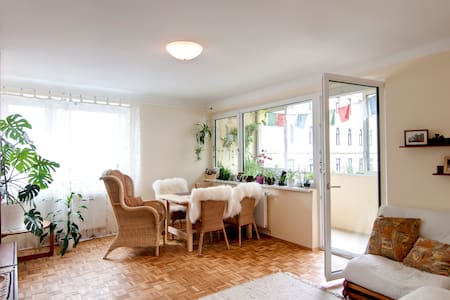 I have a small spare roomn with a single bed not far away from the city centre of Vienna. There is a bed for a person only inside, nevertheless, I have a matress which you can anytime use. Breakfast is included, as you can eat from the food I cook for myself. The room is private and will be shared with nobody. The toilet and shower will be shared with 3 other persons, they are mostly at work or studying. There is one small disadvantage, the bed is a high-bed.
Simion is a super-efficient host. We were delayed arriving but he made it easy to meet up, and helped us out with everything we needed, including advice about public transport and markets! The location is great for the Hauptbahnhof - we had an early train to catch - and the view over the square is lovely :)
Helen
September 2015
Simion is a great host. He offers small but clean and cosy room. Very nice common space in the apartment. It is suitable for undemanding guests, who wants to stay for few nights and visit Vienna. Good location, easy access to city center.
Marcin
September 2015
Simion has been a great host! We had some real interesting talks and the house is an architecturally and atmospherically interesting place!
Kurijn
September 2015
Room type
Private room
---
Property type
---
Accommodates
2
---
Bedrooms
1
Favoriten, Wien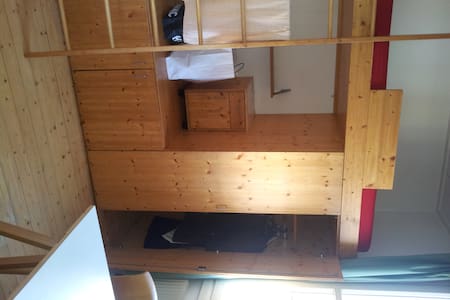 you get bed&breaktfast and free W-LAN
The flat (3 rooms, WC, bathroom with shower) close to subway U1 and shopping street Favoritenstrasse. It silent because in the 5th floor with lift. Bed/breakfast at a family with 2 sons (14 years). Languages: german, english, russian, (a little turkish), aseri, french
Stephen made my stay there very welcoming and smooth. Everything is as it stated. His family is also very nice and will do what they can to help you out. They also prove breakfast. I don't eat much in the morning, but one can help themselves to as much breakfast as one will like. During my stay, Stephen pointed out a few places I sure check out and show me how to get around in Vienna. Stephen is also a scientist. I believe it is Bio; however, he does know much about everything. I had many great and informative conversation. I also learn some history of Vienna.
Qi
August 2016
Everybody knows Stephansdom, but I'm glad I decided to stay at Stephan's apartment and that I got to know Stephan. From the start I felt very welcome. He made sure I had an excellent stay from different points of view. Stephan is a flexible and caring person with a lot of life experience which he gladly shares. This resulted in some very interesting conversations on plently of subjects. He's an inspiring person! The location of his apartment is perfect. Not far from the main train station and right next to the U1 metro line which takes you directly to the historic centre of Vienna. If you're not sure on how to get somewhere. Don't worry. Stephan will help you. Service surely is included. Stephan is a very understanding and flexible person. Vienna is an interesting city. Staying at Stephan's place made it only more interesting. I certainly will revisit him if I have the chance.
Mario
May 2016
Convenient location, nice breakfast, good for the short stay.
Vince
August 2016
Stephan is very friendly and knowledgeable person, you can discuss almost everything with him during the breakfast time, I learned a lot from him. It was a nice stay with Stephan's family. Stephan 是個非常友善而且很有學問的人,你幾乎可以在早餐時間和他討論很多議題,我從他身上學到很多。
Fanhsuan
November 2016
Stephan provided detailed information to get to his flat which is a minute walk from U station. I stayed just 1 night but stephan guided me where to go what to do and the morning breakfast was great thanks for that Stephan.
vinay
November 2016
Stephan was a wonderful host during my stay in Wien. The location of the apartment is quite good! I just walked one block from the subway U1 which is the best transportation in Wien to visit all the great places and top sights and attractions in the city. Additional he was very kind printing the directions to all the places I need to know and allowed me to arrive late after I came back from Italy because my train was arriving midnight. Breakfast was good enough and coffee always available. His wife was also very nice and make feel like home. I stay during three nights and wanted to stay more but I had plans to travel to Italy but I am sure I would like to come back. My only recommendation is to offer WIFI because even so we can get WIFI all over the city I wanted to be connected with my family and my friends in Mexico. I highly recommend his apartment during your next stay in Vienna and he has created amazing videos in youtube of the beautiful places in Vienna we need to visit!!
MEZA
November 2015
Stephan is absolutely wonderful. I had never used Airbnb before so I was a bit nervous about what to expect but he and his wife were friendly, welcoming and flexible. Stephan has an incredible knowledge about Vienna and places to visit. He was also very flexible regarding times for breakfast and tried very hard to make my stay as comfortable as possible. I definitely recommend his unit to anyone travelling through Vienna.
Brian
July 2016
Stephan is a very nice host. The location is convenient. The only difficult I had is that I didn't receive the direction Stephan sent because it went into trash due to the long email address Airbnb gave the host. If you reserve this place, remember checking your trash mailbox for the direction - it contains crucial information about how to get into the apartment.
Shih-Ping
June 2016
Room type
Shared room
---
Property type
---
Accommodates
1
---
Bedrooms
1
Favoriten, Vienna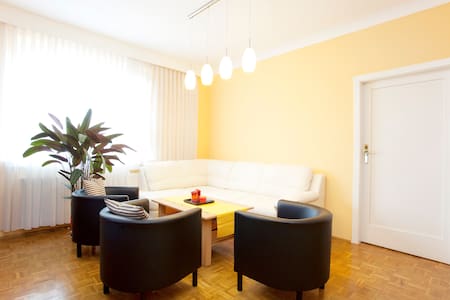 This is a lovely, sun-filled top-floor apartment just 10 minutes from the Hauptbahnhof (central train station). This stylish apartment is filled with books and beautiful artwork, with a large green terrace.
I have a vast collection of Austrian, Russian, and American literature as well as a great CD collection of classical music. The space is tranquil and cosy. Guests have their own bedroom and their own bathroom. The communal spaces are all available, and breakfast will be served in the dining area or on the terrace (in the summer). The kitchen space will not be available for the guests to cook, however they may store things in the refrigerator. As your hostess I will be happy to provide all kinds of tips and suggestions and can offer maps and guides. Depending on interest, I'm willing to offer special tours emphasizing history, architecture, and literature of Vienna.
The 10th District in Vienna (Favoriten) is multi-cultural and has seen a lot of changes in the past few years, beginning to be young and hip. There is a fabulous open food market around the corner offering fresh, local fruit and vegetables, exotic spices, and many other tasty things. The beautiful, art-deco Amalienbad (a spa and pool) is at the end of our quiet street. A long, pedestrian shopping area is adjacent to Buchengasse. Our closest subway stop is Reumannplatz, U1 (the red line) is around the corner. The Hauptbahnhof (Central train station) is 2 subway stops away. To get to the city center and St. Stephen's cathedral it takes less than a 15 minute ride. The famous Belvedere, home to most Klimt and Schiele paintings, is a 20 minute walk.
Deciding to stay at Maria-Regina's B&B will make your trip in Vienna memorable! I particularly enjoyed the lovely breakfasts with homemade jams! I immediately felt like home. Maria-Regina kindly takes the time to share her knowledge of the Austrian history, and to guide you organizing your visit in Vienna! When coming back in the Austrian capital, I will be happy to stay there again!
Pierre-Mickael
September 2016
I had such a wonderful time at Regina's place. She's the best host I could've dream of! She did everything to make me feel welcome and she succeeded. Her breakfasts are awesome (she makes the jams herself!!), but her company is even more so. The apartment is very conveniently located. If you come, don't miss the street market. I'll definitely return to my new friend's home.
Elizabeth
July 2016
Our weekend in Wien was much better than expected, and a key component was the styllish B&B for booklovers. Beautiful flat, perfect location and Regina is a perfect anfitrion, is a magnetic and full of knowledge person. We enjoyed so much listening to her. Thanks for all the tips and suggestions :) You know that we will come back!
Conchita
June 2016
Regina's home is convenience location, just 2~3 mins walking. It's same as pictures, very stylish and comfortable. Breakfast are delicious and cannot forget that home made honey. Regina is a very nice person who can provide you the city advise. We shared a great moment with Regina sitting around the fire, if I go to Vienna again, I definitely stay again in Regina's home, highly recommended.
King
October 2016
Wer Wien und Umgebung erkunden möchte und nicht nur gute Informationen und tolle Tipps von einem Insider braucht, sondern auch in einer gemütlichen, sehr sauberen und wunderschönen Unterkunft bleiben möchte, der ist bei Regina genau richtig. Ich habe mich sofort sehr wohl gefühlt und Regina ist eine warmherzige, zuvorkommende und tolle Gastgeberin. Es hat an nichts gefehlt - Reginas airbnb Angebot übertrifft jedes 5 Sterne Hotel. Wenn ich wieder nach Wien komme, dann bleibe ich nur bei Regina. Die Wohnung liegt optimal. In der Innenstadt ist man in weniger als 5 Minuten mit der U-Bahn. Regina hilft mit vielen Ideen und Inspirationen, Wien kennen- und lieben zu lernen. Ich kann die tolle Unterkunft für Wien-Interessierte und Liebhaber nur empfehlen.
Larissa
December 2016
War dein toller Aufenthalt. Vielen Dank.
Silvia
October 2016
Maria-Regina ist eine offene, kommunikative und einfühlsame Gastgeberin. Ich habe mich bei ihr sehr wohl gefühlt und ich kann den Aufenthalt bei ihr uneingeschränkt empfehlen!
Rieke
October 2016
L'appartenant est très chaleureux comme sa propriétaire. L'appartement regorge de petits trésors et Maria-Regiana prépare un excellent petit-déjeuner et bons gâteaux (elle n'est pas avare de bonnes histoires et de bons conseils pour faciliter la découverte de la ville) Tout est à proximité en deux stations de métro. Et la belle piscine Art Déco Amalienbad est au bout de la rue.
camille
December 2016
Room type
Private room
---
Property type
---
Accommodates
2
---
Bedrooms
1
Favoriten, Wien
Hello Travellers! We are Dogukan (from Turkey) and Jennifer (from Germany). We are both students at University of Vienna. And we are also organizing erasmus trips to some european cities. We live in an apartment which has 2 bedrooms. We decided to rent one room with reasonable price to students. So if you are student and if you need to save some money for your travel, we are your best option :)
The host canceled this reservation 2 days before arrival. This is an automated posting.
Andrea
The room is exactly as pictured. Can't beat the value for the price! Dogukan and Jenny were very kind. I was instantly made to feel like a third roommate and felt I had been there for a while. My only regret is that I couldn't stay longer and hang out a bit. Would've been nice.
Matei
September 2016
The host canceled this reservation 2 days before arrival. This is an automated posting.
Helena
Jenny and Doğukan are very nice, flexible and communicative. The room is clean, cozy and big. Jenny was very nice to talk me about the city and sightseeing. I spend the incredible evening this Jenny and her freinds. They are really nice guys! I would be happy to stay again. Всем рекомендую этих хозяев!
Карина
October 2016
I enjoyed my stay tremendously at the flat. The host were extremely welcoming and accommodating. I had privacy and freedom to go about as needed. I couldn't have asked for a better stay in Vienna.
Toyiah
September 2016
Near centar of Wien ( 5 min with an underground ), very close to underground station, easy to find, clean apartment, likable host, flexible with check in. We rent the room just for one night so we didn't see the host after check in. If we'll need the room in Wien, I would rent it again. Thank you Doğukan :*
Valentina
October 2016
The host canceled this reservation 20 days before arrival. This is an automated posting.
Mp
The host was nice, but did not really have time for us, as she was busy with schoolwork. The house rules said that the quiet hours were from 10pm until 8am, but the host had guests over starting at 12 and lasting well into the night, which made it difficult to sleep.
Meghan
November 2016
Room type
Private room
---
Property type
---
Accommodates
2
---
Bedrooms
1
Favoriten, Wien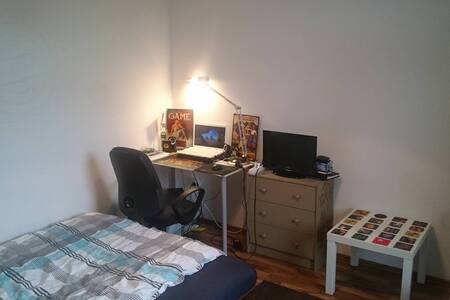 The house is lovely! Small, but fairly enough for 3-4 guests. Equipped with everything you might need. Very nice outside area with a table and 3 chairs under the trees. Birds, squirrels, nice fresh air. Gerhard, the host, is living in the house nearby and was easy to deal with. We booked this house because it was not far from Thermal Wien Oberlaa. It took about 25 minutes to walk to it through the park and it's quite easy to find it. Just keep in mind that some of the park entrances are closed for the night.
Ivan
August 2014
We celebrated New Years' Eve in Vienna with some friends of ours. Thanks to Elisabeth's hospitality and her beautiful house we were feeling just like home. The house is equipped with everything one might need and it's clean and cozy. Even though it's not very close to the center of the city, thanks to the good public transport we could quickly and easily get to all the sights of the city. We would love to stay there again next time we visit the city. And we'd like to thank Elisabeth for her hospitality and for the presents!
Daniela
January 2015
Elizabeth was friendly and perfect! we think we'll stay again next year!!!
Carlo
September 2015
Es war war ein wunderbarer Aufenthalt in Wien. Da Gartenhäuschen von Elisabeth ist komplett neu renoviert und sehr liebevoll eingerichtet. Es ist alles wunderbar gepflegt und sauber. Auch Elisabeth ist eine reizende Gastgeberin. Sie hatte uns bereits einen Plan der Öffis zurecht gelegt und eine Liste mit Einkaufsmöglichkeiten gleich in der Nähe. Auch um Tipps jeglicher Art rund um den Aufenthalt ist sie jederzeit gerne behilflich. Besonders hervor heben möchte ich das wirklich ausgezeichnete, liebevoll zubereitete Frühstück :-) Die Anbindung an das öffentliche Verkehrsnetz ist super. Die Bushaltestation erreicht man zu Fuß in 5 Minuten und von dort geht alle 10 Minuten der Bus direkt zu einer U-Bahnstation (Fahrzeit ca. 15 Minuten). Das schöne dort ist, man ist gleich in der Innenstadt aber wenn man es mal lieber etwas ruhiger und natürlicher haben möchte ... so hat man es auch direkt vor der Tür. 5 - 10 Gehminuten entfernt ist der Kurpark Oberlaa und vorher noch geht der Stadtwanderweg durch. Man geht durch wunderschöne Felder mit Weinreben und hat einen herrlichen Blick Richtung Simmering. Alles in allem .... äusserst empfehlenswert :-) Wir kommen gerne wieder.
Daniela
July 2014
Beim Ankommen wurden wir gleich sehr herzlich empfangen! Wir alle haben uns sehr, sehr wohl gefühlt. Es ist ein tolles Grundstück, sehr gemütliches, liebevoll eingerichtetes Häusschen mit tollem Garten, den die Kinder ganz selbstverständlich nutzen durften. Das tolle ist auch, dass hier viel Wert auf das Persönliche gelegt wird, wir hatten tolle Gespräche und bekamen ganz selbstverständlich Unterstützung im Erkunden der Umgebung und Wegbeschreibungen! Sehr, sehr nett. Elisabeth hat uns auch von ihrem leckeren Zitronenkuchen probieren lassen, vielen Dank!
Geraldine
June 2015
Room type
Entire home/flat
---
Property type
---
Accommodates
4
---
Bedrooms
1
Favoriten, Vienna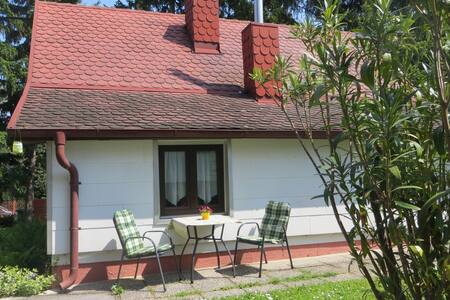 1

–

7

of

7 Bed & Breakfasts