Enter your check in date in the format dd-mm-yyyy
Enter your check out date in the format dd-mm-yyyy
Listings you can book without waiting for host approval.
15 Cottage Rentals
· Frankfort
15 Cottage Rentals
· Frankfort
Enter dates to see full pricing. Additional fees apply. Taxes may be added.
This July and August, you can try one of these 100 highly-rated homes, at all price points, and experience a local's view of Sonoma. 24-hour check-in, Instant Book, and local wine and snacks let you just sit back and enjoy your trip.
Full size memory foam mattress on a 6 foot lofted bed. Free wifi! Private shower room with infrared sauna! Has an attached outhouse (not heated) with a compost toilet. Large patio sunroom in front. Comfortable for 2 adults, but listed as 4 in case you want to add pets.
Quiet small separate Amish built cabin, approx 150 square feet. With commercial grade air condition/heater, shower room and infrared sauna. Fenced in area with garden, rabbit hutch and chicken coop. Compost outhouse (unheated) attached to outside of cabin. Comfortable for 1 or 2 people for a short stay. Pets must be added as extra guests. Your own small cabin, with private sun room, shower room, infrared sauna and outhouse (compost toilet) and sunken patio and large backyard. Wifi is not strong, but your welcome to hang out on the patio where reception is better. I love learning about people and exchanging ideas.
Older suburban neighborhood with retired folks and young families, big trees and a small neighborhood park within 3 blocks. Very safe to walk or run. I try to offer rides when I can, there's a city bus stop on Nicholasville Road that's less than a mile away. Or we can provide you with a bicycle! I live upstairs in the house with my partner, Derek, who is a raw Paleoist and unprocessed food enthusiast.
JoAnn's little home was lovely! A more serene little area could not be found in all Lexington. The house was clean. The amenities just as described if not better! The sauna was awesome and the shower clean. The out house can hardly be called that. It was clean easy to use and very nice inside(the only time I've ever said that about an outhouse). Would recommend to anyone, not to mention its a great deal. Hope to return soon!
Peter
April 2016
Loved it! This was the perfect quiet getaway that left us well-rested and ready for another long day of driving. JoAnn had tons of great recommendations for places to go in Lexington and I hope to visit again on a longer stay.
Rachel
November 2015
This is a gem of a place. The hosts were gracious and prompt with their responses. We're really into sustainability and urban agriculture, so we loved seeing their setup with the chickens, bunnies, and greenhouse. It rained like the Dickens the night we stayed there, but the tiny house stayed totally dry. The mini sauna was a great bonus! I'd recommend this spot to anyone.
neal
May 2016
Such a great place to stay! I stayed the night here after a day spent hiking in the Red River Gorge, and I found it to be in the perfect location between there and Louisville. You definitely have to be a little adventurous to enjoy it, and it was amazing! Very nice showe and sauna, plus the bed was super comfy! Loved my stay here.
Mary
March 2016
Awesome relaxing stay! The sun porch was beautiful.
Jess and Elizabeth
October 2015
This was my first experience using Airbnb and if every experience is like this one I will never use another hotel/motel again. The accommodations were above and beyond and this place is severely under-priced. There's also a wealth of knowledge to be gained from the hosts and what's going on, on the property.
Paul
June 2016
Joann was such a lovely host! Her little artist cottage was so cozy and perfect for what I was looking for. When I arrived she showed me around and made sure I had everything I needed. There's chickens, bunnies, a friendly dog and cat too. The cottage was filled with art supplies and projects that Joann is working on. It's really nice! The heater works great too, since it was pretty cold at night! I would definitely stay here again! :)
Stevie
October 2015
We stopped in Lexington on our way to Red River Gorge. This was the PERFECT place to stay the night before a camping trip. We absolutely loved JoAnn's studio, and do not have a bad thing to say about it. The space had everything we could ask for, plus some extras. Here is why it is awesome: - Plenty of privacy. The studio is tucked away in JoAnn's backyard and shares space with her lovely urban farm. - Incredibly clean and comfortable. The loft bed was comfy and well heated. The kitchen had everything you need to prepare a small meal or heat up leftovers. Also, it has the nicest compost outhouse I have ever used! A great eco-friendly touch. - The sauna and shower were great! Such a luxurious amenity with the sauna, Buddha statue and waterfall. A great opportunity to relax and unwind. Excellent water pressure in the shower, too. - The patio on the studio was also very nice. cozy seating and mood lighting made for a great atmosphere in the evening. - And last but not least, JoAnn and Derek were great hosts! They are very kind, willing to talk to their guests, and created an all around great experience for us. Even though we only stayed one night, when we return to Lexington, we will surely try to book this space.
Ben
March 2016
Room type
Entire home/flat
---
Property type
---
Accommodates
4
---
Bedrooms
1
Lexington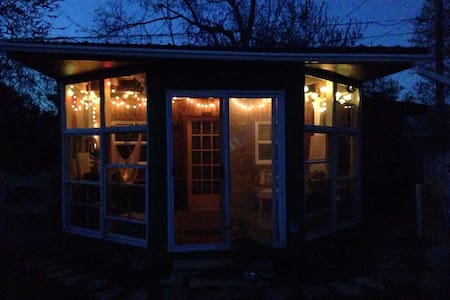 The Tack House sits next to a barn on the property behind the main house, an 1865 Greek Revival home, one of two homes built on the original 5,000 acres of Augustus Payne. A 150 year old Ginkgo tree from Henry Clay's estate still stands in front of the house.
Stephen was very responsive and accomodating to our needs!
Anne
October 2016
My recent stay at the Tack House was fantastic. The accommodations were perfect-- beautiful, clean, and very comfortable. The setting at the Hillwood Farm is gorgeous. My hosts were very welcoming and super friendly. Honestly, I could not have asked for a better week. Many thanks and I will plan to return to the Tack House next year for my annual visit to Lexington!
Peg
May 2016
The Tack house was lovely and close to the horsepark. Stephen and Patty were so very welcoming and gracious, providing all you need to feel right at home. I just loved the apt., the dogs and horses. So nice to get away and still feel comfy. Would stay again in a heartbeat and thanks again to my hosts for all the kindness.
Kelly
August 2016
We arrived late at night but was welcomed by a lighted house with soft music playing and a spring bouquet of daffodils! There was a bottle of wine and a big bowl of fruit and best of all a big bowl of chocolate!! The kitchen was well stocked and the house was immaculate ! Everything we needed was there. The grounds were beautiful and so inviting to walk and explore! We were lucky to be there when the trees were blooming and the spring flowers were profuse! The house is on a very quiet street and the view of the farm gorgeous . Stephen and Patty were the perfect host cordial and accomadating! If we needed any thing they were there to help. We will be back soon as it is the perfect place to stay!!
John
March 2016
Stephen and his wife were the perfect hosts. They very graciously worked through an unexpected booking glitch and were very welcoming. Having the chance to visit with them was truly a bonus! The Tack Room was all one could hope for in the way of amenities, everything was as listed Plus! An especially comfy bed is always a joy! Hoping to get a feel for what the KY bluegrass country is all about, we could not have chosen a better place to stay. Hearing the "hounds" baying on occasion and the birds chirping in the quiet countryside was delightful! Would recommend Stephens Tack Room to anyone!
Charlotte
June 2016
We arrived late and were still greeted even though it was raining. There were treats and stocked basics in the kitchen. We really enjoyed our stay. Since I grew up in Lexington on a farm it was like coming home.
T
December 2016
Nice little house in horse country. Convenient for equine tourists. Some driving for Lexington events.
Thomas
October 2016
Stephen and his wife could not have been anymore hospitable.. Everything was great and had a wonderful time.. We will DEFINITELY be back next year.. The place was great and accommodating for dogs. Stephen was awesome
Bruce
October 2016
Room type
Entire home/flat
---
Property type
---
Accommodates
2
---
Bedrooms
1
Lexington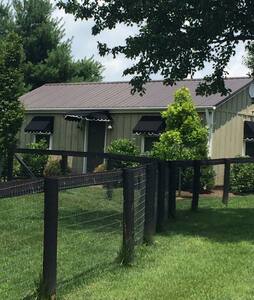 Located on the Bourbon Trail and within few minutes to stores, downtown restaurants, distilleries, and wineries. Composting toilet (please read guest reviews: clean & well lit~ not like outhouse~ no issues), non-heated city water, small towels to freshen up due to no shower, 4 place settings, misc kitchen/grill items, and coffee/tea. Perfect for couples, solo, families with children ages 12+ (or younger arrangements with host), and guy's or girl's getaway. 20 miles from Lex Bluegrass Airport.
FISH-tastic Little Cabin on Private Little Lake. Relax. Enjoy the sunrise and sunset. Get up early or sleep late. Go fishing. Read a book. Enjoy the company you are with or savor your alone time. We are thrilled to share our cabin and fishing hole with you. It's the perfect space to get away from it all. We have two twin beds and the futon converts into a double bed. There's also some fishing gear you are more than welcome to use. We have a DVD Player, DVDs (also minutes from a Red Box), small charcoal grill with utensils, books, board games, and various items you may need located in the kitchen drawers/cabinets. 4G no Wi-Fi. The cabin, deck, gazebo, and five benches located around the perimeter of the lake is available for our guests.
Located in small subdivision with houses spaced for privacy. After you receive a confirmed reservation, please read the 'House Manual Section' you will be able to view. It gives important details for directions. The price includes Ky Sales Tax and Anderson Co. Tourism Tax.
Your very own little slice of paradise! My boyfriend and I had a fantastic stay at the cabin. Angie was friendly and available throughout our stay. We enjoyed watching the sunset and grilling out by the lake and the stock of DVD's inside--everything we needed was provided! The location is super close to the Bourbon trail and allowed us to get a great start on our next busy day. Thanks Angie and Todd for a great experience!
Bridget
September 2016
Hard to find but unique location, composting toilet nothing like an outhouse, easy to use and access. Wish it hadn't been raining the whole time so we could have enjoyed sitting at the lake, but you can't plan for mother nature
Sheena
August 2016
My get away was 4 star. Water and the scene of nature brings me Peace. I enjoyed every second and the fishing was awesome. Will be planning a trip with my son to come back and enjoy ourselves.
Baruk
September 2016
Great place to stay on the bourbon trail.
Dave
August 2016
Perfect little cabin, private but not in secluded. Everything was perfectly clean. The sunset over the pond was absolutely breath taking. An amazing value if you're looking for a night in a cabin but don't want to be too far away.
Michael
September 2016
When I walked into the cabin, I knew it was perfect for a little getaway from a busy life! Todd & Angie were great with communication and paying attention to little details that would make the stay perfect, even leaving some snacks and bottled waters. This cabin is private and yet accessible to the highway making it easy to take a day trip to Lexington or to get groceries at Walmart (5 minutes away). The bed was super comfortable with luxury linens. Everything was clean. I enjoyed sitting out on the deck and reading a book on the swing in the gazebo. I would definitely recommend!
Joseph
August 2016
This cabin was a great experience for us, located right on the Bourbon Trail. A little hard to find at first, Apple maps seemed to do a better job with Angie & Todd's description than (SENSITIVE CONTENTS HIDDEN) maps did. Rustic but super fun and charming, we loved it. We caught a nice large mouth bass and grilled it up for dinner
Zach
September 2016
Great location for bourbon country! Lots of space for a "small" cabin and there is fishing gear, a grill, firepit, and a decent amount of privacy. Sunset views are very pretty over the water and it's a great place to relax. Just a quick note - the composting toilet is no big deal (it actually has a great view if you are so inclined!) but know that there isn't a shower/bathroom on the property. That didn't bother my friends or me, but that fact wasn't 100% clear to me beforehand so I hope it helps you out. Communication with Angie and Todd was spot on, the property was extremely clean, and I wouldn't hesitate to stay there again.
Andy
July 2016
Room type
Entire home/flat
---
Property type
---
Accommodates
4
---
Bedrooms
1
Lawrenceburg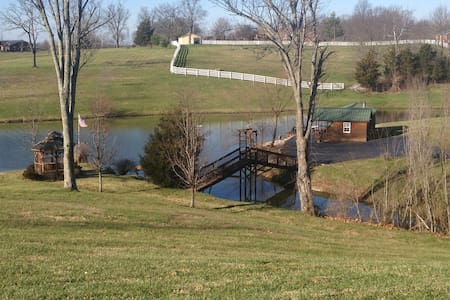 Nestled in the 400 ft cliffs of the Palisades-one of the top places to see in Kentucky! Enjoy nearby historic sites, distilleries, horses, nature, river activities & more! Comfortable one bedroom surrounded by the river and inspiring natural beauty. Price includes all sales taxes!
There is a queen bed in the separate bedroom, queen futon in the great room, and a trundle bed in the loft (queen or 2 twins). Kitchen has microwave, full-size refrigerator, and 1- burner hot plate. There is no stove/oven, but otherwise a very functional kitchen. Propane grill and wood/charcoal fire pit available for cooking or relaxing outdoors. Washer, dryer, full bathroom with tub & shower. Electric wall unit air conditioner, propane gas fireplace and electric baseboard heat. Smart TV, BluRay with video library, bluetooth speaker. There is no dish or wifi, but 4G available for your cell phone & hotspot. Books and board games available. Guests have access to entire house and grounds. Access code for entrance key to gate and house provided after booking. Kayak/canoe rentals and launch located within a mile. Two kayaks are available on site for use with a signed waiver. You will have the entire area to yourself. Owners will not be present during your stay unless called.
You will be submersed in the high cliffs of the Palisades near the Brooklyn Bridge. The area is quiet with a neighbor on one side and woods on the other. Great views of the river from the house and back porch. Perfect for adventurers!! There are many unique sites nearby including Fort Harrod, Shaker Village, Camp Nelson, Keeneland race track, Rupp Arena, distilleries, wineries, horse farm tours & more! Hike along cliff walls and watersheds, catch some fish or go boating. Take a day trip to Lincoln's birthplace & boyhood home along the Lincoln Heritage Trail. Visit nearby Lexington, Frankfort, Berea and Danville. Venture a little further to Kentucky's largest city of Louisville. See the Slugger Museum, Churchill Downs, Falls of Ohio fossil beds or nearby Historic Bardstown with My Old Kentucky Home, civil war museum and oldest western stagecoach stop Old Talbot's Tavern. Photo lovers bring your camera! S.R. 68 and surrounding area roads are popular scenic, curvy, hilly routes. A new experience awaits around every corner! It is a sharp turn into the Palisades entrance. Best to enter from the west on 68 and exit to the east on 68. There is a turn around at the bottom of the hill. 20 miles to Lexington Blue Grass Airport There are basic grocery & hardware stores in nearby Wilmore that close fairly early. Nicholasville and Lawrenceburg have more stores that are open later. Liquor and beer sales: Wet areas in Lawrenceburg, Nicholasville and Lexington. Otherwise, dry or moist counties (by the drink in some restaurants, historic sites & golf courses). No food delivery service, so suggest stocking up on needed items when in town.
Room type
Entire home/flat
---
Property type
---
Accommodates
6
---
Bedrooms
1
Harrodsburg
Historic guest house sits quietly among a working farm. The two room guest house, historically known as a "summer kitchen", accompanied w/ memory foam mattress queen bed, tv, seating area, kitchenette, breakfast table, and a newly renovated bathroom.
What can we say? This place is idyllic and amazing. Natalie and her family were generous, welcoming and gracious. The cottage is adorable and comfortable and the surrounding landscape is a wonderful respite from the rat race of daily life. We spent two nights at Waverly Farm and packed it with explorations: hiked to the Woodford Reserve Distillery from the the Summer Kitchen (just over an hour), toured the country backroads for beautiful Autumn views, and ate well at several terrific places within 15 minutes of the farm. We'll definitely come back if we're in this neck of the woods. Do yourself a favor and check this place out if you can!
Andy
November 2016
Perfect location and excellent hosts
Richard
October 2016
This is the second time I've stayed here and have thoroughly enjoyed both trips. The place is beautiful; Natalie very accomodating and helpful; we loved the goat, cat, horses, and cattle. The only problem is we tended to want to stay at the farm, rather than go do the things we'd planned.
John
May 2016
This was the most perfect Kentucky experience! Natalie gave us great recommendations on spots that all proved to be perfect. The property was beautiful and in an ideal location. The cottage has everything you need and feels like it's out of s movie. We agreed it would be the best place to write a novel! Natalie was incredibly responsive and super easy to get in touch with. If you're doing the bourbon trail of looking for a getaway in the middle of the most beautiful horse farms you've ever see, this is the best spot you'll find! We absolutely loved it!
Shawn
May 2016
We have stayed at the Summer Kitchen several times and intend to do so in the future. We love the farm, the location, the house, and friendliness of Natalie and her family. Truly a special place.
John
October 2016
We loved our experience at this summer cottage. It was everything we could have asked for and much more. The hosts were wonderful. The place is set on a beautiful 300+ acre farm with tons of wildlife. It's perfect for a romantic getaway or a soul searching stay. It's best when you can combine the two as we did. We loved every minute of this stay and can't wait to come back.
Kevin
November 2016
Our host was extremely quick to follow up and made sure everything was perfect. The historic guest house was even better than I expected. It was immaculate and well decorated. The bed was super comfy and I enjoyed the continental breakfast. It was located on a very private large farm with horses, goats and green pastures. I really enjoyed not having anyone above my room or beside my room making noises like hotels. The history of the guest house is very fascinating. I am going to stay here again!
Becky
October 2015
We had a wonderful stay as the farm is beautiful and the cottage is quaint and charming. The sunrise and sunset were amazing. We hope to return in the Fall and stay again during Fall meet. We have shared with friends and family as the stay is a rare find and authentic experience. Very private and romantic.
Erica
April 2016
Room type
Entire home/flat
---
Property type
---
Accommodates
2
---
Bedrooms
1
Versailles
Perched on stilts at the creek's edge, our cabin provides inviting and beautiful accommodations. With its multiple decks you can enjoy the beauty of Stoner Creek, view wildlife, and grill your day's catch on a private grill. Kayaks and Canoes incl,
The Cabin is on the Grounds of Paris Landing, There may be events taking place, visit our web site to see what may be taking place. We provide canoes and kayaks so our guest can enjoy the water Guests have full access to the grounds Stoner Creek (More Like A River) is a remote GEM with minimal access. Paris Landing does have boat ramps, and kayaks for our guests. But we can also offer a guided Pontoon Trip up the creek past amazing Thoroughbred Farms, viewing abundant wildlife. We can also provide a dinner cruise. Both trips are about 2 hours and will travel take in beautiful scenery. To reserve a pontoon trip, contact your host We look forward to assisting you with your stay. We can arrange visits to area horse farms, bourbon tours and more.
Public Transportation is minimal in Paris. Even Uber is a challenge. Your host can arrange a driver and limousine if desired Hot Tub overlooking the Creek King Size Bed
The host canceled this reservation 4 days before arrival. This is an automated posting.
Bracken
One of the best getaway weekends I have ever had. The cabin was clean and being out on the water was fantastic!
Sydney
August 2016
The cabin and grounds were absolutely lovely! The inside of the cabin looked newly updated and had many amentities provided. My dogs loved running around and enjoyed the creek. Downtown Paris is also very quaint - loved the setting and Brian was very hospitable. You will not be disappointed if you book... hope to be back very soon! -Megan
Megan
July 2016
We had a great stay! Brian was quick to contact and very welcoming/accommodating! The cabin is very comfortable although the dog had trouble with the spiral stair. The cabin setting is very nice with huge yard a easy access to the creek. Our visit was just at start of "summer" so the hot tub was yet to be ready and the grill wasn't ready but sure these two features will make for a great next stay, we will be back!
Jason
May 2016
Brian was friendly and made sure that we felt welcome. Our family's favorite part was having access to the water and the kayaks. We saw lots of wildlife: herons, otters, kingfishers and more.
Keith
October 2016
What a wonderful retreat! Cabin had everything we needed and nearby stores/restaurants were a plus. Thanks Brian for a memorable Memorial Day weekend.
Joey
June 2016
Our experience with Brian was great. The property was beautiful and well maintained. The house was very clean. Although it rained most of our weekend my wife and I still have a good time.
Ethan
May 2016
Beautiful location, great place to stay. Brian is a great host, you could not ask for anything better. If you stay here you won't regret it.
Tres
May 2016
Room type
Entire home/flat
---
Property type
---
Accommodates
4
---
Bedrooms
1
Paris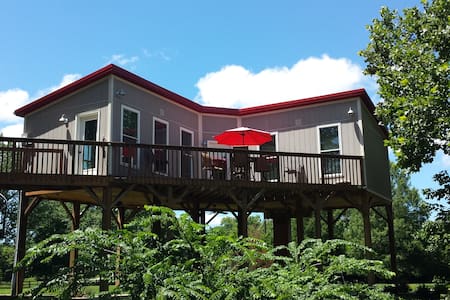 Wind Crest Farm – - Simpsonville, Kentucky - Near Louisville & bourbon distilleries - 5 acre gentlemen's farm - Farm joins hundreds of acres of surrounding farmland that is part of a traditional Englilsh Hunt Club and riding trails. Horse barn available - 200 year old chestnut log cabin - In the middle of Kentucky saddle bred country adjacent to the famous bluegrass region thoroughbred farms. ‐  ¼ acre native wildflower garden - 25 minutes from Downtown Louisville - 15 minutes to airport
Room type
Private room
---
Property type
---
Accommodates
2
---
Bedrooms
1
Simpsonville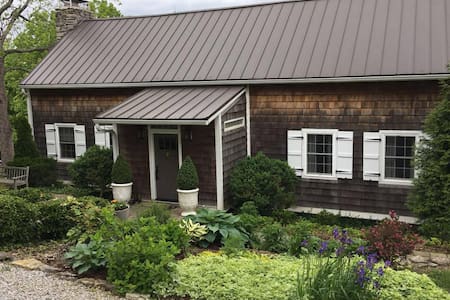 Adorable guest cabin ,1 Big room 2 or 3 beds and a cute living room with a sigle very comfortable sofa bed with memory foam mattress . 1. 1/2 bathrooms Small fridge Microwave and coffe maker ( no Kitchen)special rates for Rolex Week and Keeneland and Split Rock horse shows weeks.please contact host for this prices
Beautiful vews ! Bourbon Horse country Brreding Farm Only guest cabin And garden If we are in the property we love our guests, we are aleays available
Very quiet farm ambiance Can call taxis Children are welcome bur need ro contact host for special arrangements for safety reasons
Room type
Entire home/flat
---
Property type
---
Accommodates
4
---
Bedrooms
1
Paris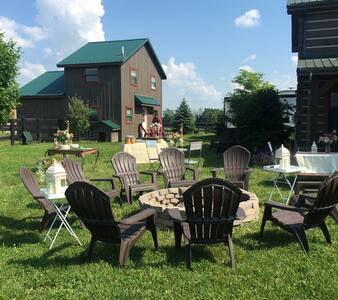 Our cabin is about 6 miles to dock your boat onto the Ohio River. Also a cute little gift shop and place to have lunch called Knock on Wood is just a 5 mile drive and just half mile away from boat ramp. A 15 minute drive into downtown Lagrange for more shopping including food and boutiques. We are 30 drive into Louisville and 1 hour 15 min. drive to Cincinnati Ohio.
I can't say enough about how pleased we were with this cabin. Ronald was very courteous & helpful so we could find it with no problem & went out of his way to put up signs. The cabin was beautiful & very clean. I would definitely recommend this place to anyone. It was under construction but not enough to even make a difference during our stay. Only bad thing I will say is that it is in an area where cell service was not great & no wifi. It didn't matter to me, but did matter to others
sherry
June 2016
The home was immaculate. Leslie went above wha6 was expected to make our trip great.
JOHN
October 2016
It was very nice. We loved it, it was very peaceful and we are looking forward to coming again.
Jose
July 2016
This home was the perfect size for the eight of us! Beautiful country setting.
Kelly
October 2016
The house has beautiful interior, brand new kitchen and bathroom and a charming rustic flair. The pool table and Karaoke are great additions!
Evgeny
October 2016
My family stayed at Leslie and Keith's cabin for Christmas. We have family from Kentucky, Wisconsin, and Ohio. This was the perfect place for us to stay. It is cozy, clean, and provided all the essentials (condiments, plates, bakeware, etc.) The check-in process was a breeze. There is no wi-fi or cell service. It was the best way to unplug. We also went on a Christmas Eve hike at Morgan Conservancy. So tranquil. We were about 30 min. from Louisville, and right on 71 to Cincinnati. I'd highly recommend the cabin. We'll be back!
Samantha
December 2016
Very nicely renovated inside! Lots of modern amenities. Host made us feel very welcome with lots of extras. Very clean! Didn't like that the outdoor space is not really usable. There is no WIFI or Cell Service. Once outside is complete, it will be a much better space.
Angie
August 2016
Ronald and his wife were such gracious hosts. They provided excellent directions to the cabin and had signs up by the mailbox welcoming us when we arrived. The pictures make the cabin look nice but it is actually amazing. It's so cozy and modern. I loved the built in Keurig maker in the fridge. They had some essential groceries waiting for us when we arrived which was so appreciated. We had 4 kids with us and they loved exploring the property and the home. We were only 30 min from Kentucky Kingdom which we enjoyed one day. We had dinner at a host recommended restaurant in town which was fantastic. They have a huge firepit where we made smores in the evening. The kids can't wait to visit again and we will definitely stay here again if they will have us.
Tracy
September 2016
Room type
Entire home/flat
---
Property type
---
Accommodates
8
---
Bedrooms
4
La Grange
A DreamLog Cabin in the heart of horse Country, the cabin has 4 bedrooms and 3.5 bath A guest house that sleeps 3 with 1.5 bath for extra 100 per day if needed Cabin is at horse training and breeding jumpers farm, also lessons available or nice ride on trails
It is Unique !! Your stay will be like a dream come true. An extra guest house available for larger groups at 100 dollars per night sleeps 3 and has 1.5 bathrooms ( no Kitchen in guest Cabin ) Guests will have acces to the hole house and spa . There are horses on property , if interested riding lessons could be arranged at extra cost , and also horse trail rides could be organised ( please let us know when booking so it can be arranged
Beautiful horse country , very safe . And close to famous restaurant Windy Corner and Split Rock Farm show Jumping Tour . Taxis can be called . Guest cabin available for extra 100 per night , cabin has 1 master bedroom and a twin couch in the living room 1.5 bathrooms ( No Kitchen in Guest Cabin ) only Small refrigerator Microwave toaster and coffee maker Special rates apply for special dates , request with owners.
Room type
Entire home/flat
---
Property type
---
Accommodates
9
---
Bedrooms
4
Paris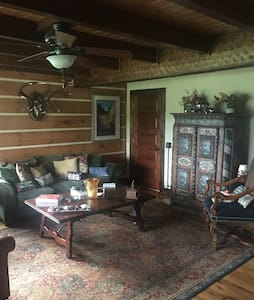 Our three bedroom cozy log cabin that dates back to over 200 years old, offers the true Kentucky feel. We are secluded on ten acres in the middle of horse country. The property also has a bunkhouse that will comfortably fit 3-4 guests. Just thirty minutes from Churchill Downs.
Room type
Entire home/flat
---
Property type
---
Accommodates
8
---
Bedrooms
2
La Grange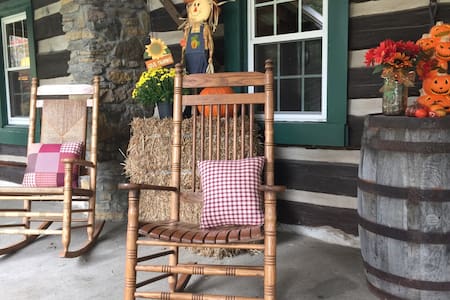 Two story log cabin nestled amongst a grove of trees on a small horse farm. Full kitchen, two full baths, two bedrooms, jacuzzi tub, and den with 8' limestone fireplace. Close to Keeneland, Airport, UK, Ky Horse Park, shopping, and restaurants.
Room type
Entire home/flat
---
Property type
---
Accommodates
4
---
Bedrooms
2
Nicholasville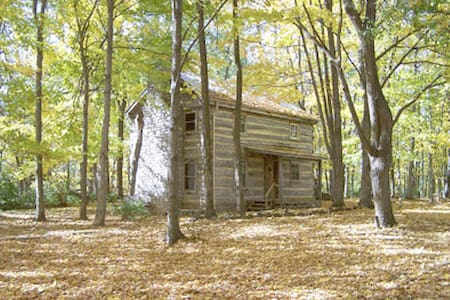 This amazingly beautiful and unique 250 year old Log Cabin Estate contains a Large Log Home with five fire places and four bedrooms, a cozy separate cabin with a kitchen, fireplace and loft and a Pool and Patio for outdoor entertaining.
Room type
Entire home/flat
---
Property type
---
Accommodates
12
---
Bedrooms
6
Louisville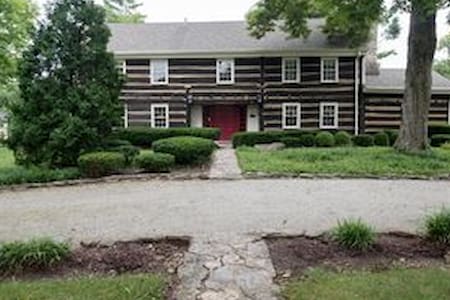 Welcome to Hemingway Lodge a 4000 sq ft custom log home for your Kentucky getaway, this 100 acre country estate is ideal for KY Bourbon trail base camp, family get togethers,special events*,weddings*,honeymoons,anniversaries,girls weekends,corporate retreats,wildlife viewing,hiking or just relax by the custom heated pool April 1st - October 15th. Autumn brings on a spectacular parade of fall colors, great for leaf peeping! Plenty of parking for autos and open area for Helo L Z with wind sock.
This 4000sq ft log home has 5 bedrooms with the 6th bed in open loft area and 2 deluxe queen air mattresses to sleep 16, 3 claw foot soaking tubs with bath salts for relaxing, large walk-in slate tile shower and outdoor shower, 2 story stone fire place, 2 55' flat screen tvs, thermador professional range, 2 LG refrigerators, coffee maker, kerurig, custom kitchen w/ island, large loft area. Home has a very open floor plan great for entertaining. The custom heated pool is open from april 1 to october 15th. There is also a 4.5 acre 4 board fenced paddock with run in shed and automatic waterer to discuss if you have horses*. The property is located 15 miles from I 64 in a rural and very private peaceful setting. Churchill Downs and Keeneland thoroughbred race tracks are 50 miles away. New Bulliet distillery 12 miles opening spring 2017. Jeptha Creed distillery 15 miles now open. Other distilleries about a 1 hr drive. Valhalla Golf Club 28 miles. The new Outlet Shoppes of the bluegrass mall 23 miles. Guist Creek Lake and Marina 13 miles. Elk Horn Creek and Canoe Ky paddle sports outfitters 31 miles. Ruth's Chris Steak House 40 miles. Claudia Sander's Dinner house 17 miles. Science Hill Inn best known for its dinning room-a restaurant in the finest ky tradition 14 miles. Bell House restaurant 14 miles. Main Street cafe and bakery 5 miles.
We charge a 10% bed tax that will be sent as a special offer through airb&b. *Contact manager for detailed quote for special events, weddings, horses ect. CTS Properties, LLC Property management co.
Room type
Entire home/flat
---
Property type
---
Accommodates
16
---
Bedrooms
6
Pleasureville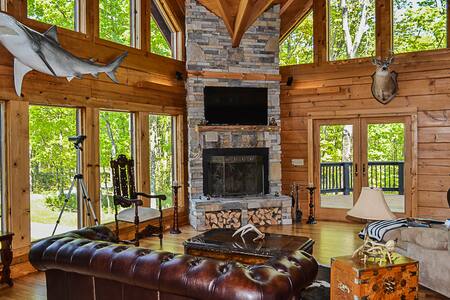 Looking to get away to the country for the weekend? Our Log Cabin is nestled on a thoroughbred horse farm just outside of Louisville Kentucky. Two Spacious Bedrooms overlook the farm paddocks and lake. A cozy fireplace warms the living room on cold.
Room type
Entire home/flat
---
Property type
---
Accommodates
4
---
Bedrooms
2
Goshen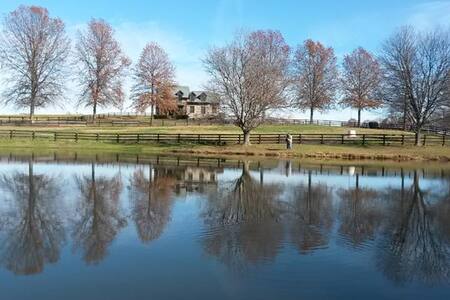 1

–

15

of

15 Cottage Rentals