La Casona de Suesa is a charming boutique hotel closed to Santander and only 3 km to the more wonderful beaches in the north of Spain. With 10 twin rooms all with en suite bathrooms, La Casona is the place you have always dreamt of taking comfort in.
Surrounded by 3.000 m² of lush garden, La Casona de Suesa is the place in which you will sleep and rest like never before, somewhere to enjoy a hearty home-made breakfast in and the perfect place and location to discover all Cantabria, enjoy the beach and surfing, or visit Bilbao and the Guggenhein museum wich are only 60 km distance.
Très bon séjour dans le B&B de Cristina. La maison est magnifique, et les chambres pleines de charme. Le petit déjeuner en terrasse en bordure de jardin est très agréable. Le wifi gagnerait à être un peu boosté afin de pouvoir être utilisé ailleurs que dans la réception.
Fabienne
2015-08-28T00:00:00Z
Room Type
Private room
---
Property Type
Bed & Breakfast
---
Accommodates
2
---
Bedrooms
Suesa, Cantabria, Spain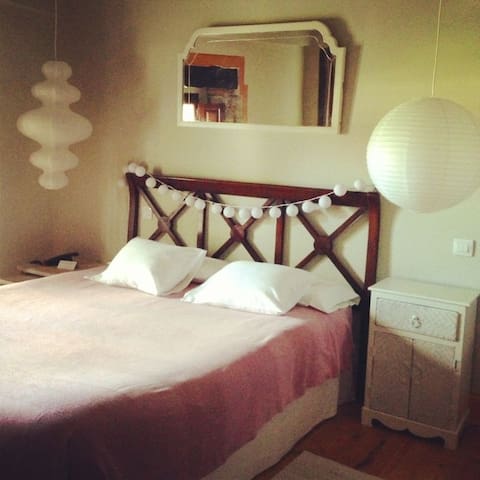 All the B&B rooms has private bathroom and television. A wonderful garden with private parking, solarium, children games, relaxing hamacas and night cinema is the best set-up after a sea day! There is also a small kitchen where make delicious meals!
The Wolfhouse borns from the utopia of travelling: creating a dynamic family for share their passions in happiness and harmony with others. The love and respect for nature , friendship and healthy living. The holiday is a serious matter for us , we strive every day to the success of our company. We plan trips ''Door to Door'' with a helpful staff 24 hours - From the displacements , the Airlines, shuttle airport-wolfhouse, the arrival at the house, activities / tours and all you need. Our strong point is the field of surfing , which is when our passion come truth for travelling and discovering. The Wolfhouse philosophy wants allow everyone to travel cheap , safe and fun. We work in Santander, Spain, from April to November. Join our barbecue party, sunsrise and sunset surf sessions, our secret local bars for delicious tapas and sangria. Don't forget to dance with us in the ocean at the rythm of salsa and waves :-)
It was a very good time at the "wolfhouse" The Atmosphere was like in a big Family. Great House, Great BBqQ and and great surfsessions. i can give only the best recommendations for Ale and Camillas Wolfhouse!!
Jan
2015-06-19T00:00:00Z
The hosts Alessandro and Camilla were fantastic surfer dudes. They happily helped with any requests we had, were laid back and fun, flexible with changing bookings and most importantly, showed us local surf spots. We went surfing many times throughout our stay at the great beach (Playa de Somo) nearby. All rooms were clean and tidy and the garden well kept. Very highly recommended. I would love to stay with Alessandro and Camilla again!
Robert
2014-07-27T00:00:00Z
Everything was perfect. Alessandro and all the staff were lovely and welcoming, making me feel at home. There are lots of different types of room and a mixture of different languages which was lovely and refreshing. If ever I didn't understand something the staff were all able to communicate in English perfectly so I was never worried. All I can say is that I can't wait to go back! Thank you so much! Hasta luego!!
James
2016-06-22T00:00:00Z
The Wolfhouse has friendly, chilled out atmosphere and Ale and Camille are great hosts! The room was clean, comfy and great value and we'd definitely like to stay again.
Greg
2015-07-29T00:00:00Z
Awesome place with a great vibe!! Also only a short walk to the beach with great hospitality I highly recommend it
Phillip
2016-07-10T00:00:00Z
We had quite a nightmare trying to find the house as a full address is not provided and Alessandro was having issues with his phone, for which he apologised profusely. The house is in a nice, quiet location but it is shared accommodation, rather than the private accommodation that is advertised. If you're looking for a fun surf getaway this place would be great.
Emma
2015-07-11T00:00:00Z
Very nice play to stay especially for future young surfers ... Alessandro is very thoughtful.
Guy
2015-08-11T00:00:00Z
This place is amazing. The owners takes fantastic care of their guests and ensures they have everything to be safe, comfortable and enjoying themselves. The other guests are also all super welcoming and want to include you in their daily activities, (Surfing, skateboarding, grabbing a drink, cooking a meal, playing with the dogs, exploring, etc) Dinner is served family style and you feel apart of a huge family to moment you walk in. You will really love being here, and I'm sure they will love to have you. Top spot for sure!
Ty
2015-07-18T00:00:00Z
Room Type
Shared room
---
Property Type
Bed & Breakfast
---
Accommodates
16
---
Bedrooms
Loredo, Cantabria, Spain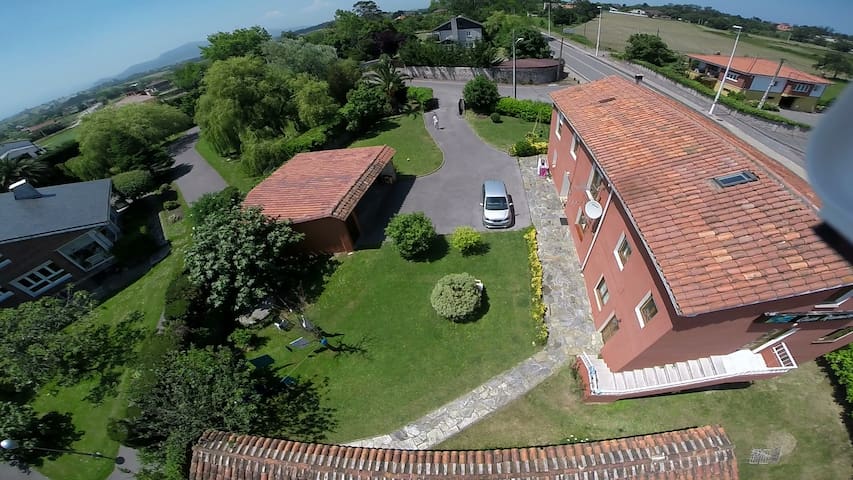 We offers super cozy rooms with private bathroom! We also have a cheap and good restaurant where eat delicious meals after a sunny beach day! We are located few meters from the ocean! Stay with us and feel the surf rhythms!
My children had their first surf experience with Anton, they loved it. Good atmosphere, relaxed, a bit of a steep walk to the center but close to the beach.
Martine
2016-08-08T00:00:00Z
Alessandro and his team are great, all of them were really friendly and welcoming, we really felt at home! The location is awesome, 10 minutes to Somo center, the beaches and all the bars and restaurants, even though you can always eat at the surfhouse with the guys! The room we booked was clean, with lots of storage space and nicely furnished, definitely recommended! Thank you guys! :)
Federica
2016-08-08T00:00:00Z
If you are in Somo for surfing, Demartini house is the best place to stay: everything speaks of surf!! Rooms are cozy and comfortable, everything clean and tidy. The food is delicious and cheap. The hosts Alessandro and Camilla and the whole family are awesome, funny, friendly and welcoming, always available to help you. For every need regarding surfing, spots, boards, wetsuits and surf lessons you can rely hosts: they are real Pro!! I will go back for sure!! Thank You guys, see you soon!
Luca
2016-07-06T00:00:00Z
Fantastico!!
Steffen
2016-07-15T00:00:00Z
Hicimos una reserva para cuatro días de dos habitaciones dobles comunicadas, independientes del resto, para alojarnos con nuestras hijas. Al llegar nos informaron de que una de las habitaciones estaba ocupada. Tuvimos que esperar desde las 18:45 hasta las 22:45 para poder hablar con el anfitrión, que nos propuso una solución temporal para dos días (ya que estaba todo completo) en los que tuvimos que estar en dos habitaciones en plantas separadas. A partir del tercer día, una de las dos habitaciones se ocupaba por otros clientes, y al estar todo completo tuvimos que estar los 4 en una habitación doble, donde instalaron una litera vieja y destartalada, a la que se le salían las lamas del somier, con unos colchones pésimos (al igual que el que había en la cama doble). También quiero hacer señalar que la limpieza de las habitaciones en general y del baño en particular, incluyendo toallas y ropa de cama deja mucho que desear. A pesar de la buena disposición del anfitrión y el resto del personal, nuestra estancia no ha sido satisfactoria.
Javier
2016-08-13T00:00:00Z
En primer lugar al llegar estuvimos más de una hora esperando a que nos dieran la habitación la cual teníamos reservada desde hace más de un mes. La habitación era doble con una cama supletoria de características lamentables. La habitación que nos dieron estaba en otro edificio por lo que teníamos que coger el coche para ir a desayunar todos los días. Las habitaciones no tienen nada que ver con las fotos. el desayuno es lamentable y el trato que nos dieron también lo fue en ocasiones. La organización es pésima y tuvimos que acudir a otra escuela a alquilar el material de prisa y corriendo porque nos dejaron tirados al igual que hicieron con la cama que supuestamente iban a cambiarnos. Pedimos una barbacoa y nos trajeron algo parecido y sin limpiar. Lo cierto es que las olas de Somo son espectaculares pero os aconsejo profundamente que selecciones otro lugar para hospedarse. Una lástima que sólo pudiéramos hablar con los únicos españoles que habían allí y que opinaban lo mismo que nosotros.
Alejandro
2016-08-21T00:00:00Z
Room Type
Shared room
---
Property Type
Bed & Breakfast
---
Accommodates
16
---
Bedrooms
Somo, Cantabria, Spain