A nice double room with suite bathroom and toilet in a beautiful house in the green and quiet. Upstairs 3 bedrooms with private bathroom and toilet. Private parking spaces. Less than 15 minutes from CDG airport, and 5min from Asterix park.
Beautiful villa in a quiet, deep in a stalemate. Private parking spaces in front of the house. From your room on the ground floor, you will have views of the garden of 3000m2. 3 additional rooms available upstairs if needed. Bathroom and toilet attached. We live on site. Haven 2 minutes from the motorway exit and 15 minutes from CDG airport without any noise since the city is not in the aviation sector. You can also join the Asterix park in 5 minutes. Paris is 30km and Chantilly, its castle, its racecourse are 15km. We can pick you up and drive you anywhere you want on demand.
The tennis courts are available to you for free just behind the garden. Faced with the impasse where the house is located, the entrance to the forest offers the opportunity of beautiful walks, as the village as a whole, which is American style and very nice. Less than 1 km from the house is a small shopping center with all the amenities: bakery, butcher, pharmacy, bank, hairdresser, doctor, newsagent and small supermarket. Less than 2km is a hotel area and restaurants at the entrance of the A1 motorway: courtepaille, buffalo grill, pizza del arte, mac donalds, etc.
My husband & I recently stayed at the lovely home of Cecile & family. In every way we were well taken care of, & we enjoyed our time of conversation with them while relaxing on the back patio of their peaceful, spacious & beautiful garden, both on arrival & then the next day after a long day in Paris, even though it was late. The room was nice, the bed quite comfortable, & the breakfast delicious. It was so nice to eat out in the garden. This home is in a quiet neighborhood outside Paris, ideal for getting away from the crowds, traffic & noise of the big city after the day's touring. It is within easy reach of the airport, train station & other beautiful regions. Cecile & her family were most accommodating, making every effort to ensure our happy & comfortable stay, including dropping us off & picking us up at the train station, which was much appreciated. We would definitely recommend Cecile's place to anyone coming to Paris. It's like your home away from home with wonderful hosts.
Monika
2015-07-18T00:00:00Z
This is the best experience that we ever had since we use Airbnb! Patrick and his beautiful wife were s(PHONE NUMBER HIDDEN) nice couple! They were not only give us the warm and lovely room but also gave us a happy and good rest. The morning that we were walking with them was peace and beautiful. They are the best host!Highly recommended!
Cherry
2016-01-11T00:00:00Z
Cecile and Patrick were great hosts! We came to Chantilly for a triathlon and stayed in their lovely place for 2 nights. We had lovely picnic in their back garden after the race which was the perfect way to relax. Wish we could have stayed longer in this beautiful part of France. Highly recommend!! Thanks Cecile and Patrick!
Rob
2016-08-30T00:00:00Z
Thank you so much Patrick and Jacqueline (Cecile's parents) for a perfect overnight stay. I felt both at home and very cared for as a guest. Sorry to see that France lost the final!! Wiskey.
J B
2016-07-08T00:00:00Z
Very open and sharing!
王者归来
2015-11-07T00:00:00Z
It's a very nice place. The house itself and the surroundings are beautiful. You can have your breakfast outdoors to watch the lovely trees near the house. We need to be close to airport,so for us the location was perfect,also there are other attractions nearby and the Paris is very close. We arrived during the opening game of Euro 2016 but,nevertheless, Patrick welcomed us warmly and helped to settle. It's a very kind and welcoming family,living in a beautiful and comfortable house, so I can recommend this place to everyone.
Valery
2016-06-12T00:00:00Z
A perfect stop on the way home! Jacqueline and Patrick were very kind and warmly welcoming, making us all feel at home immediately! The rooms are very clean and comfortable, and all the facilities are just as described. Also the optional breakfast was a great start of the day. Wish we had some more time to enjoy the beautiful garden and maybe travel a bit around in the area - but we'll definitely come back if again on the way!
Boaz
2015-08-31T00:00:00Z
Cecile and her family are one of the most hospitable and lively families I have ever stayed with . They are such lovely and woe coming people that one wants to keep coming back and staying with them . Patrick her father picked me up from the airport . The house is much more beautiful than described in pictures . The family made me part of there get together and the son victor is so amazing that he walked me halfway to the shopping centre and gave me discount vouchers for dinner . My experience with them was more amazing than staying in any five start hotel . The garden overlooks a beautiful first and some lovely lakes close by .a stay at there place is a must and I will surely keep going back to them
Abhinav
2015-07-01T00:00:00Z
Room Type
Private room
---
Property Type
Villa
---
Accommodates
8
---
Bedrooms
Saint-Witz, IDF, France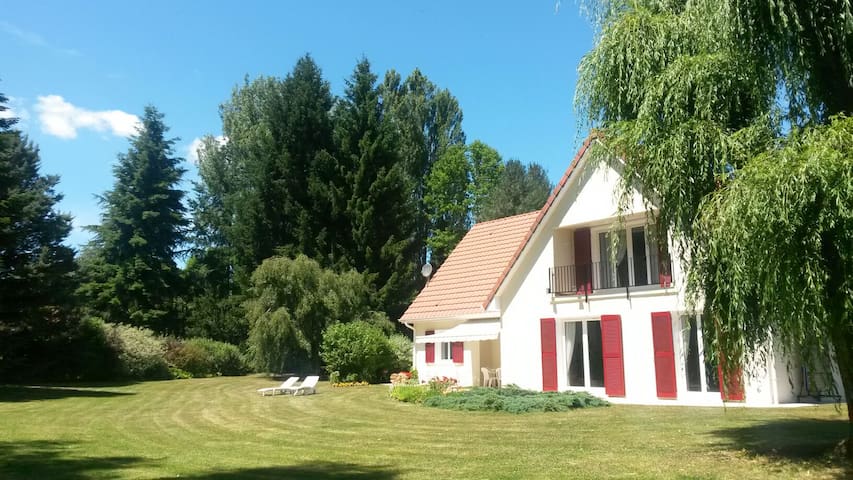 Chambre privée dans belle villa avec piscine, salle de sport et Studio d'enregistrement; Partage des pièces (cuisine intérieure et extérieure barbecue salle de bain WC wifi TV piscine salle de sport) Literie fournis. Situé à 7min à pied du RER D Survilliers Fosses 10 min Aéroport Roissy CDG , Parc d' Asterix et proche de Paris
la maison est équipé d'un système multi room audio mis à disposition avec la connexion wifi un studio d'enregistrement en option est disponible pour des prises voix ,d'instrument et de mixage Des repas exotiques peuvent être cuisinés en option
Une petite ville dans la campagne proche de paris et de l'aéroport de Roissy sans nuisance.
The hosts are nice. But the apartment is not very clean. There was dirty in the bathroom. The bed is a little too small for two people and was uncomfortable. If you clean up the apartment and exchanged bed it will be ok.
paulina
2016-10-20T00:00:00Z
Eurydice and his family couldn't speak in English. But they were very kindly and friendly family. There is very nice handmade jim. If we want to work exercise, to do easy.
Masamitsu
2016-10-03T00:00:00Z
Nous étions venus pour ma formation à 6 minutes de là, c'était très pratique d'être si proche. Pendant ce temps la mon conjoint est resté à la maison même s'il n'y avait personne sur place. La piscine n'était pas disponible, mais la salle de sport est très bien équipée pour s'entretenir. La famille est très sympa et ils donnent de bons conseils pour sortir manger aux alentours. Le lit est un canapé déplié mais c'est très bien pour dormir. (Petit bémol, les draps en soie glissaient.) Nous remercions Eurydice et sa famille pour leur accueil et leurs conseils.
Amélie
2016-11-10T00:00:00Z
Room Type
Private room
---
Property Type
Villa
---
Accommodates
2
---
Bedrooms
fosses, Île-de-France, France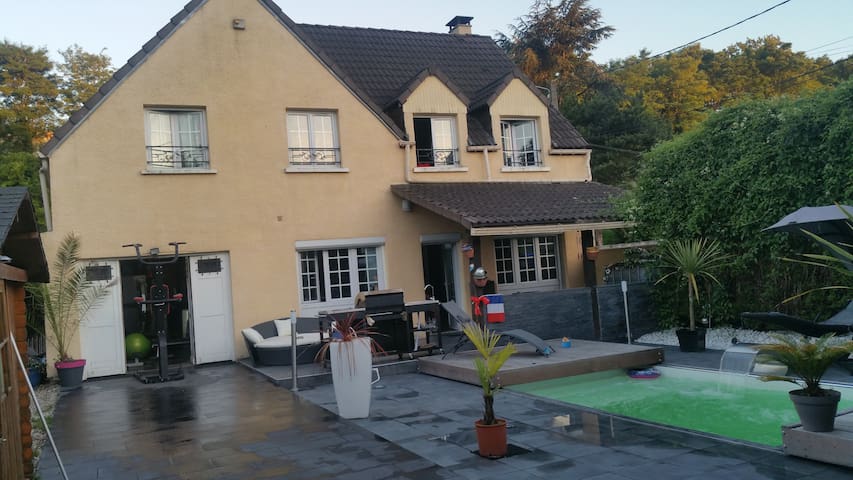 Enter dates to see full pricing. Additional fees apply. Taxes may be added.