Hej rejsende, Velkommen til! Hvis du/I er til god plads, lys og frisk luft, så er dette stedet. Der er tale om en lejlighed på 125 kvm. med dertil hørende stor altan med fire siddepladser, grill og to sækkestole. Fuldt funktionsdygtigt køkken med stort panorama vindue og alle fornødenheder. Der er et stort badeværelse med brusebad og vaskemaskine. Fra den store stue er der adgang til altanen. For enden af stuen er der adgang til soveværelse og fra soveværelset ind til gæsteværelse
Beliggenheden, og den fantastiske udsigt over mark/fold - med heste, høns, harer og fasaner - og skov, så langt øjet rækker.
Udsigten, dyrene, den nemme adgang til motorvej i alle retninger. Tæt på skov, vand, kultur og dejlige Aarhus.
We had a great stay at Julie's! She is a perferct host with willingness to help. From the windows and the balcony opens an amazing view over the fields. The house is nice and the little centre nearby has a little supermarket etc.
Kristiina
2016-06-23T00:00:00Z
Beautiful appartement, beautiful surroundings, very kind and helpful host. The equipment was perfect and everything was set up very loving and tasteful. The kids were sold on the horses, especially the foal. We loved the view from the balcony and the morning sun in our bedroom. We´d come again with pleasure and will also recommend this place.
Patrick
2016-07-10T00:00:00Z
Incredible place, incredible house... I could stay there forever. The appattment is really beautiful and the sorroundings are wonderful. We woke up and we could see horses and rabbits through the window. All was really clean. And we had all we needed. And we had forgotten some things like vinegar and Julie gave us all we needed. She was very nice and helpful! We would repeat again without a doubt!
Marta
2016-08-08T00:00:00Z
The host canceled this reservation 13 days before arrival. This is an automated posting.
Kim
2016-12-31T00:00:00Z
Great reception and everything as it should be. The place is great and with a good view on the surroundings. .. Julie is quite up to your confort..
Olivier
2016-08-23T00:00:00Z
I stayed just one night for business. Julie was very responsive to my communications. The apartment is a big, bright, modern attic apartment with lovely big windows with views over the countryside. There is a bedroom with an attached office at the far end of the large living/kitchen area.
manjeet
2016-09-30T00:00:00Z
We stayed here for 5 nights, 3 adults and 2 babies. We had a great time. This place was very clean, it has a nice view and any comfort you need. Julie is a nice person who is very helpfull. The only thing we didn't like was the wooden stairs. My wife was a little bit scared carrying the babies upstairs.
Shoresh
2016-09-07T00:00:00Z
Skøn lejlighed der helt og aldeles lever op til beskrivelsen. Fantastisk altan hvor man kan nyde udsigten og roen. Julie er en hjælpsom og imødekommende vært! Her kunne jeg godt bo igen!
Heidi
2016-09-26T00:00:00Z
Room Type
Entire home/flat
---
Property Type
Apartment
---
Accommodates
7
---
Bedrooms
Harlev, Denmark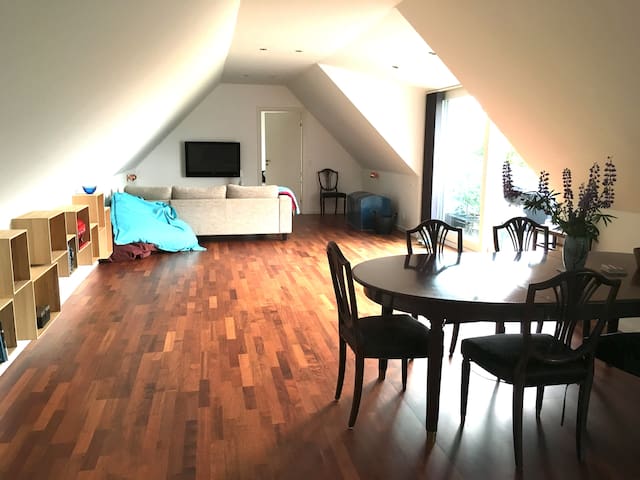 Dejlig 1-værelses lejlighed beliggende på fredfyldt villavej i det charmerende Gl. Brabrand. Lejligheden fremstår hyggelig med godt lysindfald. Godt køkken med induktion og flot badeværelse med gulvvarme. Skov og natur forefindes lige rundt om hjørnet, og der er blot 10 minutters gang til Brabrand Sø. Der er gode forbindelser til Aarhus C med kun 5 minutters gang til nærmeste busstoppested. Indkøb 10 minutters gang.
Flot natur, Brabrand sø.
Appartement agréable , bon rapport qualité prix , hôte sérieux et répond rapidement . je recommande !
Quentin
2017-02-25T00:00:00Z
Room Type
Entire home/flat
---
Property Type
Apartment
---
Accommodates
3
---
Bedrooms
Brabrand, Århus V, Denmark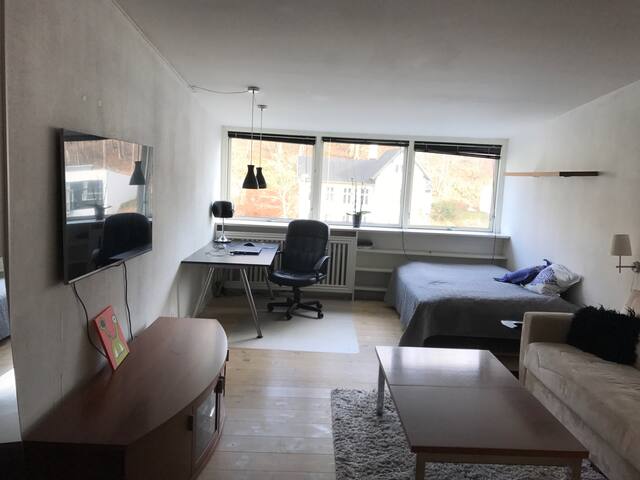 Cosy room in nice surroundings. Close to motorway and 8 km to the city center. Bus 15 leaves close to apartment two and 1 time every hour, and goes to the city center
The apartment have a wonderful terrace and is situated in nice surroundings, you are allowed to have small pets in the apartment
it was the wonderful experience staying out there and I am looking forward to it once again. Host(Michael) is very cooperative and helpful.Very good option and it should be tried out once.
Harinder
2016-01-18T00:00:00Z
God service nem kommunikation
Bo Hiort
2016-08-19T00:00:00Z
The host canceled this reservation the day before arrival. This is an automated posting.
Isabella
2016-05-10T00:00:00Z
Definitely a good place. Right on the bus line. Takes a while but good room.
Valerian
2017-03-02T00:00:00Z
The host canceled this reservation 21 days before arrival. This is an automated posting.
Barbara
2016-08-14T00:00:00Z
First time in Aarhus, Michael was a really kind and helpful host. The place is very nice. For sure, I'll book again with him if it's possible.
Mathias
2017-03-10T00:00:00Z
Michael has been really helpful for me as I was just starting a new job in Aarhus and needed a temporary place to live. He is really kind and easy to talk to. I highly recommend it for anyone searching for a nice and quiet place to stay.
Mathias
2017-03-31T00:00:00Z
Perfect !
Mathias
2017-03-24T00:00:00Z
Room Type
Private room
---
Property Type
Apartment
---
Accommodates
1
---
Bedrooms
Brabrand, Denmark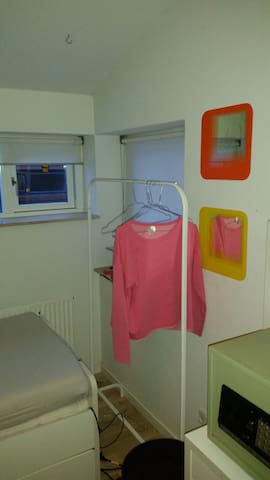 Lys og rummelig 2 værelses villa-lejlighed i to etager cirka 5 km fra Aarhus centrum, som ligger ud til større vej med gode busforbindelser til universitetet, midtbyen, banegård mv. Desuden tæt på rekreative områder og stisystem direkte ind til centrum.
The apartment's first floor includes a fully equipped kitchen with dining area, as well as all cooking utensils, stove with ceramic hob, large fridge-freezer and washing machine - not dishwasher. From the kitchen there is access to a balcony facing the garden and to the apartment's second floor contains 1) bathroom with space for tørretøj. 2) living room equipped with good double sofa bed, armchair, dining table, and a TV / DVD player. 3) bedroom with double bed and small desk. 4) storage closet, chest of drawers and free standing hanger rack. The apartment is located on the upper floors of a villa where we ourselves inhabit the rest. The apartment is only used for airbnb.
Området er kendetegnet ved kort afstand til Aarhus C., såvel som til rekreative områder med et stisystem langs å og sø som er velegnet til gåture, løb, cykling mv. Derudover kort afstand til strand og skov. Lejligheden ligger 5-10 min gang fra flere dagligvare butikker, flere forskellige fast food restauranter og et mindre indkøbscenter.
A nice and calm place, close to Viby Torv. Everything was prepared when I arrived: coffee, tea, beer and softdrinks in the kitchen. I really liked the wooden floor kitchen facing to the garden. Bright and rustic. Bedroom and bathroom upstairs, both are just perfectly furnished. This place, run by a very nice and polite couple absolutely worth its price! Highly recommended if you are looking for a calm place, without "unnecessary fanciness" :)
Illés
2016-05-27T00:00:00Z
The Birgitta's apartment is very cosy, clean and it did fit perfect for my necessities in my long stayed in Aarhus. The description fully matched with I found in it and the price was fair. Also, the host was very kind and prompt helped when she was requested. I fully recommend. Thank you Birgitta e Preben.
Fernando
2016-09-06T00:00:00Z
Apartment is centrally located and it is a great place if anybody is here for university or to visit around Aarhus. Hosts were really nice and even though they lived next door yet no intrusion at all. Even they are very welcoming. We did not have much time to visit city because of our course at university but they have made a good guide for the guests willing to roam around. overall it was a nice experience at their place.
Sehrish
2017-02-16T00:00:00Z
The house was awesome and we had the greatest time!! It was the best place in Aarhus and surroundings :) Birgitta and her husband are great hosts, really kind and helpful. The place is really well communicated with a lot of bus connections, lots of shops and ATMs nearby. The house is beautiful and comfortable, really Hyggelig. To sum up: great place to stay, don't hesitate to stay there if you have the chance.
MARÍA
2017-02-01T00:00:00Z
Birgitta and Preben helped us out from day 1 of our stay, or technically they helped us even before day 1. They were easy to communicate with, very welcoming and very helpful. The vicinity is really good; there are multiple shops and restaurants within 500 meters, and the area is also perfect to go for a run. Bus stops are also very close by, and lots of bus lines are crossing here so basically all parts of the city are easily accessable from here. I can only recommend their place to travellers who are looking for a peaceful accomodation in a wonderful area.
Dániel
2016-07-01T00:00:00Z
Lovely place. It is a short walk to many bus routes, aupermarket and small shops. It's well kept, well equipped has a lovely kitchen and comfortable sofa bed. The hosts are very friendly and helpful. I thoroughly recommend it.
Anna
2017-02-05T00:00:00Z
Birgitta was great and we had perfect communication.The house is beautiful and cozy!
Rafaela
2017-01-19T00:00:00Z
A very nice cosy place, we felt like home.
Katja
2017-02-26T00:00:00Z
Room Type
Entire home/flat
---
Property Type
Apartment
---
Accommodates
4
---
Bedrooms
Viby, Denmark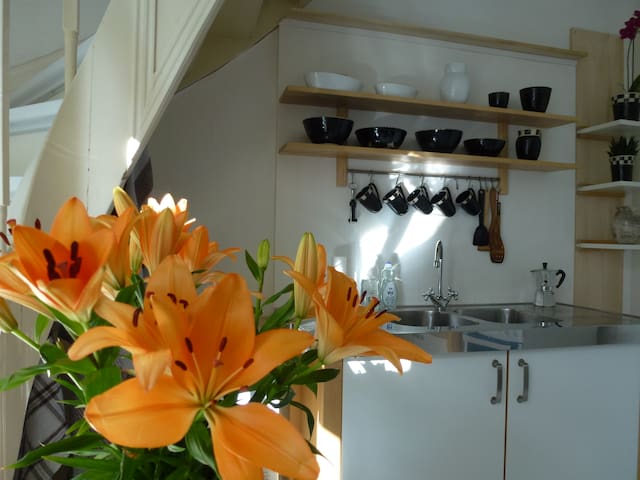 Stort soveværelse med seng 180x200 Kontor rum. Stor stue med masser af sofa plads. Altan og lys køkken.
Alt ok og i orden.
Anders
2016-12-25T00:00:00Z
Room Type
Entire home/flat
---
Property Type
Apartment
---
Accommodates
4
---
Bedrooms
Brabrand, Denmark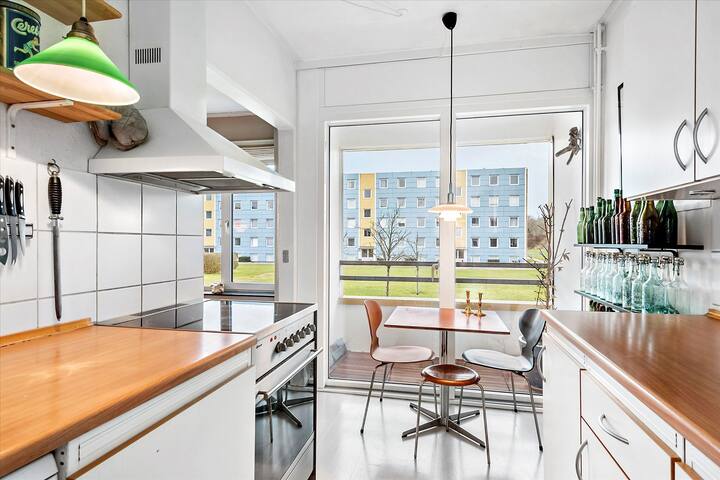 Welcome to my home. The light apartment with private garden where you can have late grill nights are a perfect place to spent your holiday in Aarhus. It is only 25 minutes from the city center where busses leaves 4 times every hour. My cat will be home during your stay but she has her own access to the apartment. See you soon.
Lys og venlig opholdsrum med separat soveværelse samt stort badeværelse.
kun 5 minutters gang til handlemuligheder som Fakta og Rema. Stor park, fodboldbaner og basketball baner 2 minutters gang væk
Nice place to stay
Edgaras
2016-10-28T00:00:00Z
We were on a business trip and in last moment we were one night three guests, Nadia our host was very easy going in accomodating us. Very nice neighborhood ! Shops near by and very safe !
benni
2016-10-03T00:00:00Z
For potentielle gæster er det vigtigt at vide, at ejeren til hverdag har hund, samt at ejerens kat har adgang til boligen gennem soveværelset. Begge dele sætter sine spor på oplevelsen.
Anita
2016-10-06T00:00:00Z
Nadia war eine gute Gastgeberin, die Wohnung war total gemütlich und wohnlich eingerichtet. Alles war wie besprochen, vor allem die ausreichenden kostenlosen Parkplätze in direkter Nähe waren für uns sehr von Vorteil. :)
Matthew
2017-01-02T00:00:00Z
Room Type
Entire home/flat
---
Property Type
Apartment
---
Accommodates
2
---
Bedrooms
Viby, Denmark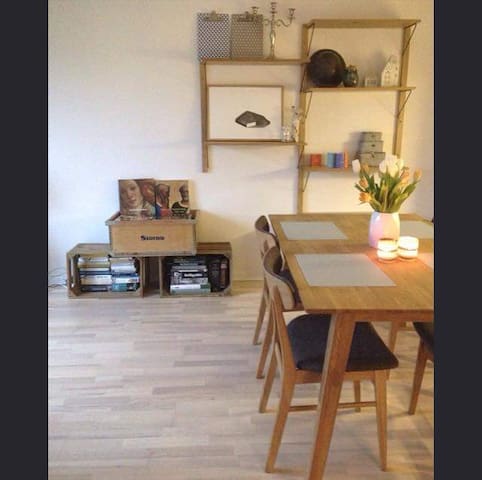 The apartment was built in 2008 and located about 2.5 km from the city center, with bus links just outside the front door and parking available in the back yard. It belongs to a south-facing balcony, all rooms are spacious with dining area both in the living room and the kitchen. It is possible to turn a double air mattress into the living room, giving sleeps 4 in total. However, there are only 2 single duvets are provided, bed linen and towels bring your own. There are TV channels and Internet access.
Room Type
Entire home/flat
---
Property Type
Apartment
---
Accommodates
4
---
Bedrooms
Aarhus, Denmark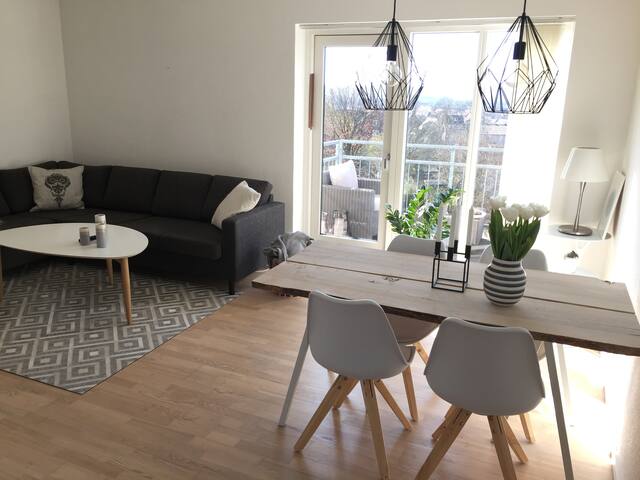 Renovated, 66 square meters, 2 levels, upstairs studio apartment overlooking Aarhus. Downstairs, dining area with mini kitchen, full bath, washing machine. Part of an old farmhouse belonging to the village of Stjær 13 km from Aarhus accessible by car
Ideal for an individual or couple working on a short or long term project in Aarhus, provides a solid base for work life as well as the opportunity to explore the city as well as the surrounding countryside. 1,4 km to the village and local store, 4 km to a larger town. Also suitable for 4 member family, although not with very small children (because of the stairs...) visiting in the area or on bicycle. Amateur radio shack and golf course very close by. Attractive area for cycling enthusiats
Open skies, city lights in the distance, peace and quiet. A wonderful area to go for long walks in the forest or the open road. Aarhus is only 15 min away by car.
Rigtig hyggeligt sted at være i, med masser af natur og udsigten er rigtig god på første sal. Jeanine er rigtig sød og en god vært.
Al
2016-07-06T00:00:00Z
Hyggelig landlig atmosfære, hos nogle meget venlige og imødekommende værter. Også i forhold til børn! Vi følte os aldrig til besvær:)
Jens Christian
2016-10-17T00:00:00Z
Room Type
Entire home/flat
---
Property Type
Apartment
---
Accommodates
4
---
Bedrooms
Galten, Denmark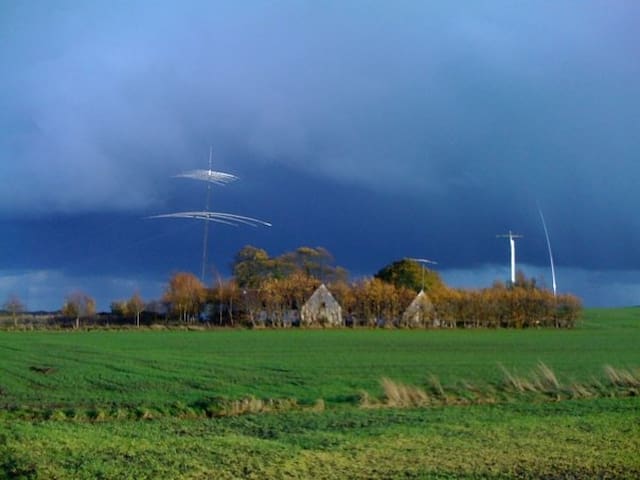 A lovely place in a cozy setting.
Room Type
Entire home/flat
---
Property Type
Apartment
---
Accommodates
2
---
Bedrooms
Viby, Denmark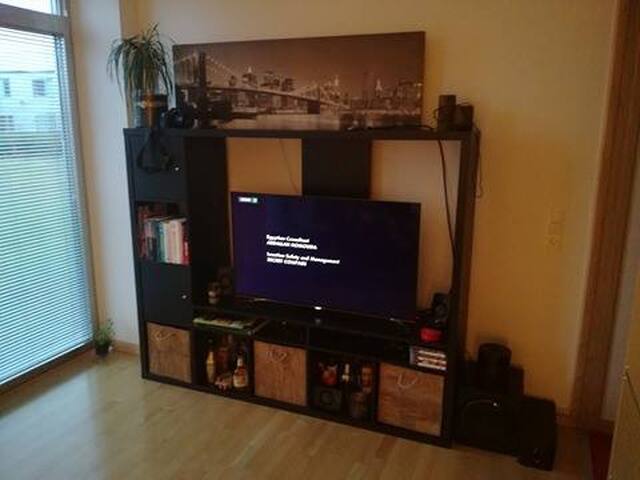 Light and cosy apartment in a traditional house with a shared, idyllic garden. Located in a nice village just five kilometers outside the city of Aarhus. Two minutes walk away from a a lake and a recreational area. Beautiful biking path to Arhus.
Room Type
Entire home/flat
---
Property Type
Apartment
---
Accommodates
4
---
Bedrooms
Brabrand, Denmark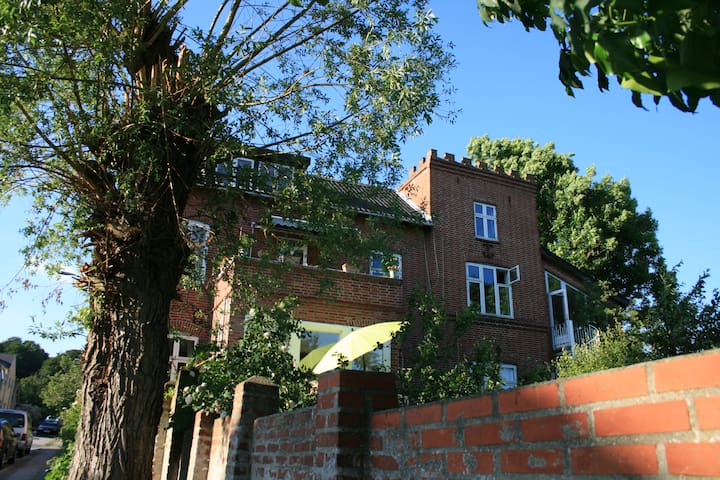 My accommodation is good for couples and business travelers.
Room Type
Entire home/flat
---
Property Type
Apartment
---
Accommodates
2
---
Bedrooms
Hørning, Denmark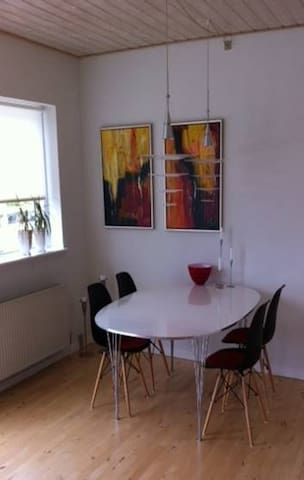 Light and modern apartment in the southwest of Aarhus, with about 6 km to the center of Aarhus (shopping street). The apartment is 35m2 and contains besides a large bright living room, also a WC with shower and a small kitchen with stove, refrigerator / freezer, microwave and dishwasher. The apartment also features large TV, radio and access to the internet (wifi). There is free parking at parking associated with the apartment complex.
Room Type
Entire home/flat
---
Property Type
Apartment
---
Accommodates
2
---
Bedrooms
Viby, Denmark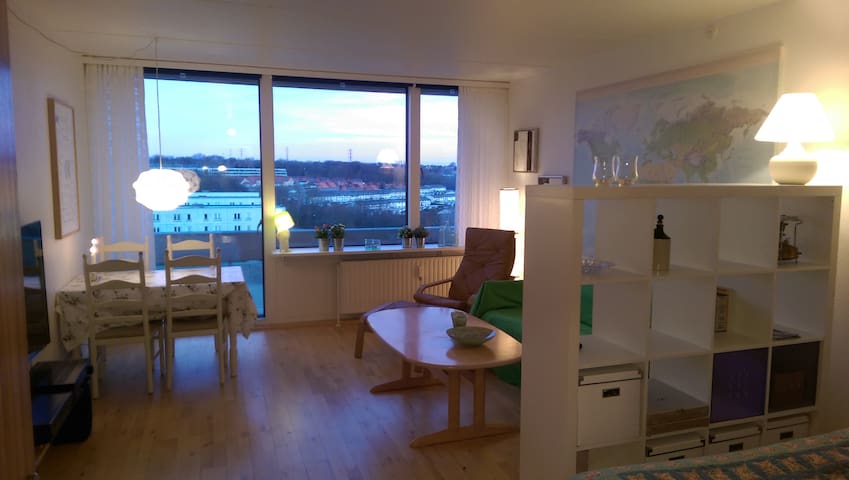 Lejlighed 61 er placeret i en sidebygning til det historiske Sophiendal Gods. Lejligheden har to dobbeltsenge og deler stue og køkken med andre lejligheder. Området omkring Sophiendal byder på smuk natur, gåstier, Veng Kirke og en 10 minutters køretur fra Skanderborg by.
Room Type
Private room
---
Property Type
Apartment
---
Accommodates
2
---
Bedrooms
Skanderborg, Denmark
You will love my home because of the location. My accommodation is good for couples, business travelers and families (with children). Bus connections to Aarhus city center max 200 m
Lovely 1 bedroom apartment with double bed and sofa bed on the 3rd floor with elevator in a quiet neighborhood with good views. Good parking facilities
There are several educational institutions in the area
Cozy one room apartment with all the essentials. Lars was very helpful and detailed about the things that we had to know. Great stay!
Mantas
2017-02-19T00:00:00Z
Nice appartment
Thomas
2017-03-12T00:00:00Z
Hyggeligt sted.
Oliver
2017-03-21T00:00:00Z
Room Type
Entire home/flat
---
Property Type
Apartment
---
Accommodates
4
---
Bedrooms
Viby, Denmark
Min bolig lægger tæt på familievenlige aktiviteter og offentlig transport. Du vil elske min bolig på grund af lyset, den komfortable seng, hyggen, 30 min. på gå-ben ned til Brabrand sø, 10 min. på gå-ben til bazar og storcenter. . Min bolig er god til par, soleeventyrere, forretningsrejsende og familier (med børn).
We stayed at Louise's place for one short night enroute to Norway. The apartment has everything you need. Full equipped kitchen, nice living room and very comfortable beds. The apartment is easily accessible from the highway, but in a quiet neighborhood.
Gerke
2016-07-31T00:00:00Z
The host canceled this reservation 84 days before arrival. This is an automated posting.
Karina
2016-06-17T00:00:00Z
Nice and quiet big apartment as shown in the pictures. We had a very comfortable stay here & would recommend this apartment.
Jörn
2016-07-27T00:00:00Z
Det er super dejlig lejlighed, ligger ca. 10 min fra Århus centrum, dejlig område. Kan kun varm anbefale!!
Yanli
2016-07-29T00:00:00Z
Vi boede 3 dage hos Louise. Ankomst var problemfri. Dejlig stor lys lejlighed. Tæt til indkøb. Dejligt soveværelse. Rigtige pæne og funktionelle ting i køkkenet. Vi var specielt glade for altanen efter museumsbesøg. Nemt at parkere. Dejlig roligt i lejligheden. Vi var glade for at lejligheden befandt sig på 3. sal. God udsigt. Håber vi kan komme til at bo hos Louise hver gang vi skal til Århus. Mange hilsener Jan og Annette København
A.
2016-08-03T00:00:00Z
Super hyggeligt sted med fed indretning og mere plads end vi nogensinde fik brug for :)
Natascha
2016-08-21T00:00:00Z
Room Type
Entire home/flat
---
Property Type
Apartment
---
Accommodates
3
---
Bedrooms
Aarhus, Central Denmark Region, Denmark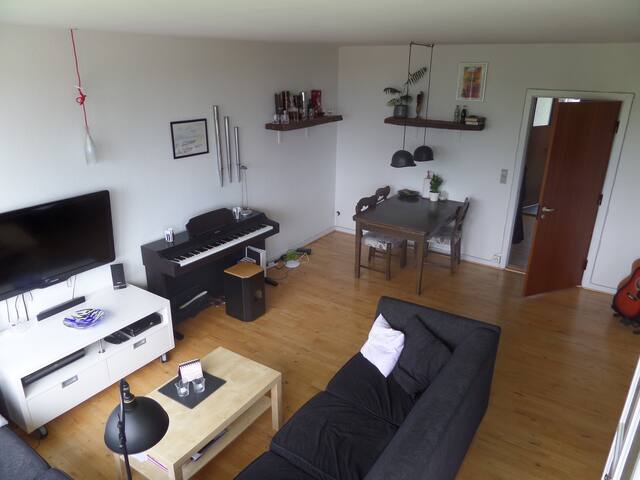 Min lejlighed ligger i fantastiske omgivelser med god busforbindelse til Aarhus midtby. Med blot 200m til Brabrand Sø kan man nemt tage på en frisk gå-/cykle-/løbetur omkring søen på 10km. Der er masser af fugleliv og flot natur ved søen. Også parker kan man finde, som lægger op til grillhygge, fodbold eller andet. Jeg bor i en lille bitte 1-værelseslejlighed, men jeg er vild med den. Boligen er god til par, soloeventyrere og forretningsrejsende.
Room Type
Entire home/flat
---
Property Type
Apartment
---
Accommodates
2
---
Bedrooms
Brabrand, Denmark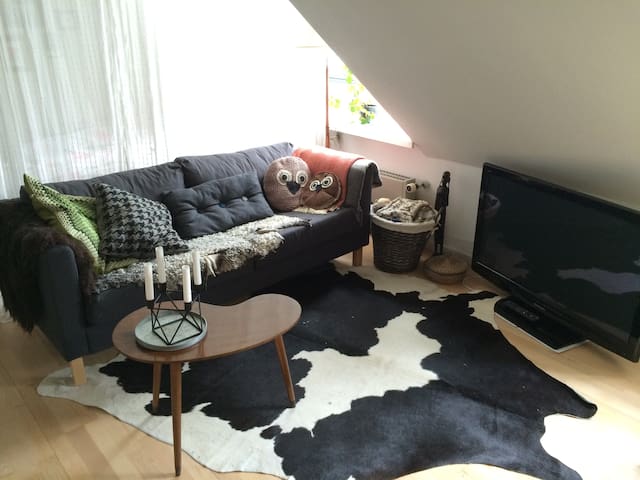 Bo tæt på Aarhus Midtby, Den Gamle By, ARoS, Mosgård med skov og strand, DOKK 1. 5 min.s gang til Brabrand søen og Brabrand Stien, der går direkte til Norths-side Festivallens område. Stuelejlighed på 90 m2 med egen terrasse i grønne omgivelser. To soveværelser ; et stort og et lille med dobbeltsenge begge steder. Du er velkommen til at bruge køkkenet og terassen. Busforbindelser tæt på til Aarhus C og Silkeborg. Ca 1,5 km til indkøbscenter med bla. Lidl og Føtex.
Nice and comfortable place not far from Aarhus downtown. Two bedrooms, living room, bathroom, kitchen and small garden. Everything clean and cosy. Communication with Sussi was easy. She is a really nice person.
Leonardo
2016-10-29T00:00:00Z
The host canceled this reservation 3 days before arrival. This is an automated posting.
louanne
2016-06-15T00:00:00Z
Great experience!!! Sussi was so accommodating and the appartment was in a perfect spot with the Forrest just on your door step with access to bus and shops. She was easy to get along with and even very understanding when my mum accidentally broke one of her ornaments. Thanks Sussi!
Steven
2016-12-22T00:00:00Z
Fine location, quiet, and as advertised. There's a little path to a main street which makes catching the #12 bus a very short walk (3 min.), and that bus takes you right downtown, to the ARoS museum (don't miss!) and Den Gamle By, which are the two must-see places, in our opinion. The back patio was a great place to enjoy a drink after a long day sightseeing. Parking very easy, and internet worked well. We saw Sussi for only a few minutes, but she was very friendly and helpful in those few minutes. Highly recommended.
Marc
2016-06-19T00:00:00Z
Vi boede her en enkelt nat i forbindelse med AC/DC koncerten. Sussi tog godt imod os ved ankomst og viste os til rette - vi var hendes første AirBnB gæster. Der var instant kaffe, mælk i køleskabet og havregryn, som vi var glade for at måtte tage af om morgenen. Og Sussi tilbød endda at tage boller op af fryseren til os - så hun var en rigtig fin vært:-) Lejligheden var super til formålet, let at komme til, ikke for langt fra byen. Beliggenheden ud til grønne områder mm. nåede vi ikke at få meget glæde af, men ville med glæde bruge lejligheden som base en anden gang hvis jeg skal til Århus. Tak for lån!
Claus
2016-06-14T00:00:00Z
En perfekt lejlighed. Kommunikationen med Sussi var fantastisk. Helt klart et sted vi gerne vender tilbage til.
Tina
2016-08-29T00:00:00Z
Lækker lejlighed med to soveværelser. Der er en terrasse, som vi dog ikke benyttede grundet årstiden.
Bjarke
2016-10-22T00:00:00Z
Room Type
Entire home/flat
---
Property Type
Apartment
---
Accommodates
4
---
Bedrooms
Brabrand, Denmark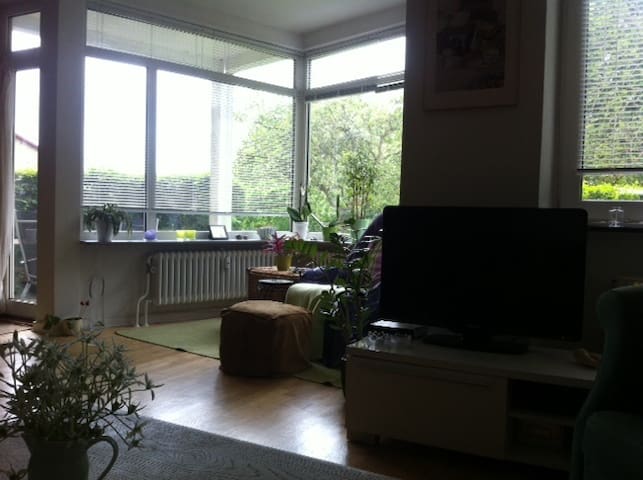 4 room apartment in nice surroundings, close to the lake Brabrand and only 8 kilometres from the city center. Bus leaves just aside the door twice every hour in daytime, and once en the evening. Free parking space.
The apartment has a big covered terrace and with a grill, so you can sit outside en the warm summer night and have a nice barbecue See pictures and ask for more pictures if you want.
A nice newly build neighbourhood with nice and quiet nabours
Michael is a very hospitable and friendly host. He did everything he could to make the stay in his apartment pleasant. Initial mistake in booking on my part was no problem. All in all, Michael is a great host, trustworthy and I would do buisiness with him again. However, a few things were lacking, i.e. clean sheets, towels. We washed them, no problem. Beds were ok, but for five guests, one had to use mattress on floor. Should be in description. A bit worse, the appartment is about 15 min. car-drive from Aarhus center, half an hour with bus (busstop a stones throw away). Busses run only once an hour over Weekends and evenings.
Carlos
2016-06-23T00:00:00Z
Rigtig dejligt ophold. God vært kan anbefales :)
Chanel
2016-04-30T00:00:00Z
Rummelig bolig med 3 soverværelser + køkken + stue. Moderne bekvemmeligheder. p-plads lige uden for døren. Praktisk at der intet nips er i lejligheden, når man har mindre børn.
Michael
2016-07-26T00:00:00Z
Michaelův byt je vhodný pro návštěvu cca čtyřčlenné skupiny. Je plně vybavený, připadáte si jako na návštěvě u někoho, kdo zrovna odejel na dovolenou. Komunikace byla bez problémů.
Tomáš
2016-07-05T00:00:00Z
Room Type
Entire home/flat
---
Property Type
Apartment
---
Accommodates
5
---
Bedrooms
Brabrand, Denmark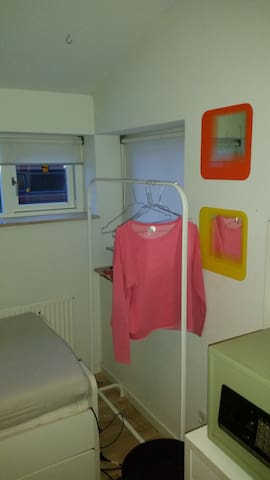 Harlev - Airbnb
:
Average

4.47

out of

5

stars from

80

guest reviews
1

–

18

of

300+ Flat Rentals
Enter dates to see full pricing. Additional fees apply. Taxes may be added.