Liebevoll eingerichtete Ferienwohnung in der Altstadt von Hall. In der Nähe von Bus und Bahnstation. Wohnraum mit integrierter Küche, separates Schlafzimmer, Dusche und WC, kleiner Vorraum.
In unserer kleinen Wohnung können 2 Personen wohnen. Die ist gemütlich und bestens ausgestattet. Die Wohnung liegt in Hall. Innsbruck und Umgebung ist durch verschiedenste öffentliche Verkehrsmittel problemlos erreichbar.
Hall besitzt die größte Altstadt in Tirol.
We had a lovely stay in Tirol. The accommodation was located in the old town which was perfect for us and provided everything we needed. Would recommend staying here. Thank you Christine.
Euli
2016-09-30T00:00:00Z
Our stay at Christine's apartment was perfect. She was extremely helpful and accommodating. Thank you for everything, Christine!
Daniel
2017-03-06T00:00:00Z
Christine is a great host. she is very friendly and helpful. she communicated very well and fast when booking and before arriving. she provided lots of info and even got us Innsbruck cards for us since information office would be closed when arrived. Flat was great, very warm even in super cold days, clean and had everything you need for your stay.
Mahmoud
2017-01-04T00:00:00Z
Christine war sehr nett und freundlich, hat uns bei der Ankunft vom Bahnhof abgeholt und sonst auch für einen sehr unkomplizierten Aufenthalt gesorgt! Ich würde sofort wieder bei Christine bleiben!
Christoph
2016-11-13T00:00:00Z
Sehr freundlicher und unkomplizierter Kontakt zu der Gastgeberin. Herzlichen Dank dafür
Gerhard
2015-10-24T00:00:00Z
Il giorno dell'arrivo siamo stati accolti dal figlio della proprietaria che ci ha aspettato nonostante fossimo leggermente in ritardo, l'appartamento è davvero bello, ben arredato e completo di tutto. La proprietaria è stata cordiale e disponibile, ci ha fatto trovare dei dolcetti tipici squisiti per darci il benvenuto.
Enrico
2016-01-07T00:00:00Z
Moi et ma fille avons été très satisfaits de l'accueil et du logement. Christine s'est avérée une hôte avenante et nous a transmis toutes les informations requises. Le logement est beaucoup mieux que les photos le rendent. Très bien situé près des services comme le transport, le stationnement, l'épicerie, les restos et attractions touristiques. Aucune mauvaise surprise, nous ne voyons pas comment ce logement pourrait être amélioré à ce prix. Merci Christine.
Denys
2016-05-19T00:00:00Z
Accoglienza è stata ottima,puntuale e carina; trovare un dolce per noi è stato molto bello. L'appartamento bene arredato c'è tutto ciò che serve per trascorrere un bel soggiorno, molto pulito, supermercato vicino, parcheggio nelle strade limitrofe (l'appartamento si trova in zona pedonale). Il check out è stato elastico.Insomma tutto ok lo consigliamo.
cristina
2016-03-01T00:00:00Z
Room Type
Entire home/flat
---
Property Type
Apartment
---
Accommodates
2
---
Bedrooms
Hall in Tirol, Tirol, Austria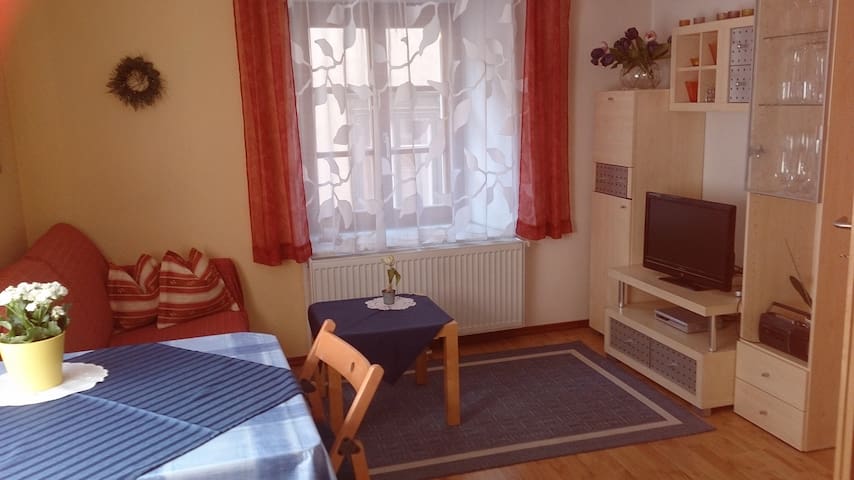 4-room apartment 98 m² on 3rd floor.
Spacious, cosy furnishings: living/dining room with dining table, cable TV, flat screen and tiled stove. 1 room with 1 bed. 2 double bedrooms. Large, open kitchen (4 hot plates, oven, dishwasher, freezer, electric coffee machine) with dining table. Bathroom, sep. WC. Gas heating. Wooden floors. View of the town. Facilities: washing machine, baby cot for up to 3 year olds (extra). Internet (WiFi, free). Please note: non-smokers only. The doors have different heights due to the building's age. The apartment's front door is high 1.8 m. The stove runs on gas. Garage parking ticket price for 24 hours: 10.70€.
Historical small apartment house "Salvatorgasse 10", 3 storeys, from the 16th century. In the centre of Hall in Tirol, in a quiet position, area with little traffic. Motor access to the house. Parking, public car park at 400 m. Shop 250 m, grocery, supermarket 400 m, shopping centre 4.5 km, restaurant 50 m, café 150 m, pub garden 500 m, 5 minute walk to the centre, bus stop 400 m, railway station 1 km, outdoor swimming pool 1.5 km, indoor swimming pool 5 km. Tennis 1.5 km, minigolf 1.5 km, walking paths from the house 1 km, cycle lane 800 m, chair lift 7.6 km, skisport facilities 7.6 km. Nearby attractions: Altstadt Hall in Tirol. Well-known ski regions can easily be reached: Glungezer 7.6 km, Patscherkofel 11 km. Well-known lakes can easily be reached: Lanser See 10 km, Bagger See 8 km. Hiking paths: ab Haus. Please note: no lift. Loading and unloading of baggage is possible at the holiday house. The apartment is located in a zone with limited traffic.
Room Type
Entire home/flat
---
Property Type
Apartment
---
Accommodates
5
---
Bedrooms
Hall in Tirol, Austria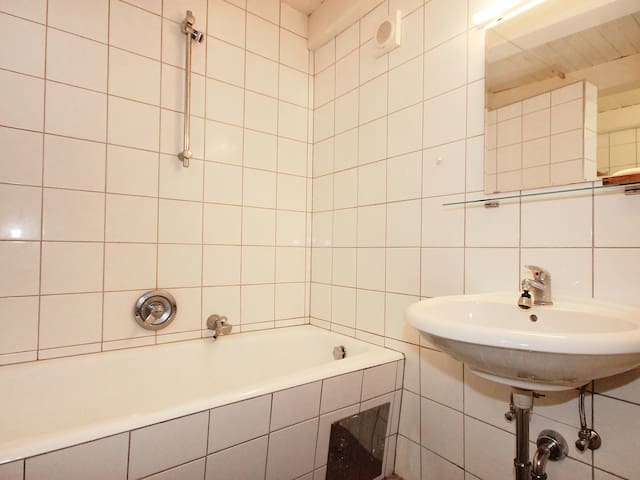 Modern and cozy apartment in an medieval house in the historical important city of Hall in Tirol. You will be close to the center and stay calmly while facing the charming backyard with small river, the mountains and the ancient castle's tower. The apartment is great for 2 people, but also working for up to 4 persons, especially for families. The second couch is comfortable to sleep on (3rd person) and there is another camping bed (4th person) to offer you.
The building is, just as the center of Hall, from the medieval times, but beautifully restored.
You will be able to enjoy a peaceful stay with a quiet neighborhood.
Room Type
Entire home/flat
---
Property Type
Apartment
---
Accommodates
4
---
Bedrooms
Hall in Tirol, Tirol, Austria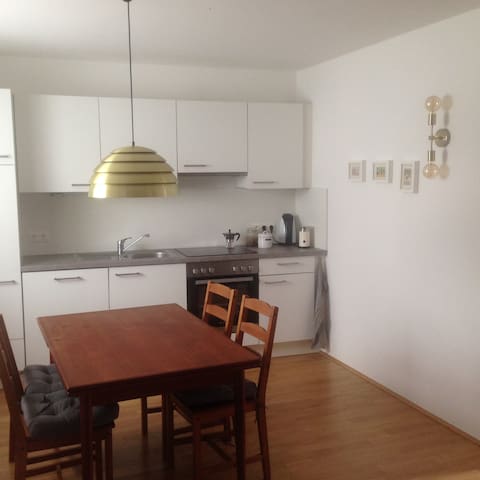 This place is harmony. This flat invites you to stay and relax, while all of its beautiful surroundings drive you to leave it and start exploring. You will find a perfect base camp ready for you, marked without abundance, but neither by shortage.
The Space From here my ways diffuse out into the world and coincide again time by time. Just like traveling, at this moment just with a different schedule. For your schedule I can offer you flexibility, first because my place is the perfect point to start out into the nature. The entrance to the Mountains, the Halltal, a valley which takes you to stunning places is just ahead. Secondly Hall has an historical center in an incredibly good condition. Thirdly my place is open for you like if you were living here, while your stay my home is your home. The quality of traveling ascends if you get the feeling of living somewhere and not if everything reminds you of being a guest. So the only thing you have to do is be yourself. You are welcome! There is a bed for two in the room. If necessary we can organize something for a third Person as well. As said I will try to not interact with you like a guest in the common sense, that means you have access to the kitchen, living room and so on to cook your own meal, make your breakfast, relax on the couch or even the washing machine for feeling good again.
Andreas is so nice. The room is clean and comfortable. I and my friend have a good time there!
璇
2014-12-29T00:00:00Z
The experience living at Andreas's place was awesome! He kindly made arrangements, picked us up from the station and helped with the luggage as we arrived late at night. His house was lovely, charming, homely and comfortable. The amenities were all in place and it was pleasant to interact with other guests staying there as well. The private room we had was great and his place was well-maintained and clean. We really appreciate the discussions we had to plan our trip better in Hall in Tirol and Innsbruck. The towns were relaxing and interesting, worth a visit. My friend and I would definitely love to stay there longer and I highly recommend to stay with Andreas if you are intending to explore the areas nearby.
Shi Teng
2015-07-06T00:00:00Z
The flat was very cosy and warm. With a big balcony and a well equipped kitchen. Everything was great. Thanks a lot. We had a wonderful time there.
David
2016-01-03T00:00:00Z
Very nice stay, very communicative host. Well equipped kitchen. We enjoyed!
Anatoly
2015-01-01T00:00:00Z
Great place to explore Innsbruck. Andreas made us feel really welcome. He even gave us a ride to the city. But there's also a bus that takes you to Innsbruck in about 15 minutes. Would recommand the place to anyone.
Anne
2015-08-11T00:00:00Z
We liked very much Andreas and his home. He his a charming and unobtrusive host and his place is very clean and lovable. Hall is a nice town and Andreas' home is in a quiet neighborhood. We enjoyed very much our little holiday.
Robert
2014-12-09T00:00:00Z
Andreas is a great host, welcomed us into his house as friends , the house was clean, warm , friendly and relaxing atmosphere surrounded us during our stay ( is great music on vinyl and FM ) . Special mention to the exposure of the rooms, especially in the kitchen where we have breakfast on the balcony , breathing the sparkling morning air , admiring the view and be kissed by the sun. The apartment is well organised, is in a quiet building and Hall in Tirol is a typical village well connected to Innsbruck and if you want to take a walk in the mountains you can get in Halltall . Host recommended!
Serafino
2015-12-09T00:00:00Z
Andreas was the greatest host! He took us climbing and showed us around. He was very sweet and the apartment was beautiful. I would definitely recommend staying with him. He has great insight on the area. Plus there's nothing like waking up and drinking coffee on the balcony with a great view of the mountains!
Aubrey
2015-07-04T00:00:00Z
Room Type
Private room
---
Property Type
Apartment
---
Accommodates
2
---
Bedrooms
Hall in Tirol, Tyrol, Austria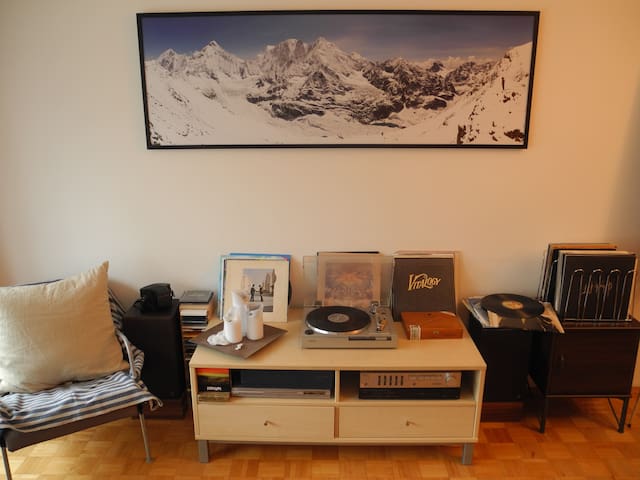 Im historischen Herzen der denkmalgeschützten Altstadt von Hall, der größten Tirols. In einem ca. 1000 jhr. renov. Herrenhaus mit goldenen Dachl liegt südl. zu einer ruhigen hist .Gasse die sorgfältig adapt. 64m² Wohnung im 2. Stk. mit Treppenlift!
im hist. ältesten Teil Tirols ca 1000 Jahre!
Völlig entspannt
Jou is a great host. Organized a smooth arrival to us and responded quickly to our questions.
Nikolay
2016-01-04T00:00:00Z
Die Altstadtwohnung mitten im wunderschönen Herzen von Hall in Tirol ist sehr urig. In einem denkmalgeschützten Haus. Jou ist ein sehr fürsorglicher, unkomplizierter Gastgeber, der jederzeit mit Rat und Tat zur Seite stand. Da wir zu viert in der Wohnung schliefen, baute er sogar noch ein weiteres Bett!! Ganz vielen Extra-Dank dafür! Außerdem wurden wir mit einer guten Flasche Wein begrüßt.
Beate
2015-12-30T00:00:00Z
Room Type
Entire home/flat
---
Property Type
Apartment
---
Accommodates
4
---
Bedrooms
Hall in Tirol, Tirol, Austria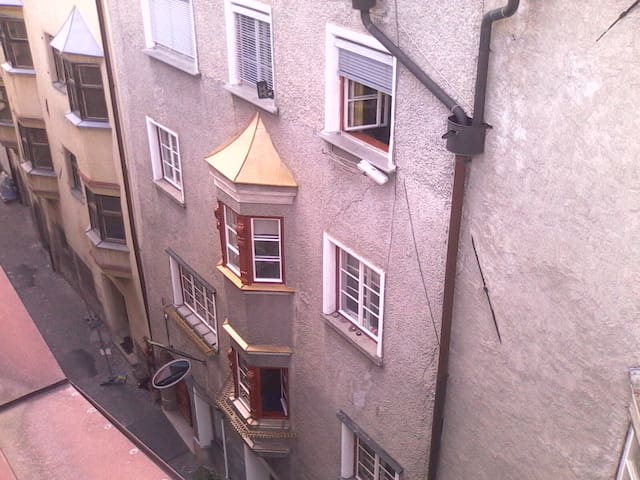 Meine Unterkunft ist in der Nähe von öffentlichen Verkehrsmitteln, Nachtleben und Stadtzentrum. Du wirst meine Unterkunft lieben wegen der Nähe zu Stadt und doch im Grünen. Bekannte Skigebiete in der Umgebung! Nähe zur Hauptstadt Innsbruck. Meine Unterkunft ist besonders gut für Familien geeignet.
Die Wohnung ist sehr gemütlich und mit viel Holz ausgestattet. Ein Badezimmer mit WC ist direkt hinter einem der Schlafzimmer. Es gibt noch ein zweites Badezimmer mit Dusche. Die Wohnung ist besonder für große Familien geeignet.
Eine junge Familie mit Kleinkind wohnt schräg unter Euch.
Casa confortevole, molto calda vicina al centro, zona molto tranquilla. L'unico problema è l'accesso al bagno che si trova in una camera,quindi risulta poco adatta ad una famiglia con amici.
Federica
2016-12-11T00:00:00Z
Room Type
Entire home/flat
---
Property Type
Apartment
---
Accommodates
4
---
Bedrooms
Hall in Tirol, Tirol, Austria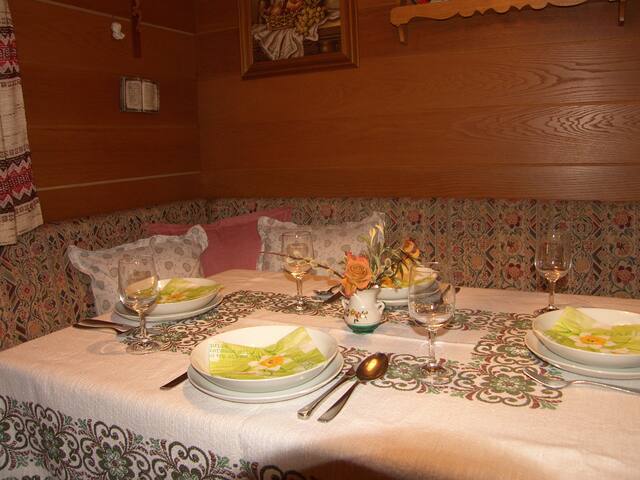 Meine Unterkunft ist in der Nähe von öffentlichen Verkehrsstationen, wie Bus und Bahnhof. Das Stadtzentrum, Nachtleben und Parks sind zu Fuß gemütlich in 10 Minuten zu erreichen. Du wirst meine Unterkunft lieben wegen der wunderbaren Lage im Grünen und doch der Nähe zur Stadt. Meine Unterkunft ist gut für Paare und Familien (mit kindern).
Ruhig und nur wenige Minuten vom Zentrum
A great cozy,comfortable,furnished house,surrounded by the mountain! Unforgettable! Good communication with Helma! Adviced!
Animad
2017-01-01T00:00:00Z
Helma was really helpful and welcoming. Her inductions were clear and concise. I would stay there again!
Ville
2017-02-21T00:00:00Z
Bel appartement situé près de tout
Nic
2017-03-04T00:00:00Z
Room Type
Entire home/flat
---
Property Type
Apartment
---
Accommodates
5
---
Bedrooms
Hall in Tirol, Tirol, Austria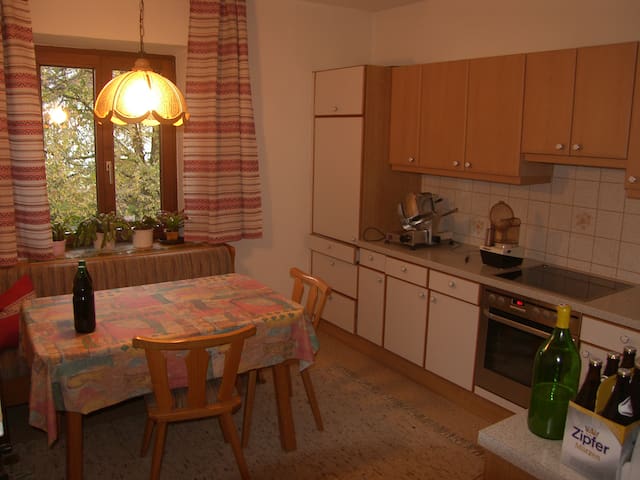 Die gemütliche 2 Zimmerwohnung liegt im Herzen der Haller Altstadt. Kulinarische und kulturelle Angebote sind in unmittelbarer Nähe zu finden. Die im gotischen Stil erhaltenen neurenovierten Räumlichkeiten vermitteln eine wohlige Atmosphäre.
Großzügige, gemütliche Wohnung.
Bernhard
2016-12-11T00:00:00Z
Room Type
Entire home/flat
---
Property Type
Apartment
---
Accommodates
2
---
Bedrooms
Hall in Tirol, Tirol, Austria
Apartment "Theresa", 2. Etage mit Balkon und herrlichem Blick auf die Tiroler Bergwelt, 1 Dreibettzimmer und 1 Zweibettzimmer; Glungezerbahn / Schi- und Wandergebiet, Talstation in 10 Gehminuten erreichbar!
Die Unterkunft befindet sich im Dorfzentrum von Tulfes, Entfernung von Innsbruck ca. 13 km - nach Hall in Tirol ca. 7 km.
Hansjörg nos atendió perfectamente y nos dio todas las indicaciones necesarias de la zona. Trato más que correcto y con buena disposición de ayuda. El apartamento es tal y como se describe en la información de Airbnb. Hemos estado muy a gusto en su propiedad. Muy buenas vistas y pueblo muy tranquilo.
Elisenda
2016-08-07T00:00:00Z
Room Type
Entire home/flat
---
Property Type
Apartment
---
Accommodates
5
---
Bedrooms
Tulfes, Österreich, Austria
Das Wohnen in einer ehemaligen Fassbinderei zwischen romanischem Mauerwerk, Holzdecken, Tonnengewölbe und Rundbögen sorgt für eine äußerst gemütliche Atmosphäre mitten in der Haller Altstadt.
Wir verfügen noch über eine weitere Ferienwohnung im gleichen Haus - siehe Ferienwohnung Arbesgassl.
Zahlreiche Bars, internationale Restaurants, Cafés, Parks sind in unmittelbarer Umgebung.
The appartment was absolutely perfect. It was 10min walk from the train station where you get the train for Innsbruck. But hall is also a nice place to explore. The appartment was clean and well decorated, and it was fully equipped with everything. The hosts were really kind and helpful. We loved it!! We would definitely stay there again if we come in the future!!
Dimitra
2017-01-06T00:00:00Z
My boy-friend and I passed the new year eve in hanne-laure house. It was a very beautiful house in a quiet place. Hanne-laure and her hunsband were very kind. I recomend this place if you want to relax and visit Innsbruck (15 minutes by car).
Alessia
2017-01-02T00:00:00Z
Room Type
Entire home/flat
---
Property Type
Apartment
---
Accommodates
2
---
Bedrooms
Hall in Tirol, Tirol, Austria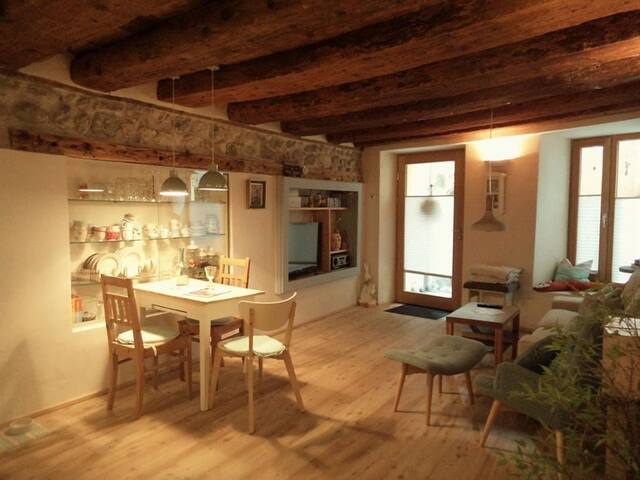 Verpflegung: ohne Verpflegung Zimmerart: 4 Zimmer Appartement Belegung: 4 - 6 Personen Parkplatz direkt vor dem Eingang zur Wohnung. Auch gut geeignet für Familien und Senioren.
Waren jetzt zum zweiten Mal in der Ferienwohnung Patscherkofel. Die Lage ist hervorragend, ob zum Ski fahren oder Wandern. Die Einrichtung ist makellos und sehr gemütlich. Man fühlt sich sofort heimisch. Leo ist ein sehr hilfsbereiter und freundlicher Gastgeber. Jederzeit gerne wieder. :)
Ellen
2017-01-23T00:00:00Z
Leo und Brigitte waren super Gastgeber, wir hatten eine tolle Zeit, da von TV , über Sauna, Kickertisch und Brettspielen alles zur Verfügung stand. Das Skigebiet ist in wenigen Minuten sogar zu Fuß erreichbar und es gibt einen tollen Ausblick direkt auf die Berge vom Haus aus. Auch kleine Bauernläden mit lokalen Köstlichkeiten sind in der Nähe. Das Haus ist einwandfrei und wir würden nicht zögern noch einmal hinzufahren! Danke für die schöne Zeit.
Ellen
2016-01-26T00:00:00Z
Room Type
Entire home/flat
---
Property Type
Apartment
---
Accommodates
6
---
Bedrooms
Tulfes, Tirol, Austria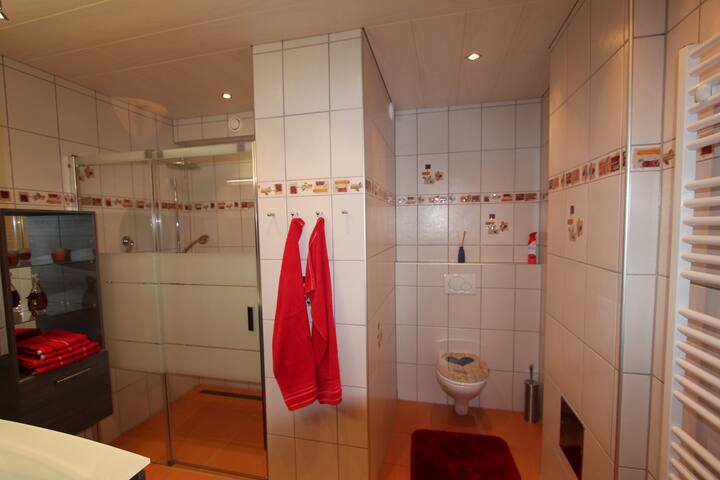 Apartment with 3 rooms 60m²: 2 double bedrooms both with shower/toilet living room / dining room with a single bed (dolce-gusto coffee machine with capsules) incl. bed linen & towels, internet WiFi and free parking place Breakfast-buffet can be booked on payment
Family hotel with a friendly and pleasantly atmosphere, situated in a quiet and sunny position. We offer 3 nice apartments with all facilities for 4-6 pers. and 5 apartments with all facilities for 2-3 pers. and rooms on B&B We are only 300 meters from the Glungezer. A summer and winter dream for every season! Heated swimming pool, sun lawn, sauna. For lovers of nature: beautiful alpine pads. Enjoy your winter holidays in the skiing area "Glungezer". 3 minutes walk to the lift - a supreme fascination of an impressive mountain world.
Tulfes is the ideal place for the following excursions: - "Kugelwald" on Glungezer, the largest wooden marble run in the world - Just 4 minutes to Glungerzerbahn - starting point for numerous hikes - The NEW Swarovski Crystal Worlds in Wattens are within easy reach by car in a quarter of an hour - We are only 12km from Innsbruck or 6km of Hall in Tirol - easily reached by car or bus - stop outside of the hotel
The room is very clean and warm, it has a good view out of the window. Good experience in there.
OO
2017-02-02T00:00:00Z
We had a nice time at Daniela's place. The main drawback is that it is a 30 minute drive from Innsbruck.
Maria
2016-07-26T00:00:00Z
Room Type
Entire home/flat
---
Property Type
Apartment
---
Accommodates
5
---
Bedrooms
Tulfes, Tirol, Austria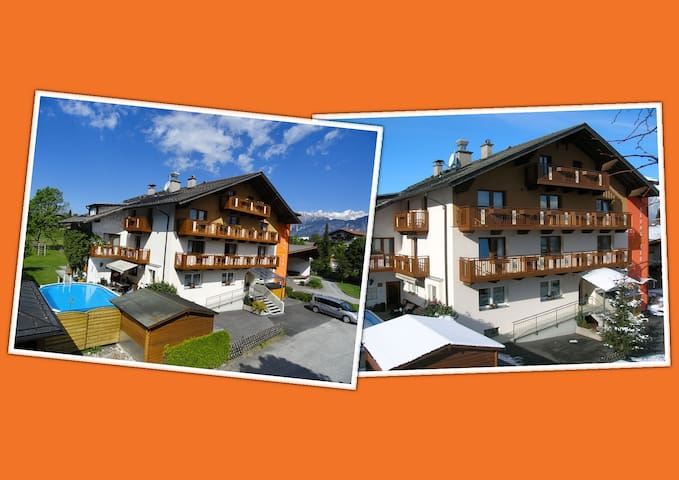 The apartment is small, but has everything what is needed - a double bed, a sofa, a dining area, a separate kitchen and a bathroom with a bathtub :) It's bright and cosy. Very close to the city centre and the railway station.
The apartment was really pretty and cosy. And the view from the window was just amaizing. We didn't want to leave this place and we wish we could stay longer :) The apartment is very close to the city center and to the train station. Everything was within walking distance and we didn't have to use public transport at all
Angelina
2017-01-31T00:00:00Z
Such a cute little apartment perfect for two, even prettier than on photos. Close to city center and train/bus station. Kaja is very nice and friendly host. She kindly explained us everything we asked about the city. We had wonderful stay at Kaja's apartment and in Innsbruck.
Carna
2016-03-28T00:00:00Z
Small but nice and practical.
amelie
2016-08-30T00:00:00Z
Cosy but enough room for two. 10 min walk to centre. Flexible. Brilliant bed construction beneath the living room table. Recommendation.
Roel
2016-07-27T00:00:00Z
My girlfriend and I stayed for three nights at Kaja's place. Although she wasn't home herself, the contact went very smoothly and she answered our questions fast and in a very helpfull way. The apartment is small, but clean and has everything you need. The bed construction was great (never seen it). The location was also okay not far from the train station. It was located in a silent street although the neighbours were kinda noisy sometimes when there was a party around. To summarize: we had a great stay at Kaja's place and would definitely return.
Hans
2016-08-03T00:00:00Z
The apartment is small but very pretty. It is well-situated: very close to the city center but not in the noisy touristic area. The windows face the yard so it was very quiet at night. Also the presence of the electric teakettle was a real pleasure for us. Kaja wasn't in the city, but her boyfriend who met us was quite welcoming. They kindly let us to check-in in the morning and leave the next day at 5pm. The only problem: there was only one pillow and a very narrow (for two people) blanket. But in general we enjoyed our staying! Thank you very much!
Valentina
2016-09-02T00:00:00Z
Small but really cosy place. Nice location and Kaja took good care of us on arrival.
Jacinto
2017-02-11T00:00:00Z
Kaja was flexible and welcoming, thanks for having us.
Robert
2017-02-12T00:00:00Z
Room Type
Entire home/flat
---
Property Type
Apartment
---
Accommodates
2
---
Bedrooms
Innsbruck, Tirol, Austria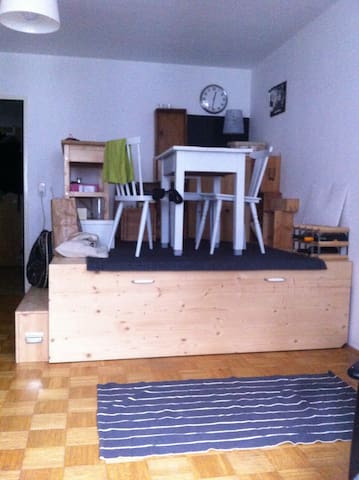 Our sweet and cosy home is very close to main train station and 5 min. walking distance to the center of the city. The apartment is located on 7th floor so You'll have a beautiful overview on Innsbruck. For your comfort there's a bathroom, kitchen and balcony. We speak English, Deutsch, по-русски :) You are welcome here!
Room Type
Private room
---
Property Type
Apartment
---
Accommodates
3
---
Bedrooms
Innsbruck, Tyrol, Austria
Welcome to my cozy room in the center of the beautiful city of Innsbruck. If you like short distances your stay will be a pleasant one. Your base is located in the heart of the city just a 5 minutes walk from the central station. You'll find Grocery, public transport and everything else you need right in front of your home. Add. note: As you can see on my pics the entrance to my room is shared with my room mate but privacy is ensured of course! Also cause her attendance at the flat is very rare
Our extensive 200m2 shared flat in this red old building delights you with a ~3.3om high ceiling, massive old doors and heavy wooden floors Your 18m2 room is located on the south side of the building what means the sun pleasures you from dawn to dusk The room offers 2 beds: 1,4om bunk bed & 1m single bed on the ground
Room Type
Private room
---
Property Type
Apartment
---
Accommodates
3
---
Bedrooms
Innsbruck, Tirol, Austria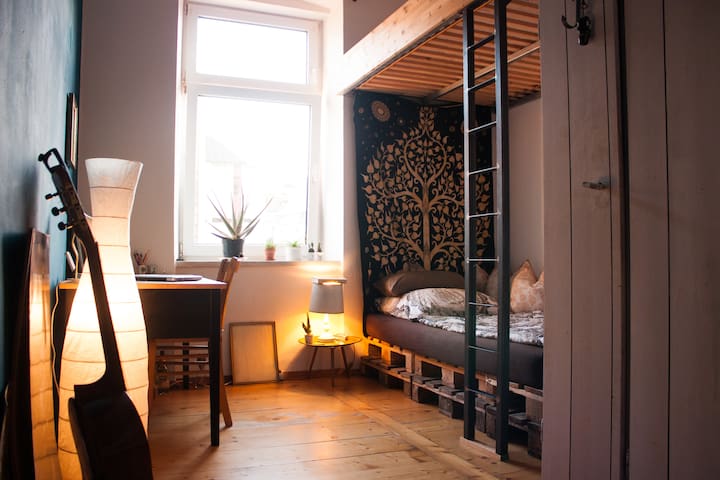 A cozy and quiet flat in the heart of the city right next to the main station and 5 min walk to the old town. The flat is on the 5th floor (with elevator) with a balcony heading west and a beautiful view at the mountains - perfect for having a nice glass of wine watching the sunset. There is a double bed suitable for either a couple or two good friends, as well as a bathroom and kitchen including fridge, oven & coffee machine (tea & coffee free of charge).
The flat is very quiet and rather bright which also makes it perfect for a day of home office, if needed. Buses to almost all ski resorts in Tirol leave right next door and the cable car to Nordkette/Seegrube is also only 5 min walk.
The host canceled this reservation 2 days before arrival. This is an automated posting.
Markus
2017-03-23T00:00:00Z
Room Type
Entire home/flat
---
Property Type
Apartment
---
Accommodates
2
---
Bedrooms
Innsbruck, Tirol, Austria
This amazing apartment with 49m2 living space and a huge garden on ground floor has two rooms, bathroom with shower and wc. In the bedroom a comfortable double bed. The living-room with an extendable couch and the kitchen ready with breakfast items.
Living room with a big flat screen with Sat tv and Internet connected, Fantastic quiet garden with a beautiful tent, bench, chairs and table for a great breakfast in the morning or a deseved relaxing time. Kitchen with table-ware and the necessary kitchen devices; stove with four digital hot-plates, oven, refrigerator, dishwasher, washing and dryer machine and a great variety of food items to make your breakfast in the morning! A charming bedroom with a big confortable bed (160×200), a place to hang your clothes and leave your things during your staying, ironing board, bed linen and towels. A very confortable and elegant bathroom built with marmor and a touchscreen radio on the wall to listen to music. An individual cellar to keep your big luggage, skies, shoes etc. Parking is available in front of the house, It is free between 21:00 and 9:00 am after this time it costs 0.70 cents per hour. It is a very safe place where you can leave the car and do not worry about it. You can reach the following places and sights within marvelous 10, maximally 15 minutes on foot: The historical city centre with the Golden Roof, Court Church, Imperial Hofburg, Cathedral; City Museum, People Art Museum, Federal State Museum, Theatres The most beautiful gardens in town: Hofgarten, Botanical Garden Congress Centre, University, Hospital, Tourist information And of course cafés, restaurants, bars, Gasthöfe, many kinds of shops, bookshops and galleries, the "Treibhaus", weekly market St. Nikolaus, market hall, pharmacies, banks, supermarkets, two shopping centres, two cinemas, billard, indoor swimming pool, sauna. The station of the Hungerburgbahn, funicular to the alpine zoo with bears, wolves, chamois & co. or further with the Nordkettenbahn to Seegrube (1905 m) and Hafelekar (2269 m). Enjoy the sun, hiking, climbing, snowboarding, skiing. The bus station direction Igls - from there with the Patscherkofelbahn to the Innsbruck olympia mountain. From the main bus station you can get the best connections in all directions. In 15 minutes you can leave the houses of the city behind you and dive into the peace of the Hötting forest. You can reach the "Planötzenhof" - Innsbrucks most beautiful Gasthof im Grünen- within 25 minutes walking on foot. Welcome to Innsbruck!
Rodrigo is truly a super host. We kept our luggage in his cellar as we had reached early and by the time we came back for checking in, all the bags were in the room. It's a cutely furnished apartment with all modern fixtures. We had a great time staying at Rodrigo's place.
Palash Kumar
2016-07-18T00:00:00Z
It was great to be hosted by Rodrigo! The apartment is awesome, close to the city center and also Bergisel. We really felt like at home and had an amazing weekend! - our 9 month old son also really enjoyed our stay :) Thank you Rodrigo for being such a great host, providing all the information and allowing us to stay in your beautiful apartment!
Marzena
2016-04-17T00:00:00Z
Rodrigo was an amazing host -always available, very welcoming and helpful. The apartment itself is perfect -clean, spacious and cosy. The garden is great for a lazy breakfast, both the bed and the sofa bed were super comfortable and just overall anything you may need, the apartment has. It's also very centrally located, so getting around on foot is easy and enjoyable. Would definitely recommend this place and Rodrigo to anyone travelling to Innsbruck!
Katerina
2015-10-11T00:00:00Z
Rodrigo was an excellent host. He worked with us as we were arriving later into the city. He had the place set up beautifully and even had some food we ate for breakfast! We also loved that it was right in the city center surrounded by beautiful mountains. Thanks, this was the perfect place for us!
Anne
2016-10-15T00:00:00Z
Rodrigo was a fantastic host. He was very responsive with communication and flexible with my arrival time. His 1 bedroom apartment was very clean, well furnished and a nice location, with a public parking garage nearby (not included). The small details were not overlooked such as adequate linens, kitchen necessities, snack items in the fridge and a great bottle of wine. He also was very helpful with sightseeing advice. I would definitely recommend this listing and stay there again.
Travis
2016-06-16T00:00:00Z
Great space with a great location. Cozy for more than 3 people, but still comfortable. I loved the outdoor space and the included breakfast was delicious. Rodrigo and his wife are extremely responsive and generous hosts and this was my best Airbnb experience to date.
Peter
2016-08-05T00:00:00Z
Had a great stay in Innsbruck and couldn't imagine a better host or location. The apartment was very clean, modern, and beautifully decorated. The apartment was equipped with everything you could need or want, including a great selection of breakfast items. The shower and bathroom were amazing and modern.
Caitlin
2015-12-21T00:00:00Z
Neighborhood was within walking distance from the train station and slightly further to the old town. Aptment was exactly as advertised in the photos and even better. There is an outdoor patio should the weather allow for an outdoor meal if you would like to. Items and furnishings are new and convenient to use. No problem with huge luggage as it's on the ground floor of the bldg. Check out was easy and hassle free. Superb stay!!! We absolutely loved it!
Pei Ren
2015-11-27T00:00:00Z
Room Type
Entire home/flat
---
Property Type
Apartment
---
Accommodates
4
---
Bedrooms
Innsbruck, Tirol, Austria
Super comfortable room in the best central location in Innsbruck, exactly on the main train station! Right in the same street you have access to all buses, restaurants, supermarkets and in 5-10 mins walk you will be in city center and old city. The room is equipped with all you would need. (The TV is not included
Very central place. Literally 1min from the central station by foot. Well equipped apartment with everything you need. Great for those intending to ski as there is free busses at the station going to some of the ski places. Thoroughly enjoyed our stay. Host was very accomodating.
Danish
2017-01-08T00:00:00Z
Tom's house is very close to main railway station. Infact across the street, platform no C. All connections to the city are available from here. Down town is walk-able 15 minutes or 4 minutes by Tram. House is well equipped and in fact we feel had maximum amenities in terms of add ons for daily use as compared to other places. Perfect for a couple or a family with one kid.
Manjari
2016-12-29T00:00:00Z
Great place to stay for the price!!
James
2016-11-11T00:00:00Z
We enjoyed our stayed, the location was perfect and the apartment was really nice
Alexandra
2016-09-30T00:00:00Z
Everything was all right.
Manuel
2016-12-02T00:00:00Z
The room is very nice, good location,very clean,warm and comfortable, in the city center,easy to walk to everywhere! Tom is a very good man, introduce about his city where should to go tourist, prepare some map to us, really good! Thank u!
Min
2016-11-16T00:00:00Z
Tom was a very nice host. The room was cozy and comfortable and he was very kind. Thanks a lot for everything.
Vincenzo
2016-11-23T00:00:00Z
Very nice and spacious. Very welcoming and helpful host.
Jyothsna
2016-10-27T00:00:00Z
Room Type
Private room
---
Property Type
Apartment
---
Accommodates
3
---
Bedrooms
Innsbruck, Tirol, Austria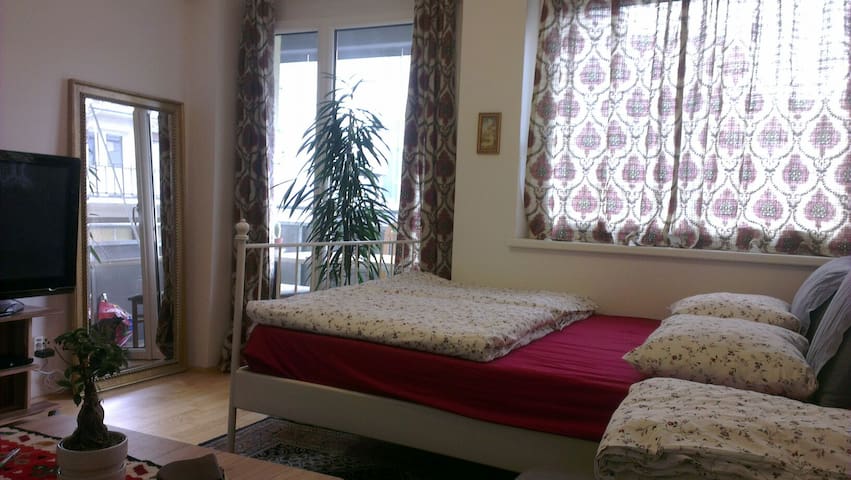 1

–

18

of

196 Flat Rentals
Enter dates to see full pricing. Additional fees apply. Taxes may be added.