Enter your check in date in the format dd-mm-yyyy
Enter your check out date in the format dd-mm-yyyy
Listings you can book without waiting for host approval.
Enter dates to see full pricing. Additional fees apply. Taxes may be added.
This July and August, you can try one of these 100 highly-rated homes, at all price points, and experience a local's view of Sonoma. 24-hour check-in, Instant Book, and local wine and snacks let you just sit back and enjoy your trip.
North beach in Hampton. New construction top floor surf loft with ocean view on a quiet rd off ocean Blvd. ideal for a surf get away with ample parking. You will love this loft, as it has unobstructed ocean view. Although the loft is tiny, it is well maintained and minimally supplied, which is perfect for beach life. Directly across from one of the longest beaches in NH. This is a true gem of a location.
Top floor of a 3 unit condo building. Small kitchenette, with basic essentials. 1 full bed and 1 pullout queen futon. Ideal for spending hours on the beach and enjoying the majestic Atlantic Ocean, with views of Isles of Shoals and points north. Directly across from 2 mile long beach and easy access to both Hampton beach and major highways of 95 and rt 1A Private parking for unit #3 and entrance. 100% beach Text communication and minimal interaction with guests if need be
Quiet neighborhood off of Ocean Blvd. walk, bike and drive This is the third floor unit of a condo unit. Clean and newly renovated. The amenities are BASIC. Please don't expect a 5 star hotel. I will provide the minimal essentials, so I encourage you the guest to bring what you want, including linens.
This place was perfect for a weekend or a few days stay. Perfect location close to the boardwalk. I would definitely stay here again.
Max
July 2016
Really clean and next to the beach. Great for a small stay!
Hélène
August 2016
Keper was available via text throughout the weekend. The pictures were accurate (apartments is very pretty and clean), except that we thought the bed was in its own space and not just a few feet from the futon. Safe, quiet, clean neighborhood. You have to drive to get to the main drag of the boardwalk, but the northern part of the beach is just a two minute walk from the apartment. No A/C or dark curtains (to block sunlight) was a bit of an issue--it was 97+ during our visit and we were on the third floor. Bring a box fan! Marsh in the back was a pretty view.
Justin
August 2016
Incredible location! Close enough to the strip to walk, or take a cheap Uber ride, but far enough away to have a peaceful night. Coming back from the strip and enjoy a couple of hours at the beach directly across from the house was a real highlight. The unit is definitely small, but was perfect for my three friends and I. Bed sharing is a must for more than 2 people. The apartment was beautiful and clean. We were very thankful for the host-provided fans, as the third floor unit was HOT when we first got there. After opening all the windows and setting the fans to create a cross breeze, it cooled down quickly and was comfortable the rest of the weekend. We had a great time and would definitely recommend this location!
Jessica
August 2016
This apartment was not an apartment its an attic. An attic with very slanted ceilings, so slanted my husband had difficulty using the toilet and he is 6" tall and in order to stand straight he had to stand 6 inches from the toilet. We were not greeted or shown the apartment and how it the futon worked. After arriving from a long trip we had to use the bathroom there was no toilet paper or hand soap in the apartment. There is no ceiling lights in the front room, just two mini head lamps, making the front of the house very dark. When we booked it we were called and asked to provide our own sheets for the beds and we declined as it was not in the listing and we were traveling from far. When we arrived we found the sheets crumpled up in a bag and we had to dress our own beds and therefore had to see the very old pillows with stains that looked like they had been picked up a the Salvation Army. There was only two stools and no kitchen amenities such as salt, sugar, oil, dishwashing liquid basic things that all of the apartments I have rented in the past have. Cute place for two, not four and if you want to be surrounded with very frail old looking furniture and dirty lamps, trashcan and tables. We had to purchase cleaning materials just to stay there because it was so dusty but only cleaned where we had to. Not expected for the cleaning fee we were charged. And to top it all off one of the days we were having a shower our neighbor said we were leaking water into his apartment I suppose because the drain in the shower was not working so it was not going down easily. A hot mess if you ask me.
aixa
September 2016
Room type
Entire home/flat
---
Property type
---
Accommodates
4
---
Bedrooms
1
Hampton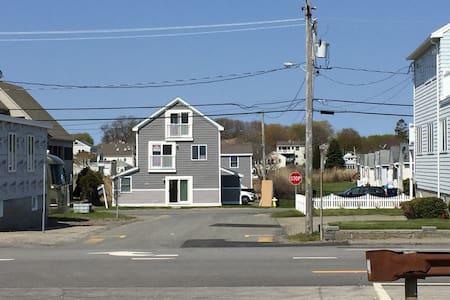 Newly renovated loft separate from main home with Queen bed and futon; offering the opportunity to refresh and renew. Discount on healing and yoga services, proximity to beaches, hot and wet sauna, surrounded by cute towns, beaches and nature walks.
State of the Art Tranquility loft, completely private with modern amenities, and peaceful vibe. A perfect place to unwind and relax. Infrared Sauna, Steam Shower, Discounted Healing Sessions and Yoga Classes, Mini Fridge, Open Land, Relaxing Backyard and Historic New England Towns and Shops. As much as the guest would like. This is a great area with lots to do and we'd be happy to share ideas.
Friendly rural community miles away from the North Shore's finest beaches, wildlife reserves, Newburyport, Plum Island, historic towns and shops. Train/Commuter Rail 1 mile from premises. We run a yoga class on Saturday mornings from 9:00-10:30, Monday & Thursday mornings from 7:00-8:00, and Tuesday evenings from 6:00-7:00. With advanced notice, you are welcome to participate. Please note, during this time, access to the yoga studio is unavailable. However, the upstairs, where the bedroom is located, is completely private, with separate exit from the studio to access. FYI: Yoga is discounted for AirBnB guests. Join us for yoga!
We really liked this space and will be back to stay the next time we're down. Admittedly we were out visiting family that lived just down the street for an early thanksgiving most of the time, but Anthony and Rachael were nice enough to let us sleep in on Sunday and we got a little time to catch up before we got back on the road! Space was very tidy, unique, and relaxing. Sleeping space was quiet and cozy. Very nice to get to know you Anthony and perhaps we'll catch up next time Rachael. Maybe next time we'll be down for more than one night. Eat Anthony's chocolate!
G
November 2016
This was a great little spot. Both Anthony and Rachael were excellent hosts. The space was pristine and both the private sauna/steam room helped me to mend my strained neck. Wish we had been able to spend more time with our hosts as they seemed like great people.
James
October 2015
Great space, great hosts and great location with 10 minutes drive to either of the town centres. Anthony and Rachael made us feel very welcome and were so friendly. Highly recommended!
Saneel
August 2016
this tranquility loft was AMAZING! my sister and I went for a night and it was perfect. it is separate from the main house. when you walk in, there's a spectacular bathroom with a sauna and a lovely shower. the yoga studio is down stairs and is beautiful. unfortunately we were not able to take a class (but defiantly will next time)! upstairs is the quaintest loft. the bed was super comfortable, the tv (which we didn't use) was large, and there is a nice little dining table space. and a million awesome books! there was an assortment of teas, an automatic water boiler, a hot press for coffee, fresh milk in the mini fridge and lovely lighting. the next time I need a getaway, I would defiantly go back to the loft for it! definitely recommended ❤️
Danielle
October 2016
Great stay! The space is beautiful and spacious and very private. Their yoga studio is downstairs in the same building, but we happily slept through the early morning yoga class. Other than that, we had the whole place to ourselves and enjoyed a leisurely morning before heading out to the beaches. Anthony and Rachael were super welcoming and we felt very comfortable being there. They even left us handcrafted chocolates in the fridge! Their outdoor space was also spacious and beautiful, full of gardens and chickens! It was super quiet at night, just us and the crickets. Perfect peaceful mid-week getaway!
Marilyn
August 2016
This loft was adorable and clean, and overlooks spacious gardens and chicken coops in Rowley.
Hannah
August 2016
This was by far and I believe to be one of the best air bnb experiences I will have. Anthony and Rachel are amazing people and I left inspired from what they have built for themselves and have to share. My only regret is only staying one night and not partaking in the total experience of services they offer. I highly recommend this to anyone who is in need of a mind body spirit experience in the lovely area. We plan to make this an annual excursion!
Andrew
September 2016
Fantastic stay. 5 stars. All the reviews are accurate. These are some great hosts. I'd go back again for the home made chocolate.
Shoaib
November 2016
Room type
Entire home/flat
---
Property type
---
Accommodates
2
---
Bedrooms
1
Rowley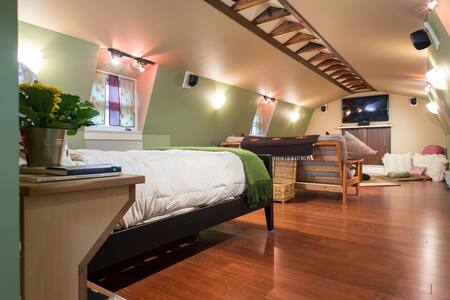 This is a 1900 two-family New England home on Main Street. We have easy access to route 3. Shopping centers and malls are just minutes away. Note: If this listing is not available for the period you need, don't be discouraged! Try a different date range or one of my other listings (under my profile). If you need to rent a vehicle, please read the "Getting around" section below, under "Description".
Our unit consists of the second and third floors, with two bedrooms on the second floor and a loft studio on the third floor. This listing is the loft studio on the third floor. You have the entire floor to yourself, including a queen size bed, separate bathroom and kitchenette. Access is through the second floor, sharing common entrances with the second floor. All guests also have access to the common areas, such as the living room and kitchen on the second floor, the three-season porch and laundry facilities. I, your host, live on the property. Normally I work full-time 20 minutes away and come home in the evening. Occasionally I work from home in front of my computer. I will be sharing some of the facilities and will be available during your stay for any assistance you may need, and will otherwise give you as much privacy as you prefer.
We are on Main Street on the edge of a residential area, yet steps away from shops. Without traffic, the house 20 minutes from Lowell/Chelmsford, 50 minutes from Boston Logan Airport and a little under 30 minutes from Manchester (20 min. from airport). Coming from out of town and need to rent a car? Check out my cars for rent on Turo (search by "Nashua, NH"). Depending on your arrival/departure time, we can arrange pickup and drop off at the airport or at the nearby airport bus stop. Note: only one car can be rented at any given time because I need the other one to commute to work. We are on a main street, so you can expect some traffic noise.
Chen was very thoughtful and attentive during my stay, I was in never in need of anything in the house, everything was provided for me in the loft. The mini kitchen was awesome, It worked very well. The loft was very cute I loved the design and everything with it. I got try some good food he cooked. If I needed something I could easily get in touch with him even with his busy schedule. I was very comfortable with the area and I was able to walk downtown with no problem. Overall it was a great summer for me in New Hampshire. I would recommend this place to anyone.
Nereida
August 2016
Room type
Private room
---
Property type
---
Accommodates
2
---
Bedrooms
1
Nashua
My place is close to the intersection of I 93N and I 95, 16 miles from the airport, one minute from groceries store and shopping plaza. You'll love my place because of its uniqueness and amenities. The unit is totally independent. The view of the koi pond in the back yard from the dining table is spectacular. My place is good for couples, solo adventurers, and business travelers. Near public transportation, MBTA buses to Wellington Station on the Orange Line.
Wadson was a great guest and it was really clear to me that he wanted me to have a comfortable stay. He is new to hosting and is very focused on making the experience great for everyone. The location was outstanding. Right down the road form an Applebees and the highway is right there as well. it was quiet and the window AC unit made it very comfortable to sleep. I loved that the unit was totally private and I could come and go easily. He had parking available right there onsite. It was a little tricky to find the location but that's mostly because I came in very late at night. Wadson was actually very flexible with me as I checked in late and made sure to help me find his place by walking out and directing me in from the street. I would absolutely stay here again.
Tom
August 2016
This location is excellent. It is minutes from the highway which is the major method of travel if driving in Boston. The room is a very cool flat. It has a bedroom, bathroom, kitchen and living room all in one ample space. It doesn't at all feel cramped, in fact it feels larger than you would expect on the walk up the stairs to the room. Wadson is very accommodating and is an excellent person as well. Very genial and so much fun to speak with.
Gio
August 2016
Room type
Private room
---
Property type
---
Accommodates
2
---
Bedrooms
1
Woburn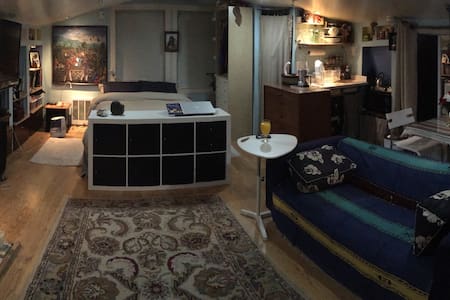 Beautiful views from second floor detached guest room. Walk to Devereux Beach or downtown Marblehead. Or enjoy the views from your room or the lawn.
Just added a fridge!
Great location with a very short walk to the beach. Close to a nice little downtown area with shops and nice restaurants. The place was very clean and well appointed. We really enjoyed staying there!
David
August 2016
Andrea was very responsive prior to arrival. The apt is beautiful and literally a minute walk to the beach. She provided chairs and a cooler which was very thoughtful. There is no fridge (as noted in her specifications) so plan on bringing a cooler if you intended on keeping leftover food. Would stay here again in a heartbeat! :) Cute town with classic New England roads.
Mike
July 2016
Andrea and Shawn came over and greeted me after we arrived at their guest suite. The guest suite is exactly as the pictures show in the listing. The bed and couch are extremely comfortable and there was a comfortable rocking chair I used to read in front of the window. The A/C was wonderful to have on a hot, muggy night but was only needed one night. A fan is supplied that we used the rest of the stay in conjunction with the cool breeze coming in off the ocean. The natural light in the room is good for reading and the curtains kept it dark when time for bed. The bathroom and shower are roomy and perfect for rinsing off after a day at the beach. The proximity to the beach, historic sites, walking the causeway, and around town make the guest suite convenient to getting out and about. Thanks for allowing Don and I to stay in your guest suite and I hope to be back some day!!
Patricia
July 2016
Andrea's place was exactly what we were looking for when researching beachside locations in Marblehead. Definitely would stay here again!
Vanessa
September 2016
Great place near the beach. Andrea was very helpful with getting to know the town.
Chris
August 2016
Our stay was fantastic. The apartment was very clean and tidy. Great location and Andrea was flexible with us and always communicated quickly. Definitely recommend this spot!
Matthew
August 2016
Nice, clean and in a very beautiful location. Communication was great and access was simple and easy.
Ryan
October 2016
I never saw Andrea, - no doubt she was respecting my need for solitude, but she responded to my every email immediately, which I really appreciated. Getting in and set up was really easy. The off-street parking was easy too. The place was lovely, and the location was amazing. It can't be better for Marblehead. The space was sparkling clean.
Janet
September 2016
Room type
Entire home/flat
---
Property type
---
Accommodates
2
---
Bedrooms
1
Marblehead
This is a modern downtown studio (over large garage) in the heart of Kennebunk just 4 miles from Kennebunkport. Walk to shops, restaurants, entertainment and the trolley stop! The location couldn't be better. Includes a beach parking pass if you decide to drive. A great space for two people! This space is being rented for the first time this summer, therefore, it does not yet have reviews. Please visit the following link for reviews on my other property: https://www.airbnb.com/rooms/5260907
The space is clean and updated and very comfortable for two people. There are two areas that are open to each other. The bedroom and the living room/kitchen. There are 20+ steps up to the apartment so you'll get your exercise! Access is outdoors and completely private. The studio has a private entrance but is part of a larger home. Guests can check in anytime after 4pm on day of check in. The door will be left unlocked with a key on the counter for easy checkin. I typically give my guests space to experience their own vacation BUT am always available via phone or text to answer questions. With this said I would be more than happy to meet my guests upon arrival to answer any questions and to welcome them to the space :)
Diagonally across the street there is nightly entertainment in the park. Mostly Shakespeare but also music from time to time. This house is about 1.5 miles from the turnpike but also in a great downtown Kennebunk location. You can walk to the trolley stop in about 5 minutes or you can drive to the beach yourself which is about 4 miles away. A beach pass is included to Kennebunk (or Goches) and Mother's Beach. This house is on the edge of the downtown so you can walk to the farmers market (on Saturdays) and to some shops, restaurants and parks, health food store and bakeries. It's in a great location for traveling to many different areas.
Room type
Private room
---
Property type
---
Accommodates
2
---
Bedrooms
1
Kennebunk