Kapa'a is a great little walking Town. So many shops to go to. Beach nearby & the Ke Ala Hele Makalae Bike path. Wednesdays we have Farmers Market. There's a nearby pool and Public Library too. Track, Bball, Skate Park & Hockey. SO much to do!
This is a studio space in Kapa'a Town so it's nice and close to everything really. It has a small Kitchenette space w/Microwave, Toaster Oven, Hot plate, Sink & Small Refrigerator w/Freezer too. There is a closet and small bathroom with a tub/shower.
The location is right in the middle of Kapa'a Town. Full access to Markets, restaurants and shopping in town all in walking distance. The bicycle path and ocean are also right across the way too. Full Public Ball and Track park w/skate park and hockey too. Library and local public pool close too.
My husband and I went here for our honeymoon. This is a small private location and very close to beachy town and beach. Most everything you need is in walking distance. The room gets sandy quickly as well as gets incredibly warm but it's controllable. Nothing elegant by any means, but if you're just looking for a place to sleep and shower, this is it. I would suggest renting a car if you want to go anywhere outside of Kappaa. Overall, we had a good stay.
Amanda
2016-01-14T00:00:00Z
Room Type
Entire home/flat
---
Property Type
Loft
---
Accommodates
2
---
Bedrooms
Kapaa, HI, United States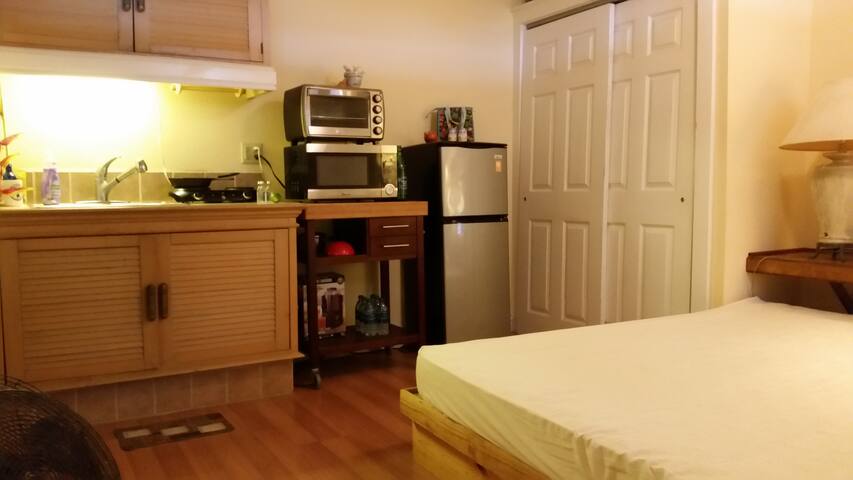 This beautiful 2-floor loft apartment in Kapa'a is 5 minutes walk from the beach and the oceanside bike path. Right in town but a world away. A truly distinctive Hawaiian experience. Restaurants, stores and banks within easy walking distance.
Whether you are visiting Kauai for the first time or the twentieth time, here is something quite different from a hotel or condo – a unique 2-floor loft apartment with exquisite architectural details and Hawaiian décor. It's ideal for two people. Surrounded by tropical vegetation and whimsical statues and objects, it's not a luxury resort but it is part of a small and friendly residential community full of Aloha spirit. You can arrive, move in, unpack and unwind -- or head straight to the beach. The price includes the 13.4% vacation rental tax. And, apart from the cleaning fee which is shown in the listing and your Airbnb service fee, there are no "extras" you have to pay -- no "amenity fees," no resort fees, no fees for the wi-fi (it's free), no "energy" fees, no fees for use of the bikes, no parking fees – no kidding. The Space: Downstairs the spacious open plan living/dining/work area has high ceilings, etched glass mirrors, recessed lighting, inlaid tile designs in the floor that will remind you of Italy, built-in shelves and file cabinets, ceiling fan and air conditioner, and wall-mounted TV. The all-electric kitchen with dishwasher, microwave, and granite counter tops is fully equipped. The bathroom is, well, a work of art – a carved entrance door, white Carrera marble walls, glass blocks surrounding the shower, intricate floor mosaic, built-in storage shelves, and several mirrored cabinets. The staircase is a blend of wood and tile leading to a cosy romantic bedroom upstairs with a queen-size chest bed with storage drawers underneath (made of wood – no formaldehyde), more storage space in the headboard and 2 bedside tables, a second TV, mirrored closet, and Oriental chest of drawers. There's a ceiling fan and – for those hot tropical nights – air conditioning. The Immediate Neighborhood: The apartment community has a unique ambiance. There's an outdoor table and stone seats among the trees near the entrance, where you can relax, drink coffee, or sit and chat with other residents. There's a gazebo, barbecue facility, and open space in the field adjacent to the property. Several coin-op washers and dryers are on site. Ample off-street parking is available for your use. The Kauai bird As you may know, the entire island of Kauai has an abundance of wild roosters and chickens, and they love hanging around near the property. The roosters tend to be quiet in the evening after it gets dark (when they roost), but they are prone to wake up and crow at odd hours during the night. Some people sleep right through it from Day 1, others say they get used to it after 1-2 nights - especially if they have busy, active days and are zonked out by the time they go to bed. We can't do anything about the roosters' body clocks, but we do provide our guests with hermetically sealed packages of earplugs for sleeping! Also running the AC and/or fans during the night helps to block out the crowing sound. Some find the chickens and roosters charming (we've seen many of our guests photographing them!) Other people find them annoying. But they are a fact of life in Kauai. We ask our guests not to feed them or encourage them, but they are persistent birds. One reason the wild chickens and roosters are in such abundance in Kauai is that there were 2 hurricanes (in 1982 and 1992) and domesticated fowl escaped and bred. Unlike Maui and other Hawaiian islands, Kauai never let the mongoose (chicken predator) in to the island. Kapa'a: It's the largest city on the island, although it is a "village" compared with any major mainland city. Kapa'a is centrally located, friendly and picturesque - as noted by recent articles in the Garden Island newspaper and Forbes magazine. At a pinch, you could get around without a car – walking, biking, or using the local bus service - but a car is important for real exploration at your own pace. You can walk to many stores, the Kapa'a post office, banks, pharmacies, Cost-U-Less (a local warehouse store), the beach, and eating places. Kapa'a has numerous specialty restaurants & cafes in all directions -- including seafood, burger places, coffee houses, Thai, Mexican, Czech and Indian restaurants as well as local Hawaiian cuisine. The Island of Kauai: There is no shortage of guidebooks and good Internet resources describing this piece of Paradise – but you are invited to relax and discover Kauai at your own pace: "Slow down – this ain't the mainland". Interaction: Our delightful and energetic manager Milan is assisted by Ida who lives on-site. Both are originally from Slovakia – so if you want to practice your East European language skills, here is your opportunity. With Milan's and Ida's help we have managed this apartment for many years. One of them will greet you when you arrive and show you the apartment and the surroundings, and will be available during your stay by phone or e-mail to answer any questions. Otherwise you will have the apartment entirely to yourself. We don't disturb you (unless you have a problem), and we don't put a chocolate on your pillow. Access: Kapa'a is about 8 miles north of Lihu'e airport. After you have made your reservation, we will give you specific directions for finding this apartment since it's well hidden. For days when you want to sightsee, you can drive easily to the north or south shores of Kauai. When you just want to relax, swim, or body-surf, you can walk to the closest beach (Kapa'a Beach Park) which is a beautiful crescent-shaped stretch of sand and good for swimming most of the time since it's protected by an offshore reef. Fuji Beach - also known as "Baby Beach" has shallow calm water and tidepools - great for young children to splash in. Or you can drive a short distance to Lydgate Park or Kealia Beach. Those are really good nearby eastside beaches. But be careful -- Kauai is not the languid Caribbean - there are strong waves and potential rip tides at some beaches. Don't miss the Kapa'a walk/bike path – Ke Ala Hele Makalae, the "The Path that Goes by the Coast" – there is a great 5-minute video on the web (hint: search Vimeo….). We provide a number of bikes for your use (see photo). They are not fancy ones, but quite rideable - at your own risk - for the entire 8-mile round trip to the far end of the paved path and back. We can even arrange to rent you a kayak at a nominal cost for a paddle trip up the Wailua River. Enjoy the experience of staying in a "home from home" in Kapa'a, close to everything - but away from it all!  The fine print: •Maximum of 2 people. •No smoking anywhere in the apartment or within 20 feet of it! • Check-in after 3:00 pm, check-out by 11:00 am. Depending on your flight schedule, we can usually arrange earlier check-in (11:00 am) and/or late checkout (7:00 pm) for a small fee. • Please remove your shoes (or wear indoor slippers) inside the apartment. •This is a residential community, so please, no parties or loud noise -- except near the gazebo at the far end of the grounds. •And don't feed the wild chickens or the feral cats.
Great place! Very comfortable and well appointed. Ida and Milan (the on site caretakers) were accessible if needed and Margaret checked in by email to make sure everything was good to go. Location is close to beach and start of bike path. Lots of bikes available for our use if we wanted. Beach chairs, towels, cooler etc all provided for us. There is a construction yard next to the property and the trucks start pretty early but we were up to go adventuring anyway so no problem. Wifi is spotty at best but worked fine once we found the "sweet spots". Very pleasant place - definitely recommend.
Dona
2014-12-24T00:00:00Z
My son and spent 15 days on Kauai visiting my youngest son. Margaret's place exceeded my expectations in every way. I am familiar with Kapaa Town and was surprised to see how well concealed this was from the highway. It was very quiet and had such a calm and tranquil atmosphere. The gardens were stunning. Ida, Milan and Arnold were always available but never intrusive which was greatly appreciated. We arrived late due to flight delays but Ida was in contact throughout the day and our apartment was ready and inviting (pineapple, mango and bananas) in addition to coffee and milk waiting for us. The apartment itself was clean and comfortable. One of our favorite things were the bikes that were available for use. We took rides many mornings on the path by the ocean. Beautiful!! Great please to stay!! We will be back!
Patricia
2016-02-23T00:00:00Z
She gave lots of good, local suggestions and information, her place is very charming and interesting. The caretakers - Ida and her husband are amazing. Kind, prompt, helpful, very responsive, they are a real plus!
Stacy
2016-12-14T00:00:00Z
Everything described was as is. Ida (the property manager) met us to show us around and was extremely friendly. The loft was clean and cute. The host left us coffee, fresh fruits, milk and coconut water which I thought was an excellent touch! Very close to many stores, all located on the East Shore.
Summer
2015-03-12T00:00:00Z
We loved our stay! It enabled us to save money by cooking in every night. It's a good central location and we certainly loved talking advantage of the cruiser bikes. Milan was a HUGE help! Thanks for a great experience!
Paulette
2016-05-25T00:00:00Z
Everything was as promised. The extras: a bag of cereal, a bowl of fruits, coffee, milk and drink in refrigerator, really helped jump start our vacation. Although we didn't cook, it's nice to have a fully equipped kitchen to heat up soup or left over. The contact person, Ida, greeted us warmly. It's nice to have bikes free for us to use. It's in a quiet neighborhood in Kapaa, easy to get around town, easy to find.
Kathy
2015-02-26T00:00:00Z
We were greeted by Ida, the manager, who was very nice and accommodating. The apartment was clean and had a bowl of local fruit, coffee and other basics. There were plenty of clean towels and also beach chairs and matts, with snorkle gear and bikes available to borrow. It was a comfortable apartment with absolutely no view of anything. The windows were high or nonexistent. The place was hard to find and, while the neighbors were very nice, the "neighborhood" was really just an alley behind a strip mall - not very romantic!! However, it was within easy walking distance of the bike path, beach, town and restaurants. Once we realized that this wasn't a luxury accommodation, we really enjoyed the accessibility and the privacy.
Anne
2016-02-06T00:00:00Z
accommodations were very nice and comfortable but the main reason why we chose this hotel again were people who were on us perfectly starali.Ještě thank you once Idušce, Milan and everyone else ....... and we hope that in a year we meet again Iveta and Tomas from Prague
Iveta
2015-02-12T00:00:00Z
Room Type
Entire home/flat
---
Property Type
Loft
---
Accommodates
2
---
Bedrooms
Kapa'a, HI, United States
Enter dates to see full pricing. Additional fees apply. Taxes may be added.