small house resort style closed to mountain and near cha-am beach
Room Type
Private room
---
Property Type
Cabin
---
Accommodates
3
---
Bedrooms
Cha-am, Phetchaburi, Thailand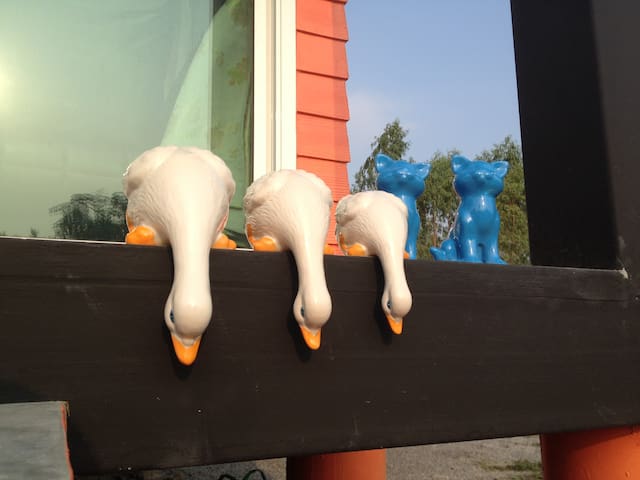 1 bedroom, bathroom, Aircon, TV, hot water right on the lakeside. We have a Kitesurfing School and Cable Park lake right here and the rooms are around the lake, very beautiful view from the bedroom and balcony is big for chilling out on. We are located just 5 minutes to the beach and close to the main village area for shops and food. the food in this area is absolutely amazing and super cheap, great for anyone who likes a bit of spice in there life! Very relaxed atmosphere here and friendly with people around if your on your own and want to make friends at the kite school or Cable park There is also a bar and restaurant on the lake island for your drinking and socialising pleasures :-) come check us out! (includes toast and coffee in the morning, the bar on the island sells full english breakfast if it isn't enough)
1 bedroom, bathroom, Aircon, TV, hot water right on the lakeside. We have a Kitesurfing School and Cable Park lake right here and the rooms are around the lake, very beautiful view from the bedroom and balcony is big for chilling out on. We are located just 5 minutes to the beach and close to the main village area for shops and food. the food in this area is absolutely amazing and super cheap, great for anyone who likes a bit of spice in there life! Very relaxed atmosphere here and friendly with people around if your on your own and want to make friends at the kite school or Cable park There is also a bar and restaurant on the lake island for your drinking and socialising pleasures :-) come check us out! (includes toast and coffee in the morning, the bar on the island sells full english breakfast if it isn't enough)
I spent a month (03-04/2014) with Willy, and everything has worked best, and I will come back again.
andy
2014-04-11T00:00:00Z
Willy was a great host. His place was nice and quiet. I loved his green guest house by the way because it was my favorite color haha. I got there very late on my first day and I couldn't get anything to eat because everything was close during that time. Willy's partner gave me a ride to a 7/11 (mini store), which it was about 1.5 km away from Willy's place, so I could get something to eat; that was so nice of her. They both were nice and helpful.
Visanok
2014-04-25T00:00:00Z
Place is convenient to do wake boarding in the morning when there is no wind to kite. ask the host and they will help you withe transfer to/from Bangkok. facilities as described.
volodymyr
2016-05-04T00:00:00Z
This place is awesome! The accommodations are VERY comfortable by budget traveler standards. Each room has a private balcony/porch with a lakefront view. There are two restaurants in the vicinity, one opens early, and the other stays open late. A great combination for hungry travelers! Take the opportunity to hop on Willy's Kite Cable attraction. It is very fun and worth it! Overall, Willy was a great host who was willing to help us a ton with planning the next leg of our trip and his local traveling insight was a big help!
George Dan
2014-02-12T00:00:00Z
My boyfriend and I had a great time here. The staff were extremely friendly and welcoming. The cabins are about a 10-15 minute drive from the beach, where we took our dog to run out his energy and grab some food. Clean room and good price, I would recommend.
Katie
2013-12-24T00:00:00Z
Room Type
Private room
---
Property Type
Cabin
---
Accommodates
2
---
Bedrooms
Pak Nam Pran, Prachuap Khiri Khan, Thailand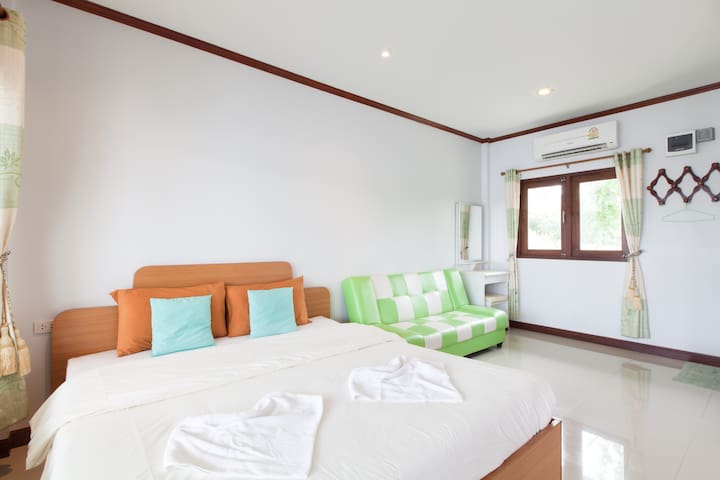 A small, clean, airy cabin on the Petchaburi river surrounded by 3 acres of gardens along 100 meters of riverfront. Many Thai Sala along the riverside for our guests to read, rest, eat, and play. A quaint Thai restaurant on site.
The cabin is located on our river property 200kms SW of Bangkok. It is surrounded by fruit orchards, cane fields, and a rubber plantation. The cabin has its own bathroom with a shower and sit-down toilet. The room is naturally cool with shade trees and a natural roof. A ceiling fan is mounted. Concerning food, my brother's wife runs a small Thai restaurant at our river property. She can provide menu items or made-to-order. The prices are very reasonable. Please note that her English is very simple. Guests should have simple Thai to be able to communicate. Also note, the local area is enjoyed by many road bicyclist and mountain bikers. We also have our beach house listed on this site. Please search for: Beach House off Chao Samran Beach. It is 50kms (45 minutes) East of our river place off of a quiet beach. The area is renowned for it bird watching. Maybe you would be interested in spending part of your visit there. I hope this information is helpful. I look forward to your comments and additional questions. I really look forward to helping you discover my beautiful country, Thailand, and making your visit extra special.
Wow ! What can I say ? , we had an amazing week in Phetchaburi . Thank you so much Paul Larson for taking care of us and showing us around , we traveled in the jungle and got wet under amazing waterfalls , we rode waves on the beach and in your home we went swimming in a flooded river (!!!) , visited an endangered birds breeding farm , and more and more . you shared your knowledge with us and showed us how beautiful and great the nature is , but most importantly you showed us how beautiful and great the human heart is ! We can never thank you enough :) Cheers
Zak
2016-08-01T00:00:00Z
Felt very welcome, although I didn't see jirapon myself mem and tak her 60year old brother and colleague were super helpful and kind. Mem cooked for reasonable price around 70 till 150 bath a meal. The environment is beautiful many birds squirrels and butterflies. There is no wifi, what I experienced as healthy but good to be prepared for that. The room is very simple a bed and shower but beautiful expecially from the outside. The place is secluded so if you have a car or rent a motorbike can be an idea in my case tak brought me every were i wanted. Supermarket and sightseeing and bus back to Bangkok. So if you like rest peace nature a bit retreat like although nature can be loud too, crickets and birds.... I had a great time and loved it) thanks
Carlie
2016-06-30T00:00:00Z
Room Type
Entire home/flat
---
Property Type
Cabin
---
Accommodates
2
---
Bedrooms
Tambon Klat Luang, Chang Wat Phetchaburi, Thailand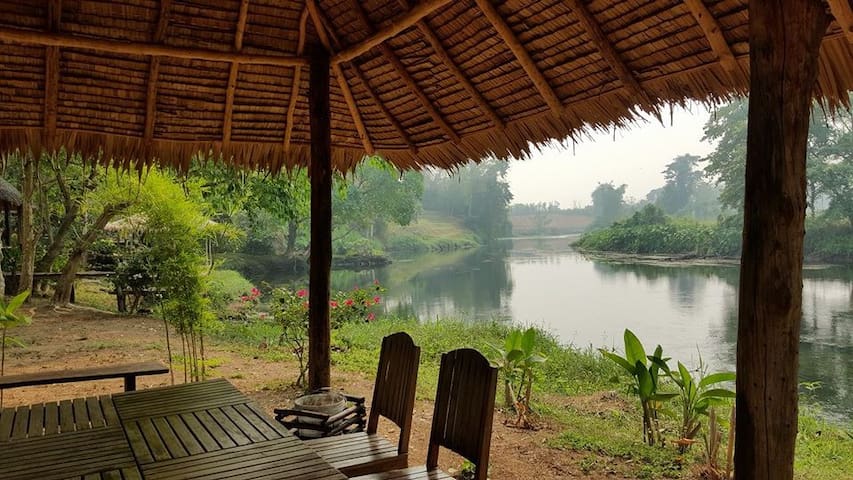 We have a Kitesurfing School and Cable Park lake right here and the rooms are around the lake, very beautiful view from the bedroom and balcony is big for chilling out on. beach is only 5 mins drive away
1 bedroom, bathroom, Aircon, TV, hot water right on the lakeside. We have a Kitesurfing School and Cable Park lake right here and the rooms are around the lake, very beautiful view from the bedroom and balcony is big for chilling out on. We are located just 5 minutes to the beach and close to the main village area for shops and food. the food in this area is absolutely amazing and super cheap, great for anyone who likes a bit of spice in there life! Very relaxed atmosphere here and friendly with people around if your on your own and want to make friends at the kite school or Cable park There is also a bar and restaurant on the lake island for your drinking and socialising pleasures :-) come check us out! (includes toast and coffee in the morning, the bar on the island sells full english breakfast if it isn't enough)
My friend and I stayed in Willy's place for one night. We only booked just on the day of arrival and Willy responded very quickly. The place is easy to find and the little bungalow was impressive, clean, tidy, very comfortable and stunning view of the lake where you can enjoy a couple of drinks and kite cable. I highly recommend to stay in Willy's place.
Pim
2014-11-30T00:00:00Z
Room Type
Private room
---
Property Type
Cabin
---
Accommodates
2
---
Bedrooms
Prachuap Khiri Khan, Prachuap Khiri Khan, Thailand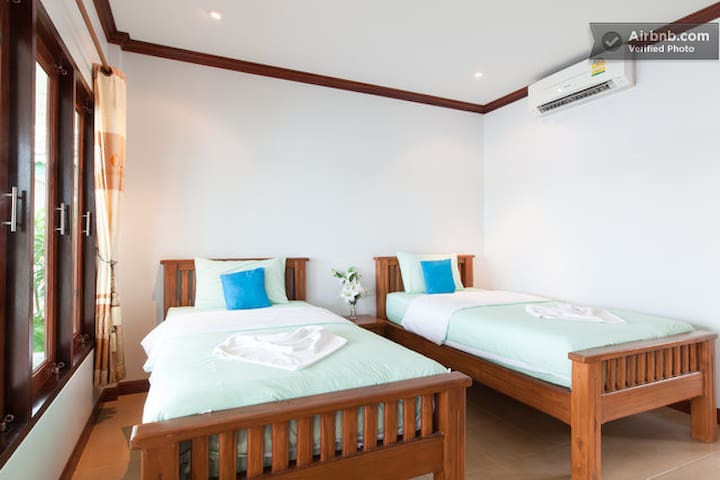 1

–

4

of

4 Cottage Rentals
Enter dates to see full pricing. Additional fees apply. Taxes may be added.