Enter your check in date in the format dd-mm-yyyy
Enter your check out date in the format dd-mm-yyyy
Listings you can book without waiting for host approval.
15 Villa Rentals
· Jonsdorf
15 Villa Rentals
· Jonsdorf
Enter dates to see full pricing. Additional fees apply. Taxes may be added.
This July and August, you can try one of these 100 highly-rated homes, at all price points, and experience a local's view of Sonoma. 24-hour check-in, Instant Book, and local wine and snacks let you just sit back and enjoy your trip.
Please take a closer look at http://www.villa-lueckendorf.com/ until I have updated this Airbnb page.
Rent our little castle and experience nature, sports and the highlights of cities like Dresden or Prague The house has place for ca. 12-15 people – the dining room has a place for 18 people at table. 3 floors and the basement are devided into 5 bedrooms, 4 restrooms, 1 big and 1 small bathroom, 1 big kitchen, dining room, tea room with piano and chimney, patio, balcony, lobby, computer room, television room, laundry (washing machine and dryer), vine depot. Guest are provided by our concierge and facility manager with ready made beds and towels – furthermore he and his wife help out were they can with information about shopping and sightseeing or about the history of this beautiful area. We love to help our guests to plan trips and events. Our house manager meets our guests upon arrival and can be reached by phone. Cars are parked at the house. A bus station is close to the property.
Room type
Entire home/flat
---
Property type
---
Accommodates
12
---
Bedrooms
6
Luftkurort Lückendorf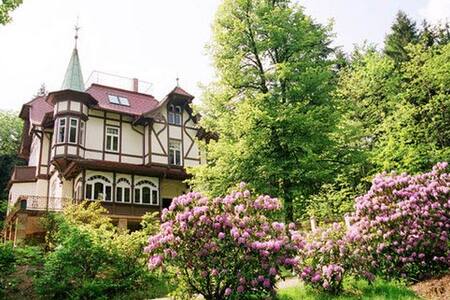 Our spacious house is located in a small village; in the backgarden there is a small river where our guests love to sit and the children can play building dams or try to catch the trouts. Train, bus and small shop nearby. Distance to Prague 110 km.
Our house is located in the village, but when you are inside the house, you feel as if you are in the woods. On the backside there is a wooded mountain and a small river. At both sides the orchard and gardens of our neighbors. The house has a private drive to the road of approx. 50 meters. The guests can use the entire house and garden. The key will be handed over to you by one of the neighbors. In case of any problem you can contact her.
Beautiful in all seasons and suited for several outdoor sports (hiking, skiing, mountain biking etc.). Dining and drinking outdoors within walking distance. Many castles, museums and delightful villages and towns are just around the corner. You can visit Poland by train or car. The nearest big city is Liberec (25 km) with theaters, shopping malls, zoo, botanical gardens, swimming paradise and plenty of nice cafes and restaurants. Harrachov (15 km), Korenov (5 km), Spicak (3 km) have great ski slopes. Center of Praque is only 1 hour and a half away by car and two hours by bus. Trainstation at 500 meters, busstop at 500 meters. By public transport you can get almost everywhere you want to go at a very low price. Our house was built in 1876 and has been entirely renovated with a central heating system and all modern comfort. Fortunately it still has preserved its old atmosphere. There are 9 beds, 1 babybed, 3 extra mattresses on request.
We arrived two families for two weeks in the summer. We got a huge house, which had everything we needed. The house is far enough from the main road and next to a magical river. The bedrooms are large and spacious, fully equipped kitchen, there is a TV room that has a turntable with a lot of great records. Old but maintained home.For us it was too big and divided into many spaces. We arrived with small children and while we cooked or doing somthing else we could not watch them play in the living-room. There is a grocery store and several pizzerias close to home. 15 minutes away from Harachov (a very cool town).
Miri
August 2016
We were organising a big family event in the area and I accomodated my dear friends in Sylvia's villa in Desná, while we stayed in a pension un the hill. They were extremelty satisfied, loved the place, and were leaving happy. So, thank you !
Radka
December 2015
The House was amazing!! Its a real Villa. Everything was perfekt. The communication beforehand was perfect, the neighbourhood is nice and the town it self is very calm and familiar. We had a very nice christmas even without snow! Thanks Sylvia
Sina
December 2015
Dům velice komfortní, veliký s mnoha místnostmi. Vkusně zařízený a na klidném místně. Dobrá dostupnost do Albrechtice na lyžování cca 5 min autem asi 4 km přes kopec.
Pavel
January 2016
Wir waren mit 9 Leuten hier und haben uns sehr wohl gefühlt. Das Ferienhaus ist sehr groß und alle hatten Platz. Begeistert waren wir von der tollen Plattensammlung und so haben wir die Abende mit guter Musik verbracht. Vielen Dank
Ines
May 2016
Przepiękny "dom z duszą". Byliśmy w 12 osób (6 dorosłych i 6 dzieci) i mimo tak licznej grupy było bardzo komfortowo. Dom czysty, zadbany w pełni wyposożony (imponująca kolekcja filmów dvd!). Świetny, błyskawiczny kontakt z właścicielką. W pobliżu (ok. 4 km) świetne warunki narciarskie (spicak). Dzieci, który po raz pierwszy były na nartach, po 1,5 godzinie nauki z instruktorem (bardzo fajna szkółka narciarska dla dzieci "z pingwinem") wjeżdżały orczykiem i śmigały z góry. Okolica spokojna, senna, zdecydowanie nie skomercjalizowana. Sklep spożywczy w odległości 100m.
Marcin
January 2016
Een welkomstmail vlak voordat we afreisden, wijn, koek en SAP bij binnenkomst
Theo
March 2016
Es war ein wunderschöner Urlaub in dem schönen Haus. Wir haben die Natur in vollen Zügen genossen. Besonders schön fanden wir die kleine Terrasse hinter dem Haus. Dort haben wir uns gern aufgehalten. Ab und zu frösteltete es uns ein wenig, da es bei den kühlen Außentemperaturen doch ein wenig kalt im Haus war, es wäre schön gewesen, wenn dann die Heizung nutzbar gewesen wäre.
Andreas
July 2016
Room type
Entire home/flat
---
Property type
---
Accommodates
12
---
Bedrooms
5
Desná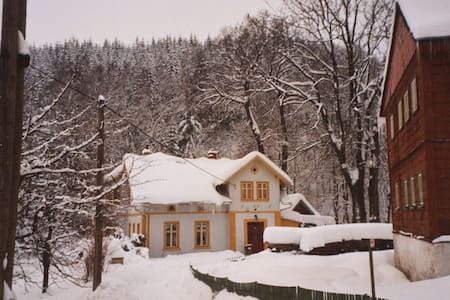 My parents stayed here, it is a beautiful and comfortable room. The villa and hosts are wonderful, definitely recommended.
Misha
August 2016
Franz und Alice waren mit Abstand die gastfreundlichsten Gastgeber, die wir seit langem getroffen haben. Beide sind wahnsinnig hilfsbereit und nett. Die Unterkunft war sehr sauber und liebevoll eingerichtet. Wir haben uns sehr wohl gefühlt und würden jederzeit wieder kommen.
Irene
September 2016
Room type
Entire home/flat
---
Property type
---
Accommodates
2
---
Bedrooms
1
Bad Gottleuba-Berggießhübel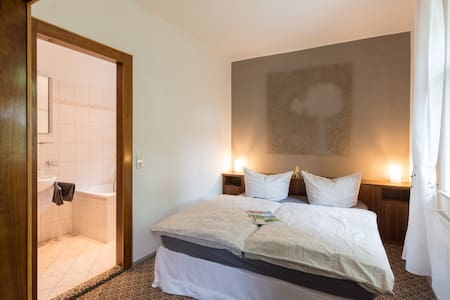 Everything just like in description. Room was nice and tidy and halloween decorations which appeared in hallway was a nice addition. Place worth recommending.
Michal
November 2016
Ladne miejsce, blisko centrum Szklarskiej Poreby i PKS. Polecam.
Michał
December 2016
Room type
Private room
---
Property type
---
Accommodates
2
---
Bedrooms
1
Szklarska Poręba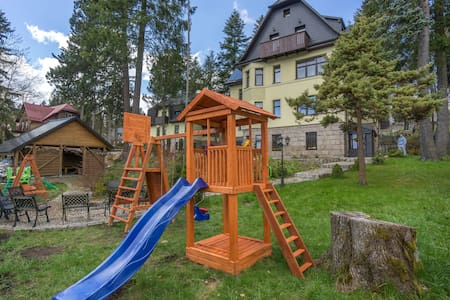 The host canceled this reservation 78 days before arrival. This is an automated posting.
Dagmara
Room type
Private room
---
Property type
---
Accommodates
2
---
Bedrooms
1
Szklarska Poręba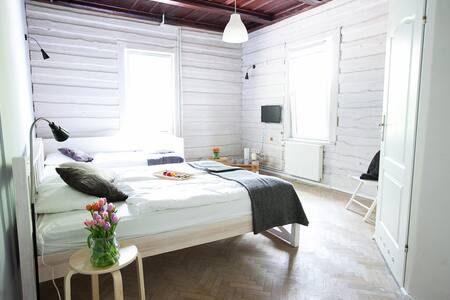 Diese schöne Villa liegt mitten in Jetrichovice, hat einen sehr großen Garten mit Feuerstelle und gleich gegenüber befindet sich ein Sportplatz - Familien mit Kinder wird das gefallen. Nebenan ist ein Restaurant mit schönen Garten. Wir hatten die Ankunftszeit kurzfristig telefonisch mitgeteilt, war trotz Sprachbarriere kein Problem. Auch die Einweisung haben wir mit Gesten und gutem Willen leicht hinbekommen. Vom Haus aus kann man direkt verschiedene wirklich schöne Wanderwege gehen. Der Bus hält nur 100m vom Haus und eine kleiner Laden ist keine 5 Gehminuten entfernt. Das Haus selbst ist funktional eingerichtet, der wohnliche Aspekt kommt leider etwas kurz. Wir genossen unseren Urlaub, vor allem wegen der wirklich guten Lage.
Werner
June 2016
Wir haben uns in dem Haus von Jana wohl gefühlt. Die Zimmer sind sehr einfach, aber sauber. Die Schlüsselübergabe hat sehr gut geklappt. Das Haus liegt so, dass man direkt von dort aus ein paar sehr schöne Wanderungen unternehmen kann.
Ilka
August 2015
Room type
Entire home/flat
---
Property type
---
Accommodates
12
---
Bedrooms
4
Jetřichovice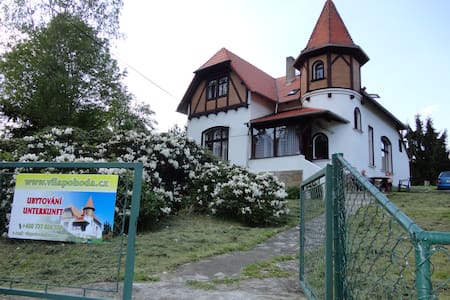 Charming villa in a large garden,has 4 BR, 4 Baths, 2 LR wood burning fireplace, laundry room with washer dryer,satellite dish,wireless, eat in kitchen with oven,microwave, dishwasher,automatic cafe maker, and a large garden
large , airy house,provides enough space for up to 8 people with great comfort in 4BR and 3 baths. The public area consists of a dining /TV room and sitting room with large library, DVDs,vinyl records and player for both vinyl and CDs.The fire place is also located in this room. my guests have access to the whole house,except where limitations are agreed upon. I give my guests an orientation to the house,welcome them and invite them to ask questions when they come up. I speak fluently English, German,Czech, Hungarian, fair French, some Portuguese
The calm and wonderful nature entices you to explore,hop on the bike or put on your hiking boots,climb the ropes or rocks, rent a canoe ,kayak or paddle boat.If culture,concerts,castles you are after,Prague is just an hour away,wine tasting in chateaus nearby,great Czech food just around the corner. There is a bus connection to all towns, villages nearby and a bus or train several times a day to Prague.A great train connection exists to Dresden and to southern Poland, all for very little money. There are several lakes within the area called Czech paradise, with opportunity to swim, fish and have a meal in one of the ancient castles. Getting there from the airport in Prague: Take the public bus from terminal 1 or 2 to the train station to take the direct train. To take the bus,you will have to take the subway from the train station to the stop: Cerny Most, in front of the station is the bus terminal ,from where direct buses leave several times a day to my village. You will get good directions after the booking and an inexpensive pick up service might be possible to arrange.iF you come by car , there is a secure parking in my drive way, free of charge I request a 1000 USD security deposit,that is refundable upon check out, if no breakage occurred or items are missing.My house is a exclusively furnished old villa,that is decorated and contains many unique items.
My family and I stayed here for several days and it was fantastic. The house is lovely and fits six people very well. It's in a peaceful neighborhood with numerous castles within a few kilometers from the house. Julia is a great hostess as well. We would all return here if given another chance.
sheila
June 2015
Room type
Entire home/flat
---
Property type
---
Accommodates
8
---
Bedrooms
4
Malá Skála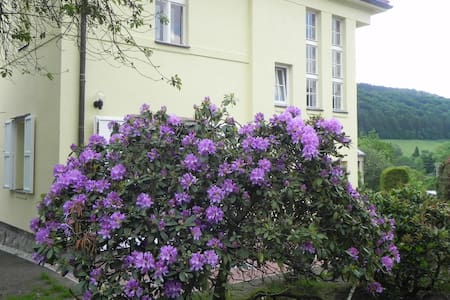 Villa Bohemia is a spacious mountain getaway built in the year 2011. The large villa is situated on top of a mountain in the Sudeten Land -North Bohemia- in the raw and gorgeous Iron Mountains of the Czech Republic. The property overlooks the picturesque and famous natural springs village ''Lazne Libverda'' (or ''Bad Liebwerda'' in German), which is situated on the edge of the National Park ''Jizerské Hory''. Inside the villa is divided into 4 large and fully equipped apartments.
Room type
Entire home/flat
---
Property type
---
Accommodates
16
---
Bedrooms
8
Lázně Libverda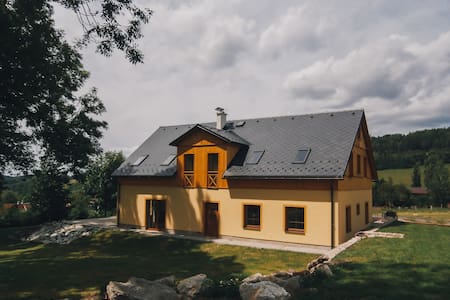 We rent beatiful 1 small flat for holiday or beatiful weekend in the middle of rare stone nature around
There are very calm and great places, where you can walk, climb, ride and know more czech paradise As soon as possible I answer normally until 1hour
Nature, view, totally no stress atmosphere:) There are some buses very near to house but not very odften and there is train station in mala skala 3km from the house
The apartment house is lovely and situated on the edge of a small village. Forest is near, a real refuge from buzzing cities and a great starting point of hikes all around. Great spot, can recommend it truly!
Dániel
August 2016
Very nice place to stay in the Chech Bohemian Paradise. The appartment was very clean and comftable. It is a good loation for doing the various exercises/excursions in the area. The host was very nice, and we can certainly recommend to stay with Gabriela
Lars
July 2016
Room type
Entire home/flat
---
Property type
---
Accommodates
15
---
Bedrooms
3
Koberovy
Plně zařízené apartmány se samostatným vchodem postavený v roce 2015 se nachází na samém začátku Českého ráje, nedaleko hradu Kost, zámku Humprecht či zříceniny Valečov.
Room type
Entire home/flat
---
Property type
---
Accommodates
12
---
Bedrooms
4
Žďár u Mnichova Hradiště 133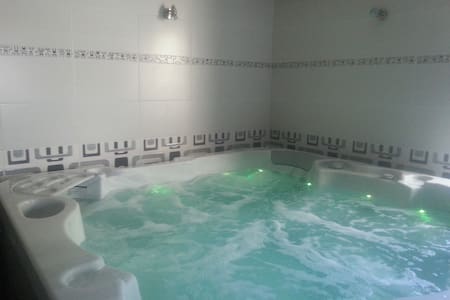 The hosts are friendly and it is an extraordinary cool house to stay in. The styling of the whole place (garden, furniture, decoration) is all very special and beautiful. I would advice you to only go there by car as it is quite a long (but also very scenic) walk to the bus stop.
Sara
December 2015
Room type
Entire home/flat
---
Property type
---
Accommodates
6
---
Bedrooms
3
Dresden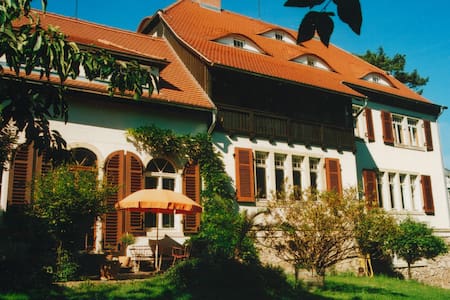 1

–

15

of

15 Villa Rentals