This self-contained guest suite with private entrance features a bedroom, sitting area (or second bedroom), kitchenette, and full bath. The house is newly built, powered by the sun, and sits on two acres surrounded by gardens. Peaceful!
The price includes all required state taxes. (Subtract 13.25% for the pre-tax nightly rate.) Please note that we, and Airbnb, require that reservations be booked by the person who's going to stay at our home. We do not accept bookings on behalf of a friend or family member. "Transparency and trust are vital to the Airbnb experience." We host single travelers, couples (LGBTQ friendly), or two friends/family members needing separate bedrooms. (No more than two people please.) When you arrive, you'll drive through a farm gate and park under the avocado tree. Walk along a stone pathway, which leads you to the lanai. You'll be greeted by the peaceful sound of flowing pond water in a tropical courtyard. A few steps past the French-doors, behind which your hosts reside, you'll see the door to the guest wing. Through your private door you will enter into the sitting area with a teak dining table and chairs, a perfect place to enjoy your morning coffee or set up your laptop. There's a kitchenette with bar sink, and all the necessities for coffee/tea making. Although there is not a stove, there is a microwave. Additionally, a small refrigerator makes it possible to keep groceries chilled; basic kitchenware is provided for simple meals. Off of the sitting area is a room with twin beds, hung with 'old Hawaii' artwork. This can be used as a bedroom or a place to just hang out. The main bedroom features a queen size bed (not too firm, not too soft), a dresser, and closet. Look outside the large windows to one of several pineapple patches on the property; beyond you'll see an orchard of tropical fruit trees. The full bath features a tub/shower combination, have your pick. Enjoy hot water heated by the sun.
The village of Kapa'au is a five minute walk down the hill from our home. You'll find gift shops, a pharmacy, a yoga studio, a cafe and several restaurants. Kohala Hospital is located in Kapa'au, and feel safe knowing that the EMT and firehouse is minutes away. In Hawi, two miles south of Kapa'au, you can find more shops and restaurants. We'll provide a selection of restaurant menus in the guest suite for your perusal. The Kamehameha Park is also nearby. Here you'll find tennis courts, a swimming pool, gym and weight room, ball fields and even a golf course ($10 play all day). Our beautiful library ('green' construction) is about a mile away, and often features special events on Monday evenings. The Hub in Hawi offers classes and hosts special events. Also in Hawi is a Farmers' Market every Saturday morning under the banyan tree. No adventure to North Kohala is complete without a visit to the black sand beach of Pololu Valley, a few miles north at the 'end of the road'. Other hiking trails are nearby; we'll tell you about our favorite. You can even walk to the ocean cliffs right from your front door. (About a five mile walk round-trip.) Consider Kohala Zipline for a real thrill! For white sand beaches and resorts, drive south for about 30 minutes. For a nearby jump in the ocean, head to Mahukona, and dive off the pier. We'll provide the beach towels. For a spectacular drive, take the Kohala Mountain Road to Waimea and explore this paniolo (cowboy) town.
We only have good things to say about Kelly and Chuck's place. Very cozy, clean, and private, great location to explore the North coast. And there are plenty of good options for meals in Kapa'au and Hawi. Kelly and Chuck themselves were very kind and welcoming, made us feel at home. We hope we can come back!
Stephanie
2015-11-08T00:00:00Z
What a peaceful enjoyable stay we had with Kelly and Chuck... Guest house is perfect in every way‼️‼️‼️
Beverly
2016-01-31T00:00:00Z
Kelly and Chuck's place is very special. The house is tastefully designed, decorated and comfortable. My husband and I had everything we needed. The grounds is also amazing, filled with tropical plants, flowers, fruits, veggies, trees. They have chickens too. The location was ideal for us, away from big tourist shops and large resorts. In the mornings, we walked up the end of the street viewing the ocean, then down to the small shops and restaurants to have breakfast. Hawi is about 4 miles away and they too have small town shops and restaurants. (We love Sushi Rock restaurant). Chuck and Kelly have lived in the Big Island for long time and can recommend places to go. Kelly packed us some dried banana chips which served as good snacks during our hikes and excursions. They're amazing hosts.
Melissa
2016-10-15T00:00:00Z
Beautiful place! Modern but with an island feel. Very private. Cooler than Kona area. We really liked the surrounding towns. Great dinner at Sushi Rock. Kelly and Chuck were so kind and welcoming. Very comfortable. The grounds and gardens are lovely. Highly recommended! One of my favorite Air BNBs. A great place to spend our anniversary.
Kelcey
2015-10-24T00:00:00Z
Kick back for sure. Kelly text us a couple days ahead of time to see if we needed a different check in time. She welcomed us & showed us around. The pics were so accurate of the property, I recognized it right away. One of the best Airbnb experiences I've had. The space was perfect & beautiful. Cozy beds & the best of everything. Even closer to town than I thought, walking distance, felt out in the country & very peaceful. I highly recommend staying in this area of the island to get the island experience. No hotels & resorts, still great coffee shops & restaurants, art galleries & hiking...also a great zip line experience, Kohala Zipline, among the eucalyptus trees & the Flume ride, Flumin' Kohala are in nearby Havi.
Chris
2016-01-25T00:00:00Z
The grounds of this dwelling are a treat for the eyes and soul. A real retreat spot. I was impressed at the creativity of the hosts in putting all these amazing landscape and design features into their land and dwellings. Could have stayed a month. Chuck and Kelly were very welcoming and available for any questions, etc. Loved the fresh fruit they harvested and left for us.
Linda
2015-12-07T00:00:00Z
Chuck and Kelly are wonderful people with a fantastic space for guests. We loved everything about it except that we couldn't stay longer! The rooms are super clean, the coffee and tea in the room are great and the fresh fruit from their garden was much appreciated (and delicious!). I enjoyed checking out the garden with Chuck (papaya, pineapple, passionfruit, bananas, avocados, macadamias, moringa, chickens--everything!) They were excellent hosts-highly recommend a stay with them!
Jada
2015-11-13T00:00:00Z
Chuck met me on arrival and showed me the accommodation. It was a great space of 3 rooms plus a full bath. The hosts had put fresh fruit from their property, dried apple bananas and fresh ground Kona coffee in the room. The property is beautiful. The hosts are very friendly and knowledgeable about the area. Both Kelly and Chuck frequently asked if there was anything I needed or they could do for me. A great place to stay!
Rick
2016-01-19T00:00:00Z
Room Type
Entire home/flat
---
Property Type
House
---
Accommodates
2
---
Bedrooms
Kapaau, HI, United States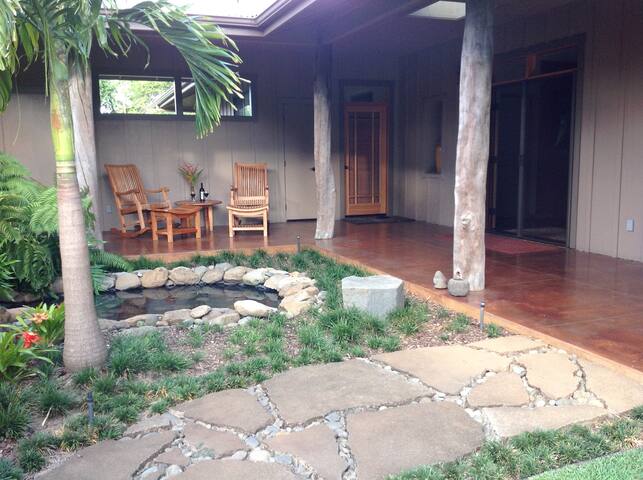 Our place is close to historic Kapa'au and Hawi. A short drive to scenic Pololu Valley and close to white sand beaches. Restaurants and shopping nearby. Zipline located in Hawi. ATV and Flumin Kohala also right in the neighborhood! You'll love our place because of it's hidden location with amazing views and hiking all around. Classic 100 year old plantation house nestled in a beautiful tropical setting. Our place is good for couples, solo adventurers, business travelers, families and pets.Aloha
Old style plantation house,fronting huge Banyan trees...
Our neighborhood is safe and old style Hawaii...great hiking and exploring
The accommodation were perfect for our needs! Hap was available for every call and if we need anything! We appreciated having a home away from home!!
Tammy
2017-01-09T00:00:00Z
Quiet renovated plantation cottage within easy drive to Kapa'au, Hawi, and end of Hwy 270 where Pololu Valley hike begins. Hap and Mele are living the life! Sincere hospitality and all the privacy one might be looking for. You won't be reading your own books because they have so many interesting ones about you'll want to spend days there instead of getting back on the road.
Susan
2017-02-10T00:00:00Z
The cottage is just the right size, and in a nice location in Kohala near Hawi and Kapa'au. Perfect base for hiking, and snorkeling or whale watching at the beaches a bit to the south. Furnishings are a comfy hodgepodge of art, vintage objects, and I think some furniture Hap made. Kitchen is utilitarian but it works. Hap himself is a real character, generous and friendly, and responded to all messages and questions really quickly.
Stacy
2017-01-24T00:00:00Z
Hap and Mely are exceptional hosts. From the moment we arrived to the island, we were greeted with a warm welcome and had gracious hospitality our entire trip. WE were looking for something off the beaten path but close to the beaches and secluded but not too far from central. Hap and Mely's comfortable cottage is nestled in paradise with a lush surrounding and ideal for a quiet getaway. We are already anticipating our next trip back to Mely and Hap's cottage.
Laura
2017-02-02T00:00:00Z
This place is awesome. It's quiet and relaxed, old Hawaiian style. It's roomy and comfy and Hap is super nice. I would definitely stay there again.
Anita
2017-01-18T00:00:00Z
We thoroughly enjoyed staying at this place. To start, Hap and Mely are just the nicest.... you really feel the Aloha. And that was even before Mely left a gorgeous box of fruit from her magical garden. From the start, the communication was excellent. Hap called us a full week before our trip to connect with us and to make sure that we had directions. And he was easy to reach, and easy to talk with. The place is rustic and older. It would not be for everyone. But it was perfect for us. The kitchen had all we needed. The bathroom was spacious, with a great shower (plenty of hot water and good pressure). The sheets were clean and comfy. Lots of interesting books around. And some really interesting pieces of furniture, some created by Hap, who is a talented wood worker. The house is at the end of a quiet road, just outside of town, but close to the little towns of Kapaau and Hawi, and a short distance from the magnificent Pololu Valley, and nice snorkeling at Mahukona, and a very pleasant drive of about a half hour from the gorgeous beaches just south of Kawaihae.
Eli
2017-02-21T00:00:00Z
Absolutely best sleep since I arrived 2 months ago in Hawaii. Secluded, private plantation house artfully filled with period pieces and lovingly restored. Great for up to 3 guests and I used my time there to write and read as well as cook. Great location to hike Pololu Valley, eat and see live music. Hap and Mely are the kind of hosts that make you feel right at home and are eager to literally share the "fruits" of their labors. Nice touches like a bouquet of fresh flowers made for a welcome retreat. I'll be going back. Very soon.
Karen
2017-02-05T00:00:00Z
Our stay in Kohala gave us a true sense of Hawaii's jungle. The house provided us all the amenities to cook, relax and explore. Hap and Mely we're gracious and friendly hosts. Hap allowed us last minute to extend our stay and let us borrow some snorking gear. Mely gave us some delicious fruit from her garden that brightened our mornings. I would recommend staying here to any one who wants to experience Hawaii away from resorts but close enough to some amazing beaches.
Kelsey
2017-01-01T00:00:00Z
Room Type
Entire home/flat
---
Property Type
House
---
Accommodates
3
---
Bedrooms
Kapaau, HI, United States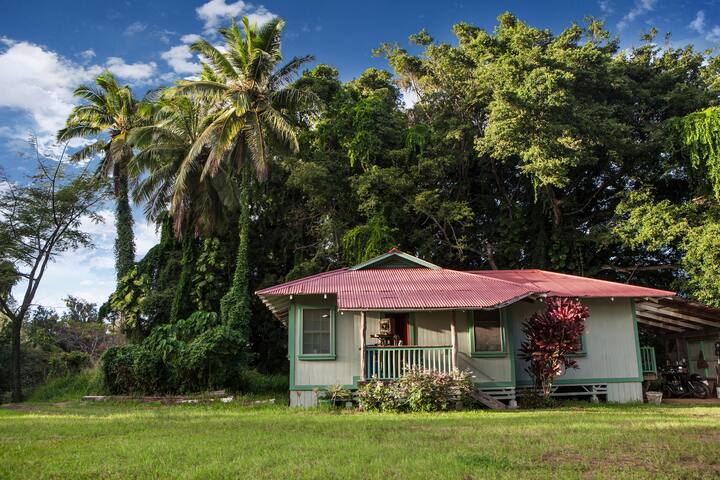 Perfect couple's get away. Delightful, cozy and nestled in a tropical garden setting.. Great for single's too, the cottage has often been used as a writers retreat, or just a plain retreat. Automatic Discount for one week bookings. Included in price 13.25% Hawaii Taxes.
1 Bedroom / Living room, 1 Bathroom, Sleeps 2 only. The home is located on the road to Kamehameha County Park, that has a Gym, Public Swimming Pool, Baseball fields, children playground etc etc. Great local walks along the ocean, into Pololu valley and beyond! The Big Island's North Kohala region is a travelers' delight, off the beaten path, it makes the area one of Hawaii's best-kept secrets. Experience ''Old Hawaii'' in the charming historic towns of Hawi and Kapaau, with artists' shops, galleries, and delightful cafes. Historic sites in walking distance to the famous statue of King Kamehameha, and to the Kamehameha State Park. Pololu Valley - with its majestic views, black sand beach, and scenic hiking trails is close by. Or just chill out, and enjoy some of the island's best beaches. Whale watching is seasonal (December through April), but the sea turtle and dolphin sightings occur all year-round. The cottage contains a private kitchen including a full double sized sink, medium sized refrigerator, stove. The kitchen is complete with pots/pans & cutlery for preparing meals and a full compliment of dishware. The cottage shares the property with a larger home known as The Park House. The day rate includes 13.25% Hawaii State Tax.
The lovely village of Kapaau which is 3 minute walk away. Kamehameha Park walk there in 2 minutes, swimming, tennis, baseball, gym, etc etc.. Great walks and swimming along the coast. Pristine ocean swimming 15 minutes drive from the cottage. Cooler,(will need ice), beach chairs, beach towels, snorkel masks and fins (that may or may not fit), on hand.
We had a great stay at Eddie's cottage! If you don't want to feel like such a tourist this is completely the way to go. There was plenty of room and we loved using the kitchen. Kapaau locals were very nice and Eddie was a great host.
Mina&Richard
2016-10-06T00:00:00Z
Ed's cottage is a very charming and cute bungalow that's surrounded by nature, so you'll see creatures such as geckos and birds around the property. The immediate neighborhood is sleepy and quaint, and embodies the old Hawaiian towns from back in the day. It was very rainy when we visited, but the ceiling fan helped to keep the air moving and keep us cool!
Stephanie
2016-06-20T00:00:00Z
Ed's place was the best that we stayed at on the Big Island. He thought of everything and his property is immaculate and aspirational for any future home owner. Hawi is a little out of the way, but if you want to spend your time feeling like a local, then it is the best town to daydream about life as a local. Also the drive up there is beautiful coming from both highways. The cottage is very clean, the bed is very comfortable, and the breeze coming through the windows is heavenly. Ed has thoughtfully left beach gear for your use, and recommended us a beautiful sunset at Kapaa which we enjoyed a few times. If you get a chance to visit the farmers market under the Banyan Trees on Sunday mornings, you'll get another chance to experience the local life. Thanks Ed. We'd definitely stay here again.
Ben & Katja
2016-05-09T00:00:00Z
The cottage was perfect. Just as described. We had a great time at Ed's place. Thanks for everything.
Todd
2015-08-19T00:00:00Z
Ed's home is located right at the beginning of Kapaau, and a stone's throw from Hawi and Pololu Valley. It made it really easy to enjoy all that North Kohala has to offer. We would definitely stay again, and Ed was a great host.
Thomas
2016-09-19T00:00:00Z
We had a wonderful stay at Ed's cottage! He greeted us and showed us around the property. Coffee, fresh fruit that had fallen from trees, snorkeling gear, and beach towels were all provided. The cottage was secluded and quiet, with a beautiful backyard area to sit, and read, have coffee & breakfast. Ed checked in with us to make sure everything was satisfactory. Ed was a great host, overall gentleman. He offered some tips for local activities, and we greatly enjoyed the Kohala Coffee Mill in Hawi, Sushi Rock in Hawi, and Gill's Lanai in Kapa'au. Great location with close access to hiking, beautiful valley lookouts, snorkeling, and 20-30 minutes drive to breathtaking beaches (Hapuna, Mauna Kea, "69" off Puako). Couldn't recommend this place more and my wife and I greatly hope to come back! Aloha
Michael
2016-11-10T00:00:00Z
Ed was a fabulous host and there for us in every way, from fully supplying our cottage to offering all kinds of helpful advice regarding local food, hikes, beaches and explorations....We really could not have asked for more. Everything was clean, well appointed, well stocked from kitchen to snorkeling gear! The location was perfect, within 2 blocks of small town Hapa'au and short drive to quaint Hawi. When we return to the area we would definitely stay again. PS wonderful small yard full of exotic flowers, avocado, pomelo and passed lovely times cracking macadamia nuts too!
Craig
2014-11-01T00:00:00Z
The cottage was really great place to stay.
Evon
2014-12-28T00:00:00Z
Room Type
Entire home/flat
---
Property Type
Cabin
---
Accommodates
2
---
Bedrooms
Kapaau, HI, United States
Hale Nalu Li'i is a bedroom and porch accommodation for, simple, no frills adventurous or laid back guest. A large bedroom and a spacious sleeping/meditation/exercise porch are included. There is an outside shower and toilet and sink off the kitchen. The private locked space is upstairs off the living room of the main house. The entrance is shared with host. Several children can be accommodated with air mattresses or sleeping cots. Arrangements must be made ahead of time.
There are 2 single beds, one in bedroom, other on the porch. There's no closet but a rolling hanging rack & cubbies. Toilet & sink are located off the kitchen in the laundry room. The rustic outside shower is off the kitchen.
Our neighborhood is rural and very quiet. There is only 1 adjacent neighbor and on orchard and open fields on the other sides. There is little traffic and a great place to be outside and walking.
Room Type
Private room
---
Property Type
House
---
Accommodates
2
---
Bedrooms
Kapaau, HI, United States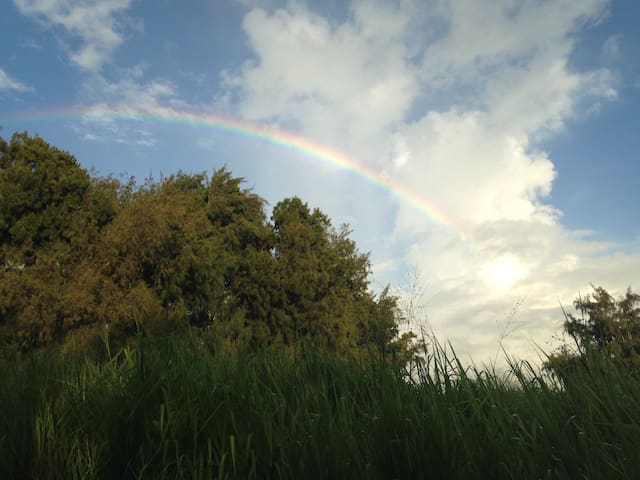 This unique "cottage" sits on 5 acres of garden, orchard and gulch-guests may pick seasonal produce. It is peaceful and quiet but with easy access to two cute towns. The owners run a farm on the back 20 acres with chickens, sheep, goats and cattle.
We are minutes from two cute towns but entirely secluded by lines of bamboo, mock olive and ironwood trees. The main property is thoughtfully landscaped with orchards trees such as citrus, avocado, mango, papaya and banana. There is also a gulch to explore that leads to a woods with wild passion fruit, avocado and Mac nut trees. The back 20 acres are home to sheep, milk goats, cattle and chickens ( no roosters allowed! --too noisy!). The towns offer eclectic shopping and gourmet restaurants as well as hole in the wall eateries. Pololu valley is 15 mins drive to the north (and the end of the road); Hapuna beach state park and resort beaches are 20 mins drive to the south. This is the birthplace of King Kamehameha and is filled with legends and historic places of interest. E Komi Mai!
Quirky stores and a variety of interesting restaurants. Peaceful and quiet. Sustainable natural agriculture practices. Rural community hospitality, historic legends. Real people. If you want night life you'll need to drive south 20 mins to kawaihae (blue dragon, plantation house, seafood bar and grill, cafe pesto) or over the mountain road 35 mins to Waimea (Merrimans, red river cafe, microbrewery, underground pizza.). Kona airport is 45 mins drive south along Kohala coast. Hilo is 90 mins over mountain road and through scenic rainforest. Volcano is 2 1/2 drive south.
The Cozy Corner was exactly as described. Peggy was a very responsive and welcoming host. She gave us tips on what to see and do, locally. She even took the time to show us around the farm and gave us the opportunity to feed the sheep and cattle. Great experience overall- I'd highly recommend to anyone.
Arianna
2017-01-02T00:00:00Z
Lovely private acommodations with an exceptionally friendly host on a beautiful tropical farm. Excellent starting point to visit Punalu'u lookout and all the wonderful northern beaches.
Joseph
2017-01-11T00:00:00Z
This unit is next to but not attached to Peggy's home. It is surrounded by tropical plants and a large grassed area. The entire property is quite large. Peggy has a farm area above the home and a friendly dog, Jackie, who may greet you. Peggy was a gracious hostess and shared fresh produce from her property. She was friendly but also respectful of privacy. I would suggest that you arrive during the day, the first time, as the driveway can be hard to find, especially at night. The best clue is that it is directly opposite K Takata Store. If you stay anywhere rural in Hawaii, you will likely have one or more 'house geckos' to keep you company (they are supposed to be good luck :-) ). Our two (or more?) at Peggy's mostly stayed in hiding, although I did get a few photos. We thought they were fun, and they help keep any bugs under control, but if someone had a phobia about them, they would probably not want to stay in a rural Hawaiian setting. We loved the area. It is away from the resort areas and feels like 'Old Hawaii'. Mahalo to Peggy for a lovely visit!
Alice
2017-01-31T00:00:00Z
Peggy is a wonderful host. She made us feel very welcome. The apartment was very clean and cozy. The kitchen had everything we could need. I was pleasantly surprised by the lovely garden with incredible bamboo stands and beautiful trees. The location is close to the town of Hawi, which has some cute shops and restaurants.
Melanie
2016-12-25T00:00:00Z
Peggy was extremely welcoming to us. Her property is absolutely beautiful and the peacefulness was exactly what we were looking for. Peggy was very accommodating and provided us with everything we needed- including beautiful fruit and cooking herbs from her garden! As a side note I highly recommend the sushi bar down the road- great food and drinks!!
Olivia
2016-07-08T00:00:00Z
Peggy is a wonderful person who welcomed us in the sweetest way possible. Her graceful way of being is inspiring! The cottage was clean and tidy. She gave us freshly squeezed orange juice upon arrival, with fruits from her orchard. And the next day she gave us homemade cookies and eggnog made with eggs and milk from her farm. Priceless indeed!
Djamilla
2016-12-27T00:00:00Z
Fabulous experience. Everything was even better than expected...from the accommodations to the beautiful surroundings to the warm, helpful and generous hostess. We can't wait to return some day.
Genevieve
2017-02-03T00:00:00Z
We loved staying here. It is an ideal location on this part of the island. Peggy was very warm and kind to us, which just made it better!
Lee
2017-03-02T00:00:00Z
Room Type
Entire home/flat
---
Property Type
Apartment
---
Accommodates
2
---
Bedrooms
Kapaau, HI, United States
Our cottage is comfortable and user friendly. Wifi, DVDs, Bialetti espresso maker, coffee maker, blender, quality kitchen ware, vintage rattan furniture, hand-crafted mango dining table and memory foam mattresses are the supplied basics. There is one queen bedroom and another queen bedroom (if needed), an office, one bathroom, outside lounging and dining areas, beach gear and a private setting with tropical landscaping. Walkable to Hawi town and Kapa'au town and across from ATM and post office.
Aloha Friends! Hale 'Ukulele is a newly remodeled, Old Plantation Style, redwood cottage located on a private drive off the highway half-way between Hawi Town and Kapa'au Town in North Kohala. This sweet home has one queen bedroom and another queen bedroom (if needed), one full bath, a small office, new kitchen, and an open living room and dining area featuring a handcrafted mango wood dining table and vintage Hawaiian rattan furniture. A large lot surrounded by a wooded lot and a pasture with grazing cows and horses, affords privacy and a rural flavor to your stay. An outside dining table with umbrella and cushioned lounge chairs with a peek-a-boo ocean view are some of the relaxing features for you to enjoy. A gas grill, beach chairs and umbrella, coolers, and water sports gear are included for fun in the sun! Views of the ocean, Maui, and Haleakala can be seen from the house and property. Hale 'Ukulele is walking distance to an ATM machine, post office, grocery store, and library and a short drive to restaurants, shops, beaches and a great community swimming pool and community center. Not too big for one couple and plenty of room for two couples and can accommodate a family of three. You will want to stay longer to enjoy this unique Kohala guesthouse. Rural, local, fun!
An ATM is across the street next to the post office. Takata Store is a few minutes walk as is the North Kohala Public Library. We are a mile or so from both Hawi Town and Kapa'au Town with fine dining and local shopping as well as a Farmer's Market.
Awesome place!
Drew
2016-08-26T00:00:00Z
Although I never met the owners, I must say that Carol was very nice in all of our written and telephone communications. The house itself is exactly as depicted and described: it is a lovely, very liveable, and very well positioned home. Indeed, I felt very much at home there. It is very conveniently located, close to all services, the grocery store, post office, bank, and the local sights. I have to say that the owners have excellent taste in decorating, and provided extensive and detailed instructions on everything that I need to know in order to use the house, its amenities and services. The local residents in Kapa'au and Hawi are extraordinarily friendly. The yard is just lovely, the bed very comfy, the WiFi very fast and reliable. So, I was able to rest, vacation, and stay in touch with the world as if I were at my own home...but with the magical difference that I was in one of the most beautiful and healthful places in the world.
Bradley
2015-07-31T00:00:00Z
PASSIONATE PEOPLE, BEAUTIFUL NORTH KOHALA FLAVOUR, PERFECT FOR A SHORT STAY Hawi/Kapaau is located about 2 hours north of Kona International Airport. Although farther than Kona or Hilo from most of the main attractions on the Big Island, this area is closer to the beautiful valleys and cowboy country that shouldn't be missed! If you have a chance to hop around to more than one accommodation on the island, we highly recommend staying here for a few nights to experience the more lush atmosphere and charm of the North Kohala region. The area is quaint with evidently passionate people and a vibrant arts community. The people seem to be very supportive of local fair, probably explaining the surplus of quality options for happy gluttony. Bamboo Restaurant, for example, is a Top Pick in Lonely Planet's Big Island travel guide and is noted for its contribution towards the emergence of modern Hawaiian cuisine. They support and serve fellow local goods, like my number one favourite ice cream parlour in the state, Tropical Dreams. There is also a happening hangout called the Kohala Coffee Mill which works tandem with the gallery next door and hosts live acoustic sessions for any walk-ins like ourselves. There are a couple of gas stations and grocery stores with everything you need, but overall this place is small-town and off the routes of the main highways leading to Akaka Falls, Mauna Kea and Volcano National Park. Perhaps all the more reason to get away? EVERYTHING YOU NEED WITH JUST THE RIGHT AMOUNT OF CLASSY HAWAIIAN CHARM We were able to find the location on point with our Garmin GPS (last updated 2012). Where to park and how to enter was clear and there were no problems getting inside. Everything was as expected from the description and photos, if not better. We especially enjoyed the interior with traditional Rattan furniture and non ostentatious Hawaiian cultural decor. The place was well-equipped with everything we needed, in the kitchen with plenty of spices, ziplock bags and plastic tupperware, and around the home with beach towels, travel coolers and luxurious apricot body scrub. The washer and dryer were handy for taking care of our dirties. There was plenty of space for two guests. Suitable for a romantic rendezvous. We felt safe here. The hot water was stable and the beds were 4/5 on an honest comfort scale. RESPONSIVE HOST Carol managed our stay from Washington, so we did not have a chance to meet her in person. Despite this, she was always responsive to our questions and generous to offer tips for our visit. Arriving inside the abode, an extensive house manual provided everything from what parts of the bed to strip down before leaving and kind reminders like, don't forget to check the washer for geckos before starting your cycle. She was friendly and everything went smoothly with no problems whatsoever. We would love to stay at Carol's place again if we ever return to the island!
Emily
2016-09-06T00:00:00Z
We loved our stay. Everything we needed was there. The location was secluded yet close to town and offered privacy. Carol was there when we needed her and offered all the advice we needed and more. The house had comfortable amenities. Ample cooking facilities. The beach gear was very handy. The guide books so fantastic ... It was great to be able to identify the fish and birds we had seen during the day. The house was cool with the windows open and screens were well fitted. The washing machine was handy. Hawa was close by and so were lots of yum food trucks. There was great coffee. Loved our stay and would definitely recommend.
Rachael
2016-07-31T00:00:00Z
We had an *exceptional* stay at Hale Ukelele!! Everything was as expected--and then some! When our 2 week stay in Kalapana area (south shore) was over...we decided to extend our stay and explore the Hawi area...and we are *SO* glad we did! We also got the "bonus" extension of a couple extra days due to Tropical Storm Darby, and Carol was gracious and accommodating to our needs to stay longer at the last minute. We weathered the storm VERY well there (quite thankful for all the lush trees/vegetation surrounding the property to block the heavy winds...could have been a lot worse!!). We had fun experiencing some local "wild" chickens (whom we named, Cordon Bleu, Fricassee, and Teriyaki!). We also loved the random visits from wild pigs! The location was *perfect* for us! Tekata store down the street had most everything we needed, Sushi Rock was definitely a *highlight* of our dining experience, as was Bamboo Restaurant...both in Hawi town. We were thrilled that the Mauna Kea Resort public beach area was only a short 30 min drive away, and offered the typical "Hawaiian Beach" experience...especially when the rest of the island was being inundated by the storm! We were very comfortable here, and it had all the amenities listed, and awesome instructions (with (URL HIDDEN) helpful) Hale Ukelele was indeed a home away from home! We would definitely come back!!
Jett
2016-07-24T00:00:00Z
Carol's place looks good and is well decorated. The kitchen in particular is very well furnished (obviously by someone who loves cooking!) The house is located in the north of Big Island, around 30 mins drive to the Kohala beaches - the nearest town Hawi is very nice, quiet but with a couple of good restaurants. We very much enjoyed our stay on Big Island, and Carol's place was well decorated, in good condition, clean & tidy. Although we didn't meet Carol she was very helpful by email. Perhaps the only downside was that the place itself is north facing (so doesn't get much light during the day in winter, though that's probably exactly what you want to keep cool in summer), and gets quite cold at night (though we visited in January, which is probably the coldest time of the year - most likely not be a problem at another time, and extra blankets are provided.)
Nick
2014-01-11T00:00:00Z
The place was cozy and cute. Well decorated too. Had an amazing experience!
Judy
2015-10-04T00:00:00Z
This is an amazing house! The yard has both sun and shade, and the inside is beautiful!! Everything you need for the beach is available. The location is perfect for exploring either the east or west side of the thumb; if you don't like the weather on one side, head to the other!! And don't forget to visit Sushi Rock for the most unique and tasty sushi on the island, Bamboo for a tasty fresh meal! I love this house and would gladly stay for another week!
Jett
2016-07-26T00:00:00Z
Room Type
Entire home/flat
---
Property Type
House
---
Accommodates
4
---
Bedrooms
Kapaau, HI, United States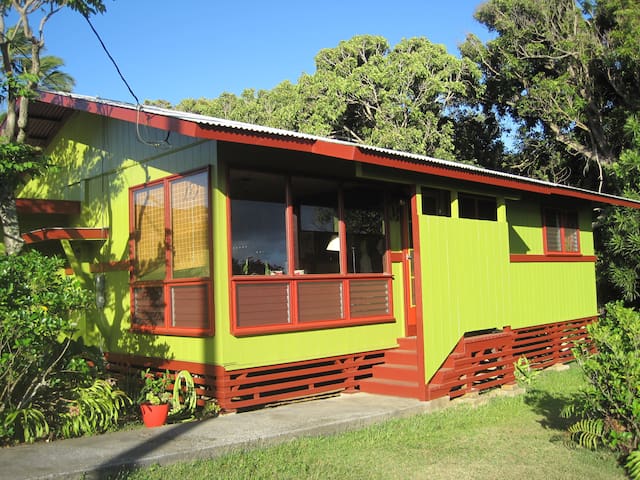 Enjoy the fresh tradewind breeze of North Kohala. Approximately a mile from the quaint Historic downtown center of Hawi, this sweet 1 bedroom plantation era cottage offers a comfortable place to rest and enjoy as you plan your Hawaii adventures on the Big Island.
Cozy, light, eclectic, recently refreshed one bedroom plantation cottage on the northern tip of the Big Island. Minutes from quaint downtown historic centers of Hawi and Kapaau. Rest in a comfortable king size bed, enjoy a full kitchen, zip on high speed internet, sip morning coffee looking out to a lovely back yard, and have access to some of the most wonderful places the Big Island has to offer. Come, enjoy Hawaii from Hale Mana.
Hale Mana is situated on Kynnersley Road which is lined on either side with sugar plantation homes. There are neighboring homes on two sides of the Hale Mana.
It was easy to communicate with Terra, place was clean and location was great!
Cindy
2017-02-14T00:00:00Z
Terra's place was very pleasant. Even though we arrived late at night , the gps took us right to the driveway and the house number was very visible at the road. The old sugar plantation house was clean and as described. Could use a little TLC...(paint, etc.), however the value was good! Maui and a small ocean view was visible on a clear day. The lanai was wonderful in the mornings. Even though the homes in this area are close, the neighbors were very quite. The kitchen was well stocked and the bed very comfortable. This area is fairly remote, so be prepared to relax! Would recommend this area and Terra's cottage!
Ed / Sheila
2016-12-05T00:00:00Z
Communication with Terra was perfect. Check-in, and check-out was convenient, and easy. The house had everything we needed to feel at home, with a very equipped kitchen. It was warm by midday, but cools down nicely at night. As with anywhere on the island, a vehicle is needed, and from this location, it is a nice drive to Waimea, Mauna Kea, Kona, and pretty much anywhere on the island, depending on how far/long you want to drive. Parking is right at the front door. Wifi worked well. Terra whom we did not meet is a very hospitable host, leaving a sweet card, fruits, cookies, hibiscuses around the house, and so on... Definitely recommend!
Walter & Tania
2017-03-13T00:00:00Z
The listing description of this plantation-style place was accurate. The neighbourhood is not wealthy, but most places beside it are are tidy. Fresh fruit on the table, and food in the fridge, were welcoming. Fun original art on the walls. We took our important papers with us when we left for the day, as the back door is screen-only, and locked only with a little slider. The little house is quite rustic, and eclectically furnished, but equipped adequately. We were close by car to interesting sites - The King Kamehameha II statue, the Pololu Valley, and Hawi.
Karen
2016-02-15T00:00:00Z
We had a wonderful stay at Hale Mana. It was a cozy, eclectic space that we immediately felt at home at. We loved having all our meals on the lanai, just as promised. The kitchen was very well stocked and great for working in. The bed was very comfortable and the neighborhood was quiet. The best part was that Terra was so friendly and available for questions. She left us a nice personal note and some island fruit to greet us and made us feel welcomed. We highly recommend Hale Mana to anyone wanting an "off the beaten path" real Hawaiian experience.
Lynette
2016-03-01T00:00:00Z
We loved our visit to Terra's house. It felt immediately like home with a spacious kitchen, comfortable bed, comfortable living room and bath. We especially enjoyed sitting out on the deck watching the birds and the large garden like back yard.
Kimberly
2016-03-04T00:00:00Z
Terra was great to work with. More than willing to assist with anything. We spent four nights at this cozy one bedroom property and felt at home.
Gerald
2015-12-16T00:00:00Z
I and my partner stayed here for 6days. Lovely garden and lanai is perfect setting for relaxation. it's quiet and peaceful. close to the little town of Hawi. A pair of pretty dogs, a cat, gecko, birds,the neighbor and off course Terra, they all welcome us with open heart. thank you all for everything. we'll be back someday. Mahalo.
osamu
2016-03-24T00:00:00Z
Room Type
Entire home/flat
---
Property Type
House
---
Accommodates
2
---
Bedrooms
Kapaau, HI, United States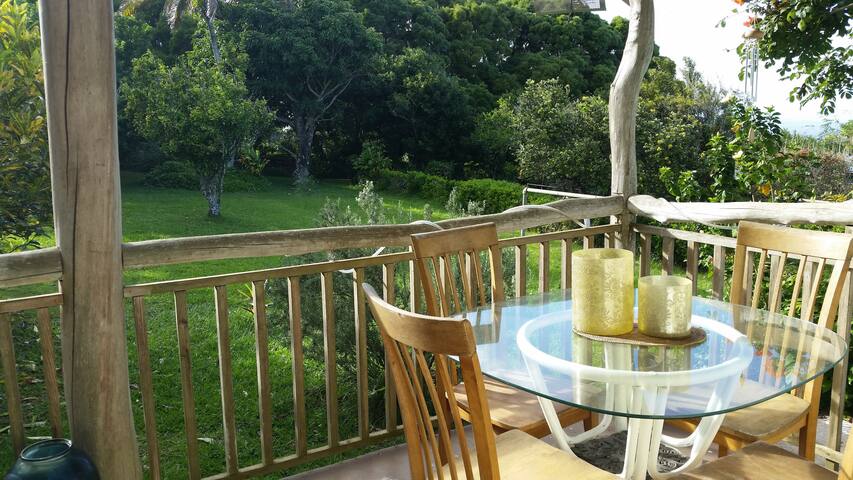 Charming intimate hideaway for 2-3; enjoyed by honeymooners,family, friends,writers, artists. Picture windows,private deck, spectacular views:Maui,pasture,horses, goats,birds,tropical foliage,sunsets,stars.New tiled shower,food prep area. E como mai!
Our uniquely wonderful country-style guesthouse sits atop seven acres of pastures and tropical foliage in one of the most special corners of "old Hawaii". We offer 3 distinct guest units which can sleep 1-12 people between them, each with private baths and their own entrances,food prep and dining areas,wifi, satellite TV; weekly,monthly,military,senior discounts;magnificent 360 degree views of Maui across the sea, horses and goats grazing in our lush pastures and amazing tropical gardens. Wake up to birds singing. Walk or jog up our quiet street or down to the historic town of Kapaau and the famous statue of King Kamehameha, the uniter of our islands. Cafes, galleries, eclectic shops and excellent restaurants, a public park and pool are minutes away. Treat yourself to easy scenic drives over the Kohala Mountain Road to Waimea or along our gorgeous coastline,watch whales(December-April) ,hiking,horseback, zipline,variety of beaches,diverse,authentic cultural events.Our family is honored to welcome friendly visitors from all over the world to share the diverse treasures of our beloved North Kohala. ,It's is wonderful to be part of precious memories created by families,friends,business people,adventurers, writers , photographers and artists. We are excited to share our ohana's 44 years of experience in loving the Big Island's history,culture and natural beauty. We think you'll agree:Kohala "No ka oe"!
We have loved living on Kapaau Road for over 44 years with friendly neighbors,just far enough away to feel very private in our own "special corner of paradise". You can take a walk or a jog,or sit under our trees(not with coconuts),swing in our hammock,sit on our decks and relax. We are just a few minutes walk from the quaint historic town of Kapaau which holds an authentic paniolo "cowboy and pa' u riders " parade celebrating the birthday of King Kamehameha,whose famous statue is on our corner. North Kohala has a fabulous Country Fair in October,Chinese Lion dances in February and many musical and cultural events at nearby Kamehameha Park
Bobi's place is an authentic piece of paradise in the coolest part of the island of Hawai'i. I'm a repeat guest, and I will make it a point to stay here whenever I am on the island. There are several lodgings on the property, they're all clean, cozy (in some cases luxurious,) and decorated with original art (Bobi is a talented painter and a gracious host.) Highly recommended!
devereaux
2014-12-29T00:00:00Z
While Bobi is a community gem & great w early emails, there's a probable phone reception issue up there which meant she didn't receive our calls or messages the night before or afternoon of our arrival. Since she'd earlier indicated she had plans that day, the lack of contact left is unaware of check in procedures & thinking no one was around, thus we came late after a third call w/o answer. Upon arrival she was there, kind, apologetic and quick plus available if we wanted anything.
sheireen
2016-02-07T00:00:00Z
Our host Bobi was as a mother would be to her own returning to roost. My husband & I met the few full time residents and the other guests within days at a group BBQ and it just became one big family after that. Our privacy was never an issue but neither was joining in on whatever was going on. The property itself is peaceful as only pastures with rescue horses, goats, a kitty & two dogs can offer. Mother Nature has blessed the top tip (North) of the Big Island, with lush foliage of all sorts as it rains (mostly) by night. If you wake to rain and wanted a sun day just pack a bag for the beach and within 25 mins there's glorious blue skies. We stayed just over a month & those with dietary concerns may have a bit of an issue with cooking as there's just a hotplate but if you enjoy fresh fruits & avocados (right on property) salads, etc there's a fridge that you can fill from the market in Hawi (2 miles up the road) or the plentiful grocery store. Eats in the Kapaau hood are amazing - Chaba's (authentic & awesome) Thai restaurant (within walking distance) was one of our faves as was the little fish place right beside it that just opened during our stay. Great to order To Go & drive up the hill home and eat on your own deck. In Hawi (2 miles up the road) check out Sweet Potato Kitchen for Vegan offerings all 3 places Organic (something one needs to ask - not assume). On days you want to laze around and just feed the horses - work on your novel or poetry - but find yourself hankering for a swim as the day grows warmer - the ommunity center pool is also walk-able (about 1/2 mile) that also boasts a gym and tennis courts - all free. Bobi has an incredible life story that includes how her add on house became home to a dozen children - I'll let her tell it over a huge prawn dinner & tequila : ) but suffice to say it's no wonder the atmosphere of kindness permeates your stay. We were fortunate to live in the Garden Room as well as the Patio Room and both are lovely. The later worked better for us because of our longer stay with it's two floor spaciousness and big fridge. If you're going to stay a while and aren't out and about as much (like us : ) we highly recommend the extra $ for the space. Aloha to all of you who made our vacation one to truly cherish & special warm wishes to Pam for getting me hooked on snorkeling - Sarah for all her love and knowledge of herbal remedies (I miss you both) and of course dear Bobi - who is the matriarch of this peaceful yet active hub and who shared her wealth of knowledge and...
Karen
2016-04-06T00:00:00Z
Of the numerous Airbnb's I have visited in both California and Hawaii, this one has been by far, my best experience of all. Kai, my 5 year-old, exclaimed, "I want to live here, forever!" Why? It's simple: Bobi and her extended family served up generous loving heaps of themselves and their beautiful, bountiful paradise to my son and daughter, and my self with so much grace and heart. Yes...the beds, quilts, pillows, shower, bathroom, and kitchenette were all well-stocked, clean, and extremely comfortable for us. And emphatically yes, the colorful abundance of flowering gardens, green pasture, blue skies, flowing water, diversity of trees and(URL HIDDEN)was well-tended and happily thriving all around us. But it all circles back to the wonderful energy of Bobi and her three-generations-deep extended Ohana. A thousand thanks, Bobi, and David, Tim, Pam, and everyone else for all your giving, caring, playing, support and inspiration, and yes knowledge too. I absolutely love what you have created and are continuously re-creating together there in North Kohala. With gratitude and respect, we look forward to returning soon!
Jon
2016-05-05T00:00:00Z
Bobi's place is gorgeous and she is a wonderful host. We wanted to stay someplace that was a little off the beaten path and this was perfect. It's a short walk to Kapa'au which is a cute little town with a handful of shops and several restaurants. Hawi town is a little further - about five miles - and has more shops, galleries, restaurants and a grocery store. We upgraded to the "Sundeck Suite" which was beautiful and would be perfect for a family. The large deck was great, with goats down below, the ocean in the distance, and, on a clear day, the mountains of Maui. The house is surrounded by gardens and the Sundeck Suite is surrounded by windows - perfect! Bobi provides everything you need in terms of dishes, pots and utensils. There are even beach towels and a cooler if you want to go to the beach. I have to say, I was surprised to find our time was up (we only stayed 3 nights) - I could have stayed longer. You can use this location to explore a large portion of the island; it's less than an hour from the best beaches, hiking trails, cattle ranches, small towns, adventure sports, etc.
Maureen
2017-03-16T00:00:00Z
We recently stayed in Bobi's Garden room. All in all, our stay was fantastic! Here are some specifics: Location: easy to find, convenient, parking is easy, serene and relaxing. Host: wonderful Aloha spirit!! Room: More of a suite, with modern and clean bathroom, extra bed, large closet, kitchenette which we used for coffee making, and comfortable bed. Other: cats and dogs are friendly, local restaurants are superb, avocado/fruit trees add to the experience. Bobi provides so many intangibles to make your stay memorable!
Nigel
2016-12-31T00:00:00Z
My stay on the Big Island was an amazing adventure capped off the hospitality Bobi provided to me. I stayed in the "honeymoon suite." It was very clean and private. Next time I'll stay longer!!
Seth
2014-04-02T00:00:00Z
We were lucky to get the 'honeymoon suite' at Bobis house, a very nice studio, where we spend one night. Her garden is also very impressive. Bobi was very helpful and nice and gave us many new informations for our further tour. We hope we may come back again one day. Heide and Dieter from Germany
Dieter
2014-03-25T00:00:00Z
Room Type
Private room
---
Property Type
House
---
Accommodates
3
---
Bedrooms
Kapaau, HI, United States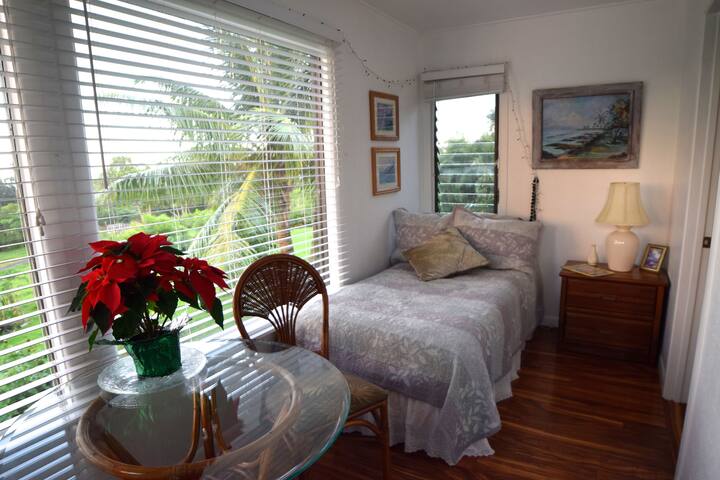 This cool, luxurious ohana is a hidden gem on this small private ranch just one block from Hawi town. Surrounded by more than 180° of ocean, this sweet spot is neighborless other than your hosts private hale on this 11 acre property atop Kohala's North Shore. Share the serenity with horses, cows, & whales that lull you to sleep in the winter. Hear & feel when the surfs a breakin! There are no streetlights. Big sky& starry nights! Fullmoon on the prairie brings out the ferries in all of us!!
This secluded, blissful ohana is a cool, elegant space offering clean, luxurious finishes and fine cotton linens. Rustic elegance situated privately in the shade of gentle bamboos, gaze out to enjoy the oceans ever changing canvas. It is fresh, clean, airy & new...nothing musty about it! Small kitchenette and large luxurious shower make hanging out on the ranch peaceful & devine.
I love the land out at the end of the road, rural working pastures of Kohala surrounded by nothing but the sea. The Vortex is timeless thanks to no neighbors. Just the horses, cattle and loving dogs preside. The ocean wraps endlessly from side to side where the final neighbors are the whales. Enjoy provactive sounds of seasonal whales, high surf crashing, hooves of running horses and other delightful sounds of country living.
Room Type
Entire home/flat
---
Property Type
House
---
Accommodates
1
---
Bedrooms
Kapaau, HI, United States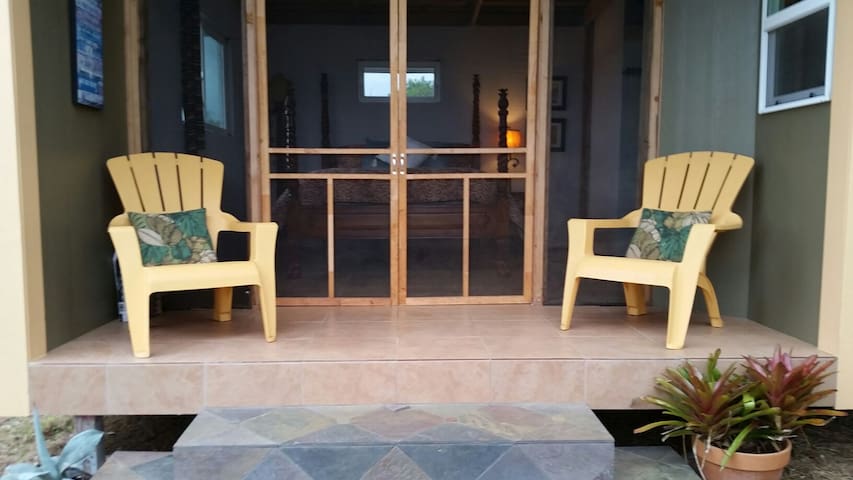 Located in the 'Sweet Spot' of the Big Island...Makapala is quintessential old Hawaii. Experience a slower pace, in a peaceful, breathtaking setting where Kohala Mountains surround and the ocean beckons. East of quaint Hawi town. Surf & hike nearby.
Nestled in the foothills of the Kohala Mountains. This quiet, tropical sanctuary is peaceful & secluded with the Makapala orchards as your back yard. Clean, cool and comfortable small space close to beaches & hiking trails, Pololu Valley & Keokea Surf park. Hidden gems upon request. Hiking trails are bountiful and you're just minutes to quaint Kapa'au town and historic Hawi to enjoy galleries, shops, coffee or local grinds.
Makapala is such a special part of the island. It is a good run to Pololu Valley with hiking and beautiful black sand beach. And if you like secluded beach coves...this is the area for advanced surfing and off roading. Down the road is Pololu Valley Store offering awesome grinds and smoothies. Minutes to Kapa'au town and Hawi you will find several ecotourism activities such as zip lining and the most amazing Flume d Ditch ~ not to be missed.
Room Type
Entire home/flat
---
Property Type
Cabin
---
Accommodates
1
---
Bedrooms
Kapaau, HI, United States
A spacious sunny upstairs bedroom in a classic country house.. You'll enjoy the old wood floors, high ceilings, comfy bed, and spacious downstairs rooms. You will be the only guests upstairs, with your own full bath. Very conveniently located in Hawi town, with a large backyard for lounging. A block away from the Saturday Farmers' Market, the best ice-cream ever, and a fresh latte. A short drive from excellent snorkeling or a hike with a vista..
Classic Connecticut Farm House shipped to Hawaii in 1920. Gracious entertaining spaces, large yard with several outdoor dining options.
Our neck of the woods is lovely- a happy medium between the sun and warmth of the west side, and the rain and greenery of the east side. Plenty of excursions and adventures of the outside variety. A good selection of shops and restaurants rounds out the North end of the Big Island.
If you are looking to a really nice shared house on the north side of the island, this place is a cool old house in a great location (close to the main strip of restaurants in Kapaau). However, be aware that is one of 4-6 rooms that are rented out, so there could be many other people staying there. It also does not have a private bathroom. We did not think any of this was clear from the description. It also comes up on searches for "entire home", which Air BnB should fix. Malia did explain that it was a private room prior to booking, but it wasn't clear that there could be many other people staying in the house, not just the host, and that just wasn't the experience we were looking for. But the place was big, clean and had real Hawaiian charm.
Leonora
2016-12-22T00:00:00Z
Malia's place in Hawi town is a beautiful large house that is, quite remarkably an old Connecticut house that was moved to Hawaii – one of three around the island, apparently. The house itself is beautiful and spacious, the sunrise bedroom is comfortable and has a gorgeous four-poster bed. It's a 2-3 minute walk to the local coffee place, little shops and galleries in Hawi. This is a great place to stay, roll out of bed for a bit to eat and some of Hawaii's amazing coffee, and then hop in a car and drive to some of the spectacular beaches nearby.
Stefan
2017-01-17T00:00:00Z
Malia's house is beautiful and very well maintained. The bedroom and private bathroom are spacious and clean. The whole house is homie and Malia made me feel welcome right away! The check in process was really easy. The location is perfect too, walking distance to a few restaurants and cafes in Hawi and a short drive to beaches and other natural beauties! I'll definitely recommend her home to my friends!
Elizabeth
2017-01-29T00:00:00Z
This is a large upstairs bedroom in a single-family home. There are two other bedrooms and one bath upstairs and one downstairs. The home is beautiful and the bed was very comfortable. It is a short walk to the small village of Hawi which has limited dinner options but the Bamboo Restaurant was the go-to place at night. On the north end of the island, Hawi is the place you want to stay.
Tom
2017-01-20T00:00:00Z
Room Type
Private room
---
Property Type
House
---
Accommodates
2
---
Bedrooms
Kapaau, HI, United States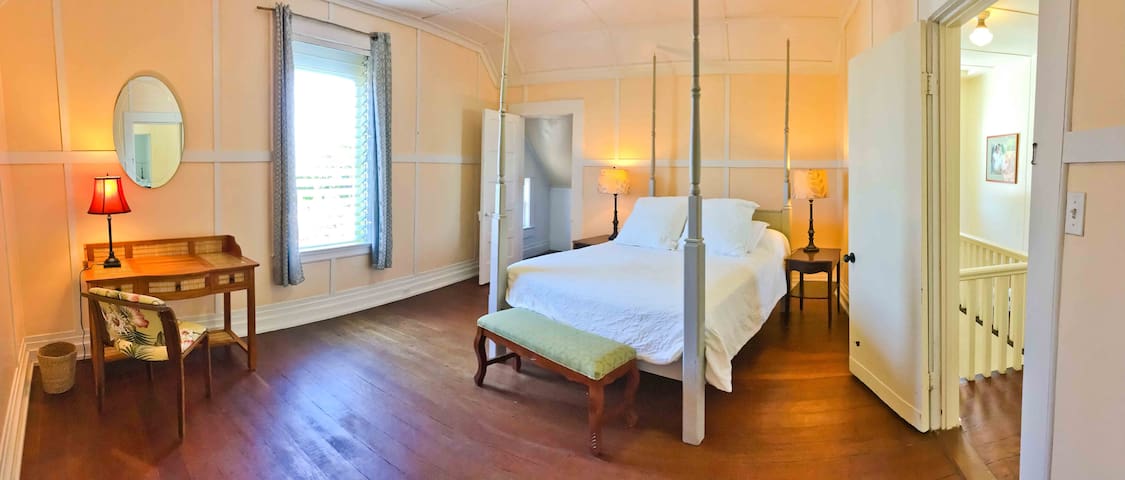 SUPER SPECIAL $145 a night rates thru May This is a lovely home built in the early 1950's, Douglas Fir floors, Redwood sidings, a traditional plantation managers house, fully renovated, and very cosy. Accommodates of 2 to 5 guests, like two couples or a small families. Very pleasant deck for breakfast, dinner, or taking the sun. Great nearby walks. Includes 13.25% Hawaii TAX in the day rate. Long month to month rental possible by arrangement, for those considering moving to N Kohala.
3 Bedroom / 1 Living room, 1 Full Bathroom, Sleeps 2 to 5 only. 2 Queen bedrooms, 1 Standard double bedroom. Fully renovated but kept within the original 1950's plantation style design. The home is located on the road to Kamehameha County Park, that has a Gym, Public Swimming Pool, Baseball fields, children playground etc etc. The Big Island's North Kohala region is a travelers' delight, off the beaten path, it makes the area one of Hawaii's best-kept secrets. Experience ''Old Hawaii'' in the charming historic towns of Hawi and Kapaau, with artists' shops, galleries, and delightful cafes. Historic sites in walking distance to the famous statue of King Kamehameha, and to the Kamehameha State Park. Pololu Valley - with its majestic views, black sand beach, and scenic hiking trails is close by. Or just chill out, and enjoy some of the island's best beaches. Whale watching is seasonal (December through April), but the sea turtle and dolphin sightings occur all year-round. The home contains a private kitchen including a full double sized sink, Full sized refrigerator, gas stove, and laundry room. The kitchen is complete with pots/pans & cutlery for preparing meals and a full compliment of dishware for 6 people.
The lovely village of Kapaau which is a 3 minute walk away, as is Kamehameha Pk, swimming pool (guest often use this pool facility), tennis, baseball, gym, etc etc..
Ed's place was exactly as described. Our family was very comfortable. The place is clean, mellow & had everything we needed. Ed checked-in with us via email and in-person. The place is near the main road/highway that runs through town so occasionally you hear cars. Also while we were there we heard drumming. There's a pool, playground and golf course at the end of the road. If you are looking to vacation in the tiny sleepy town of Kaapau or need a launching point this place is for you.
Faye, Joseph, Noa & Tav
2016-02-15T00:00:00Z
The Park House setting was like a park, the plants and trees made a beautiful setting. The house was just what we were looking for, lots of room and a great base to enjoy our trip from. Loved walking around the town and park every morning to start my day, always visited the coffeehouse / bakery. Ed checked in with us and always made sure every thing going well for us. I would recommend the Park House to anyone looking an island setting, quite and peaceful.
David
2015-03-09T00:00:00Z
The Park House was a great place for us to vacation - it was charming, comfortable, and spacious. It is located in a very beautiful and peaceful part of the Big Island, with many hikes near the coast and sites of cultural significance. Ed was an excellent host - good communication and information re: hikes and local food. We'll be back soon!
Linda
2015-02-19T00:00:00Z
We had a superb time at the Park House in Kohola over Xmas. The house is super clean, very comfortable with big windows in the living room, very nice comfortable beds for two, a nice bathroom and a large kitchen. We had a group of 4 or 6 for many days and there was lots of room for all. The yard is superb, and a table in the yard is ideal for eating outdoors. The location is ideal for enjoying the N and the western island. We would go back in a flash. Ed was great.
Jeff
2015-01-03T00:00:00Z
I'd recommend this place! Ed was a great host: in addition to being jovial, he nicely balanced giving us our privacy, while simultaneously being around to give advice and help with the property. Ed is a very nice gentleman, and a wealth of knowledge. The location is great - feels private, but is close to restaurants, coffee shops, etc. You will need a car to get here and around.
Jim
2016-02-27T00:00:00Z
The perfect island experience. The Park House was just like being home. With flowers on the table, super clean and available support this plantation house welcomed us to the little walkable town of Kapa'au on the big island of Hawaii. It was quiet and convenient and the host, while off island, still checked to see that we were having a good experience. A big bonus for me was the bookshelf full of wonderful books including those on the Big Island. For those who want to skip the resort experience for a more local feel, this is the place for you! Great food, little shops all within walking distance and this trip included a jaunt down to the sacred Waipio Valley. Staying in North Kohola means you can access local beaches, kayaking,fun little towns and more all within the hour. No crowds, just the good laid back vibe that really means Hawaii. The perfect house, the perfect town, the perfect island, the perfect host. You cannot do better than that!!!
Andrea
2015-09-17T00:00:00Z
"The Park House" was a beautiful and unique place to stay. Located in a great area in the North of the Big Island. "The Park House" is a short drive to interesting sights, great beaches, groceries and excellent local food. Perfect for rest and relaxation. Ed was a great host and generously offered his valuable local knowledge and looked after us very well.
Travis
2016-07-16T00:00:00Z
Our stay at Ed's place was pleasant. We were there for 10 days and found the location of the house and layout of the rooms very convenient for a family of four. We felt the property was a bit less private than hoped for with the caretaker and secondary rental cottage a few meters away. As previous guests have mentioned cockroaches are a consideration if you don't fancy 'nature.' The living room is a great community space with lots of windows and light, while the kitchen and bathroom are adequate. The owner and caretaker are very proactive and accessible for guests needs. For example, we requested fans for each bedroom and a broom, which they procured for in a few of days.
Scott
2015-08-22T00:00:00Z
Room Type
Entire home/flat
---
Property Type
House
---
Accommodates
5
---
Bedrooms
Kapaau, HI, United States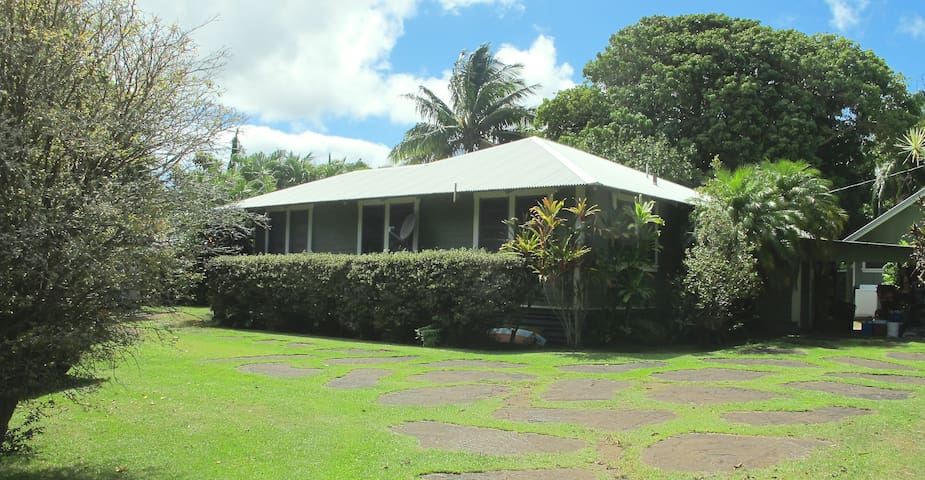 Set in the middle of thirty acres of peaceful, pristine pastureland rolling to dramatic oceanfront cliffs, Hawaii Paso Finos Ranch Retreat is a nature lover's dream escape. You will have the rare opportunity to stay on a working horse ranch and farm while enjoying the scenic surroundings of the Big Island's majestic North Kohala Mountains. Our new bungalow is set for your ultimate enjoyment as a tranquil sanctuary in the middle of the Pacific in which to reflect, rejuvenate and relax.
Set in the middle of thirty acres of emerald green pastureland rolling down to dramatic oceanfront cliffs, Hawaii Paso Finos Ranch Retreat is a nature lover's dream escape. You will have the rare opportunity to stay at a working horse ranch and farm while enjoying the scenic surroundings of the majestic North Kohala Mountains of the Big Island. Your accommodations are set right in between our horse barn and tack room, with a first hand view of the arena and paddocks where our graceful and gentle Paso Fino horses mingle with a variety of native and non-native birds. Many migratory bird species are spotted here during winter season, and of course, there is no better place to whale watch than from our private oceanfront meadow with picnic table waiting just for you-or relax in the porch's hammocks while reading books provided on Kohala's special history. The property is situated on old sugar cane land, with historic homes and ruins nearby. The bungalow is well-equipped with separate kitchen for cooking, featuring the innovative Ninja all-in-one cooktop, fryer, steamer and slow cooker. A gas BBQ is provided on the outdoor lanai dining option. Also a spacious indoor bathroom with waterfall shower and luxurious, natural 3 in One Soap products. The bedding is set with comfortable deluxe linens on a pillow-topped queen bed with choice of pillow style. Recliner and soft love-seat couch make up the sitting areas. Third person accommodation can be made up on a separate cot for an additional charge. All rooms are appropriately decorated with artworks from local artisans. An I-pod dock stereo with extensive CD library is available. In the interest of sustainability, our ranch runs on solar power and utilizes a private catchment water tank. Our orchard fruits, pineapples and vegetables are offered to you when in season.
We truly believe that the Niulii area of Kohala is just about the most peaceful, spiritual and naturally beautiful place on the Big Island- a perfect sanctuary in the middle of the Pacific in which to reflect, rejuvenate, relax and heal the mind and soul. We love to share all the best that the island has to offer in its therapeutic energy and serenity. The ranch is located minutes from Pololu Valley and Keokea Beach Park, with hiking and sunbathing opportunities. Other agri-tourism and eco-adventures are based in the area, such as Kohala Zipline, Fluming Kohala Ditch, ATV Outfitters Hawaii, Kohala Divers, Kahua Ranch and Hawaii Forest & Trail.
My boys and I had a great experience staying at Hawaii Paso Finos. We arrived a few hours early to drop our bags before we headed out to an excursion. Kelly was there to meet us and show us the property. Everything you could think of that you may need was there and more. She even had a cot setup for my youngest to sleep on. I wish we would have had more time to spend at the ranch. It was so peaceful to wake up and see the ocean right in front of us and a bonus to have such beautiful horses grazing the fields next to the bungalow. Even though we didn't have much interaction with Kelly (due to my excursion bookings all over the island :), she was an amazing host, kind and thoughtful as you'll see when you stay there.
Jamie
2016-07-04T00:00:00Z
This is an efficiency unit built specifically to rent on AirBnB. Located on a horse farm, you can stay local or tour the big island and just bed down here at night, as we did. Everything you need is supplied. The environment is casual and your hosts friendly and have lots of good information about Kohala, which is the region where this is located. It's a one-of-a-kind place and you will enjoy it. While you can add a third person, it's really designed for two. As an AirBnB host myself in Washington, DC, I sense the terrific value of the place.
Patrick
2016-12-27T00:00:00Z
This place was magical. The photos are impossible in capturing the beauty and quality. The hosts were kind and respectful. I wish we had scheduled more time there. We will be back. In fact, we are looking for property near here.
Patrice
2016-12-13T00:00:00Z
We totally enjoyed our stay at Joe and Kelly's. There place was beautiful and absolutely immaculate! We felt so blessed that they are willing to share it with us and others. The kitchen was totally supplied with everything you could need. Lots of local art, music, and history. The horses were amazing and the yoga on horseback was the highlight of my wife's stay. Highly recommended and we'll be back!
daniel
2017-02-12T00:00:00Z
This is a special place. The property is immaculate and magical. We kept marveling at how well maintained the farm was. The room is very nice, modern and comfortable. It's a new construction and very well put together. But the story of this place is Kelly and Joe (not to mention the horses and Bonnie, the best farm dog you'll ever meet). Kelly and Joe want your stay to be special. They love the place and want you to love it too. They offered us access to activities that we took them up on (although there was no pressure to do so). This wasn't some fancy concierge service, just two people being good hosts. For example, when we asked about massages, Kelly called a local masseuse who came over and gave us very reasonably priced massages on the lanai. It was fantastic. We asked Kelly to do a horse yoga session which was super fun and one of a kind. On top of that, Kelly arranged a private picnic along the cliff overlooking the ocean which made our honeymoon extra special. Overall they were just great hosts who care about people. We truly enjoyed our long talks with them. But again, you also get the sense they would have given us total privacy if that's what we preferred. This beat out other far more expensive options in the area. The property is truly one of a kind and one of the most relaxing places we've ever been. We spent one of our days there not leaving the property because we truly wanted to soak it in. Overall, these are good people and you couldn't ask for a better AirBnb experience. Thanks Kelly and Joe!
Noah
2017-01-11T00:00:00Z
Room Type
Entire home/flat
---
Property Type
Bungalow
---
Accommodates
3
---
Bedrooms
Kapaau, HI, United States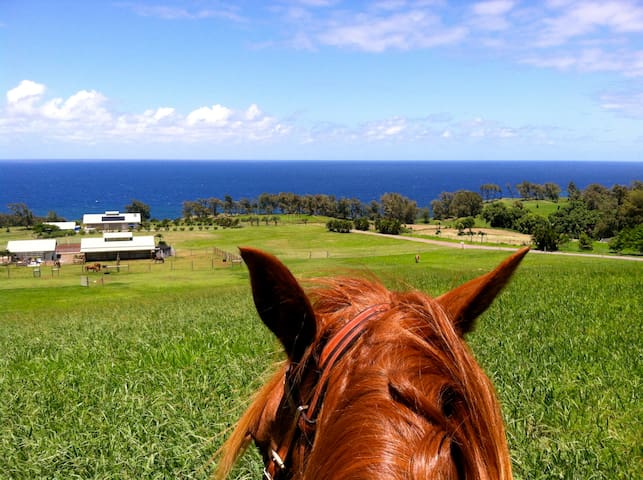 Our cute,comfy Cozy Bedroom is ideal for travelers seeking a clean,economical place to stay. Our gardens are relaxing beautiful places to relax in a hammock or lawn chair, read a book, or gaze at our incredible sunsets and starry skies. We are walking distance to several excellent restaurants,cafes, shops, galleries,park: pool,tennis, golf. Guests enjoy the wonders of exploring the Big Island and come "home" to Kohala Country Haven Guesthouse to discover more of our tropical treasures!
Our Cozy has a queen bed, tables and chairs, small appliances,fridge,Direct TV, wifi,private bath with shower just outside your covered deck door. We can add a twin if necessary with multi-night stays, for $25 extra, or bring in a futon for a child.You can enjoy all the gardens, walk up our quiet country road or down into our quaint town of Kapaau with a variety of interesting shops,galleries and excellent places to eat,even a beautiful public park with playground,golf,tennis, picnic tables and a wonderful pool. You are minutes from the charming sister town of Hawi,ecotours,hikes,horse,kayak and ATV,rugged coastline,historic spots, and easy scenic drives to some of Hawaii's best beaches and mountain areas.
Peace and quiet,birds singing,spectacular sunsets,views of Maui across the sea,starry nights,fruit and nut orchards,small ranches and farms,friendly neighbors,quiet country atmosphere.Close to many exciting adventures,cultural events, historic sights"a feast for the senses and the soul".
I absolutely adore Bobbi and her beautiful property and home. I originally only planned on staying a couple days, but I loved it so much that I returned the following week with my family and we stayed another week. The town of Kapaau is so charming and friendly, close to some of the best beaches and offers plenty of other close by outdoor activities. I'd highly recommend staying here. In fact, if your staying on the Big Island, it's a must! -Olivia
Olivia
2015-05-12T00:00:00Z
We had a wonderful experience at Bobi's. The first night the room didn't end up being available but Bobi took us into her own house and treated us like family! The next night she upgraded us to a better room. Everything was spotless and the grounds were beautiful. Overall this was a fantastic place!
Kiersten
2014-12-30T00:00:00Z
Bobi is generous and kind. Her family is very helpful. I was made to feel right at home. There is fresh fruit and more perks than I care to list.
V.A.
2016-08-21T00:00:00Z
Bobi is the most welcoming and helpful host. She bent over backward to provide anything we needed to make our 1-month stay more comfortable and enjoyable. The entire experience was wonderful: the rural setting, beautiful tropical landscaping all around the home, walking distance to Kapa'au. We enjoyed having geckos in our room. The Cozy Room is clean and comfortable, but if you are expecting a sterile, immaculate room like a fancy hotel, this is not it. In addition to her main house (with 3 guest rooms), there are a couple other buildings on the property, in which extended family and friends live and help with maintenance and caretaking of the property. They were all enthusiastic and friendly with us, offering us fruits they harvested and advice on special places to visit in North Kohala. Bobi's was not just a place to stay while on vacation; we felt like we were part of the family.
Jon
2016-03-10T00:00:00Z
The place is a beautiful garden of Hawaiian plants and trees, secluded yet accessible to Kapaau and Hawi's wonders.
Rick
2016-12-24T00:00:00Z
This is a nice place for exploring the Northeast of Big Island. Nearby you will find the two lovely little towns Hawi and Kapa'au with good eating options. We had our breakfast with fresh baked goods at the very nice Café in the old Nanbu Building in Kapa'au. Bobis home has nice surroundings with a nice garden. We were welcomed with fresh flowers, fruits and nuts. Nice! The room was spotless clean. Bathroom was outside but only two steps far. Bobi the host was so warmhearted and gave us very good recommendations. Overall a very nice experience!
Andreas
2015-05-13T00:00:00Z
I had just moved to Hawaii and stayed with Bobi for a month while got familiar with the area and searched for a house. She actually offered me a larger room once I arrived as she had it available and knew I'd be more comfortable there for my 4 weeks. The location is otherworldly with beautiful gardens and friendly pets on the property. There are mountain apples and avocados aplenty. There's also a really charming pasture next-door with horses and goats. Bobi was a very welcoming and accommodating host. And the other residents on the property were friendly too. The room was very clean and bright. Keep in mind that this is Hawaii and this place in particular is especially close to nature. I didn't mind the occasional gecko visiting me (they are harmless and totally adorable), but there were some ants that I had to contend with (which is almost unavoidable in Hawaii). I did manage to find a place to rent long-term nearby, but I will fondly remember my first month on the island at Bobi's place. I will definitely recommend this place to friends and family visiting me from the mainland.
Sam
2016-07-05T00:00:00Z
This was our first visit to the Big Island and I am so glad our daughter recommended this beautiful property. If we are lucky enough to get to return we will definitely stay here again. Bobi was such a delightful hostess. She was so warm and welcoming. Our rooms had fresh cut flowers, were nicely decorated, comfortable and impeccably clean. We had no trouble sleeping soundly. Bobi was very knowledgeable regarding the island and businesses and never steered us wrong. We were just minutes from a nice grocery store, good food and shopping in Kapaau. The country side is breathtaking and the townsfolk were very friendly.
Lucy
2015-05-24T00:00:00Z
Room Type
Private room
---
Property Type
House
---
Accommodates
2
---
Bedrooms
Kapaau, HI, United States
Our neighborhood is rural, beautiful & quiet. We welcome all people wanting to see & experience Hawaii, not hotels & fancy places. We are family oriented but welcome all! We are a 2-5 minute walk to restaurants, shops, ATM, bus stop & hospital.
Beautiful & big room equipped with a California King bed & a single bed. Full (URL HIDDEN) room has a microwave, rice cooker, blender, toaster oven, coffee maker & some dishes & utensils for your use.
Our neighborhood is rural but adjacent to an the town of Kapaau. The majority of homes are on large acreages and most have no children. Hale Nalu sits on one acre with only one adjacent neighbor and no one on the other 3 sides! We are only 2 minutes from the famous original King Kamehameha Statue! We are also a short 5-10minute walk to Kamehameha Park. Where there are free tennis & basketball courts, a swimming pool ,running tracks, a fitness room & weight room ( prior arrangement with me need to be made for the last two).
We loved staying here and will be back again!
Kamahanahokulani
2017-03-17T00:00:00Z
Lani is the best and most conscientious host we've had in more than a dozen airbnb stays. Her place isn't perfect--you'll have to use the bathroom sink to wash your dishes--but she made our stay so lovely that it more than balanced out any shortcomings. I'd absolutely stay there again.
James
2017-02-04T00:00:00Z
Lani is the most gracious host, always thinking of ways to help and she knows the area so well being born and raised there and being part Hawaiian. We loved her dogs, they are great; and you cannot get a quieter or more peaceful area to stay at, really restful. We cannot recommend her place more highly.
Margie And Greg
2017-03-05T00:00:00Z
Room Type
Private room
---
Property Type
House
---
Accommodates
3
---
Bedrooms
Kapaau, HI, United States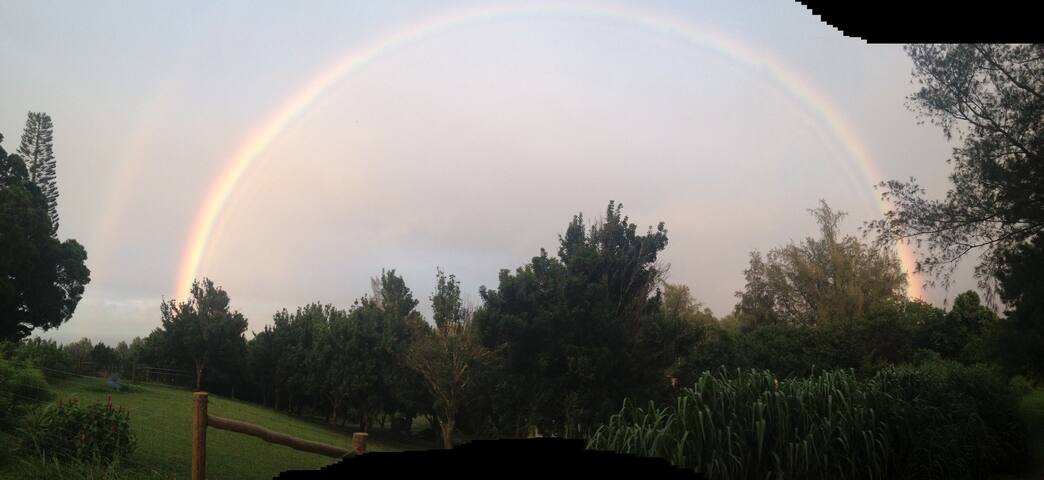 The Big Island's North Kohala district is the best-kept secret. Experience 'Old Hawaii' in the charming historic towns of Hawi and Kapaau, w/ artists' shops, galleries, and delightful cafes. Historic sites - the famous statue of King Kamehameha, state parks, tropical gardens, Pololu Valley - with its majestic views, black sand beach, and scenic hiking trails. Or kick back, and enjoy some of the island's best beaches. Watch the whales Dec. - Apr., but the sea turtle sightings occur year-round.
This private Eden reveals four private houses spread out over 2 acres and presents a variety of accommodations, as each house offers it's own distinctive floor plan. The entire property sleeps 12-14, or if you have a smaller party you can rent just one or more of our rentals that individually sleep between 2-6. Big Island Vacation Houses are a lush, tropical oasis located in beautiful North Kohala and offer an immersive Hawaiian experience removed from the tourist traps and bustle of other locales. In fact, it may have you believing you're a local. A large variety of lush flora envelopes and divides the property, including hibiscus, birds of paradise, orchids, ferns, palms, an awesome banyan tree and fruit trees offering the freshest mangoes, papayas, bananas, and avocados that are yours for the picking. Savor oceanic, pastoral or jungle views as tropical birds sing, geckos chatter, the island breezes caress the trees, and the resonance of the tide rhythmically whispering in the distance.
Room Type
Entire home/flat
---
Property Type
Holiday home
---
Accommodates
14
---
Bedrooms
Kapaau, HI, United States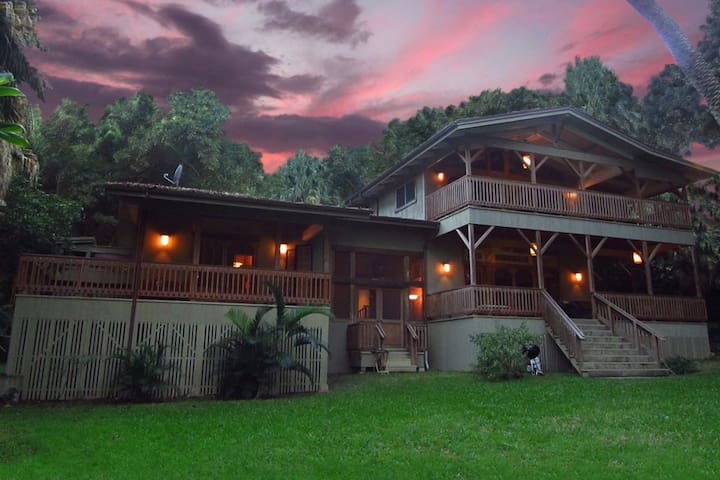 Originally built as Kenny Loggins' Y2K retreat, this 25 acre estate is a model of authentic Hawaiian living and sustainability--Off the grid; organic gardens and orchards. 4 Individual Bedroom Hales, 2.5 Bath, open-air kitchen/dining, Yoga studio.
Starseed Ranch has been featured twice in West Hawaii Today's "At Home" publication. It is truly beautiful and unique. There are 4 separate bedroom huts, sharing a central bathhouse with outdoor showers surrounded for privacy with lush plantings. One Hale has a connected 1/2 bath. The kitchen and dining pavilion are open air with commercial appliances, and gorgeous koa wood counters. A Yoga/Dance Studio is available for guest use. Instruction can be arranged by our full-time staff and concierge. The fire pit is a great place for evening gatherings. The facility is smoke free, and alcohol free. We prefer to rent the entire facility to small groups of eight; i.e., family gatherings, girls' get-aways, yoga retreats, and the like. However, depending on availability and length of stay, smaller, more individual bookings may be made.
Although we are near to the "end of the road" on this north side of the Big Island, we are close to Pololu Valley Lookout and Beach, KeoKea Beach Park, a few short miles to a variety of restaurants, galleries, shops, farmers' market, a nice public park, zip lines, ATV tours, and other activities . Good swimming beaches, golf, dancing and additional dining are about 30 minutes away.
Room Type
Entire home/flat
---
Property Type
Other
---
Accommodates
8
---
Bedrooms
Kapaau, HI, United States
Find your own piece of tropical heaven when you stay at this 3-bedroom, 1-bath Kapaau house which sleeps 6. Nestled away amongst lush vegetation near various local attractions, this unit offers an unforgettable Hawaiian retreat.
Paradise awaits at "The Park House", a gorgeous vacation rental home situated in the delightful village of Kapaau in North Kohala. Built in the 1950's, this traditional plantation house truly embodies the quintessential Hawaiian character, boasting gorgeous douglas fir hardwood floors, redwood siding and a delightful tropical garden. Inside, you'll discover 1,400 square feet of fully renovated space and all the amenities necessary for the ultimate home-away-from-home experience, including a fully equipped kitchen and in-unit laundry machines. 'The Park House' offers accommodations for 6, making this the ideal lodging choice for friends or families seeking a tranquil escape to the Hawaiian islands. Look forward to balmy afternoons sunning yourself on the lanai, munching on macadamia nuts from the lush garden while the chef of your group BBQs on the charcoal grill. You'll love spending time strolling around the beautiful property, admiring the vibrant tropical flowers and breezy coconut palms. Treat yourself to some freshly fallen fruit from the various avocado, lemon, orange, breadfruit and mango trees scattered throughout the garden, before unwinding in the inviting living room couch with a good read from the extensive book collection. When you're ready to call it a night, retire to one of the cozy bedrooms to rest up for the next day of fun in the sun!
This home's location could not be more ideal. One of Hawaii's best kept secrets, the North Kohala region is the ultimate traveler's delight, with a little something to fit everybody's tastes. From here, you'll be minutes from the quaint historic town of Kapaau, which has a charming selection of artists shops, galleries and delightful cafes. Only 2 miles away, you'll find the peaceful haven known as Hawi, where you'll discover everything from handmade jewelry and crafts to homemade fudge and 100% Kona coffee. 'The Park House' is located on the road to Kamehameha County Park, which offers a shared swimming pool, tennis court, fitness center, playground and 6-hole golf course. Take a trip through time with a visit to the King Kamehameha statue, located in front of the North Kohala Civic Center. When you're ready to have the sand between your toes, you'll find spectacular beaches a short 30 minute drive from 'The Park House'. Outdoor enthusiasts will love exploring the Pololū Valley, which offers marvelous black sand beaches, scenic hiking trails and majestic ocean views. While you're in the area, keep your eyes peeled for a glimpse of the sea turtles and dolphins known to frequent the area, or take a seasonal whale watching trip. No matter how you spend your time in 'The Aloha State', you'll be happy you chose this exceptional Kohala vacation rental house as your own personal oasis for exploring the Big Island's Kohala Coast!
Room Type
Entire home/flat
---
Property Type
House
---
Accommodates
6
---
Bedrooms
Kapaau, HI, United States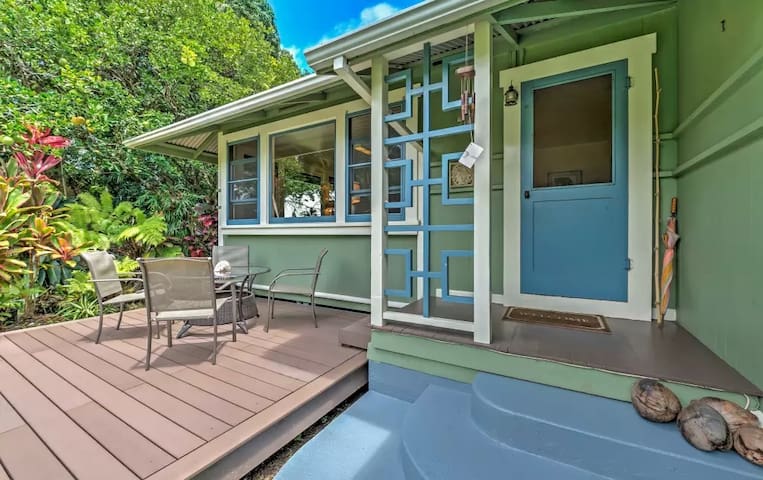 Enter dates to see full pricing. Additional fees apply. Taxes may be added.