Our bright and sunny second floor self contained studio apartment overlooks beautiful Lake Clear. Perfect for a couple looking to relax in a beautiful, quiet, country setting. You may enjoy just sitting by the dock with a book, or for fun, use the canoe or paddle boat.Swim in a clear, spring fed lake and then lounge by the shoreline as you watch the boaters pass by. There is a small sandy beach area if you prefer to wade into the water or launch your own small boat. For shade, try our gazebo.
Beautiful, bright, clean, self contained studio apartment overlooking Lake Clear on second floor. Wooded areas on three sides, lake in front. If you like your bedroom really dark in the morning, this is not the place for you, as there are many windows on all sides and you may catch the sunrise as you look toward the lake. On summer nights, sit by the dock or campfire and watch the clear night sky as you listen to loons calling. Algonquin Park is only 1.5 hours away or Bon Echo Park 1 hour away, if you enjoy hiking. In winter, Calabogie Ski Hills are 40 minutes drive.
We are on a lake with over 17 islands and the swimming and fishing is exceptional. Lake Clear comes by its name because it is a beautiful clear, spring fed lake and we are surrounded by hills and woods if you enjoy hiking. There is a small beach area if you have your own kayak. If you are looking for a quiet country setting on a lake to decompress, this is the place. We have high speed internet and Wifi, however cell service is not available. We have Netflix and a DVD player. The town of Eganville is a twenty minute drive away. Renfrew and Pembroke are both 45 minutes away. Central Ottawa is two hours by car. Calabogie ski hills are about 40 minutes from here. Algonquin Park is 1.5 hours away and Bon Echo Park is about 1 hour from here.
Just sometimes little mini adventures fall perfectly into place. E and D made a rainy weekend getaway amazingly warm and bright. They prepared their stunning and bright studio apartment with everything you could think of and more. Their property is beautiful, spacious, with lots of areas to lounge or get active, hiking, swimming, hop into the canoe to explore the lake. My four-legged friend and I can't wait to come back!
Barbara
2016-08-14T00:00:00Z
Elizabeth and David were very kind, easy communication. We had a very warm welcome. They are amazing hosts, they take care about our directions and they print the itinerary for our next location. So nice. We really felt like home in their spacious room with living room. Everything we need was in the room. Amazing view on the lake. Peaceful and quiet place. We recommend this place without hesitation. We just regret that we didn't stay longer to enjoy much more of this beautiful place.
Delphine et Vincent
2016-10-23T00:00:00Z
We had a wonderful stay ! Elizabeth and David are fantastic, full of attentions ! They preparred slippers for our arrival. A guide is provided with apartment functionality and things to visit around. They provide tea, coffee, cereals, porridge and Elizabeth made delicious jar banana bread ! The apartment is great very clean, towels are provided. We can't wait to go back for summer season and try their canoe, kayak etc. We spent an amazing Christmas at Lake Clear, they even invited us for dinner for Christmas Eve ! Thank you again Elizabeth and David !
Louise
2016-12-27T00:00:00Z
Beautiful, open and secluded space away from a busy life. Before i get into the already amazing retreat, my girlfriend and I were welcomed right away (even though we got there late) and walked us through everything we needed to know. They even had cookies and new years things set up for us! They created s very warm atmosphere in which we recognized right away as humble people. After showing us around they were sure to give us our space and also be at reach when needed. The place was very clean, cozy yet very open with all of the windows along with a beautiful view of the snow covered lake. Overall we recommend coming here for a peaceful retreat with a loved one or family. PS. The owner cleaned the snow off of our car every day we stayed. We only found out when we needed to leave. Such nice people! + Everything necessity is given except groceries -breakfast -utensils -toiletries Thank you for an amazing experience - Yi and Monica from Toronto
Yiwu
2017-01-02T00:00:00Z
We were very pleased with the clear and timely communication from host Elizabeth. The reception was warm and gracious as well as being thoughtful and informative as to the logistics of the apartment. This is a beautiful property that provides guests with a unique opportunity to fully enjoy some of the
Joanne
2016-11-09T00:00:00Z
Both Elizabeth and David has been a fantastic host, for the two nights that I stayed with my parents. They were very friendly, helpful and made us all feel very welcomed. The location is beautiful and the studio is quite big and comfortable as well. Literally all you need to bring is yourself, food, and hygiene products, as rest are all provided for you (including breakfast! Yes breakfasts!) They are very respectful when you need privacy, and they are there at your service when you have questions. I would definitely recommend this place for any couple or few friends (no more than 3) who are looking for a nice relaxing place to escape to. My only regret after staying there was how we couldn't stay there longer...
Alex
2016-08-30T00:00:00Z
Words just cannot give it justice! No matter how many reviews you'll read about this place, you just have to be there to "get it". Host Elizabeth and David are beyond amazing. Kind, thoughtful, helpful and trusting. The space is very clean and welcoming. The view is spectacular. The lake is beautiful, clear and there are so many islands to canoe to! I can say without a doubt that we will be back. =) Thanks again for being so accommodating! Chantale & Nicolas
Chantale
2016-10-16T00:00:00Z
Elizabeth and David were the most welcoming people! We had an amazing time at their place. It was more breathtakingly beautiful than can ever be described! They had breakfast items as an added bonus. The room itself is just gorgeous, with ceiling to floor windows for the perfect view of the lake. I definitely cannot wait to go back!
Spandana
2016-08-22T00:00:00Z
Room Type
Entire home/apt
---
Property Type
Apartment
---
Accommodates
2
---
Bedrooms
Eganville, ON, Canada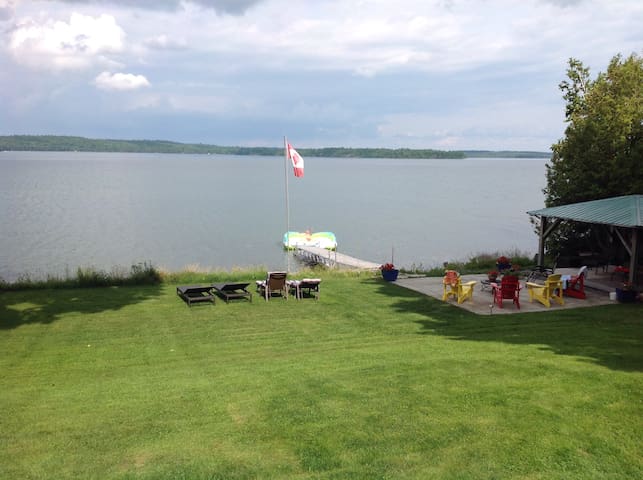 My place is good for couples, solo adventurers, families (with kids), big groups, and furry friends (pets). Lots of space and good walks here on the farm. We offer riding and interaction with our friendly farm animals. We have a great play structure and Lake Clear is nearby with its safe public beach. This is a home away from home experience with the benefit of our organic veggies and free range eggs. The colours in the fall are great. We also do Equine retreats in our quieter months.
This is a very peaceful location surrounded by natural beauty and forest. Our accommodation is clean and spacious and looks out across the fields.
This is the white water region and we are near to Algonquin.
Room Type
Entire home/apt
---
Property Type
Apartment
---
Accommodates
6
---
Bedrooms
Cormac, ON, Canada
We are located 10 minutes from the East Gate entrance of Algonquin Provincial Park. The apartment is downstairs (white double doors) with your own entrance and parking. Completely private with a fully equipped kitchen and your own bathroom.
Private apartment with parking and private entrance. Fully equipped kitchen with coffee maker and hot water kettle, no microwave, and a bathroom with bathtub. There is one queen bed and a pull out sofa available. Sheets, blankets and towels are provided for the bed only. Please bring your own sheets for the pull out sofa. The apartment accommodates 2 to 4 people or families with children, all are negotiable. We live upstairs on the main floor.
We are located 10 minutes from the East Gate entrance to Algonquin Provincial Park. The park offers about 15 interpretive trails along highway 60 and a vast backcountry for canoeing and camping and a lot of other fun activities to participate in. The town of Whitney is about five minutes from the apartment. Whitney offers two gas stations, a post office, a grocery store, a beer/liquor store and a couple of restaurants which serve alcohol. Please keep in mind that the grocery store has a limited supply and prices are often a bit higher than elsewhere. We recommend that you do you your shopping in one of the bigger cities you might be passing through. Also keep in mind that store hours and restaurants and gas stations close earlier in the evening in the fall/winter/spring time.
Mariska and Kirk's Airbnb is very comfortable, cozy and quiet. It is close to Algonquin Park so that one can spend the day hiking, etc. and return to their private apartment for a hot shower, soft couch and bed, and relaxation. My two dogs and I visited in the Winter, so we really appreciated that we could park so close. The hosts have trails to explore on their lovely wooded property and even provide snowshoes. I imagine that this is a great place to stay in summer since it is just a short distance from the town and Algonquin Park but far enough for peace and quiet.
Janice
2017-03-01T00:00:00Z
Mariska and Kirk are very welcoming and warm hosts. Their place is very comfortable and so close to Algonquin it is an ideal spot to explore the park from. The place came with a park pass and a wealth of information about the trails and wildlife in the park. On top of that Kirk has so many stories and recommendations about life and experience in the park from his decades working as a park ranger. They also make beautiful wooden bowls, and the log cabin addition itself is a work of art. We will definitely be back!
New
2017-03-22T00:00:00Z
Kirk and Mariska are wonderful hosts. The house is amazing and it had all the amenities you could need. They offered great advice for where to go and what trails to hike in Algonquin. Can't wait to return as one night was not enough! See you again soon!
Samantha
2016-05-25T00:00:00Z
we had a great time at this place. it is well maintained and we had everthing we needed. we enjoyed it a lot.
Nicole
2016-07-25T00:00:00Z
Mariska and Kirk were very warm and accommodating. The property is beautiful and very close to Algonquin Park. We had an excellent time and would love to stay here again.
Rae
2016-06-20T00:00:00Z
The place is well-situated: close to the Park and a bit away from the main road. Mariska was very friendly and helpful. The hiking trails she recommended were fantastic. The kitchen is fully equipped, we even could have used the barbecue. Everything was clean. To sum up: we had a great stay!
Sarah
2016-06-23T00:00:00Z
Lovely little apartment very close to the park. We only met Kirk but he was very welcoming and had great talks with us. We especially loved that he let us take his canoe out on the picturesque little lake next door and that he made a bonfire for us! Would definitely stay there again if we ever make it back to Algonquin Park!
Amelie
2016-10-12T00:00:00Z
We have just come away from spending three wonderful days with Mariska and Kirk. Firstly, the accommodation was excellent. Completely self-contained and with everything that we needed. The space was warm, relaxed and comfortable and the bed was just the cosiest thing ever. If Goldilocks ever visited Ontario, this is where she would sleep. But that wasn't the best thing. Secondly, the area was beautiful with the Algonquin Provincial Park just a few kilometres away, we were able to trek through the park, seeing a variety of wildlife, including moose, grey jays, chipmunks, woodpeckers and a snakey thing. But that wasn't the best thing either. The best thing about this stop was meeting Mariska and Kirk. When we arrived, Mariska made us very welcome, settled us in and then left us with an invitation to join them at their campfire if we wanted. So, after unpacking, we walked up the garden and sat down by the fire with them. And there we stayed. Spending time with them both was an absolute delight, and each evening we would join them until it got too cold or too late to stay any longer. Their knowledge of the area and willingness to spend time telling us about the wildlife and culture brought the whole place to life. Even our daft city-dweller questions were given a kind response. Ruth - "Kirk, when we were walking, we saw a snakey-thing. What would that be?" Kirk - "Oh, that would be a snake!" Once we had all stopped laughing, Kirk told us what type it was and all about it. We had such a great time, we really didn't want to leave and would happily have spent more time there if we could have. If you are thinking of staying here and think you would like to spend your time more privately than we did, that wouldn't be a problem. There was no pressure to join Mariska and Kirk, but we wouldn't have missed it for the world. Thank you both. It was FAB!
Ruth
2016-04-30T00:00:00Z
Room Type
Entire home/apt
---
Property Type
Apartment
---
Accommodates
4
---
Bedrooms
Whitney, ON, Canada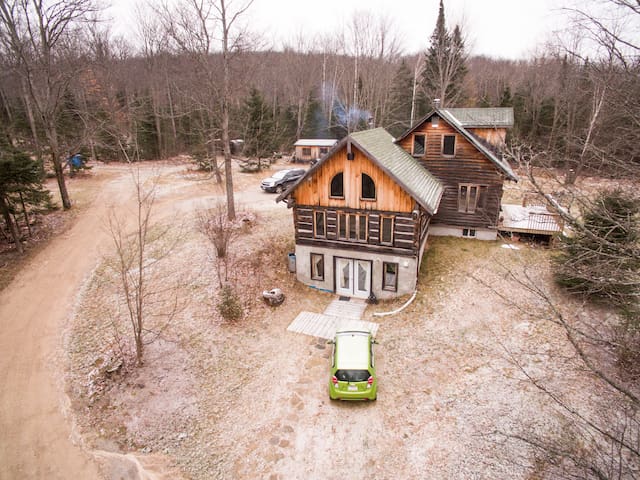 Upstairs apartment, 2 bedroom (queen & double) futon in common area. Full kitchen, full bathroom. Open concept living room, Dining room and kitchen. full deck with bbq and patio set overlooking the Ottawa River. 1.5 hours West of Ottawa. We are about 15 min from the white water rafting companies. Short drive to the original white water brewery. Short walk to the public dock, for swimming, fishing, kayaking, canoeing.PLEASE NOTE: the extra person fee is for additional beds, not people, per se.
It is a large,open, nicely decorated space. It is very comfortable with all the comforts of home.
My neighbourhood is a very rural area, right next to the river. The scenery is beautiful and the area is quiet.
This is a beautiful, spacious, clean and well decorated place. It beat all expectations as we walked in! Joan has thought of every detail. She had eggs, fruit, milk, cheese, English muffins and more waiting for us! The place and the neighborhood are quiet and very peaceful. The view is wonderful as well, and the water is within walking distance. We stayed for a whole week, and will be returning next week for another day, we loved it so much! Having the general store downstairs was a nice plus. It was also great coming "home" from paddling all day to a delicious ice cream cone. On the evenings that we were too tired to go out, it was nice to enjoy the Netflix account that Joan makes available for her guests. We will be coming back next year for sure!
Maria and Jim
2016-08-14T00:00:00Z
My family had a wonderful stay at Joan's place! Highly recommend staying here!
Yiqi
2016-11-20T00:00:00Z
Great place! Large rooms, very clean and in quiet neighborhood. One can't go wrong with this. Will definitely visit again.
Harman
2017-02-20T00:00:00Z
We had a great time at Lacroix Bay Lodging. The apartment is spacious and very clean. Joan and Kerry have thought through all the little details and truly make it feel like home. The location is great for accessing the Ottawa river for a paddle and we had a great time doing a white water rafting adventure for a full day, about 10-15 minutes drive away. Joan was very easy to reach and made sure we had all the information we needed for an easy check-in. I would absolutely recommend staying here!
Jackie
2016-09-06T00:00:00Z
We had an excellent stay with Joan and Cary in their "country" apartment. It is located in a quiet small town on the Ottawa River with the apartment located above their small general store. It is much larger than the pictures might indicate and also very clean and comfortable. Our party of four had much more space than expected. The hosts were friendly and helpful without interfering with our stay. The only negative would be the lack of any restaurants or stores nearby but it is very convenient to the nearby river rafting companies. We will definitely recommend it to friends and hope to visit again sometime soon.
Roger
2016-08-24T00:00:00Z
Joan is very detailed and thoughtful about making her guests feel comfortable and at ease. It's very well furnished and decorated so you feel right at home. We arrived very late at night and Joan made sure we had adequate instructions to find their home. We had enough eggs, milk, english muffins, and cheese for breakfast for the two mornings we were staying, and the kitchen has a water cooler so you don't have to bring drinking water. If we needed anything else, she runs a convenience store right downstairs. For down time, she has a large television in the living room with Netflix, and a furnished patio with a barbecue that looks out to the lake, and cozy comfortable sleeping quarters with high and low pillows, a fan, and thin and thick blankets and comforters. Her home is located in a quiet area with minimal streetlights, so you can see the stars very well at night. If you're planning on whitewater rafting, there are a couple rafting companies located a 20-minute drive away. This was a wonderful experience, and I look forward to staying here again on our night visit :)
Vivian
2016-08-29T00:00:00Z
There is nothing negative to say about our experience at Lacroix Bay Lodging. We were welcomed in a very friendly way by Joan and her husband. The appartment is very spacious, clean and comfy and gave us a real "home-away-from-home" feeling. The added bonus of some kitchen supplies such a fresh eggs, milk, english muffins was great. The location is ideal if you like a qiuet, peaceful place in nature away from the noise of traffic and the city. There is only thing that could have ben better, and that was the weather... but even with the not so great weather, we enjoyed our stay at Joan's place a lot!
Davy
2016-11-03T00:00:00Z
静かな田舎のvillage にあり、のんびりできました。川もテラスから見えて紅葉はとてもきれいでした。 部屋も清潔、2ベッドルームあり、リビング、キッチンも広く、料理がしやすかったです。 スーパーは車で40分ぐらいかかります。
Hitoshi
2016-10-15T00:00:00Z
Room Type
Entire home/apt
---
Property Type
Apartment
---
Accommodates
6
---
Bedrooms
La Passe, ON, Canada
Fun-filled destination with many exciting and relaxing winter activities to enjoy, and incredibly comfortable accommodations. Located just an hour outside Ottawa. Fun for the whole family!
Calabogie Lodge Resort caters to nature lovers with a wide range of activities throughout the year: guests can have fun ice skating, ice fishing and cross-country skiing in various nearby and easily accessible hills and rinks. Natural wood walls and decor, comfortable sofas and furnishings, keep the whole family warm and cozy in these spacious accommodations. Lodge has private patio, living and dining rooms. Enjoy the beautiful view of the Calabogie Lake shore while sitting by the warm fireplace. Make yourself at home as you cook a savoury meal for the family in the fully equipped kitchen, and warm up with hot cocoa by the fireplace.
An hour away from Ottawa-- great city for sightseeing, shopping and dining Tranquil environment, great for spending relaxing time outdoors snowmobiling, skiing, snowboarding, or snowshoeing, or ice fishing
Room Type
Entire home/apt
---
Property Type
Apartment
---
Accommodates
6
---
Bedrooms
Calabogie, ON, Canada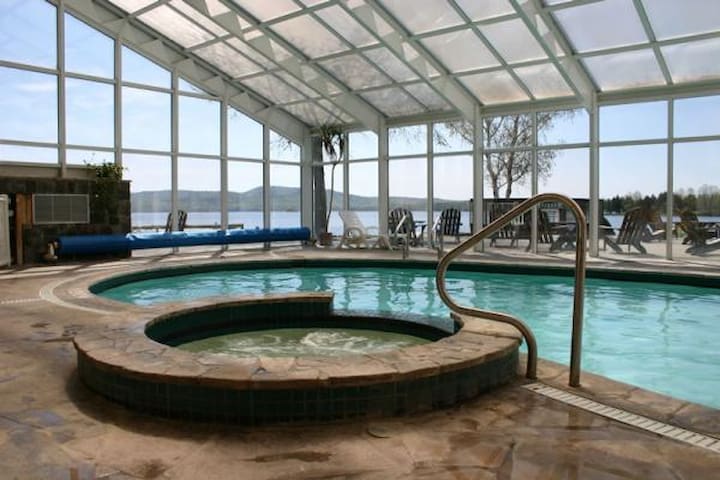 Killaloe - Airbnb
:
Average

5

out of

5

stars from

107

guest reviews