Beautiful studio apartment at rear of our 1859 cottage, 750m to Glenelg Precinct, beach, tram, restaurants. Reverse Cycle heating/cooling/kitchenette/fridge/microwave/bathroom/bath/washer/dryer/double bed/day bed or full size single bed/free wireless internet/TV
The space is as shown in the photographs.
Located only 10 kilometres from the heart of Adelaide City, Glenelg is a charming seaside resort set on the long sandy white shores of Holdfast Bay. Glenelg is the site of South Australia's original mainland settlement in 1836. It is Adelaide's most popular coastal region. Glenelg has a perfect Mediterranean climate characterized by warm dry summers and cool mild winters. Summer temperatures average around 27 degrees celsius and winter months around 15 degrees celcius. A short 25 minute trip, on a tram departing from the centre of Glenelg - Moseley Square, takes you into Victoria Square in the heart of Adelaide. So you can base yourself at seaside Glenelg, but you are just a short trip away from the lights of the big city! But really why leave this delightful seaside destination, when everything is at your fingertips. We hope you enjoy your stay at Glenelg, we know you will want to come back again for some more of what this beautiful town has to offer.
The host was friendly and the accommodation was immaculate. Great place to visit.
Madeleine
2016-04-11T00:00:00Z
Julia and Chris are very nice,provides a good help for us in Adelaide,help us to book the taxi to the airport,thanks very much.
JUN
2015-10-02T00:00:00Z
Chris and Julia went a above and beyond as house hosts. They took on a day around town and showed us things we wouldn't have been able to see otherwise. The studio was clean, quiet and was perfect for what we needed. Perfect location for walking around to all the shops on Jetty street and easy tram ride straight to the city. Wish we could have stayed longer. We had a blast even with a couple of rainy days.
Brittany
2015-09-07T00:00:00Z
Julia and Chris are perfect hosts. We really appreciated their friendliness and helpfulness. Rose Cottage was everything we wanted: very comfortable, convenient to public transport, shows, restaurants and the beach. The extra touches were much appreciated, a range of breakfast cereals, coffee bags, little hair dryer, etc. We would highly recommend Rose Cottage as the perfect place to stay in Adelaide.
Yve
2016-05-16T00:00:00Z
Highly recommended. Wow!!! This is the perfect hidden secret. My husband, myself and our small dog had a fantastic 7 day holiday. The cottage has all that you need, Julia @ Chris are the perfect hosts. Walk to the beach, shops and restaurants all within 5 mins. We have recommended already to our friends. Great place to stay, don't hesitate, just book, turn up and relax. Thanks guys.
Gail
2015-10-11T00:00:00Z
Chris and Julia are the perfect hosts. They quickly responded to our needs. They provided us with special treats in the cottage which we greatly appreciated. We thoroughly enjoyed our stay at Rose Cottage and will reccomend it to our friends.
Graeme
2016-04-02T00:00:00Z
We had a great stay at Rose Cottage! The place was the perfect starting point for our trip to Australia! Julia and Chris really are super hosts. They showed us around and even went on a daytrip to the Hills with us. Could not have been any better. Thanks a lot!
David
2016-10-16T00:00:00Z
Everything magnificent.
Tony
2017-01-31T00:00:00Z
Room Type
Entire home/flat
---
Property Type
Bed & Breakfast
---
Accommodates
2
---
Bedrooms
Glenelg North, SA, Australia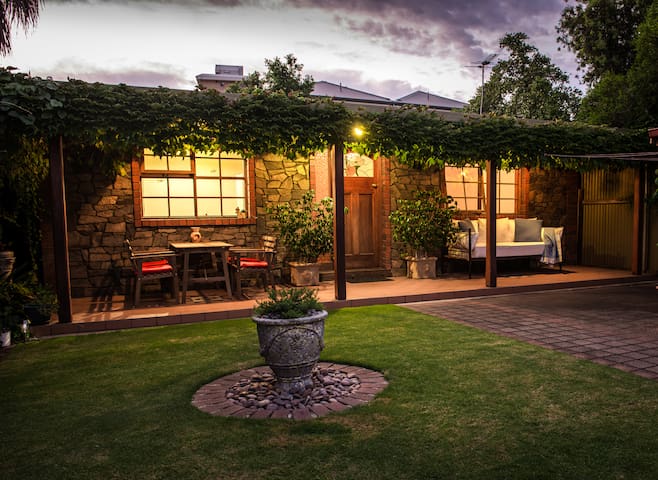 Kate, Ian, Frank the dog and several chooks live on a suburban block with large organic garden 10 minutes walk from the beach. Close to public transport , shops and cafes. Bikes available. Private room and bathroom. Couples and female guests welcome.
You will have as much privacy as you require. With your own room with queen size bed, table and chairs, teas and coffee making facilities, fridge, toaster, TV and DVD. Your own bathroom and access to washing machine, iron and ironing board. You are welcome to eat breakfast in our dining area or front garden or in your room. You can also borrow bikes to cycle the neighborhood.
We are close to the popular Glenelg beach. Its a 10 minute walk to the beach for a swim or to watch the sunset. Lots of lovely cafes and restaurants are close by. Also supermarkets, pharmacy, bike hire or borrow our bikes.
The room was very comfortable and offered everything one could wish for. I especially liked the breakfast provided by Kate, which included, among other things, homemade marmalade and eggs from her own hens. Kate and her husband were very hospitable and I enjoyed talking to them.
Magdalena
2016-08-17T00:00:00Z
Thanks Kate, we enjoy the short 3days stay very much. Beautiful house, lovely front n back gardens, comfortable living space, fresh breakfast supplies, oh yes and the friendly Frank the dog and chickens! Great location for visiting the beaches and the southern adelaide. We love it.
Galo
2016-06-18T00:00:00Z
We had such a wonderful time staying at Kate's lovely home! The room was all laid out nicely for us. Kate provided breakfast which was an added bonus. Kate and her husband were very helpful giving us suggestions of things to do, places to see. We also loved their little dog Frank, he's such a delight. Thank you Kate for a lovely stay!
Yizhou
2016-01-13T00:00:00Z
Beautiful place and very nice welcoming people - it was very comfortable to stay there and have some rest after our long drive. Kate and Ian were very friendly. The room was very well equipped and we had enough privacy when we wanted. The dog and the chicken were amazing :) Truly bright and positive experience staying there.
Egor
2016-01-08T00:00:00Z
Absoltutely loved staying at Kate and Ian's house. There is so much warmth and love and we immediately felt a great connection. The bedroom is very comfortable, the bathroom brandnew and both have all amenities you need. Kate gave us eggs which her chickens had laid. The dog Frank is adorable! Ian drove us to our next destination and showed us the coastline. The suburb of Glenelg is lovely and Adelaide can be reached by tram within 20 minutes.
Stephanie
2015-11-23T00:00:00Z
Beautiful house in a quiet street. Wonderful hoasts, both human & hounds.
KATHRYN
2017-03-01T00:00:00Z
I really appreciated my stay with Kate and would be most happy to use the accommodation again if the occasion arose. The room was spacious and comfortable with everything I needed available. The hosts were friendly and welcoming. I haven't used Airb&b before and my stay was a great first experience.
Malinda-Ro
2016-10-12T00:00:00Z
Arrived as guests left as friends. Kate and Ian are a warm and engaging couple that we connected with straight away. Their home was comfortable and welcoming with modern facilities that catered for our needs. It was an advantage to be able to walk to the tram terminal for the city and is within walking distance to Glenelg.
Peter
2016-09-21T00:00:00Z
Room Type
Private room
---
Property Type
Bed & Breakfast
---
Accommodates
2
---
Bedrooms
Glenelg , SA, Australia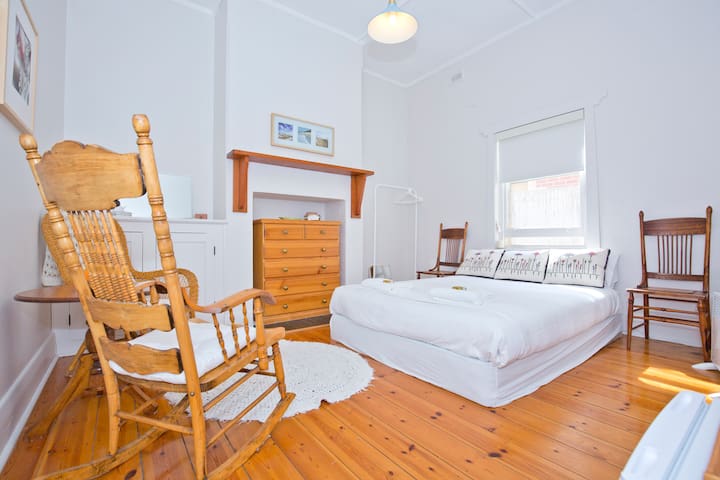 At Rosalynda you are staying in a large private beautifully decorated bedroom in a 1925 character bungalow is minutes walk to one of the best beaches in Adelaide - Seacliff beach - close to fabulous diningCafe and Clubs within 10 minutes walk. There is a comfy-queen bed, a T.V/DVD, tea/coffee making facilities in your room,a delightful breakfast is also provided
A large bedroom federation room with high ceilings, new comfy queen bed and large character bathroom with 3 person spa bath, bathroom is shared with the owners, also your own private front entry, and the use of the great indoor/ outdoor garden room with your own small fridge/freezer and Weber Q BBQ. Parking for one car is available on the premises, otherwise there is also street . Shared main kitchen, lounge and indoor/outdoor garden area with home owners. There is a choice of a lovely cooked breakfast available, which changes on occasion. Very close to beautiful beaches, parks, playgrounds and tennis courts and walking trails. Adelaide is one of the easiest cities to get around at Rosalynda we are only 7 minutes walk to the train, easy ride to Adelaide in 30 minutes and 5 minutes walk to buses. 20 minutes drive and your in the beautiful rustic world renowned wine region of Mclaren Vale. Also a lovely drive to a wonderful tourist German village of Handof is just 30 minute drive up the freeway. Another great day out is an easy 1 hour drive to Victor Harbor and Encounter bay at the mouth of the Murray River and Kangaroo Island also easy drive to the ferry departure on Cape Jervios less than 1 hour away.
Only a 5 minute walk to beautiful Seacliff and Brighton beaches, there is Kingston historic house very close and Marino Conservation parks, playgrounds and tennis courts. Friendly Grocer in Seacliff shop just around the corner is 5 minute walk, or the very large Westfields shopping mall is 10 minutes by bus.
Great room, great location! We've loved the stay! We surely recommend!
Helen
2016-12-17T00:00:00Z
Lynda and her husband are wonderful, hospitable, friendly people. I would highly recommend staying here if you want to be close to the beach and lavished upon
Rachel
2017-01-02T00:00:00Z
I was spending two days at the lovely accommodation of Lynda together with my father and it was great. Lynda is a really good host and we could not ask for something better. It is a welcoming atmosphere in the whole house and the location is just perfect. You can walk to the beach in 5 min and public transport to the city is almost in front of the house. I definitely would come back. Thanks Lynda!
Marie
2016-02-27T00:00:00Z
Lynda: Thank you so much for a wonderful stay in your lovely home. I had just arrived back from The States and needed a place to stay overnight. I have stayed at many Air BnBs and this one was one of the nicest. The room offered was beautifully decorated, the bed lovely and comfortable. Lynda and her husband made me feel so welcome. I highly recommend this place to anyone who needs to stay in this area. It is close to the beautiful beaches. Thank you again. Margie
margie
2016-02-10T00:00:00Z
It was a wonderfull stay, we loved it! Thank you so much!
Birte
2016-07-23T00:00:00Z
What a great location not even 5 minutes walk to the street. Close to to train and bus stops. House and garden are great area to relax and (Rosa) Lynda was a fantastic host and her sausage rolls are the best ever. Will definitely use again if she is available in the near future. Can't recommend high enough.
Daniel
2016-01-24T00:00:00Z
We stayed at Rosalynda's for two nights and were made to feel very welcome. Lynda's house is beautiful and perfectly located within easy walking to the beach and all facilities including meals, coffee, shops and public transport. Our room was large with high ceilings, tastefully furnished and provided a cool retreat from the summer heat. The room had all the necessities like a kettle, coffee, tea and water. The house was spotlessly clean and a pleasure to come back to. Our breakfast which we ate in a delightful setting was freshly made and delicious. All facilities were made available to us including her fridge. We enjoyed Lynda and her partner's company. Lynda went to a lot of trouble to make our stay very memorable.Their little dog Aussie was a delight. We highly recommend Rosalynda.
Moyra
2016-01-11T00:00:00Z
Lynda's B and B is the perfect getaway, close to Adelaide city by train and 5 minutes walk to a beach. The house is beautiful and the bedroom was lovely. Very comfy bed! Lynda and her husband are such welcoming hosts. We really enjoyed the breakfast in the garden. We wished we had stayed here longer. 5 stars!
Katrina
2016-11-25T00:00:00Z
Room Type
Private room
---
Property Type
Bed & Breakfast
---
Accommodates
2
---
Bedrooms
Seacliff, SA, Australia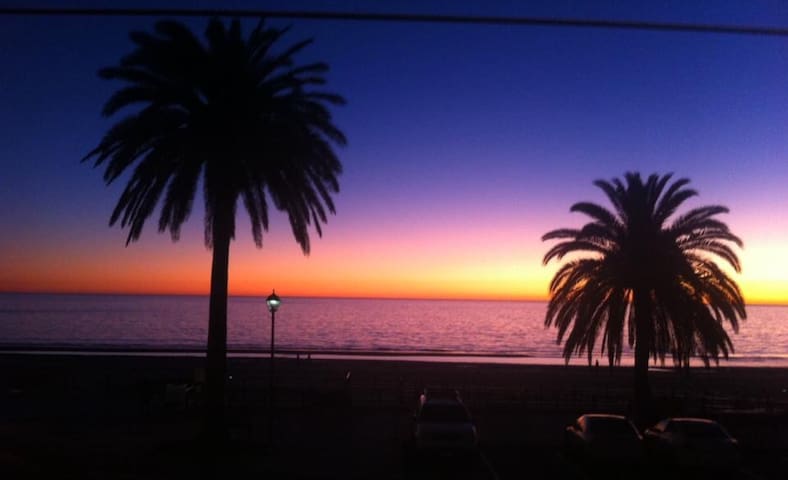 The Shady Rest is a quiet location in bushland, with birds aplenty. A place to unwind away from traffic noise. 11 kms or 25 minutes by train to the city and 20 minutes to the beach. The train is a 10 minute walk. We have 2 bedrooms - Bedroom 1 has a double bed, Bedroom 2 has a single bed, and basic breakfast provisions (Toaster, kettle, fridge etc, so the main kitchen is not available to guests). Exclusive use of private bathroom across hall.
1 bedroom with a double bed, 1 room with a single bed, so it's perfect for a couple, family of 3 or for 3 people here for the car racing or football, if you don't mind sharing a bed. The single bedroom is shared by a piano which you are welcome to play respectfully. This room has a TV. You have the sole use of a newly renovated bathroom (toilet in the room), with a hairdryer supplied, along with shampoo, conditioner, shower gel and towels. Although there is a bath, we ask that you only shower due to the water constraints(unless required to bathe a child). A kettle, toaster, plates, bowls, mugs, glasses and cutlery are supplied, along with tea, coffee, juice and basic breakfast provisions. I will clear the dirty dishes each day, so you are free to go off exploring.
Eden Hills is a hidden gem! The capital city of Adelaide is 1/2 hour by train (Belair line, getting off at Eden Hills, just after the tunnel). The Eden Hills Railway Station is a 10 minute walk from our house. At the bottom of our garden you could be miles from anywhere. We're on a large sloping house block, surrounded by bushland, a multitude of bird varieties and a new and amazing sunset awaits us every night. We have our own little patch of ocean visible through the trees in the reserve right next to our house. It's not unusual to see a koala. If you want to go to Kangaroo Island you can meet the bus in the city, or if you have a car you can be at the McLaren Vale wine region in 1/2 hour. With a deck at the back of the house overlooking a beautiful gully, you can sit in the cane chairs with a coffee or a wine and gaze into treetops to relax at the end of your day of sightseeing. An outdoor setting awaits at breakfast time, so you can enjoy the sights and sounds of nature as you ease into the day. If you're here for a conference at the Convention Centre, it's an easy walk to the Eden Hills train station and the Adelaide Railway Station is only 5 minutes walk from the conference venue, so no parking issues. Adelaide Oval is just a 5 minute walk Adelaide Railway Station for the football or cricket or a concert. The Festival Theatre, Art Gallery, Museum, Botanical Gardens, Adelaide Zoo, Parliament House and Government House, clubs, hotels and restaurants are all within easy walking distance of the Adelaide Railway Station and just outside is the tram to the Entertainment Centre for concerts. If you have a function at Flinders University then you'll need a car to get there, but it's only about 8 minutes drive or it's a 45 minute walk, partly through a National Park reserve. Our local restaurants and cafes are a 2 stop train ride away or a 5 minute drive. We are well served with 3 supermarkets, multiple doctors surgeries and specialty shops just 5 minutes up the hill. Flinders Medical Centre and Flinders Private Hospital are just down the hill (10 minutes drive), so our location is handy for people going to Specialist appointments or going to hospital for treatment. Close for visiting people in Flinders Medical Centre or Flinders Private Hospital facilities. Westfield Marion Shopping complex is 12 minutes away. We have a car park at the front of our house. We have the advantages of being close to the city whilst living in a glorious bush setting.
What a beautiful place to stay. Gail and Ron were so welcoming and really went above and beyond to make sure my stay was as comfortable as possible. Everything was as described and the location was beautiful. It was the perfect base for me to attend my intensive subject at Flinders uni and I really enjoyed my long walks to and from uni amongst the birds and koalas and spectacular views. I also had a relaxation session with Gail which left me feeling very refreshed after a long week studying.
Anna
2016-04-23T00:00:00Z
We very much enjoyed our stay at Gail and Rons house. I particularly liked talking to Gail about her motivation and the book she is writing. the house was immaculately clean and they were very welcoming. I look forward to staying there again.
Mark
2016-08-29T00:00:00Z
I felt very welcome at Gail's house. Everything was very clean, neat and tidy and comfortable. All my dietary needs were catered for. The house was lovely in a quiet, peaceful location and there was no traffic noise or dogs barking etc. Gail took some time to get to know me, which I appreciated and she made sure that I was comfortable in every way. My time at Shady Rest was very pleasant and I would highly recommend it to anyone.
Melinda
2016-04-11T00:00:00Z
We had an amazing first experience with airbnb at the Shady Rest! Gail really went out of her way to make sure we were comfortable, helping us dry our wet socks and shoes and leaving us little food packets for our travels! We loved it so much, we even extended our stay! The place is really beautiful and Gail and Ron (our hosts) really made us feel at home with their hospitality. Would recommend it to anyone who visits Adelaide :)
Tanaya
2016-07-06T00:00:00Z
Gail was a great host-very accommodating and flexible. Breakfast is offered with the stay and she was very easy to communicate with. Would highly recommend if you want an easy and convenient stay in Adelaide.
Alex
2016-02-15T00:00:00Z
This is a must stay if you are heading towards Adelaide for any time, I recommend to stay in the quaint and relaxing b+b. Gail and Ron were the best hosts always helpful, friendly and gave great suggestions for places to visit. Thank you both once again for being so hospitable! For future travellers don't stay in the centre of Adelaide stay here with Gail and Ron you won't regret it!
paul
2017-01-04T00:00:00Z
Gail's place is a quick drive to Flinders university, so was a great base during a short course there. The bed was very comfortable, the bathroom modern and spotlessly clean and our hosts were generous and accommodating. It was an easy drive to the beach and the city, where we spent each evening. The house is set is beautiful bushland, and we enjoyed eating our breakfast on the back deck.
Alison
2017-02-19T00:00:00Z
We thank Gail and Ron for a wonderful weekend. We felt comfortable and welcomed from the word go! The Shady Rest was as described and more. With beautiful food for us to enjoy for breakfast or any-time. Gail also took the time to guide us on our bush walk so we would not get lost! The Cheese and biscuits were a treat. Nothing was too much for Gail and Ron and Gail even packed us a chicken salad for our long drive home. We will definitely be coming back - Robyn and Ken
Robyn
2016-03-16T00:00:00Z
Room Type
Private room
---
Property Type
Bed & Breakfast
---
Accommodates
3
---
Bedrooms
Eden Hills, SA, Australia
Fabulous location, only 200 metres from Jetty Road, Glenelg, a 10 minute walk to the beach, great restaurants, very close to the tram stop which provides easy access to the city. The tram is free up and down Jetty Road to Brighton Road. Only 15 minutes' drive or taxi to Adelaide Airport. The room would suit couples, solo adventurers, and business travellers. Serve-yourself continental breakfast is offered, as are complimentary shampoo, conditioner and shower gel.
A very comfortably-sized unit, not at all pokey, and which has been very tastefully renovated. Homely, but with the offer of privacy as and when you need. Lovely shady courtyard area out the back of the unit. Very quiet unit, the 5th unit at the backk in a block of 5.
Beautiful beach-side area, lovely beach. Jetty Road offers a great variety of good restaurants, movie cinema, shopping etc, there's a fabulous Museum and Information Centre, all within walking distance.
I thorougly enjoyed staying here in Jacqui's home. She is an awesome host and helped me out no-end with all those little details like needing an umbrella and her home is divine! The quality morning coffee, and so much more made my time here one I plan on repeating asap. Highly recommended.
Naomi
2017-03-22T00:00:00Z
Jacqui was a perfect host and her place was immaculate, well located and cosy. The bed was comfy and linen crispy clean. Jacqui was accommodating and allowed me to leave my luggage at her place after I checked out as I was only flying out in the evening. She even kindly offered me a clean towel for a shower when I picked up my luggage late afternoon. The place was a short walk from the beach, boutiques and restaurants. I would definitely stay at Jacqui's again and highly recommend her as a host. It was like I was staying at an untie's or family friend's place. Thanks Jacqui!
Raquel
2017-03-25T00:00:00Z
Jacqui was a pleasure to stay with. A 'super host' in the making. Thanks!
Ned
2017-03-14T00:00:00Z
Had a wonderful stay at this beautiful renovated unit. The location was perfect. The tram to the city stops right in front and the beach is a few minutes away. Shops, pubs, and restos are all nearby. Jacqui was the perfect host. She made sure I had everything I needed to be comfortable and was fun to chat with.
Christopher
2017-03-04T00:00:00Z
Jacqui's place is a perfect spot if you want to explore the best beach in Adelaide. It is walking distance from the shops and public transport, and not too far from the city too. Jacqui is incredibly helpful, friendly, and the house is in a very clean state. Thank you!
Phil
2017-03-09T00:00:00Z
This a fantastic place to stay in Adelaide, you can just team Into town, it's a lovely home and host, easy to find, top quality in every way.
cath
2017-04-11T00:00:00Z
Host was very welcoming and most helpful. There is even a guest information pack put together in the room + a TV! This was easily the nicest and most homely airbnb place I've stayed at and the location is superb. Simply a short walk to the beach with banks, supermarkets, restaurants, shops, cinema etc all within a short stroll! Tram stop to the city one minute walk away. Definitely highly recommended and five star rating for a relaxing and comfortable airbnb experience in a top location in the beachside suburb of Glenelg
Andrew
2017-03-23T00:00:00Z
Room Type
Private room
---
Property Type
Bed & Breakfast
---
Accommodates
2
---
Bedrooms
Glenelg East, SA, Australia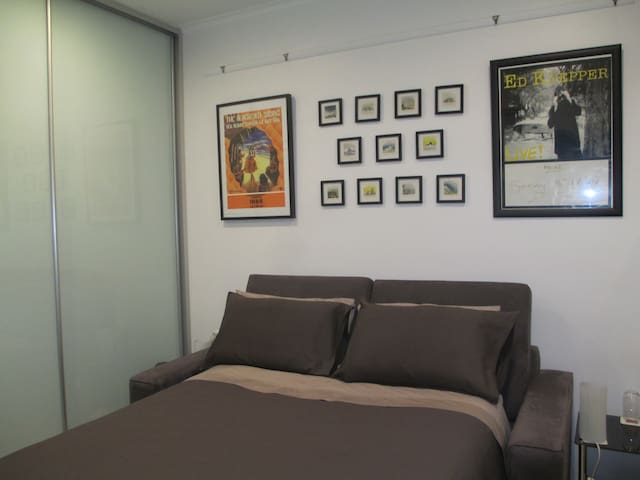 Flat, including kitchen and cloths washing facilities at back of private home that offers security and privacy.
Room Type
Private room
---
Property Type
Bed & Breakfast
---
Accommodates
1
---
Bedrooms
Seacombe Gardens, SA, Australia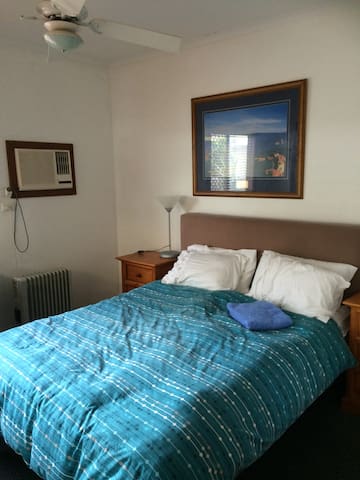 One bedroom, cooking place, oven, all complete
Close to marion shopping center, close to CBD
Room Type
Private room
---
Property Type
Bed & Breakfast
---
Accommodates
1
---
Bedrooms
Mitchell Park, SA, Australia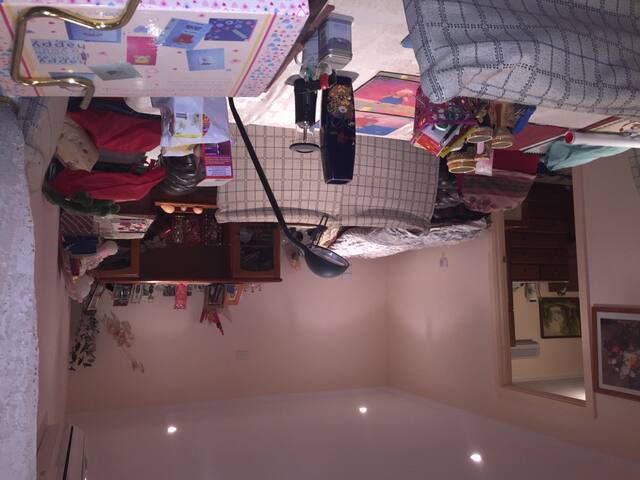 Our lovely spacious room is very close to Marion Shopping Centre, Flinders University and Flinders Medical Centre ( 25 minutes walking ), swimming pool, Brighton and Glenelg beaches. A 20-minutes drive to the CBD. You will be well taken care of while you are here.
If you are more than 4 people no problem just send a message to discuss about your inquiry. Thank you. Yes, bus stop to city is only few minutes walk away. If you wish to go to the Flinders Uni then you should use different bus stop or it's about 25 minutes walk away.
It's a quiet neighbourhood with lots of amenities including the aquatic centre, big shopping mall, gym, library and a lot more.
Even I arrived at night they were worried about my filling and explained about the house so friendly.
Hoyoung
2016-11-06T00:00:00Z
They are very kind and helpful during the stay. It takes 15min by walk to the shopping center and 25min to the Flinders University.
Natsumi
2016-03-27T00:00:00Z
Omid and his wife, both are lovley people,welcoming. we had good chat over few different things. very accomodating with everything. I will definitly recommend to others. this place is close to all amenities just 10-15 mins walking distance to Marion shopping centre.
Sunny
2016-10-22T00:00:00Z
It was the perfect stay for my visit at Flinders University. Peaceful, welcoming and close to everything I needed :-)
Nathann
2016-12-24T00:00:00Z
It was a very good home.
용화
2016-11-25T00:00:00Z
Omid & Mali's place may be the best one you can find around Flinder University area. I rented this for my brother for 1 week stay, and he kept informing that both the house and the host are beyond good.
Trang
2017-03-12T00:00:00Z
Highly recommend staying here, very helpful hosts and they made sure I had a comfortable stay. Had many pleasant and interesting conversations with them. It was a very clean house, they provided all the basics for breakfast which was stocked regularly, very well equipped kitchen if you need to cook, fully furnished house with central cooling or A/C available. Close to shopping centre, Flinders university and good access to public transport.. Will definitely stay here again.
Pradeep
2017-02-03T00:00:00Z
Room Type
Private room
---
Property Type
Bed & Breakfast
---
Accommodates
1
---
Bedrooms
Marion, SA, Australia
Avery B'n'B is fully self-contained and is situated half way between the City and the Glenelg seaside. Your beautifully appointed suite looks out French doors to the garden and is peaceful and luxurious. An elegant bathroom with all amenities plus a small kitchenette with everything you need for a light breakfast including various quality teas, freshly ground coffee beans, toast, cereal and juice are also provided. Easy access to the tram.
Beautiful décor and quality fittings are used throughout and the setting is peaceful and private, with the bedroom looking out over the garden. Your rooms are secured in the rear wing of the house, fully self contained and locked off with your own separate access. A light continental breakfast is provided in your rooms so you can stick to your own schedule during your stay. Breakfast consists of juice, cereal, toast and a choice of quality teas and freshly ground coffee. I have two pillows each of low and medium on the bed, a breakfast setting and two comfortable armchairs are also placed in your room for a relaxing stay.
Avery b'n'b is located in a quiet street but conveniently place near Cross an Marion roads, walking distance to bus or tram to take you to the city or to the seaside suburb of Glenelg. Avery is also a great place to access all the local businesses along Anzac highway, Marion road, Cross road, South road and surrounding areas. There is plenty of parking on the street with no restriction directly in front of the property.
Donna's place is so lovely and adorable. We loved staying there and will definitely come back when visiting Adelaide!
Rie
2016-12-31T00:00:00Z
Great quiet location, lovely host and all you could possibly need for a relaxing stay. Having breakfast options- fresh bread, cereals and coffee was very convenient!
Kimberley
2017-01-24T00:00:00Z
The accomodation was absolutely lovely - exactly as listed on airbnb. Donna was so flexible, helpful and lovely! I will definitely stay here again when in Adelaide.
Yvette
2016-08-24T00:00:00Z
Donna place is a treat! She has thought of everything a traveler needs. Breakfast is provided so you can set off exploring right away. A short walk to the tram stop, and nine stops to the city centre. If you want your own, quiet place to retreat, I highly recomend Donnas lovely home.
Michael and Alexandra
2016-11-25T00:00:00Z
Immaculate 5 star accommodation with everything you could possibly need for your stay, set in a quiet residential street at the rear of the property overlooking the beatifully kept garden, the tram stop was a short walk away and gave you access to the CBD and to the beach, highly recommended
Tess
2016-12-02T00:00:00Z
Really enjoyed staying at Donna's, it was as lovely and beautifully decorated as it looks in the photos. We had our breakfast outside in the garden each morning which was really nice. The place is located half way between beach areas and CBT, so very handy. Overall really relaxing and enjoyable would recommend staying here.
Fiona
2016-11-18T00:00:00Z
Was aboslutely blown away by this property! Honestly thought i was in a dream home youd see in a magazine with 5 star amenties and the homely touches like a private garden you wouldnt have at a resort.. it is definately a hidden gem that deserves every recognition. Donna is such a beautiful person and you can feel her heart and soul has been put into her lovely cottage style home. I know where ill be looking for accomodation first next time were in adelaide!
bridget
2016-12-07T00:00:00Z
Doona-Lee was kind to let us come home any time that we like. The side door is perfect so that you don't disturb the host. Description of the house is perfect and the neighborhood is quite and close to city.
Parin
2016-08-12T00:00:00Z
Room Type
Entire home/flat
---
Property Type
Bed & Breakfast
---
Accommodates
2
---
Bedrooms
Adelaide, SA, Australia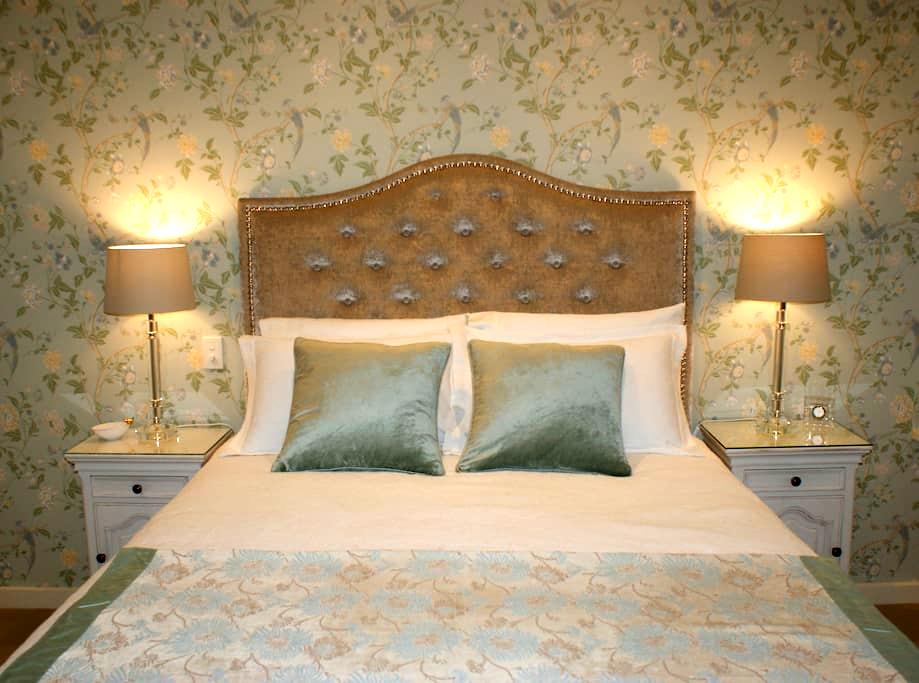 Cozy , relax nothing more than great holiday will be . You will spoiling your holiday with unforgetable moment . Clean linen , cozy bed easy to hangout
Room Type
Shared room
---
Property Type
Bed & Breakfast
---
Accommodates
3
---
Bedrooms
Ascot Park, SA, Australia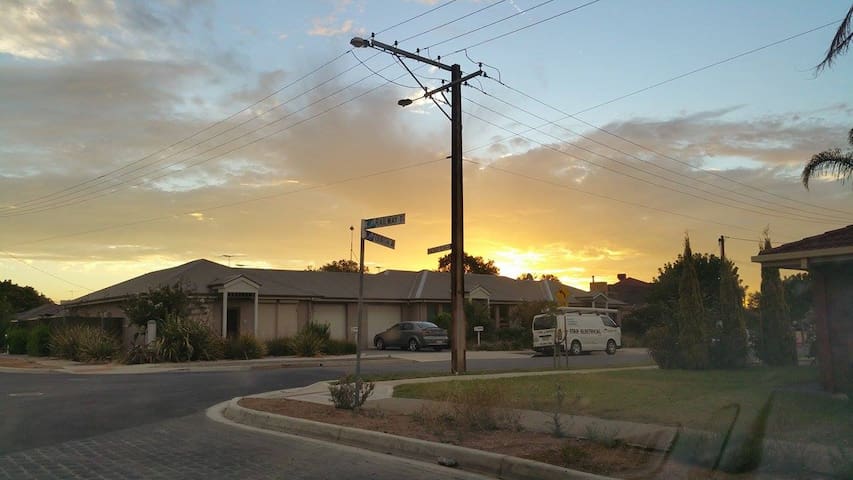 Helen & Graeme welcome you to our home in Glenelg East with a comfortable ground floor KS bed and private ensuite bathroom with continental breakfast. 3 min walk to tram to Adelaide city, and walking distance to beach and restaurants, cinema/shopping of Jetty Road. Close to airport.
We offer a ground floor bedroom with private ensuite bathroom.
Cafes, restaurants, supermarkets, shops, beach
Helen & Graeme were great hosts and very attentive to our needs. Our room was very comfortable including the king bed as was the ensuite that was very clean and well appointed. The Location close to Glenelg tram and Jetty Rd Glenelg restaurants was ideal. It was a pleasure being a guest in this home. Thank you for the experience
Brenda
2016-11-13T00:00:00Z
We've stayed at 15 airbnbs on 4 continents and this was the best ever! Superb value, gorgeously appointed, super friendly/helpful hostess and convenient to the jetty, tram and airport. Exceptional!
Yvonne
2016-02-27T00:00:00Z
Graeme and Helen are fantastic. Very accomodating and welcoming. The room is great, ensuite bathroom, very very comfortable bed. The entire home is a masterpiece. Very close to Glenelgs Main Street and a 10 minute walk to the beach. 2 minute walk to the tram that takes you into the city, entertainment centre and other attractions. Highly recommend staying at this beautiful place.
Adam
2017-03-14T00:00:00Z
My first experience with airbnd. I hope my future experiences are as good. Helen and Graeme were perfect hosts. The room, kitchen, en-suite and house was 5 star. My hosts were just brilliant. Once this is secret is out I am sure I will have trouble booking again. Many thanks to you both. Joe
Joe
2017-02-25T00:00:00Z
Helen and Graham were excellent hosts. Wonderful experience.
Marie
2016-11-29T00:00:00Z
Helen made us feel very comfortable and we felt instantly welcomed. The house is very well kept and quiet and only a short walk from transport and lots of restaurants and cafes, as well as the beach. Highly recommended.
Jemi
2016-03-14T00:00:00Z
Helen and Graeme did their best to offer the most enjoyable experience, from the warmest welcome to the kindest farewell. In between, a comfortable room in a beautiful house, friendly conversations, useful pieces of advice for my first time in Adelaide, and last but not least the soothing French Cafe music to match the tasteful decorations on the walls. Thank you both, I felt great (and highly recommend it).
Radu
2016-06-15T00:00:00Z
Helen and Graeme are fantastic hosts . . The house and room and facilities are gorgeous... The communication processes were fantastic. Thanks a million
Bruce
2016-07-08T00:00:00Z
Room Type
Private room
---
Property Type
Bed & Breakfast
---
Accommodates
2
---
Bedrooms
Glenelg East, SA, Australia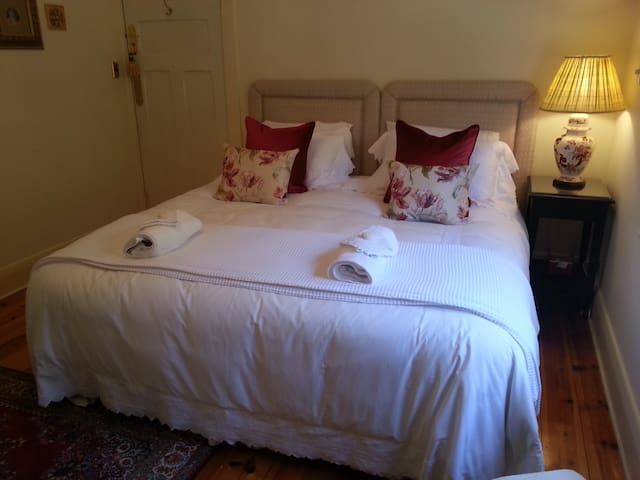 Situated in a leafy heritage garden suburb on the bus route 10 minutes from the city centre. There are trendy coffee shops, restaurants and shops within walking distance as well as wineries, hills and beaches to explore. Adelaide has lots of bike tracks and free bike hire in the city. You'll love our place because of the privacy, the convenience and all the comforts of home.
Welcome to Ikhaya on East Parkway. Ikhaya means "home" in the Zulu African language, and it is our intention to make you feel at home when staying with us. We have created a beautiful clean, comfortable and well equipped private space for you to enjoy during your stay in Adelaide. The bathroom has been totally renovated and is designed to make full use of the compact space available. It is supplied with fresh towels, shampoo, conditioner, body wash and hand wash as well as a hairdryer. The kitchenette is equipped for self catering purposes. We will provide you with a basic starter breakfast of orange juice, muesli, bread for toast, home-made apricot jam and fresh fruit. You might also want to try one of our delicious South African rusks (a type of dunking biscuit). Tea, coffee and milk is also provided. We encourage you to be adventurous and try our delicious South African red tea, Rooibos. There is a new queen size bed with fresh linen, a wardrobe with full-length mirror as well as a couch for you to relax on when you watch the large flat screen TV. The upstairs loft has a couple of comfortable chairs as well as a desk should you need to do business work. Other features include free WiFi, iron, ironing board, and your own private garden to enjoy. This is a pet free and and smoke free environment and is business ready. A wash, dry and fold laundry service is available on request and costs $15 per load.
Colonel Light Gardens is a beautiful heritage garden suburb located within the City of Mitcham in the greater Adelaide region. It is well known for its wide and leafy tree-lined streets, postwar bungalow homes, lots of parks and trendy coffee shops. Adelaide is known as the Festival State - the atmosphere in Mad March is at an all-time high with the Fringe Festival, WOMADelaide Music Festival, the Adelaide Festival and the V8 Supercars taking over the city. With more than 200 cellar doors, bustling markets, the small bar scene and boutique restaurants, Adelaide is Australia's food and wine capital. Other highlights include Tour Down Under, wonderful scenery, wineries and food delights in the Adelaide Hills and Barossa Valley, exquisite beaches and the magical Murray River, to name just a few.
Cathy was very welcoming and Ikhaya was beautifully set up, clean and comfortable. Cathy and Bob have created a lovely space and have thoughtfully provided everything you need for a comfortable, relaxing stay with a luxurious feel. We appreciated the great breakfast selection and the home-made dunking rusks were delicious. The garden is beautiful and the area is lovely with Jacaranda lined streets and feels very safe. Cathy and Bob gave us our space but were very contactable if we needed some assistance. We would highly recommend Ikhaya as a beautiful little sanctuary.
Dympna
2016-12-21T00:00:00Z
It was a great place to stay and Cathy was an amazing host. Would highly recommend to anyone coming to Adelaide. Hospitality was top level and the place it self was very nice.
Bo
2017-01-15T00:00:00Z
Cathy and Bob were so lovely and accommodating! I felt very welcome and the space was also very private and self contained. It was perfect for my time in Adelaide. Very clean, well equipped and easily accessible. Thank you so much for being exceptional hosts!
Katy
2016-12-02T00:00:00Z
Loved the subtle South African influence to the styling of the house. Extremely comfortable. Will stay again.
Nicolle
2016-11-29T00:00:00Z
Thanks so much Bob and Cathy for your hospitality. Lovely space, comfortable bed and everything a traveller could need. Situated in a lovely leafy suburb, with private garden to enjoy. A great introduction to airbnb.
Mark
2017-01-21T00:00:00Z
Hi Cathy & Bob, thank you for sharing your beautiful home with us, the location is perfect with easy access to the city. You have everything in place for a very enjoyable stay & we really enjoyed having a cuppa in our own private courtyard overlooking the garden. The new bathroom is gorgeous & the whole space was lovely & clean & tastefully decorated. The good quality linen & towels along with all the extras catering for different for tastes like GF muesli, assorted breads for toast, butter plus margarine, home made biscuits & the complementary jar of homemade apricot jam were well thought out & makes such a difference when being away from home. Now, the only problem is, any future Air-BNB's will be hard pressed to live up to your standards!! Once again thank you for a wonderful experience. Helen & Paul
Helen
2017-03-18T00:00:00Z
Bob and Cathy's place was very comfortable, cute, and conveniently located near public transit. Cathy was super helpful from start to finish and really was a great host. Would definitely recommend if traveling to Adelaide.
Brittnee
2017-02-25T00:00:00Z
Had a great stay at Ikhaya, 32 East Parkway Colonel Light Gardens. It is in a very pleasant residential area with a bus stop right at your door. The accommodation was clean and well maintained. It has a lovely private garden and well equipped kitchen. I will certainly be back for another stay.
Debbie
2017-02-10T00:00:00Z
Room Type
Entire home/flat
---
Property Type
Bed & Breakfast
---
Accommodates
2
---
Bedrooms
Colonel Light Gardens, SA, Australia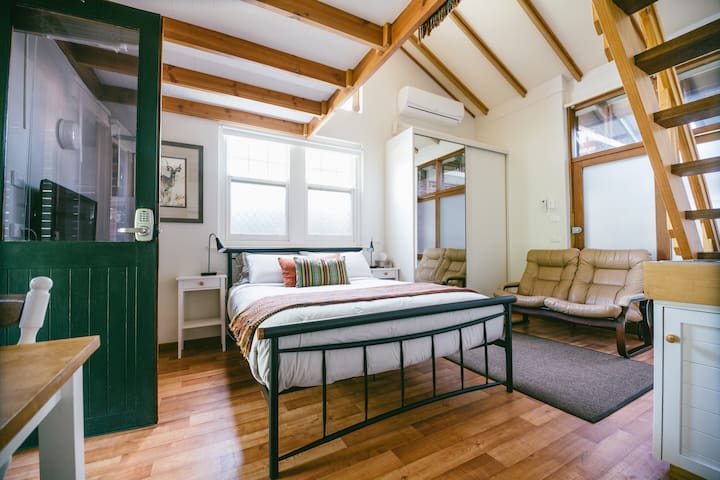 Within walking distance to public transport, free tram ride to the beach and back, ( or you can walk it). Located approx. 10 kilometres from the City of Adelaide, which is serviced by trams every 15 minutes. Within a 12 minute drive to the airport, ( airport pick up is offered for a small fee). Eateries, supermarkets are all within easy walking.
Perfect everything!!!
Sangwoo
2017-02-18T00:00:00Z
Room Type
Private room
---
Property Type
Bed & Breakfast
---
Accommodates
1
---
Bedrooms
Glenelg East, SA, Australia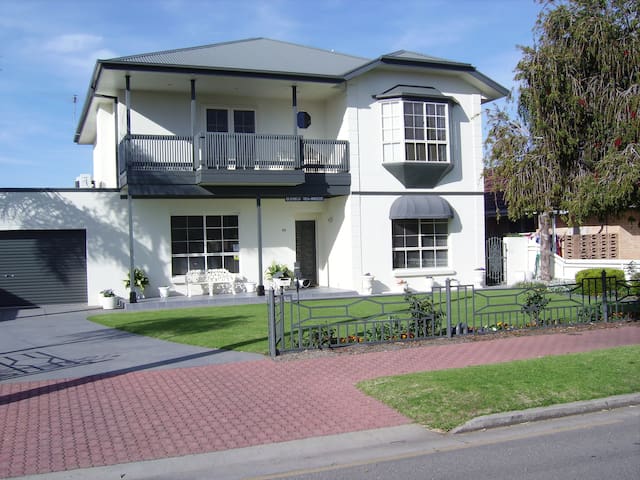 Deco Garden Cottage gives the ability to access easily many iconic Adelaide events and venues, while also offering the experience of living as Adelaideans do, in a tranquil garden suburban environment close to fast and frequent public transport.
Quiet and tranquil garden cottage, convenient to city and Glenelg.
Typical inner suburban Adelaide, close to amenities, beach and city. Easy to get around - walk and bike trails nearby.
Great stay! Great location, helpful and friendly host. Breakfast was also provided. Very thoughtful. Thanks Robert!
Mitch
2016-09-05T00:00:00Z
Quiet, clean and nicely furnished, this place is also perfectly located facing the tram between city and Glenelg beach
Sylviane
2015-12-18T00:00:00Z
Nice and clean! Very close to public transport and the city! Breakfast is provided! Rob is friendly!
Linh
2016-09-24T00:00:00Z
We had a most enjoyable stay at the Deco-garden in Plympton, Adelaide. The flat is well appointed, had good ventilation on warm nights. We enjoyed the garden and the very friendly dogs. The flat is located in a very convenient position.
Gil
2016-01-07T00:00:00Z
Great place and Rob was the perfect host!
Marty
2016-10-15T00:00:00Z
The Deco Garden Cottage was the perfect base for us to explore Adelaide; between the city, Glenelg and southern suburbs. Rob was a fantastic host, he was very flexible and accommodated our needs. Rob was off site when we arrived, however, he had made contact with me prior to our arrival explaining in detail how to access the cottage. Rob was a great host, he was very friendly and welcoming, and at the same time gave us the space to come and go as we needed. I wouldn't hesitate to recommend the cottage to anyone looking for comfortable, secure, value for money accommodation in a central location. We can't wait to stay again!
Amanda
2016-10-09T00:00:00Z
I was staying in Robert's cottage on a work trip, which it was perfect for - very quiet, private, good internet. Robert was away visiting family but his flatmate Dion was lovely. Any issues I had, Robert or a neighbour got resolved ASAP. There's not a lot of cafes around but the tram stop to Glenelg or the city is super close, so it's not hard to jump on - if you don't want to catch tram, recommend the Froth and Fodder if you don't mind a bit of a walk. Great food / coffee. Lovely street with beautiful trees & birds and dog lovers will like Robert's two friendly dogs.
Kate
2016-03-03T00:00:00Z
Lovely cottage, well appointed with everything we needed. It's in a very quiet garden setting. Robert was very friendly , contacting us earlier in the day to let us know how to get in if he wasn't home. The location is brilliant with the tram stop very close. A short tram ride to the city one way or Glenelg the other way. There is a Hotel with very good meals a short walk away. Several restaurants and a supermarket close by as well. We will stay again if in Adelaide.
Greg
2015-12-01T00:00:00Z
Room Type
Entire home/flat
---
Property Type
Bed & Breakfast
---
Accommodates
4
---
Bedrooms
Plympton, SA, Australia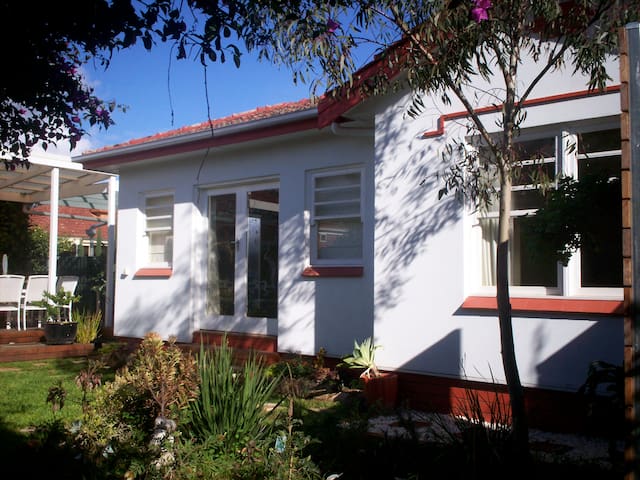 The Gallery Bed & Breakfast is like an apartment and features a private terrace, kitchenette, separate bedroom and free WiFi. Located in Blackwood, it is set in a lush garden amongst tall gum trees and native birds. 20-minutes from Adelaide city centre and some of Adelaide's most beautiful beaches. It is a 40-minute drive from the famous Southern Vales Wineries. Enjoy complimentary wine & chocolates and a refrigerator stocked with gourmet provisions for cooking a delicious breakfast.
Suitable for couples. There are also several steps leading down to the B&B so it is not wheelchair friendly.
The B&B is located close to all shops and facilities in Blackwood Village. Several fine restaurants and take-aways are close by and Belair Country Club is a short 5 minute drive.
Room Type
Private room
---
Property Type
Bed & Breakfast
---
Accommodates
3
---
Bedrooms
Blackwood, SA, Australia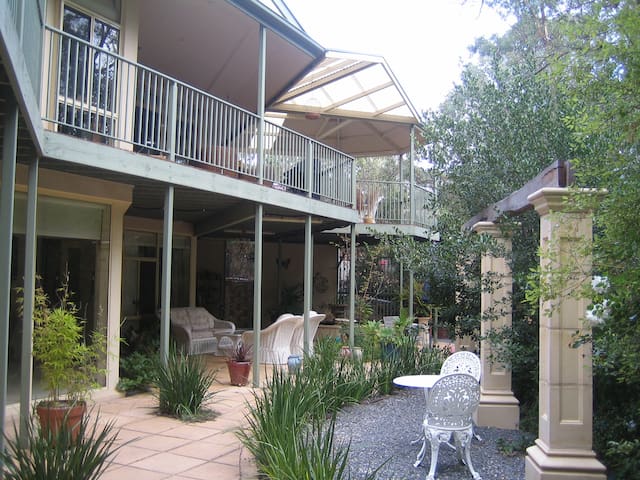 Coromandel House, Hosted BnB, is a luxuriously appointed property with an ambience of antique elegance situated among the delightful bird life and scenery of the Mitcham hills . We take a delight in our own brand of hospitality. 2km to Blackwood shopping centre, cafes, restaurants, golf, national park, botanic garden and gym. 15 min to beach and winery. Close to McLaren Vale wineries and Victor Harbor. 1 hour to Barossa Valley.
Guest Accom. is upstairs 2 B'rms, Bthrm, Sep toilet, Shaving/Powder area with Hand Basin, TV/Guest Lounge(Coffee/tea/Biscuits All times). Common areas downstairs Dining Rm, Lounge, Patio, Gazebo, Garden. Tariff: $125AUD per B'rm per one nights stay BnB. Bed linen, Bathrobes, Towels(Changed daily) supplied. B'fast consists: Fresh fruit salad,Fruit in syrup,Yoghurt, Selection Cereals, Home made bread, Home made jams, Freshly brewed Coffee,Tea + Orange juice. Plus cooked B'fast Bacon,Eggs, Tomatoes.
Blackwood, 2kls A village atmosphere with cafes, restaurants, Gym, Botanic Gdns, National park, excellent golf courses, convenient distance to Major shopping centre, 15mins to beach, 20mins to wineries, 1 hour to Victor Harbour, 1 hour to Barossa wineries. The southern hills of Adelaide is a charming location for your holiday - so close to every amenity.
Wonderful hosts and spacious, well appointed accommodation. Breakfasts were excellent. So much more enjoyable than staying in a nondescript hotel. Beverly and Sam were a lot more professional than some AirBnB hosts. The sea view was an unexpected bonus from the guest lounge.
Dean
2017-01-19T00:00:00Z
Beverly's house is situated on one of the most beautiful private streets in town. It's quiet and very safe and only about 15 min drive from the water. My friend and I stayed in a private room upstairs with a separate bathroom. The place was clean and felt home-like because the hosts maintain the house as their primary residence. They live downstairs. We also had free wi-fi which was not available in the rooms upstairs but we were able to have it running in the main dining area downstairs. Overall, Beverly's private rooms are very lovely. I would recommend them to anyone who seeks safe and quiet experience.
(EMAIL HIDDEN)
2017-01-21T00:00:00Z
It is amazing day with lovely Beverly and Sam in their wonderful house. We even don't want to leave. Both of beverly and sam have good taste, they told us so much interesting things. They offer us a big breakfast as well. The house is so amazing and I love it so much, you will see beautiful decorations and furnitures at everywhere even a tiny corner. Thank them so much. The only pity is we just stay for one night here. Highly recommend if your a design lover!
yueran
2017-01-02T00:00:00Z
What an incredible place - absolutely loved our stay here, the decor was so beautiful and impressive, Beverley and Sam's hospitality was outstanding - they are a true credit to Airbnb.
Lisa
2017-03-19T00:00:00Z
A true B&B which is not that common today. Wonderful home cooked breakfast and very comfortable living. A couple of days spent at Bev and Sam's home will enrich your lives.
Nigel
2017-01-06T00:00:00Z
Splendid! Beautiful garden, luxury internal deco, beautiful linen, most of the home deco were hand made by Beverly, even the woodcraft of the grandfather clock. All surprisingly pretty and fine! Breakfast was unexpectedly nice, homemade fresh bread, Jam, yogurt and coffee! Beverly and Sam were very warm and welcoming, showed us the house and provide well prepared tea and milk as refreshment. Make us really feel like home. Location is great, not far from central Adlaide, 20 mins drive, house was very quiet, walkable to some spot lookout spot can oversee the city. Highly recommended to couple and family travellers! Thank you Beverly and Sam for giving us such good experience!
Laura
2016-11-25T00:00:00Z
Room Type
Private room
---
Property Type
Bed & Breakfast
---
Accommodates
4
---
Bedrooms
Craigburn Farm, SA, Australia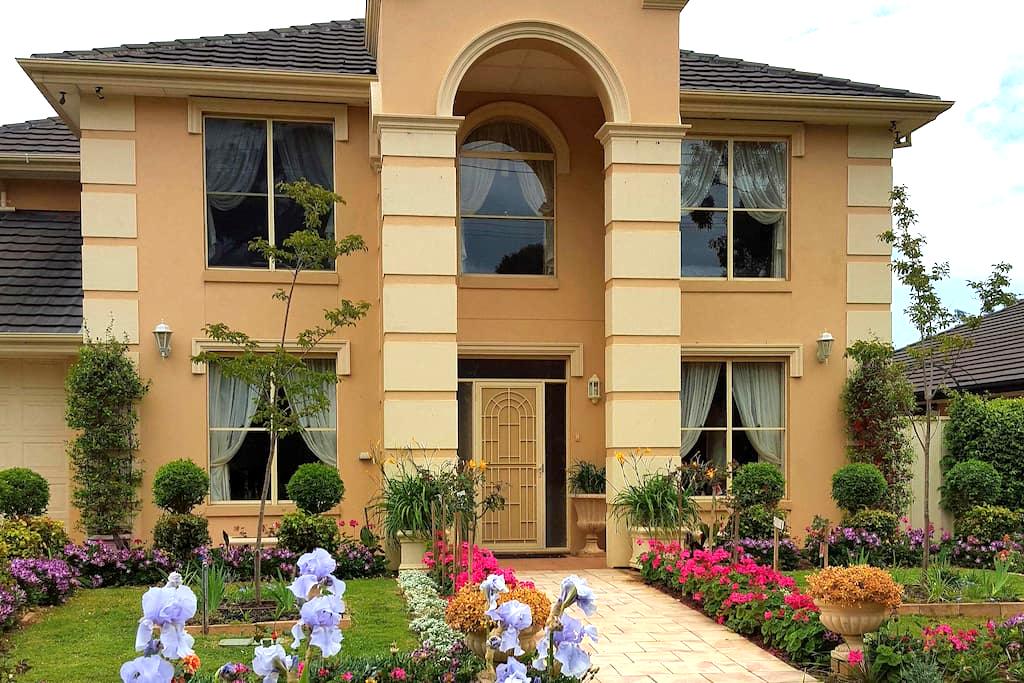 My modern double story house offers down stairs, the large comfortable, bright queen bedroom furnished with modern furniture with a walk-in wardrobe and an ensuit. Close to public transport, shops in a nice and safe neighbourhood.
My modern double story house offers down stairs the large comfortable, bright queen bedroom, furnished with modern furniture with a walk-in wardrobe and an en-suit. Fitted with luxury Egyptian cotton bed linen, towels, queen bed and basic toilette. Close to public transport, shops in a nice and safe neighborhood, with friendly host. The location is ideal for business trips, short holidays or for longer stays for travelers wishing to get to know Adelaide and environs. Access to the pantry; help yourself to supplies to make your own breakfast. Your laundry can be done for you or you can do it by yourself, if you prefer. Alfresco and a small garden outside, another spot where guests can relax and enjoy. Guests can count on assistance /conversation/ orientation to the environs or left alone. All facilities are exceptionally clean and of a high standard. Off street parking available. Host occupy a privately located upstairs bedroom with their own bathroom.
My location is close to all conveniences, public transport, shops and cafes. Walking distance to local shopping for all your supplies. 15min walk to the tram to CBD, Glenelg, Show Ground and Entertainment Centre. Several buses (H(PHONE NUMBER HIDDEN)) are within walking distance from the house and they are connected directly with the most popular destinations in Adelaide. About 10 min by car to CBD, The Bay and Adelaide Airport.
Beata is an amazing and very friendly host! She made sure our stay is very comfortable. She showed us around and made sure we have enough options to eat in the fridge/kitchen. The house is beautiful and very clean. Neighbourhood is really nice and public transport is walking distance. I would 100% recommend everyone to stay at this place in Adelaide.
Sakshi
2015-02-17T00:00:00Z
Beata was a very welcoming and helpful host. Her house was immaculately presented and I had a very comfortable stay.
Katherine
2014-10-26T00:00:00Z
The host canceled this reservation 66 days before arrival. This is an automated posting.
Blaine
2016-07-31T00:00:00Z
The host canceled this reservation 65 days before arrival. This is an automated posting.
Jennifer
2016-01-26T00:00:00Z
OUTSTANDING! Beata's modern, well-appointed chic, spacious home is of the highest standard! Despite being away at the time Beata made sure we had a well stocked fridge of healthy items, and was a great communicator. We felt cared for, like her wonderful dwelling. It is MUCH BETTER than it looks in the photos! We cannot recommend her place more highly. Again I say, outstanding.
Sonia
2015-01-01T00:00:00Z
Room Type
Private room
---
Property Type
Bed & Breakfast
---
Accommodates
2
---
Bedrooms
Camden Park, SA, Australia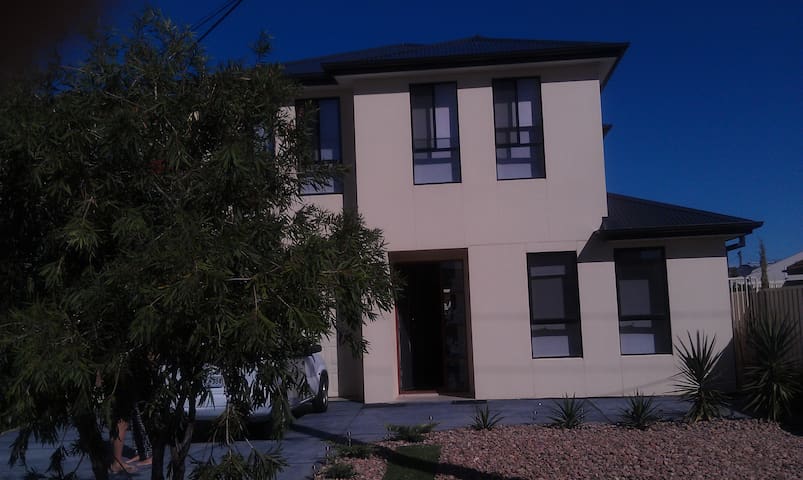 Family hosted B&B located downstairs, One room with a queen size bed, own bathroom, lounge & dining. Great location, close to tram, shops, beach & airport.
Leon was an exceptional host, especially grateful for his offer of pick ups and drop offs to places. Leon made my stay in Adelaide so much easier because of his generosity. I would highly reccommend to stay at this lovely home, which is walking distance to the Glenelg beach and terrific shopping hub. Thanks agian Noel for being a top host. Much appreciated.
Marion
2016-10-15T00:00:00Z
The host canceled this reservation 10 days before arrival. This is an automated posting.
Tom
2015-11-18T00:00:00Z
It was a delight to stay with Leon and his lovely wife Jackie. We were greeted on arrival with an ice cold drink which was very welcome on a 40 degree day! Leon allowed us to check in early which we really appreciated as the heat was almost intolerable. Our room was ready for us with everything we needed including air conditioning, with the bathroom right next door and the living room and kitchen close by. Breakfast is served in the dining room with cereal, juice, toast, tea and coffee served with a smile by Leon. The house is three blocks from Glenelg Beach, 10 mins walk to cafes, bars and shops. The famous Glenelg Tram is at the end of the street to take you into downtown Adelaide with buses just around the corner. A perfect location for visiting some of Adelaide's best beaches. Leon has a wealth of local knowledge and is very willing to share it with his guests, he loves to have a chat but without being intrusive. We loved our stay and as frequent visitors to Adelaide we look forward to staying next time. Highly recommended.
Jenny
2015-01-05T00:00:00Z
Leon and Jackie really made me feel welcome and comfortable in their home which was in such a great location - perfect for Jetty Road and the beach, and also for catching the tram into Adelaide. With lots of helpful tips, Leon was a great source of local knowledge, always friendly and welcoming, and keen to ensure I made the most of my stay. The house was very clean and tidy, quite traditional in layout and style. The double room is lovely and bright, sunny and spacious. I stayed for two and a half weeks and had a great time. If I have the chance of a return visit to Adelaide, I would be more than happy to stay here again.
Kim
2015-10-26T00:00:00Z
Leon has refined the Glenelg Sea Breeze experience to a gold B&B standard. He did everything and more to make us feel welcome, and the complimentary continental breakfast was most appreciated. Spotlessly clean and with all the touches of a professional hotel service. We would certainly stay again - definitely worth it.
Rey
2016-11-19T00:00:00Z
Room Type
Private room
---
Property Type
Bed & Breakfast
---
Accommodates
2
---
Bedrooms
Glenelg East, SA, Australia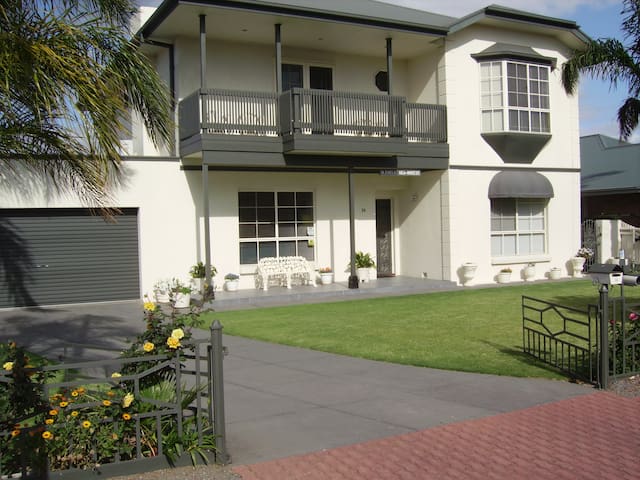 Kingston Park - Airbnb
:
Average

4.92

out of

5

stars from

395

guest reviews
1

–

18

of

57 Bed & Breakfasts
Enter dates to see full pricing. Additional fees apply. Taxes may be added.