Basic amenities, kitchenette, refrigerator, minibar, coffee machine, kettle, DVD player, stereo, toilet, small. Sink, shower for up to 3 people, sofa, terrace, suitable for hikers, bikers, pilgrims, laundry, cleaning incl.
comfortable and affordable accommodation for adventurers in the cabin who want some time off luxury. For max. 3 people, simple equipment. Good for pilgrims, hikers, cyclists, bikers, toilet, small sink, simple shower, small kitchenette, fridge-freezer (Minibar), sink, microwave, kettle, coffee maker, dishes, DVD player, stereo egg cooker, grill pan, Terrace, Sheets, towels, cleaning inclusive
Beate was an incredible host. The cottage was perfect for a backpacker like me because it felt like home. When I got my dates mixed up and didn't have a place to stay, she immediately started calling to find me another place to stay. There is nothing but kindess in her heart. Stay at this place!
Emily
2015-07-08T00:00:00Z
If you travel to the Koblenz area... This is the place to be! Wonderfull spacy cabin with good beds, kitchen with a roomy fridge situated in a lovely garden with...a swimmingpool! Lovely host who grants you your privacy. Everything you need is in the cabin, including cold drinks in the fridge for very friendly prices. I'm dure, this will not be the last time I've been here!!!
G
2015-08-15T00:00:00Z
Beate's place was fantastic. A very cozy spot with a great location. She was very welcoming and friendly and even let us swim in the pool. She was very helpful in suggesting places to eat.
Anthony
2016-06-25T00:00:00Z
It's a lovely house in a lovely small town. The beds are really comfortable although the unconvinced outside shower. Anyway, we really enjoyed the time in this lovely cottage.
Yuanchi
2015-06-28T00:00:00Z
I highly recommend it. Very, very nice place.
Pawel
2014-09-27T00:00:00Z
Beate was a great host. We stayed in a lovely wooden hut in her glorious garden which had all the amenities we needed.She had even stocked the fridge! The village is close by and has terrific architecture . We highly recommend you stay there!
Jane
2014-06-15T00:00:00Z
We had a very pleasant stay in Rhens... Our little hut is cosy and beautifully located... With Beate as a very friendly and helpful host, this place comes highly recommended...
Johan
2015-09-10T00:00:00Z
We got a nice spot to ourselves in Beate cabine house. It would be the best place to stay if there was a bathroom included.
Ron
2015-09-21T00:00:00Z
Room Type
Entire home/flat
---
Property Type
Cabin
---
Accommodates
3
---
Bedrooms
Rhens, Rhineland-Palatinate, Germany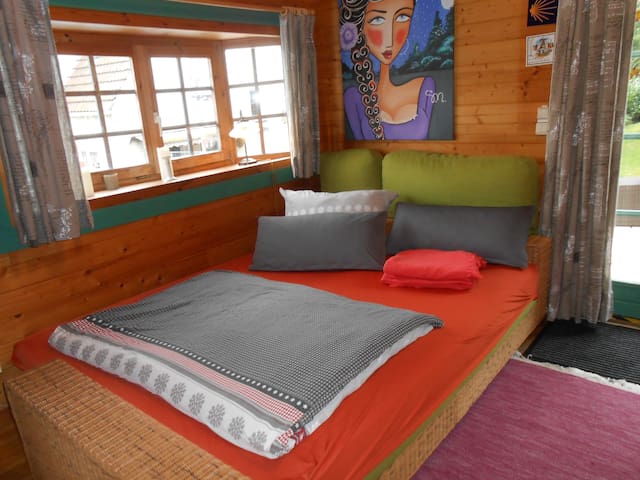 Meine Unterkunft ist in der Nähe von Wanderwegen, dem schönen Bad Ems. Ein Radweg an der Lahn grenzt an den Camping-Park. Auf der Lahn kann man auch Kanu fahren. Du wirst meine Unterkunft lieben wegen Gemütlichkeit, der Ausblick und die Lage. -Wlan gegen Gebühr erhältlich -Handtuch-, und Bettwäscheset für 15€ pro Person ausleihbar -Wifi is available for a Charge -you can borrow a set of towels and bed linen for 15€ per person
Nice cabin and beautiful scenary!
Laura
2016-11-06T00:00:00Z
Stefan is a friendly and cheerful host. The cabin is cozy and comfortable. We would definitely to visit again.
Jing
2016-07-24T00:00:00Z
Schönes kleines Häuschen ! Mit dem Auto ist man in 15min direkt in Koblenz. Super Ausgangspunkt für viele Ausflugsziele in der Umgebung !
Marcus
2016-09-20T00:00:00Z
Room Type
Entire home/flat
---
Property Type
Cabin
---
Accommodates
4
---
Bedrooms
Lahnstein, Rheinland-Pfalz, Germany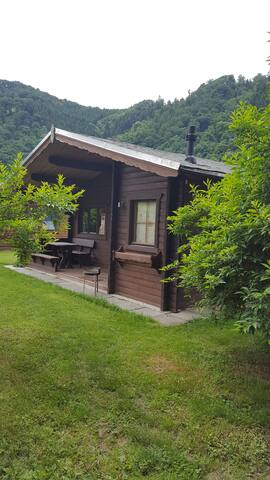 Ruhiges Naturerlebnis:Gemütliches, kleines Blockhaus in Hennef (Sieg), eingebettet in wunderschöne Natur direkt neben meinem Pferdehof "Gestüt Halberg". Geeignet für Natur-liebende Paare, Familien mit Kind, Sportler, Wanderer, Tier-Liebhaber. In der Nähe: Ort "Stadt Blankenberg" (4km), Kleinstadt "Hennef"(4km), Bonn(25km ), Köln(35km). Im Umkreis: herrliche Fahrrad/Wander/Reitwege,Bademöglichkeit in Sieg und Allner See. Haustiere willkommen! Bettwäsche&Handtücher auf Wunsch möglich. Bahnhof 2 km
In einzigartiger Naturlage aber stadtnah
Ich bin bemüht die Werte der Natur und den Tieren sorgsam umzugehen
We had a great stay in the little blockhause. We arrived in the dark and it was great to see all the nature around when we woke up. All comfort was present. A nice kitchen, walking maps available, a cosy living room,... I would advice everyone to go there, especially if you like hiking. Thanks for the hospitality Eva!
Pieter
2016-08-15T00:00:00Z
Lovely little house in a beautiful environment! Everything you need is in there. A real stunning place at the edge of the woods where you can make long walks or visit nearby cities as Bonn or Koln. We got a warm welcome from Eva and all communication went very well. It can get quite cold in the house but once you light the wood stove (there is no central heating) it gets cozy and warm very quick. We hope to come back here!
Marielle
2016-10-23T00:00:00Z
Once again a pleasure! Will come again soon.
will
2016-12-30T00:00:00Z
We had a lovely stay at the little cabin. It's even nicer in real life than in the pictures. Everything we needed was there. Eva had lit the fire for us upon arrival, so it was nice and warm. It's a really nice location, in the middle of nature, but also close to scenic towns and big city's like Cologne and Bonn.
Maartje
2017-02-09T00:00:00Z
It was ok! A little bit smaller than expected but ok! It's in nature and I think in the spring or summer it would be great!!
Sarie
2017-03-03T00:00:00Z
The apartment is placed in a little wooden house in a very nice, calm neighborhood (outside the city, but with a good connection to Koln - by car and by train). Eva is a nice, worm person, helpful in everything we needed. She loves animals: horses, ships and dogs, so living at her we had a great opportunity to commune with nature. The little house is placed next to the beautiful forest and river - great place for long walks. We recommend this place for everyone!
Jakub
2016-07-29T00:00:00Z
We loved our stay in the Blockhaus. It is perfect if you want some peace and quiet and love having nature and animals around you. The cabin is awesome and provides everything you need: awesome bath, complete kitchen, comfy bed+furniture. Eva is very welcoming and can provide you some great tips for activities in the area (the cabin also contains a lot of maps and guides about the area). Long story short: perfect listing for a quiet and romantic getaway with your significant other.
Laurèn
2016-08-11T00:00:00Z
We received a warm welcome and very much at home. the Blockhaus is perfect and exactly how it is represented. beautiful countryside and very cozy. we shall def stay again so please dont too many people read this ;-)
will
2016-08-08T00:00:00Z
Room Type
Entire home/flat
---
Property Type
Cabin
---
Accommodates
3
---
Bedrooms
Hennef (Sieg), Nordrhein-Westfalen, Germany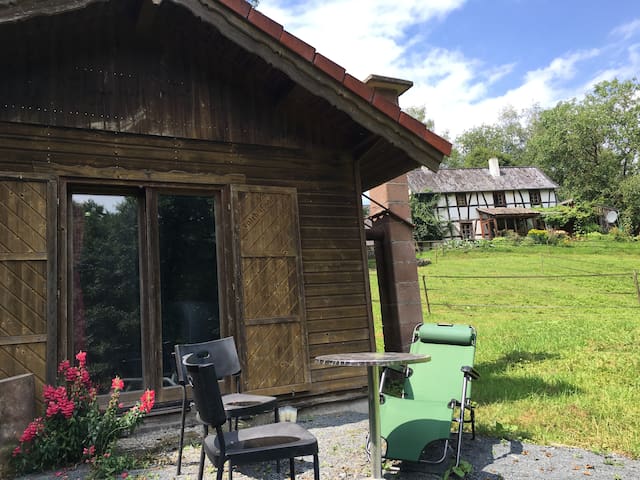 Our lovingly furnished detached Jägerhütte-House is conveniently located in the midst of the Seven Mountains. Sights on the Rhine, the Bunde City with museums and UN agencies are quickly accessible. Semi-natural location, many sporting opportunities, the terrace with barbecue facilities offer something for everyone. Our accommodation is good for couples, lone adventurers, business travelers and families (with children). Furry friends are welcome on request.
Our love of nature is reflected in many ways again. This makes our house a cozy retreat, either to make holidays or leave after a busy day unwind.
There are very few neighbors most of whom are working during the day anyway.
The photo's don't do justice, the cabin was much nicer than expected! Everything is perfect, nice cosy beds, complete kitchen, great garden with terrace and play area for the kids. Nice area with woods and restaurants nearby. Lovely friendly hosts, who even left cold drinks in the fridge to welcome us! Couldn't be better!
Babat
2016-08-09T00:00:00Z
We had a wonderful stay at this location! Michaela and her husband are very kind! Everything was clean! An excellent location to discover the nature and to have some beautiful walks Highly recommend!
Lennert
2017-02-06T00:00:00Z
Michaela was an amazing host, very pleasant and helpful. Lovely (not so) little hunting lodge that we stayed in was very nice, cozy and well equiped. The host made sure to warm up the house every day, and was there in case we needed anything. The location was very convinient, easy to get to and from Köln and Bonn, but set in a quiet surroundings. A lovely place to stay!
Srdjan
2017-03-25T00:00:00Z
everything was perfect!! It's best of best I won't forget everything of this place and Michaela and her family forever Thanks!♡♡
은진
2016-12-25T00:00:00Z
Der Aufenthalt war sehr angenehm und entspannend. Die lage nahe dem Wald ermöglichte es uns sofort mit unseren Mountainbike Touren zu starten. Michaela ist eine nette und freundliche Gastgeberin und auch die Nachbarschaft ist ruhig und immer freundlich. Würden die Hütte jeder zeit wieder nehmen.
Patrick
2016-09-13T00:00:00Z
Kleines gemütliches Häuschen in Ruhiger Lage, die Nähe zum Siebengebirge ist ideal zum Wandern oder Mountainbiken. Gute Einkaufsmöglichkeiten sind gegeben, das Inventar ist neuwertig rustikal eingerichtet. (Jägerhütte) Die Gastgeber sind freundlich und wir haben uns dort wohl gefühlt.
Mar
2016-07-15T00:00:00Z
Wir wurden von Michaela sehr herzlich empfangen und haben uns von der ersten Minute an sehr wohl gefühlt. Meine Tochter durfte den Garten und die Spielgeräte mitbenutzen .Unser Hund war im Haus und Garten auch ein gern gesehener Gast. Das Häuschen ist sehr gemütlich eingerichtet und es ist alles vorhanden was man braucht. Es ist sauber und gepflegt. Wir kommen gerne wieder und werden es weiter empfehlen.
Melanie
2016-09-04T00:00:00Z
Wir wurden freundlich am Bahnhof empfangen und abgeholt. Auf dem Weg hat Michaela uns direkt gesagt, wo in der Nähe die örtlichen Supermärkte etc. zu finden sind und auch auf die vielen Einstiege zu den Wanderruten aufmerksam gemacht. In der Hütte selbst hatten wir direkt eine Flasche Wasser auf dem Tisch stehen und viele andere Aufmerksamkeiten wurden für uns hinterlassen. Wir konnten uns jederzeit bei Problemen melden und bei Fragen oder Anregungen wurde sich sofort darum gekümmert. Die Nachbarschaft ist sehr ruhig. Zu einer Seite hat man die Ortschaft selbst (Supermärkte, Apotheken, Gaststätten sind in weniger als 10 Minuten fußläufig erreichbar) und zur anderen Seite das Siebengebirge, das sich selbstverständlich hervorragend zum Wandern eignet. Die Unterkunft war mit allen essentiellen Haushaltsgegenständen ausgestattet und sehr sauber. Wir kommen gerne wieder!
Lukas
2016-07-30T00:00:00Z
Room Type
Entire home/flat
---
Property Type
Cabin
---
Accommodates
4
---
Bedrooms
Bad Honnef, Nordrhein-Westfalen, Germany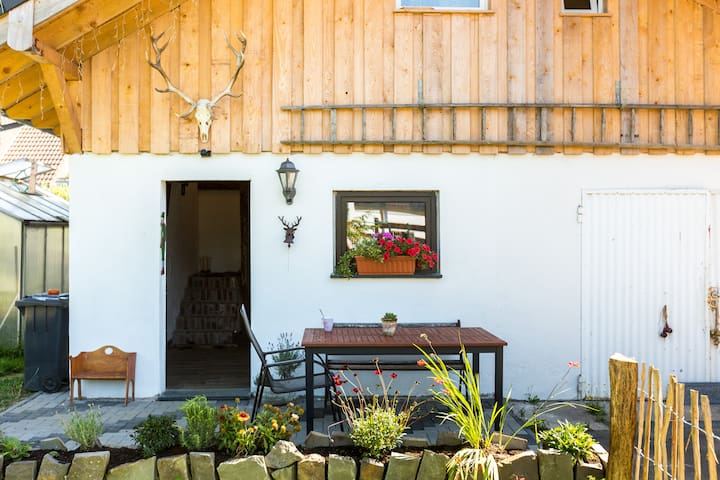 Our cozy log cabin is the ideal place to relax. Surrounded by trees, it is near our private house. We offer room for 2 people with a Schlaf.- or living room, Kitchen and bathroom with shower. In the summer months you have the possibility, in our to cool the pool.
We had a perfect getaway wekend at Thomas his cabin! We immediately felt welcome when we arrived cause the fire was burning and a bottle of cold Cava was in the fridge. Thomas was super-friendly and explained everything. The house is very cosy and warm and of course can go from the bar to your bed in two steps. What more does a person need :-) The environment is also beautiful. Lots of woods, hills and lakes to make endless walks. The little village in which the cabin is situated is a bit dull without much charm although there are two restaurants and a supermarket. Overall we had a great weekend! Marleen
Marleen
2016-12-18T00:00:00Z
Thomas and his family were fantastic hosts. We felt very welcome in the cabin. Thomas showed us around when we arrived. Everything was perfect for us. The cabin is so cozy. A nice wood stove inside and a very big deck outsider to BBQ. There's more than enough space in this cabin. Clean bathroom and Kitchen. The area is very Nice. Loads of things to do. Bohn and Koln are not to far away. There's a climbing park and a Wisent ranch nearby. More than enough food shops to chose from,.. We would definitely visit again Thank you so much Thomas and Lutz!
Joke
2016-07-27T00:00:00Z
Thank you for a wonderful stay. Thomas is a very friendly and supportive host. We very much enjoyed our weekend in the cabin surrounded by the forest environment.
Lee Sebastian
2017-03-26T00:00:00Z
This place is just perfect!! A quiet place in the nature (possibilities to go for a Walk, we saw some deers), the place is near all facilities (bakery, Aldi, grocery stores,...). Thomas hosted us perfectly (the fire was on, a Bottle of cava)! The place is very clean and you have everything you need (for cooking, to play some music, dry your hair...) Thanks again, we had a wonderful time!
Caro
2016-12-29T00:00:00Z
We had a great time at Thomas place! It is really as nice as in the pictures. Thomas is a very hospitable host and was flexible with the checkout. The place was clean and nice and warm and cozy.
Sander
2017-02-19T00:00:00Z
You want a restfull, quiet holiday? Then you're good here. Our say with the family was very nice and good. The facilities are good and all you need. There where even fireflies next to the cabin and we were amazed by them. The pool was a little to cold for the weather, but big enough if you want to take a dip in it. The nature around the cabin is beautifull and there is a lot to see.. so enjoy!
Esther
2016-07-05T00:00:00Z
We had a wonderful stay over the weekend, Thomas and his family were very kind and inviting; The cabin was very warm and cozy even though it was pretty cold outside during our visit. It is surrounded by beautiful villages and there are areas where you can hike and visit. It's an idyllic spot for relaxation, i would highly recommend this to anyone else! Thanks again Thomas and his family!
snowy
2016-03-06T00:00:00Z
We had a great time staying at Thomas' cabin. Thanks to the great weather we enjoyed sitting outside on the porch enjoying beautiful sunsets and the Sekt that was in the fridge! The cabin was very clean and provided with everything we needed. We felt very welcome and had a great time exploring the area around. Beautiful for hiking. Definitely consider going back there.
Maarten
2016-05-09T00:00:00Z
Room Type
Entire home/flat
---
Property Type
Cabin
---
Accommodates
2
---
Bedrooms
Reichshof, North Rhine-Westphalia, Germany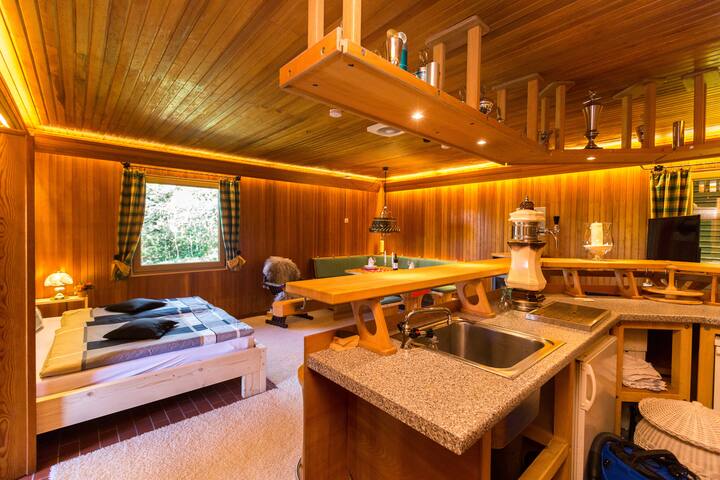 Gartenhause / Lodge auf dem Land. Endlich mal entspannen? Sommergartenhaus mit Schlafcouch, Küche und kleinem Bad.
auf dem Land
auf dem Land
Room Type
Private room
---
Property Type
Cabin
---
Accommodates
1
---
Bedrooms
Mutterschied, Rhineland-Palatinate, Germany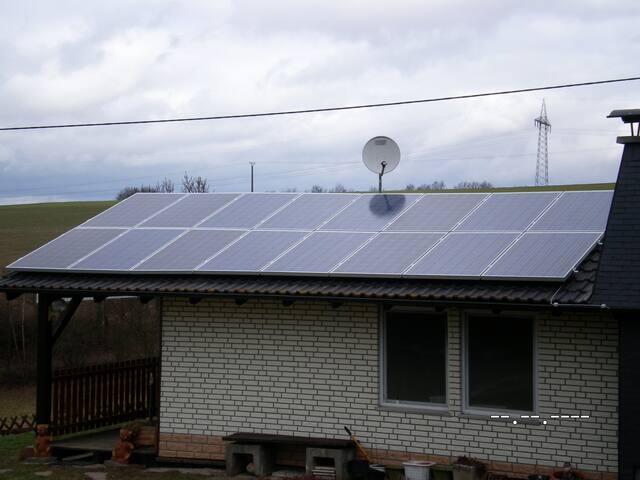 Koblenz - Airbnb
:
Average

4.89

out of

5

stars from

247

guest reviews
1

–

6

of

6 Cottage Rentals
Enter dates to see full pricing. Additional fees apply. Taxes may be added.