Surrounded by famous landmarks and great shopping, you are embedded in the every day energy that makes Tokyo live and breathe! What's most amazing is that you are able to see how the local folk go about their daily lives as if you are one of them!
Separate, Japanese style loft allows room for additional traveler or extra space during your stay. Loft creates an open air space that other rooms don't offer. This beautiful traditional, minimalist Japanese Style space comes with a full size bed, kontatsu (Dining Room Table), 1 TV, Washer, Wireless Buzzer with Security Camera, Microwave, Refrigerator, Pocket Wi-Fi, Hairdryer, and Shampoo. The minimalist feel of the space gives guest a feeling of uninhibited relief, as if they entered a new dimension of time and space. Enjoy the space, as it allows you to reflect, meditate, and enjoy your experience in Japan away from the hustle and bustle of the busy areas of Tokyo. Yet, you are only a 10 minute train ride away from all some of the most popular areas have to offer. Enjoy the secluded, quiet neighborhood with its unique restaurants and shops or hop on the Metro and be in Shibuya in 10 minutes, where you can enjoy one of the world's most fashionable districts, packed with shops, restaurants, and of course people!
Because Sakura-shinmachi is located on a road "Ooyamado" that goes back hundreds of years, you can find some shrines with a long history . " Sakura" means cherry blossom,and the sakuras of this town are in full bloom in the late spring . Sakura-shinmachi is a very friendly neighborhood , it is well-known as the location of "Sazaesan " ,one of the most famous cartoon characters in Japan. Although it has no big shopping center,it boasts a lot of great restaurants and other small shops loved by residents. We heartily welcome visitors from all over the world !! The meaning of Sakurashinmachi in Japanese is "New town of cherry." As the name suggests, the cherry blossoms here in Spring is so magical that it is difficult for you not to fall in love with this town if you visit here and watch the sea of cherry blossoms transforming the whole district in pale pink like a three-dimensional landscape painting. As well as being the town of beautiful cherry blossoms, the district is also famous as the home of Sazae-san. The human touch and smiling faces characterized by the world of Sazae-san is present all over the town. Visit Sazae-san Street and you will feel the local hospitality at its finest. One of the most notable places to visit in Sakurashinmachi is Nomigawa (Nomi River). It is the best spot for cherry blossom viewing. The promenade along the river is lined by Yoshino cherry trees, known as the most beautiful cherry blossoms among the various cherry families. Nomigawa is one of the very few natural spring water river in the central part of Tokyo. Komazawa Water Station was built during Taisho period as the public water station of Shibuya-cho (former Shibuya ward). There is a monument inaugurated in 1927 commemorating the opening of the waterworks. The water station is still in operation and serves water to some parts of Setagaya, Meguro and Shibya wards. The former residence of the Oba family who had succeeded the title of the local magistrate of 20 villages of Setagaya-ryo in Hikone-han since the middle of the Edo period. On the premises there is an archives museum where the history of Setagaya region from primitive ages to the present is exhibited. Kinuta Park was originally designed as a part of the Metropolitan Open Space Program in 1940. It is one of the major metropolitan parks in Tokyo. 100 acre (40 ha) of green belt is an oasis for local families. Located next to Kinuta Park, Setagaya Art Museum hosts various art exhibitions as well as events such as concerts and lectures through the year. The ground floor is for exhibitions and the upper floor is for permanent collections. Event Schedule February - Early Spring Food Festival (good for apricot blossom viewing) April - Sakura Festival September - Nebuta Festival (Japanese traditional Summer festival) October - Halloween Festival November - Autumn Food and Product Festival December - Cherry Card Year End Festival and Grand Lottery Both the district and individual shops host other events. Please check the local news or flyers for more details.
Very clean and nice place.
Sonja
2016-07-24T00:00:00Z
The host was very responsive and answered all our questions in a timely manner. The apartment is modern, clean and comfortable. The location is great also.
Sachiko
2015-12-24T00:00:00Z
Nice place to stay in Tokyo
Aryo
2017-02-16T00:00:00Z
Izumi's place was exactly as pictured and perfect for 2 people. It is a very cozy apartment with convenience stores and restaurants nearby (New Old Cafe right around the corner was really good) and easy access to Shibuya/the rest of Tokyo via the subway or bus. It was about a 10 minute walk to the subway station and the bus to Shibuya was across the street. Everything in the apartment was clean when we arrived (bedsheets, towels etc.) and the wifi worked well. As others have mentioned there is no elevator which means carrying your luggage up four flights of stairs. If you plan on doing laundry I would recommend brining laundry detergent, or buying some there as there was none in the apartment. Izumi was a very helpful host checking in with us during our stay and answering any questions we have throughout the week. I would highly recommend staying here!
Amelia
2017-03-19T00:00:00Z
Convenient.
Cherry
2017-01-14T00:00:00Z
First and foremost Izumi is very nice and very polite host. She have given me a precise direction on how to go in her apartment from Narita Airport. I am very happy and satisfied that i have chosen this apartment. The room is good for 2-3 travellers. Very nice for couples who wants to get away from the noise of Tokyo. The neighborhood is fantastic. Very serene location and very quiet. There is a bus stop going to Shibuya in front of this apartment so its so easy to get along if you want to go in the city anytime. I enjoyed my 6 nights stay in this lovely apartment. I have to detail the things i like about her apartment: 1. Spotless Clean as in super clean!!! 2. Heated Room / Aircondition work very well 3. Beautiful heated toilet seat (amazing and new toilet seat your bum wont get cold when you sit here) and hot shower works very well. Has a bath tub too. 4. What you see in picture is what you get. 5. The loft has bed and many pillows too, has towels and toiletries too. 6. Kitchen stove and utensils are provided- ofcourse they are clean! 7. Has TV and Fridge works very well. 8. Has washing machine you can wash your clothes anytime. 9. Wifi works very well- infact i find the wifi above average. No logging. 10. There are nearest convenient stores like lawson and 711. 11. Overall i am very satisfied!!! Above and beyond!!! I clean everything before i left in her apartment. Its very embarassing not to clean it after i used it. This is a home not a hotel and even i paid the cleaning fees i dont mind cleaning in respect to her apartment. :) I will come back to this place again!!! Thanks Izumi!!! It was nice meeting you!!!
Ryan
2017-03-11T00:00:00Z
Don's place was great! He keeps it very, very clean, and provides you with everything you'll need while staying there. He even let us drop off our bags before check-in time, which was a big help because we had a soccer game to go to! I would recommend Don's place to anyone hoping to stay in the Setagaya area.
Daniel
2016-04-15T00:00:00Z
It's good
Kenny
2016-12-09T00:00:00Z
Room Type
Entire home/flat
---
Property Type
Loft
---
Accommodates
2
---
Bedrooms
Setagaya-ku, Tōkyō-to, Japan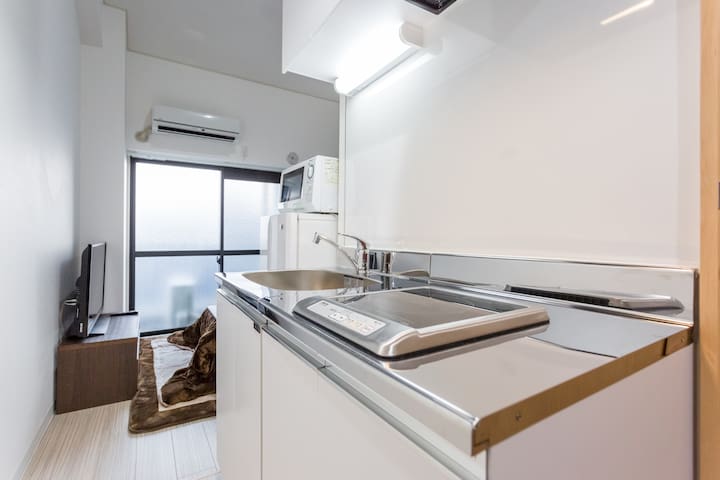 Tokyo - Airbnb
:
Average

4.5

out of

5

stars from

41

guest reviews