Enter your check in date in the format dd-mm-yyyy
Enter your check out date in the format dd-mm-yyyy
Listings you can book without waiting for host approval.
5 Cottage Rentals
· Kure Beach
5 Cottage Rentals
· Kure Beach
Enter dates to see full pricing. Additional fees apply. Taxes may be added.
This is a small cabin at the back of our property that has good privacy from the main house. It's a cozy space, but with a King size bed and a loft it easily accommodates 4 people, and we have packed in many more than that! Very close to the beach.
The cabin is rustic but well equipped, with a KING size bed, fold-out futon, small fridge and sink area with a coffee maker, as well as a private bathroom. The kitchen isn't really set up for cooking, but we have a teapot for hot water and one of our first guests gifted us a small grill, so outdoor cooking is totally available. The KING bed is very comfy, and the futon has a thick 8" mattress, and the space can be arranged as a sitting room or as a bedroom studio. There is an additional futon in the loft that is nice for lounging or birdwatching. There is plenty of onsite parking on the property, and you will have open access to the large backyard and fire pit area, basketball court and climbing rope! There's also more than enough room to set up a tent or two outside if you're feeling adventurous. The blueberry bushes next to the cabin are in full swing, first come first served! We will be in and out of the main house and are generally around to help with any questions you may have about your stay. Happy to help build a fire in the pit out back or recommend stuff to do in town.
We live in a beautiful wooded neighborhood with large open spaces. Great for a morning walk or a jog with the dog. We live on the corner of two streets, both of which end at the intercoastal waterway. You'll definitely want a car for getting in and out as there is no public transportation in the area. Taxis are readily available for taking you to the beach or to downtown Wilmington for about $10-$20. We are not directly on the water, but access is fairly straightforward. You can walk either left or right out of the driveway and soon you will hit the waterway with some really nice views. The neighborhood is popular for early morning walkers.
The cabin was great - big (could easily sleep six) and clean and nicely kitted out with gear. We didn't meet David, but he has a wonderful property! We enjoyed the fire pit and all the windows in the cabin.
Jane
October 2015
David was a wonderful host. He was very friendly and welcoming. The cabin was awesome - very clean and a perfect place for a weekend at the beach. We had a restful and wonderful girls weekend and were able to spend some great time on the beach and kayaking. We definitely want to come back. Thanks David!
Hannah
August 2015
Our stay at this magical little cabin was more than we expected. The pictures do not do this place justice. The inside makes you feel like you're in the middle of the woods, there are sky lights on the ceiling that let you look at the stars at night and the futons are surprisingly comfortable. We were looking for a camping/ beach experience, with bathrooms and AC and this definitely delivered. We brought a small propane grill and cooked our meals outside. And I truly can't say enough good things about this place. The only suggestions I have is if you are looking to cook, bring supplies and bring bug spray/candles if you want to be out at night, that's it, everything else was perfect.
Jenna
July 2015
The cabin is such a lovely place. Everything inside looked exactly like on the pictures. We were only two people staying there, but there is definitely enough room for 4 people. One night we used the small BBQ outside the cabin, it's a really quiet place, perfect for relaxing. David's house is actually on the same property, so in case you need anything, someone's there, as indicated on the welcome sheet we found in the cabin upon arrival. The location between Wilmington and the beach is very convenient, really nice neighborhood.
Doris
August 2015
Loved this place! The cabin was beautiful and cozy, perfect location, David was wonderful. Loved the atmosphere! Felt very at home!
Hailey
August 2015
Wonderful experience. Beautiful cabin. Quiet. Friendly host. All your basic needs, wants will be met. David is awesome. He lives on the premises, but you won't see him unless you want to. We will definately be back!
Jackie
July 2015
David was out of town, but kind enough to coordinate his brother, Justin to host us. Justin and his friend, Mathew were extremely helpful and hospitable. The place was breathtakingly beautiful; the details to this hand made cabin are fantastic, and its in a great location (except there was bad construction on roads nearby). It's private and 5 minutes from Wrightsville beach. Most importantly, the king size master bed was the most comfortable bed we've ever slept on! We had the best sleep there. Our second night there, the neighbor's dogs barked off and on for a few hours; however, if you leave the bathroom fan on all night, you can drown that sound out. We would gladly stay there again! It was perfect for family.
Stacey
October 2015
This place was great! The cabin is very quaint and cozy and I love that it was hand built by the family. Having access to the firepit outside was a wonderful bonus. We had a great time and David was very friendly, laid back and accommodating. I hope to stay here again.
Trisha
August 2015
Room type
Entire home/flat
---
Property type
---
Accommodates
4
---
Bedrooms
0
Wilmington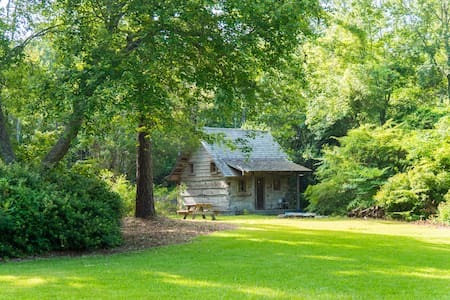 Our cozy little cabin has a nifty sleeping loft with two futon mattresses, a couple of queen size beds and a single bed to comfortably sleep five. This is a crash pad for the lo-fi traveler. With a full bathroom, a dorm fridge and a microwave.
The cabin is an efficient, one room building that is fun for a single traveler or some friends wanting to have a dorm-like getaway. The cabin has a smallish water heater so showers last for a glorious seven minutes depending on how hot! Group shower anyone?? Guests have access to the Jengo's backyard and can even have a little bonfire or a backyard cookout if planned ahead. Someone from the Jengo's family is usually wandering around doing stuff. The backyard is a great place to lounge in a beach chair or play games too. We'll join you if you want!
There are a couple of off-street parking spaces on our campus. You can walk to most downtown locations and an uber is super cheap to anywhere in town, including the beach. Easy access to major highways as well. You're staying in the middle of the Cucalorus Film Festival's residency campus - and there's a special, curated selection of vhs tapes from the past 22 years that you can sample right in the cabin. During the week, Cucalorus staff are around at Jengo's Playhouse to give you some suggestions about cool places to eat and explore.
This was my groups first airbnb experience and boy was it fantastic! We didn't want to leave! Dan was fantastic, communicated with us regarding the details of the cabin, and responded quickly to emails. the cabin was absolutely great, and just perfect for 4 of us! It was a perfect getaway, super convenient, and an overall 'steal'. We will definitely go back and share our experiences with our friends. Thanks Dan (and mom!) for a great night away!
Danielle
May 2015
Dan was an awesome host. We LOVE the cabin and the whole set up he has created. Was great to get away for the "real world" for the night. We definitely plan on staying there again :)
Jane Howard
April 2015
We had a wonderful 3 night stay in the cabin. Dan was a great host. He was always nearby to answer questions yet we felt we had the whole compound to ourselves. We found a drawer full of art supplies and a creative atmosphere that inspired us. We spent a lot of time on the front porch enjoying the scenery & playing cards. Would definitely stay again.
Michelle
October 2015
Dan was very accommodating and friendly, this was definitely a great place to stay. The cabin is exactly what you would need/as described. It was in the backyard of an artist retreat compound and very quiet/relaxing. Having morning tea on the front porch was excellent! You only need to walk 5-6 blocks to get to downtown Front Street, where there are a lot of very cool bars/restaurants. The beach is also only maybe a 15 minute drive. I would recommend staying at this cabin and would absolutely be willing to stay at it again myself.
David
November 2015
We felt very welcome! Everyone was so nice & helpful! We met Dan, Matt, and Dan's mom. She was a total delight.
Patricia
July 2015
I had a lovely time in the cabin, Dan was a lovely host and made us feel at home! plus he has the most adorable dog. :) cabin was cool and location close to downtown! good time!
Lis
May 2016
Dan was not only an absolutely amazing host, he's just a really great guy. He made us feel right at home. The cabin was everything we were looking for and is located in the beautiful historic neighborhood. The fenced in yard was perfect for our dog to unwind after our long road trip. The cabin was an excellent fit for us.
Meggan
June 2015
Dan was great. He was very polite and welcoming and made us feel very comfortable. The cabin is just a short walk to downtown, which we did twice a day to and from my sister's apartment. I would stay at the same place again the next time I go visit her.
Bill
May 2015
Room type
Entire home/flat
---
Property type
---
Accommodates
5
---
Bedrooms
0
Wilmington
This 340 square foot cabin is adorable with modern luxuries. Located 20 min from Wilmington, on a small lake perfect for fishing Country atmosphere, yet convienence to city make the perfect get away spot for those who enjoy the best of both worlds.
Cottage has TV but no wifi. A/C and heat. Full size eat in eat in kitchen. Full size shower in bathroom. One bedroom with bunk beds. 2 day beds in living room. Perfect for 2-3 people. Free on site parking. Small lake 20 feet from front door for fishing. Very quiet, surrounded by woods. Entire cottage and surrounding yard, and lake excluding private property (posted). Owners residence is adjacent property (1/2 mile). Feel free to ask questions or concerns but will respect privacy. I am very busy.
Cottage is off a dirt road that leads to some residences. Very little traffic. Nearest neighbor is out of view. Some parts are private property. Please note and comply with no trespassing posted. On site parking. 12 min on hwy to Wilmington. 10 min to small town of Burgaw. 5 miles on hwy to gas. 15min to I40. No children under 13. No pets please. No smoking.
The hostess is very attentive to any request, she does her best to make everyone feel welcome and have a comfortable, fun, relaxed stay. If you're looking for a quiet little relaxed stay this is the spot!
Kinley Morgan
October 2016
This little cabin is located about 15 minutes outside Wilmington. I personally chose this spot because it's off the beaten path and is a quaint getaway spot in the woods. The host was responsive and the cabin was comfy and was as described.
Sheena
December 2016
This little cabin is adorable, eclectic and absolutely comfortable! Alma is a delightful host who was super flexible, and welcomed us with open arms! Although the space is just outside of the city, you feel a million miles away! We will definitely be back!
M
November 2016
This was a great place to book for rest and relaxation. It's cozy and comfortable and within 5 minutes of a great market (Eagle Island) for seafood and produce and 20 minutes to downtown Wilmington or the Coast. Alma Jeanette is a lovely host and very responsive to requests. Great for the value.
Anna
January 2017
Room type
Entire home/flat
---
Property type
---
Accommodates
4
---
Bedrooms
1
Currie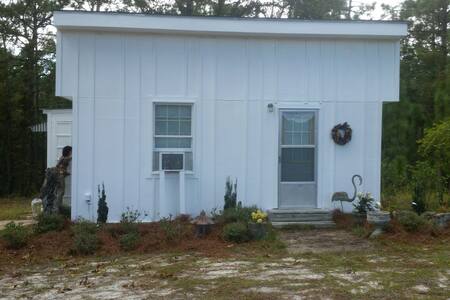 Fifteen minutes from Wilmington, Wrightsville Beach, AirPort & UNCW. Our newly constructed cabin sits on a bluff overlooking the NE Cape Fear River. The lodge is a 400-sq.ft modern cabin with all comforts, and expansive porch. Wheel chair accessible, with kitchen, modern bathroom & queen sized bed. Experience a relaxing weekend retreat or romantic getaway. Boat ramp is in walking distance bring your kayak or boat. Explore North Carolina's best kept secret, the NE Cape Fear River!
Room type
Entire home/flat
---
Property type
---
Accommodates
2
---
Bedrooms
1
Castle Hayne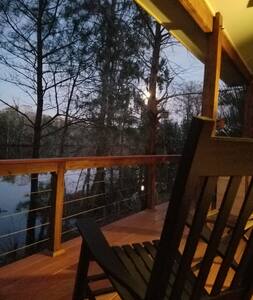 This completely renovated property is actually almost 100 years old! Step back in time to remember a simpler lifestyle...yet enjoy new granite countertops & large master suite. Step onto the covered porch to relax and enjoy the sounds of yesteryear
Enjoy your morning java as you listen to the birds chirp and stroll the grounds that you can call your own! This unique opportunity is only a stone's throw from Home Depot Center and Shops and Walmart in the quaint town of Shallotte. Just minutes to Holden Beach and Ocean Isle Beach. Only 35 Miles outside of Wilmington... and 37 Miles North of Myrtle Beach. This is an awesome one of a kind opportunity!
Room type
Entire home/flat
---
Property type
---
Accommodates
3
---
Bedrooms
1
Shallotte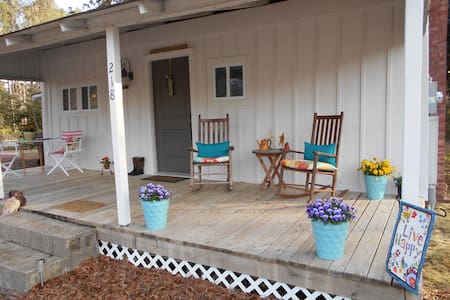 1

–

5

of

5 Cottage Rentals