Impressive design house of 400 meters with garden of 1,000 meters 15 minutes from downtown Barcelona. Sun, nature, garden fully equipped with comfortable chairs, barbecue, water ponds, fruit trees and farm animals These are some advertising works recorded in the house: (URL HIDDEN) (URL HIDDEN)
The house is in a famous suburb with private security guards, 10min away from Barcelona, known for being the residence of famous FC Barcelona players. The house itself is 400sq m, and 1,200 garden. It is all made of glass, with stunning and relaxing views to the Mediterranean, as well as the city of Barcelona. Plus, it is just a few metres away from the natural forest of La Marina. The house has two floors and a mezzanine. The groundfloor has a huge projection and party room, with a bar and couches. There is also a 25sqm bath room carved in natural stone and a gym and parking place for 3-4 cars. The upper floor has four rooms, including a 45sqm suite with complete bathroom integrated to the room, with shower and a dresser, with direct views from the bed to the sea. The other bedroom is a quiet one, with views to the rear garden. It has a separate bathroom with natural daylight ceiling for own use. The other rooms are a dresser and on office. The living room is 60sqm and has a double-height space and is all made of glass. The kitchen is massive, with central isle and access to the rear garden. The mezzanine has a couch and a table, the perfect place for a "siesta" or just relax a bit. It gains access to a private roof terrace, with views to the front and rear gardens. The house has two gardens. The front one is a "tropical" one (palm trees, deck chairs and grass). It also has a wide porch, next to the windows, in case took enough sun! The rear garden, with a BBQ, is a "Mediterranean" one, with trees and bushes from the region. There is also a lake-decorated side garden, with a fountain and stones.
The house is in a residential area of high standing in the top of Badalona. The tranquility and discretion is maximum. The nice house with a natural park protected so that there is a direct and respectful contact with nature. Communication with Barcelona is simple because at the entrance of the complex there is a connection with the round of the city. We have private security
we had a great week in miguel's house! everything is like on the pictures (if not even better). Communication went well with (SENSITIVE CONTENTS HIDDEN) translator, and when we had questions miguel answered fast via (SENSITIVE CONTENTS HIDDEN). very recommendable stay in this great house!
Sebi
2016-07-17T00:00:00Z
Wow. This home created amazing memories for a perfect, relaxing birthday getaway. The house soared past our expectations. We loved hanging out with the dogs. The house was a bit further from downtown Barcelona than we expected but still an amazing stay. We had to call taxis to leave the house. Regardless, the pictures did not do the house justice, we were so happy here!
Nicolette
2016-10-31T00:00:00Z
I went here with some friends for a long weekend for my bday and had the best time ever! The villa is amazing its the best house ive ever seen! Vanessa and Miguel were so welcoming and nice and made our stay perfect.They even collected fresh eggs from their chickens and fruit from their trees for us. If you are looking for a villa on here you have to choose this one you wont regret it. The villa is so much more stunning then the photos! Its only like 20 mins in a taxi to Barcelona so you can get there very easily to go out to clubs or shopping etc. The views from there are beautiful and you can see the sea and the city from the pool and your bedroom. At night you can chill on the sunbeds and watch all the city lights. You can light up the whole villa and pool as well at night time its amazing! Great party room downstairs with disco lights and a bar for when you come back after partying ;)!! Im so glad i choose this villa out of all the ones on here and cant wait to come back! Rachel x
Rachel
2013-07-15T00:00:00Z
Miguel was a fantastically accommodating host. The house itself is spectacular and in a really fantastic location. We thoroughly enjoyed our stay and we would highly recommend it as somewhere to stay if you are looking to visit Barcelona but you also want your own space outside of the city.
Iain
2016-10-21T00:00:00Z
The host canceled this reservation 44 days before arrival. This is an automated posting.
Lyra
2015-05-25T00:00:00Z
Miguel was extremely flexible with our check in time. He was very welcoming and gave us the grand tour of the house with all of it's amenities. Our group of nine people enjoyed the house immensely. The view of the sea, the wonderful dogs and house were perfect. I would recommend this accommodation to anyone.
Cyndi
2016-04-17T00:00:00Z
The house was beautiful! The property and the view were equally beautiful! Everything was clean and ready to use. Miguel and Vanesa were responsive and immediately available for all of our needs. Wonderful people. Wonderful home. I would go back in a heartbeat! Thank you for your hospitality and kindness, Miguel and Vanesa!!!!
Lisa
2016-10-11T00:00:00Z
We want to say many thanks for a wonderful stay. Vanesa and Miguel made us feel very welcome, and the house and the location are fantastic. We were two families, nine people, and we really enjoyed staying here. Some of us spent whole days just relaxing by and in the pool and inside the house, playing in the garden, watching the birds and the rabbits, picking fruit and playing with the dogs. We had rented cars and could easily get to central Barcelona in 30 minutes. We also had quite a few trips to the beaches in Badalona, closer by and as good as the ones in Barcelona. Also the beaches of Badalona were very good and
Anne Marie
2014-07-15T00:00:00Z
Room Type
Entire home/flat
---
Property Type
House
---
Accommodates
10
---
Bedrooms
Badalona, Catalunya, Spain
Room in a quiet area of Barcelona, 6 minutes walking from the house to the metro and about 12 minutes from the metro to the house, because I am on a beautiful hill. Cozy atmosphere, ideal for rest and to disconnect after a great day sightseeing in the city. This accommodation is perfect for people who like trekking because it has many places to walk and exercise.
140 m2 distributed on 2 floors with 3 bedrooms, 3 bathrooms, a living room, a Mediterranean style kitchen and a terrace to share and enjoy fantastic views with the sun characteristic of the Mediterranean area. This room consists of windows on both sides all exterior, cozy and equipped with heating, air conditioning, refrigerator, large wardrobe, parket, double bed and study table. The room is on the top floor of the house and has a lock; Consists of a bathroom of 11 m2 with shower and jacuzzi (to use in moderation, look for the rules section for more information). You will have bed linen, towels and WiFi.
The neighborhood is a very quiet and reliable area with very good communications to the city center. Also the house is 10 minutes from the Mirador de Torre de Baró where the whole city of Barcelona is exposed. In the Mirador there is a very nice restaurant with terraces and dining room overlooking the city. Also close to my house are other restaurants of good price and quality. The room is in an enviable environment housed within the Collserola park ideal for trekking, mountain walks admiring the landscape or for those seeking tranquility in Barcelona. Located 20 minutes from the center of Barcelona, and just a few minutes walk from the metro, train and bus. Since the house is in a mountainous environment, it makes it an ideal home to disconnect from the stress that our daily life produces
No hesitation in recommending Juan's hospitality provided you don't mind being a bit out of the city and having a 10-15 minute uphill walk at the end of the metro line. About 40 minutes from leaving your room will get you to the centre of the city which for us was well worth it for a peaceful location with a fantastic view from the terrace right outside the room. Juan was an excellent and helpful host, notwithstanding the language barrier between us.
Giles
2017-03-03T00:00:00Z
Juan is very nice, really wants to help as much as possible. The room is great, and so is the private big jacuzzi. Having the breakfast at the balcony is a great way to start your day, and the jacuzzi is the best way to finish a day of walking around the city. The only thing u should know about is that the last bus (80/81) from the metro/train is at 22:30 so try to arrive the station before that our expect about 15 minutes hike up the mountain (metro works until 2 am) . Me and my girlfriend didn't find it a trouble. In conclusion I really recommend Juan place. אצל חואן מקבלים את הקומה השנייה בבית, שהיא כוללת מרפסת גדולה, חדר שינה מעולה וחדר אמבטיה עם ג'קוזי גדול. היה מעולה, מאוד נחמד להתחיל את היום בארוחת בוקר במרפסת ולסיים אותו בג'קוזי. חואן עצמו מאוד נחמד ואיכפתי עם המון רצון לעזור. דבר אחד שחשוב לשים לב אליו זה שהאוטובוס האחרון במעלית ההר מהמטרו /רכבת (80/81) הוא ב22:30 אז כדאי להגיע לפני זה לתחנה אם לעלות רגלית כרבע שעה. (המטרו עובדת עד 02:00) ממליץ בחום על המקום.
Israel
2017-03-21T00:00:00Z
We had an amazing stay with Juan. Excellent secluded place to stay, amazing views and chilled out time on the balcony and short and convenient distance into central Barcelona. Couldn't recommend this place more! Very attentive host and although we had a language barrier it didn't get in the way of much!
Angela
2017-04-11T00:00:00Z
From the moment I arrived Juan was all there. He made sure I arrived safely and that any questions or special needs I had were met in a timely fashion and accurately addressed. Everything was as advertised (except for how nice and friendly Juan would turn out to be).
IRA
2015-06-24T00:00:00Z
Juan was an awesome host. He does not speak English but is very savvy with using (SENSITIVE CONTENTS HIDDEN) translate on his PC and phone. It was never a problem and we even made it through a prolonged political discussion with him and a friend this way :) Also, he does everything to give you pleasant stay. That includes breakfast and picking you up and back from the metro station when you arrive with your luggage. The room is simply amazing. Very nice bedroom with an extremely comfortable bed. What I did not know is that the entire first level was for my private use. The bathroom is great as it can be seen from the photos. The terrace as well and you can have an amazing view from the bed if you open up your windows in the morning. Also, I would recommend to bring your favourite CDs or an AUX cable (he does not have it) with your iPod as you can play music then with the soundsystem in the bathroom! Muchas gracias, Juan! It was a great stay.
Martin
2016-10-24T00:00:00Z
Juan is a wonderful host! He is very kind and friendly! He really made our stay in Barcelona such a great experience. He informed us of interesting places for us to visit and even took us up to the top of the mountain for an amazing view of the city. Juan home is absolutely gorgeous! The bedroom is a nice size with a super comfortable bed and an amazing floor to ceiling closet. The private bathroom huge and beautifully designed. The terrace has the most incredible view of Barcelona. My fiancé and I stayed out there for hours and hours at a time! It was a little bit of a hike up and down the mountain to get to and from the metro, but we loved the walk! It's great exercise. If you have an opportunity to stay with Juan, don't pass it up! We certainly plan to stay here again and again!
Cathryn
2016-04-11T00:00:00Z
Juan is the most helpful and kind host I've ever encountered. He went out of his way to help us. He gave us such a warm and caring hospitality. The place was great with excellent views and a sense of space and beauty. The only think I found a bit intrusive to the quiet was the sound of the motor way below, apart from that our stay was wonderful! It may be worth noting if you are a lone woman staying that the walk to the station at night could feel a little desolate. My daughter and I walked the road regularly and had no problems. We even saw wild boar which was exciting!
Sanghamani
2016-10-08T00:00:00Z
Juan was a very gracious host and his house was immaculately clean. We arrived very late from the airport and Juan was waiting patiently. He made a couple of weary travelers feel very welcome in his home. He made us a tapa and gave us some great information about the neighborhood. He even went as far as to drive us to the Metro station one morning, even though it is only a 10 minute walk downhill. This house is in a great location with the most beautiful views. There is a lovely restaurant with beautiful terraces near by the house. We highly recommend Juan as a host and we would welcome him into our own home. Juan era un anfitrion muy amable y su casa estaba impecablemente limpia. Llegamos muy tarde desde el aeropuerto y Juan estaba esperando pacientemente. Hizo un par de viajeros cansados sentir muy bienvenidos en su casa. Él nos hizo una tapa y nos dio mucha información sobre el barrio. Él incluso fue tan lejos como para llevarnos a la estación de metro una mañana, a pesar de que está a sólo 10 minutos a pie cuesta abajo. Esta casa está en una gran ubicación, con vistas muy bellas. Hay un precioso restaurante con terrazas hermosas cerca de la casa. Recomendamos altamente Juan como anfitrión y le daríamos la bienvenida en nuestra propia casa.
Robert
2015-08-05T00:00:00Z
Room Type
Private room
---
Property Type
House
---
Accommodates
2
---
Bedrooms
Barcelona, Catalonia, Spain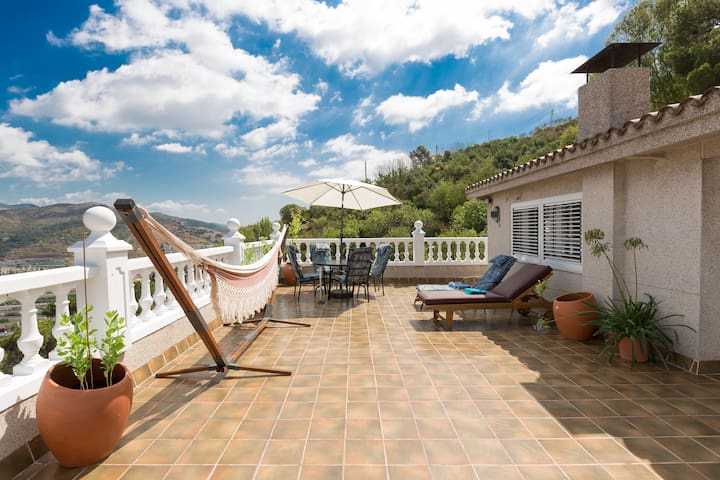 It has two double beds, one with exit to a beautiful garden. and indoor. Dining room, kitchen, bathroom and separate shower. Children under two years free. No washing machine (there are two public laundries in the area), also has an oven or microwave. two double bedroom, One with access to a beautiful private garden, living dining room, kitchen, bath and shower detached. Free for under 2 year olds. There is no washing machine (there are two public laundries in the area), there is no oven or microwave. Hosts live in the same building on an upper floor independent.
Zona residencial cerca del centro del pueblo y sus servicios. A 500 m del lago con actividad en Cableski. Restaurantes y zona de ocio. Piscina municipal a 500 m. The district Residential area close to city centre and its facilities. 500 m. from a lake with cable ski activity. Restaurants and entertainment area. 500 m. from town pool.
Laura and her husband are lovely and kind people with a wonderful appartment. You really couldn't wish for more…they even got Netflix installed so that you can watch something else than the spanish program! I think it's absolutely fantastic!!! As your host Laura tries to help you out in any situation if you have any problems or questions you can ask her and she tries to solve the problem. All in all me and my brother had a wonderful week in Barcelona with the best apartment and the friendliest host yet. So for all of you who want to visit Barcelona, the circuit de cataluna or the surroundings I can only recommend Laura and her apartment!!!!
Jan
2017-03-03T00:00:00Z
Sin duda alguna uno de los mejores alojamientos en Barcelona que hayamos visitado. Trato excelente.
Isabel
2017-03-05T00:00:00Z
Casa muy bonita muy cerca en coche del centro. Laura y su chico muy majos , nos dieron la bienvenida a pesar de que llegamos muy tarde y tuvo el detalle de bajarnos una cafetera que estrenamos nosotros tambien nos dejo zumo y agua. La recomendare y por supuesto si tengo que volver ya se a quien llamar :) Ideal para una o dos parejas
Todor
2017-04-02T00:00:00Z
Una excelente anfitriona la mejor sin duda está ahí para todo el sitio una maravilla, encantado de haber pasado estos días ahí! No tengo ninguna pega todo lo contrario todo perfecto
Bryan
2017-03-09T00:00:00Z
Todo perfecto, mejor que en las fotos, el apartamento está cuidado al detalle. La anfitriona siempre con una sonrisa y pendiente de sus huéspedes. Un placer, repetiremos seguro.
Rodrigo
2017-03-30T00:00:00Z
Laura como anfitriona ha sido excepcional. Muy detallista y dispuesta a ayudar en todo. El apartamento es espectacular, las fotos no llegan a hacerle justicia. A partir de ahora olvidare los hoteles en Barcelona. Muchas gracias por todo.
Antonio Luis
2017-02-16T00:00:00Z
Todo ha sido simplemente perfecto. La mejor anfitriona imaginable, atenta , flexible , simpática . Facilidades para todo. AMA los animales por lo que nos ayudó un montón incluso cuidando de nuestros conejitos cuando nos fuimos a trabajar . Todo lo que necesitamos nos lo dio. La casa cuidada al detalle y nueva , súper bien decorada. Ya tengo donde quedarme cuando vaya a Barcelona .
Miriam
2017-02-26T00:00:00Z
Room Type
Entire home/flat
---
Property Type
Apartment
---
Accommodates
4
---
Bedrooms
Santa Perpètua de Mogoda, Catalunya, Spain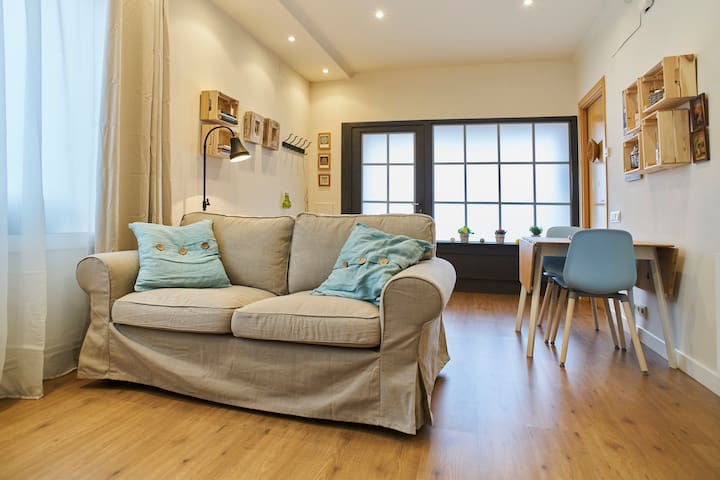 independent loft 60mts2 within the precincts of my house. With kitchen, bathroom and outdoor patio. Located 2 mins walk from the station leading to the center of Barcelona in 20 min. By car, 10 mins. from Barcelona. Free private parking.
It is an independent space where you can enjoy your privacy and privacy. I dispose of a double bed and two puffs bed of 1.90 x 80 (single beds are "extra"). If you are going to be four must be taken into account :-)
Just five minutes drive half an hour ya bike lies the Parque Natural de Gallegos. Nucleo is a Galician rural Eastern Valle in the province of Barcelona, Spain. Belongs to the Municipalities of Mollet del Vallès, Santa Perpetua de Moguda, Palau-Solita i Plegamans, Walls, Moncada y Reixach, mullet and mullet Vall de Munt.
We had a very nice stay in Carmen's apartment. The apartment has a good location, supermarket and trainstation are nearby. She also left us a timetable for the train and a map with restaurants nearby. We enjoyed it very much!
Judith
2016-08-18T00:00:00Z
Carmen was a wonderful host. Her place was perfect for our family of four. she went out of our way to make us feel welcome.
Chris
2016-08-12T00:00:00Z
Carmen is an absolutely nice host. The house is very spacious and clean, just refer to the pictures and they are the same (or even better). The only issue is getting to Barcelona as the train timing is not frequent. However, Carmen provided us the schedule with the train timing. Getting to the train station is less than 5 mins by foot. Just follow the train schedule and the stay will be perfect.
Yee Chin
2016-07-12T00:00:00Z
The host was amazing and very accommodating. Everything in the description and pictures are very accurate and the neighborhood was peaceful as well as convenient in the sense of the train station being a 3 minute walk away.
Nawar
2016-09-30T00:00:00Z
I was here for one week and had an amazing time! Carmen was extremely helpful in many ways, including the information she gave us on how to get around the city. The apartment was beautiful and clean and spacious. The house is literally a block away from the train station which took me to the center of Barcelona city in 20 minutes. I highly recommend this place for visits to Barcelona.
Sol
2016-05-10T00:00:00Z
The host canceled this reservation 34 days before arrival. This is an automated posting.
희주
2016-04-27T00:00:00Z
Had a really great stay here, everything was exactly as described. Being so close to the station you do hear the trains but the positive of that is you can get into the city in no time at all. Carmen was great, she talked us through all the public transport options and also had a load of tourist information for us to look through. If I'm ever heading back to Barcelona I'll definitely see if this place is available.
Neil
2017-03-05T00:00:00Z
Carmens was friendly, welcoming and nice. We were warmely welcomed and the place was as on the fotos shown. The neighborhood is only spanish, wich we liked very much. Only thing that was not mentioned in the description is the train that runs right behind the house and is really noisy up to midnight and then from about 5am on. But apart from that everything ok. Would recommend to stay there and would come again, maybe next year when we again travel south. Thank you Carmen!
Judith
2016-09-24T00:00:00Z
Room Type
Entire home/flat
---
Property Type
Loft
---
Accommodates
4
---
Bedrooms
La Florida, Catalunya, Spain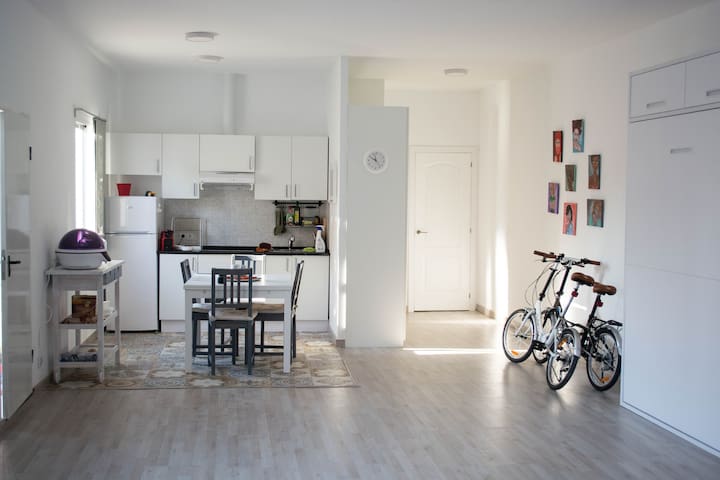 Single room 15 minutes from Barcelona. Mi alojamiento es bueno para aventureros y viajeros de negocios.
El sitio limpio, la habitación pequeña pero acogedora. Agustín muy amable y ayuda con las indicaciones. Sólo el inconveniente de no tener la llave para entrar en la casa fue la única objeción a mi viaje.
Steven
2017-01-23T00:00:00Z
Todo perfecto ! La hospitalidad del Agustin me ayudo mucho para poder orientarme en Barcelona y poder hacer los trabajos por los que he venido. El piso esta muy cerca de la cuidad y muy bien comunicado. Zona muy tranquila por una estancia estupenda. Recomiendo !
Sevo
2017-04-08T00:00:00Z
La estancia fue muy buena. Agustin es muy amable y agradable
Raul
2017-03-28T00:00:00Z
Todo OK
JL
2017-03-01T00:00:00Z
Augustin è una ottima persona, cordiale disponibile e gentile . La camera ha un letto singolo con armadio e comodino, era ordinata e pulita completa di lenzuola e asciugamani anchessi puliti, come tutto il resto della casa.
Cristian
2016-10-07T00:00:00Z
Room Type
Private room
---
Property Type
Other
---
Accommodates
1
---
Bedrooms
La Llagosta, Catalunya, Spain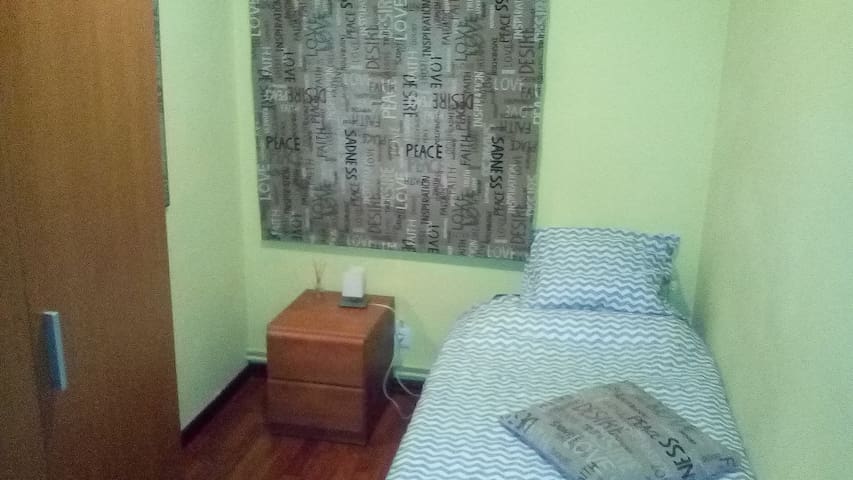 Nuestra casa está situada en Mollet del Vallès, a uno 20km de la ciudad de Barcelona. El trato familiar que damos a nuestros huéspedes es lo que más gusta.
La casa está situada en una zona tranquila y sin mucho alboroto pese a estar en una zona urbana. Se trata de una casa antigua de campo en la que se sentirán muy a gusto.
Una familia encantadora y muy buen trato y atención en todo momento. Lo recomiendo.
Sara
2017-01-12T00:00:00Z
La habitacion era grande y bien amueblada. El precio era el mínimo en el área de Barcelona asi que es una excelente relacion calidad-precio
ramón
2016-10-19T00:00:00Z
Son una familia encantadora, no puede ser más fácil alojarse en su casa. Si la ubicación os viene bien, es el sitio ideal para quedarse.
Luis
2016-10-23T00:00:00Z
Fantástico!!!
Sara
2017-02-16T00:00:00Z
Durante el fin de semana mejor no pude estar, un trato excelente, y tanto la habitación como el resto de la casa están perfectas. Repetiria sin lugar a dudas
Josito
2017-04-02T00:00:00Z
El sitio es genial... no pude disfrutarlo mucho porque la agenda estaba apretada pero se me atendió muy bien y volvería sin duda... lo recomiendo a todos
Blys
2016-10-10T00:00:00Z
Super limpio, la anfitriona es un ángel simplemente espectacular.
Francisco
2016-10-08T00:00:00Z
Familia encantadora y maravillosa.
Sara
2017-02-02T00:00:00Z
Room Type
Private room
---
Property Type
House
---
Accommodates
1
---
Bedrooms
Mollet del Vallès, Catalunya, Spain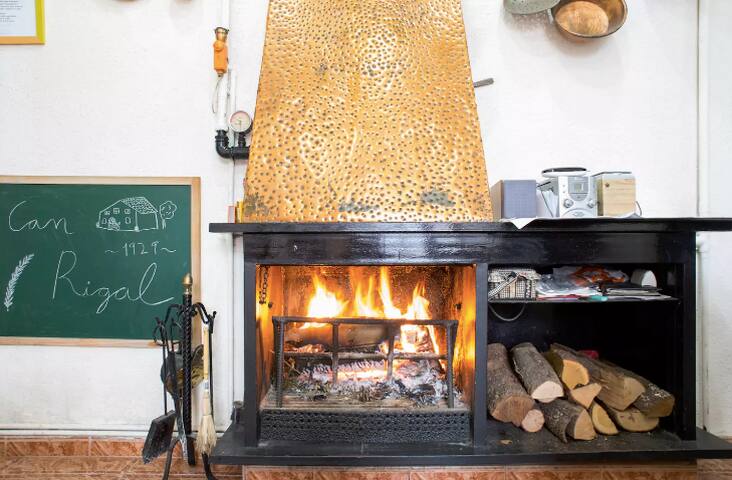 Apartamento de 108 m2, con 4 habitaciones y 2 baños completos (uno en suite ), a sólo 20 minutos del centro de Barcelona, el apartamento dispone de A.A, secadora, canal satelite, wifi, 2 plazas de parking, todo equipado sábanas, toallas, edredones..
Excelente por espacio, limpieza, y acogedor se sentira como en casa y disfrutará del centro de Barcelona a sólo 20 minutos, con transporte público 24 horas. El apartamento dispone de aire acondicionado, secadora, tv satelite, toallas, sabanas, edredones.....todo para que se sienta como en su propia casa. Tendrá la oportunidad de aparcamiento en subterráneo vigilado y de 2 plazas de aparcamiento.
Barrio de clase media con todos los servicios, tiendas alimentación, restaurantes, bares musicales, parques infantiles, zonas verdes, y una excelente zona tranquila y segura.
The host canceled this reservation the day before arrival. This is an automated posting.
Ihssane
2016-08-08T00:00:00Z
The apartment was very clean and comfortable for our group of 9 people. We were very happy with the place. Carlos was always very responsive to our questions. Within walking distance of a large square with out door and indoor restaurants and shops. Very close to the train.
Ann
2016-07-03T00:00:00Z
The host canceled this reservation the day before arrival. This is an automated posting.
Anthony
2016-09-21T00:00:00Z
We were 8 Adults, 3 Teenagers and 2 kids.. We received a warm welcome from the host.. we were given all the support and help we needed. And I was very impressed when host arranged few plug converters for us. Our stay was very comfortable and pleasant. Everything we needed was provided in the flat. Toilets were clean and modern with fresh towels and toiletries. Kitchen was fully equipped, we cooked everyday with no issues. Also we commuted everyday to Barcelona which was about 20min drive. Over all we felt like home and definitely recommend this flat.
Abdur
2016-05-11T00:00:00Z
Nice Airbnb home in a decent location. Host provided assistance. Nice town just little far out from Barcelona.
Erin
2016-07-14T00:00:00Z
Really well located, new apartment in Mollet del Valles. Really close to the train station to go to the city if you want, or 10 minutes to the circuit. Slept five reasonably comfortably, albeit with one on a sofa bed and two in kids single beds. With parking it's a good spot to explore the area from if you didn't want to spend every day in Barcelona.
Chris
2017-03-11T00:00:00Z
Good apartment but not satisfied with the way he dealt with damages in the apartment. We declared it was not our fault and he charged us for such a ridiculous amount
syazwani
2016-05-03T00:00:00Z
The place was really great, far from the city but accessible to the city so we didn't had a hard time going to places. The host was very accommodating, he always make sure and checks if we are comfortable. He immediately attended to our requests/ and minimal concerns. Regardless of the language difference, he tries his best to communicate well with us.
MA ANA HELENA
2016-06-15T00:00:00Z
Room Type
Entire home/flat
---
Property Type
Apartment
---
Accommodates
12
---
Bedrooms
Mollet del Vallès, Barcelona, Catalunya, Spain
Amplia y acogedora habitación privada en departamneto moderno, con todas las comodidades. Cama doble, wifi y ubicado en el centro comercial del pueblo. Tiendas, bares y supermercado a solo pasos y a 10 minutos de la estación de tren directa a Plaza Catalunya (25 minutos) y al Aeropuerto del Prat (45 minutos). Todo el encanto y la tranquilidad de un pueblo clasico de Cataluña con un acceso directo al centro de Barcelona.
Spacious and cozy private room in a modern apartment, with all comfort. Double bed, wifi and located in the commercial centre of the village. Shops, bars and supermarket just a few steps away and 10 minutes from the train station direct to Plaza Catalunya (25 minutes) and the Airport of Prat (45 minutes). All the charm and tranquillity of a classic Catalan town with a direct access to the Barcelona downtown.
Nicolas was a great host. Our plane was almost 2hours late and despite the late hour of the day, he welcomed us very well. Unfortunately we don't spend a lot of time there but the flat was really nice. Everything was cleaned and the bed was really comfortable. We were really close to the cuirtuit of Catalunya and it was PERFECT. Thank you again!
Johanna
2017-03-10T00:00:00Z
Nicolas is a very good host, communicates well, everything was perfect. I recommend to everyone!
Zsolt
2017-04-03T00:00:00Z
Nicolás es un excelente anfitrión que se preocupa por sus huéspedes. Él siempre echa una mano para hacer que la estancia sea lo más cómoda posible. La habitación es espaciosa y muy cómoda. Muy recomendable!
Steven
2017-03-02T00:00:00Z
Appartamento molto carino e tranquillo. Ordinato pulito e vicino al centro di mollet.
Cristian
2017-03-09T00:00:00Z
Me he sentido como en casa. La cama es comodísima y el baño enorme. Lo mejor de todo son los dueños. Nico y Aye se han convertido en amigos. Espero poder verlos pronto, y continuar con nuestras largas charlas.
Ernest
2017-03-31T00:00:00Z
Room Type
Private room
---
Property Type
Apartment
---
Accommodates
2
---
Bedrooms
Mollet del Vallès, Catalunya, Spain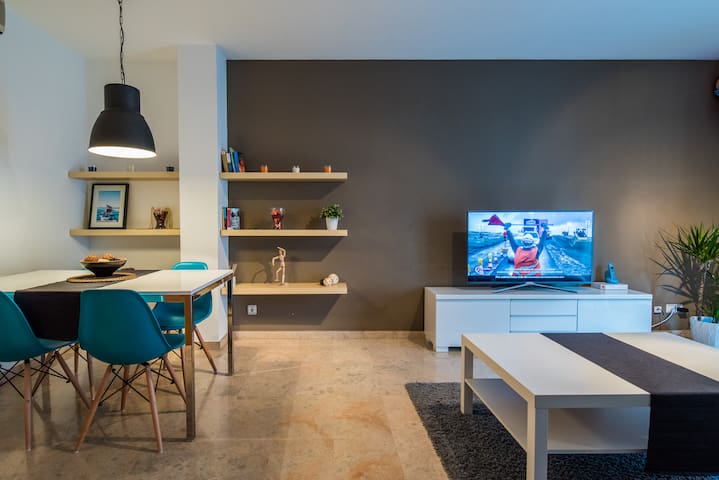 Located in a very peaceful neighborhood just 12 walking minutes away from Train Station. The 50 m2 Spacious loft has a double bed (160x190cm) and bed-sofa for extra guests. Patio with chairs and table under a lemon tree. A folding screen divides the big room where at the other side you'll find a dinning table and couch. Toilet and Kitchen well decorated with a vintage touch for your comfort. Kitchen fully equipped with some tea, coffee, biscuits and corn flakes for free use.
Residential area, in front of a grocery store with fresh embedded. Few minutes walk from a Liddl and a really tasty Pizza place.
Room Type
Entire home/flat
---
Property Type
Loft
---
Accommodates
3
---
Bedrooms
Sant Fost de Campsentelles, Catalunya, Spain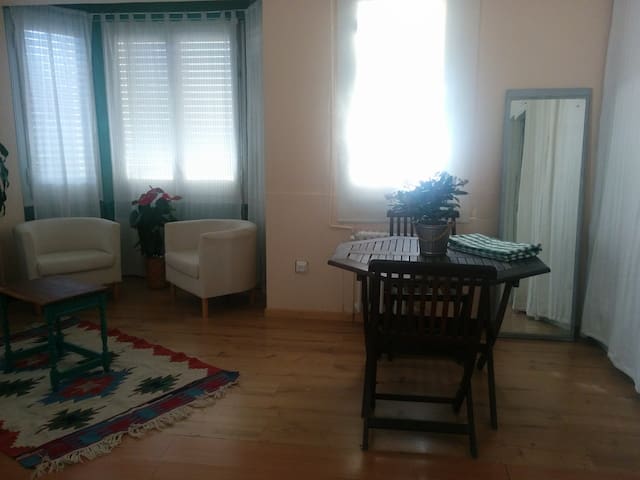 Lugares de interés: transporte público. Te va a encantar mi espacio por el espacio acogedor. Mi alojamiento es bueno para parejas 1 persona 35€ 2 personas 60€
C'était un super séjour.
Fabien
2017-03-02T00:00:00Z
Room Type
Private room
---
Property Type
Dorm
---
Accommodates
1
---
Bedrooms
Mollet del Vallès, Catalunya, Spain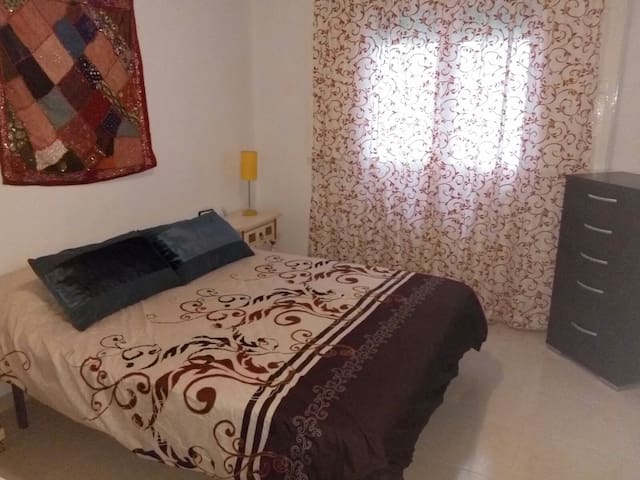 家の中の部屋のバスやレンタル車でバルセロナから20分
Room Type
Private room
---
Property Type
Townhouse
---
Accommodates
1
---
Bedrooms
Santa Perpètua de Mogoda, Catalunya, Spain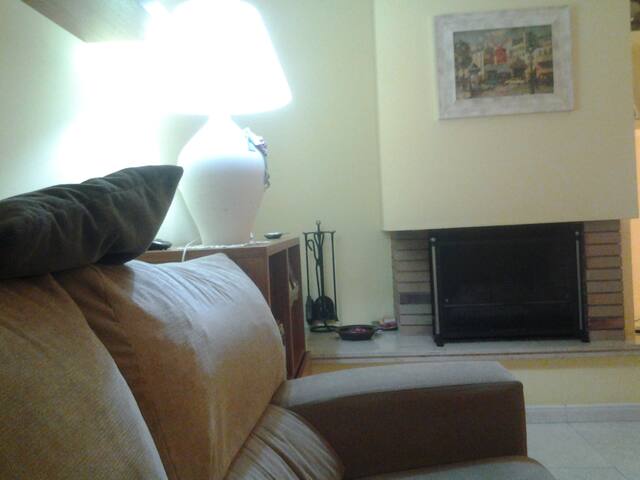 Lugares de interés: Zona Mas Duran con un bonito parque con lago. A tocar con centro comercial el Punt i R3 de Renfe, a 15 minutos en coche de la playa de Barcelona.. Te va a encantar mi lugar debido a el ambiente. Mi alojamiento es bueno para parejas, viajeros de negocios, y familias (con hijos).
Beautiful and clean house, the owner are very nice so I felt comfortable when lived in there house. They helped us everything even showed us how to go somewhere everyday. The first day they drove us to beach with them :) . We are really grateful them for everything. We hope we have change go back Barcelona and we will stay there again. That was our valuable experience with us! Highly recommended for that house!
Linh
2016-07-17T00:00:00Z
Alfredo's home is even more beautiful that the pictures can show. I enjoyed privacy and a lovely place to stay for a couple of days. I can't even think of a suggestion for Alfredo. I would recommend this place to ANYONE! I couldn't ask for a better host.
Daniel
2017-03-02T00:00:00Z
Al reservar el apartamento los anfitriones nos confirmaron por correo que la casa que estabamos alquilando era exclusivamente para nosotras y cuando llegamos nos encontramos con una casa en la cual ellos vivian en la planta de arriba y por lo tanto teníamos que compartir la cocina con ellos, cosa que no tenía que ser así según nos habían dicho. Aun así sabiendo que teníamos que compartir cocina con ellos, dejabamos siempre la casa muy recogida para evitar molestias. Se quejaron por el ruido de las puertas, cuando se cerraban por el aire y nosotras no estabamos en casa apenas. La cerradura de la puerta de la calle estaba rota lo que me provocó un corte, además nos dijeron que nunca les había pasado dando a entender que fue nuestra culpa. A las 19 de la tarde invitamos a un amigo de confianza a la casa a tomar algo y bajaron y darnos una charla moral sobre nuestra mala conducta y sobre lo poco que íbamos a conseguir en la vida si continuabamos con ese comportamiento, cuando lo único que hacíamos era tomarnos una cocacola, nos echaron de la casa teniendo que irnos a cenar fuera. El día que nos fuimos nos cerraron la puerta en la cara sin ni siquiera decir adiós.
Miriam
2016-08-13T00:00:00Z
Невероятно добрые и гостеприимные люди! Очень красивый дом с отличным местоположением! Нам очень понравилось быть гостями в этом доме, мы получили массу положительных эмоций.
Alexandre
2016-06-27T00:00:00Z
Me encantó alojarme aquí. La casa es muy bonita y tiene un montón de privacidad. Para mi primera vez usando Airbnb lo recomendaría encarecidamente alojarse aquí. Los dueños son una pareja agradable. Esta casa era un hogar lejos del hogar.
Whitney
2016-06-25T00:00:00Z
Alfredo y su mujer nos hicieron sentir como en casa! La habitación era muy cómoda con aire acondicionado y teníamos un baño privado con una ducha enorme. La casa estaba muy limpia y la cocina equipada con todo lo necesario, una terraza para desayunar muy agradable y lo mejor de todo los anfitriones, personas súper simpáticas y agradables. Hay un mercadona a 2 minutos andando y una parada de tren que lleva a Barcelona directo. Lo recomiendo 100%
Lucia
2016-08-09T00:00:00Z
Room Type
Private room
---
Property Type
House
---
Accommodates
2
---
Bedrooms
Montcada i Reixac, Catalunya, Spain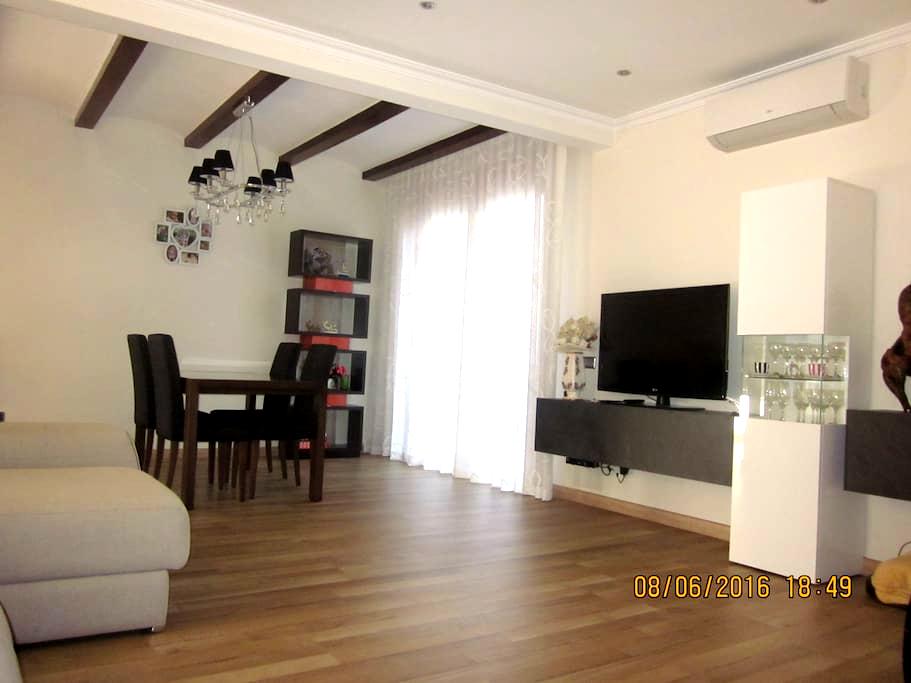 Dispondrás de una habitación privada y un aseo para para compartir. Nuestra idea es ofrecer al viajero un lugar donde descansar, sentirse como en su propia casa. Our home is comfortable and quiet. Conveniences include a private room and the badrooms is to share with us. Our idea is to offer travelers a place to relax, feel at home. The apartment has heating, washing machine, high speed internet connection, possibility of printing documents, towels, sheets ,etc
Sabemos que las distancias a veces son difíciles, por eso queremos poner a tu disposición todo lo necesario para que tu viaje sea lo mas agradable posible. Queremos ante todo, que nos sientas y sentirte como a un amigo que viene de visita. We know that distances are sometimes difficult, so we want to put at your disposal everything necessary to make your trip as pleasant as possible. We want first of all that we feel and feel like a friend coming to visit.
Tomas and family are very welcoming and looked after me well. Me gusto mucho.
Grant
2017-03-17T00:00:00Z
Tomas is a great host !
Flo
2017-01-20T00:00:00Z
The host canceled this reservation 8 days before arrival. This is an automated posting.
Albert
2017-03-26T00:00:00Z
Super nice people! It was exactly what I needed for my trip! It's about a 15 min walk to the train station and the center of Cerdanyola. Plenty of food and shops around. They went above and beyond to help me with anything I needed. The room is nice and clean and the hosts are great!
Daniel
2017-03-07T00:00:00Z
Fui extremamente bem recebida por Tomas e sua família. O ambiente é acolhedor, alegre e familiar. A habitação está em acordo ao que foi descrito no anúncio (a calefação funciona muito bem). O apartamento está localizado numa região central em Ripollet e o anfitrião é bastante compreensivo com relação a imprevistos. Bastante recomendável!
Luciene
2016-12-10T00:00:00Z
Familia educada y correcta
Manuel
2017-03-10T00:00:00Z
Room Type
Private room
---
Property Type
Apartment
---
Accommodates
1
---
Bedrooms
Ripollet, Catalunya, Spain
Room for max 2 adults, near bus stops and easy access to Barcelona. Very quiet area with access to kitchen and bathroom. very comfortable room with wifi. Private bathroom.
It is a very quiet and clean very comfortable room. With elevator, near the market, pharmacy bus stop.
There is very good communication with buses and train communicates with Barcelona ..Bus night every hour throughout the night has just 20min from Barcelona
Tania didn't speak English but made sure there was someone to help translate. She was waiting for us, showed us her house and was very kind. The room was nice and clean and we had our private bathroom.
Linda
2016-08-15T00:00:00Z
The host canceled this reservation the day before arrival. This is an automated posting.
Jesús
2017-01-21T00:00:00Z
It was great it was very centrally located easy access to restaurants know more in about 20 to 25 minutes to get to downtown Barcelona and triple access to the train system
Kris
2017-04-08T00:00:00Z
Una casa muy acogedora, una estupenda familia, una cama cómoda y un baño para ti solo. ¿Qué más se puede pedir? En definitiva, una muy buena esperiencia que recomiendo a todo aquel que necesite un sitio cálido, seguro y limpio.
Jose
2016-11-11T00:00:00Z
Tania foi simplesmente incrível ao receber minha amiga/colega de trabalho. Altamente recomendável.
Victor
2017-03-03T00:00:00Z
Tania è cordiale e accogliente la camera è pulita e silenziosa bello anxhe il bagno. L'appartamento è molto carino, tranquillo con parcheggio comodo e ha una vista bellissima.
Cristian
2016-10-21T00:00:00Z
Room Type
Private room
---
Property Type
Apartment
---
Accommodates
2
---
Bedrooms
Santa Perpètua de Mogoda, Catalunya, ES, Barcelona, Spain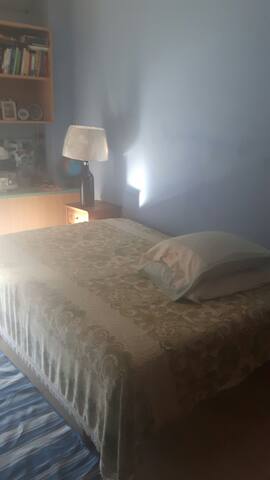 Escape into the hills of Catalonia in this charming villa with a private pool and insatiable views of the Spanish countryside.
Escape into the hills of Catalonia in this charming villa with a private pool and insatiable views of the Spanish countryside. Ideally situated halfway between Barcelona and Girona, the relaxing beaches of Costa Brava are only a short drive away. This two-story villa boasts three interior dining areas, a large living room, a billiards room, kitchen, large terrace (leading off of the kitchen), a BBQ area, and a private, secured swimming pool. Various exterior terraces provide ample opportunities to laze under the Spanish sun and take in the majestic surrounding hillside. The dining area provides all the necessary amenities for preparing your own meals including an oven, stove, toaster, dishwasher, refrigerator, freezer, coffeemaker, microwave, and plenty of seating. Five bedrooms welcome 10 guests and are arranged as follows: GROUND FLOOR: one bedroom with two single beds FIRST FLOOR: one bedroom with one double bed and one bedroom with two single beds SECOND FLOOR: one bedroom with three single beds THIRD FLOOR: one bedroom with one single bed Sant Fost de Campsentelles is a prime location for exploring the beautiful region of Catalonia just a short distance from both the mountains and the beach. Drive just 20 minutes to the exciting and culture-filled city of Barcelona! Guests can park vehicles in the street, as well as a garage for one car. There is a driveway as well, but it is very steep and may not be ideal for parking vehicles. Air conditioning and heating are available for an additional supplement. Prices listed are for 11 guests. For additional guests, there is a surcharge of 150 euros per guest. ---------- Please note that we offer a variety of optional services for your convenience and vacation enjoyment. Below are just a few options that can be booked after your reservation is confirmed: In-villa catering (paella, tapas, Spanish BBQ) Flamenco lesson(URL HIDDEN) In-villa tastings of local cheeses, wines, cavas, chocolate, deli meats. Airport transfer Car rental Towels and linens (these are not included in your reservation fee) Excursions/tours Massage Horse riding Air conditioning/Heating (if available(URL HIDDEN) Please feel free to ask for more information on any of the above! Departure cleaning & pool/garden maintenance charge 150 EUR. Department of tourism registration number: HUTB-014448 *Pets are allowed with prior authorisation and for an additional fee per pet. Please inquire for more information. *This property does not allow groups under 25 years of age.
Room Type
Entire home/flat
---
Property Type
Villa
---
Accommodates
10
---
Bedrooms
Barcelona Region, Catalonia, Spain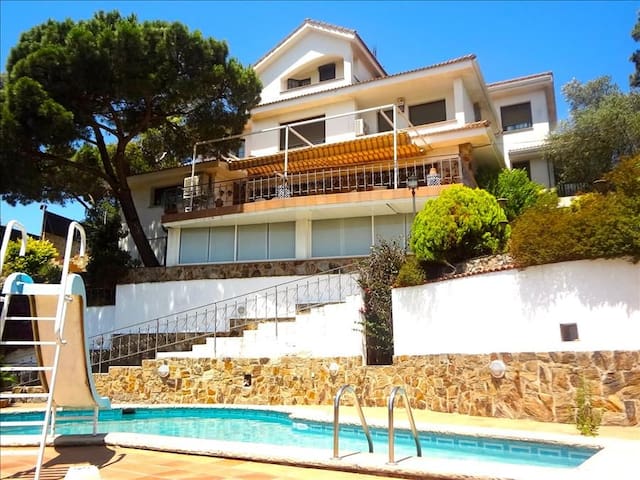 Piso de 115m2, con 4 habitaciones dos baños, salon con sofa cama para dos, y cocina. A 1 minuto de la estacion de tren y a 10 minutos al centro de la ciudad cogiendo la tranvia.
Room Type
Entire home/flat
---
Property Type
Apartment
---
Accommodates
8
---
Bedrooms
Montcada i Reixac, Catalunya, Spain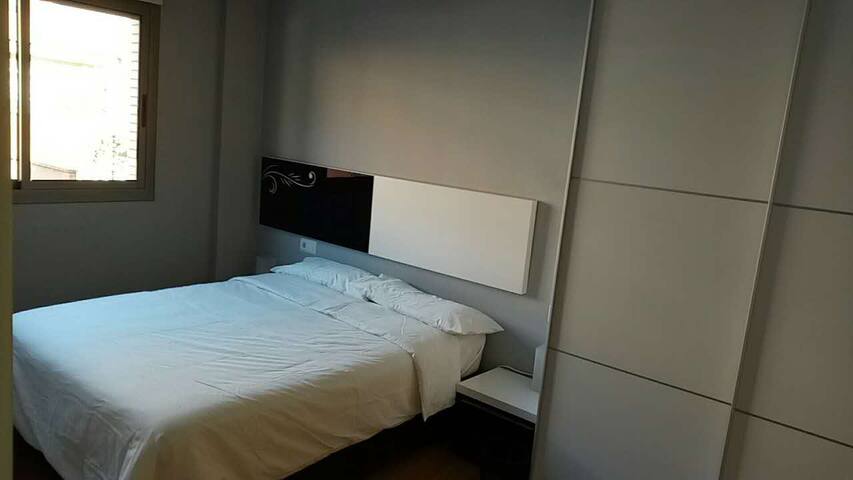 Disfruta de una experiencia familiar en una típica masia catalana. Disponemos de capacidad para 5 personas, dos habitaciones dobles y una individual. Masia en casco urbano muy cerca de espacio natural de Gallecs donde pasear en el campo de 15 KM solamente de Barcelona. Además posibilidad de usar tren lanzadera cada 30 minutos para visitar Barcelona.
Disponemos de una habitación doble, climatizada y muy cómoda.
En un ambiente familiar y cálido, os proponemos compartir una estancia lo más agradable posible en una casa con historia.
Everything was good, they were very kind. Traditional Catalonian family.
Ákos
2016-06-30T00:00:00Z
The host canceled this reservation 55 days before arrival. This is an automated posting.
Lucia
2016-06-12T00:00:00Z
We get there because of MotoGP Grand Prix and the house is near to the track (about 10 minutes by car). We find it simply nice. Thank you.
Damiano
2016-06-06T00:00:00Z
Everything is good! Comfortable bed and bathroom , also strong wifi. Friendly family...Thanks for all
Slava
2016-05-23T00:00:00Z
The host canceled this reservation the day before arrival. This is an automated posting.
Lucho
2016-06-13T00:00:00Z
Avons passé 1 nuit et sommes contents de notre séjour. Voiture dans petite cour intérieure possible, sinon dans la rue d'à côté, c'est gratuit aussi. Chambre propre à l'(URL HIDDEN) rez-de-chaussée, salle de bains propre mais pas très pratique, l'eau déborde et tout est mouillé. Marc est très accueillant ainsi que sa grand-mère. Bon petit déjeuner.Encore merci.
Philippe
2016-01-16T00:00:00Z
Un anfitrión encantador que facilita todo al máximo, sin duda repetiríamos
Sara
2016-10-29T00:00:00Z
Me he sentido muy cómodo, como en casa, muy bien atendido por Esther, la abuela de Marc y una excelente persona con la que he charlado mientras me tomaba el café que ella se levantaba de la cama a prepararme, un encanto!! Parking privado, aseo perfecto y una casa muy bien cuidada, ha sido una muy buena experiencia, gracias!!
David
2016-11-27T00:00:00Z
Room Type
Private room
---
Property Type
House
---
Accommodates
2
---
Bedrooms
Mollet del Vallès, Catalunya, Spain
A true pleasure, staying in a Catalan Modernism style House located in the heart of Sant Cugat. There are private rooms in an apartment with international and, at the same time, a very quiet audience. We are in the neighborhood of the railway station (1 min) in the commercial artery of the city and next to all the shops, universities, parcs, etc.
This beautiful and large Bedroom is inside an apartment of over 200 square meters where they live during the year four other people in an atmosphere of harmony, respect and tranquility. Common areas to share are the kitchen (gas cooker with oven, microwave, dining corner and basic utensils), bathroom (Bathtub, shower, washing machine), toilet, living room (sofa, dining table, etc) the central balcony of the apartment and a side balcony of the kitchen.
Estamos en el barrio de la estación de los FFCC, a un minuto de la estación, en pleno centro de la ciudad y en una calle peatonal muy agradable al lado del Club de Golf Sant Cugat. Todos los comercios están a mano, al igual que numerosas zonas verdes. La calle Villà es la central arteria de la ciudad, ruta comercial indispensable y agradable paseo a pie hasta el famoso Monasterio, parques y el Parque Natural del Collcerola.
Perfect host, quiet (SENSITIVE CONTENTS HIDDEN), nice position, a really huge room, and everything you need for feeling more than welcomed! If you are looking for a place in Sant Cugat, this is strongly suggested.
Tommaso
2016-04-23T00:00:00Z
The host canceled this reservation 42 days before arrival. This is an automated posting.
Lieke
2016-11-18T00:00:00Z
I've just returned from a delightful stay in Sant Cugat. The host was welcoming, the room large and bright, with a balcony and its own fridge and the location excellent, only a minute from the station - perfect for the shopping, amenities and exploring of Sant Cugat and also really easy for going into Barcelona. Couldn't have been more ideal for me. Thanks for a lovely stay! Eliot
Eliot
2016-01-24T00:00:00Z
Perfect host...!!! I went with my kids and we enjoyed the place. The family lives in a Big villa and there is many apartments, so you are actually renting the master bedroom in one of the apartment, you won't share that with the family. But they live downstairs so you can always ask them for any help... and they are really discreet and willing to help anytime you need.... just knock their door
Yvette
2016-08-17T00:00:00Z
Ana's place is a true gem in a very cute little town. The place is right in the center of town and you will have plenty of coffee shops and other good places around you. Transportation is easy, the train station is just around the corner. Ana's room is gorgeous, with a beautiful terrace towards the back of the house. The whole place is a meeting point for artist and thinkers, which is nice. I had a wonderful time. You will probably talk with members of Ana's extended family, and learn interesting things. In terms of languages, German is helpful, besides English and Spanish. Ana will make your stay very comfortable. Very much recommended!
Anton
2016-06-15T00:00:00Z
Bueno, no tuve el gusto de estar en el lugar porque me equivoqué al reservar (yo quería ir a Barcelona centro y Ana estaba un poco más retirada), pero sí he de remarcar que no perdí mi dinero, entendió el error y en cuanto pudo me devolvió mi parte. Un trato exquisito :)
Daniel
2016-05-31T00:00:00Z
Ana sorgt für einen angenehmen und unkomplizierten Aufenthalt. Das grosse Zimmer selbst ist in einer als WG genutzen Wohnung, des Künstlerhauses. Der Charme eines Altbaus zusammen mit den ausgestellten Kunstwerken gibt dem Ort etwas besodneres. Für Deutsche Besucher ist es besonders hilfreich, dass Ana und viele Ihere Familienmitglieder gut Deutsch sprechen. Mit den internaltionen Mitbewohneren ist aktuell eher Spanish, Französisch oder English hilfreich. Die Lage ist top, in 3 Minuten ist man am Bahnhof nach Bacelona und in 1 min am nächsten Supermarkt bzw. in der Einkaufsstrasse. Für Geschäftsaufenthalte ist man auch schnell im ÖPNV im Industriegebiet. Ana ensures a warm welcome and an easy stay. The large room is in a flat shared with students and young professionals. The modernisme building builds a unique blend with the art of Ana and her family. The location is very convenient, just 3 minutes to the train station with trains to Barcelona or for business quests to the industrial area. Just 1 min to the next supermarket and the main shopping streat.
Barbara
2016-05-13T00:00:00Z
Excelente servicio y comunicacion, gracias por todo
Lina
2016-05-29T00:00:00Z
Room Type
Private room
---
Property Type
Apartment
---
Accommodates
4
---
Bedrooms
St Cugat del Vallès, Catalonia, Spain
La Florida - Airbnb
:
Average

4.75

out of

5

stars from

391

guest reviews
Enter dates to see full pricing. Additional fees apply. Taxes may be added.