Enter dates to see full pricing. Additional fees apply. Taxes may be added.
6 Villa Rentals
· Lac-Simon
6 Villa Rentals
· Lac-Simon
4-Star (CITQ) all-season lakefront luxury country cottage with over 50 windows in the Laurentians, Quebec, 90 km from downtown Montreal and minutes from ski-resorts. 3 bedrooms with Queen beds. Cathedral ceiling, spacious deck, umbrellas, peer and bonfire area. BBQ, fireplace, Canoe, kayak, x-country skis and snow-shoes, board games, 4K HD TV and selection of movies included. Fully equipped kitchen with condiments, spices, grill, waffle-maker, fondue set, rice-cooker, etc.
4-Star (CITQ) all-season lakefront cottage located on the Lac du Coeur in the Laurentians, Quebec, 90 km from dowtown Montreal. 3 bedrooms, 2 bathrooms, 2 living rooms, fireplace, large terrace with picnic table, charcoal BBQ, pier and deck, canoe, kayak and many other amenities. Fully-furnished and available for daily (2 day min), weekly or seasonal rental. 12 to 20 minutes from 5 ski-resorts (50 minutes to Mont Tremblant). 20 minutes from Saint-Sauveur and multitude of restaurants and manufacturer`s outlets shopping. 8 km form Saint-Adolphe village for church and food shopping. 15 minutes from Saint-Agathe for Hospital and large retail shopping. More than 80 lakes in 12km radius! and just an hour`s drive from Montreal and the Jazz Festival, F1 racing, Just for Laughs festival etc. etc.... Direct access to lake from yard and peer. Access-card to sandy private beach 100m from chalet. Use of canoe and kayak in summer and snow shoes (2 pairs) and cross-country skis (3 pairs) in winter. You can reach us at any time during your stay by calling, Christian at 514 222-1396, or Fouzia at 514 660-4664.
Over 80 lakes in a 12km radius, yet just an hour's drive from downtown Montreal.
Fouzia and Christian were great hosts, the warm freshly baked cookies were wonderful and we felt very comfortable and welcomed.
Barbara
December 2016
Couldn't have asked for more! Christian was there to meet us after our long drive. He showed us around and explained a few things, then left us to enjoy his beautiful property. Lots of space with, all with great views of the peaceful lake. Enjoyed cooking meals on the charcoal bbq, swimming in the lake off the dock, and great golfing nearby. Place was very clean and comfortable, just as the pictures show. We hope to be back again next year.
Adam
August 2016
Fouzia and Christian are exemplary hosts: they are warm and hospitable, extremely quick to answer questions (including prior to booking), and genuinely want you to enjoy their chalet as much as they do. Christian even welcomed us with freshly baked cookies at check-in! The cottage is immaculate, has a beautiful view of the lake, and there are hiking trails nearby. We were a total of 8 people on the first night and everyone commented on how beautiful and spacious the place was. Yet, on the second night when we were just 2 people, the cottage still felt cozy and comfortable. We will most certainly be back!
Amy & Michael
October 2014
My family and I had a great time at Fouzia and Christain's cottage. The home was very clean and the lake was picture perfect. Christian gave us the tour when we arrived and answered all of our questions throughout our stay. We would definitely go back for another week!
Nadia
August 2016
We had a great time at the chalet. Everything was as described. Kids had lots of fun catching fish off of the dock.
Mark
August 2015
We found bliss, beauty and tranquility while staying these past few but very precious days at Fouzia and Christian's lovely and charming home! They were extremely accommodating with everything, the kitchen and bedrooms were well supplied with everything we would need... we felt right at home. Highly recommendable!
Jonathan
September 2014
Great host. Great cottage with all you need. Great location. A+
Maxime
October 2016
My family had a wonderful thanksgiving weekend at this beautiful cottage. It is right beside the lake and only 40 mins away from Mont Tremblant. The cottage is very clean and have all the utilities. Thank you very much Fouzia and Christian!
Carol
October 2016
Room type
Entire home/flat
---
Property Type
---
Accommodates
6
---
Bedrooms
3
Saint-Adolphe-d'Howard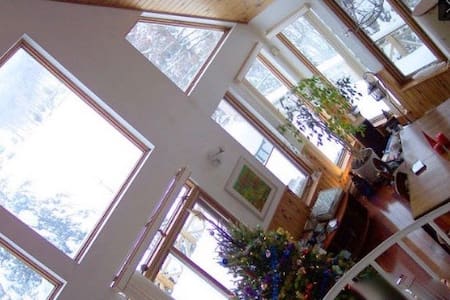 Super clean luxury studio Fits up to 5 Guests, Very bright with special continantal breakfast for first day of stay, Garden view, Private Full bath with Jacuzzi hot tub, Free Wifi and full access to equipped kitchen and laundry, Pet Friendly, Close to bike and Cross Country Ski Route, Close to Saint Jovite village, Close to restaurant and shopping, Close to Mont Tremblant Village and ski Station.
The house was built in 2007 with amazing Victorian style, fully furnished and high quality beds. It's a very clean house with indoor wood fireplace. Slow burning wooden fire place and electrical baseboards, which are adjustable in each room and area, keep the house warm and cozy.One master bedroom with queen high quality bed and additional adjoining room with a single bed suitable for your kids or an adult and access to full private bath. Extra bedroom available for extra guests with queen size high quality air mattress. Another half bath is available in the first floor with full access to laundry. Kitchen is well equipped. The studio accommodates up to 5 Guests. The house location is between highway 117 and Saint Jovite Main Street. Close to shopping and restaurant (4 min), Close to road bike and cross country ski route (La Route Verte 2 min), Close to Mont Blanc ski area (5 min), 14 minutes from old village and mountain. Airport shuttle available by request!
Restaurant C'est la Vie on Saint Jovite street provides new experience of food which is served fresh and cooked at the table. There are nice bakeries on Saint Jovite St. with extra ordinary and diverse types of breads and cakes. You can also enjoy the cafe couleur. There is also the new pool of the town in aquatic center 6 min from the house where you can enjoy a very nice swim and hot tub after a day of skiing on the hills, while enjoying the view of the snow. Free Airport Shuttle will transfer guest from Mont-Tremblant International airport to Grand lodge. Free ride also available from Grand Lodge to our house with advance booking. Public transport is located 4 min drive from our house, which takes you to the mountain. Mont Blanc is only 5 min drive from our house. Settle service is available with reasonable price. National Park also 25 min from our location. Terms and Conditions: Check in/ Check out: Guests should check in after 4:00pm of the check in day and check out at 11:00 am on check out day. Early or late check In/Outs might be possible with advance notice. Occupancy: Guest agrees that no more than[Max Guests] persons shall be permitted on the property at any time during the rental term.For more guest satisfaction, quiet time is between 11 pm to 6 am. Pets are allowed if they supervised by the owner. Damage or security deposit is part of our deal. Moderate Cancellation Policy Details: If the guest pays the full balance on time, they receive a 50% refund of the total cost if they cancel at least four weeks before check-in. The price is Tax included. 
Room type
Entire home/flat
---
Property Type
---
Accommodates
5
---
Bedrooms
2
Mont-Tremblant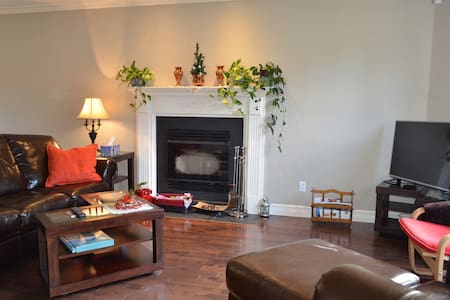 Magnifique villa moderne ,située en sommet de montagne .A 1 hre de montreal,ottawa et du mont-tremblant .Site d'exception en pleine nature ,le calme y est assuré.Spa, piscine, tout y est pour passer un sejour memorable N'HESITEZ PAS !
La villa est unique par son emplacement ,ses points de vue magnifiques ,son calme.Parfaite pour un moment de detente en nature a 1 hre de tous les grands centres.Ottawa,Montreal et Mont-Tremblant . Un spa et une piscine chauffée privée sur votre balcon vous y attendent. Du rafting en eaux vive ,peche ,centre de massage le tout a moin de 15 min .Certaines de ces activitées necessites des couts ($) La villa vous est entièrement privée .Aucun donc vous serez seul pour y sejourner .
Endroit unique avec ses points de vues magiques ,couché de soleil a couper le souffle .tout cela en pleine nature . Vous y accederz en voiture sans problèmes .
The villa is very beautiful and the view just makes it even better. The road to get there is quite bumpy but that was expected reading the other reviews. We were gladly surprised by the heated floors and the beds were comfortable. The place has everything needed, but the spa is a bit old. One thing to note is that the water in the area contains sulfur, which is apparently good for you from what I read online, but it has a distinctive smell that surprised me and my friends. All in all we had a great stay. Eric was even kind enough to suggest an alternate route on the way there to make sure we avoided traffic.
Sam
December 2016
I had plans of taking a 'mini-vacation' to get out of the city for a couple of days and the host of my original booking backed out last minute, leaving me stuck between a rock and a hard place! Eric definitely saved the day in booking this with me, even last minute! Also, I can easily say that this was a HUGE win by getting Eric's chalet for the week. The chalet is absolutely breath taking- the photos (as amazing as they are) do not do it any justice. It's beautiful. This has very easily become my favourite place I have visited, and can not wait to return. Eric was super accommodating, and a pleasure to have as a host. I would recommend this place to not only anyone, but everyone. We still haven't stopped talking about our stay here! :-)
Britney
March 2015
Super setting, immaculate views, great pool, fun games room, excellent host. If you want rural tranquility, stay here - we loved it. Beds could are the only thing that lets the place down - could be more comfortable. Highly recommended!
Rory
September 2015
The property itself was beautiful, including the view of the surroundings. Eric was quick to respond. Thanks again Eric!
Tehaiashe
March 2016
Very big nice place, Hot tub and swimming pool with amazing view. Me and my husband had a amazing time there. All photos and listing are accurate. I would like to stay here again with more friends next time! Thank you Eric!
Asami
May 2016
We had a code to enter so we didn't meet Eric. Everything was there, very clean, comfortable and relaxing place. I would go back to this villa.
Philippe
June 2016
amazing place to stay!! Great host, definetly I will go back
belal
September 2015
Amazing view! Great amunities including spa and pool. On 2 levels, so perfect to have privacy with other guests. Neighbours are very far so you can have a great time without feeling like incommodating others.
Luc
December 2016
Room type
Entire home/flat
---
Property Type
---
Accommodates
6
---
Bedrooms
2
Harrington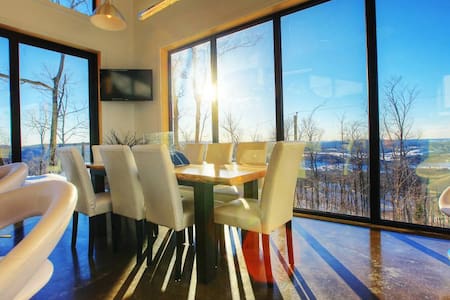 The host canceled this reservation 7 days before arrival. This is an automated posting.
Océane
The host canceled this reservation 49 days before arrival. This is an automated posting.
Laurel
Nous avons réservé le chalet pour une fin de semaine complète. Nous étions 4 couples. Les indications pour se rendre étaient très claires. Nous avons été chaleureusement accueillis par la personne en charge du chalet. Nous n'avons manqué de rien. Du bois a été fourni pour faire un feu tant à l'intérieur qu'à l'extérieur. Le chalet est très propre, très spacieux, très chaleureux et très bien équipé. La proximité du lac est agréable et l'endroit est calme. Nous y retournerons volontiers!
Claudel
October 2016
Nous étions 4 couples qui ont passe une fin de semaine au chalet de Clément. Nous avons eut une très belle expérience! La maison était beaucoup plus grande qu'on pensait qu'elle serait. Le lieux était très charmant sur le bord du lac avec une petite plage. Il avait tout pour pouvoir cuisiner et faire plusieurs activités. Je recommanderait sans hésitation.
Catherine
November 2016
Room type
Entire home/flat
---
Property Type
---
Accommodates
10
---
Bedrooms
4
Nominingue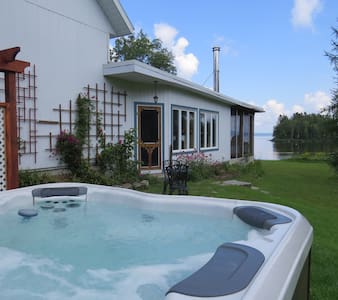 Chalet avec 9 chambres à couches au 2eme étage avec une grande salle grange Idéal pour les touristes qui aiment la nature ou la grade fête 15 min du Saint-sauveur Single house with 9 bedrooms on the 2nd floor and 1st only one huge room grange
Perfect place to get together and spend quality time with good people ** PLS read extra details ** Lot of nature and great view
In the middle of the forest but very closed to city Must have car or bus The price is per room per night Room #1: 1 queen bed Room #2: 1 king bed Room #3: 2 bunk beds (4 double mattress) Room #4: 1 bunk bed (2 twin mattress) Room #5: 1 bunk bed Room #6: 1 bunk bed Room #7: 2 bunk beds Room #8: 1 bunk bed Room #9: 1 bunk bed 1 bathroom with a toilet seat, a shower and a sink Downstairs: 2 washrooms 1 hall (2200 sq ft) with all equipped BAR 1 kitchen with fridge, stove, dishwasher, toaster, coffee machine ***The entire privat house*** Weekend: $2000 Weeks day: $1000/night
The host canceled this reservation 12 days before arrival. This is an automated posting.
Ishimwe
The host canceled this reservation 2 days before arrival. This is an automated posting.
Amine
Room type
Entire home/flat
---
Property Type
---
Accommodates
16
---
Bedrooms
9
Wentworth-Nord