Vaulted ceilings, charming woodwork, stonework and big windows offer that great lodge feel. Twenty minutes from Clayton, our home sits on 3 acres and features dramatic views from all 3 floors. We have wireless internet, luxe linens and high-end furnishings. Enjoy this location and the Lake Burton area with waterfalls, rafting, hiking, wineries, shopping, golfing, fishing, star gazing, boating, great restaurants and more. Our home is a great place to make memories with family and friends!
We welcome you to The Lodge! Make yourself at home and enjoy many custom features throughout our 5 bedroom, 6 bath residence including nice linens, Jacuzzi tub (master bedroom), gourmet kitchen with stainless appliances, granite counters, wet bar (terrace level), three fireplaces, a fire pit, washer and dryer, 2 barbecues, hot tub, and much more. Our home has 9 beds in the 5 bedrooms to sleep 12 comfortably. We also have one pack-n-play for 1 infant or toddler. We have a 46" TV (master bedroom) and a 60" HDTV with Blue-ray player (terrace level) and wireless Internet. We have a covered entry way, carport, a circular driveway and parking for 4+ vehicles.
We recently stayed at Erin's beautiful cabin in the Lake Burton area. Everyone loved the place. The place is very private and has great views. There are plenty of fireplaces and the design / interiors are very well done. The place is very well kept and more than lives up to its description. We'd definitely recommend it and plan to visit again!
Zahir
2017-04-02T00:00:00Z
Room Type
Entire home/flat
---
Property Type
House
---
Accommodates
12
---
Bedrooms
Tiger, GA, United States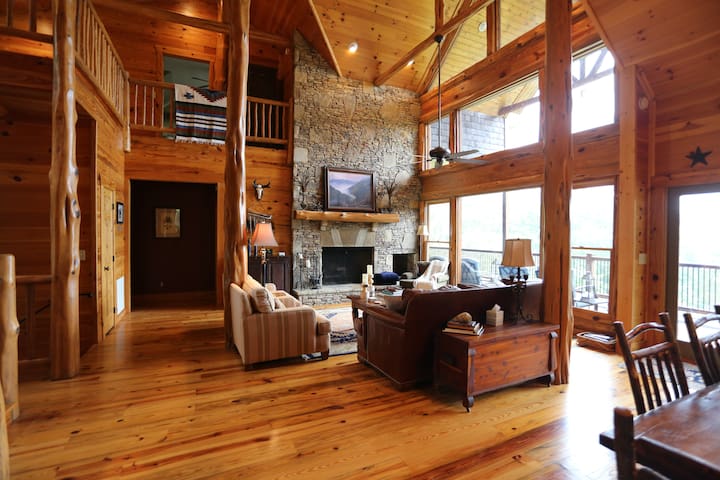 Tree House is one of three structures in the Mountain House [modern] compound designed by Mack Scogin Merrill Elam Architects. Surrounded by nature, Tree House provides bedroom w/ galley kitchen, bath w/ open shower, private terrace perched high.
- The cantilevered glass bedroom floats over a structure of Corten steel and concrete, providing guests with total immersion in nature. - Access to the deck and suite is via a long ramp of steel to the large deck of slate which extends to the interior, blurring the lines between interior / exterior. - Bathroom has open shower with a large swinging door of steel that can be opened if open-air showering is desired. Two bath robes are provided for your enjoyment. - The compact galley kitchen has sink, small refrigerator, microwave, toaster oven, small electric skillet, dishes, flatware, glassware, utensils. Galley is stocked with coffee, assorted teas, creamer, sugar, etc. Please check out our other Airbnb listing, Pond House! https://www.airbnb.com/rooms/8387014
Rabun County and surrounding areas have much to offer in terms of activities. Approximately 60 percent of the land in Rabun County is in National Forests and State Parks so opportunities for full immersion into nature are abundant. A sampling of Rabun's offerings: -Rabun Bald, Georgia second highest mountain. -Tallulah Gorge, with a depth of nearly 1000 feet -Numerous water activities (several large lakes and rivers) -Hiking (a portion of the Appalachian Trail winds through Rabun) Not limited to outdoor activities only, there are many other options in Rabun County. -Rabun is at the heart of the farm-to-table movement in Georgia and you will find many great restaurants in the area. -Vineyards such as Tiger Mountain Vineyards and other wineries provide tours, tastings, and special events. -Galleries and shops, including Hambidge Gallery a couple minutes up the road. -Hambidge Center for the Creative Arts and Sciences has a huge influence on the vibrant arts community of Rabun. Hambidge is adjacent to the Tree House property. Some of the activities hosted by Hambidge on their 600-acre parcel include monthly tours of its Barker's Creek Mill, guided hikes by naturalists, talks by artists-in-residence, and other events which are updated frequently.
The Tree House was, without a doubt, our favorite AirBnB stay as of yet! Steven and Chester's entire property was incredible and worth the trip by itself. We were able to take a tour of their home (and the adjacent Pond House) and would highly recommend it to anyone staying there. Their explanations of the architect's work was fascinating and the home is simply spectacular. Based on Steven and Chester's recommendation, we ate dinner one night at Fortify, which was excellent. We also had breakfast and coffee one morning at White Birch Provisions. It was very good as well. Overall, our stay at the Tree House was an amazing way to celebrate my wife's birthday. We are already planning our return trip in the fall!
Tyler
2016-05-02T00:00:00Z
Tree House is a modern oasis in the woods! We celebrated our anniversary here and had a wonderful time. Tree House is thoughtfully designed, immaculate, stylishly decorated, and beautifully situated with views of the surrounding mountains. Chester and Steven are gracious, friendly, lovely people. We greatly enjoyed the tour of their own home (nearby on the property) and learning about the design history of all three structures. We look forward to going back to Tree House again! -- Anne + Dave
Dave & Anne
2015-11-01T00:00:00Z
From beginning to end, staying at Tree House was a comfortable, inspiring and memorable experience. If you decide to book a visit know that you are going to be staying in one of the most unique and modern properties in the area that's worth the trip no matter where you are coming from. The directions provided by Steven were very detailed and once you arrive on property there is a beautiful and large scale rock garden to enjoy. Chester greeted us upon arrival and gave us all the details we'd need to make our stay a pleasure. Photographs can't do the Tree House justice. It has to be experienced in person. The building materials, including glass, concrete, slate and a wonderful, weathering Corten steel work together, surrounded by the mountains, poplar trees and bamboo, to create a one of a kind Zen-like retreat. The house is stocked with convenient extras like a Bluetooth speaker, dishes and glassware, candles, bathrobes and architecture books in which the Tree House was featured. One of the highlights of the experience is touring the main home. In it, you will find thoughtful, creative architecture where no detail has been overlooked. Take it all in and ask questions as your hosts are very knowledgeable and friendly. There is also a wonderful furniture and art collection including some incredible sculptures and photographs by Chester, whom maintains an art studio on the property. The grounds are spacious and include ponds and a stream that you can walk along with seating to take in the mountain sounds and views. We were sitting at a table and chairs engulfed by large bamboo trees when we were lucky enough to spot a deer on the mountain. That evening my wife and I were treated to one of the best star gazing experiences of our lives on the massive Tree House patio which includes 2 small tables, 2 super comfortable chairs and 2 loungers. The shower in Tree House is amazing and although it was a little too chilly when I stayed to open the wide steel door for an open air experience, I loved it nonetheless. I admired the smallest details including the welded steel bedside tables, large steel sink, incredible lighting fixtures both by the bed and in the bathroom area where there is a large handmade corner light sculpture made by Chester and yes, I even appreciated the unique toilet paper roll! The floor to ceiling glass in the bedroom provide great views and there are curtains that curve along all the glass for privacy. The wireless Internet for the Tree House worked very well and I was able to catch up on some work in the morning however users of Verizon will not have service inside and a faint signal outside. AT&T users have to option of connecting to a signal booster provided by the hosts. All things considered I can't even think of one negative thing to say and give this Airbnb experience a 10/10. Thank you...
Brandon
2015-11-14T00:00:00Z
Steven gave us great, easy to follow directions to their estate. We arrived at three with Steven there to give us a tour of Tree House, directions to make our stay comfortable, local stores and sites to make getting around easy. Tree House was very clean, well appointed with nice towels, plush robes, soaps, teas, coffee, waters, creamer and wonderful sheets. I love nice sheets and good pillows. We had both! We slept deeply and soundly. The only sounds we could hear were the crickets and birds chirping in the morning. There is a common area that is a large screened in porch. The pictures cannot do it justice. We sat there for four hours with a fire, reading with a bottle of wine. Steven and their precious pugs were kind enough to spend some time with us, telling us about the property and architecture. My husband loves Mid-Century Modern architecture and was thrilled that Steven offered to give us a tour of their private home and Pond House. WOW what a treat! Absolutely stunning, warm and a true gift. He recommended a local restaurant, Fortify. WOW! It was fabulous. There food and service were everything he has said. A real treat! We took a day trip over the Highlands. We enjoyed the shopping and food. The only thing we missed was getting to meet Chester, who was out of town. Hopefully next time we will get that pleasure. We walked the 20+ acres several times. Two ponds, a wonderful stream, wild turkeys, evidence of beavers, wild flowers and wonderful bamboo. Chairs by the stream were a nice place to enjoy nature. We had a private deck but it was pretty cold so we did not get to enjoy it...next time! Our trips was wonderful and we will definitely want to get back there in the fall! You could not ask for a better stay. Next time we will try the Pond house!
Ruth
2016-04-10T00:00:00Z
Best hosts/airbnb ever!
Renier
2016-06-04T00:00:00Z
OMG! The Treehouse is amazing! Steven and Chester are my kindred spirits :D They answered all of our questions and were readily available. The location is serene and relaxing. The neighborhood is so beautiful that I actually cried--I'm from Miami, so I am not used to seeing mountains and such. I wish I could have stayed longer! As soon as I was getting settled in, it was time to go! The beauty of the place is identical to the owners personalities. So hospitable and welcoming. I could talk with them for days! I will definitely be coming back. I miss the Treehouse and Chester and Steven (and pubs) already. *hugs* Dee and Candi
Damara
2016-09-05T00:00:00Z
Steven and Chester were fantastic hosts. We were pleased to meet both of them and they were thorough in their review of the house and anything we might need while we were there. They were kind to offer us restaurant recommendations before we arrived - we thoroughly enjoyed their recommendation. While at the Tree House, we had as much privacy as we wanted, both from the hosts and from other guests at the Pond House. The accommodations were well appointed, with everything you could need in the tiny kitchenette and lots of recommendations if we wanted to eat out. We're fans of the architect who designed the house and Steven and Chester were very nice to give us a very complete tour of this own beautiful home - what a pleasure! We loved wandering the property and the creek with our dogs, and found many great hikes and a charming swimming hole within walking distance of the property. In addition to the beautiful architecture and Chester's lovely art, we were fortunate to stay in the peak of the fall season - it was stunning! The only minor hesitation I would note to those looking to stay is that I would recommend the Pond House over the Tree House if the weather is not hospitable to spend time outside. The Tree House is all about the large terrace and I think, though the view in the winter would be lovely, we would've gone stir crazy in the smaller indoor accommodation of the Tree House had the weather not been suitable to enjoy the outdoor space. We cannot wait to come back! Thank you Chester and Steven (and Lola and Alexander).
Karen
2016-10-31T00:00:00Z
This was my first experience with Airbnb and I am so pleased to have picked Steven and Chester. I can imagine how difficult it maybe to trust strangers to temporarily live in your home but Steven and Chester went beyond their means to accommodate us. First of all, the treehouse is a truly beautiful. I mean the pictures don't do justice. That, coupled with the amazing hosts at this property made this experience perfect. They reached out to us and stayed in contact from the day they picked us to stay at the treehouse. They gave us detailed directions, recommended hiking tours at the Hambidge Center (again very good experience) and recommended great restaurants to dine at. The treehouse was very clean and well stocked with basic necessities that one may need to begin the journey at the Rabun Gap County. They provided a full tour of the treehouse along with adjacent properties for a full experience in the forest. It really feels like you are part of the woods yet gives the feeling of security as the enclosure is very secure. The surrounding neighborhood is beautiful and would love to visit again. My girlfriend and I thoroughly enjoyed our experience here and would recommend this property to anyone reading this review. Give them a chance and I promise you wont be disappointed.
Mihir
2016-08-21T00:00:00Z
Room Type
Entire home/flat
---
Property Type
Guesthouse
---
Accommodates
2
---
Bedrooms
Rabun Gap, GA, United States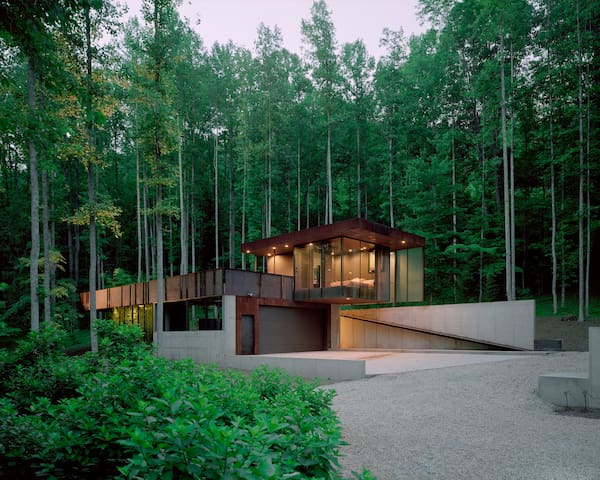 Comfortable and fully equipped cabin features 2 bedroom, 2 bathrooms, and enough sleeping arrangements for 6 guests. You will enjoy the calming spirit of the cabin. Amenities include a fully equipped kitchen, charcoal grill, back deck with a portable fire pit, 36-inch flat screen TV in the front room with a DVD player, internet connectivity, and a stereo in front room with an eclectic collection of albums for your enjoyment, air conditioning, in-unit washer/dryer.
The cabin was exceptionally clean and perfect for a short few days away with friends. My husband and I were there with another couple. The loft bedroom is surprisingly private for being open. And it's nice to have 2 full baths. Also, the location is convenient to many fun places to visit. Be sure to take the short 40 minute drive to Franklin, NC. We were also able to walk over to Lakemont where there are a handful of very nice shops. And if we return, we will definitely spend more time at Tallulah Falls. Maryann was extremely easy to communicate with. The only thing that surprised us and should be noted is that, although the amenities include television, you have to bring your own Apple TV or Roku. There is not even an antenna to get local tv. BUT, quite honestly, you don't go to the mountains to watch television. All in all this was a terrific value and would definitely recommend it.
Jeff and Carla
2016-11-26T00:00:00Z
Wonderful cabin - nicely furnished and in great condition. Perfect for a quiet getaway, and not far from parks, trails, lakes and rivers in the N GA mountains.
Mark
2016-10-01T00:00:00Z
We had a nice stay in this cabin and found everything to be welcoming and enjoyable. We would stay here again.
Matt
2016-10-23T00:00:00Z
Maryann was friendly and easy to communicate with. The cabin was great and close to hiking, lakes, etc. Overall a wonderful weekend and a super easy getaway from Atlanta!
Robert
2016-07-05T00:00:00Z
Enjoyed my stay. The host was very pleasant and the cabin was clean and organized.
Jennifer
2016-12-30T00:00:00Z
The cabin was good for a quiet and relaxing weekend
Peter
2017-03-02T00:00:00Z
Great cabin that is generously stocked with anything you need. Maryann was a wonderful host and made our holiday getaway just perfect.
Lane
2016-12-26T00:00:00Z
The place was secluded but still close to shopping, places to eat and the State Park. Thanks for a great place to spend a long weekend!
Jenn
2017-02-19T00:00:00Z
Room Type
Entire home/flat
---
Property Type
Cabin
---
Accommodates
6
---
Bedrooms
Lakemont, GA, United States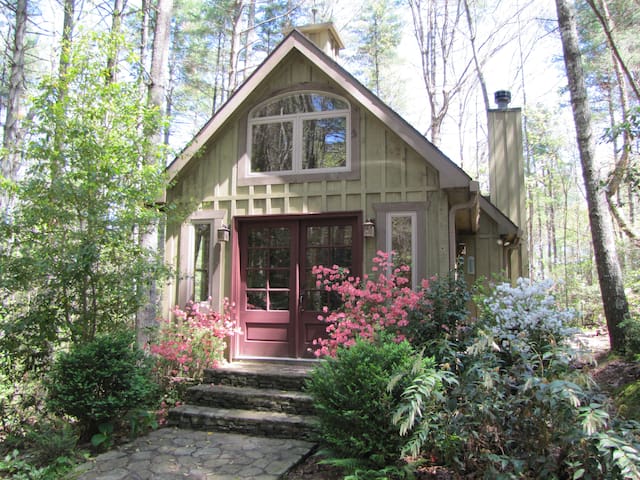 Simple Pleasures is a beautiful (seasonal) mountain view retreat nestled in the woods only 5 miles from the charming Bavarian town of Helen, Georgia and 3 miles to Yonah Mountain Vineyard. Rates include 15% taxes.
Close to town yet quiet & peaceful 3 levels (master on main floor, pull out ottoman on main, Queen upstairs w/full bath & downstairs includes 2 sets of bunk beds (sleeps 4), full bath, laundry, sauna & pool table). Fully stocked kitchen includes coffee maker, toaster, blender & griddle.
Peace & quiet
When we arrived the cabin was waiting for us the jacuzzi was on and fresh fire wood waiting by the pit. The area is secluded yet not scary, the creek is alot closer than we expected a added bonus. The cabin was excellent and exactly as described but better than we expected. The beauty of it is not captured in the pictures and there's no way to explain the feeling that you get from being there and relaxing.
annette
2016-03-30T00:00:00Z
The listing description was accurate and the neighborhood quiet. The house was comfortable. We did not use the hot tub, so I can't speak to that. The kitchen was well equipped and functional. The bedrooms were nice with comfortable beds and nice baths.
Ana
2016-10-07T00:00:00Z
The home was very warm and inviting. It had everything we were looking for a me we had a great weekend there! The host was very responsive and helpful. We will probably return in the Spring!
Aisha
2016-01-19T00:00:00Z
Our family thouroughly enjoyed our stay at this luxury cabin ~ it was just as described and better than we expected ~ pictures just can't do this place justice ~ it's gorgeous! ~ The cabin is nestled off in the woods on a gravel cul-de-sac type street (I was worried about the gravel toad before we got there, but it proved to not be an issue ~ it's a slightly bumpy drive on the gravel road, but nothing that a regular 2 wheel drive sedan can't handle) ~ the cabin has a path in the back that leads down the hill to a small creek (very pretty pictures!) ~ my husband wasn't able to make the climb up/down, (it's fairly steep), but my daughter and I went down several times ~ it's a beautiful area ~ the cabin feels very private and secluded ~ there is another cabin fairly close by, but it is blocked well by the forest (at least in summer) ~ we never heard or saw our neighbors while we were there ~ our teens loved the pool table (they played well into the night / early morning hours every day and it proved to be great during a few afternoon thunderstorms) ~ we used the hot tub several times and roasted hot dogs and marshmallows for s'mores over a campfire in the fire pit ~ The home is located very close to Helen and the city of Cleveland ~ the commute was super easy and it was great being in such a peaceful area without the traffic of downtown Helen ~ Belynda was a pleasure to communicate with and was very prompt in all her responses from booking until check-out ~ Some tips for the area: you absolutely MUST eat at Glenda's in Cleveland ~ we had breakfast there twice and the food was delicious!! (get biscuits with sausage gravy! :)) FIVE of us (2 adults and 3 teenagers) ate for about $30. THIRTY. DOLLARS. That was crazy good!! lol ~ Also, Papa's Pizza To Go will deliver to the cabin and they had really good pizza ~ Babyland General Hospital in Cleveland sounds kind of corny, but it was really cool to see (even my husband and teens were impressed lol) ~ Helen Tubing is only $5 per person to tube the Chattahoochee River ~ and Chattahoochee Stables in Cleveland had an awesome horseback riding experience (thru the river!) ~ There was plenty to do and we could have easily stayed longer ~ This luxury cabin was a great home-base for exploring ~ We can't wait to return! Thank you for sharing your home with our family, Belynda! ~Angela
Mike N Angela
2016-07-20T00:00:00Z
The cabin was AMAZING!!! Everything and more. We loved everything about it. The pictures you see to book the place don't do it justice. Another great thing is she leaves salt and pepper along with others spices to cook with there. When you're packing for the weekend, if you're like me that's something you don't think about. We'll definitely book this cabin again!! Also the owner is very easy to get in touch with. You can tell she loves this cabin and loves to share it with others. Thank you once again for sharing Simple Pleasures with us!!
DeAnna
2016-06-27T00:00:00Z
Beautiful cabin, had everything we needed.
Dylan
2016-11-14T00:00:00Z
Belynda was so accommodating in everything. There were five of us and everyone was very impressed with the quality of the accommodations. I would definitely recommend this place to others.
Peggy
2016-05-24T00:00:00Z
Wonderful couple days away with the family. Great cabin, hot tub & games. Will stay here again for sure!
Dan
2016-06-17T00:00:00Z
Room Type
Entire home/flat
---
Property Type
Cabin
---
Accommodates
9
---
Bedrooms
Cleveland, GA, United States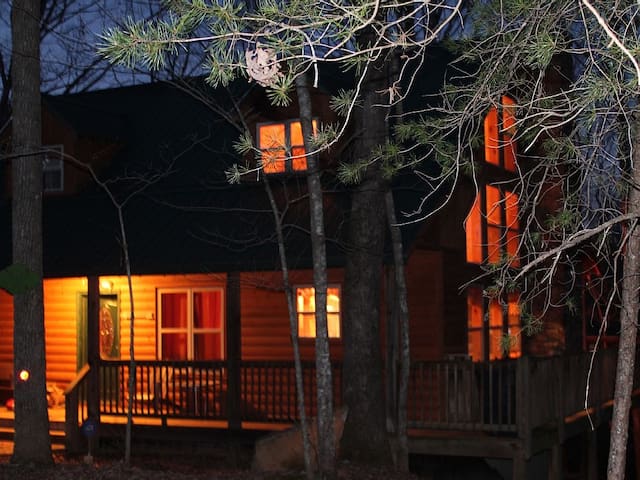 Looking for the perfect getaway? Alpine Escape is a beautiful private setting for couples or a small family! This 1 level, custom built & all wood cabin, features all the comforts of home and then some!
Luxurious leather furniture and wood burning fireplace makes the living room a place you won't want to leave. Just minutes from Helen & Unicoi State Park, with paved roads and easy access to cabin. This cozy, two bedroom with private bathrooms, cabin is decorated with log furniture, living area featuring a flat screen TV, DVD, Satellite & telephone. The newest feature added is Wireless Internet. For your entertainment and relaxation, the front porch has rocking chairs & a wooden glider, a perfect place to take in the fresh mountain air & seasonal views. The cabin offers a pool table & a variety of games. The screened-in back porch has a large hot tub, just what is needed after a fun filled day of hiking or shopping. Also on the very private back porch is an outdoor fireplace and gas grill to enjoy grilling and chilling. You will want to make this cabin a tradition!! Winter, spring, summer or Fall Alpine Escape offers it ALL!!
Perfect accommodation for a quiet weekend getaway!
Jay
2016-11-13T00:00:00Z
The rental office that the homeowner uses is very nice (A-1 rentals in Helen Georgia) and were very apologetic that I never received a check-in information email. We were in the area for a mountain bike competition at Unicoi State Park and the location of this cabin was within five miles of the event. It is located outside of Helen Georgia so we could completely avoid the seasonal traffic that makes driving difficult. Very quiet area and no light pollution at night. The hot tub is located on the screened porch behind the house with a view to the woods and not the driveway which is really nice and the the hot tub was well maintained and very clean. (I never rent homes based on it having a hot tub because they are usually gross so this was a great surprise) Extra comfy couches for vegging in front of the TV after biking.
Denise
2016-07-25T00:00:00Z
Did not meet my expectactions.
Angela
2016-09-11T00:00:00Z
Room Type
Entire home/flat
---
Property Type
Cabin
---
Accommodates
4
---
Bedrooms
Sautee, GA, United States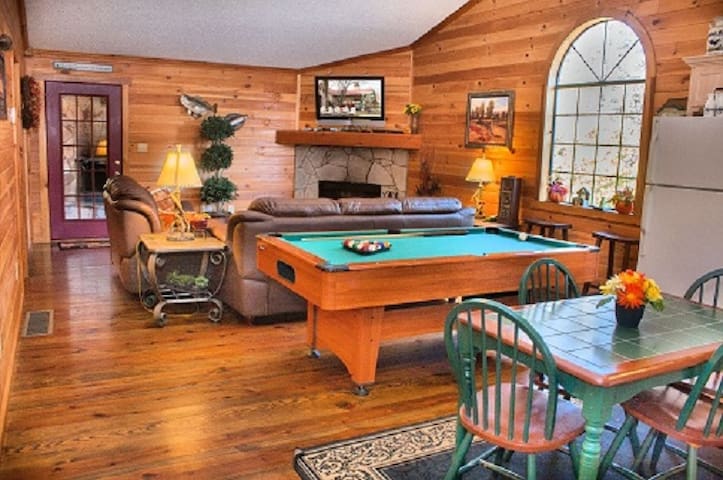 Kleinhaus is a modern rustic home designed with luxury & convenience in mind. Arts & Crafts styling with stone, juniper railings, granite and other natural materials. On top of a ridge with 10 layer mountain views, we call this our slice of Heaven. Since everyone who stays at Kleinhaus is from somewhere else, we believe in concierge hosting, before, during and after your stay. Questions on where to eat or what to do? Just ask!!!
Internet—We have wireless internet. We also have good data service for Verizon and AT&T. Sprint service is marginal. Kitchen items—We have all utensils, pots & pans, bowls etc. necessary to cook. There may be a small selection of spices available, but you will need to bring your own coffee filters, condiments and food. Parking—We have ample parking for vehicles. Towels & Linens—We provide towels and linens, however if you wish to go to Lake Burton to swim, you will need to bring your own beach towels. Please do not remove our towels from the premises. Paper Products—We provide starter rolls of toilet paper and paper towels in the kitchen, please plan to bring additional paper products for your use. Cleaning Products—Please bring your own dish detergent. Heat & Air Conditioning—We have AC and Heat. You may set the thermostat to whatever you wish during your stay. Prior to check out please put both thermostats to 78/COOL in the summer and 50/HEAT in the winter. TV—We have DISH and provide TV's in the Great Room, Master Bedroom and Bunk Room. Toiletries—We do provide a starter set of shampoo/conditioner in each full bath, cotton balls/pads for makeup removal, soft soap for hand washing at sinks and a small bar of soap for each shower in case you forget to bring yours. Young Children—We have a trundle bed (sheets in the laundry room), fold out camping cot, two pack-n-plays and a high chair available for your use. Please wipe down anything you use with cleaner before you check out. We also have small utensils and sippy cups in the kitchen.
Located in the beautiful Persimmon area of Rabun County. All the lots in our little development are large, with old growth trees. We have great 10 layer mountain views year round. Kleinhaus is only a couple roads from the Tallulah River with trout fishing, waterfalls, hiking and swimming. It's only 5 miles to Lake Burton with the Lake Burton Grocery for breakfast/lunch/dinner and several marinas for boat rental. There is also a beach a few more miles down for swimming, located off Charlie Mountain Road.
My stay here was absolutely wonderful. The house was above and beyond our expectations. Everything was very well kept and clean upon arrival and the house was remote with a gorgeous view of rolling mountains as advertised. While staying there it felt as though nobody from the outside world could reach you. Having said that, it was still very easy to get to. Lisa provided clear directions. The seclusion did not compromise cell service which was a nice luxury to have, along with wifi and satellite tv. What made the experience special was Lisa's attentiveness leading up to the trip. Anytime I had a question she would reply almost immediately with thorough answers. She provided directions and ideas for things to do, local hot spots, the nearest Wal Mart & things like that. For me, as someone who was organizing a trip for nine other young adults, it made my job a whole lot easier. I would highly recommend you to stay here. If you have more questions, message Lisa, because she truly cares about your stay and wants to make your trip a memorable and enjoyable experience!
Billy
2016-06-13T00:00:00Z
Lisa was very welcoming and upfront. The house is amazing and in all honesty, pictures don't do the house justice! It is an amazingly beautiful home! You must visit in order to truly feel the experience!
Stephanie
2016-07-18T00:00:00Z
Amazing amazing amazing!! This was by far the best Airbnb I've ever stayed. The premises are breath taking and gorgeous is an understatement for the house. Lisa was very pleasant to work with and extremely accommodating. We were excited about our stay beforehand from the pics and it didn't disappoint. Would/will definitely stay again!!!
Elizabeth
2017-02-17T00:00:00Z
Beautiful home, great location, perfect for a large group, house was exactly as stated on listing, owner was a pleasure to work with... quick response to questions. Highly recommend!
Orli
2016-08-29T00:00:00Z
We had such an amazing weekend at the cabin. Everything was perfect and I highly recommend it to anyone wanting to experience a perfect and cozy getaway!
Allyson
2016-12-18T00:00:00Z
My girlfriends and I set up camp at Kleinhaus during the Georgia Winter Wine Highway weekend and could not have asked for better accommodations. The house is absolutely exquisite and the views, breathtaking. It is clear that much thought and care went into the design of the home as the finishes are beautiful, unique and high quality. The decor ties perfectly with the beauty of the landscape. They truly brought the outside "in". We made great use of the well equipped kitchen and enjoyed much needed girl time around the various fire places. It was an easy drive to several of the local wineries (I recommend hiring a driver; try Rainbow Creek Transportation) and a quick ride into Clayton for groceries. Lisa was extremely easy to communicate with regarding logistics and planning and gave us lots of great recommendations on things to do in the area. I will definitely book Kleinhaus for a future trip!
Lydia
2016-03-22T00:00:00Z
Lisa was very responsive to all my emails. There was games and a great homemade manual there to help you navigate the house and the surrounding community. Had no problems at all, very smooth and comfortable stay. (if you go make sure to get some firewood as the outdoor fire place and fire pit are awesome to hang out by)
matthew
2016-11-20T00:00:00Z
This was a BEAUTIFUL house and we had the best time reuniting together for the weekend! Lisa was great at communicating and very understanding. I would recommend this house to anyone who is looking for a fun weekend getaway!
Mason
2017-02-19T00:00:00Z
Room Type
Entire home/flat
---
Property Type
House
---
Accommodates
14
---
Bedrooms
Clayton, GA, United States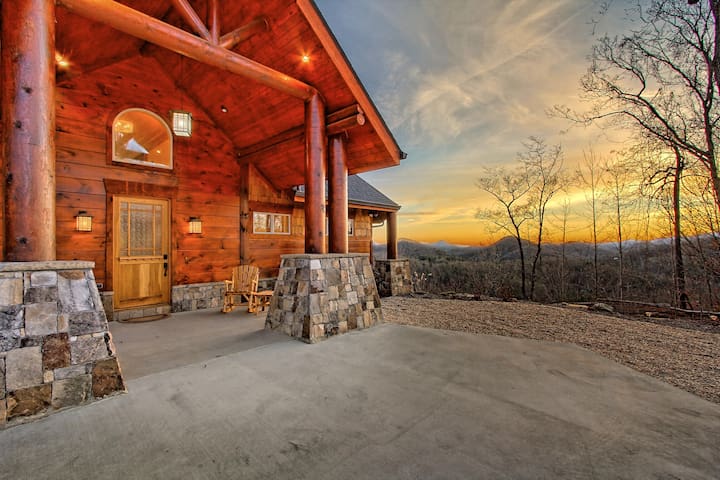 Picture a two story l log cabin in a gated community with streams, a waterfall, & walking trails.Your spacious bedroom, shared bath, & laundry area are upstairs. Downstairs is a living room with wood stove & galley kitchen. Sun & covered porches offer views of woods & streams. Jack, a 20 lb terrier mix, & Miss Moffat, Jack's cat, share the downstairs sleeping area with their owner Carolyn. We are an inclusive family, seeking to provide a sanctuary for those seeking a quiet place to just be.
From the moment that I met Carolyn, I felt like I was a part of the family. Her adorably adorned cabin-home was exactly what I was looking for while on a business trip for a few nights. It was away from the city, private, refreshing, and like I said it just felt like a home away from home. Carolyn treated me like a long lost son, even blessing me with free breakfast and coffee at her AWESOME coffee shop, Sweetwater Coffee House, that's just a short drive up the road. The entire town was like out of an old time movie and I wish I got to spend more time there. I love the smaller town atmosphere and I can't wait to stay with Carolyn again!
Cody
2017-04-02T00:00:00Z
Room Type
Private room
---
Property Type
House
---
Accommodates
2
---
Bedrooms
Sautee Nacoochee, GA, United States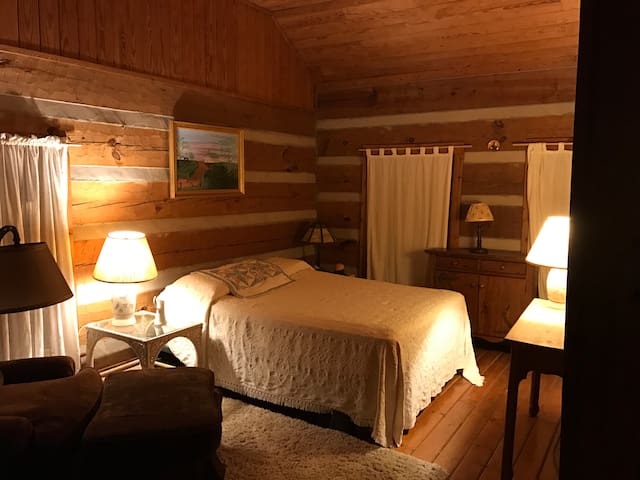 Our place provides the peace, tranquility, and beauty of the Appalachians, and it is a great starting point for hiking, biking, fishing, and antiquing. We have a stocked lake and fish that love to be fed, and an outside fire circle for romance. We welcome couples, solo adventurers, families (with kids), and furry friends (pets). Our 18 acre property is nestled into the Chattahoochee National Forest - five beautiful miles down the valley of Betty's Creek and one mile from the Appalachian Trail.
We have a big porch with eight rockers that looks out over Leah Lake, and our guests seem to love simply sitting outside to watch the birds and hear the sounds of nature.
Wonderful location, perfect for a nice getaway. Lake Leah is unique, cozy and spacious all at the same time.
Jay
2016-12-03T00:00:00Z
Exactly as described. Come to get away for a bit. Simplistic and clean. We loved it. Our kids particularly like exploring outside and doing a bit of fishing in the stocked pond.
Alex
2017-03-26T00:00:00Z
Our stay was nothing short of absolutely fabulous in every way!!! As we shared with the host, Brooks, upon our arrival we both practically gasped as we drove down the driveway and the incredible beauty of the place unfolded in front of us. A bottle of wine was graciously waiting for us as a welcome which perfectly suited the occasion! The home is cozy and filled with charm, artwork, interesting pieces from around the world and plenty of books to choose from including some great poetry. The view from the porch is spectacular with the sight of the inviting pond seducing you to explore and drink in the beauty. Plenty of hiking right out the front door. As a previous guest mentioned, we also came with expectations of exploring the cafes and places of interest in the surrounding area which is our usual vacation routine but we looked at each other after arriving and both agreed we had the good fortune to find exactly what we came for and didn't need or wish to go anywhere for the entire 10 days. We did begrudgingly have to take a couple of trips to the nearby grocery store (and even the few minutes drive into town is beautiful), but otherwise we stayed and relished the quiet sense of solitude and peacefulness which permeates the property. Thank you, Brooks and Lisa, for sharing your beautiful place and we look forward to many visits! We booked our vacation for next year even before leaving! Leavig, there were smiles on our faces and in our heart and spirit, knowing we would return! Did I mention that we loved our stay?!
Paul
2016-10-24T00:00:00Z
Very nice stay, beautiful property and huge lot with amazing pond so fun for kids! Close to great restaurants and things to do. Brooks was very nice and help us with the booking process since the beginning.
Lorena
2016-10-03T00:00:00Z
We had a wonderful stay and can't wait to schedule another stay in this home. The hiking trail right out of the house is terrific - took us 4 hours and we thought we were lost. Maybe we stopped too much to look at all the beauty!
lee
2016-11-20T00:00:00Z
Wonderful and peaceful spot. I recommend this place to all!
Annelise
2016-10-11T00:00:00Z
Great location brooks was great
Jemma
2016-09-19T00:00:00Z
As I turned down the secluded path I immediately felt welcomed. There was a sense of calm that covered the area. Art decorated the driveway leading to the house. From sculptures to scarecrows. The same house from the picture greeted me as I arrived and I was so thankful that I was not tricked or a victim to false advertising. The house was amazing to the tenth power. The kitchen, which I lived in, is open to the whole house. There are 3 bedrooms and 2 bathrooms that are very accommodating as far as space and comfort. Leah's lake is now literally a home away from home. There is so much land to just roam and hike. The river is about 20 minutes away in South Carolina, which is a bonus for travelers looking to cross states off of there "been there list" This is definitely better then any other place I have stayed.
Charlei
2016-09-21T00:00:00Z
Room Type
Entire home/flat
---
Property Type
House
---
Accommodates
6
---
Bedrooms
Otto, NC, United States
Make yourselves at home! Two couches (one a sleeper), a recliner, and a tv with cable in a living room surrounded with woods. Make a fire in the circular fireplace and watch the flames spin. Kitchen is equipped with fridge (no icemaker), coffeemakers (one for K-cups), a Kitchenaid mixer, toaster, electric range, and microwave. Serene bedrooms each feature a queen bed. Loft has two twins. Clean up from adventures in the cozy bathroom (with heater for winter excursions) and with the washer/dryer.
Hillside Hideaway is perfectly locate for exploring, adventure, and getting away. The Appalachian Trail head at Dick's Creek Gap is 1.5 mile away. The vineyard across the valley also offers a winery across the main road, Hightower Creek Vineyard. Award-winning restaurants are easily reachable: Fortify (Clayton) and The Copper Door (Hayesville, N.C.). A short drive takes you to Helen, Unicoi, Georgia Mountain Fairgrounds, Moccasin Creek State Park, Lake Burton, Lake Chatuge, Dillsboro, the Dillard House, and many other outdoor and cultural attractions.
You'll know you are in the mountains when you turn onto Barefoot Road: chickens, farm equipment, and chicken houses will all be within view. Turn onto Barbara Lane, however, and you will find a secluded and well-tended neighborhood. Across the "holler" you'll see Hightower Creek Vineyard, with rows and rows of vines. In the valley, cows graze. When you walk the roads, you will encounter mountain vistas to take your breath away. Walk down Mr. Bert Road, and you will find yourself in Chattahoochee National Park territory. You might spot a bear or two disappear into the woods!
This place is so wonderful!! The price is perfect for what you get! All you need to bring are your clothes, everything else is provided. The cabin has a beautiful rustic feel with luxurious touches that you wouldn't expect at this price point. The location is perfect! It's secluded but very close to town and grocery store. Beautiful scenery around every turn and lots of adventures to explore! There's an awesome loft that my kids really enjoyed sleeping and playing in. It rained a lot while we were here but the cabin is so amazing we didn't mind. There's tons of board games and a foosball table and wifi/ cable tv. This place is wonderful!!
Brandy
2017-04-07T00:00:00Z
Betsy's place is honestly a beautiful get away, a perfect couples get away or even with family. My girlfriend and another couple needed this. We spent most of our time at the place; cooking, grilling, baking or just sitting outside. There are a lot of things to do, if you like the outdoors only about 15-20 minutes away. Betsy made sure we were taken care of before she left, but she prepared so well before hand that it felt like home; cozy. Did I mention the fireplace?? We actually ended up falling asleep pretty early due to how comfortable we were. My friends loved it! So, if you don't book it before we do again you'll be in luck! Also, Betsy will send you a list of activities/restaurants/etc. in the area with detailed descriptions that really made our stay just the more pleasant. Being able to plan and coordinate in advance was great. The service isn't the best up there, but there is wifi/cables/board games..... like ALOT of board games. Anyway, I would highly recommend staying at Betsy's! You'll see, the pictures don't do much justice because the scene is actually quite breathtaking as you walk in the door.
Vick
2017-04-02T00:00:00Z
Room Type
Entire home/flat
---
Property Type
House
---
Accommodates
8
---
Bedrooms
Hiawassee, GA, United States
The perfect relaxing getaway awaits you in a cozy 1880's cabin with panoramic mountain views. Nestled down in Wolffork Valley, the cabin is located on a small farm, "Wolffork Valley Farm". With chickens, sheep and a famous watch dog named "Mac"! This pastoral setting is a perfect place to unwind, sit on the porch and watch the animals, or stargaze! Come enjoy this "Farm to Table" community, hiking, antiquing, and more! This is wild flower season! We look forward to meeting you!
~ Authentic 1880's cabin made of hand hewned log timbers ~ The cabin is separate but located on the property next door to our home ~ Ample space for 2 people, sorry no children ~ Comfortable accommodations, queen bed, fine linens ~ Air Conditioning ~ Refrigerator with ice maker ~ 2 burner hot plate, microwave, dishes, glasses, kitchen items ~ Mr. Coffee Keurig, we provide coffee, tea, sugar, milk in fridge ~ Outdoor charcoal grill ~ In the cabin you'll find a book with restaurants & what to do in Rabun Co. ~ Well water is delicious and is safe to drink! Price includes 7% Georgia sales tax and 3% Rabun County Public Accommodation Tax. You have access to the whole cabin, and the grounds around the cabin. Park in "cabin parking" space by the Christmas tree, please do not block driveway! We are available for help and questions, by phone or text. We are also next door if you need anything. If you would like to know more about the farm please ask, we would enjoy visiting with you. ExploreRabun for events and calendar, pick up a Georgia Mountain Laurel Magazine for events and what to do in our area! We provided a book in the Cabin with more information on the area, with restaurants suggestions and more. Northeast Georgia offers, fairs and festivals, hiking trails with some of the worlds most unique wild flowers, art galleries, music, farmers markets, fishing, and many antique stores. Rabun Gap Nacoochee School summer concerts series, Tallulah Gorge full moon hikes, Hambidge Center artist talks, Black Rock Mountain State Park, vineyards, Chattooga river whitewater rafting and more! Clayton GA, 5 miles south offers great shopping and awarding winning farm to table restaurants. We are also in close proximity to Highland's and Franklin NC., Lake Rabun and Lake Burton. Be sure to bring your binoculars and camera! Bring your bike if you like to ride. You always need a couple layers, rain coat, and shoes for outside living.
We are close to Clayton, Ga. An unique little town, with great shops, very good restaurants, antiques, galleries and more.
Bill and Daphne are wonderful hosts! Prior to our arrival, they reached out with specific directions for arriving to the cabin and promptly answered any questions we had in a matter of minutes. When we arrived, they greeted us with the key to introduce themselves, tell us about the cabin, and provide dinner recommendations. The accommodations are top notch. The cabin is beautifully decorated and you feel the coziness from the second you enter. No detail has been overlooked- the bed is very comfortable, the linens are soft and luxurious, the refrigerator was stocked with homemade granola & yogurt (delicious), fresh flowers were on the table, and you have to see the views for yourself. The cabin was spotless and provided a perfect weekend retreat. It is in a peaceful setting but is also convenient to several restaurants, shops, museums, and state parks in the area. Bill and Daphne are gracious hosts and were kind enough to let us lend a helping hand on the farm. If you are looking for a quaint getaway with the convenience of adventure and entertainment Minutes away, then look no further- you will not be disappointed. We feel so fortunate to have found this cabin and we are already planning our next visit!
Morgan
2016-05-09T00:00:00Z
Such a peaceful and beautiful setting! The cabin was nothing short of five star - rustic bones but the perfect finishing touches. Falling asleep to a chorus of crickets and waking to the birdsong was heavenly. Happiness is homemade granola breakfast on the porch while we watched the mists lift from the surrounding hills...I want to be back there already!
Alisa
2016-09-05T00:00:00Z
Bill and Daphne have created a dream getaway! The setting is pastoral and serene, the cabin is beautifully appointed and immaculate, and the gracious hospitality is the perfect touch. You made our 30th Anniversary so memorable. Stepping back in time, sitting on the porch for hours, watching the sunset and sunrise, the firefly show at night, the fog lifting in the morning, all while being soothed by sheep baa-ing, chickens clucking, birdsong and woodpeckers... Sigh. It was wonderful! The well water IS amazing! And sleeping with the doors and windows open... It doesn't get better than this! The breeze was beautiful so we didn't need the AC. The furniture was so comfortable, and the bed was great. The kitchen had everything we needed. While we drove miles of beautiful mountain roads during our stay, we were slow and reluctant to leave in the mornings, and hurried to return to the cabin each evening. Thank you for sharing your corner of paradise. We will be back! Barb and Brad
Barbara
2016-06-01T00:00:00Z
My husband and I were visiting Charlotte, NC for work and spent a wonderful weekend away from the city in this scenic cabin. We watched the sheep and chickens for hours and spent a full day hiking at the Black Rock Mountain park (which the cabin is basically inside). Plenty of nearby restaurants to get "foodie" worthy breakfast, lunch and dinner. We will definitely be back next time we are in the area!
Corinne
2016-05-23T00:00:00Z
This little rustic cabin on the farm greatly exceeded our expectations. It is a cozy, rustic and wonderful work of art. If you're looking for a beautiful quite, place to relax and just be, I couldn't recommend a place any higher. It is out of a dream.
Colleen
2016-11-21T00:00:00Z
We had a wonderful long weekend, wish we could have extended it and not gone back to the "real world". We went to relax and enjoy the fall colors and cool weather and we were not disappointed. Bill ad Daphne have a beautiful slice of heaven and we thank you for opening your warm home to us. The cabin is the most quaint perfect getaway spot. All of the little touches are just perfect. We will definitely be back!
Marcy
2016-10-23T00:00:00Z
When we found this cabin on Airbnb, my wife and I were stoked to have stumbled across it. However, nothing could have prepared us for how beautiful this place really is. Everything was absolutely perfect, from scenery and location to decor and amenities. On top of being already gracious hosts, Bill made a homemade Granola that was incredible and Daphne's paintings add a bit of personality (they even let us see and pet the Lambs and their dog, Mac). We have decided to make this trip again in the future because we hated having to leave.
Chris
2017-01-16T00:00:00Z
We stayed at Bill's cabin for our anniversary weekend & it was absolutely perfect. A quite oasis from the everyday hustle & bustle; every detail was so warm & welcoming! We will definitely be back.
Rachel
2017-04-02T00:00:00Z
Room Type
Entire home/flat
---
Property Type
Cabin
---
Accommodates
2
---
Bedrooms
Rabun Gap, GA, United States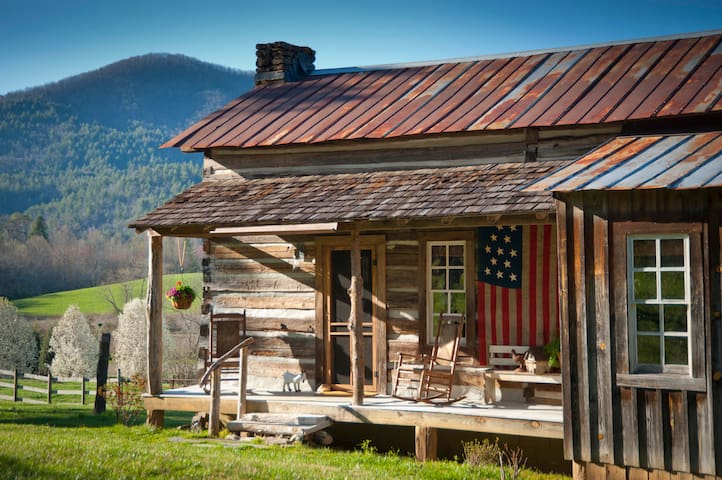 The cabin sits on small creek, in a quite wooded neighborhood, at the base of Mt Yonah. Sleeping arrangement is hideaway bed fitted with flannel sheets. Coffee and cook your own breakfast ingredients included.
We have tons of local hiking trails and waterfalls to explore, plus plenty of rivers for fly fishing. Also, Mt Yonah is considered the rock climbing school of Georgia. Ask me about one of my guided fly fishing trips or casting lessons.
Had a good time it was convenient to town.
chris
2017-02-27T00:00:00Z
Stephen was a great host and his cabin is exactly as described: cozy, clean, and very homey. Perfect for a nice getaway in the mountains. Stephen even stocked up the fridge for me (soft drinks, fruit, eggs, etc.) which was a pleasant surprise and I had fresh towels, soap and linens ready to use when I arrived. He was always available to take my calls, anwered all my emails quickly and sent me some useful information before I got to his place. Overall, this was a great experience and I highly recommend this cabin to any guest.
Ninon
2016-12-25T00:00:00Z
Cute little house. Stephen was very attentive.
Will
2017-01-02T00:00:00Z
We had a great time in our getaway The cabin is cozy and comfortable! The hide a bed was fine. Stephen thoughtfully left some fresh nibbles for us. The location is nestled in a quiet, wooded neighborhood outside town. Check-in was a breeze too. Thanks for hosting!
Ron
2016-12-31T00:00:00Z
great location, close to downtown Helen. Wish there was a real bed, not pull out couch or blow up mattress. Quiet and relaxing, no wifi or cable. So bring a book or cards.
Joann
2017-03-05T00:00:00Z
Perfect no frills place to take in some weekend hiking in the area! Minutes from corner shops and trailheads. All the basics you need for simple cooking, showers, and sleep!
Justin
2017-01-29T00:00:00Z
This was perfect for a weekend getaway. We only stayed for a day and it was perfect. We were able to go fishing and hiking and the cabin was only 10 minutes down the road. Everything was as it was advertised and it was cozy and clean. We would definitely stay there again :)
Ariel
2017-04-09T00:00:00Z
Enjoyed staying at Stephen's cabin. Nice quiet little place
Tyler
2017-04-02T00:00:00Z
Room Type
Entire home/flat
---
Property Type
House
---
Accommodates
4
---
Bedrooms
Sautee Nacoochee, GA, United States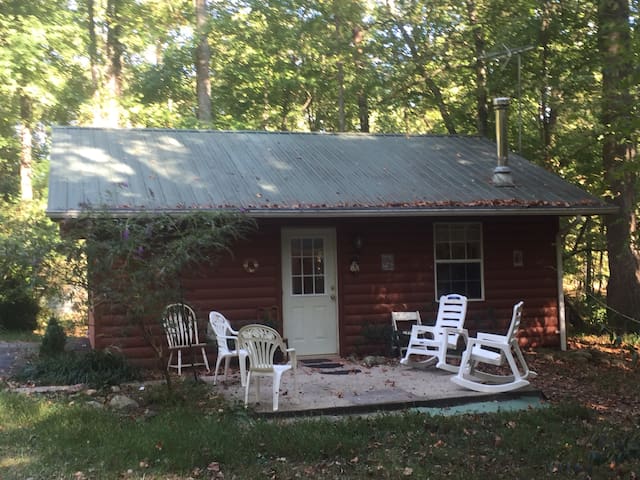 Mountain Seclusion snuggled away on 7 acres featuring hardwood floors, spacious kitchen/dining area, family room, screened porch, upper deck, fire pit, master and loft area bedrooms. Loft bedroom open. Master closed. The beautiful Tallulah River attracts fisherman, hikers, bikers artist, families, couples, honeymooners and photographers . Located approximately one mile from gushing streams stocked for trout fishing. Hiking! Picnics! You will love the cool mountain air and water falls.
Guest are welcome to roam the 7 acres associated with the cabin. You will particularly enjoy the proximity of the fabulous Tallulah River to the cabin. The river is just down the hill and to the left. Some guest drive there. Others chose to hike it.
The Appalachian Trail, Tate City, Persimmon Winery, Lake Burton, Hiawassee, Helen, Dillard, Black Rock State Park, zip lines, white water tubing, hiking, biking, fishing, antiquing, golfing and relaxing are just a few of the activities and cities in the area that are only a few miles away.
We had an amazing week! The cabin was perfect for our family! We can't wait to come again!
Suzanne
2016-08-07T00:00:00Z
Room Type
Entire home/flat
---
Property Type
Cabin
---
Accommodates
6
---
Bedrooms
Clayton, GA, United States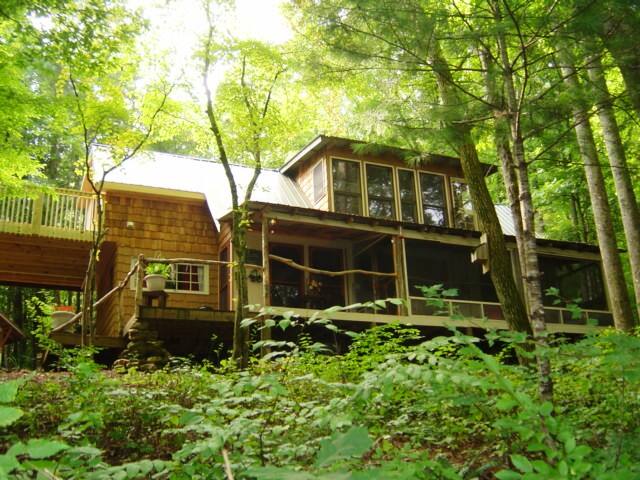 My place is close to Mountains, parks, waterfalls, hiking trails, fishing Whitewater rafting. You'll love my place because of the views, the high ceilings, the location, the people, and the ambiance. My place is good for couples, solo adventurers, business travelers, families (with kids). Pets considered. Extra charge for Holidays.
Room Type
Entire home/flat
---
Property Type
Cabin
---
Accommodates
6
---
Bedrooms
Rabun Gap, GA, United States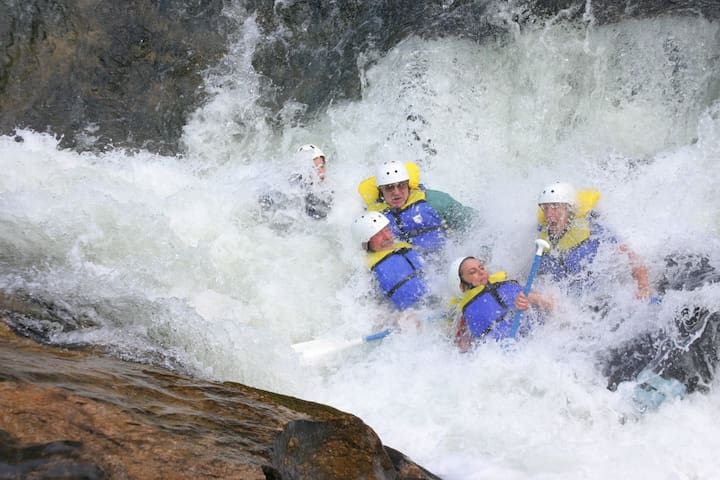 This gorgeous 2 bedroom 2 bath hillside mtn cabin is situated just east of Hiawassee. The area has 22 local wineries, many only minutes away. The cabin is fully turnkey with a hot tub, grill, firepit, fireplace, kitchen and more. Stunning Lake Chatuge, the Appalachian Trail, Helen, GA, wineries, antiquing, hiking, waterfalls, Brasstown Bald, tubing, waterparks are yours to enjoy. You'll love the views, the central location, the comfy bed, the coziness, so much to do! Helen is 25 minutes away.
2 bed, 2 bath cabin. Amazing views from both upper (screened) and lower decks. 4 person hot tub. Fire pit, bar-b-que area. You'll love this place. It is very centrally located to many attractions.
The cabin was well stocked and was very clean.
Vicki
2016-06-29T00:00:00Z
Beautiful view with cozy interiors. Great location for hiking trails nearby!
Haley
2017-02-12T00:00:00Z
My boyfriend and I had a wonderful short stay at this beautiful cabin. It has everything you need, beautiful views and a cozy atmosphere. The communication with the hosts was very clear and everything went smoothly. We would love to come back again!
Anastasia
2016-12-24T00:00:00Z
Lovely weekend in a beautiful little cabin! Four of us stayed here for New Years weekend and the house was the perfect size, extremely well equipped, and a great location. We took advantage of some of the nearby wineries and hiking trails. Oladys was so helpful and very easy to get a hold of. The house was stocked with everything you could ever need. The beds were comfortable and the view from the hot tub was very nice! This is a lovely place to stay, we would definitely come back! Of note: As the host says in the welcome email, make sure to print out the check in directions! We had no cell phone service so getting lost might have been a problem. The directions in the email were very clear and easy to follow though, we had no issues! Once inside the house you have a good wifi connection so we didn't mind the lack of cell service at all! I cannot recommend this cabin enough!
Liz
2017-01-01T00:00:00Z
Absolutely loved our stay here! Views were amazing and the cabin was adorable. Will definitely be coming back!
Gabby
2017-03-19T00:00:00Z
Amazing cabin, very clean, great view and easy instructions to follow!
Anisa
2016-12-11T00:00:00Z
The house was very clean and updated, beds were comfy, and the sights were beautiful! The view from the hot tub was exactly what we were looking for, and the drive in was gorgeous!
Holly
2017-02-22T00:00:00Z
Great little place nestled in the mountains. Cozy and relaxing! Would definitely book again!
Michael
2017-01-24T00:00:00Z
Room Type
Entire home/flat
---
Property Type
Cabin
---
Accommodates
4
---
Bedrooms
Hiawassee, GA, United States
You will feel as if you were in an episode of HGTV. This cabin is not only beautiful, the area is unbelievably beautiful. A fishing creek near by and the smell of the trees and fresh air. Plenty of private space but still easily accessible. You won't want to leave.
It's beauty and easy access.
Very beautiful nice cabin. Beautiful creek you can walk down the road too. There was a hound dog that kept us up a few nights and got into the trash, but overall it was a great trip. Loved the hot tub and views.
Timmy
2017-01-21T00:00:00Z
It was a nice cabin, fully equipped all you need is food and friends lol
Taniece
2016-10-31T00:00:00Z
The cabin was absolutely amazing! It was very clean and the neighbors are very helpful. Melamine let me know everything that I needed and what she supplied me with. I'd definitely be coming back to stay here!
Jameson
2016-09-18T00:00:00Z
Melanie's cabin was the perfect weekend getaway! It was located in a beautiful spot, had everything we could possibly need, and allowed us to relax! We have absolutely no complaints :)
Rebecca
2017-03-12T00:00:00Z
It was a beautifulcabin, wish I planned for a longer trip
Miranda
2017-04-02T00:00:00Z
The house is private which is really nice. Very clean. Location is beautiful as well as the house. Communication with the owner was great. I would've given this a 5 star if the iron was there and if the 3rd bedroom was a finished room. The 3rd room had an unfinished ceiling and cement walls with just a bed and cabinet in it. Other than that the house was great!
Rebecca
2016-10-17T00:00:00Z
Great place and we really enjoyed our stay. Thanks for offering your place. We usually vacation at the beach and this was a nice change. couple of suggestions, added tvs in bedrooms is always nice as everyone does not watch the same thing. also no wine opener, (we bought one and left it for the next guest). Otherwise really a great vaca, thanks
valerie
2016-11-08T00:00:00Z
The place was very peaceful, calm, with a lot of nice towns nearby to explore. The views were also incredible! Unfortunately the washer wasn't working at the time and we had some miscommunication due to that toward the end of the trip. But overall, we had a very lovely stay at Melanie's house. Would definitely recommend for a nice getaway!
Allison
2016-12-30T00:00:00Z
Room Type
Entire home/flat
---
Property Type
House
---
Accommodates
6
---
Bedrooms
Hiawassee, GA, United States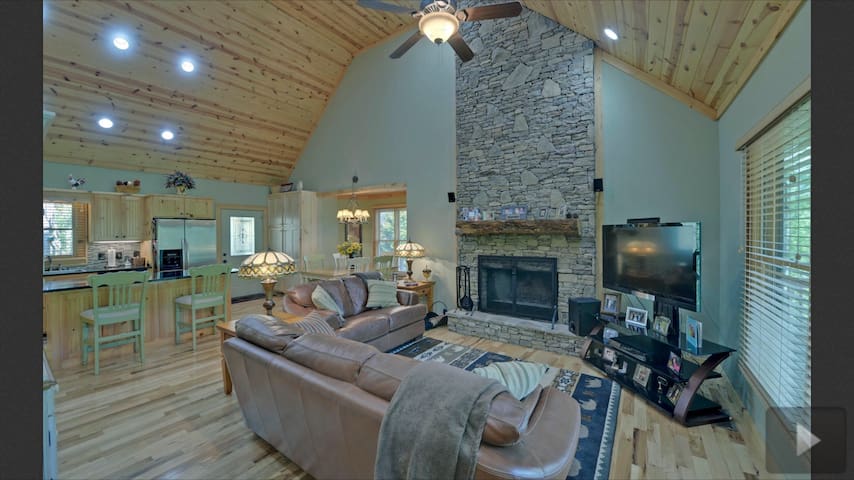 Sunburst cabins include great views,are close to restaurants and dining, family-friendly activities. You'll love my place because of the location and the outdoors space. My place is good for couples, solo adventurers, business travelers, families (with kids), and big groups. Discounts on activities with Sunburst Adventures when you stay with us in our cabins
This space does have stairs to entrance. Second loft bedroom has ladder. Pet friendly, secure parking. Private driveway. Plan your vacation stay and your activities with us. We offer zipline tours, ATV tours and horseback riding. Boating trips in the summer. Tours are available all year round.
Absolutely wonderful place, Becky and her Sunburst family were very welcoming and responsive to our needs.. will stay with them again on our next trip
Yvette
2017-03-22T00:00:00Z
Room Type
Entire home/flat
---
Property Type
Loft
---
Accommodates
4
---
Bedrooms
Clarkesville, GA, United States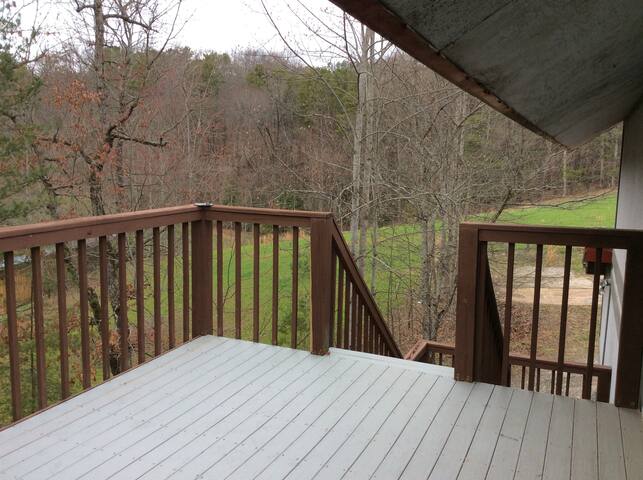 Our cabin is on 4 acres surrounded by wooded areas, near waterfalls, National Forest, Lake Rabun, Lake Seed, and Lake Burton. The cabin is in a quiet community with a fully-equipped kitchen, great views, and plenty to do.
This cabin offers those looking to get off the beaten path, everything you could want. Clean, nice cabin and property with everything you need to cook, wash clothes, and enjoy the great outdoors. Cell reception is not good, but is good for getting those kids off their phones and soaking up the beauty that is Lakemount and North Georgia. I will be looking at staying here again in the future. I rate my stay and experience here as excellent!
James
2017-03-18T00:00:00Z
Jane and Larry were very friendly and accommodating. Robert was great at communicating and offered local insight. The cabin is a great place to stay, very cozy and clean. Go prepared, we visited during the off season and would have had to make a lengthy drive to get groceries. The kitchen had everything we needed to prepare our meals as far as cooking utensils, pots, and pans. Anything beyond that you will need to bring. We loved our stay and would recommend this cabin to families looking to get away.
Kallie
2016-12-23T00:00:00Z
Jane and Larry Brewer met us as we drove up to the cabin. They showed us around their beautiful cabin and made us feel right at home. The cabin was well stocked with everything you could need. We loved it!
Donna
2016-09-05T00:00:00Z
I absolutely loved Robert's cabin. The neighborhood was friendly and the views driving to the cabin were beautiful. I would suggest driving to the cabin in the daylight because the road is dirt and narrow which can be intimidating to newcomers. The cabin itself was well-equipped with modern features as well as comfortable for 6 people. The location is secluded with no cell reception, so I would suggest bringing groceries to minimize trips out of the area. Plenty of local hiking locations to waterfalls!
Amanda
2016-11-13T00:00:00Z
This cabin is beautiful and in a gorgeous location. The environment is clean, quiet and peaceful, all elements I truly enjoyed while visting. As a city type I was overjoyed to be able to indulge in nature while living in a great space with comfortable amenities. Robert communicated quickly and thoroughly and I can't recommend this place enough. I have chatted all my friends about finding a weekend for us to go there just so I can go back. I know that they would love it and bring their families as well. It's a great space, and Robert is a great host. As someone who wasn't familiar with the area I really enjoyed the extra tips and directions. Highly recommend!
Elizabeth
2016-08-14T00:00:00Z
Once again we had a blast on our trip to the cabin! Everything was perfect and we were able to venture out a little bit more! Can't wait to visit again!
Jenny
2016-08-09T00:00:00Z
We loved the cabin at Lakemont! It was nestled right in the middle of the two spots we had planned on seeing (Tallulah Falls &a Downtown Clayton, Ga). It was a 30 minute drive both ways to get there but being secluded in the mountains & the views during the drive were worth it. The cabin hosts were very attentive to us and available when we had questions. We plan on another trip up to Lakemont very soon & will be staying at this beautiful, quaint, quiet, & peaceful cabin. :)
Julia
2017-03-26T00:00:00Z
Great stay. Exactly as described. The owners seem more than eager to help out in answering any questions I had. I would definitely recommend!
Kristin
2017-01-29T00:00:00Z
Room Type
Entire home/flat
---
Property Type
Cabin
---
Accommodates
6
---
Bedrooms
Lakemont, GA, United States
A "lofty" perch - situated above a two car detached garage from the owner's residence - located atop Mulberry Mountain. Spacious bedroom with queen bed includes a sitting area, queen sleeper sofa in living area, and a fully equipped kitchen.
An ample open deck for morning coffee and stargazing at night. You will enjoy beautiful sunrises and sunsets overlooking the surrounding mountains. Outdoor grill is provided if you decide to stay in and relax.
We are only a few miles from Black Rock Mountain State Park. There are nearby restaurants located in Dillard, Ga. including the renowned Dillard House. Other recommendations: The Cupboard, The Valley Café. There is a Mexican Restaurant and barbeque joints. Several local shops in the town of Dillard including antique shops.
Very nice, well kept cabin with all the needed amenities. Cabin is close to parks and restaurants-- good location. Would stay again!
Kris
2016-11-06T00:00:00Z
It was the perfect getaway! Clean, cozy and welcoming! Connie was a perfect host.
Lisa
2017-02-19T00:00:00Z
Haven on Earth is much nicer and larger, than the pictures show. Fresh muffins and fruit awaited me on my arrival. A bear motif throughout, gave the space a real mountain 'feel'. Because I was alone, and there was no cell service, (not unusual in the mountains), and I don't have a smart phone, (really!), Connie & Tom went out of their way to provide me with access to a landline, should I have an emergency. They are the perfect hosts and I would recommend their place to anyone who wants to get away from it all and enjoy the quiet and solitude of a mountain getaway! I will definately return! Elizabeth-Stone Mountain, GA
Elizabeth
2015-11-08T00:00:00Z
Connie and Tommy were wonderful hosts. Very welcoming. We were very impressed with the accommodations and loved the location. Private setting.
Tom
2015-11-02T00:00:00Z
Staying with Connie and Tommy was a wonderful experience. They have a separate guest area and gave us our own space while at the same time making us feel incredibly welcome. The guest house was beautiful, homey, clean and very comfortable. The area is beautiful as well, close to loads of neat waterfalls and hiking trails. I would highly recommend staying here.
Samantha
2015-10-13T00:00:00Z
The listing was accurate. In all communications Connie made us feel very welcomed and cared for. The neighborhood is 3.7 miles from the main road, which we liked. It's very peaceful and quite, in the middle of a forest. Almost like luxury camping. If you like being away from noise, and within nature, this is the place for you. Connie had the home ready for us with all comfort possible, including directions on how to use everything, candles for creating an even more cozy atmosphere, and a very comfortable place to be in.
Irit
2015-10-25T00:00:00Z
Connie was not there but her husband was. We were welcomed right away and made to feel comfortable. The place was ready for us and actually better than expected. It was in a good location for where we wanted to visit but we also enjoyed staying at Haven
Bill
2016-10-30T00:00:00Z
We enjoyed our little stay at "haven on earth". Beautiful ride to the apartment along stream and waterfalls. Nice, cozy and clean. Recommend if you need a mountain vacation.
R
2015-12-27T00:00:00Z
Room Type
Entire home/flat
---
Property Type
Loft
---
Accommodates
4
---
Bedrooms
Otto, NC, United States
Enter dates to see full pricing. Additional fees apply. Taxes may be added.