Enter dates to see full pricing. Additional fees apply. Taxes may be added.
Cosy Chalet located in the Woodlands . 15 min from Whiteface Mtn., 25 min from Lake Placid, Keene Valley & Plattsburgh. If you're looking for a place to rest your head after a day of skiing, hiking, or sightseeing- this is the place for you...
Private Loft Bedroom...shared living area.
Patti opened her home to us. The setting was fantastic. Her home was clean and well decorated. Patti made sure we were comfortable during our stay. Her dog, Aspen, was a very considerate host. We enjoyed his company. Coffee in the morning with maple syrup and real cream was a special treat. The bed and linens were great for a fine night's sleep.
Katie
July 2015
Patti's place was really relaxing to return to after a day hiking in the Adirondacks. Very comfortable, quiet and clean. I met Patti (and her gorgeous dog Aspen) briefly when I arrived, but everything was very straightforward. Highly recommended.
Rhiarna
September 2015
Patti and Aspen made us feel at home. The house was cozy, and it was located close to White Face and Lake Placid. Patti was flexible with arrival times and departure times. She even made us popcorn. We would definitely stay with Patti again.
Daniel
October 2014
Patti was incredibly welcoming and made it feel like home. The location was quiet and out of the way, exactly what I was looking for. I didn't know exactly what to expect, but I was blown away by the accommodations. The bed was large and warm, there was Wi-fi, and the bathroom was spacious. Aspen, her dog, was also a great host and was so lovable. Highly recommended!
Amanda
September 2014
Patti and Aspen were very gracious hosts! We really felt right at home. Patti's place is beautifully decorated and very neat and tidy. The bedroom was very private and comfortable.
Judy
January 2016
Patti's house was the perfect place for our week-end in the Adirondacks. It is close to everything and very quiet. Unfortunately, we couldn't meet Patti as she spent the week-end away. But she gave us a lot of information, and we had everything we needed. It was great to spend some time with Aspen, the dog, who is very kind. We also had the chance to see some deers from the house.
Marie-Catherine
October 2014
Great experience, super host, nice dog! Will go back for sure!
Alex
January 2016
Patti was a great host, very easy going and welcoming, she made us feel right at home! She has a beautiful home in a wonderful location, highly recommended!
Timothy
June 2015
Room type
Private room
---
Property Type
---
Accommodates
3
---
Bedrooms
1
Jay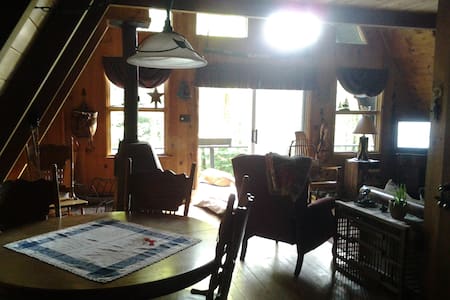 Close to everything! Best coffee in town is right next door, a short bus or cab ride or a 20 minute walk from downtown parks, bars and shopping. A 10 minute walk from waterfront restaurants, event cruises, Echo Aquarium, or a stroll in the park. From the loft window you'll have a lovely lake view (and oh... sunsets!) or just lie around enjoying the ambiance of this dreamy space. Great place for couples, solo adventurers, business travelers, families (please, mind the stairs) and pets.
You will be staying on the third floor, so please be ready for stairs! The front door will lead you to a stairwell to the second floor where you will enter apartment 3. You'll find the bathroom and kitchen on this level. Please enjoy complimentary tea and locally roasted coffee in the cupboards and feel free to utilize any other food or beverage you find, it's all for you! The kitchen is so lovely and bright, with a surge protector strip complete with built in USB hook-ups, it's an ideal place to set up your laptop for a quiet and comfortable workspace. The bathroom holds that old New England charm; quite cozy with cast iron sink and tub, and a color scheme designed to appeal and invigorate. Please be careful when using the bathtub as it's quite a big step to enter the claw foot. But feel free to indulge and enjoy a soak you won't regret! Towels, shampoo, conditioner, hairdryer, hand soap and lotion are all provided. Last you will climb one more staircase to the epic and amazing loft space. On your way up you can enjoy the gallery of artwork on display. Works created by me, Zelde Grimm, and Kara Torres, another local Burlington artist. If you have any interest in purchasing any of the work you see, don't hesitate to contact me at any time. Or, you can buy prints and greeting cards of all my work next door at Scout & Co coffee house. Now, please take care on these stairs as they are a bit steep and the ceiling is angled. In fact, the whole space is full of interesting and unusual angles. It's such a unique and curious room, you're sure to never see one quite like it! Enjoy a seat by the window to read a book or people watch. Relax on the couch where you have a breathtaking sunset view of Lake Champlain. Lounge in the pillow den, on the floor cushions or a bean bag chair (lights throughout the curtains are controlled by a dimmer switch found on the floor behind the brown bean bag and add such amazing ambiance to an already magical space). Or just head straight for the super cozy bed, adorned with enough pillows, blankets and throws to help you sink in and relax completely. And if you need any more blankets, there are more stored in the right side of the couch while the left side pulls out to form a second bed. The lamp by the bed is controlled by a switch found on the nightstand, for your convenience. Spare sheets and pillowcases can be found in the basket at the foot of the bed, if need be. In the closet facing the bed, you'll find clothes hangers, an iron, a suitcase rack, hamper and lidded wicker box holding fresh towels if you're in need of any extra. It is my goal to create more than a simple place to stay, this space is an exercise is luxury and decadence at a reasonable price. I do hope you enjoy your stay as much as I've enjoyed creating it for you. Please, if you're so inclined, sign the guest book and let me know what you love, what you didn't, what I can improve to make your next stay that much more magical! You will have complete access to the entire apartment, it's all yours! I do hope you enjoy this space I created to help you feel as cozy, luxurious and as much at home as possible. Please feel free to use any of the food or drink items in the kitchen, where you'll find complimentary tea and locally roasted coffee. If you need me, I live right across the hallway, don't hesitate to knock! Also, feel free to text me with any questions or concerns you might have. If you lose it, my number can also be found on the keychain of the house key hanging inside by the coatrack. I prefer to be texted on my phone as I don't want to miss your message, should you need me when I'm away from the house.
This lovely spot is conveniently located close enough to town to walk, bike or catch a quick and cheap bus or cab, but far enough from the city center to avoid our sometimes loud and raucous weekend revellers. If you're feeling adventurous, just ask and I'll send you down a lovely wooded path to the lake, or head towards town for five minutes and take Depot street directly to the waterfront park. On the corner, only a few doors down, you'll find our wonderful local cafe; Scout & Co. featuring some of the very best coffee roasters Burlington has to offer, along with waffles, house-made ice creams and on weekends and Wednesdays the most delectable locally crafted donuts that are so good and made with such fabulous ingredients you can feel a bit less guilty for indulging. If you're looking for more local hot spots, I've provided a personalized map which you can find on the kitchen table with all my favorite spots! If you have any questions or specific needs, just let me know and I'll direct you as best I can! You will have your own parking space driveway, directly next to the porch. The bus stops right outside, heading towards town there are stops to the north or south of the house (closest is to the north) and towards the New North End (where you can find groceries and beaches) the closest stop is only a few paces north and across the street. Also, cabs and Ubers will take you right into downtown for less than $10. Dunwright Cab company is my local company of choice, and you can call or text them for a ride. Or just hoof it, everything is so close! Following North Ave towards town will walk you through Battery Park where you can find some really fabulous lake views, straight to Pearl street which will take you right to town for easy access to shops, restaurants and bars. Or continue down Battery st to access the waterfront and all of its amenities! Just ask if you have any questions at all, I'm happy to help make your stay the best it can be! Please note that there is NO TV in the space. Television is not a part of my lifestyle and I have chosen not to include one in this lovely and peaceful space so if you desire to watch anything, please bring your own device as WiFi is available. Parking space for the apartment is the spot directly next to the front porch, by the stairs. Please leave room for the other cars to park on the left side. Light switch for the bed lamp is located on the night stand. Secondary light switch for the hallway stairs is located at the top of the stairs on the right. In case of a power outage, there are flashlights plugged into outlets upstairs and in the kitchen which automatically turn on if the power fails.
Room type
Entire home/flat
---
Property Type
---
Accommodates
4
---
Bedrooms
1
Burlington
My place is a quiet retreat close to the beach, public transport, nightlife, and family-friendly activities. You'll love my place because of the coziness, the high ceilings, the kitchen, and the location. My place is good for couples, solo adventurers, and business travelers. No internet or t.v. Just relaxation.
Awesome apartment that was as advertised. Kei was generous and easy to communicate with. Highly recommend staying at this apartment, which is close to downtown Burlington.
Daniel
October 2016
I had a great time! Kei was very timely with responding
Bec
December 2016
Really nice, cute space. No complaints! Kei is very good with communication and seemed to accommodate changing travel plans really well. Everything was as said on the post. Being on the north side of Burlington was great, too, especially as we spent most of our time in Winooski :) Will not hesitate to stay again in the future.
Lexi
November 2016
We really enjoyed our stay in Burlington! Kei was accommodating, friendly, and helpful from check-in to check-out. The studio apartment is in a great area and we took advantage of the coffee shop/brewery next door. The apartment was certainly minimalist, but very clean and comfortable. We highly recommend booking this apartment for your next trip to Burlington.
Erin
October 2016
Kei's place was very cool and simple. All of our basic needs were met. Kei was responsive to text and it's a short drive to downtown.
Wayne
November 2016
Room type
Entire home/flat
---
Property Type
---
Accommodates
2
---
Bedrooms
0
Burlington