Beautiful apartment in Chardonne with exceptional views over Lake Geneva and the Alps. You'll enjoy it for the comfortable bed, the kitchen, the comfort and the high ceilings. My accommodation is perfect for couples, solo travelers and business travelers.
A few days relaxing in a sunny place: Chardonne, Lavaux wine village world heritage of UNESCO. Stay in an apartment in the attic, quiet and open on a surprising view room on the north with a double bed and possibility of lock, shared bathroom and kitchen with dishwasher. Wifi available. Possibility, when the weather permits, breakfast on the balcony facing south and plunging this beautiful view.
family neighborhood very pleasant 5 minutes drive from Vevey 15 minutes drive from Montreux Geneva airport 50 minutes by car 15 minutes from the ski resorts and winter sports
Yolene's place is a hill and it has breathtaking view towards lake and mountains, yolene was very caring and her son is very cute, we would love to visit her again.
gurpal
2017-03-05T00:00:00Z
The location and the House are beautiful. The view from the House is really wonderfull. No word too much. Yolene was so nice and very helpful. She gave just the right tips for sightseeing. Her son Raphael is such a nice and cheerful boy. Many thanks for all and all the Extras! Very recommendable airbnb.
Betteke
2017-03-19T00:00:00Z
It's staying at places such as Yolene's that makes the AirBnB experience so much fun. She is so full of life and so caring and so sweet. Has so much to share about her experiences and she's a good listener too. Had such a wonderful time at the breakfast table; which I must say was prepared with lots of love. The view from the house is INCREDIBLE! Her son who is the sweetest looking boy was very helpful with the checkin and Yolene was great with communication even before we could reach. HIGHLY RECOMMEND! Looking forward to seeing you again in the future until then ALL THE BEST!
Meeth
2017-02-26T00:00:00Z
Yolene and her son are wonderful people to be with. The room is spacious and clean. The Neighbourhood is quiet. My greatest challenge was to walk up the rather steep hill from the funicular to her place. Yet, if you take the funicular to the next station, which is the last stop, you will have a magnificent view of the lake and mountains. Besides, it is near the Charlie Chaplin Museum if you are a fan and Yolene can fill you in with many details if you did not take the guided tour.
Celeste
2017-02-04T00:00:00Z
We had a fabulous 2 nights at Yolene & Raphael's place. You can't find a better host than Yolene, who even served us breakfast each morning and gave us a ride to Montreux. She really does this Airbnb-thing with her heart and soul, because she wants to meet new people and is a giving person. No better place to stay if you want to explore this region.
Wouter
2017-04-09T00:00:00Z
Yolene was a great host. During my longer stay she helped me in everything well beyond my expectation. She has very good advises on the surroundings and she can help I believe all kind of travelers (leisure and business) to make its journey / stay fabulous. The location and the view is fantastic. Transportation is easy to Vevey by the funicular or car. The room is spacey and the bed is comfortable.
Tamás
2016-12-31T00:00:00Z
Great stayed; clean, warm and comfortable!! Plus the family was lovely :)
Claudia
2017-01-20T00:00:00Z
Yolene`s place is in a scenic and quiet environment, on the other hand thanks to the public transport Vevey is easily accessible. What is more important Yolene is the nicest host I have met on AirBnB and she is very helpful in every matter. She knows the area so you get a "free guide" to the surroundings :).
Tamás
2017-02-23T00:00:00Z
Room Type
Private room
---
Property Type
Apartment
---
Accommodates
2
---
Bedrooms
Chardonne, Vaud, Switzerland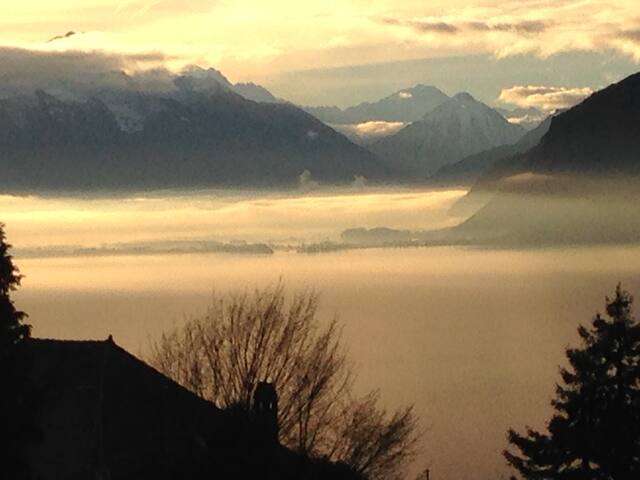 Dear Guest, The apartment (28m2) is quiet and cozy with a beautiful view of the Lausanne cathedral and lake Geneva. It's near to the city center and well connected with bus and metro. Everything is provided to have a great sleep after a busy day. You get a well equipped house with a single bed, sofa, blankets/pillows, kitchen equipment, WiFi and a local host who can provide you useful guidance. We speak only English and Hindi, so some basic English knowledge will be required. Regards, Archana
The host canceled this reservation 22 days before arrival. This is an automated posting.
Judith
2017-04-07T00:00:00Z
Room Type
Entire home/flat
---
Property Type
Apartment
---
Accommodates
2
---
Bedrooms
Lausanne, Vaud, Switzerland
La Rigole Studio is a brand new apt rebuilt in the "Carnotzet" of our villa. The small cozy room recently received a modern and fresh decoration with a wc/shower and a small kitchen. The hosts can also enjoy a terrace in front of the room surrounded by fruit trees and birds; With lucky you will even hear the swiss cow bells... A very good transportation system is available near by La Rigole. Buses are at 300mts and the subway to Lausanne city center and lake shore is only 700mts from the house.
Looking for a romantic typical Swiss dinner? During Winter time, don't hesitate to ask us about a cheese foundue or raclette that we can serve in our garden house upon request!
We are in a residential neighbourhood with only villas around, a lot of trees and birds but very close to the Metro and buses turning the transportation very convenient. The commercial center with supermarket, drugstore, bank, bakery and restaurants is only 2 blocks from the Studio and you can easily walk there
Beatufully equipped studio and warm wellcome from Marcio and Mariana. Spotty clean, even providing you the bathrobe. Cannot think of a better place!
Silvia
2017-01-25T00:00:00Z
We loved the place
Rajeev
2017-03-22T00:00:00Z
Márcio and Mariana were the best hosts that I've met at AirBNB. La Rigole is wonderful and romantic. I believe that the place is better than the profile photos. Very near to public transportation and supermarket. If you like to walk, you can go to the city centre and Sauvabelin by foth. La Rigole has also a beautiful view of the city and it's vert quiet. For me it was better than stay at the city center! Highly recommended and if I go to Lausanne again I'm pretty sure I'll stay in La Rigole! Ps: they also receive us with wine (great plus :) )
Gabriela
2017-02-25T00:00:00Z
This is one of the best places I've ever been. A cosy studio, equipped like a 5-star hotel (there is also the bathrobe) with a functional kitchenette, including Nespresso coffee machine. But what it is difficult to find elsewhere is the kindness of Marcio and Mariana who are taking care of their hosts for whatever they can need.
Silvia
2017-03-01T00:00:00Z
The host were very friendly and helpful , and offered late-check out. The location is 2 minutes away from the bus stop, 5 min walk to supermarket. The shower is it small, compact but cozy for 2 people.
Lena
2017-02-16T00:00:00Z
Nice studio near to Lausanne and Lavaux which the hospitality is great with all equipments you need to enjoy your stay, while having space for cooking.
Chia
2017-01-04T00:00:00Z
A superb place. Exceptionally clean and a beautifully kept studio. The studio felt really luxurious thanks to all the detail paid to it by Marcio and Mariana. The location was fantastic, which overlooked mountains. The hosts were also extremely kind and keen to help us make the most of our stay. Thank you both very much!
Gabriella
2016-12-12T00:00:00Z
I would rate 5 stars to M&M's modern studio! Everything there is clean and new. The house is easy to find as they gave a lot information to us before we travelled. It's so warm! We stayed 3 nights there and it made us feel like home! I recommend to all of you to live here because it is more than what a hotel can give you! It's really fantastic and Mariana is really amazing and super nice, she helped us a lot and also gave us some travel tips! I really want to chat with her more but my itinerary was tight, but I wish we will meet again in Asia! Thanks for the gift! I really love your comfortable bed!
Laura
2016-11-12T00:00:00Z
Room Type
Entire home/flat
---
Property Type
Apartment
---
Accommodates
2
---
Bedrooms
Epalinges, Vaud, Switzerland
Quiet apartment duplex, rents a room with lots of light there is a balcony and a small terrace, for one person or couples. Gay-friendly. For traveler who likes cats. Possibility of half-board on request. WC-shower next.
Il est près de lautoroute, très agréable. Une vue magnifique montagne...
Calme, beaucoup de balade, tenis,basket,jogging,vin. Ect
The host canceled this reservation the day before arrival. This is an automated posting.
Germain
2017-01-22T00:00:00Z
The host canceled this reservation 7 days before arrival. This is an automated posting.
Connie
2016-12-05T00:00:00Z
Morgan (and Denis) were lovely, kind and generous hosts. Everything was as described, they even invited me to eat with them, which was great as Denis used to work as a chef. Morgan was good company, making tea and practicing his English. The train station for Lausanne is pretty close and it's a quiet spot - I left a bike in the cave downstairs for a few nights without a problem.
Andrew
2016-10-07T00:00:00Z
Morgan is a perfect and very warm host. He even offered me pizza when I arrived and I felt very welcomed. Although he had just finished his working day he was interested in talking with me and invited me to sit in the living room with Denis and him. The bedroom was lovingly prepared including a huge towel on the bed. Thanks a lot, Morgan! I recommend Morgan and his cosy house to anyone who comes to the Lausanne area.
Gabriele
2015-10-08T00:00:00Z
Even though there was a misunderstanding with my booking and acceptance, Morgan was very successful of welcoming me! I got to spend a night together with Morgan as we talked and they bought we pizza, Morgan then had to leave for vacation but gave me all the information I needed for my 5 days stay. I didn't get to see his cats too often but the little I did they were adorable. It was a pleasant stay!
David
2016-05-10T00:00:00Z
This is a lovely guest room in duplex home near the train station in Puidoux (attn: lots of slopes and stairs for those with lots of luggages) which is just 10 minutes by train from Lausanne. Morgan and Denis are warm and friendly hosts who make you feel right at home. I slept wonderfully on the single bed!
Jen
2016-11-18T00:00:00Z
The host canceled this reservation the day before arrival. This is an automated posting.
Daniel
2017-03-27T00:00:00Z
This was the BEST Airbnb experience I've ever had. Honestly, if you are considering staying here, you should absolutely do it. Morgan and Denis are so welcoming, when they found out it was my birthday, they made me a traditional Swiss meal. They invited me to watch TV and drink tea with them. The room was amazing and the bathrobe was definitely a nice touch! I felt like I was in a hotel! Thank you so so much for such an amazing stay (and birthday!).
Rachael
2016-10-30T00:00:00Z
Room Type
Private room
---
Property Type
Apartment
---
Accommodates
1
---
Bedrooms
Puidoux, Vaud, Switzerland
Nice apartment, 50m2 + garden 30m2. View on the lake and mountains. Shared warmed swimming pool from the 1st of May till mid september. A double bed, a confortable sofa (+ place) and an extra bed. Free carpark. The apartment is next a sport field and playground. 14km from Lausanne (15-30 minutes by train) and 10 from Montreux. Possibilities of hikes in the vineyards and country side from home. Beaches at 10 and 20 minutes walk. 2minutes from tiny railway station and facilities (supermarket,etc)
A large bedroom with a large double bed. A lounge with a sofa (possibility to sleep for small persons ). Matteress on the floor. Kitchen fully equipped. Seperate toilets. A private garden and a covered terrace. In the safe garden you have chairs and table to eat outside. You may pick herbs in the vegetable garden. The swimming-pool is available from the 1st of May till mid-september (monday "du Jeûne"). The cleaning is to be done at your departure by you. If you prefer, I can call for a housekeeper and you will pay the service at he moment (30chf)
You are in the middle of the vineyard, up on the hill in a village very central and fully equiped. The residence of "Panoramas" where the house is, is a complex of 6 similar houses. The residents like calm.
Katya's apartment is great, and the view and the surroundings are breathtaking. It has one double bedroom with a stunning view to the mountains, and another space -living room- with a confortable couch. The place is just like the pictures, very clean, cosy and confortable. It has a beautiful little garden and a community pool. The apartment is perfect to explore the area, which is declared World Heritage by UNESCO. The village is located up in the hill, so the views to the vineyards and the lake are amazing. Walking down to swim in the lake takes about 20 min, and the villages next to the lakeside are also beautiful. Katya is very nice and kind, she even went pick us up when we got lost (warning: GPS gets a little crazy in the town, which otherwise is very easy to find). Arranging with her was very easy and communication very fluid. We had an awesome stay, I higly recommend this place.
gemma
2016-07-03T00:00:00Z
We had such a great stay!
Anna
2016-07-08T00:00:00Z
Katya is a great host: she sent us detailed travel information and then waited to meet us and show us around. Our family enjoyed staying at her cosy apartment. There was everything to make our stay really comfortable. The place is few minutes walk to the train station, which is very convenient.
Maksym
2016-09-11T00:00:00Z
The host canceled this reservation 29 days before arrival. This is an automated posting.
Mukund
2016-06-25T00:00:00Z
We had a wonderful stay at Katya's apartment! Her directions were impeccable and she even came and met us from the station, very helpful, warm & friendly and made us feel very welcome! The apartment itself is superb, lovely and clean with INCREDIBLE views over the lake, especially from the pool! Amazing bed, neat kitchen & stylish throughout, only a 15 minute walk through stunning vineyards to the edge of the lake and a 2 minute walk to the station. We couldn't be happier with our choice and would recommend it to anybody!!
Charley
2016-09-15T00:00:00Z
A wonderful flat with a wonderful view over the lake. Thank you, Katya, for the warm welcome. Nice pool. Good public transportation access. We really enjoyed the short stay for the Jazz Festival in Montreux.
Katja
2016-07-13T00:00:00Z
Katya is a nice host, communication was easy and pleasant. The flat was very clean and well equipped. And of course Chexbres is a perfect place.
Christophe
2016-07-23T00:00:00Z
Katya is very friendly and wanting to accommodate. She communicated often with us to ensure our arrival was smooth and easy. I did not personally stay here, two of my family members stayed. This was not quite the AirBnB experience we have been exposed to. Unfortunately the towels were low quality linens, and not enough to accommodate both members (we had to bring some extra), the sheets were well worn, almost felt used/not quite high quality and clean. Food in the basket was left for us (guests to use); however packages were previously open/used, so we did not find it fresh or desirable to eat. There were signs to not use food in cupboards. Her hair was on the floor and in the bathroom tub. The plumbing and set up of the shower+tub and all the water shoots out of the gasket and leaked. Our family had to come over and clean the flood due to the tub/shower set up. The listing mentions 2 beds; in reality there is a mattress on the floor and a square cushions that fold up or out to lay sheets on it on the floor. Also, the pool was closed the day we arrived for the season, which was not properly indicated on her listing. The location in town is excellent. It appeared her AirBnB is actually her home, so some of her stuff was left out and some stuff was taken with her, hence the signs on cupboards, food left out, hair on the floor. We have all had different AirBnB experiences and standards; therefore, my high quality experiences in other AirBnBs make this home a less than optimal. There is a lot of potential, perhaps Katya can update her listing for accuracy and spice up her AirBnB for others.
Julianna
2016-09-23T00:00:00Z
Room Type
Entire home/flat
---
Property Type
Apartment
---
Accommodates
3
---
Bedrooms
Chexbres, VD, Switzerland
The room is equipped with a new bed settee 2 places. The room is very quiet thanks to the double glazing and the neighborhood is very quiet. We are at the end of a private road and the windows overlook a forest and a river; it's like being in the countryside while being 5min from the station Pully and direct bus to the center of Lausanne! The apartment consists of 3 rooms and a half. thirties couple, we are glad you mentioned the nice places and tips!
Cecile's home is very nice and cozy. It's close to a bus stop and also just a 10-15 minute walk from Lake Geneva. It's in a quiet and calm area, perfect for relaxing. We only stayed a night but we had a nice chat with Cecile over coffee and she was helpful with directions and recommendations! Overall, it was a great stay and I would definitely go back. Cecile - you have a place to stay if you ever come to the Dominican Republic! Best wishes.
Minu
2017-03-30T00:00:00Z
Everything's perfect at this very warmful couple's place. It's a very quiet and wooden spot close to a small creek and not so far from City center. Public transport are very close and quick from the train station, even though not very frequent, so pay attention to the timetable. Highly recommended!
Paul
2017-03-10T00:00:00Z
Cécile est très accueillante et disponible pour nous renseigner. Quartier calme et verdoyant. Je recommande.............
Renée
2017-03-24T00:00:00Z
Cécile a été très gentille et disponible. La chambre été propre, confortable et silencieuse. L'appartement est dans un beau coin à côté d'un jolie bois et proche quand même des transports publics. Le centre de Lausanne est à 5 minutes de bus. Très conseillé.
steve
2017-02-22T00:00:00Z
Un accueil impeccable, une hôte très accueillante, arrangeante (elle a pu nous accueillir malgré un retard de 5h imprévu !) et agréable ! Elle nous a donné beaucoup de conseils sur Lausanne (quel quartier visiter, où aller manger,...), ce fut un week end parfait chez Cécile et son conjoint !
Coralie
2017-02-12T00:00:00Z
Alloggio perfetto. Non solo per la posizione e la pulizia dell'appartamento ma anche e soprattutto per la disponibilità e simpatia di Cécile. Super raccomandato :) Le logement etait parfait. Il etait tres propre et tres bien situé, Cécile est tres gentille et disponible. Je la recomande :)
Giulia
2017-03-28T00:00:00Z
On a passé un très bon séjour avec Cécile et son copin, ils prennent très sérieux le travaille et ils ont beaucoup des guides pour avoir une idée des endroits à visiter. Ils sont très agréables et les services de la maison sont magnifique. L'appartement n'est pas loin de centre-ville a pied. Très recommandé!
Alberto
2017-02-15T00:00:00Z
Super adresse!
Thibault
2017-02-23T00:00:00Z
Room Type
Private room
---
Property Type
Apartment
---
Accommodates
2
---
Bedrooms
Pully, Vaud, Switzerland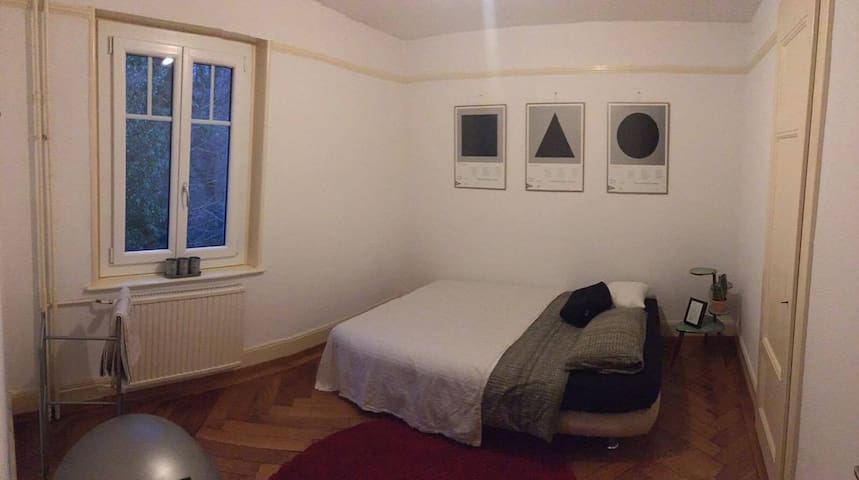 Beautiful 3 bed room appartement close to the lake in a high standing residential area. few minutes from Lutry center and easily accessible (Bus station at 100m). Fully equipped. Big Living room (70m2) with an American kitchen and access to a 22m2 terrasse with view on the mountains and the lake. Ideal to enjoy relax evenings. There is a parental suite (32 m2), and 2 other bed rooms. Parking is available within the residence (1 garage and 3 visitor places).
163 m2 appartement in a high standing residence, close to Lutry beach and a step from the LAVAUX vignoble, protected by UNESCO.
The Appartement is located 200m far from Lutry Beach.
We loved The place! Location is great, large livingroom fully equiped incl fireplace, pool table, large TV, surround system! Kitchen was great as well, Nespresso machine, winefridge etc! We loved our stay and will for sure be back! Thanks for a great stay with a great host!
Peter
2016-12-24T00:00:00Z
An awesome apartment at a great location! Everything you need is there. It's spacious, clean and well maintained. Sabri is a great host and always available for help.
Hilde
2016-08-05T00:00:00Z
The apartment was very nice and big with a great terrace. Everything needed was there. Only two comments are that Sebry answered the first messages we sent with questions but never answered the following ones (as there where no instructions in the apartment and we never saw him, we had several doubts), also the dishwasher was left clean but full of stuff, so we didn't use it.
Marcelo
2016-09-04T00:00:00Z
The host canceled this reservation 11 days before arrival. This is an automated posting.
Rob'o
2016-09-12T00:00:00Z
The host canceled this reservation the day before arrival. This is an automated posting.
Ibrahim
2017-03-24T00:00:00Z
We can only recommend Sabris apartment. It is very modern, big, confortable. We would definetely stay ther again!
Fabiano
2017-01-12T00:00:00Z
The host canceled this reservation 16 days before arrival. This is an automated posting.
Tom
2016-08-22T00:00:00Z
Nice place! Sabri is a good guy and patiently to reply my questions. There's free car parking. Highly recommend this apartment for family trip!
Wat Er
2017-03-31T00:00:00Z
Room Type
Entire home/flat
---
Property Type
Apartment
---
Accommodates
8
---
Bedrooms
Lutry, Vaud, Switzerland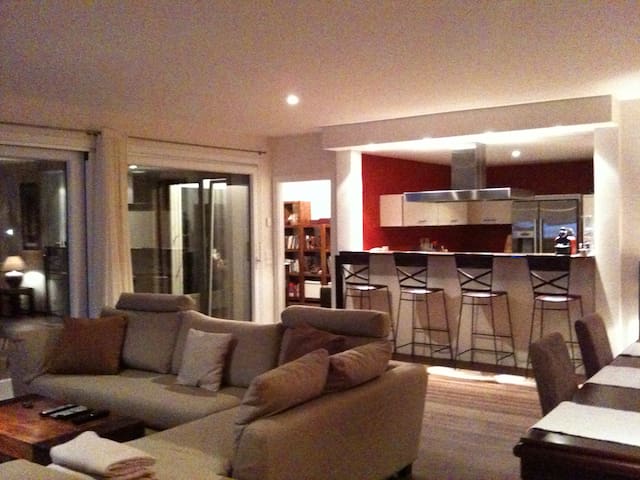 Dans le charmant village de Grandvaux, situé entre Lausanne et Montreux, notre Famille vous invite à découvrir la magnifique région dans laquelle nous vivons et travaillons. L'appartement que nous mettons à disposition se situe dans notre maison vigneronne et possède une entrée indépendante. Nous sommes présents pour votre confort et sur demande nous pouvons vous organiser une visite de la cave et une dégustation de nos vins. Bon voyage !
Appartement de 3 1/2 pièces
Aurelia's place is located in the middle of Lavaux vineyards, the view from their terrasse is breathtaking. We stayed there for 2 nights and had a great time. We could easily reach the Cully Jazz Festival and we will for sure repeat this experience again next year. The apartment is simple but well equipped, the kitchen has everything you need to prepare a tasty meal. Aurelia's family is super nice. I would highly recommend you to spend your vacation here.
Larisa
2017-04-02T00:00:00Z
Room Type
Entire home/flat
---
Property Type
Apartment
---
Accommodates
8
---
Bedrooms
Bourg-en-Lavaux, Vaud, Switzerland
Our guest rooms which are quiet like studio apartments are situated close to Blonay, Vevey and Montreux. Not far from Gruyère or Wallis, they are the ideal places to recharge your batteries. You'll appreciate our accommodations for their spaciousness, fully equipped kitchen, cosy bedroom, elegant living/dining room and its beautiful terrace (for the ground floor guest room). They are perfect for couples, solo travelers, business travelers or family (with 1 or 2 children).
The studio apartment is about 50m2 with windows equipped with motorized window blinds. The view over the Geneva Lake is stunning and magnificent! In the kitchen, you'll find: an oven, a hob (with two burners), a dishwasher and a refrigerator. You'll be able able to cook like a real chef thanks to all the dishes, the kitchenware and the spices that you'll find. In the living/dining room you'll benefit from: a TV, a little desk space, a table to eat and a sofa bed (160cm/L) and a bookcase, in case you have an uncontrollable desire of reading a book. In the bedroom you can sleep in a big bed (150cm/L). You can relax and wash yourself in a fully equipped bathroom with a shower. Everything, in this apartment, has a modern and new equipment.
The house has no neighbors close by as it's in the middle of a field where the only thing likely to wake you the morning is the singing of the birds.
The host canceled this reservation 2 days before arrival. This is an automated posting.
Saracsi
2016-10-21T00:00:00Z
Room Type
Entire home/flat
---
Property Type
Apartment
---
Accommodates
3
---
Bedrooms
Saint-Légier-La Chiésaz, Vaud, Switzerland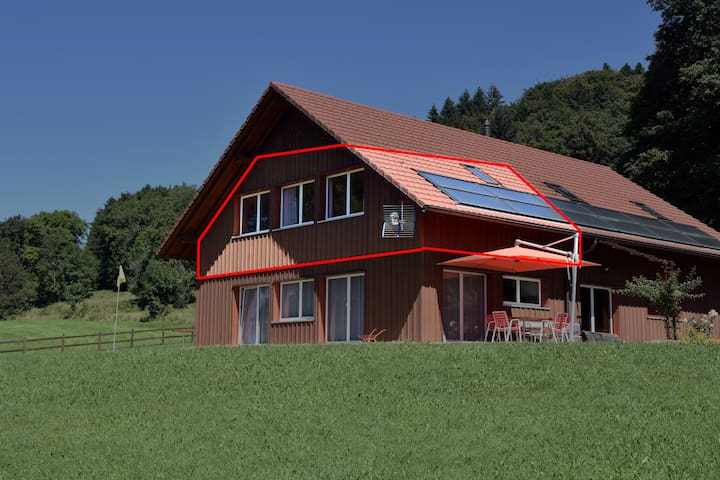 Le logement est proche de Lausanne et très au calme. Vue magnifique sur le lac Léman. Entouré de verdure. Vous apprécierez le confort, la luminosité et le lit confortable. Le logement est parfait pour les couples, les voyageurs en solo et les voyageurs d'affaires. L'accès se fait en voiture. Vous bénéficiez d'une place de parc devant la maison. Le logement est constitué de 3 chambres avec lit double , soit pour 6 personnes au total.
Jolie maison avec une belle vue sur le lac. Cependant seule les chambres sont équipées de mobiliers, le reste de la maison est vide. A la cuisine nous avions juste accès au micro ondes, cafetières et frigo, dommage lorsqu'on loue la maison entière dans le but de se faire un bon repas entre amis. De plus le nettoyage de la maison était à faire à l 'arrivée car la propreté laissez vraiment a désirer. Dommage car la maison a un sacré potentiel.
Teddy
2016-12-11T00:00:00Z
Room Type
Private room
---
Property Type
Apartment
---
Accommodates
6
---
Bedrooms
Belmont-sur-Lausanne, Vaud, Switzerland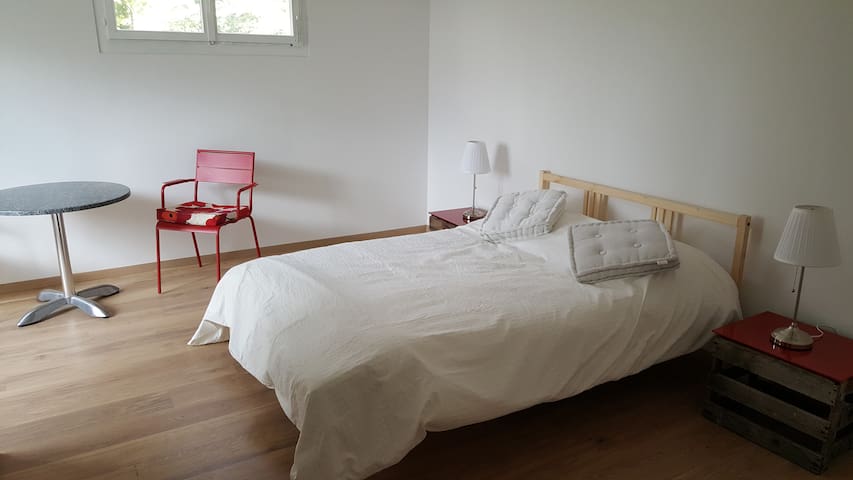 Built in 2016, located in downtown Châtel-Saint-Denis. The property is in a very quiet neighborhood and about 10 minutes drive from Vevey-Montreux, 20 minutes from Lausanne and just 10 minutes away from Les-Paccots Ski slopes! The apartment will provide you with a large living space with two sofa-beds as well as a large Bedroom, cabled-TV, DVD-Player and free high-speed (100Mb/s) Internet access. Fully equipped open kitchen, dining table for 6, a very large bathroom with shower and bath tub.
Great apartment in a quiet location. Very tastefully decorated. Helpful and accommodating host. Nothing bad to say!
David
2017-01-27T00:00:00Z
logement tout particulièrement adapté à un très calme séjour en famille à Châtel
DOMINIQUE
2016-12-26T00:00:00Z
Room Type
Entire home/flat
---
Property Type
Apartment
---
Accommodates
6
---
Bedrooms
Châtel-Saint-Denis, Fribourg, Switzerland
At 500 meters Nestlé World Headquarters, my apartment of 180 m2 enjoys an exceptional view. - Architect, I designed New Eos (11 apartments) in a homestead, first for my family, and I put all my heart and all my skills, and I think you will feel it.
In a recent building (2001), this apartment on the ground floor offers comfort, peace and serenity. It is an excellent base for winter sports and all sports, cultural and gastronomic activities in the region. No frills, but with comfort and first-class facilities. No sound or visual nuisance interferes with the majesty of the place A large south facing terrace allows to enjoy the panorama
Small residential village attached to Vevey absolute tranquility Downtown Vevey 5 minutes
Venez découvrir cet appartement avec une vue exceptionnelle et un bel accueil vous sera réservé
patrick
2017-03-13T00:00:00Z
Room Type
Entire home/flat
---
Property Type
Apartment
---
Accommodates
8
---
Bedrooms
Corseaux, Vaud, Switzerland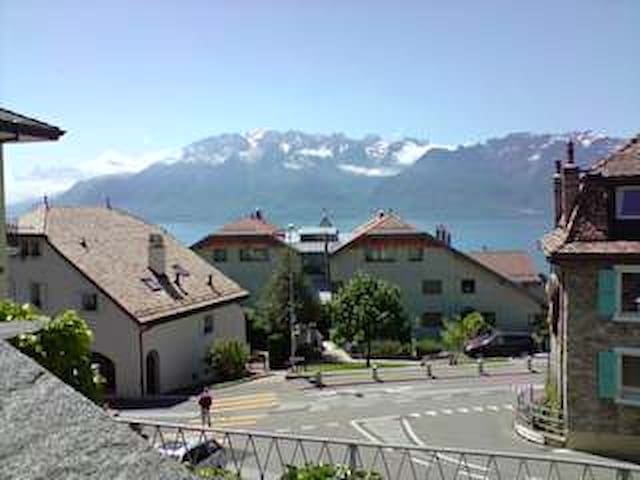 Closed to Lausanne. independant appartment, with a big room and a separate kitchen you enjoy the quietness on a private terrace and dispose of your own laundry. Parking free.
You will enjoy the place in peace and safety area as if you were at home.
In a very quiet residential area with 3 restaurants in the km2 come to enjoy the fresh air of the countryside with large forest for jogging.
Basic but clean village house basement flat good.value for money in the area in case you come by car. Hosts are friendly and helpful also in English
Istvan
2016-06-24T00:00:00Z
Very nice and spacious apartment in calm area. Easy parking, but far from public transport - therefore suitable only when you are by car. The hosting family was very nice. I can definitely recommend.
Jan
2016-03-12T00:00:00Z
Room Type
Entire home/flat
---
Property Type
Apartment
---
Accommodates
2
---
Bedrooms
Le Mont-sur-Lausanne, Vaud, Switzerland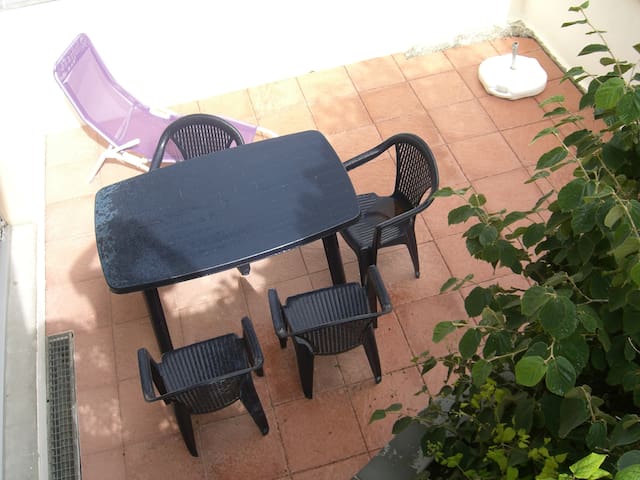 Studio with parking space near Vevey, Montreux, transport, skiing, hiking, shopping. Enjoy the view, location, comfort. Perfect for couples, solo travelers and business travelers. Studio apartment with car parking space, close to Vevey, Montreux and public transportation. Close to walking trails, skiing, and grocery stores. Stunning views and appropriate private hire make it perfect for couples, solo travelers and business travelers.
Room Type
Entire home/flat
---
Property Type
Apartment
---
Accommodates
2
---
Bedrooms
Blonay, Vaud, Switzerland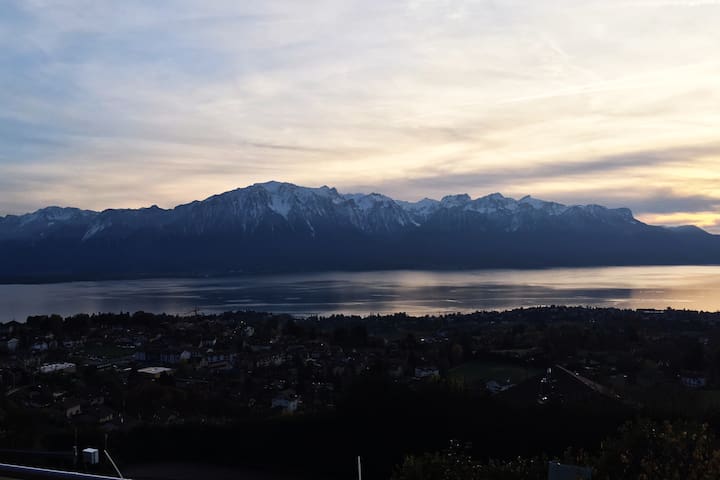 Nice room in small modern apartment and welcoming. very quiet area. Greenery around and close (7 min walk) from metro M2 Lausanne (20 minutes from downtown). 20 min walk CHUV Lausanne. Square blue parking in the neighborhood.
My accommodation is a 20 minute walk from the CHUV (very convenient in case of convention, seminar or other reasons to visit the CHUV.) Also the headquarters of the RSR (French-speaking Switzerland radio) 5 min walk .
I live in a super quiet and green. Recommended if you like peace and quiet! If you want to discover the world of fearless Lausanne nights you'll be there in less than 30 minutes by public transport.
Very cozy home & friendly owner with surprised breakfast from the host! Only blue Parking is available with maximum 1.5 hours parking & parking disc is provided by the host too!
Kayvin
2017-04-05T00:00:00Z
Nice host... very welcoming. I will come back again to her place.
alberto
2017-02-19T00:00:00Z
accueil et prestations ont répondu à notre attente. Appartement et chambre très agréables. Laurence nous a accueilli avec beaucoup de gentillesse en nous laissant les clés et la cuisine à disposition pour le lendemain matin, ce qui est très agréable. Chambre et literie spacieuses et agréables. Ambiance ZEN avec petites lumières d'ambiance. Espaces communs très propres. Pas de mauvaises surprise; A recommander.
Gilles
2017-04-11T00:00:00Z
Hôte très discrète, appartement agréable et propre. Logement proche du centre ville.
Juliette
2017-03-26T00:00:00Z
Super appartement et hôte extrêmement gentil. Le lit est super confortable et le quartier très calme et propre. Les places de parking sont en bons nombres autour du logement.
Pierre
2017-02-13T00:00:00Z
Logement conforme aux photos et très agréable. Hôte disponible et chaleureuse. Très bien situé pour visiter Lausanne ou Montreux
Erika
2017-03-14T00:00:00Z
Tout était absolument parfait. Laurence a été flexible et elle est pleine de petites attentions. On se sent comme à la maison et j'ai très bien dormi dans le lit qui a un matelas type tempura. L'endroit est calme, on entend uniquement les oiseaux chanter. On sent vraiment que Laurence est aux petits soins et que ça lui fait plaisir, c'est exactement ce type d'attitude que j'adore dans airbnb. Merci encore pour tout et en plus rapport qualité prix imbattable
Michèle
2017-04-09T00:00:00Z
Logement conforme à sa description, bien agencé, joli et avec une literie au top. De plus, Loulou est une hôte adorable et arrangeante. Je vous la recommande vivement.
Stéphanie
2017-02-28T00:00:00Z
Room Type
Private room
---
Property Type
Apartment
---
Accommodates
2
---
Bedrooms
Lausanne, Vaud, Switzerland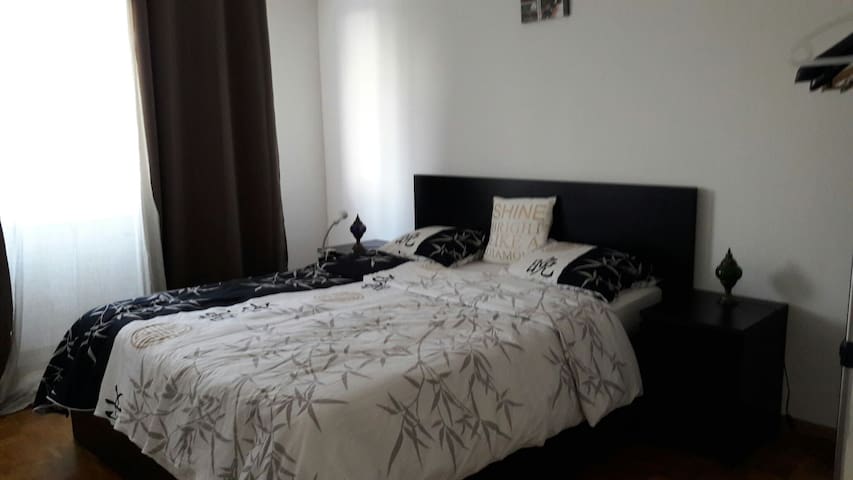 Settling in Lausanne? In need of a temporary friendly place to stay the first few months? → I propose 5 furnished bedrooms, for individuals or couples; → And my help to survive the settling bureaucracy. -130m2 apartement (80m2 of common space); -4 indivudual rooms to rent + 1 studio next door (see the 4 other ads on my profile); -2 brand new bathrooms; -300mb/s internet everywhere + HD TV; -Access to ALL common spaces and devices; -Plenty of space allowing for social interaction AND privacy!
All common spaces are yours to use. On top of high speed internet and HD TV (on-demand, replay, etc), you are also free to use ALL FACILITIES AND DEVICES, AT ANY TIME, in the kitchen, livingroom, balcony and bathrooms – including the washing machine. There are also common items you may use: bicycles, swimming pool pass, soap/softener, and all sorts of commodities. NOT INCLUDED IN THE AIBNB PRICE: -monthly participation to common charges, bills, cleaning, products, etc., etc., etc. (this is to be paid each month in a collective pot. Whatever's left is used for common parties/activities). -Parking (should you need it, we can ask the agency). RENTS (all-inclusive) All rooms are Fr. 800.- + charges From the 3rd month on: 750 + charges. From the 7th month on, flat rate: 700 + charges. Add to this: AirBNB booking commission, for these months you book through AirBNB. HOW TO BOOK? (tips) -Read my profile. -Complete YOUR profile. -About 3 months before you come, send me a request for 1 or 2 months (specifying what would be the potential duration of your total stay – i.e. 2 initial months + maybe another 2 months). -Ask any question you have – I'm always happy to answer them. USEFUL INFO -I never book more than 1 or 2 months here, on AirBNB – but these are renewable upon arrival. -I work on a 2-3 months deadline. It means I make room planning 2-3 months ahead only. Which means it's useless to send me a request 6 months before you come, or the week before you arrive. It also means that once you're living at my place, you have to tell me well ahead if you want to extend your stay. -All rooms are somewhat similar, and each AirBNB ad is a description of all rooms, and portrays a picture of each other room. Booking a room on AirBNB means booking ANY room within the apartment. This being said, I'll do my best to meet your needs and preferences!
Awsome NEIGHBOURHOOD: -Super downtown (10' walking from St-François) -But super green/calm (in the mids of a little forest) -5' walking from the biggest indoor swimming pool of the city
I am staying with John for 4 months and I would always come back! I really love the apartment, it is perfect for a shared apartment. Also the neighborhood is very nice and pretty, the balcony gives everything a nice touch in summer :) John is very nice and very helpful with everything you need. Also he has a great sense for choosing the people for the rooms. I met some really interesting people so far. So I fully recommend staying here, it is very easy here to find a new home in a new city!
Jana
2015-07-01T00:00:00Z
When I got to the place, a small welcome party was thrown. John, and the other two people living in the flat are the perfect flat mates. It's more than a flat sharing arrangement, it's a community, where you get your privacy or a great company -- whichever you need at the moment. I am very lucky to have found them. The neighborhood, the flat and the room were exactly as discribed. No surprises or hidden problems anywhere. The neighborhood is very quiet, yet close to the center of Lausanne (Flon): a couple metro stops or a roughly 15 min walk. The flat is super clean. John makes sure to provide everything one needs (well equpped kitchen, towels in the bathrooms, etc). There is a sunny, spacious living room with a good size balcony. I can't think of a bad point, no matter how hard I try.
Marton
2014-10-01T00:00:00Z
L'appartement est très grand, propre et bien tenu. John est super sympa, disponible, et il m'a donné toutes les indications nécessaires pour que mon séjour se passe au mieux. Je reviendrai ici sans faute lors de ma prochaine venue à Lausanne!
Thomas
2015-02-08T00:00:00Z
Acceuil très agréable. On se sent comme chez soi dans cette appart coloc remplis de chouettes personnes.
Arno
2015-10-29T00:00:00Z
Room Type
Private room
---
Property Type
Apartment
---
Accommodates
2
---
Bedrooms
Morges, Vaud, Switzerland

The property is conveniently located downtown close to public transportation and shopping. The room is very clean. I shall ensure the proper care of the traveler so that its passage as pleasant as possible. Welcome :)
Room Type
Private room
---
Property Type
Apartment
---
Accommodates
1
---
Bedrooms
Lausanne, Vaud, Switzerland
2 room apt. in private house. Located in Epalinges, surrounded by the city of Lausanne. Close to Metro station (M2) with direct connection to Lausanne center. Bedroom with double bed, living room with couch that can be changed into double bed.
It is an independent apartment, with it's own independent entry. You will not share any of the space with other people. The apartment is set up as follows: Living room with open kitchen, bathroom (shower, sink, toilet), bedroom with double bed. The fold out couch in the living room provides another double bed making the maximum amount of beds 4.
Our neighbourhood is a villa neighbourhood in the village of Epalinges. Mostly families with young children. Epalinges is a village that is surrounded by the city of Lausanne, so in practice it is part of the Lausanne agglomeration. Administratively it is it's own commune. A small shopping mall with all necessities (Migros supermarket, post office etc.) is a 5 minute walk from our house. We are also within a 10 minutes walk from EHL (Ecole Hoteliere de Lausanne) and the Nestlé Research Center at Vers-chez-les-Blanc. We are also 15 minutes walk from the Lausanne Recreation Area at Chalet-a-Gobet, where there is mountain biking/hiking trails in summer and a small ski slope in the winter.
Peter was a great host. Peter is a very helpful host , I had an accident and delayed the arrival time , but he was very kind. The house is a few minutes drive from the city of Lausanne in a lonely and quiet zone. The house is perfect as you can see in picture. There is a free wifi and free park, that's great but no television. We had a great time!
Sabina
2016-01-06T00:00:00Z
We traveled in a group of four and the house is really cozy. Peter is very friendly, we traveled by car and Peter was waiting outside for us just in case we could not find the house. Price is also reasonable, I will definitely stay again.
Khai Jia
2016-12-31T00:00:00Z
Tastefully decorated. Apartment was small but cosy. Was exactly what I needed for my stay: essential but up to standard. Very near the bus stop making it easy to move. Only downside was that sunlight wasn't directly available into the apartment as it was located at a lower level.
Chiara
2015-10-06T00:00:00Z
We spent 2 nights at this apartment and were happy about our choice. Peter was friendly and always willing to help. Fast internet connection was a plus. The apartment had everything we needed for a pleasant stay :)
Ivana
2016-06-22T00:00:00Z
The house is clean and comfortable, we like it!
yuting
2016-02-12T00:00:00Z
Convenient place, a little outside Lusanne. Very quite and friendly. It was private and well equipped (with the hosts letting us use the washer and dryer too). Recommend this place for anyone who wants to spend a few days in the area. The hosts were great in recommending places to visit around the area that were very nice (and we would not have found on our own). Thanks
Anuj
2015-06-23T00:00:00Z
He was very kind and helpful with everything. The apartment was beautiful and the neighbourhood was calm and nice. We had a great time staying at his apartment!
Alexandra
2016-05-18T00:00:00Z
Peter's house is located on the outskirts of Lausanne, quiet, clean, very suited to their driving friends to.
YUE
2016-06-29T00:00:00Z
Room Type
Entire home/flat
---
Property Type
Apartment
---
Accommodates
4
---
Bedrooms
Epalinges, Vaud, Switzerland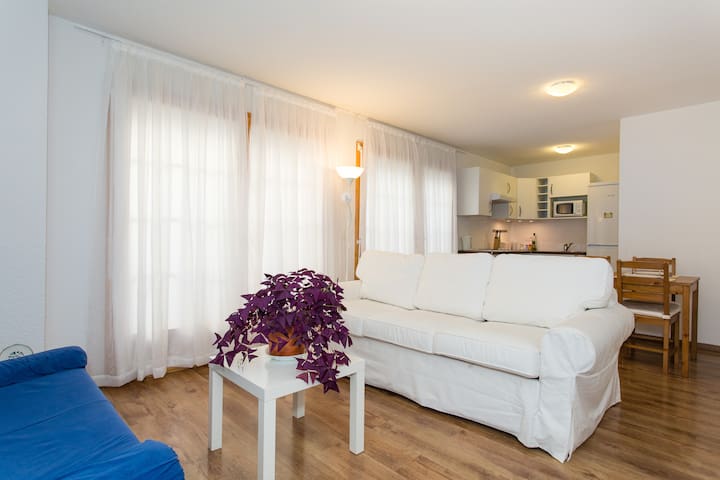 1

–

18

of

234 Flat Rentals
Enter dates to see full pricing. Additional fees apply. Taxes may be added.