Ancienne grange rénovée, Gîte de France de caractère 3 épis. Située en montagne, au coeur des Pyrenées. Eylie d'en haut est un petit hameau à 1000m d'altitude au bout de l'Ariège. Plus d'infos et de photos sur g(URL HIDDEN)
Un super weekend en famille (enfants de 4 et 8 ans) dans ce cadre exceptionnel en pleine montagne ! Cette grange a été rénovée avec goût et elle est aussi très fonctionnelle. Elle allie le respect de l'authenticité et le confort moderne pour un séjour en famille agréable (lave vaisselle, lave linge, toutes les "commodités" sont là...). On a passé de très bons moments en soirée autour de la cheminée (à découvrir les nombreux jeux de sociétés et livres sur la région mis à disposition). La terrasse à l'arrière avec son petit jardin privatif en pleine montagne est un vrai bonheur (pour le café des parents et l'aire de jeux des enfants !). De belles randonnées au départ de la grange avec de très belles vues sur les Pyrénées. Et pour finir Elsa est attentionnée (avant et pendant le séjour), très disponible et accueillante. On revient très vite !!
Estelle
2017-03-05T00:00:00Z
Room Type
Entire home/flat
---
Property Type
Nature lodge
---
Accommodates
4
---
Bedrooms
Sentein, Occitanie, France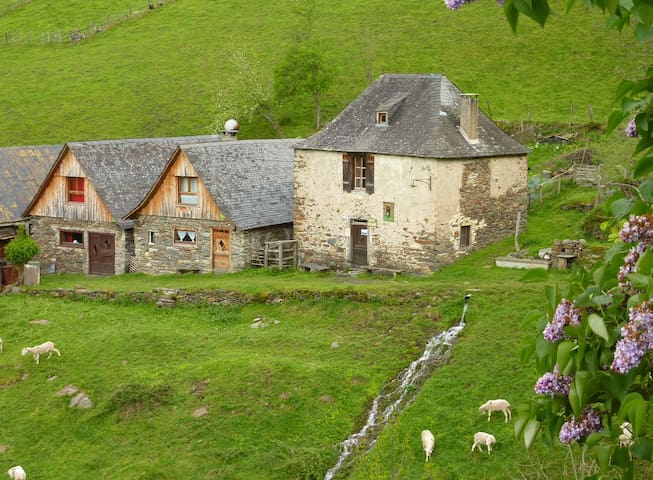 Peaceful detached house in the mountains - real fires and beautiful views. Ideal for resting, walking, and enjoying nature. Garden behind the house next to a stream. Ski resorts are 65 Km away. Sleeps up to 6 people with 1 double bed and 2 double sofa beds. You can walk to the high mountains directly from the house. See note in section "The Space" about electricity and wood included in the rental. Unlimited tranquility in space you can call your own for all the time you will be there.
Ground floor is open plan with entrance area, kitchen and dining area, living room with sofa bed, bathroom and separate toilet with sink. Please note that the piano in the photo is no longer there! The kitchen has a wood burning stove with glass door so you can watch the fire. On the first floor there is a living room with real fire (with glass door so you see the flames but avoid the smoke) and sofa bed and a separate bedroom with double bed and sink. The living room on the first floor is listed as a bedroom. It has a door that can be closed for privacy. All of the house is recently renovated with the exceptions of ground floor living room, entrance and stairs which are not decorated (no wall paper or paint as you can see on the photos). The whole house (except kitchen) is heated from warm air distribution from the upstairs fire and there are also electric heaters in all rooms except the kitchen. 24 kWh of electricity included per day and any additional to be paid at end of stay (cost is 0.1€/kWh). Initial pack of wood for fires is included (0.3 m3 per week) and additional can be purchased if needed (cost is €25/pack of 0.3m3).
In a unique unspoiled area of the French Pyrenee mountains. Several well known summits including the Crabere, Mauberme and Mont Vallier. Numerous beautiful lakes that you can access on foot or by car. When I go there, I like to bring everything I need for a few days, leave the car in front of the house and then walk and enjoy nature. In the autumn and winter I like to cosy up in front of the fire. I spring and summer I like to sleep with the window open, listening to the stream and breathing the fresh mountain air. Search (SENSITIVE CONTENTS HIDDEN) for "Sentein", "étang d'araing ariège", "vallee du biros" to see photos of the region. There are also many vestiges from the old mine workings in the area.
Room Type
Entire home/flat
---
Property Type
House
---
Accommodates
6
---
Bedrooms
Sentein, Languedoc-Roussillon Midi-Pyrénées, France
My remote cabin lies 1050 m high in the woods of the national park Pyrenees with direct access to the mountains. The cottage (1869) is very private on 5 ha own terrain. No neighbors, only wildlife. Recently renovated. No electricity. Back to basics.
My house lies very private in a beautiful forest with a view over the valley of Biros. The cabin is built using only natural materials. The surroundings are breathtaking: a very silent atmosphere, crispy fresh air, wild boars, vultures, mountain creeks and lakes, old trees, charming hamlets, foxes, wild plants, deer. Close by are cultural sights: cathedrals, castles, medieval cities and prehistoric artifacts. From my hut you can climb directly to the famous mountain tops of the French Pyrenees, with their eternal snow and roaming bears. My hut is great for hiking and mountain walking holidays. Other activities are: skiing, cycling, mountain biking, trail running, motor riding, fishing, horseback riding, rafting, paragliding, gliding. It is also possible to rent my mountain cabin outside of summer. My cabin is for rent all year round, so also during spring break, autumn and Christmas holidays. In both winter and spring you can ski in the French Pyrenees. Spend Christmas or New Year in my chalet. But beware! The cabin is very straightforward: there is no electricity! To stay here one should not be to attached to modern life comforts. It's a real mountain cabin and most suitable for active people who love camping, survival, hiking, back to basics and so on. The cottage has 2 floors and can accommodate about 6 persons. In the cabin is everything that is necessary but nothing more: there are 2 beds, a sofa bed and 2 extra mattress (5 mattresses total). There is a wood stove (free wood is included in the price!!!), gas stove (free gas is included), a small kitchen with dishes and pans for 6 persons, running water inside, an outside toilet, a small bathtub, 3G internet, phone coverage. After you have made a booking you will receive a detailed list of everything that is available at my romantic mountain cabin.
De omgeving is uiterst geschikt voor natuurliefhebbers, wandelaars, fietsers, wintersporters. De omgeving heeft wilde dieren, watervallen, hoge toppen, diepe dalen, bossen, hei, bergmeren, romantisch bergdorpjes, verlaten mijnen, wilde bloemen, sneeuw. Hoge bergen om te beklimmen, bijvoorbeeld de Maubermé 2880 m, cols uit de Tour de France, pistes, zeer ruige natuur, eeuwenoude kastelen.
The cabin conforms perfectly to the description. The location is idyllic, hidden in the forest which you get to following a wonderful fairy path with ancient beech trees welcoming you along your way. It is very quiet and ideal for anyone wanting to explore this beautiful part of the Pyrenees. A walkers paradise taking you back to nature. The cabin is very homely and very clean with everything you need for your stay. I would recommend it for all seasons, as the wood burner heats up the cabin beautifully. The views from the hut are beautiful(URL HIDDEN)would highly recommend the experience of going back to nature and living with the very basics. No electricity was wonderful. You are technology free, left to admire nature and it's wonders, being inspired by what Mark has created and so happy that he is able to share it with us . Looking forward to returning in the Autumn !
Shelley
2016-07-04T00:00:00Z
Mark's cabin was exactly as described, and I would highly recommend the place and Mark. He was very flexible in accommodating our arrival/departure. If you are looking for a beautiful setting to get away from it all, this is the place. Our stay was comfortable and fun.
Jesse
2016-09-25T00:00:00Z
We spent a magical 3 days in Mark's cabine. A return to the roots, no electronic distractions, peace, quiet, (URL HIDDEN) was just what we needed. Everything at the cabine is carefully thought out and executed in a simple yet elegant manner. We brought our 6 month old puppy along and he loved it as well. He was better behaved than at home! We thoroughly enjoyed our stay in the Pyrenees mountains and will be definitely back. Thank you Mark
Tim
2016-02-29T00:00:00Z
Everything went great, our cabin stay was amazing!
Julien
2016-06-01T00:00:00Z
Mark's tiny chalet was cozy and quiet. His instructions made it quite easy to find and the nearby towns were gorgeous!
Matt & Elizabeth
2016-11-30T00:00:00Z
Mark is a perfect host and a very kind and helpful person. I came to his cabin alone and without a private car but It wasn't difficult thanks to Marks' advice and help. If you search for a peacful and beautiful place to stay in, far from industrial and urban areas, don't hesitate and contact Mark. I only regret I didn't take my telescope to watch the clear night sky free of light polution and binoculars to better observe golden eagles which I saw few times flying over the cabin. I will never forget this experience and will certainly come back.
Michal
2017-03-23T00:00:00Z
Thanks a lot for everything Mark, we had an amazing time in the cabin. It is cost, comfortable and authentic. What an unforgettable experience ! Can't wait to go back. The region is very beautiful, I recommend this place to nature lovers and hikers :)
Emilie Marcelle
2017-01-08T00:00:00Z
MAGICAL place, wonderfull experience, beatifull cabin. All can say are nice words to this place. Thanks to Mark, everything was ready to enjoy the cabin.
Jesús
2015-12-25T00:00:00Z
Room Type
Entire home/flat
---
Property Type
Cabin
---
Accommodates
6
---
Bedrooms
Sentein, Midi-Pyrénées, France
The Frog and Peach is a former hotel on the church square of Sentein, a medieval village in the middle of the French Pyrénées. Sleeping 14 people, it offers the ideal location for groups who love the mountains and the wilderness.
The house is the largest self catering property in the region and therefore perfect for larger groups who want to enjoy the Pyrenees. The house sleeps 14 with 4 double-bedrooms, 2 twins and 2 singles. There are 4 large bathrooms on the first and second floors and a small toilet downstairs. It is spacious, light and modern, with all commodities you need for a comfortable stay, including FREE high speed Wi-Fi access, dishwasher, washing machine, Hi-fi and plenty of games. An additional travel cot is available on request. You can enjoy the beautiful mountain views from private balconies, or take a stroll around the beautiful village and church square.
The Couserans are a lost, wild and totally overlooked part of the Pyrenees. This is frontier territory, long known for smuggling and now home to bears and boar.
Our short visit to Sentein was so agreeable that we are now planning a return this summer. The venue is ideal for walking, cycling and sightseeing, with enough to meet the needs of any family, keeping all types happily occupied for the duration. The house is excellent. It is in the middle of the village, an old building that has been lovingly restored with enough mod cons to keep everyone happy. It is on a few floors, and has a roomy comfortable lounge in the attic space with great views all around. There are plenty of bathrooms and shower rooms on each floor, very near each of the bedrooms. There are washbasins in each room, too. The beds were comfortable for all who used them, with clean bedding. At the point of entry on the ground floor there is a large, well-equipped kitchen and a lovely dining room opposite, with a huge dining table to accommodate all guests at once, very useful for a family group. We spent much time each day chilling out in this space, with the lounge upstairs available for solitude or a party, take your pick! The villagers are very friendly, greeting you happily, making one feel welcome. It is a quiet village, with lovely chimes of the church clock as well as the bells letting you know of an established community around. As you can see, I am rather taken by this place. Mike, the owner, welcomed us and instructed us. He was very helpful and obliging, giving lots of tips on places to visit and to have lunch or dinner. All the ones we tried were well worth it. I cannot say much more! You do need a car, so planning ahead is a must. We picked one up at Toulouse airport and it offered us good flexibility to visit places near and far. Driving is not bad, but one needs care to drive over the small road as you come off the motorways. There is little traffic to bother you, so that is a bonus! Greatly enjoyed the visit, and hopefully will have a similar time this summer!
Paresh
2015-01-21T00:00:00Z
Cette maison est vraiment magnifique, très grande et bien équipée. Nous étions agréablement surpris après l'avoir découverte au sein d'un petit village charmant situé au sein des Pyrénées avec les habitants très gentils et chaleureux. Un endroit idéal pour passer les vacances en famille ou entre amis avec pleins de randonnées dans les alentours. Mike est un hôte très sympa, prêt à vous donner des conseils. Si vous aimez la nature cette maison est un bon choix pour passer un bon moment. Nous étions un groupe de 12 amis et nous nous sommes régalés alors vous la recommandons fortement!
Barbora
2015-01-03T00:00:00Z
Le gîte est super, grand, bien aménagé, au centre d'un petit village très typique. Michael nous a très bien accueilli et nous a parlé des randonnées sympas du coin. Nous avons passé un nouvel an très agréable. Je recommande !
luc
2017-01-02T00:00:00Z
Room Type
Entire home/flat
---
Property Type
House
---
Accommodates
14
---
Bedrooms
Sentein, Midi-Pyrénées, France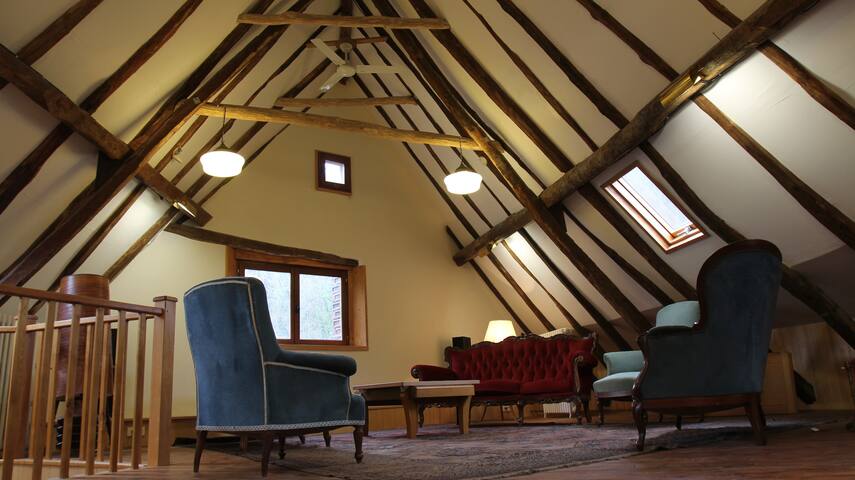 Mourtis - Airbnb
:
Average

4.85

out of

5

stars from

33

guest reviews