Enter your check in date in the format dd-mm-yyyy
Enter your check out date in the format dd-mm-yyyy
Listings you can book without waiting for host approval.
3 Cottage Rentals
· Les Escoumins
3 Cottage Rentals
· Les Escoumins
Enter dates to see full pricing. Additional fees apply. Taxes may be added.
This July and August, you can try one of these 100 highly-rated homes, at all price points, and experience a local's view of Sonoma. 24-hour check-in, Instant Book, and local wine and snacks let you just sit back and enjoy your trip.
L'endroit est extraordinaire. Pour ceux et celles qui recherchent la quiétude, la nature et le dépaysement c'est exactement ce que vous trouverez dans le chalet d'Alexandre. Le lieu en plein hiver est féerique avec le lac gelé, la forêt environnante et les pistes de traîneaux à chien dont nous avons pu apercevoir quelques courses. Alexandre a été extra tout au long de notre séjour. Il est venu nous chercher en motoneige pour nous mener au campement et nous a fourni tous les conseils et services nécessaires à notre confort. Le chalet est exactement tel que décrit dans l'annonce. C'est une habitation en bois loin de la civilisation mais très bien équipée et confortable pour qui cherche l'évasion. Nous recommandons sans hésiter!
Rémi
January 2017
La cabane d'Alexandre a vraiment tout pour plaire aux aventuriers : chauffage au bois, eclairage a la bougie (ou électricité au choix), pas de wifi, castors devant la porte, chiens de traîneau en hiver. Accueil agreable et communication super facile de la part d'Alexandre. Experience authentique garantie!
Julien
December 2016
Si vous êtes amateur d'aventure, de nature, d'échappée belle et d'expérience unique en tout genre: ce chalet sur les terres de "La Reine et du Millionaire" est pour vous. Alexandre est d'une gentillesse et d'une hospitalité exceptionnelle. À consommer sans modération !
Stanislas Padzunass
January 2017
Super accueil par Alexandre, qui vient vous chercher en motoneige, le chalet est superbe et le cadre absolument pittoresque. Nous avons pu faire du chien de traineau avec Alexandre, qui possède un chenil et des chiens adorables. On apprend à les connaitre avant de partir sur les sentiers avec eux, une super expérience du Québec !! Le chalet est idéal pour ce qui est du dépaysement : chauffage au poêle à bois, au bord d'un lac gelé et d'une cascade (utile pour aller chercher de l'eau mais ne vous inquiétez pas, Alexandre l'aura déjà fait avant votre arrivée), un lit douillet et très chaud malgré les températures extérieures qui ont frôlé les -20°C pour nous... Bref, une très belle expérience, un lieu et un hôte à recommander !!
Emilien
December 2016
Room type
Entire home/flat
---
Property type
---
Accommodates
5
---
Bedrooms
1
Sacré-Coeur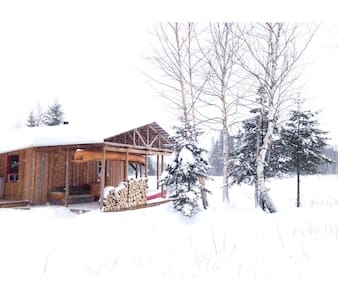 Rustic cottage nestled in the forest on a crystal-clear lake in beautiful Charlevoix, Québec. Your serene accommodation just 20 km from Tadoussac, the world-renowned whale watching destination. July and August weekly rental only (Friday-Friday)
The real wilderness with all the space you need. Although accessible, you are in a quiet area on a crystal-clear lake in an unspoiled natural forest. Spend your evening at the cottage watching the sun set over the lake. After nightfall, take in the brightness of the stars. At daybreak, the call of the loon will beckon you to the water. Enjoy the fresh air and beauty of the lake by launching one of the pleasure boats available to you. Take a dip in the clear water, or simply bring your fishing rod and take a chance at some of the lake trout. In the evening, pour yourself a glass of wine and curl up on the sofa with your favorite novel. In this region the possibilities are endless. 20km away, you will find the historic village of Tadoussac, renowned for it's whale-watching tours and beautiful white-sand beaches. Tadoussac, a popular summer tourist destination since the 16th century, is a hub of entertainment. Enjoy the bistros, restaurants and many festivities that take place all summer. Discover the region by canoe, kayak, hiking, trekking, or biking. Take a long drive through the Laurentian mountains, and stop at one of the many public beaches in the area. 10 minutes from Chalet du Bon Séjour, you will find the panoramic municipal marine park of Baie-des-Rochers, a well-kept secret from international travelers. Terrestrial and marine conservation parks are also situated near Tadoussac. On your way to Tadoussac, you will cross by ferry the beautiful Fjord du Saguenay.
Your stay at the chalet includes: bedding, towels, BBQ and propane, wood for the fire, pedal boat, electric-motor boat, canoe and more...all you need to bring is food and personal effects! On the 1st floor of the chalet you'll find a fully equipped kitchen and dining area, 2 closed double bedrooms, living room with television (there are no TV channels), CD and DVD player, bathroom with toilette and vanity and washroom with shower and vanity. Located on the 2nd floor is a double room with queen-sized bed, and the mezzanine area with 2 single beds. There is a screened veranda adjacent to the dining room with a BBQ. On the lakeshore, you'll find a covered gazebo equipped with table and chairs, as well as 2 adirondacks.
What an incredible place! We spent six idyllic days at Tara's lake cabin, and loved every minute of it. It's tucked away in a leafy, private location by the water. We had the whole lake to ourselves, and loved sitting out on the jetty watching the sunsets and stunning night skies. You can use the paddle boat, kayak and row boat, which are lots of fun. Inside the house is cosy and well equipped. The beds are great, and the access road is not too bumpy if you take it slow. Tadoussac is a fab town, and there's so much to see and do nearby. Tara was great to deal with- always available and really friendly. All in all a great experience - highly recommended!
Adrienne and Joe
September 2015
We were a large group and Tara's cottage was a perfect fit!! The detailed directions were very helpful and needed, as it so secluded and tucked away from the highway, which was just how we liked it. We loved the rustic charm of the cottage, and the location was just beautiful! The lake was so much fun to swim in, paddle in the boats provided, or just sit beside. Make sure you check out the two waterfalls on either side of the lake! The beds were all very comfortable, and everyone slept well. Tadoussac was only a short drive away. They did everything they could to make it an easy, relaxing stay. Thank-you
Jayna & Donovan
August 2016
Le chalet était propre et un mot de bienvenue nous attendait! :) Le secteur était superbe, il faudrait seulement mentionner que le chemin est assez cahoteux car nous avons brisé notre voiture à cause des grosses roches qui parsèment le chemin. Sinon, nous avons bien aimé le fait que nous étions proches de Tadoussac et de La Malbaie. Nous avons pu rencontrer les concierges qui étaient fort sympathiques. Concernant les points à améliorer; les planchers sont vraiment croches et plusieurs travaux sont nécessaires (jours dans les fenêtres et portes, ce qui laisse entrer des insectes, élément à changer dans le chauffe-eau (nous avons manqué d'eau chaude pendant 24h), porte de la cuisine d'été qui nous est tombée dans les mains, pas assez de linges à vaisselle pour une semaine, etc...). Nous avons passé une belle semaine malgré tout!
Caro
July 2015
Nous avons passé 3 jours exceptionnels, tout était parfait. Le chalet correspond parfaitement à sa description, c'est un havre de paix, à 15 minutes du traversier pour Tadoussac. Il est tout équipé, facile d'accès, et Tara nous a tout bien expliqué dans le "guide" du chalet. Rien à redire :)
Pierre & Clarice
September 2015
Chalet très bien placé pour faire un tour du côté du fjord du Saguenay et de Tadoussac tout en ayant un pied à terre nature. Alliant rustique et confort on s'y sent bien, belle vue sur le lac, le plus: l'embarcation ou le pédalo à dispo! Je n'ai pas eu l'occasion de croiser directement Tara Lynn, mais nos échanges ont été très sympathiques. Ses réponses sont très rapides et les infos complètes.
Sophie
September 2015
Logement exactement comme dans le descriptif. Environnement sauvage avec vue exceptionnelle sur le lac. Calme total !! Dommage que le temps n'ait pas été de la partie car s'il avait fait meilleur nous aurions plus profiter des aménagements extérieurs qui sont de bonne qualité. La région est vraiment sauvage ; randonnées sur des sentiers parfaitement entretenus et balisés, petits villages et baies magnifiques. Et évidemment, les croisières sur le fleuve à ne pas manquer. Tata à été très disponible et à répondu à nos appels sans délai. A recommander aux amoureux de la nature.
Corinne
July 2016
Si vous cherchez la vie typique canadienne alors c'est chez Tara qu'il faut aller !!! Son chalet est perdu au milieu des bois, avec un ponton privé pour accéder au lac. Barque, kayak, pédalo, tout y est pour passer un séjour parfait !!! Décor de carte postale assuré !!!
Fanny & Aramis
October 2015
Room type
Entire home/flat
---
Property type
---
Accommodates
8
---
Bedrooms
4
Baie-Sainte-Catherine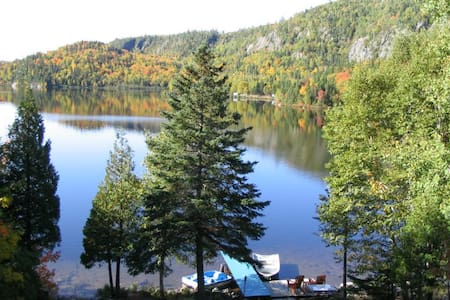 Ten minutes away from Le Bic national park, our beautiful centennial home overlooking the sea offers comfort and elegance. The colonial English architecture is preserved with 11-foot walls made from British-Columbia red cedar and restored maple floors. The interior charm is reinforced with antic furniture. With its 2000 square feet, the house can accommodate up to twelve people. It consists of four bedrooms: one with a queen bed, two with double beds and one with two bunk beds for the children.
Room type
Entire home/flat
---
Property type
---
Accommodates
12
---
Bedrooms
4
Rimouski
1

–

3

of

3 Cottage Rentals