Enter dates to see full pricing. Additional fees apply. Taxes may be added.
3 Cottage Rentals
· Maldives
3 Cottage Rentals
· Maldives
Have a holiday get away nearest to Equator.
Located in the heart of Thinadhoo, the capital of biggest corel reef atoll in the world. Rooms are of decent size and with attached bathroom. Guests will be provided with free wifi, coffy, breakfast of their choice, clean white towels, showe gel, shampoo, conditioner and body lotion with in the guesthouse. I am available from 6Am to 1Am every day. Every guest will be orovided with my card and can contact me at anytime. I will be there to help with any thing a guest might need at any time. There are no odd times for me when it comes to customers. Guest will be provided with different entertainment activities up on request...like: Maldivian Boduberu (Epic performance of traditional maldivian music with dancing) Snorkeling Surfing and other water sports events. Island hopping. Picnic in a secluded sandy beach island or on a virgin sand bank.
You will be able to experience the pure cultures of pleasant people of Maldives arround here. SHOPS: Variety shops are located just next door and in walkable distance. MEDICAL SERVICE DR. SAMAD MEMORIAL HOSPITAL is located in a walkable distance with the best medical services in town. Pharmacy is located within the hospital. Thinadhoo is one of the easiest island to get accessed in Maldives. Domestic flights of National Airline Maldivian(Dash8) and Flyme (ATR) can give a fly of scenes full of mindblowing natural beauty of scattered chain islands and atolls of maldives just less than an hour from Ibrahim Nasir International Airport (INIA) which is the main international gate to Maldives to Kaadedhoo Domestic Airport. Thinadhoo is located just 3 miles north of kaadedhoo domestic airport. Airport ferry is the cheapest sea transport available in this area and its a smooth ride of 15 to 20 minutes to your house. Speed boats can give you a ride of five to six minutes which is a bit higher in rate than ferry. No alcohol will be provided in the house.
Room type
Private room
---
Property Type
---
Accommodates
4
---
Bedrooms
1
Thinadhoo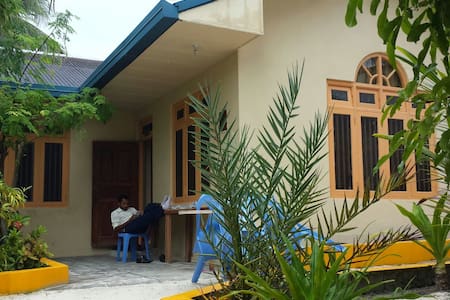 The property offers stylish, comfortable rooms with modern amenities. With a total of 10 rooms, the property offers two types of accommodation, 6 Standard Rooms and 2 Family Rooms. Whether on the ground or the first floor, the rooms provide privacy, comfort and relaxation after your day of exploring. The rooms are spacious and have attached toilets with all modern fittings and conveniences. All rooms have air-conditioners, fans, mini bar and coffee tea making facilities and free WiFi.
Transportation guide (All timings in local time): Take a ferry from Airport (Ibrahim Nasir International Airport) to Male' (capital city) – there is a ferry every 10 minutes which cost USD 1.00 per person. You have three transport options available to get to Dhiffushi from Male'. Option. 1 (Public Ferry Transportation) The ferry from Male' to Dhiffushi will leave at 14.30 pm every day except Friday, Departs from the Villingili Ferry Terminal in Male', tickets are available from the terminal counter. The simplest way to get to the terminal is to get a taxi (ask to be taken to Villingili Ferry Terminal). The ferry returning to Male' from Dhiffushi leaves at 6.30am every day except Friday. One way transfer ticket on the ferry costs USD 2 per person. The ferry will take 3 hours and 15 minutes. Dhiffushi is the 4th and final stop for the ferry, stopping at 3 other islands before reaching Dhiffushi. Our staff will greet you on arrival. Ferry schedule Male to Dhiffushi. Saturday to Thursday – 14.30 pm Ferry schedule Dhiffushi to Male. Saturday to Thursday – 6.30 am Option 2 (Speedboat Ferry) The speed boat from male' to Dhiffushi will leave at 16.30 pm every day except Friday, from jetty number 7. The speedboat will reach Dhiffushi in 45 minutes. If you wish to take the speedboat transfer please request this option in advance. The ferry returning to Male' from Dhiffushi leaves at 7.30am every day except Friday. One way transfer ticket on the ferry costs USD 25$ per person. Our staff will greet you on arrival. Option 3 (Chartered Speedboat) At a cost of USD 300 (one way) maximum 10 people, we can arrange a speedboat to pick you up at the airport. The speedboat will reach Dhiffushi in 45 minutes. If you wish to take the speedboat transfer or plan to travel on a Friday please request this option for in advance. How to get to the Ferry Terminal in Male' If you opt for the first option you will need to find your way to the ferry terminal in Male' (Villingili Ferry Terminal). You will need to: •Take the ferry from the Airport (Hulhule Island) to the capital city, Male'. This is a 10 minute boat ride and will cost you around $1 per person. •In Male', get to the Villingili Ferry Terminal before 2.30 pm to catch the ferry leaving to Dhiffushi. You can buy a ticket here for Dhiffushi, $2 per person. Once you are in Male' the simplest way to get to the terminal is to get a taxi (ask to be taken to Villingili Ferry Terminal). If you have time you can do some sight seeing and shopping in Male'. Dining: Meals atmour property are offered on full board basis. A variety of dishes are available, ranging from Continental, Chinese, Indian and local dishes. A selection fo drinks, coffee and tea as well as sandwiches, pastries and short eats are available throughout the day. Other dining experiences can also be arranged, from barbecues on the beach to picnics. Diving and Water Sports Scuba Diving Facilities Maldives is world famous for its beautiful and diverse dive spots. Dhiffushi can be your gateway to a number of exciting dive spots in Kaafu Atoll in addition to the Dhiffushi house reef. Swim with the mantas, eagle rays, hammerhead sharks or dive enchanting shipwrecks. Fully equipped Diving Centres at Dhiffushi provide diving facilities for advanced divers and beginners alike. Snorkelling: The extensive lagoon surrounding Dhiffushi beckons to be explored. Snorkelling equipment rental is available on the island and you can be off exploring the beautiful reef surrounding the island. Water Sports: A variety aqua sports are offered by the Water Sports Centres on the island. Canoes, Jet Skis, Wind Surfs and Catamarans are available for rental. Instructors are available for lessons. Surfing: You'll have access to awesome surf spots around the atoll. Surf trips can be arranged for you based on your choice. Excursions: Explore the exotic islands of the Maldives. From fishing trips to sand bank visits there is something for everyone. Island Hopping: Visits can be arranged to visit nearby islands to meet the locals and experience their lifestyle. This will also give you the opportunity to find the perfect souvenir. Fishing: Day and Night fishing trips can be arranged and can be combined with a sand bank picnic or barbecue. Local Pole and Line Fishing Trip Join a complimentary* trip on local fishing dhoni on its daily routine. Climb aboard in the evening as it leaves on its one day trip to catch tuna using the traditional pole and line fishing method. Barbeque: Enjoy a Maldivian style barbecue with the catch of the day fresh from the sea or other localy available meats. We can help you find the perfect spot for a charming Maldivian barbeque by the sea. Sand bank picnics: Why not head to your very own private sand bank nearby for a swim, snorkelling and relax with the clear Maldivian waters surrounding you? Dolphin Cruising: An experience of the enchanting kind! Cruise with the dolphins as they jump and swim along to th...
Located in North Kaafu Atoll, Dhiffushi surrounded by a naturally beautiful and expansive lagoon. Dhiffushi is an inhabited island, with a population of about 1000, measuring 0.950km in length and 0.200 km wide. Dhiffushi is 36.64 km from the capital city Male' and can be reached in about 45 minutes by speed boat. Dhiffushi offers brilliant diving, snorkelling, fishing, surfing, kiting and windsurfing. It is located next to Meer Island Resort. The island has a hospital, a mosque, a local coffeehouse, restaurants and shops.
Room type
Private room
---
Property Type
---
Accommodates
16
---
Bedrooms
1
Dhiffushi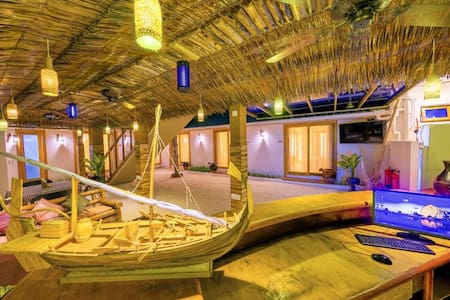 I am offering you a very beautiful small private island in Maldives (often called as the Paradise on Earth) in a lucrative location. The island is surrounded by crystal clear water and coral reefs along with a snow-white carpet of sand underneath your toes. From the capital airport (Ibrahim Nasir Airport), it takes only 20 minutes by sea plane and 1 hour and 45 minutes by speed boat. This offer is especially wonderful for honeymoon couples looking to get their private haven away from civilization. For families and friends please inform us 1 month before traveling. Very special and exhilarating fishing trips and sumptuous local barbecue under the Maldivian sunset can also be arranged. We offer you the whole island with both speed boat and safari yacht on request (on which one can enjoy a visit to local islands to get a glimpse of local Maldivian culture; the safari cruise is a rate of $1200 which can accommodate 10 persons), and a butler if necessary. There is no electricity , no sound and hassle of the city life. This is truly a carbon neutral Island.
Room type
Private room
---
Property Type
---
Accommodates
2
---
Bedrooms
1
Fehendhoo