My space is close to activities for families and beach. You'll love my space because of the views, location, and environment. My space is good for couples, solo adventures, families (with children), large groups, and furry friends (pets).
Room Type
Entire home/flat
---
Property Type
Villa
---
Accommodates
4
---
Bedrooms
Manteigas, Guarda District, Portugal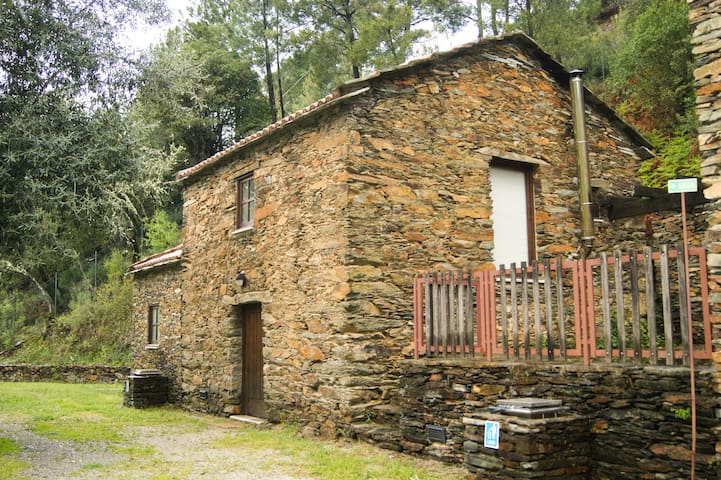 A nossa casa está situada num terreno of 15,000 m² but no Parque Nacional da Serra da Estrela. Our house is situated on a plot of over 15,000 m² in the national park of Serra da Estrela
Além da configuração, muito calmed no campo has exposição desfrutar permite uma bela vista da montanha. A piscina eo Jardim são totalmente disponiveis para tomar banho e relaxar. Besides the setting, very quiet in the countryside, the exhibition allows to enjoy a nice view of the mountains. The pool and garden are fully available to relax and bathe.
Terre du grand écrivain portugais VIRGÍLIO FERREIRA
We made a reservation and requested a house for ourselve. At arrival we where first shown a trailerhome near the house, which we reclined, and then shown to the house which we had to share with another family. The area is nice and quiet and on the edge of the national park.
Fred
2016-07-13T00:00:00Z
We had a lovely stay, with very friendly and enthusiastic hosts. The room was clean and we had a lot of privacy. Private bathroom (always) and own kitchen (cause there were no other guests). Daniel explained us a lot of things about this area, what helped us making the most of our day in the parc.
Nandelotte
2016-10-14T00:00:00Z
Only words of praise for Daniel & Paula and their lovely Quinta. They were so welcoming from the start and helpful throughout our one-night stay, and the house has the most stunning views of this beautiful region in Portugal. We would definitely like to come back to hang out and explore more. So palavras de elogio para Daniel&Paula e sua Quinta adoravel. Eles estiverao muito hospitaleiros e carinhosos durante toda nossa estadia. A casa tem vistas maravilhosas deste lindo regiao do Portugal. Nos gostariamos certamente voltar e explorar mais. Obrigado e ate breve!
Yuri
2016-08-17T00:00:00Z
Daniel and Paula are really friendly and open people and it was a pleasure to meet with them. Because we don't speak the same language it was not easy to understand each other, but modern technologies helped us and we experienced a lot of fun. We had the opportunity to taste the true local products as fruits, cheese, honey and ham. We also made a round trip and visited other places according to Daniel's recommendations. We arrived late at night and did not see the surroundings so the view from the window into the sunny morning was simply amazing. The apartment is spacious, clean and fairly equipped. It's a place where we would definitely like to return. Highly recommended for longer stays and for those who like quiet and the countryside.
Pavel
2016-09-23T00:00:00Z
a beautiful home on the edge of the serra da estrela. the room and kitchen area were very comfortable and daniel and his family were incredibly welcoming and offered us an amazing array of homemade food made by them and their neighbors as well as they offering us lots of suggestions for where to visit/hike. we really enjoyed our time staying here. thank you!
Megan
2016-11-21T00:00:00Z
Daniel and Paula are super kind and were eager to help with anything at any time. The house and pool offer an amazing vista of the surrounding nature. Recommend staying here without a doubt!
Daan
2016-09-18T00:00:00Z
Wonderful pool house, we loved staying here! Everything was super clean and Paula and Daniel are perfect hosts, we felt greatly appreciated and welcomed! Nice and calm surrounding, we'd love to come back one day! Thank you, Paula and Daniel!
Lea
2016-09-06T00:00:00Z
Daniel and Paula are great hosts and their place is wonderful. I definitely want to get back sometime.
Sofia
2016-12-28T00:00:00Z
Room Type
Private room
---
Property Type
Villa
---
Accommodates
8
---
Bedrooms
Gouveia, Guarda, Portugal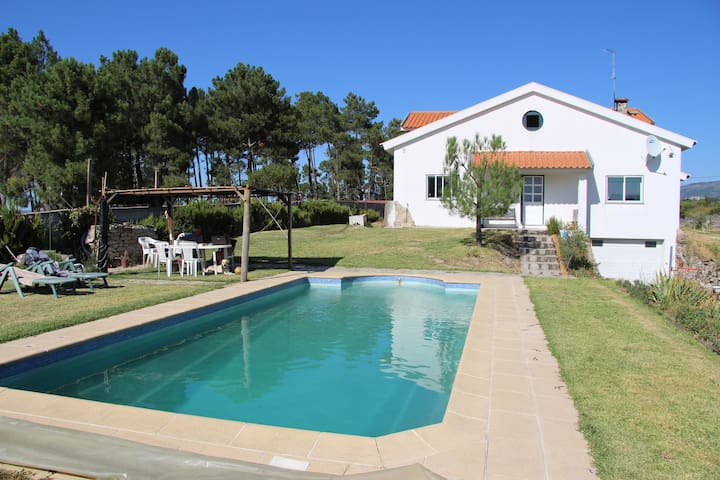 Welcome to Quinta do Formil - Serra da Estrela, Portugal (Local accommodation). For a relaxing and unforgettable stay in a unique place, ideal for lovers of nature and tranquility with all the conditions of comfort and safety, to make family vacation, group, pass weekends or simply escape the city and enjoy the best that has the Serra da Estrela - Portugal.
The farm consists of two old houses of traditional architecture, typical of the "Beira Alta region. idyllic picture of 2 hectares to 450 meters above sea level, surrounded by a watercourse (river Convent); gardens, stone pine grove, hedge holly trees and fruit trees ... (Our guests are invited to serve on the proper production of heights).
Room Type
Entire home/flat
---
Property Type
Villa
---
Accommodates
2
---
Bedrooms
Gouveia, Guarda, Portugal
Walking routes (Route Galhardos; Faith Paths of Rota, Rota dos Penedos Moors). Natural Park Lady of the Greens. The beautiful and historic villages Linhares da Beira and Folgosinho. Penhas Douradas, Gouveia and Seia where you can visit the Cise, the Bread Museum and the Museum of Electricity. Restaurants: There House, the famous Albertino and the recent Mother d'Água. The 15m of the Serra da Estrela and Elderberry. My space is good for couples and families with children.
The house is located in Moimenta da Serra 2 km from Gouveia, surrounded by olive trees with a beautiful landscape of the Serra da Estrela.
The neighborhood is the nature and the village live very good and nice people. We have a coffee and a mini local market but 2 km have two large surfaces of purchase.
O nosso fim de semana foi 5 *. Uma excelente casa com todas as comodidades. Moimenta da Serra é uma localidade calma para quem quiser desfrutar de um fim de semana sossegado. A Quinta das Oliveiras é um belo espaço, tanto exterior como interior. A Isabel e a Paula estão sempre disponíveis para nos auxiliar em qualquer questão. Não nos faltou nada. Fomos muito bem recebidos. Obrigada a ambas
Edna
2017-01-29T00:00:00Z
Room Type
Entire home/flat
---
Property Type
Villa
---
Accommodates
6
---
Bedrooms
Gouveia, Guarda, Portugal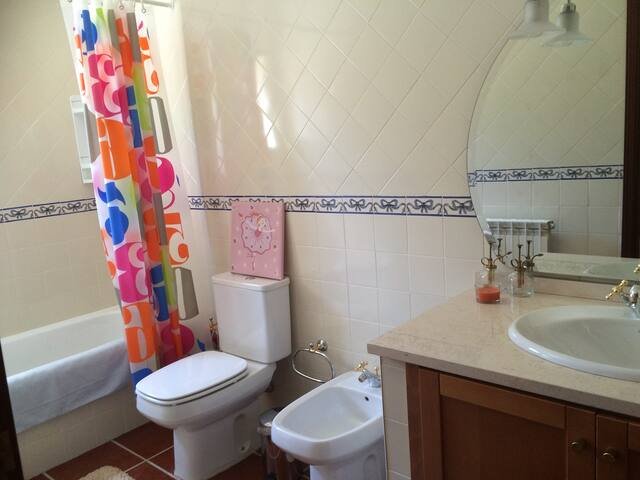 maison en pierre dans le village, le long de la rivière Mondego et les contreforts de la Serra da Estrela. A 5 minutes à pied de la plage de la rivière et un saut des différentes attractions de la Serra da Estrela. Un séjour à New Maison peut être une occasion optimale pour se reposer et / ou connaître la région, la nature, la gastronomie et les traditions. Sont les bienvenus!
New House est une maison en début de granit du XX siècle, rénové en 2010, le maintien de la conception originale et l'installation de certaines installations. Situé dans un village de montagne et Beira, il est un pas de Serra da Estrela, le Castelo de Linhares da Beira et à 500 mètres de la rivière Mondego et d'une plage de la rivière. Nouvelle maison peut être votre base pour explorer la région et l'occasion de se reposer et la contemplation des coutumes et traditions de la région de Beira Serra et visiter la nature locale.
Casa Nova est un petit village et la montagne Beirã appelé Ribamondego précédemment « chèvre » au bord de la rivière Mondego. La population âgée cependant, est sympathique, serviable et bavard. D'excellents conteurs, traditions nous rappellent le son de la cloche de l'église.
Very warm welcoming by our hosts, they help us all during our visit. The house have all the confort that you need. Moreover, there is the river just 5 min by walk, with a really nice spot for chiling and swimming.
Maxime
2016-08-07T00:00:00Z
Like a home away from home. Just wonderful! The Serra da Estela region is gorgeous and Ribamondego is perfectly situated to visit towns and enjoy outdoor activities. The house is so wonderfully equipped for all of us. Joaquina is incredibly accommodating we only wished we could've stayed for the village festivities.
Elissa
2016-08-20T00:00:00Z
Very welcoming atmosphere in this newly renovated very nice authentic house. Well equipped, good bedding, luxurious + a river beach a few steps away.
Marijke
2016-07-22T00:00:00Z
La casa es tal y como aparece en las fotos situada en un lugar tranquilo de la sierra, los anfitriones son muy amables, en todo momento estaban disponibles y se preocupaban porque estuviéramos a gusto.
Mar
2016-08-16T00:00:00Z
D. Joaquina e seu esposo nos atenderam muito bem e foram muito amáveis, de modo que nos sentimos hospedados pela nossa própria família. A casa é maior do que as fotos mostram, muito bem aquecida nos dias mais frios e possui todos os utensílios para cozinhar. Pretendemos voltar e a recomendar a nossos amigos.
JOSIANE
2016-12-04T00:00:00Z
Foi uma otima estadia os anfitrioes foram otimos, a casa perfeita o local muito acolhedor. creio que fizemos amigos para sempre. O povo muito afetuoso. Obrigado a todos pela acolhida.
joao carlos
2016-09-22T00:00:00Z
Room Type
Entire home/flat
---
Property Type
Villa
---
Accommodates
5
---
Bedrooms
Gouveia, Guarda, Portugal
My space is close to family activities. My space is good for individual adventures, families (with children), egrandes groups.
The towering home features a fully equipped kitchen, TV (m base channels), heating with wood burning stove wood which gives it a mountain environment. It also allows to enjoy all the beauty surrounding and the numerous activities available adventure (skiing, snowboarding, hiking, sliding, climbing, archery, orienteering and mountain biking). Install it and enjoy the sound of the Zêzere waters, the river beach, the hiking trails in the mountains, gastronomy and crafts of the region, and the magnificent natural setting! The house Altaneira has 2 bedrooms with 2 single beds each and a sofa bed where (if necessary) can sleep 2 people.
Excelente para relaxar ao som da natureza envolvente.
José
2016-12-11T00:00:00Z
A localização é excelente e relaxante. O aspecto exterior é muito bom mas o interior fica aquém das expectativas. O aquecimento é da casa é bom. É funcional apenas para uma família ou 2 casais sem filhos. A relação qualidade preço deixa muito a desejar.
Valérie
2016-12-29T00:00:00Z
Room Type
Entire home/flat
---
Property Type
Villa
---
Accommodates
7
---
Bedrooms
Manteigas, Guarda District, Portugal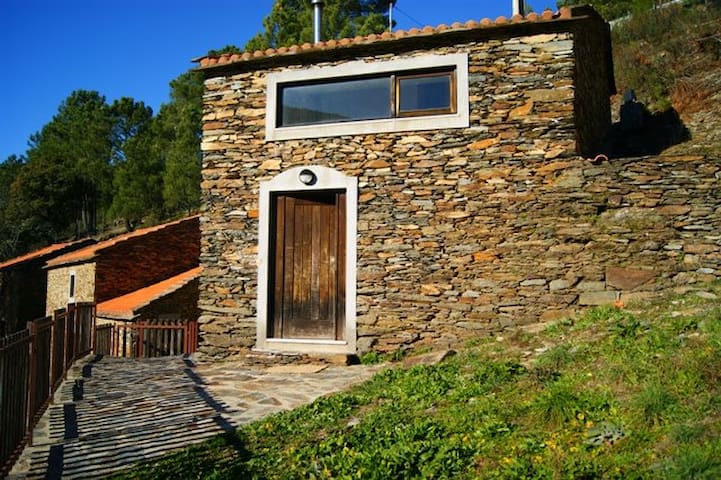 Located west of" Serra da Estrela", this palatial house with a private chapel, built in the end of the XVIII century , allows in the winter time a romantic stay with the possibility to enjoy winter sports like skiing and snowboarding at only a few minutes' drive. In summer time the temperature is mild, encouraging the practice of hiking and discovering Portuguese heritage history, and to surrender to a breathtaking landscape, and a delightful gastronomy. Places to Visit: Igreja de Santa Maria Maior - Baroque church Igreja de São Francisco - Gothic church. Igreja da Misericórdia- Mannerist church Capela de São João de Malta - small chapel that once belonged to the Order of Malta; Capela Românica de S. Martinho - Romantic chapel. Capela do Calvário - Gothic chapel Torre de S. Tiago - An ex-libris of Covilhã from where it's possible to overview the entire city Real Fábrica de Panos - Royal clothing manufacturing, founded by the Marquis of Pombal in 1764. Currently converted into a Museum of Wool; Muralhas da Covilhã Monumento a Nossa Senhora da Boa Estrela - Monument carved into the rock, in honor of the saint patron of shepherds. Located next to the Tower, the highest point in mainland Portugal. In this refuge house you can benefit from: Bedroom (double bed); Living room (sofa bed) with fireplace WC Extras included: TV and internet Pets allowed Breakfast included Perfect surroundings for a romantic experience for two, or a challenging adventure for a small group of friends, come and meet us!
Very nice historical site. Mr Nuno and his employees were helpful and welcoming. We enjoyed our stay in Covilha very much.
Vincent
2014-08-05T00:00:00Z
Covilha is a city into the mountains but not very interesting. The studio is simple but it has everything you need. The breakfast was also very simple but okay. After arrival we got a large cake and that was very tasty.
rene
2015-10-04T00:00:00Z
i stayed in this apartment with some friends and a kid for the weekend to go snowboarding at Serra da Estrela. The house is very well located, we were welcomed with a very nice and delicious handmade cake, and a lighted fireplace. The apartment is very nice in a beautiful property with a garden nearby Covilhã, It was very warm inside even with 5ºC outside, the beds were very comfortable we all slept very well, its was handy that we could park the car next to the house so we could load and unload the car very easily. The hosts were very nice and helpful, they provided fresh bread in the morning and butter, coffee, tea and milk for our breakfast. So we all loved and recommend this house and for sure we are going to come back.
Cláudia
2013-01-28T00:00:00Z
great appartment in Covilha, not too far from Guarda.
Ludovic
2014-08-29T00:00:00Z
Very nice place and beautiful house. The welcome was very friendly and the still hot cake I got from them was just amazing!
Nadine
2015-11-02T00:00:00Z
Nice place. I would recommend staying here if you want to go Serra da Estrella. The hosts are very flexible. Our flight had a 2,5 hour delay, so we checked in later as well. That was all fine. Oh and we got a tasty cake upon arrival that tasted very good.
Stefan
2016-09-06T00:00:00Z
Our experience at Nuno's was wonderful. Upon arrival we were met by Cristina and her husband who made us feel truly welcome. The space was very comfortable and the property was a treat to explore. Strolling along the grounds which overlooks a vast expanse was breath taking.
Mike Edwards & Mini
2015-06-17T00:00:00Z
This room is more like a studio as no door separate the room from the living room. As for the kitchen, be aware that its composed of a fridg, a microwave, a coffee machine, and a set of utensiles and plates.... Everything is functional but far from optimal . We woild not recommend it for a long stay. For the directions, head for "refugio" wich is outside Covilha and the house is on
Veronique
2013-06-08T00:00:00Z
Room Type
Entire home/flat
---
Property Type
Villa
---
Accommodates
4
---
Bedrooms
Covilha, Castelo Branco, Portugal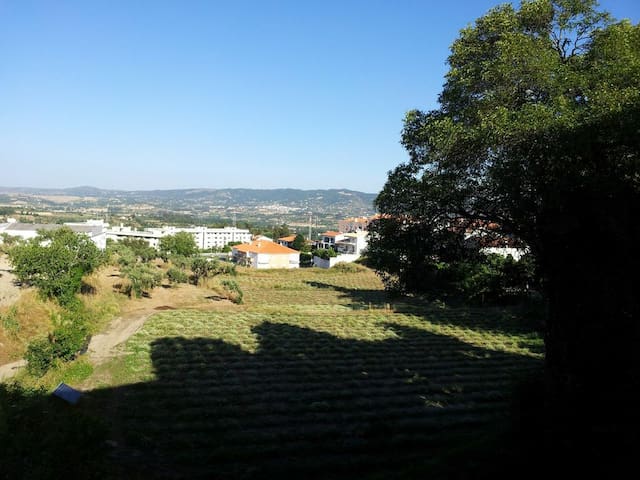 Casa do Burro is a cosy country-house and belongs to Casa Grande. On the first floor is the living room with cooking space. In winter you will enjoy the fireplace. Bedroom and bathroom are on the groundfloor. Please do your grocery shopping before arriving.
To Casa Grande belongs a paradisiac garden where you can easily relax. You can enjoy beautiful flowers, quite and private places, fresh vegetables and lots of different trees and their fruits (apricots, plums, appel, pear, figs). There is also a nice pavilion you can use for your purpose (Yoga, Meditation, Dancing, Workshops...). In the olive yard you can visite also a forge museum and the roman milestone of the region.
Margarida was the perfect host, very kind and helped us with information about activities and restaurants. She reacted super flexible to our extra wishes. The apartment was cozy, quiet and set in a beautiful garden with olive trees and hammocks.
Annette
2016-10-17T00:00:00Z
Wow, what an amazing stay! Thank you very much Margarida. I miss already your garden and all your helpfull ideas. I will come back. Margarida ist eine sehr warmherzige und zuvorkommende Gastgeberin. Sie offerierte mir Salat und Zucchetti aus dem eigenen Garten und am Pflaumenbaum durfte ich mich bedienen. Es war sogar möglich mit ihr eine Yoga-stunde zu besuchen. Für meinen Abreisetag konnte sie mir einen Platz in einer geführten Wanderung zum Vale do Rossim organisieren. Auch durfte ich versuchen, an ihrem antiken Webstuhl zu weben. Leider war meine weitere Reise schon geplant. Margarida hätte noch soviele spannende Ideen gehabt. Im liebevoll gepflegten Garten lässt es sich herrlich entspannen. Man findet zu jeder Tageszeit ein gemütliches Plätzchen im Schatten. Der Sonnenuntergang zum Abendessen im Garten und der anschliessende Sternenhimmel unschlagbar! Die alten Steinmauern kühlten die Räume angenehm und so kann man sich ohne Klimaanlage gut erholen. Merci Margarida, dass ich dein Gast sein durfte!
Eveline
2016-07-19T00:00:00Z
Margarida, it was a wonderful stay ! Thank you very much for your welcoming. The place is a little paradise, it's very peaceful. There were lot of hiking to do with beautiful landscapes. I recommend this place and this host.
Mégane
2016-08-20T00:00:00Z
Margarida was a great host, offering help and information and the place is really special. It is a traditional big main house with a large garden. You sleep in side houses where the employees stayed in the last centuries. The inside is completely renewed and at a very good standard. We felt like we were time-traveling with all the amenities of the modern day era. If you are traveling through Portugal and you want to experience something unique and still comfortable, we strongly recommend staying at Margarida. We only stayed two days and did a car tour through the Sierra and this place is the perfect starting point for that as well as for hiking tours.
Christoph
2016-09-26T00:00:00Z
Room Type
Entire home/flat
---
Property Type
Villa
---
Accommodates
2
---
Bedrooms
Paços da Serra, Gouveia, Portugal
Built and registered in 1947 by Antonio Galvao, where he lived with his wife and children netos.Restaurada (according to Ordinance No. (PHONE NUMBER HIDDEN)) for tourist purposes and means of disseminating throughout the valley Alvôco and arredores.Situada in natural Park
Very welcoming host, provided plenty of info on the area, perfect place for a week relaxing and exploring the area. Spotlessly clean house has all the basics required, peaceful location just a few minutes walk from a beautiful river beach, of which there are several in the area all within a 20 minute drive.
Gareth
2016-09-09T00:00:00Z
Warm and comfortable house, in a nice and quiet setting, in a short drive to ski facilities in Torre, and other interesting places of Serra da Estrela. We had a wonderful stay! Thank you Marta and Sandra for your hospitality. The "Jerupiga" was awesome! :)
Ademar
2016-03-27T00:00:00Z
Pasamos muy bien, un lugar fantástico, volveremos...
Clara
2016-07-14T00:00:00Z
Fomos recebidos com um acolhimento extraordinário : desde ajuda a levar malas, a uma simpatia imensa e uma lareira acesa à chegada.
Sofia
2017-03-06T00:00:00Z
O anfitrião foi muito simpático, e apesar de chegarmos atrasados para o check in, deixou nos completamente a vontade. Fomos recebedidos com um licor e uns biscoito da região ótimos. Casa muito confortável e acolhedora. Ótimo local e tranquilo para se passar uns dias.
Nuno
2016-02-21T00:00:00Z
Casa pitoresca em Aguincho equipada com o essencial para uma estadia de 3 noites. Boa localização para quem pretende não só visitar a Torre mas também conhecer mais do Parque Natural da Serra da Estrela. Chegámos um pouco tarde e fomos recebidos com a salamandra acesa e o aquecimento nos quartos ligado. Sem dúvida que recomendamos!
Catarina Sousa
2016-12-11T00:00:00Z
A Casa Galvão é um local muito acolhedor, ideal para umas férias relaxantes em família. Como chegamos tarde, tiveram o cuidado de ligar a salamandra e os aquecedores no quarto. A recomendar, sem duvida!
Victor
2016-03-06T00:00:00Z
Fantástica casa com um ambiente muito limpo e acolhedor. As fotos já nos dão uma óptima ideia da casa, mas ao vivo é ainda melhor. Destacamos principalmente o maravilhoso recuperador de calor que funciona na perfeição e que não nos deixou ter o menor frio dentro de casa. A limpeza é formidável e a casa está localizada numa pequena aldeia muito sossegada no meio das montanhas. Aconselho vivamente as caminhadas junto ao rio perto da casa. AH! Obrigada pela jeropiga!! ;)
Carolina
2017-02-12T00:00:00Z
Room Type
Entire home/flat
---
Property Type
Villa
---
Accommodates
4
---
Bedrooms
Alvoco da Serra, Guarda, Portugal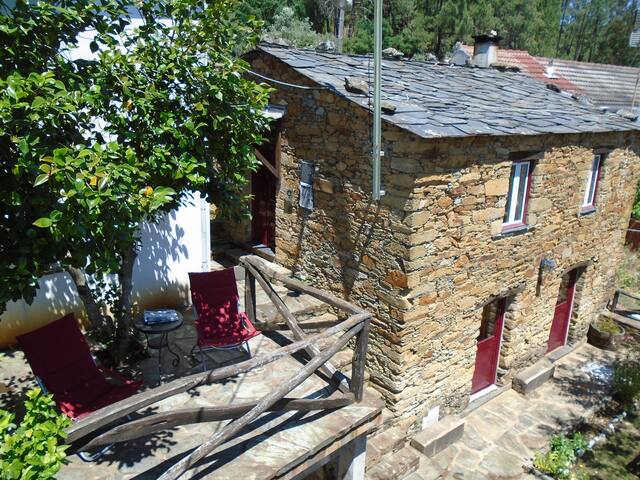 The Casa do Lagarinho is located in "Aldeias" litle village near the municipality of Gouveia at the entrance of the Natural Park of Serra da Estrela, about 750 meters above sea level. Casa do Lagarinho is part of a group called "Casas Serranas", consisting of three rural houses and provides a unique experience in rural accommodation in this exciting moutain region. Village extends down the slopes of a valley of great beauty that keeps the main features of mountain tradition. Visit us!
Casa do Lagarinho - Living room with fireplace and sofa bed – Equipped kitchen – Suite with 1 double bed – 2 Bathrooms
Places to go nearby: Ethnographic Museum of Gouveia Head of the Old Man (famous rock) River Beaches Park Zoo – Gouveia Museum of Modern Art Abel Manta, in Gouveia Miniature Car Museum, in Gouveia Activities in Serra da Estrela Pedestrian routes and thematic tours, Orientation, Paintball, ATV riding, Sport Fishing, ... Winter sports, Horse riding, Rides on all-terrain vehicles.
Fim de semana maravilhoso! A casa esta localizada numa aldeia linda com uma vista maravilhosa. A casa é super confortável, toda equipada e muito bonita. Foi tudo optimo. Recomendo para quem esta a precisar de sair do stress da cidade e ter um fim de semana calmo e relaxante.
António
2017-02-05T00:00:00Z
Room Type
Entire home/flat
---
Property Type
Villa
---
Accommodates
4
---
Bedrooms
Aldeias, Guarda, Portugal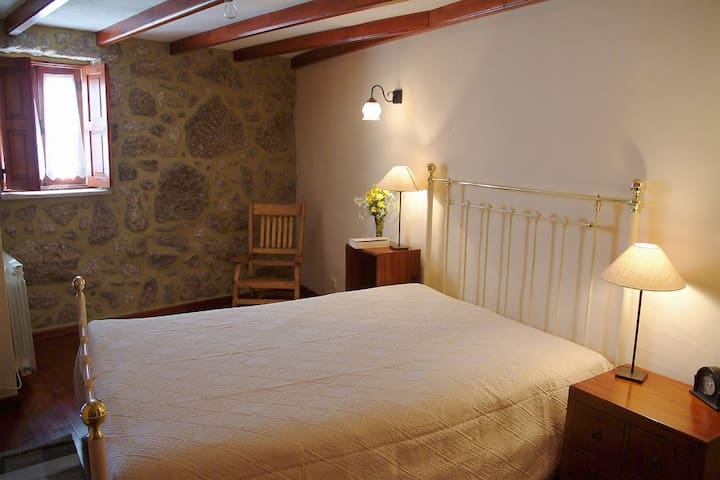 An excellent T1 completely refurbished, integrated in the Solar Maceira
It was a great time, the house is perfect for a couple with a small children like us.
Rodrigo
2016-04-26T00:00:00Z
Very beautifull house, with a great view. It's in a very relaxing and quiet place, loved it.
Ruben
2017-02-15T00:00:00Z
We really enjoyed this place. It is close to Seia and to the main sightseeing spots at Serra da Estrela. The house was perfect for 2 people, very clean, and with all things necessary for a long weekend. Sr. Borges and D. Jeronima were really sweet and very helpful.
Ana Catarina
2017-02-17T00:00:00Z
Casa muito acolhedora, com uma arquitectura muito gira e muito perto do centro de Seia. Os anfitriões muito simpaticos, a casa muito limpa e com todo necessário. Recomendo. Gostei muito.
mafalda
2017-02-26T00:00:00Z
Fomos bem recebidos. A casa está muito bem arranjada e tudo foi pensado ao pormenor. Havemos de voltar. Aconselho.
Sérgio
2016-03-09T00:00:00Z
Estadia confortável, tudo arrumado e limpo, com bom aquecimento. Parque privado para o automóvel, e a 2 minutos do centro da cidade. Excelente escolha para quem necessitar ficar uns dias em Seia e ir visitar a Serra da Estrela.
Ricardo
2017-01-29T00:00:00Z
Tudo estava perfeito o senhor que nos recebeu é muito simpatico voltarei com muito prazer
Maria
2016-08-04T00:00:00Z
Um local muito tranquilo e aconchegante, fomos muito bem recebidos.
Daniel
2016-12-30T00:00:00Z
Room Type
Entire home/flat
---
Property Type
Villa
---
Accommodates
3
---
Bedrooms
Maceira, Guarda, Portugal
The villa is on the edge of town without any opposite but still 5 minutes walk from the village bakery. The villa is close activities suitable for families with a multi-activity center (ropes course, mini golf, zip ...). It is located on the edge of the natural park Serra da Estrela, where many kinds of activities are available (canoeing, pedal boating, hiking ...) Enjoy the calm and modern comfort with panoramic views of the mountain.
We put all our passion to renovate this old barn to make it as pleasant as possible, while retaining its original charm. The villa is situated on the edge of the village you can enjoy a quiet beautiful mountain landscapes in all seasons, as well as a private pool surrounded by olive trees.
Geral: 5 estrelas, foi tudo ótimo e muito surpreendente pela positiva. Espero voltar no verão :D Localização: a casa fica na freguesia de Cativelos que apesar de ser uma zona muito sossegada onde se ouvem os passarinhos e o sino da igreja é bem perto de Gouveia. Casa: Super sofisticada, cheias de candeeiros, luzinhas e velas. Decoração com muito bom gosto. A casa tem tudo o que é preciso numa cozinha, eletrodomésticos, panelas, pratos, copos e alguns bens alimentares (como especiarias). Tem máquina de lavar roupa e louça. Tem churrasqueira. Check-in: fomos recebidos pela simpática D. Paula que já tinha ligado a lareira e as luzes da casa quando chegámos. Mostrou-nos a casa e ressalvou que qualquer coisa que precisámos podíamos contactá-la. Muito, muito obrigada às duas D. Paulas :D
Marta
2017-02-26T00:00:00Z
Obrigado Paulas, passámos um fim de semana óptimo! A casa é perfeita e tem todas as condições para ter uma boa estadia na Serra. Obrigado pela vossa e hospitalidade e adorámos a surpresa de boas-vindas! Até à próxima!
Gonçalo
2017-02-12T00:00:00Z
Prefeito do início ao fim!! Paula manteve uma excelente comunicação antes e após a nossa chegada. Fomos recebido pela outra Paula quê além de muito simpática, preparou-nos uns quitutes de boas vindas. A casa é linda, decorada com muito gosto, confortável, com tudo que se precisa mesmo para estadias longas. Fiquei realmente maravilhada. Recomendo é voltarei. Obrigada às Paulas :-)
Luciana
2016-12-26T00:00:00Z
Para quem apreciar uma estadia no campo é maravilhoso. Conseguia-se apreciar o silêncio. As fotos demonstram bem o que a casa é. A casa tem tudo o que é necessário para uma boa estadia. Agradecemos também à outra D. Paula sempre disponível e atenciosa no que foi necessário. Muito obrigado e bom ano.
Cadi
2017-01-02T00:00:00Z
Hospitalidade incrível! A recepção na casa foi excelente e mostraram-se sempre disponíveis para ajudar e meteram-nos muito à vontade com tudo. A casa é lindíssima e super bem equipada. Não nos faltou nada e o único arrependimento foi não ter podido aproveitar mais a casa! A lareira e o aquecimento central são mesmo uma mais valia no local.
Pedro
2016-12-11T00:00:00Z
Room Type
Entire home/flat
---
Property Type
Villa
---
Accommodates
6
---
Bedrooms
Cativelos, Guarda, Portugal
A nossa casa está situada num terreno but of 15,000 m² No. Parque Nacional da Serra da Estrela. Our house is situated on a plot of over 15,000 m² in the national park of Serra da Estrela
Além da configuração, muito calmed no campo has exposição desfrutar permite uma bela vista da montanha. A piscina eo jardim são totalmente disponiveis para relaxar e tomar banho. Besides the setting, very quiet in the countryside, the exhibition can enjoy a nice view of the mountains. The pool and garden are fully available to relax and swim.
Land of the great Portuguese writer VIRGÍLIO FERREIRA
Just perfect !
Matteo
2016-08-10T00:00:00Z
We stayed two nights with Daniel and Paula in their beautiful home. They made us feel very welcome. As there were no other guests, we had the entire top floor to ourselves, with magnificent views across the green countryside. Everything was new and spotless. We loved the rural setting and being farmers ourselves we felt right at home. We enjoyed exploring the villages and mountains. We highly recommend this place. It is great value for money. Thank you Daniel and Paula!
Bruce
2017-04-10T00:00:00Z
Room Type
Private room
---
Property Type
Villa
---
Accommodates
4
---
Bedrooms
Gouveia, Guarda, Portugal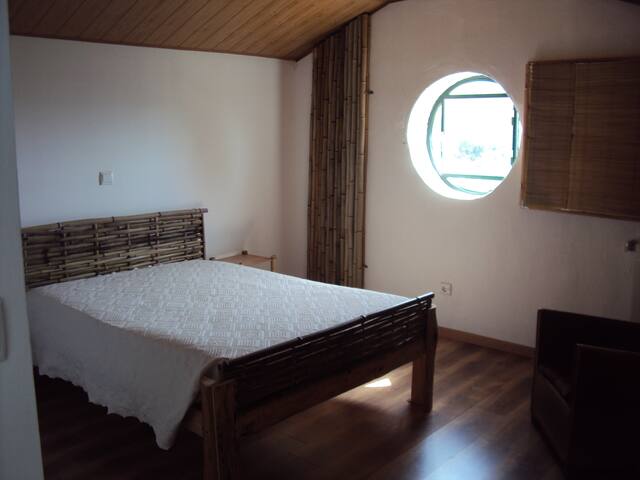 Casa da Caseira is a cosy country-house and belongs to Casa Grande. On the first floor are the two bedrooms: one with a double bed, the other with two single beds. The living room with cooking space and the bathroom are on the groundfloor. In winter you will enjoy the fireplace. Please do your grocery shopping before arriving.
We had a wonderful stay at Casa de Caseira. The location is in a peaceful and quiet village with friendly local residents and the surrounding area is just beautiful, with grape vines and olive trees and the Serra Da Estrela mountain range in the backdrop. The stone house we stayed in is beautifully and tastefully decorated and spotlessly clean. There is a very nice garden where you can relax or take your meals. Margarida is a very kind and helpful host and did everything possible to make our stay comfortable and enjoyable. Her breakfasts with homemade jam, herbal infusions, local bread and cheeses were delicious. Highly recommended.
Tavy
2016-08-10T00:00:00Z
Casa Grande is a wonderful estate with many corners, a great history and a very beautiful garden. Margarida is the perfect host and a very elegant, interesting and intriguing woman.
Mark
2016-08-07T00:00:00Z
Margarida a été une hôte très attentionnée et chaleureuse. Elle nous a conseillé les endroits à visiter dans la Serra de Estrela dont le point culminant est à couper le souffle. Il s agit de Torre. Par ailleurs la maison est très propre et accueillante! Le parc qui entourent les maisons est superbe et très agréable pour prendre le petit déjeuner ou se reposer dans un hamac. Je recommande fortement cet halte chez Margarida!
Christelle
2016-08-21T00:00:00Z
Espaço que nos faz voltar às nossas infâncias... Aos tempos dos nossos avós, simplesmente adorável!
Antonio
2017-02-19T00:00:00Z
Logement un peu petit mais superbe emplacement pour un départ pour visiter les montagnes, propriété familiale de charme, très bon petit déjeuner et surtout propriétaire très sympathique et avenante.
Jerome
2016-10-12T00:00:00Z
Room Type
Entire home/flat
---
Property Type
Villa
---
Accommodates
4
---
Bedrooms
Paços da Serra, Gouveia, Portugal
La maison est située dans un village de montagne, appelé le plus élevé au Portugal, Sureau - 1200 m d'altitude. Ce village bénéficie d'un emplacement très pratique (15 min TOUR): - plage de la rivière de sureau (0 Km) - piétons (0 Km) - Rossim Valley (8,8 Km) - Accompli Lagoa (8,2 Km) - Golden Penhas (10,5 Km) - Tour (15 Km) - Lapa Plage de fonds (16,5 Km) - Loriga Beach (22 km) - Val d'mare (36 Km) AL / 38024
Rui's house was a perfect home for us for 4 nights. We enjoyed the village and what the house provided to us. It was just a short drive to the surrounding hiking trails and the highest mountain tops. The house was well equipped with full kitchen, fire place and very strong wi-fi connection. Elisabete welcomed us and we enjoyed our stay a lot. Thank you.
Sigal
2016-09-18T00:00:00Z
Good experience. We loved the location. Sabugueiro is really close to the top of the mountain and has some good typical restaurants.
Rodrigo
2017-04-07T00:00:00Z
Our stay at rueis place was excelent! I truly recomand the beutifull well equiped dreamhouse in the peacefull and georges vilage, we enjoied every minute!
hila
2016-10-09T00:00:00Z
Rui's place is in the heart of Sabugueiro, a (still) typical village in Serra da Estrela. A cozy and welcoming traditional house with all the amenities and comforts of modern life. It will make you feel at home the moment you walk through the door! We stayed for a week and thoroughly enjoyed the many hiking trails nearby, the quiet and genuine village life and and the heart warming contact with the locals.
Gonçalo & Teresa
2016-08-22T00:00:00Z
Estive na casa do Rui com um grupo de 11 pessoas e foi tudo aquilo que nós queríamos. Uma casa à primeira vista pequena, mas nós estivemos mesmo bem e á vontade, nem sentimos que era pequena, as divisões são muito boas. Apesar de ser Janeiro e estar muito frio lá fora, dentro de casa estava impecável, o aquecimento era bom. E a localização era muito boa, claro que ruas estreitas para os carros era norma, mas não se espera outra coisa do Sabugueiro. Perfeita para um convívio entre amigos!
Ana
2017-01-08T00:00:00Z
Super recomendo! Excelente estadia, espaço e anfitrião.
Leonardo
2017-02-01T00:00:00Z
Das haus war sehr gemütlich und der Flussbadestrand nur 2 min Fußweg entfernt. Toll mit Kindern dort zu wohnen. Und es gab eine sehr gut ausgestattete Küche.
Jana
2016-07-09T00:00:00Z
Casa muito simpática e acolhedora com tudo o que faz falta, numa Aldeia sossegada e de boa gente na Serra da Estrela. Anfitrião simpático, comunicativo e sempre disponível caso seja preciso. Foi uma estadia bastante agradável. Muito Obrigada
Helena
2017-01-15T00:00:00Z
Room Type
Entire home/flat
---
Property Type
Villa
---
Accommodates
11
---
Bedrooms
Sabugueiro, Guarda, Portugal
Welcome to the house of the oaks. Country house with large attic, spacious, consisting of a modern T0 in "open space" with a refined decor and inspired by local traditions. Sleeps 3 to 4 people. It also has access to pantry / kitchen with microwave. The house is located in a quiet place, 10 minutes from the city of Seia, 25 minutes from the Tower. There are animals, cat, chickens, sometimes prowling the fifth. Ideal for couples with children. Price per couple.
countryside with fields and path, good access.
A D. Virgina recebeu a minha família com uma simpatia e simplicidade que cativou. O espaço correspondeu ao descrito e, apesar da noite fria, o aquecimento central proporcionou um ambiente bem acolhedor. Bem haja.
Carina
2017-02-19T00:00:00Z
Room Type
Entire home/flat
---
Property Type
Villa
---
Accommodates
4
---
Bedrooms
Sameice, Guarda, Portugal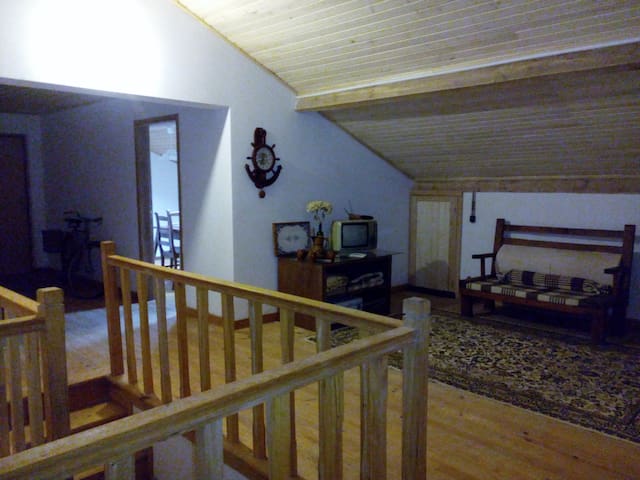 Casa com quartos com casa de banho privativa e aquecimento central. Acesso a sala de estar com lareira cozinha equipada e salao de jogos com lareira. Vista sobre o vale glaciar e sobre a serra estrela, sobre o rio.
vista sobre a serra da estrela e vale glaciar
a casa situa-se numa zona discreta e sem vizinhança
Room Type
Entire home/flat
---
Property Type
Villa
---
Accommodates
2
---
Bedrooms
manteigas guarda, guarda District, Portugal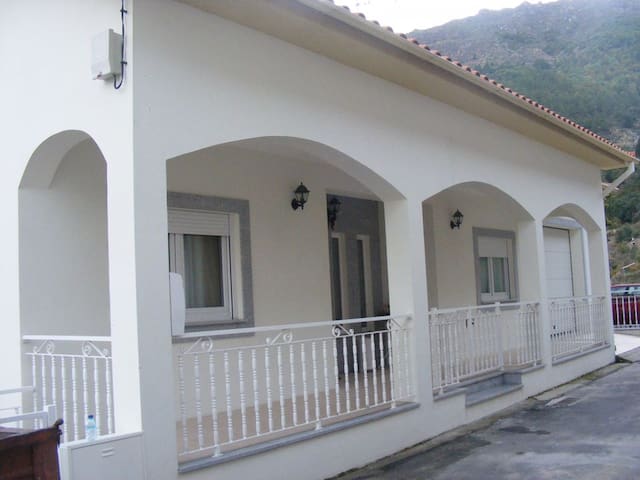 Our Rural Cottage has two double bedrooms with mezzanine. An open-plan living room to the kitchen with central heating, with rustic wood burner and TV. The kitchen has a ceramic hob, oven a microwave. It has one bathroom each floor.
Our rural Cottage is located in a Serra da Estrela natural reserve, overlooking the mountains and countryside, near the village of Santa Comba de Seia. The cottage has two double bedrooms with mezzanine. An open-plan living room to the kitchen with central heating, with rustic wood burner and TV. The kitchen has a ceramic hob, oven and microwave. It also has one bathroom, one each floor equiped with a combi boiler. Lameira Cottage is 30 minutes from the top of the Serra da Estrela, where you can enjoy the beauty of Portugal highest mountain range. In the nearest city, Seia it is possible to visit the Museum of Bread, the Museum of Toys and the Interpretation Center of Serra da Estrela, CISE. We have some bicycles to rent and we can organize guided tours to the Mountain at very competitive rates. OUTDOOR/RADICAL ACTIVITIES: Trekking, cycling, moutain bike riding, tours to the closest river beaches along the banks of Alva, Mondego and Zêzere rivers. Horse riding, depending on the availability of the local equestrian center. Public transport info: The closest bus stop is Seia, at 3 km from the Cottage and the nearest train station is Nelas 21 km from the Cottage. Other: Taste the traditional and delicious local cuisine; visits to the local cheese factories. Come to enjoy the peaceful countryside on this natural environment, while sitting around a beautiful fireplace with the most amazing sunset views.
Cristina and her family were so incredibly welcoming and accommodating! We arrived in Santa Comba a bit early and her husband, daughter, and dog came out to meet us. Cristina arrived shortly after with fresh baked bread, pumpkin jam/jelly, some amazing sheep milk cheese, and a few other basics. Their Retreat of Lameira was immaculate - beautifully updated, furnished, and kept. The wood beams and shutters made the house feel so cozy and the views in every direction were serene. My husband and I greatly enjoyed our time eating meals on the patio and looking out into the fields.
Adina
2014-09-09T00:00:00Z
Amazing place with amazing hosts! This was truly a lovely experience, from the welcoming (we were really late and Cristina and her husband had such a patience) to the fireplace, the breakfast, everything was awesome. I recommend this place to nature enthusiasts because it s in fact a countryside property. Nonetheless, it has all the comfort you can imagine. Just the fireplace was really good to have while raining outside. I will definitely come back here.
Jenifer
2014-01-06T00:00:00Z
We had a very good night at Cristina's place when we passed through the area on our way from Porto to Lissabon. The house is a very good location for visiting the Serra da Estrela. The surrounding is very quiet what we appreaciated very much especially after some strenuous surf lessons. The house is very beautiful on the in and outside with a lot of lovely details. We did not miss anything - especially the kitchen is very well equipped (which included sharp knives and even a mixer). I suppose this house is the perfect location for a vacation in Serra da Estrella for families or couples. We enjoyed our time there very much - thank you so much Cristina!
Steffen
2013-10-08T00:00:00Z
The retreat of Lameira is a real treat! It is wonderfully quiet in the middle of fields and olive trees. The house is very comfortable, very clean and pleasant. Cristina and Luiz are attentive and kind hosts who tried to help us in all possible ways. They answered our questions, made suggestions and gave us information about many things. It was really nice, the contact with them. We are enthousiast about our stay in their house and hope to come again.
Els
2016-08-16T00:00:00Z
The host canceled this reservation 9 days before arrival. This is an automated posting.
Denis
2015-07-31T00:00:00Z
Christina was more then helpful pick us up at a meeting point not far from the house and to show us how to get there. The house is wonderful, two nice bedrooms, two bathrooms and fully installed kitchen. The surroundings are stunning and the view is amazing. If you are looking for peace and silence that's the place to be. She provided us every day with fresh bread and the local cheese was delicious
Patrick
2015-07-30T00:00:00Z
Cristina and Luiz were incredible hosts and their home is absolutely stunning with detailed craftsmanship in every corner and beautiful artwork adorning every wall, while also providing a truly authentic country home experience as one can have, while still maintaining the highest standards of comfort---it was extremely cozy to be in. The hosts are also extremely kind people with interesting life perspectives---Luiz is even an accomplished surrealist painter, and we even had the privilege to see his studio. They even left us a delicious meal with local cheese bread and pumpkin jam. The WiFi also worked spectacularly which was at first surprising given the remote location. We absolutely recommend any one to stay in this beautiful home with truly breathtaking views and deeply welcoming hosts.
Leonid
2016-04-06T00:00:00Z
We had a great time at Retreat of Lameiro, Cristina and Luis were very nice and helpfull to us. Every day they bring us some wood for the fire and a really good bread with tipical cheese and jam for breakfast. The house is very isolated, nice to take a break from the city, and closed to Serra da Estrela. The best way to have rest with a nice environment. We recomend to all the nature lovers !
João & Anne
2013-12-29T00:00:00Z
Room Type
Entire home/flat
---
Property Type
Villa
---
Accommodates
7
---
Bedrooms
Santa Comba de Seia, Serra da Estrela, Portugal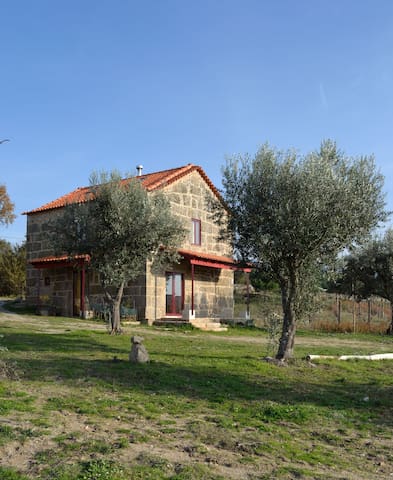 1

–

18

of

31 Villa Rentals
Enter dates to see full pricing. Additional fees apply. Taxes may be added.