Enter your check in date in the format dd-mm-yyyy
Enter your check out date in the format dd-mm-yyyy
Listings you can book without waiting for host approval.
13 Villa Rentals
· Marcilly-le-Châtel
13 Villa Rentals
· Marcilly-le-Châtel
Enter dates to see full pricing. Additional fees apply. Taxes may be added.
This July and August, you can try one of these 100 highly-rated homes, at all price points, and experience a local's view of Sonoma. 24-hour check-in, Instant Book, and local wine and snacks let you just sit back and enjoy your trip.
Accueillis par ma grand-mère, vous disposez d'une chambre indépendante avec salle de bain et WC attenants dans une aile inoccupée de la maison. Vous disposez d'un grand parc et d'une piscine pour profiter au mieux de ce coin de campagne paradisiaque
Chambre cosy dans un couloir rien que pour vous. Tout le couloir est à votre disposition. Il donne accès à votre chambre, aux toilettes, à la salle de bain et, bonus famille nombreuse, une chambre dortoir avec 5 lits simples ! Vous pouvez venir ici en famille ! L'attrait de la maison est, bien sur, son immense parc et sa grande piscine, clôturée pour les enfants. Parking à votre disposition, vous pouvez accéder à tout le parc, la piscine. Vous accédez de manière indépendante à votre chambre via la coursive. La salle de vie, avec sa cheminée et ses baies vitrées, vous est ouverte. Ma grand-mère est une hôtesse hors pair. Envoyez-nous un petit mail pour un petit déjeuner ou un souper, toujours généreux. Bavarde, elle vous racontera l'histoire des lieux et des environs !
Propriété attenante à une ferme en pleine campagne. Vous êtes à 25 mn en voiture du stade Geoffroy Guichard et 30 mn de la gare TGV de Saint-Etienne. La gare la plus proche est celle de Feurs où Montrond-les-Bains. Accès par voiture uniquement. Nous prévenir sinon.
My friends and I spent 4 amazing days in Le Mazoyer! Bedrooms and bathroom were a bit outdated, but clean and the rest of the house is decorated in a french eclectic style with breath taking surroundings of a house with a swimming pool! Our hosts were nice and friendly. I would like to come back again with my family.
Zlatko
June 2016
Lovely and friendly French home and family. Ginette made some amazing food to welcome and accommodate us, making our stay very enjoyable.
Henry
June 2016
Accueil fantastique! Belle piscine en beau jardin. L'hospitalité de madame Ginette est formidable!
Margot
August 2016
Photos et description conformes. Tres beau jardin et tres belle piscine. Ginette est de plus fort sympathique et tres accueuillante.
Julien
August 2016
Nous avons été admirablement reçus par Ginette et son fils, durant un séjour de 2 nuits. Notre seul regret est de ne pas avoir eu le temps de profiter davantage de l'extérieur de cette propriété (superbe piscine ; beau et grand jardin, parfaitement entretenu). Nous reviendrions sans hésiter dans le même lieu si nous devions revisiter la région.
Arnaud
August 2016
Nous avons bien été reçu par Ginette qui nous a donné de bonnes idées de visite de la région. La maison de famille a un cachet "historique" et beaucoup d'espace dans un cadre verdoyant de nature et de calme. Certes le confort n'est pas dernier cri, mais nous avons profité du bon déjeuner de Ginette et de sa gentillesse. La région est riche pour faire des visites diverses dont la Bâtie d'Urfé. La piscine est parfaite pour profiter du soleil dans les périodes estivales
Jean-Mi
August 2016
Room type
Private room
---
Property type
---
Accommodates
7
---
Bedrooms
1
Saint-Laurent-la-Conche
Our host was very friendly and patient. Also, the flat/house is great and had everything we needed. I highly recommend Agnes and her St. Etienne suite to everyone and guarantee they will have what they paid for, and more. Hope we'll return. Agnes ❤
Tomislav
June 2016
4 of us stayed for 3 nights, and overall we could not have been happier! Agnes was very welcoming and friendly, she provided us with all the things we needed, and allowed us to eat all of her food! The location is beautiful, you can sit on the patio and look over the city with a great view. The neighborhood is very peaceful and quiet about a 1 hour walk from the town of St Etienne. To summarise the experience was just about perfect. If you were overly critical you would say there was one lightswitch that didn't work, but we all manged to get by without it! Thank you Agnes!
Nathan
June 2016
Nous avons passé un très bon week end chez Agnès. Elle nous a très bien accueilli. La maison est très agréable, fonctionnelle. Là jardin est grand et arboré, avec deux terrasses. La vue est très belle, et la maison est proche du village.
stephanie
August 2016
Agnes è una persona molto (URL HIDDEN) quartiere dove si trova la casa è tranquillo e rilassante.
Maria rosa
August 2016
Room type
Entire home/flat
---
Property type
---
Accommodates
5
---
Bedrooms
2
L'Etrat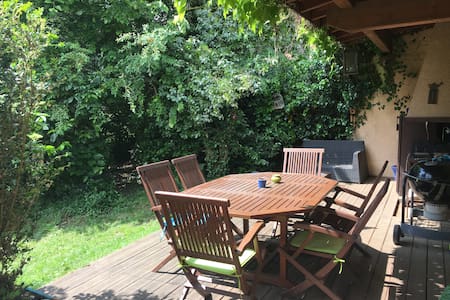 Maison située à la campagne avec vue sur le Pilat, située à 5 km de Saint Etienne 42. Idéale Euro 2016 Stade Geoffroy Guichard. Entrée indépendante donnant sur un séjour, chambre, coin déjeuner et salle de bains pour 2 personnes. Piscine
La maison ets calme et a une vue imprenable sur le Pilat. Accès indépendant donnant sur un séjour, une chambre, une pièce petit déjeuner et une grande salle de bain et wc. Toute commodité avec accès piscine et belle vue. Nous saurons vous apporter une aide pendant votre séjour.
maison individuelle situé dans un lotissement convivial et tranquille. Proximité transport en commun.
Room type
Private room
---
Property type
---
Accommodates
2
---
Bedrooms
1
Sorbiers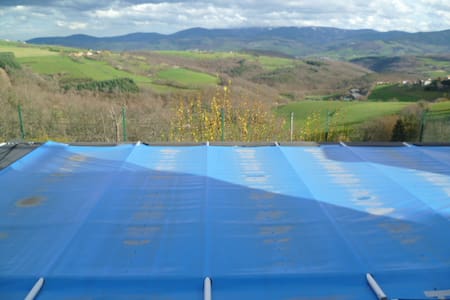 We felt very welcome, totally at ease and spoilt! Towels, soap, good bed, welcome drink. Nice pool! Quit neighbourhood.
Kristina
August 2015
Thierry was a great host. His house is very nice and we had a great time. He helped us with everything. Thanks a lot and best of luck!
Ivan
June 2016
This is a wonderful place to stay. Thierry and his daughters made us feel welcome, shared wine, cheese and bread with us and encouraged us to swim in their pool. It is located in a peaceful area with an expansive view of the countryside. We slept well, ate well and swam well.
Lawrence
July 2014
Logement parfait,avec une vue magnifique. Endroit très calme. Merci pour les petits mots dépose pour nous. Nous avons passé un bon moment sur saint Etienne qui
Julia
June 2016
Bon accueil de Thierry avec simplicité et convivialité; Chambre dans une maison agréable dans un environnement très calme; Accès aux commodités de la maison: très bien
jean jacques
April 2016
Hôte agréable, arrangeant et aux petits soins .
Florence
June 2016
Très sympa, bon accueil, prises électriques multiprises inexistantes vers le petit bureau pour brancher un ordinateur. Parking fermé. Très calme.
Marc-Claude
September 2015
Une très belle maison, accueillante, moderne, fonctionnelle, même une piscine (mais on était en janvier !). Thierry m'a reçu avec le sourire, m'a offert un thé, bien agréable après 400 km, et qui nous a permis de faire connaissance. Je ne suis resté qu'une nuit, dommage... Chambre douce, bien décorée, très cosy, lit confortable. En fait, Thierry m'a offert l'hospitalité, je n'étais pas un "client". Que dire de plus...un petit déjeuner m'attendait le matin. J'y reviendrai volontiers si l'occasion se présente. Merci encore Thierry !
Robert
January 2016
Room type
Private room
---
Property type
---
Accommodates
2
---
Bedrooms
1
La Fouillouse
Nous avons passé une semaine chez Damien, villa très agréable et bien équipée . Nous avons passé un excellent séjour, nos enfants ont adorés également et ont trouvé des jouets et libres en tout genre !! Vraiment au top ! Merci pour le panier de légumes bio du potager ( délicieux !!)
Farida
August 2016
Room type
Entire home/flat
---
Property type
---
Accommodates
5
---
Bedrooms
3
Saint-Paul-en-Cornillon
Breakfast included- Close to the downtown and the stadium (5 min with a car) -Clear modern house; big living room with an american kitchen; At the uptstairs 4 bright bedrooms,2 bathrooms, a sofa. Nice terrace, garden and panoramic view on the city. A park where you can practice sport. price : 30% from the 2nd night.
Modern house with nice view on the city and close to the football stadium. If needed you can rent only 1;2 or 3 rooms on a total of 4 bedrooms (150 € for each bedroom with a double bed and a private bathroom : there are 2 similar rooms like this; 120 € for the bedroom with 2 single bed and 80 € for the room with one single bed. For this last 2 bedrooms there is only one bathroom)-price : 30% less from the second day The upstairs will be dedicated for renting but you will be allowed to cook in my kitchen and to use the living room ; the terrace and the garden. BREAKFAST is included in the price We are at 7 min for the football stadium and at a walking distance of 30 to 40 minutes it depends of you. You can take also a bus or the TRAM and in that case you need approximately 25 minutes in total to reach the football stadium. If I am here I can help you and pick you up somewhere.
Close to a public park where you can practice sport. The city is just down of the ill at a 10 minutes walking distance.
Room type
Entire home/flat
---
Property type
---
Accommodates
7
---
Bedrooms
4
Saint-Étienne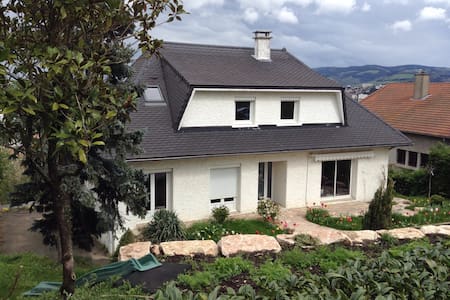 Proche de Saint Étienne (42), une grande maison de 10 Chambres dont 5 ont un coin toilette, une grande cuisine, un petit salon, un grand salon une salle a manger, sur un parc extérieur de 5000 mètres. idéal pour l'Euro 2016 et accueillir des fans.
A 7 km du centre ville de Saint Étienne (42), le lieu est calme et au milieu de la campagne du Forez. La maison est ancienne, avec ces charmes d'époque. Vous pourrez sur commande demander le petit déjeuner français (6€/P) le loueur sera dans la maison lors de votre séjour. grand jardin, avec jeu de pétanque (boules) Ping-pong, balançoire etc... Accès en voiture uniquement, les transports sont à 2 km a pieds, mais le loueur sera à là a votre réception, afin de vous proposer de vous véhiculer, et d'organiser votre séjour moyennant participation financière le loueur sera là en permanence et vous assistera dans votre séjour. un véhicule sera mis a votre disposition sur réservation et participation.
Maison située à 7 km du centre ville de Saint Étienne, et 2 km du village de l'Etrat. non loin du stade Geoffroy Guichard où se déroulera 4 matchs de l'Euro 2016 et du centre de formation Possibilité de garer vos voitures devant la maison Consommation sur place avec règlement journalier
Room type
Entire home/flat
---
Property type
---
Accommodates
16
---
Bedrooms
9
l'Etrat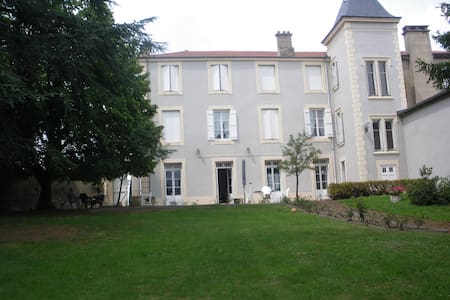 Large monumental holiday villa (Maison Le Cros Darrot) with private pool, located in the natural park Livradois Forez. Peace and quiet and at the same time much to do for the people who want to be active. The Auvergne and this house offer both.
Large monumental holiday villa (Maison Le Cros Darrot) with private pool, located in the natural park Livradois Forez. Private secluded and enclosed garden of about 1200 m2 and swimming pool. Large living room with dining area and fireplace, extra living/play room and spacious kitchen with private dining areas and equipped with large stove with oven and dishwasher. On the first floor three spacious double bedrooms, one triple bedroom and a room with bunk bed. At 5 km distance is a large swimming lake with water bikes. There are also tennis and squash courts, walking trails and mountainbike trails nearby. The town of Thiers is 3 km away and has been the city of knives makers since 1400. Also worth visiting are the volcano mountains (Puys) that are unique to France, with the theme park Vulcania. Cycling and walking is wonderful in this part of the Auvergne. The cities of Clermont-Ferrand, Vichy, and St Etienne are within an hour's drive away.
What a great location, next door to a very small working farm, no other immediate neighbours, Thiers is a great town with both modern facilities and very old traditional buildings. Easy access East & West on the motorway and lovely villages meandering north and south. The house has plenty of space and retains plenty of character with all the modern conveniences you'd want and a pool in the garden to start the day or cool off after a day trip. Excellent
Roger
July 2014
Room type
Entire home/flat
---
Property type
---
Accommodates
11
---
Bedrooms
5
Thiers
1

–

13

of

13 Villa Rentals