Enter your check in date in the format dd-mm-yyyy
Enter your check out date in the format dd-mm-yyyy
Listings you can book without waiting for host approval.
3 Bed & Breakfasts
· Marietta
3 Bed & Breakfasts
· Marietta
Enter dates to see full pricing. Additional fees apply. Taxes may be added.
This July and August, you can try one of these 100 highly-rated homes, at all price points, and experience a local's view of Sonoma. 24-hour check-in, Instant Book, and local wine and snacks let you just sit back and enjoy your trip.
Furnished room in Marietta ideal for individuals or couples who desire a downtown, quiet location. Located close to Kroger's, I-77 interstate and Washington State College. Room comes furnished with bedding, closets, and dressers. The home has a large backyard and deck. A dining room table that seats six people and a large front porch overlooking long front yard. Beyond the trees of the backyard, you may walk into a large park with a large pond and playground. Lush greenery all around.
We have other guests similar to a B&B that you're encouraged to interact with. You might see the owners on the property adding amenities or sprucing up the place. You're welcome to ask us what we're up to as we do group activites quite often.
A very quaint small neighborhood filled with single-lane streets. No through traffic. Very quiet and peaceful.
Matt and his hostess were very responsive and accommodating during our stay. We came into town late, and they both gave great recommendations for places to eat in Marietta. The bedroom was very comfortable, and the minimalist decor was soothing after a long car trip. We didn't see any meteors but enjoyed resting up in the quiet of the country cottage.
Keith and Jenny
August 2016
Beautiful house, in a very quiet and nice neighborhood. Only 5 minutes by car to downtown Marietta, which has a great selection of restaurants, bars, and other eclectic attractions.
Edwin
October 2016
Space was clean and airy, price is very reasonable. I would stay here again.
Peggy & Matthew
September 2016
Nice spot to stay, with easy access to highway and restaurants nearby. Room was clean and comfortable in an old style farmhouse. Hosts were gracious and friendly. Good stay.
Todd
October 2016
I am a travel nurse. I was only using the space to sleep. The place was quite, bed was super comfy and host was pleasant. Will stay again for sure!
Janelle
October 2016
Everything went very well, comfortable and affordable.
Cynthia
September 2016
My stay at Matt's place was perfect! It is is exactly what I needed as i travel to Marietta weekly for work. Communication was fast and easy, the house is quiet, cute, comfortable, clean, and very welcoming! I couldn't ask for a better arrangement!
deanna
September 2016
Room type
Private room
---
Property type
---
Accommodates
2
---
Bedrooms
1
Marietta
Built in 1905, The Harkins House Inn has been in my family ever since. It has been lovingly restored and is close to family-friendly activities, restaurants, lakes & outdoor activities, historical sites, The Wilds, I77 and I 70, Cambridge, Marietta, & Shenandoah Crash sites. You'll love it here for our clean & friendly atmosphere, historic but homey attention to detail, comfy beds, free wifi & great front porch. . My place is good for couples, solo adventurers, business travelers, and families.
We strive for complete customer service. We have 3 different types of guest rooms. Two have queen beds. One has a queen and daybed, thus able to sleep three people. Our 4th room is on the third floor and has a king bed and two person whirlpool tub. All have private baths, flat screen TV's, free wifi, and come priced with a full breakfast. The queen rooms run $80 a night and Bea's room (with the daybed) runs $93.50. The king room is $125.00. If you book all four for a night charged together you get them for $80.00 a night each. This is available only on this Airbnb site and you should call ahead to make sure they are all available for the night you wish. Entering the house you will see a large front porch which is a favorite place to meet with your friends or family staying with you. There is a common area living room as well as a small sitting area in the upstairs hall. A common dining room is also available for playing board games or having small business meetings as well as breakfast in the morning. An innkeeper lives in the house also is available pretty much 24/7, at least by phone. Additional staff are available when innkeeper is away.
Caldwell is unique in its people and their community mindedness. You will be welcomed here in town besides here at The Harkins House Free Parking is available, off street, behind the house. We are in walking distance of the Noble County Courthouse, shops, banks and businesses around the courthouse square. Also the library and restaurants. A fitness walking track is less than 1/2 mile away. Our B&B is a unique historic home but still maintains a homey comfort. Caldwell is a small rural town that I like to call the "Mayberry" of Ohio. You will feel that welcome here and pampered like Aunt Bea would.
We thoroughly enjoyed our stay
Warren
October 2016
Stacey met us and welcomed us into her B & B. Everything was clean and decorated appropriately for this lovely older home. The neighborhood felt safe and off street parking was great. We enjoyed our communication with Stacey. And the stay was topped off with a great breakfast!
Woody & Bonnie
October 2016
Just awesome. Stacey is a fantastic host and her home is lovely.
Laura
October 2016
Stacey was a wonderful host and her home is beautiful. The rooms were spotless and everything the pictures promised. Breakfast was delicious with fresh, homemade coffee cake and real cappuccino in addition to other typical breakfast offerings. Stacey was very accommodating and allows us to use the dining room for a board game marathon that we much enjoyed. I would definitely consider staying here again. This was my first bed and breakfast experience and definitely an experience to prompt me to consider B&Bs for future travel.
Lori
August 2016
Stacey was very warm and welcoming. She has a beautiful home and takes very good care of it.
Judith
August 2016
Beautiful old home with lots of history documented throughout. Stacey's very personable son greeted us when we arrived. Our room was comfortable. Restaurants were near by. Breakfast was good and Stacey was gracious. Would definitely stay again.
Sandy
September 2016
Stacey's home was just the treat I needed after a hectic week before my travels. Caldwell was charming and the town center was a beautiful 2 blocks away. The home was an old world mansion straight out of the turn of the century. I highly recommend Harkins House to other travelers.
Mitch
September 2016
A very pleasant place to stay! Our hostess was flexible with us coming in and out even if we got back late from dinner. A very comfortable room and bed and great breakfast! Loved conversing with our hostess.
Reginald
November 2016
Room type
Private room
---
Property type
---
Accommodates
2
---
Bedrooms
1
Caldwell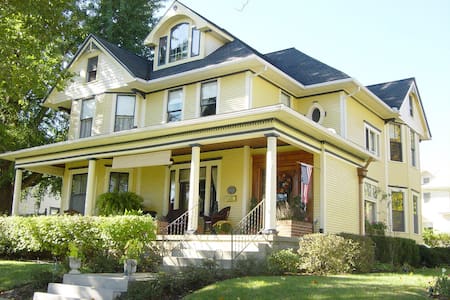 This bedroom is filled with western landscapes and sunsets. It is quiet and has direct private access to the back porch, with great views of the garden and surrounding woods. It is just steps away from the luxurious bath. Come on out and relax! In the morning, create your own farm to table breakfast at your leisure with our wide selection of fresh local food. We work with other producers including Snowville Creamery, and Crumbs Bakery to help highlight our thriving local food economy.
This option can accommodate one to three comfortably. Enjoy the Queen sized bed and if needed, there's a fold out single futon. Store your items in the walk-in closet and have your tea or catch up with work at your own corner table with a view. Walk the shady back deck around to the hot tub. This is the largest room option at Woodland Ridge. Come in through the front door, or use your private entrance off the deck. You have direct bath access across the hall and quick access via private door to the great room, kitchen, porches, hot tub and more. Bath may be shared if another guest is occupying the loft. All stays include fresh local breakfast items for you to prepare yourself, including our pork and eggs. We work with other local producers including Snowville Creamery and Crumbs Bakery. Other Farm to Table meals available upon request. We think it's important to greet our visitors on arrival. We'll give you a brief run down. There's almost always something going on at our working farm. When other guests are in the house, everyone usually has fun interacting and preparing meals. We're happy to tell you about specialty venues like local foods, wineries, breweries, medicinal plant sanctuaries, home brewing and more. If you prefer the privacy of being left alone, this may be the perfect place. Just give us the word. We'll be somewhere around the farm.
You will find us in southern Athens County, just 9 country miles from Athens, Ohio, off of Coolville Ridge Road . Beautiful rolling hills lead you to the farm. Please drive slowly. There are kids around, and your car's suspension will thank you. Want to learn more; check us out on Woodland Ridge Ctr on social media. You should have a personal vehicle. There are a couple shuttle services available to and from Athens if you don't feel like driving. Plenty of parking right in front. Woodland Ridge Farm and Learning Center is a sustainable BnB alternative for the active traveler who is seeking a ' back to nature' venue close to Ohio University or the Athens, Hocking Hills region. It's a place to stay along your way or enjoy Woodland Ridge as a destination. We believe in sovereign living, learning, and lodging. We can help provide a relaxing vacation in the hills of Ohio and have tourist (art, music, food, wine, fun, and nature) information for you. Or, allow us to create or host local tours. Other amenities to enjoy include: outdoor campfire, back porch grill, hot tub, birding, or napping on the deck. Washer and dryer available to guests. Check us out on social media at Woodland Ridge Ctr.
We had a great experience with Paul and his farm! Paul was welcoming, personable and knowledgeable about the area. The tour of the farm and his plans for sustainability are interesting. The accommodations were terrific with good attention to detail. The view from the deck was lovely and the bathroom showers were awesome. Having a 'suite' that we could close off to ourselves was nice. Really 'hotel' quality. It is off the beaten path so visitors should plan to do a fair amount of driving and have a good gps/mapping system to get around. You'll need to drive about 20-25 minutes to get anywhere. Probably best to arrange about breakfast ahead of time--using the kitchen yourselves (well-stocked) or having Paul cook. Staying at the farm was an added bonus to our weekend away and Paul (and Gertie the dog) were excellent hosts!
Beth
August 2014
Paul was great! Very knowledgeable of Athens county so it was fun to talk to him. This home is immaculate, bright and open floor plan. Bed was very comfortable and bathroom spotless. We slept with window cracked open and loved the fresh country air. We also loved the fancy/organic little soaps that Paul provides (somebody makes them close-by). I would definitely go back to this property when in Athens again, and highly recommend to others.
Daphne
April 2015
This was our second stay with Paul and we feel like it's our Ohio home. It's fun talking about his innovative farming ideas and seeing progress on his lovely farm. The sausage is pretty good too.
Larry and Joanna
September 2015
Paul's home felt very much like an embodiment of Athens; cozy, in touch with the natural setting and tied to the community. This was exactly what we were looking for and exactly why we went with bed and breakfasts instead of hotels. The woman managing the quaint farm that the bed and breakfast sits on, was very sweet and helpful, telling us about fun options we had in-town. The building was clean, completely off-the-grid and solar powered, the food was almost all local, they had plenty of vegan options for breakfast, lots of animals on the farm to play with and it overlooked a gorgeous view of the Appalachian mountains. We would definitely visit again!
Patrick
May 2015
Beautiful place, Paul is a great guy, and his dogs are really friendly.
Jenni
November 2016
This was our third time staying with Paul while visiting our son at OU. As always, Paul was a wonderful host for this stay. The highlight of this visit was an amazing breakfast of homemade sausage and eggs from the farm that Paul cooked up for the group of OU parents. The bread, cream, and butter were locally made as well. Paul creates a casual atmosphere that allows strangers to feel like old friends! I also love visiting with Paul's dogs, Girty and Rosco. We've already booked our next stay :)
Beth
September 2015
Paul was very cooperative and informative. His facility is brand new and excellent. If you want serenity, this is the right place for you. There is absolutely no (human) noise or light pollution. It would be a perfect place for star gazers due to the altitude (over 800 feet) and no light interference. It is remote and some people may be scared off by the lack of paved roads and some very old buildings in the area, but that just adds to the ambiance. Paul is making this an eco-tourism place. He even has solar panels on his roof and sells back excess electricity to the grid. We were extremely pleased by Paul's kindness and would highly recommend Woodland Ridge to anyone who wants to get closer to nature and away from the hustle and bustle of urban life.
Ruth
August 2014
The house was up in the hills and was very quiet and relaxing, especially after a long and hectic day. We enjoyed our stay very much!
Nancy
September 2016
Room type
Private room
---
Property type
---
Accommodates
3
---
Bedrooms
1
Athens
1

–

3

of

3 Bed & Breakfasts