Enter your check in date in the format dd-mm-yyyy
Enter your check out date in the format dd-mm-yyyy
Listings you can book without waiting for host approval.
15 Cottage Rentals
· Minnetonka
15 Cottage Rentals
· Minnetonka
Enter dates to see full pricing. Additional fees apply. Taxes may be added.
This July and August, you can try one of these 100 highly-rated homes, at all price points, and experience a local's view of Sonoma. 24-hour check-in, Instant Book, and local wine and snacks let you just sit back and enjoy your trip.
Fully updated 1930's cabin on Lake Minnetonka. Nearby The Ryder Cup & Twin Cities. Rustic feel, but with the modern updates you expect! On the lake and close to downtown Mound. Drink in the sunshine on one of our hammocks, enjoy lake views from one of two decks, gaze at the stars with a fire or hit the foosball table/game room for some indoor fun. Our place is good for couples and families (with kids). No parties please and no smoking. More interior photos soon.
Welcome to a 1930's renovated cabin on Lake Minnetonka! The original cabin was built in 1930 and there was a lake-facing addition added in the 1960's. We purchased it in 2009 and have extensively updated it, including the kitchen, windows/doors, upstairs bathroom, upstairs dining room, downstairs game room/family room, adding hickory trim throughout. It is a cozy place, around 700 finished square feet upstairs and 240 finished square feet downstairs. There are two bedrooms, one with two twin beds and the second with a full sized bed (in admittedly a tight space!). There are two decks, one just 50 feet from the lake and the second behind the cabin. A set of hammocks hangs on the west side of the cabin with the grill and tables on the east side. Remember the bikes! We are a block from the 26.5 mile paved Dakota trail. Please feel free to use the two kids kayaks (and life jackets). You have access to the entire upstairs and the main room of the lower level (which looks out on the lake). There is a back room on the lower level that we ask you leave undisturbed. The garage is locked, but please feel free to use the driveway for parking. We are available to answer questions on the surrounding neighborhood and will have a local guidebook/house hints on the premises.
Mound is the last small town on Lake Minnetonka! There is a certain charm the city offers with local eateries like Dakota Junction, a farm to table restaurant blocks away in downtown Mound or Lost Lake Creamery, a very generous scooping ice cream parlor also blocks away. Saturday's include a local farmers market and there is Centerpoint beach all within walking distance. Don't forget to bring your bikes! The Dakota Trail runs a block away from the cabin. The Dakota trail is a paved 26.5 mile bike trail that runs from downtown Wayzata to Mayer, MN (the cabin is at mile 8.5). There is a full sized driveway for the cabin that can fit 4 cars. Check in is available after 3PM on the day of the arrival and check out is noon.
Room type
Entire home/flat
---
Property type
---
Accommodates
4
---
Bedrooms
2
Mound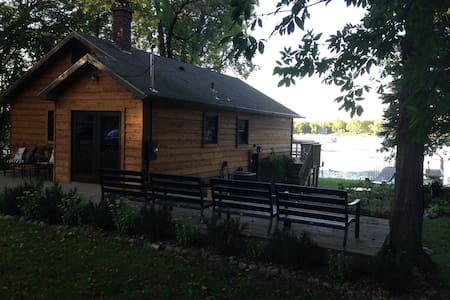 Our parents built this darling 4-season cottage by hand in 1950. Lovingly preserved and recently refreshed, we now want to share our little red cottage on Lake Minnetonka with guests who want to enjoy a suburban lake getaway.
Our charming little cottage is located on Cooks Bay, one of the westernmost bays on beautiful Lake Minnetonka. There are 2 small bedrooms with double beds and 2 single beds in the loft. With the right configuration of guests, the cottage could sleep six. Talk to the host for details. There is a fully-equipped kitchen, washer/dryer and bathroom with shower and tub. Just 35 minutes from Minneapolis, this spot is an easy commute to conferences and work in the Twin Cities. The sunsets are stunning and are not to be missed. Located in a suburban lakefront neighborhood, you will often hear loons and geese and see fish jumping. In the winter, this spot is perfect for winter recreation. Bring your cross country skis, snowshoes or snowmobiles and venture out onto Lake Minnetonka. You'll find home made ice skating rinks around the area, too. It's all here. Guests have access to deck, gas BBQ, wireless Internet, Smart TV, (with Netflix, air antenna and no cable), gas fireplace, small washer/dryer. Wheelchair accessible ramp in backyard, pontoon boat for relaxing at the dock only, canoe with life jackets and paddles, option for outdoor fires at lakefront and a few low-tech water toys. Hosts live in Minneapolis (35 minutes away) and are reachable for any reason. We want our guests to have a wonderful time.
Many people think of Lake Minnetonka as a wealthy area. In many ways, that's true and becoming truer. Still, to orient travelers, Mound is the birthplace of Tonka Toys. Long since relocated elsewhere, Tonka Toys and later Toro, shaped Mound into the more working class cousin to the nearby upscale lakefront towns of Wayzata and Excelsior. For our guests who enjoy fine dining and window shopping (Wayzata) or antiquing and public boat excursions (Excelsior) those areas are 15 minutes away car or boat. This is neither the North Woods, nor is it the city. Mound has an unassuming quality, lots of waterfowl, fish, lake views and opportunities to design the time away that you're looking for. Our cottage is located in a residential suburban neighborhood on Phelps Island, Mound, MN. The island is accessible by bridges. A park with playground and free tennis courts is a block away. There are no businesses on the island except Al and Almas restaurant and dinner cruises and a car mechanic. The city of Mound is 5 minutes away by car and there you can access the beautiful Dakota Rail Bike Trail. Located at the end of a dead end road, we're one block from Al and Alma's restaurant. Al and Alma's has a fleet of dinner cruise yachts on Lake Minnetonka. Mound has several public swimming beaches, or just fill up a raft and float right out in front of the cottage. Parking is allowed on the street. There is bus service to Mound to and from Minneapolis. No public transportation on Phelps Island. A car or bike is necessary. Well-behaved, clean and managed pets are welcome with an additional deposit. Our cottage abuts 'the commons' (city owned property) though we own the lakeshore. There is a wheelchair ramp leading to the cottage. Accessibility limitations: the access to the ramp is not paved and interior bedrooms and bathroom doorways are narrow for wide wheelchairs. For persons with the right situation it can work. You can fish off the dock with a DNR fishing license which you can purchase at a bait store.
The flowers on the table when my folks arrived were beautiful and made them feel welcomed into Arlyn's home.
Nancy
September 2016
Arlyn was great! She allowed us to check in early (1 pm instead of 3 pm) and allowed us to check out late (3 pm instead of 1 pm). She even offered that; I didn't have to request it. That really helped because we were in town for a family reunion. Her flexibility allowed me to accommodate my three kids' inbound and outbound flight times. Plus, she promptly located an item my son left behind and shipped it to him pronto! And for you cyclists out there, this is an ideal base for biking the Dakota Rail Regional Trail. The first morning I headed west on the trail into the countryside of open fields and forest. The other morning I went east for the lake views all the way to Wayzata's lakefront park. Runners and inline skaters also enjoy this paved trail. Arlyn's cottage is less than 1.5 miles due south of the trail.
Mary
July 2016
I had such a wonderful experience at Arlyns cozy cottage. The house was clean and just enough room for me and the three friends that I traveled with. From breakfast on the deck to laying on the pontoon all day, it was the absolute perfect place that we could have picked for our long holiday weekend. Arlyn was a wonderful host who answered all of our questions, even if we thought they were crazy. We had such a wonderful experience!
Jessica
July 2016
Great setting. Very cozy quaint cottage. Bedrooms are tight as mentioned. Host was very accommodating and helpful.
Ron
June 2016
What a fantastic cottage! My family and I went for a weekend getaway. We were immediately greeted by some very kind and welcoming neighbors. The kids played in the large yard, swam, and took turns jumping off the end of the dock. The hostess, Arlyn, was incredibly attentive and answered my questions very timely and completely. She has definitely added all kinds of little touches there to make you feel at home. The cottage was very clean and well taken care of. I wouldn't change a thing. Thanks so much for welcoming us into your home!
Leah
July 2015
We had a terrific time staying in this cozy lovely cottage on Cooks Bay on Lake Minnetonka. We live in the Twin Cities, but did lots of entertaining and everyone loved the experience of visiting us. Very clean, friendly neighbors, quiet location. I highly recommend the place.
Mary
September 2016
Arlyn made her place feel like OUR place. Everything we needed was there. It was very comfortable and cozy and the views of the lake were Amazing! There was plenty of room to put our belongings and the beds were lovely.We felt like we were far away yet everything we wanted to do was an easy car ride. The best thing was sitting on the well appointed deck with our feet up taking in the view. We imagine many more trips to this wonderful spot.
Nina
September 2016
We had another lovely stay at the cozy cabin. We stayed warm and toasty despite the December Minnesota weather, and Arlyn was very attentive to our needs. We loved the cabin decor, enhanced by some holiday touches, and didn't lack for anything.
Thom
January 2017
Room type
Entire home/flat
---
Property type
---
Accommodates
4
---
Bedrooms
2
Mound
"The Shed" really was a shed until we converted it to an amazing spot complete w/ pool table, fire place, bath & 2 queen airbeds. On 2.6 acres of private land on a beautiful, small, private lake just minutes from MN Landscape Arboretum, & downtown Chanhassen, Excelsior & Victoria. Easy access to walking/biking trails, great views & amazing sunsets. Enjoy our lake for fishing, standup paddle boarding, kayak, canoe, paddle boat & more! View "On the Lake" listing for yr round + kitchen, bed.
This space has heat but no running water in the winter and is available for use - playing pool and hanging out - when you reserve our "On the Lake" listing. Check it out! You can have 100% privacy in your space and you have a private entrance. We really enjoy meeting people from all over the world. So, if you want a little interaction with us and we're around, we'd love to meet and enjoy a coffee or glass of wine with you. You make the call!
The uniqueness of our neighborhood is that we have the lake on one side and a long driveway to the road. Thus, we only have neighbors on 2 sides. We are on 2.6 acres and our backyard is a 100 acre private lake. On the other side of the lake is all nature park land with lots of trails to walk or bike on. You can walk to downtown Victoria or take a 10 minute drive or 30 minute bike to downtown Excelsior. We are conveniently located close to all the amenities you need (grocery, gas, Target) but you will feel like you are in the country. There is no public transportation near us. We are a 30 minute drive to the airport, Mall of America or downtown Minneapolis. We are about 5 miles from Hazeltine Golf Course. In the loft of "The Shed", we have 2 very nice, queen sized airbeds. It is not actually a bedroom but rather the loft. Semi-private to common space of main level in that it's upstairs but there is not a separate door for the bedroom space. On the main level is a bathroom, mini-fridge, pool table and wood burning fireplace. There is a small, college dorm type refrigerator. There is no kitchen but there is access to our gas grill.
We live in town and this was a last minute booking to get away from construction. Debbie helped in every way possible to get the reservation done in spite of my indecision. The place was very well kept and well stocked with little extras including food in the kitchen and toiletries. The view was beautiful and the setting was peaceful. Just what I needed. Debbie was available to help but respected my space. Many thanks.
Lisa
October 2016
The shed was a great place to spend our Ryder Cup weekend! It is much bigger than expected and catered to our every need. The air mattresses are quite comfy and the loft has plenty of room for moving around. The pool table is in great shape and a fun addition. The bathroom with shower make extended stays comfortable. The deck is my favorite part and overlooks a private lake stocked with huge bass! Debbie is very accommodating and stocked the place with beer, water, soda and snacks. There is access to a small boat, canoes, etc and a few fire pits to enjoy a fire while watching a sunset. Debbie is easy to contact and has great recommendations of the surrounding area. Driving is easy but taxis and Uber are available. Excelsior is only a 5-10 min drive away and has small town charm on lake Minnetonka. We will contact Debbie again if we make it back to beautiful and friendly Minnesota!
Nicholas
October 2016
Room type
Entire home/flat
---
Property type
---
Accommodates
2
---
Bedrooms
1
Excelsior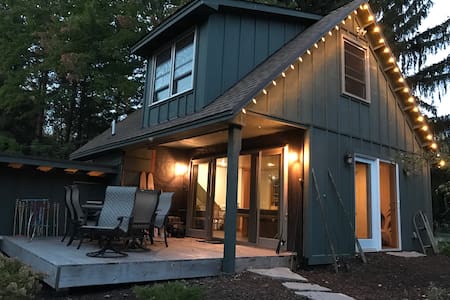 Only 7 minutes from downtown Stillwater, MN and less than a mile from Perch Lake, this sweet tiny home school bus is a quiet getaway. If you require indoor plumbing or are allergic to nature, this isn't for you. But if you'd like to try out off-grid living, with an outdoor kitchen, composting toilet, and a private fire pit under the stars, our 6-acre rolling hills homestead may be a perfect adventure. Think of this as some pretty darn glamorous camping. Sleeps up to 2 adults and 3 kids.
Our homestead is six-acres of rolling hills oak savannah, less than a mile from Perch Lake and a quick drive to historic downtown Stillwater, MN. It is full of stunning views along the trails through the oaks and lush greenery perfect for bird watching. We host a very friendly flock of chickens and many edible wild plants and medicine (you may harvest some with permission). Your accommodations are a renovated school-bus where our family lived while building our house. It's insulated and lined with sweet-smelling cedar, and includes a cob rocket stove (wood burning). There are wooden bunk beds for up to 2 adults and 3 children. (Bring your own sleeping pads and bedding.) In addition to the living space of the bus, there is an outdoor gathering space under a canopy, with a picnic table, outdoor kitchen and a sitting area to enjoy the view. This space is truly off grid. There is no electricity except some solar lights in the bus and a USB outlet for charging a phone. Candles are provided. Bring your own headlamps. The stove is powered with propane, and there is a private composting toilet. We haul our water or catch it from the sky. If you've ever wondered if off-grid life is for you, give it a try here, in a setting where you have easy access to the comforts of modern life just down the road in Stillwater. The bus and surrounding covered area, including an outdoor kitchen, fire pit, and composting toilet, are your own private space while you are here. We do have a primitive outdoor shower up a trail that you are also welcome to use. It's a hose with a shower head nestled in the trees for privacy. The water is hot on a sunny day. :) You are also welcome to explore the trails at your leisure. We just ask that you respect the privacy of our house unless invited in for a tour. We will likely be home on the land off and on during your stay, and are happy to visit and give you a tour, or let you have your privacy. Our house is up the hill from the bus area. My daughters will happily show you the chicken coop if you'd like to help yourself to fresh eggs for breakfast!
We are less than a mile from pristine Perch Lake, and a short 7 minute drive to downtown Stillwater, MN. Our 6 acres is in a quiet rural residential area. You are welcome to cook on the grill, over the fire, or on the single burner propane stove. We provide filtered drinking water, as well as washing water from the hose and rain catchment. We have a cooler for your use, but you must bring your own ice. The beds are wooden bunks. Bring your own camping pads and bedding.
Heidi was an awesome host and the space was awesome! Such a unique experience sleeping in a completely overhauled school bus, we couldn't stop talking about how cool it was. It was nice getting out of the city for a night and waking up to a rooster. It was a truly impressive space — highly recommended!
Karl
September 2016
We absolutely loved our stay here! The bus was such a fun, unique experience. Everything was clean and organized. We were able to get away and have a "camping" experience, without having to bring our own supplies. Upon our arrival she even had flowers and chocolate waiting for us! Her daughters are super funny, social, and excited to show you around the property. They taught us about some medicinal properties their plants had, gave us eggs from their chicken coop, and vegetables from their garden. In addition, the location is quite ideal! It feels so peaceful and removed from the city, but it's close enough to Stillwater that we drove there for most of our meals. It's also quite close to a beautiful lake, waterfall, and hiking trails! I would highly recommend staying here!
Tyler
September 2016
The Magic School Bus of Bluebird Hill Homestead is in and of itself a destination. The property is rustic, and very peaceful. A simple trail system guides you through the yard, which Heidi welcomes you to explore. The school bus is wonderful, and is just as Heidi has pictured it. The interior is simple, yet skillfully constructed, however, you really must experience the space first hand to appreciate how special it is. I would have loved to spend more time just enjoying the homestead, but I was in the area to explore the many rivers, and creeks of The Driftless Area. If you are visiting the Kinni, the bus is a perfect home base. Heidi is a great host, and I feel lucky to have met her. I felt comfortable, and welcomed from the moment I arrived. She graciously shared with me fresh eggs, and a lovely tomato from her garden. Thanks Heidi!
Scott
September 2016
This was an awesome adventure without being too far from home. The space was exactly as advertised. We especially enjoyed being able to hang out with the chickens!
Megan
October 2016
We only stayed one night but would love to return. Everything was as described and pictured---Simply an awesome bus converted to a perfect little home! Heidi and her daughters were wonderful, gracious hosts. We were blessed with perfect fall weather for our stay and made use of the grill, the propane stove and the fire pit. It was a little chilly overnight but the propane heater in the bus kept us toasty. There was coffee and a french press for our use, as well as eggs fresh from the coop selected for us by Maggie, who also gave us a crash-course on how to identify poison ivy! Thanks Maggie:)
Ivan
September 2016
It was such a perfect weekend! If you're looking to get off the grid and away from screens for the weekend, this is the place for you. Campfires, a great view of the moon, and more stars that you can count! Heidi was the perfect host, and her daughters were fun for our 9 year old niece to play with. They showed us their hidden forts and tree swings in the woods and all the secret paths to get there. What a magical place. The bus was cozy and warm. Plenty of room for the 3 of us. There was privacy if we wanted it, but Heidi was always right there if we needed anything. I can't say enough about how awesome this place is. :) We drove a few minutes away to hike in Willow River State Park which was really fun, too. A perfect day hike and a beautiful waterfall at the end. So lovely.
Amber & Corrie
November 2016
An absolute haven for the minimalist dreamer! And so, beloved, let's dream together. As you enter your eyes are immediately drawn to the sight of a few loose chickens at play, the scent of native flowers in your nose. As you gaze beyond you find yourself overcome by the beauty of the land you are very soon to explore/ inhabit. Wild flowers, herbs, rolling green hills, and enchanted trails await you; trails that lead to a beautifully constructed chicken coop, family-sized teepee, beautiful views of the country, and (a personal favorite) an outdoor shower nestled in the trees. Your personal tour guides (Heidi and daughter) will gift you with their warm smiles, amazing hospitality, and their deep knowledge education of the land and its occupying plants (and their medicinal uses). Now it's time to check out your digs. The BUS! This beautifully simple, clean, cedar-scented, and cozy lodge on wheels. Complete with 2 adult sleeping benches, three kiddo bunks, and a breakfast nook - you will find you have everything you need for a great stay. Additionally, you will find the local organic coffee, fire pit, outdoor sitting area, and access to a propane stove a really nice touch. Now, before you wake up and have to embrace the bitter reality that you are not, currently, on Heidi's land let me just leave you with a few parting thoughts about our stay. This is, without question, one of the most restorative places I have ever visited. I was deeply moved by this place and have been mourning not being there since we left. Visit now and often! You will be so glad that you did.
Brita
September 2016
Heidi was super accommodating. Her place is really unique!
Sean
November 2016
Room type
Entire home/flat
---
Property type
---
Accommodates
5
---
Bedrooms
0
Hudson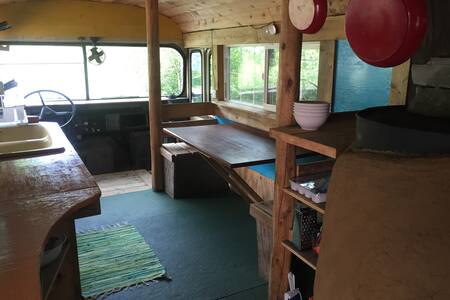 Quaint lakefront cabin on beautiful Long Lake. 4 bedroom, 1 bathroom home with wood-burning fireplace. Up north cabin feel only minutes from the Western Twin Cities suburbs. Great lake for fishing, recreational boating, paddle boarding or kayaking. Exceptional dining just across the lake at Birches or travel a little further to downtown Wayzata. Escape to the cabin without driving for hours in the car.
Quaint 1920s house with beautiful wood burning fireplace and views of tranquil Long Lake. Home includes 4 bedrooms and 1 full size bathroom. Kitchen includes full size refrigerator/freezer with stove/oven and microwave. Washer and dryer are also located in the basement of the home. Guests will have access to the entire home. Guests will also have access to: -a tandem (two person) kayak with paddle and life jackets -a propane grill -dock to secure a boat or for fishing -fire pit I am available for questions anytime. I am also happy to give recommendations for dining and local activities.
Quiet neighborhood, property is located at the end of a no outlet street. Parking area on property can accommodate 3 vehicles. Additional street parking is available. There is a water sports rental shop across from the property on Long Lake called Gear West Ski & Run where you can rent paddle boards. Birches on the Lake is an expansive lakeside gastropub & brewery specializing in seafood & New American fare, plus pub grub. This restaurant is a 20 minute kayak trip or 5 minute car ride from the property. They offer docking for your boat or kayak.
Room type
Entire home/flat
---
Property type
---
Accommodates
8
---
Bedrooms
4
Long Lake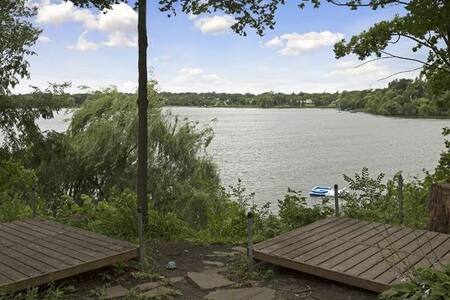 1950's vintage cabin on a 280 acre lake - complete with a dock, porch, deck, LP gas grill and outdoor fire pit. The cabin has a 48" Samsung Smart HD TV/WiFi. Owners live next door; so renters have access to 2 kayaks and 3 bikes.
This lake home is just 45 minutes from live theater, art, music, sports teams, parks, and bike trails. There are also nearby biking trails. There are 2 bedrooms and a hide-a-bed. One bath with a shower. Bedding and towels are provided. Living room and a kitchen/dinette area includes refrigerator, stove and microwave. Fully equipped kitchen. Knotty cedar porch overlooking the lovely lake. Front and side decks. LP gas grill and outdoor fire pit. Large, detached garage with stackable washer/dryer. A Smart /DVD player. WiFi, wireless internet and cable TV. The lake cabin is all yours! If you have your own boat, there is a public access on the lake and you can tie up at the cabin's dock. This changes as we enter the Fall Season...owner will remove the dock, as the weather dictates, but the view from the deck and fire pit are beautiful. We live right next door, so we are available to you as much or as little as you want.
There are houses and cabins all around the lake. Some are seasonal homes only, and others are year round homes. Everyone enjoys a variety of activities from boating, fishing, skiing, tubing, swimming and even gardening. Be advised: There is no deck railing-lakeside and we have 2 tall, boulder walls, which also creates steps to mid-level and to the lake. You would need a rental car to get around. Your rental car can take you to a public transit route, and then light rail can get you around the fabulous cities of St. Paul and Minneapolis. In the cities, there are buses, taxis, bikes to rent, or you can ride the light rail. You will need a rental car to get here. A convenience store/gas station/bait shop/pizza is nearby and all other services/restaurants/stores are within 10-15 minutes. Personal property is not covered. Guests are responsible.
The cabin was like a home away from home and our hosts made sure we had everything we needed. There was something for everyone in our family from swimming, kayaking, to just taking in the view.
Laura
September 2015
Julie and Gordie were great hosts! The cabin was great, in a wonderful setting. It really felt like a home away from home. We weren't able to make use of the lake, due to the cool weather, but we hope to be back in the future!
Matthew
November 2015
Julie and Gordy were very engaging and went above and beyond to make sure we had everything we needed to enjoy our stay, right down to a great place that they recommended for dinner when our plans fell through. Thank you for a most wonderful time!
Trista
July 2015
Julie and Gordy were fantastic, made us feel right at home. Great experience with the cabin and lake, we would love to come back! Thanks for everything!
Chris
October 2015
Our stay with Julie & Gordy at their Lake Cabin was wonderful! The listing is absolutely true to the experience - the cabin is charming, there are all the amenities of home, the scenery is beautiful, and the hosts are absolutely gracious. The cabin was a perfect retreat for us as a couple - quiet and comfortable, but would also be great for a small family get together. We recommend: 1) Getting up early to watch the sunrise over the lake 2) Sitting by the fire and listening to the sounds of the waves 3) Sipping coffee on the dock 4) Grilling on the extraordinary deck 5) Feeling at home on the lake We can't wait for our next opportunity to visit. Thank you to the Bridens for a wonderful retreat!
Sam
September 2015
Gordy is a great host! The cabin is comfortable and clean, and has a great porch + deck overlooking the lake. We kayaked, biked (using the great kayaks and bikes Gordy provided), sun tanned on the dock, as well as took advantage of the fire pit and gas grill. The cabin is very well-stocked with essential condiments, paper towels, foil paper, tissues, towels (bath + beach), tea + coffee, as well as shampoo, conditioner and body wash, and Gordy was always available whenever we had questions. We enjoyed our time at the cabin immensely and appreciate the warm hospitality. We will be back! Thank you!
Yi
July 2015
Gordy and Julie were wonderful hosts. Friendly and helpful! The cabin was perfect for our 3 day getaway with all the modern comforts. The lake view was as awesome as pictured and the sunrise was worth getting up early for. Thank you!
Tiffany
October 2015
A place not to missed... affordable, comfortable a home away from home
James
October 2016
Room type
Entire home/flat
---
Property type
---
Accommodates
4
---
Bedrooms
2
Stacy
This classic cabin is the perfect get-away to the lake. Even with its proximity to the Twin Cities, Lake Pierson has managed to preserve its small town, cabin feel. It is the perfect lake for water recreation: swimming, boating, and excellent fishing. The cabin is clean, cozy with plenty of space to relax. Nearby cities Waconia, Chaska, Excelsior and Victoria offer great shopping, restaurants and nightlife.
Room type
Entire home/flat
---
Property type
---
Accommodates
6
---
Bedrooms
3
Chaska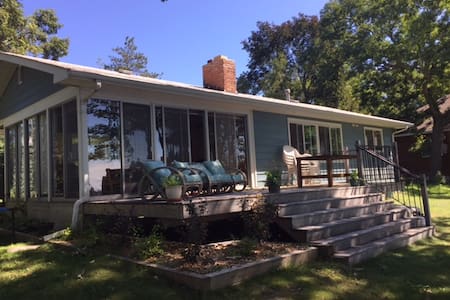 1hr from Minneapolis-St. Paul - lovely, quite, lake retreat for rent. Newer home, Sleeps 6 comfortably - 1 Qn bedroom + loft that sleeps 4 or more - 1 bath, kitchenette w/stove,micro,full fridge. Public boat launch. Great fishing, recreational lake. Beautiful place to enjoy year round with family and friends. Great Winter Recreation - Ice Fishing, snowmobiling, Ski Resort 20 minutes away.
Our stay at Jean's place was great! We had to work in town for a few days and I came across this place. Jean was very responsive and worked with our arrival and departure time. It was a fantastic place to stay, Jean has the place well outfitted and very clean. The view to the lake is great! And looks to be a great place to spend the summer months. Even though we did not get to enjoy all the Annandale area has to offer I could really see going back for a vacation!
Mike
November 2016
This cabin was perfect for what we needed! We were in the St. Cloud area for an event and unable to find hotels. This was the perfect option. It's was easy to get too and from there each day. It was a nice quiet area. The lake was beautiful. I wish we could have enjoyed more time on the lake. Jean was great to deal with! Everything was exactly as described for the cabin. We managed to squeeze 9 of us in there for 3 nights. We were comfortable and had plenty of room! I will definitely keep this in mind if we are back next year for the same event! I would also come again with my family just for a weekend away.
Alissa
September 2016
Jean was easy to work with and very accommodating. We enjoyed our stay and found the accommodations clean and comfy!
Julie
November 2016
This property was lovely. We enjoyed the privacy as well as the quiet lake. Jean was an accommodating host who communicated expediently with us. This home is stocked with everything--towels, dishes, fans, linens, outside chairs, and so much more. Everything was there for us. Our grandkids caught lots of little fish (and a few bigger ones) right off the dock. We really enjoyed our stay at Bass Lake and would like to come back again.
Laura
August 2016
A beautiful, secluded setting. A wonderful property. It was a very comfortable and relaxing week on a central Minnesota lake. Our host, Jean, was very friendly, attentive and accommodating. Additional photos should be posted to the website to capture just how nice this property is. We found the location just off Hwy 24 six miles west of I-94 and Clearwater to be accessible to restaurants, a supermarket, gas stations and convenience stores. We would definitely stay here again and recommend it to family and friends.
Perry
August 2016
Jean was waiting to welcome us and go over how everything worked. The cabin is wonderful and you couldn't ask for a better view! We had everything we needed. It is close to town with a great grocery store for anything you may have forgot. The lake is really clean, not a green tinted farm lake which we were thrilled about. The neighbors are really nice and the fishing right from the dock is great too! We are definitely coming back! Thank you Jean for everything!
Dale
September 2016
Room type
Private room
---
Property type
---
Accommodates
6
---
Bedrooms
1
South Haven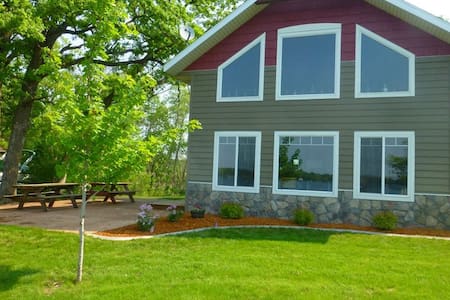 Facing the scenic National Riverway of the St. Croix River, the River Cabin is the most secluded place you can stay at Dunrovin. It is a simple single 14′ by 20′ room cabin with rustic knotty pine walls and all the amenities you need to get away for a time of uninterrupted rest and reflection. http://www.dunrovin.org/rentals/river-cabin/
The River Cabin is located on the property of Dunrovin Retreat Center, and has access to some of the amenities of the Retreat Center, such as: River Access Canoes, Kayaks, Paddleboats Basketball Court Volleyball Court 2 Bonfire Rings Walking Paths on the 50 acres of property
Zach gave great directions and checked in with us just prior to arrival. The cottage is very cute and complete with nice patio and gas grill. The view of the river is beautiful. We made use of the kayaks.
Charlotte
July 2016
I had trouble with this trip. I am not usually someone who calls to confirm reservations, but I'm glad I did for this trip despite my six reminder emails from Air BnB. They had no record of my reservation. Susan in the office was very helpful in getting the issue resolved, but no one had communicated that my husband and I would be staying there. Susan was able to rearrange some things and give us our original reservation. She also sent helpful information we needed to find the river cabin that we had not received from Zach. The cabin was fine, and had a beautiful view of the river. I think they oversell how "secluded," it is. It's twenty yards from the camp director's house. Not exactly set back from anything. I'm a Minnesota girl and I don't need a fancy cabin, but the kitchen in this place was filthy. There was dirt and insect remains on every dish in the cabinet. They did not provide a brush for the grill. There was a weird moth-ball type substance in the silverware drawer, I would imagine to prevent moisture. There were dead bugs in the fridge. I could go on, but you get the idea. We were also told we'd have access to all camp amenities. There's a pool, but it's set way back in the woods. So we walked all the way in the afternoon, and ran into a 15 year old camp counselor who immediately asked, "Where did you guys come from?" "The river cabin...?" "Oh. Where are you going?" "The pool...?" "Oh." "Is that okay?" "You know, I don't know if it is." So after trudging through the woods to get to the pool, we turned around and trudged back, now doubly sweaty and frustrated. All things considered, I think I could've found something with a better value for $191 for a weekend.
Casey
August 2016
The host canceled this reservation 27 days before arrival. This is an automated posting.
Patrick
The host canceled this reservation 90 days before arrival. This is an automated posting.
Tim
The cabin was charming and well equipped, the Dunrovin retreat center is beautiful. My daughter got married down the road at William O'Brian State Park, and it was a godsend to have such a great place so near. We will definitely return here.
Susan
August 2016
We never saw much of anyone. A boy came and shoveled the snow off our porch and someone opened the wood strorage while we were out on a walk. The cabin sits right on the river and has such wonderful windows. The only time you see a building is if you walk out to get in your car or are out walking. It is comfortably rustic and has everything you need. There is everything you need to make a meal except the food. You will enjoy yourself if you are not expecting the Hilton, and we were very comfortable. We prefer rustic. We had a nice fire when we were not exploring Stillwater and Marine on St. Croix. or taking a walk. It is a beautiful place to walk. Even with the chilly weather and some flooding. I recommend it.
Linda
December 2016
I rented this place for my parents for a weekend getaway before my sister's wedding. They needed to relax. And from what they told me, it was a very pleasing experience! The cabins were clean, there were no large groups in the retreat center, so they pretty much had the whole place to themselves. The canoes were easily accessible and the canoeing was great! My parents are in their mid fifties with back and feet problems but still like getting outdoors when they can, so if they can get the canoes and outdoor gear together, you probably can too. Thank you Zach and Dunrovin crew, I highly recommend this resort!
Maxwell
July 2016
Room type
Entire home/flat
---
Property type
---
Accommodates
3
---
Bedrooms
0
Marine on Saint Croix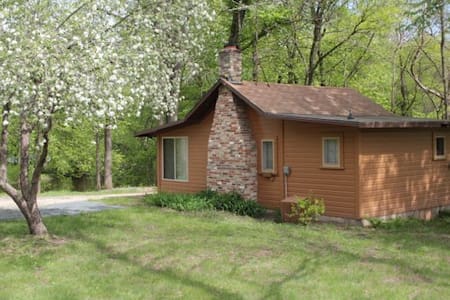 Prime Lake Minnetonka location with an "up north" feel! Situated on nearly an acre of wooded privacy, with 150 feet of south-facing Lake Minnetonka frontage and a large yard for fun and games, the cabin has plenty of room for you and your family
Room type
Entire home/flat
---
Property type
---
Accommodates
8
---
Bedrooms
2
Shorewood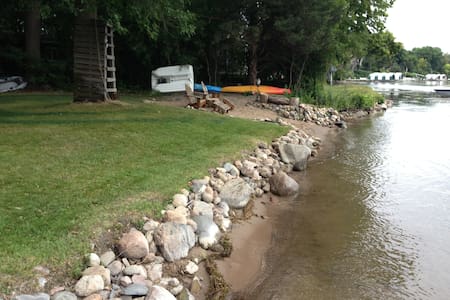 Just 35 minutes from downtown Minneapolis this lake retreat will allow you to recharge your batteries in privacy. Situated on a 3 acre lot, with over 1000 feet of lakeshore you will enjoy tranquility on Green Lake.
Green Lake offers nearly 2,000 acres of fishing excitement. Known for bass fishing and for the nearby Hazelden treatment center this area is a restful respite from busy city life. Unfortunately we cannot host large events on property, we do not have the proper insurance. You will enjoy your own private entrance to this cabin themed home, large vaulted great room with fireplace, fully functioning kitchen, bar, living room, laundry room and 2 bedrooms. One bedroom with a queen bed the other with 2 twin extra long beds. We also have a queen size luxury air bed that could be used if you have more than 4 people. The majority of the living space is air conditioned. The great room/kitchen area has ceiling fans, many windows for a breeze, but no air conditioning. The house has two separate living areas- the upstairs and the downstairs, an upper/lower duplex. Our home is upstairs. Depending on our work/travel schedule we may be on property. You can enquire in advance to know whether you will have the entire 3 acres to yourself. I think this would be a great place for a yoga retreat or a fishing trip for you and your kids. Minnesota is known for its 10,000 lakes. Bring your boat. Why not get a taste of lake life by staying at Tranquilty on Green Lake. Wifi, Weber grill, patio area, boat dock, fire pit. No smoking on property, no pets on property., no tents on property. The hot tub is not operating.
This is a great small town area. I grew up in a small town in central Minnesota where everyone knows your name, where you can enjoy a Heggies pizza at the bar and shoot a couple of games of pool. This place is unequivocally Minnesota. Our house is on a very private lot. Most homes on lakes are stacked one next to another. Because our home is on a peninsula you have the feeling of space. Minnesota and Chisago County Tax of 7.375% is included in the nightly price.
What a cozy Christmas getaway! We enjoyed sunrises over the frozen lake while watching squirrels scurry all over the yard, and fishermen venturing out to their ice houses, while a bald eagle came every morning to perch high in a tree to keep watch over all the activity. The location of the cabin makes day trips in either direction quick and easy. We enjoyed both Taylors Falls and the Twin Cities. Winter evenings at the cabin are so cozy!!! Either doing puzzles and playing games by the fire, or watching movies in the TV room, the cabin provides beautiful spaces for whatever you want to do. This cabin is clean, beautiful, easy to access and very welcoming!
Audra
December 2016
Awesome place. Awesome location. Set up very nicely. Thanks!
jeff
July 2016
Evamarie and Andrew are excellent hosts with a premiere property. The setting is every bit as magnificent as the pictures show. The great room is enormous with a spectacular lake view all around. The neighborhood is quiet and secluded, yet the location is very accessible from the Twin Cities. We would definitely stay again.
Eric
December 2016
We thoroughly enjoyed our stay. The home worked out very well, was comfortable, roomy and allowed us to be close to the location where our sons wedding took place
Gary
June 2016
Great stay! The weather was not very nice but we still enjoyed our time there. We loved sitting by the huge windows to watch the storms roll in. The views are incredible. It was very quiet. The house is better equipped than any place I have ever rented. It is probably equipped better than most people's homes! The lakefront has a huge sand beach with plenty of outdoor seating. Evamarie was very easy to work with and very responsive. I would highly recommend Tranquility and would not hesitate to go back again!
Lisa Yarbrough
September 2016
The stay met or exceeded our expectations. The hosts are friendly and gracious. Thanks for a good stay! Tomas
tom
October 2016
Beautiful location. It was a magical, snowy weekend. We built a big fire and enjoyed friends and fellowship all weekend. Everything was clean and in good working order. We loved the games that were provided at the cabin. Evamarie was quick to answer all our questions. Delightful from beginning to end.
Krystina
December 2016
Host was EXTREMELY responsive to any questions we had during our stay. Would definitely come back.
Pete
January 2017
Room type
Entire home/flat
---
Property type
---
Accommodates
6
---
Bedrooms
2
Chisago City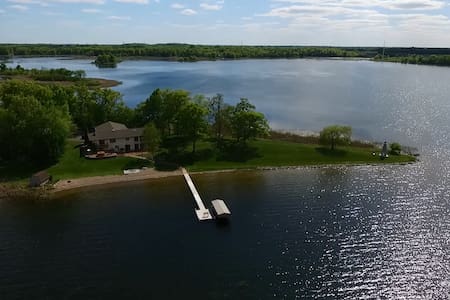 SouthWoods is located in the Spring Lake watershed and is a rich woodland island surrounded by wetlands. The residence is a large log home with access to woodland spaces and the oak savanna landscape. Visitors learn permaculture principals.
SouthWoods is the 25 acre permaculture demonstration farm. We have continuous classes for our guests and course participants. This is a traditional wood home with modern energy saving features and systems. We accommodate 4 people with shared rooms. Guess have access to the great room with a large fireplace and comfortable couches and chairs. A wonderful place to quietly relax and read, or write. The grounds are accessible with paths and spaces to sit and watch nature. The orchards and gardens are available for study and harvest when in season. The library is filled with books on sustainable agriculture and living systems. Your host will be happy to give you a tour of the property and opportunity to take part in the current projects and daily chores.
The property is private and secluded. We really have no neighbors that you can see is the property is large and dense with Woodland trees and wet land plants. A large or the wall creates private space away from the freeway frontage. Guests may be picked up at a local transit station or at the airport for an additional fee. We do recommend independent transportation to take advantage of entertainment and educational resources in the area. Each guest room has a private entrance and parking space. We have cats that roam inside and outside the living space. This is a working farm. Proper clothing and footwear is advised.
Room type
Private room
---
Property type
---
Accommodates
2
---
Bedrooms
1
Prior Lake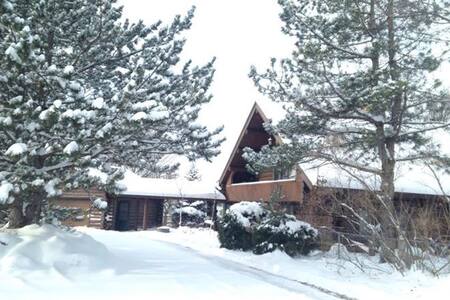 A piece of heaven in the land of 10,000 lakes with breathtaking sunsets over the lake & the eternal haunting sound of Loons every night. A fisherman's dream or a peaceful getaway, The Cottage on Clearwater Lake offers what you long for-Peace & Rest!
Room type
Entire home/flat
---
Property type
---
Accommodates
6
---
Bedrooms
1
Annandale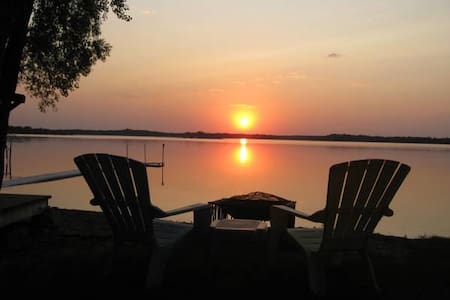 FLY FISH ~ KAYAK ~ REST The Kinnickinnic River is the Life Blood of our very existence at Kinni Creek Lodge & Outfitters, established in 2000. Through it we have touched the lives of people from all over the world. Whether they are paddling a kayak along viewing wildlife or fly fishing the class 1 trout stream with one of our guides, each returns to our lodge amazed and renewed in spirit! Rent a kayak from us & picnic along the banks of the river. The scenery is spectacular! Reserve Now!
The lodge is located on a small stream and is within walking distance to downtown city centre restaurants and shops. The public library is across the street from the lodge as well! The stream offers access to world class trout fishing through our fly shop, guides and schools as well as our popular kayak rentals! The lodge is a 3 bedroom cabin that sleeps 7-9 people; has 2 walk-in showers, a clawfoot tub, and an additional half bath. Each room has a fireplace, HDTV/DVD, hairdryer, bathrobes & slippers. There is also a living room, dining room, and a fully furnished kitchen with a microwave, toaster, coffee maker & grinder (coffee filters provided), sink, fridge with ice maker, 4-burner electric stove with oven, and outdoor gas grill, WiFi, fully furnished. The cabin plan | 1-4 people* | $260 minimum per night or day use of facility. The cabin plan includes the 3 guest rooms plus a queen size futon. Fully furnished kitchen & outdoor gas grill Sleeps 7-9 people. WiFi included. 1 night minimum! EXCEPT ON ALL HOLIDAYS AND EVENTS YEAR ROUND. MINIMUM MULTIPLE NIGHT STAYS FOR ALL HOLIDAYS AND EVENTS. *$65 each extra person per night or day use of facility. Add on Tax at 5.5% WI State Tax & 5% City Room Tax. Gratuity is not included in the rates. **$100 Additional Facility fee for parties with additional day guests such as reunions, birthdays, retirement, graduation and all other parties and get-togethers with additional multiple guests. We are available to answer questions and give directions to local attractions. We provide our mobile phone number for guests to call or text with ANY questions or concerns. We insist that you contact us with any questions or concerns immediately so we can be of utmost assistance during your stay!
A river runs through it! The lodge is located just a 35 minutes drive from the Minneapolis International Airport (MSP). We opened Kinni Creek Lodge & Outfitters at the turn of the Century! Call us for further details.
Thank you for stay and your hospitality.
Whitney
November 2016
I completely recommend booking this place! I planned a weekend with my guy friends at Paige's lodge in downtown River Falls and it was an absolute blast! Paige was very welcoming and hospitable. The lodge is right in the heart of downtown, close to bars/restaurants, etc. We used the grill, patio, and hot tub frequently. We also rented kayaks from her business and had a great time paddling down the scenic Kinnickinnic River. The listing was accurate to a T. Would stay again in a heart beat!
Nathan
June 2016
Great cottage right in the town close to everything, with an attentive host. We picked it for the space, location and having a living room area for all to congregate. Highly recommend it.
Rich
September 2016
Room type
Entire home/flat
---
Property type
---
Accommodates
9
---
Bedrooms
3
River Falls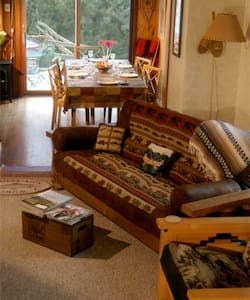 1950's lake cabin located just 10 min away from both St Paul & Minneapolis. Beautiful views of Lake Owasso. Wake up to the Loon's morning call, fish off the dock, & end your day with a campfire lake side. Close to Xcel Center, Target Field and MOA.
Our cabin comfortably fits 4, there is one queen size bed and 2 twin beds in the second bedroom. There is a trundle bed in the 3 season porch, but the kitchen table can really only can handle 4 people. Guest have access to the beach, campfire ring, and dock. We live right next door, share the beach and the dock and firepit. So we can be available during your stay for any questions.
The lake is the best thing to wake up to and the last thing to see before you fall asleep. I love the parks, biking paths, quiet neighbors. Anything you need is within a short driving distance. The Minnesota State Fair is only 5 minutes drive. Cub foods, Target, Rosedale Mall with in a 3 mile radius. There is a bus stop, approx 1/2 mile away which will take you to the Green Line Light Rail and then Union Depot or MSP International Airport and the Mall of America. A cab to and from the airport would be more efficient. If you want to get around quickly you really need a car, or a bike. Downtown St.Paul and Minneapolis are less than 10 minutes away by car. TCF stadium, Target Field, Excel Center are all easy to access. The lake is a great for swimming, water skiing, paddle boarding, kayaking and canoeing. Fishermen go out for northern, bass, muskie and walleye. Fisherman are active winter and summer. Many people cross country ski the lake in the winter.
I would definitely rent this cabin again! Sally was a fantastic host! My wife and three kids stayed at the cabin for a short vacation to the Twin Cities. The kids had a great time playing by the water, sitting by the campfire, and enjoying the scenery. The cabin was clean, in great condition, and fully stocked for our stay. Sally and her husband Richard made sure there was plenty for us to do. They made available their kayak and paddle board for our use. They even took us out on their boat. We couldn't have been happier with our experience and would recommend this listing to anyone thinking about visiting the Twin Cities.
Jared
July 2014
Wonderful place by the lake. Couldn't have asked for anything better. A+++++ would sit and stare at the lake all day again. ;)
Josh
April 2016
Really great place to stay. It is on a quiet lake, and really is a nice lake retreat right in the heart of greater St. Paul. Sally was very responsive to our requests, and gave a terrific welcome to the cabin. The mattress was new, and very comfy. Bathroom looks newly refinished, and was clean. Kitchen is nice with new stove. TV had local channels only. Overall, it was fantastic.
Jeff
October 2014
Beautiful spot! A colleague and I stayed for the week while in town for a conference. The lake house was charming and the fire pit out back was a great touch. Sally gave us a few great restaurant suggestions such as the Porterhouse & Chianti Grill which I would also recommend.
Simon
October 2015
Six of us stayed at Sally's lake cabin for my mother's 90th birthday celebration in nearby Falcon Heights. It was a wonderful choice. The cabin was comfortable; the bedrooms worked for our needs (3 couples, 3 rooms -- 2 in a double bed, 2 in single beds and 2 in a double trundle bed on the screened in porch). There was a nice living room with overstuffed chairs and sofa, where videos were watched and a board game played, which my daughter and her husband liked so much they ended up buying their own, and a useful kitchen with small table which my son-in-law used to do online work. We spent most of our time at the reunion, so didn't get a chance to go out on the lake, but enjoyed looking at it and walking to the water's edge. We regretted not being able to try out the kayak, etc. Sally was very friendly and helpful. We would definitely stay here again. Thanks, Sally!
John
July 2015
Our family had a wonderful stay at the cabin on the lake. Sally and her family were so friendly and welcoming. We had a small family reunion and Sally made sure we had enough beds and blankets for everyone to rest and relax. They even had an inflatable kayak waiting for us to use and a fire pit for an evening bonfire. This is a great stay for a family of 6-8 people with a serene and relaxing setting. We will definitely be coming back!
Amy
September 2014
Sally is the perfect host. She is considerate and makes certain your stay is enjoyable. The home is located on the beautiful waterfront. We've stayed there in the winter and now enjoyed the summer at the lake. Grill, dock, patio, clean comfortable home, convenient to City and great hospitality. The perfect AB&B experience.
Roger (Bo)
June 2015
The lake was beautiful, and my family and I had a great time staying there. Sally was a kind host, and we'd be glad to stay again.
Rob
August 2015
Room type
Entire home/flat
---
Property type
---
Accommodates
6
---
Bedrooms
2
Roseville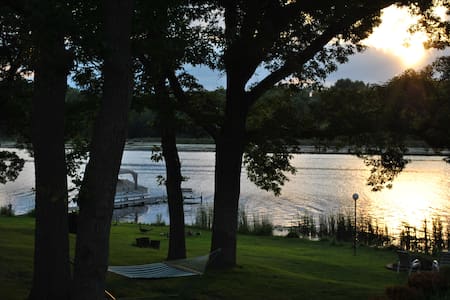 1

–

15

of

15 Cottage Rentals