Enter dates to see full pricing. Additional fees apply. Taxes may be added.
3 Lofts
· Kanagawa Prefecture
3 Lofts
· Kanagawa Prefecture
Surrounded by famous landmarks and great shopping, you are embedded in the every day energy that makes Tokyo live and breathe! What's most amazing is that you are able to see how the local folk go about their daily lives as if you are one of them!
Separate, Japanese style loft allows room for additional traveler or extra space during your stay. Loft creates an open air space that other rooms don't offer. This beautiful traditional, minimalist Japanese Style space comes with a full size bed, kontatsu (Dining Room Table), 1 TV, Washer, Wireless Buzzer with Security Camera, Microwave, Refrigerator, Pocket Wi-Fi, Hairdryer, and Shampoo. The minimalist feel of the space gives guest a feeling of uninhibited relief, as if they entered a new dimension of time and space. Enjoy the space, as it allows you to reflect, meditate, and enjoy your experience in Japan away from the hustle and bustle of the busy areas of Tokyo. Yet, you are only a 10 minute train ride away from all some of the most popular areas have to offer. Enjoy the secluded, quiet neighborhood with its unique restaurants and shops or hop on the Metro and be in Shibuya in 10 minutes, where you can enjoy one of the world's most fashionable districts, packed with shops, restaurants, and of course people! Guest have access to the entire unit. I am easy to reach by phone or email should you need any help or assistance with anything.
Because Sakura-shinmachi is located on a road "Ooyamado"  that goes back hundreds of years, you can find some shrines with a long history . " Sakura" means cherry blossom,and the sakuras of this town are in full bloom in the late spring . Sakura-shinmachi is a very friendly neighborhood , it is well-known as the location of "Sazaesan " ,one of the most famous cartoon characters in Japan. Although it has no big shopping center,it boasts a lot of great restaurants and other small shops loved by residents. We heartily welcome visitors from all over the world !! The meaning of Sakurashinmachi in Japanese is "New town of cherry." As the name suggests, the cherry blossoms here in Spring is so magical that it is difficult for you not to fall in love with this town if you visit here and watch the sea of cherry blossoms transforming the whole district in pale pink like a three-dimensional landscape painting. As well as being the town of beautiful cherry blossoms, the district is also famous as the home of Sazae-san. The human touch and smiling faces characterized by the world of Sazae-san is present all over the town. Visit Sazae-san Street and you will feel the local hospitality at its finest. One of the most notable places to visit in Sakurashinmachi is Nomigawa (Nomi River). It is the best spot for cherry blossom viewing. The promenade along the river is lined by Yoshino cherry trees, known as the most beautiful cherry blossoms among the various cherry families. Nomigawa is one of the very few natural spring water river in the central part of Tokyo. Komazawa Water Station was built during Taisho period as the public water station of Shibuya-cho (former Shibuya ward). There is a monument inaugurated in 1927 commemorating the opening of the waterworks. The water station is still in operation and serves water to some parts of Setagaya, Meguro and Shibya wards. The former residence of the Oba family who had succeeded the title of the local magistrate of 20 villages of Setagaya-ryo in Hikone-han since the middle of the Edo period. On the premises there is an archives museum where the history of Setagaya region from primitive ages to the present is exhibited. Kinuta Park was originally designed as a part of the Metropolitan Open Space Program in 1940. It is one of the major metropolitan parks in Tokyo. 100 acre (40 ha) of green belt is an oasis for local families. Located next to Kinuta Park, Setagaya Art Museum hosts various art exhibitions as well as events such as concerts and lectures through the year. The ground floor is for exhibitions and the upper floor is for permanent collections. Event Schedule February - Early Spring Food Festival (good for apricot blossom viewing) April - Sakura Festival September - Nebuta Festival (Japanese traditional Summer festival) October - Halloween Festival November - Autumn Food and Product Festival December - Cherry Card Year End Festival and Grand Lottery Both the district and individual shops host other events. Please check the local news or flyers for more details. From Narita International Airport, the cheapest and most convenience way is the Keisei Expressway Bus to Tokyo Station. You can take it for only 1000 yen from any terminal. When arriving at Tokyo Station, you will take the Marunouchi Line towards Ikebukuro. You will exit at Otemachi Station(1st stop), and transfer to the Hanzomon Line towards Nagatsuta. You will arrive at Shibuya Station and remain on board. The line changes to Tokyu-Den-entoshi Line. You will go 4 more stops to Sakurashimmachi Station. You will exit the station from the North Exit. From Haneda International Airport you will take MonorailTokyo-Monorail空港快速towards Hamamatsucho. From there you will go to Daimon Station(3 minute walk) and take SubwayOedo Line各停towards Hikarigaoka (9 min (4 stops) · Platform 4), to Aoyama Itchome Station. From there you will transfer to SubwayHanzomon Line各停towards Chuorinkan (5 min (2 stops) · Platform 3) to Shibuya Station, Continue on the same vehicle (Tokyu-Den-entoshi Line towards Chuorinkan) You will travel 4 stops to Sakurashimmachi Station, and exit at the North Exit. Directions to house from the station are: At Sakurashimmachi you will exit at the North Exit. When you exit the stairs or elevator, keep straight and turn left at the 1st Intersection\Stop Light. You will walk about 5 or 6 minutes, until you see a small Honda motor bike shop on the right side of the street. You will turn right at the next Intersection/Stop Light after that. The building is the 2nd building after the hair salon. The building is on the right side of the street. The building name is Domani Tsurmaki and the address is: 3 Chome-12-17 Tsurumaki Setagaya-ku, Tōkyō-to Japan The keys will be in mailbox 405. 5 minute walk from Sakura-Shianmachi Station. Sakura-Shinmachi is only 10 minutes(4 train stops) from Shibuya, one of the most popular areas in Tokyo, with abundant Nightlife, Shopping, R...
This was a 10 minutes walk to the subway. There was not so much to do in the neighbourhood, it's a quiet place. The accommodation was clean and you have everything you need. The bed was really small and it was very hot upstairs even though the airco was working. Wifi wasn't working so well.
Heleen
July 2016
Don's place is petite but very cozy, clean. overall it was a nice experience to stay at the place. Neighbourhood is quiet and safe. Location was also great, if you take a bus right in front of the villa you can go to shibuya right away. very recommendable!
INOK
July 2016
It was great. I am glad that I chose to stay at his location. When I do return to Tokyo, I will definitely be contacting Don and/or trying to stay at one of your locations. I felt like I had everything I needed at his location. Good job Don.
Rashaan
November 2016
clean and neat. really enjoyed the bed upstairs
Yiqin
June 2016
Convenient.
Cherry
January 2017
Don's place is clean and modern, as it says newly renovated. 4 stops to Shibuya which makes it convenient to travel to other places in the city. He responded quick and was patient with me. I def. recommend his place. Tip: make sure you take the LOCAL train from Shibuya to sakura station or it will skip the stop. Also, read the house manual! It's handy.
Leidi
January 2017
Great place , well located , lots of space by Japanese apartment standards . There were tourist guides and maps to help you take full advantage ok what Tokyo has to offer . It was great having a mezzanine bedroom ( not recommended with small kids ) . Please keep on mind that it is on the 4th floor , no elevator , so you'll be going up and down stairs quite often , not recommended if you have bad knees/legs , if you travel with kids or big luggages . I am not sure if it was lacking pillows cases or if it was that I could not find them . The washer was easy to use with the printed English guide provided . On a side note expect to hang dry your clothes on the balcony as the dryer just spins to remove excess water . Other than these small gripes it was a cool place to stay .
Steve
April 2016
His place is exactly like his pictures. Very nice location with multiple amenities like a supermarket and a sushi shop. The train station was only a few minutes walk away. Neighbourhood was also very peaceful and serene. Don was also extremely helpful. Definately recommended. Thanks Don for letting us stay in your house.
Nur
April 2016
Room type
Entire home/flat
---
Property Type
Loft
---
Accommodates
2
---
Bedrooms
1
Setagaya-ku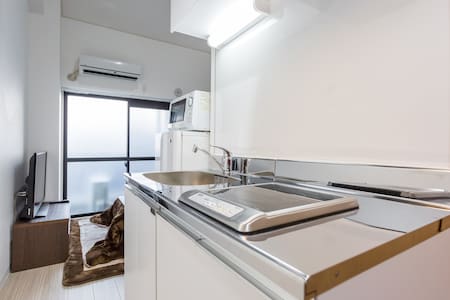 Specious attic on the 3rd floor with a queen size bed. Well-appointed and conveniently located next to the famed Kamakura Koko Mae station, the luxurious Hilltopvilla is your best choice to exploring Kamakura. Our favourite spot in the house -the large mountain balcony (see from pictures) complete with outdoor furniture to enjoy the picturesque view of Mt. Fuji set amidst lush greenery. We welcome you to join us and discover the charms of Kamakura.
OVERVIEW: This room is a loft/attic room on the 3rd floor of the house with a queen size bed installed. It is spacious and private as you have the whole floor for yourself. ACCESS: 10 minute walk from Kamakura Koko Mae Station (Eno-den/local tram) 2 train stops to Enoshima station 7 train stops to Kamakura station 7 train stops to Fujisawa station 90 minutes to Shinjuku/Tokyo 60 minutes to Hakone SHARED FACILITY/SPACE/AMENITIES: - Living room - Dining room - Bathroom - Lavatory - Toilets - Kitchen Refrigerator, Microwave, Rice cooker, Frying pan / Saucepan / Kettle , Glasses, Cups and Dishes, Knife, Fork, Spoon, Wine/Can/Bottle opener - Front and back garden AMENITIES: - Fresh towels, sheets, pillow cover, duvet cover and blanket* *winter only - Shampoo, conditioner and body soap INTERNET: Free hi-speed Wifi installed. The dining room is a laptop friendly workspace. CHECK-IN/OUT: Check-in after 2PM, check-out by 10AM Full access except the operation room on the 3rd floor. We'd love to meet you if we are around. Otherwise we'll be available online to assist you in case you need anything.
A perfect chill out spot. This house is 10 min walk from the nearest tram station (Kamakura-koko-mae station). The beach is next to the station and is known as a great surf spot. Grocery stores, convenience stores and restaurants are 10-15min away (we have bikes for rent) The public transportation(train) is reliable and handy. 5min to Enoshima and Shichiri-gahama. 15min to Kamakura and Fujisawa. We also have bikes for rent which gives you more mobility and easy access to the neighborhood. The house is on a hill you'll go up stairs. Back-packs or smaller luggages will give you better mobility. Also we are located in a residential area, thus supermarkets, eateries and convenience stores are 10-15min walk away. (We have bikes)
Very good directions were given in advance. Great place to stay!
Sébastien
October 2016
great hosts,they are friendly and warmhearted,the house is great with good sightseeing. not so far to Enoshment and beach.
Qi
August 2016
Nice house, friendly TJ, we have a good time there.
瑜隆
July 2016
Comfortable villa. Cool hosts. Nice communications. It's just that the bed was a little too soft.
糧伊
August 2016
very pleasant stay at Kamakura. Lovely, comfortable and very clean house located on the hills above the city. Thank you to our hosts for their advice. To propose bicycle rental service is a valuable idea. Bicycle is the best way to visit Kamakura. Sunny's house is a very good choice, with a great "spirit" :-)
Anne
August 2016
The house was very nice and the hosts were nice too! It's still a pretty new airbnb, so they still need to finish preparing some of the facilities. Maybe in the future that will change but at the moment guests are not supposed to use the gas stove and the washing machine. However, I'm sure they'll find a solution as they did for us.
Marina
July 2016
とても皆さん優しくて、良くして頂きました!!1人でゲストハウスに泊まるのが初めてだったので不安もありましたが、その不安もすぐに無くなり、また行きたいと思う場所です!今度はもっとゆっくり時間をもって行きたいと思います♪ありがとうございました!!!
理紗
August 2016
一个字"豪",豪宅啊!各个设施既复古又时尚!景色也漂亮!房主的说明也很详细!一次不错的旅行!希望以后还有机会入住!再次感谢!
Jing
September 2016
Room type
Private room
---
Property Type
Loft
---
Accommodates
2
---
Bedrooms
1
Kamakura-shi