Enter your check in date in the format dd-mm-yyyy
Enter your check out date in the format dd-mm-yyyy
Listings you can book without waiting for host approval.
Enter dates to see full pricing. Additional fees apply. Taxes may be added.
This July and August, you can try one of these 100 highly-rated homes, at all price points, and experience a local's view of Sonoma. 24-hour check-in, Instant Book, and local wine and snacks let you just sit back and enjoy your trip.
A fresh clean studio loft with full kitchen and bath. Walk to all that Ridgway has to offer or just hang here and have world class skin care and massage on site. Go down the street for all natural soaking at Orvis hot springs. Nearby ice climbing, skiing, fly fishing.
pets are negotiable. please contact us with your pet's profile :) pet deposit required. Rate includes a 8.5% tax and a $2.00 Bed tax.
Tate was helpful and responded to all of my questions very quickly. The apartment could have been better stocked and it was overpriced for the location, directly above a noisy bar.
Victoria
September 2016
The Cimarron Suites loft in Ridgway was a perfect place for our Telluride retreat. It was difficult to find accommodations in Telluride proper and this gave us a lot of flexibility in our options to explore the whole Ouray county area! It's close enough to Telluride that we could didn't have too far to travel to get into town and could enjoy the beautiful drive with great spots to hike along the way. Ridgway is a cute little town. The condo was great! Easy to fine. So much space. The bed was especially comfy with the softest, fluffiest pillows. Thank you for a great night!
Lindsay
October 2016
Great place to stay in CO. Beautiful area, close enough to Telluride and loft is well maintained and clean. Good WiFi connection.
Richard
June 2016
We had a great stay at Ridgway loft. The apartment was clean and modern, the location was perfect and the hosts friendly and flexible to our check in and check out time. I'd stay there again!
Anna
June 2015
Had a lovely stay at the lofts!!! Very convenient to dining, farmers market, park (Thursday evening concert a MUST)and the grocery store. The loft had a spacious feeling with tall ceilings and windows on 3 sides. Beds were super comfortable ( including nice linens) Clean. Had an elevator and stairway access. Pet friendly...Tate is super friendly and made us feel very welcome. Would highly recommend.
Lonnie
July 2016
I would highly recommend Ridgway Lofts. It is tastefully decorated with an amazing 160 degree view of the mountain ridge. Super comfy beds & linens as well. We will definitely be staying there again on our next trip to Colorado.
Natha
July 2016
The host canceled this reservation 29 days before arrival. This is an automated posting.
Amit
Room type
Entire home/flat
---
Property type
---
Accommodates
4
---
Bedrooms
0
Ridgway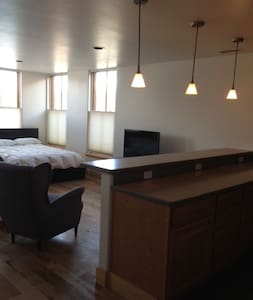 A beautifully appointed suite in the heart of Ridgway. Walk to the bars, pubs and restaurants in historic downtown Ridgway. Full kitchen and bath, laundry, wifi, and tv. A great place to stay!
pets are negotiable. please contact us with your pet's profile :) pet deposit required. Rate includes a 8.5% tax and a $2.00 Bed tax.
The loft is very clean, stylish and comfortable within walking distance to everything in lovely Ridgway. Super comfortable bed! Thanks for having me.
Erica
June 2014
Enjoyed our stay at the loft. It was comfortable and clean. The location is great! We would stay here again!
Kathy
September 2016
Nice place, good location Ridgeway is a cool town. comfortable beds, if I had not been commuting daily to Telluride, would have spent more time in the unit. reserved it for two, but went solo.
chris
June 2016
Tate was very responsive and the place was better than we could have asked for.
Luca
July 2015
The loft was great and Tate was a fine host! Ridgway is beautiful! We enjoyed our time there. We'll be back again and the Ridgway Lofts will be our 1st choice for lodging.
Kevin
August 2015
The loft was very accommodating - it had everything we needed and could have asked for with the beds, bath, and kitchen, and felt very comfortable all around. Ridgeway itself was such an awesome surprise of a town and the location of the space served as a great base to explore the surrounding area from. Tate also made it quite easy and straightforward to access the apt, which we certainly appreciated. All in all, would highly recommend this place.
El
August 2014
Our second stay....we really like Ridgway Lofts! Great location right in town with good access to all things SW Colorado. The space is nicely appointed, clean and comfortable.
Kevin
June 2016
Very nice place, beds were super comfortable!! We loved the high ceilings and décor. The bar next door kept us up late as it was quite noisy on Friday and Saturday night. Very convenient to grocery store and art festival.
Theresa
August 2015
Room type
Entire home/flat
---
Property type
---
Accommodates
4
---
Bedrooms
1
Ridgway