affittasi stanze in bellissima villa nelle campagne di Ferentino, città d'arte , vicino alle Terme di Pompeo, la villa dispone di camere con bagni privati, spendido salone a vetri, cucina moderna e abitabile, giardino privato, moderna
l'alloggio è arredato con letti, scrivanie, armadi, e tv, in una splendida cornice verde, la casa progettata in stile moderno e colorato vi farà sentire in vacanza
La villa è immersa nel verde, in una zona pianeggiante molto amata per le passeggiate da tutti i cittadini, collegata con autobus al centro, alla stazione ferroviaria e alle Terme, Ferentino ha inoltre il proprio casello autostradale
Sembra di stare in famiglia. Feedback super positivo!
Veronica
2015-09-05T00:00:00Z
这套房子简直不要太好,重点是房东人也超级好,各方面服务超级到位
Tingya
2015-10-05T00:00:00Z
Nuestra experiencia con Samantha fue magnifica. Ella y la familia es muy atenta, siempre dispuesta a ayudarnos con cualquier cosa, la chica que viene permanentemente en la casa también es muy buena onda. La casa es muy linda y moderna y está ubicada un poco lejos del centro de Ferentino para ir caminando pero Samantha nos prestó un auto y fue genial porque pudimos recorrer muchas ciudades que quedaban en los alrededores de Ferentino. La provincia de Frosinone tiene unos paisajes hermosos. Recomiendo 100% este alojamiento. Lo único es que internet no anda muy bien pero el resto genial!!!
Druscila
2015-08-03T00:00:00Z
Room Type
Private room
---
Property Type
House
---
Accommodates
2
---
Bedrooms
Ferentino, Lazio, Italy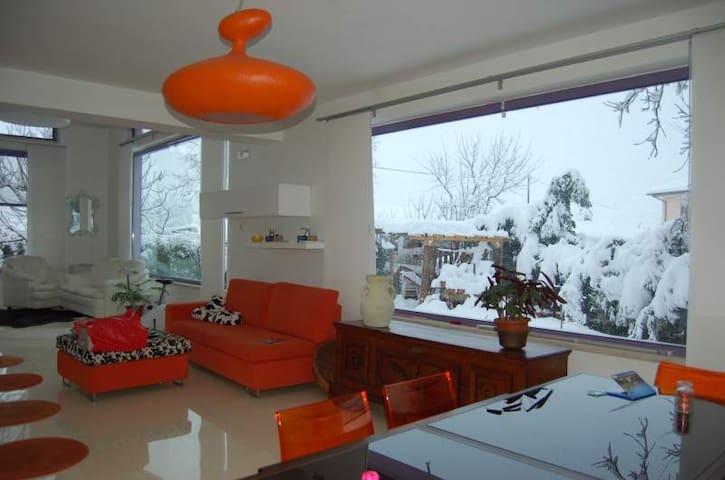 typical house of the historic center, recently renovated, with private entrance, located on Piazza Santa Maria Maggiore, a short walk from the Acropolis, and restaurants and bars. The house is on two very large floors and comprises: on the first floor a living room with sofa bed, dining table, TV, a kitchen fully equipped and a bathroom; on the second floor a room with bed and fireplace, a studio room with sofa bed and half square and a private bathroom.
The house has been recently renovated and, while retaining its original charm of a historic building, is equipped with all the amenities. The bed and sofa beds are brand new and very comfy. There is a large flat screen. the kitchen is fully equipped. From the windows of the house offers a splendid view of the Romanesque church of Santa Maria Maggiore.
The house is located on Piazza Santa Maggiore in the heart of the historic center and a five minute walk from the Acropolis, famous for its megalithic walls. A few steps away, in addition, there are numerous restaurants, bars, shops and other major exercises. restaurants Opus Magistri, Via Giacomo Matteotti 2A (Piazza Santa Maria Maggiore), Tel. (PHONE NUMBER HIDDEN) In the same room, entering from Vicolo Vezzacchi, there is the Guinness. Hours: Tuesday-Saturday dinner only, Sunday also lunch. Closed on Mondays. Great for eating meat. La Conca, Via Roma 7 (Piazza Santa Maria Maggiore cross) Tel. (PHONE NUMBER HIDDEN) Hours: Lunch and cena.Chiuso on Monday, July holidays Prices from 15 to 30 euro; no credit cards. Typical Ciociara cuisine; excellent Amatriciana, Carbonara and Gricia. Delicious pizza. Kloster Keller, Via Cesare Battisti 8 (Piazza Santa Maria Maggiore) Tel. (PHONE NUMBER HIDDEN) Hours: dinner only. Closed on Mondays alehouse Brio Bar, Viale Duca D'Aosta 2 Tel. (PHONE NUMBER HIDDEN) Hours: always open Closed on Wednesdays in summer ever
Lucia and the apartment are fantastic. Lucia and Patricia welcomed us at the apartment and suggested lots of great stuff to do. The apartment is a true home from home and has everything you need to live like a local in Alatri. Lucia also left us supplies for breakfast and her delicious homemade limoncello.
Rose
2016-10-05T00:00:00Z
Lucia was an extraordinary host -- she has an amazing and beautiful AirBnB apartment -- stay there as a home base to visit Alatri, Frascati, Frosinone, Caserta... and even Rome. From Alatri we had an easy drive to Sorrento/Capri! The AirBnB apartment that Lucia hosts is beautiful, with all amenities you would want. She welcomed us with information about Alatri's history, homemade jam, great prosecco, and lots of options for breakfast. A charming host -- we would definitely return ... Mille grazie Lucia!
Sharon
2016-10-14T00:00:00Z
Comfortable appartment right on the square. Double glazed windows so not noisy at all. Great Location.
Marcus
2016-09-19T00:00:00Z
Ci siamo trovati benissimo, la casa è comoda e centralissima, appena ristrutturata e la proprietaria Lucia è stata molto gentile e disponibile.
Irene
2016-07-23T00:00:00Z
Non sono indicazioni stradali e logistiche precise per raggiungere la casa e godere appieno il soggiorno, ma Lucia mette a disposizione dei suoi ospiti la sua cultura e la conoscenza profonda di un pezzo di Italia così ricco di storia, che ti fa venire voglia di passarci un mese!
Serena
2016-10-02T00:00:00Z
Lucia è una grande host. Chiara e discreta. La casa è davvero bella e spaziosa, molto colorata e luminosa. È proprio sulla piazza principale di Alatri a due passi dalla bellissima acropoli. Lucia ci ha viziato lasciando in casa molte cose buone da assaggiare. Torneremo presto!
Paolo
2016-08-12T00:00:00Z
Bellissimo appartamento, curato nei minimi dettagli e fornito di tutto. Lucia è stata molto gentile e disponibile.
Martina
2016-12-27T00:00:00Z
Formidable séjour à Alatri ,très beau village avec son centre historique , avec l'acropole ou l'on domine la vallée. Une place très animée en journée et surtout le soir. Un grand merci à Lucia, pour son accueil et bravo pour son français . Elle nous a proposé un bel appartement très pratique avec une belle décoration. Je recommande cette destination pour la beauté des lieux et le très bel accueil de notre hote . Merci beaucoup et vive l'Italie!!
Jérôme
2016-08-27T00:00:00Z
Room Type
Entire home/apt
---
Property Type
House
---
Accommodates
6
---
Bedrooms
Alatri, Lazio, Italy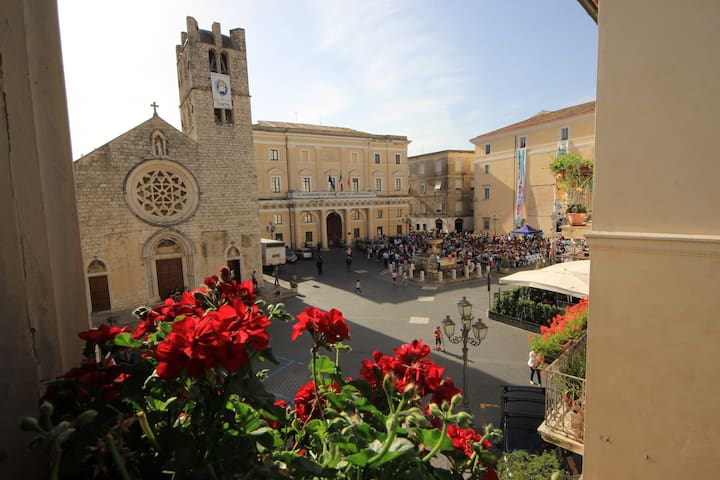 La nostra casa vi trasmetterà le sensazioni dell'antica campagna con i suoi caratteristici colori, profumi e sapori. Il rumore del vento tra i rami degli alberi e lo scorrere dell'acqua del vicino ruscello saranno determinanti per il vostro benessere
La casa si compone di 2 camere da letto che possono ospitare 4 persone, entrambe comode, confortevoli e finemente arredate con pitture pastello dai toni dell'antica campagna. Cucina completa di elettrodomestici (forno, frigorifero, lavastoviglie). Salottino con camino a legna. Una sala da bagno. Ampio giardino arredato, completamente circondato da alberi che ne assicurano la riservatezza. Inoltre è compreso un disimpegno-zona lavoro completo di lavatrice.
La casa si trova in una zona collinare a 800 mt sul livello del mare, a circa 1 Km dal paese. La fitta vegetazione e le preziose sorgenti di acqua contribuiscono al benessere dell'ospite.
Efisio and his family are great hosts! They were really welcoming and friendly. The house is easy enough to find. House stands alone, it's very nice, cozy and quiet place. If you want to spend some days exploring Abruzzo and have quiet evenings this place is a great choice.
Irina
2015-06-16T00:00:00Z
Our host made us feel extremely welcome and the place was as described. The setting was very peaceful and beautiful, the house came with everything we could need. This is a fantastic place to come and rest, away from the busy centres.
Steven
2015-06-21T00:00:00Z
Esperienza fantastica in questa splendida casa immersa nella natura. L'accoglienza di Efisio e Barbara è stata impeccabile,premurosissimi nel far sentire me e la mia ragazza completamente a proprio agio. La casa è equipaggiata con una cucina dotata di ogni utensile necessario e un camino estremamente efficiente. E' il tipico esempio di villa indipendente situata lontana dal centro abitato (tuttavia, in macchina in appena 5 minuti si possono raggiungere i negozi e in 15 di comoda superstrada si raggiunge Avezzano, grande città del centro Abruzzo di 45000 abitanti e in 30 minuti si raggiunge Celano, con il suo magnifico castello medievale). Il ruscello nei pressi della casa e il giardino privato danno la sensazione di pace totale, la casa è ideale in qualsiasi stagione, essendo estremamente confortevole in inverno e, posso immaginare, estremamente fresca in estate data la posizione e il modo in cui è costruita. Tornerò sicuramente nelle altre stagioni, il relax è assicurato. Grazie ancora ad Efisio e Barbara! I had a fantastic experience in this marvelous house in the middle of nature. Efisio and Barbara were extremely welcoming, and made me and my girlfriend feel like we were at home. The house is equipped with an extremely functional kitchen and a fireplace that can nicely warm up alone the dining area. It's the typical example of italian independent house, far from town (however, shops are within 5 minutes by car and in 15 minutes you can reach Avezzano, big city with a population of 45000, and Celano in 30 minutes, with its wonderful medieval castle). The sound of the little river near the house and the private garden give total peace, making the house ideal in any season, being warm and comfortable in winter and, as i can imagine judging the location and the thick walls of the house, very fresh in summer. I will come back for sure in other seasons, relax is granted! Thank you again Efisio and Barbara!!
riccardo
2015-02-25T00:00:00Z
Il posto dove si trova la casa è molto tranquillo, l'ideale per chi vuole rilassarsi. La casa è grande, pulita e comoda. Purtroppo siamo andati d'inverno ed in questo periodo va considerato bene il costo aggiuntivo del gpl per il riscaldamento.Efisio é una persona molto disponibile,puntuale e simpatica.
Elis
2017-01-08T00:00:00Z
Ottima accoglienza, casetta posizionato in un luogo bellissimo immerso nel verde. Pulita e confortevole. Il giadino molto comodo per giocare con i bimbi...punto di partenza per diverse cursioni nell'Abruzzo più sconosciuto.
Massimiliano
2016-10-23T00:00:00Z
Villa molto curata in uno splendido scenario bucolico, se si cerca la natura e la tranquillità ma anche una casa accogliente è la scelta perfetta. Efisio è stato un perfetto host a presto!
federica
2016-11-19T00:00:00Z
Room Type
Entire home/apt
---
Property Type
House
---
Accommodates
4
---
Bedrooms
Canistro, Abruzzo, Italy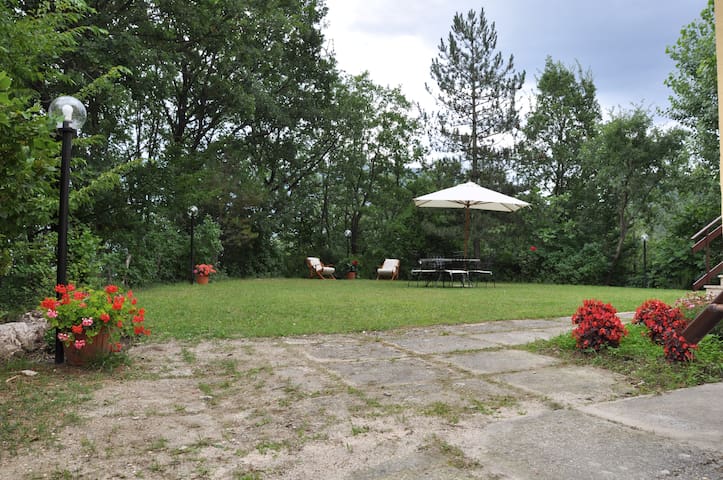 Piccola casa a due passi dal centro di Frosinone. La casa comprende due giardini, un soggiorno/cucina, un bagno ed una stanza da letto.
Room Type
Shared room
---
Property Type
House
---
Accommodates
1
---
Bedrooms
Frosinone, Lazio, Italy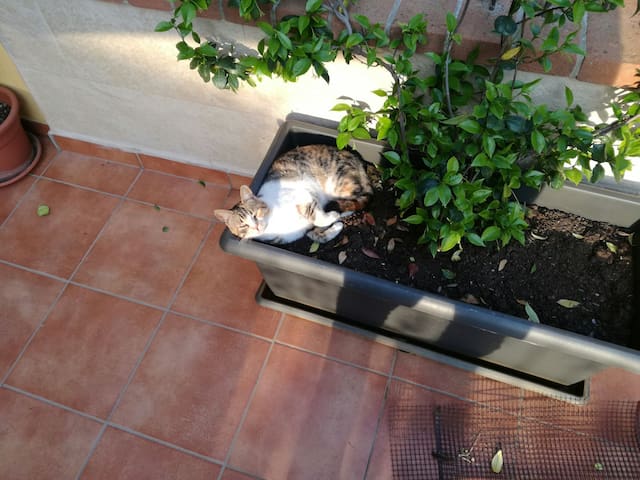 Welcome to La Casa Gialla, our little Italian countryside escape. Nestled in the hillsides of the Lazio region of Italy, this little gem will give you a real look at true Italian countryside! About halfway between Rome and Naples, and just over an hour to the beautiful coast, it's the perfect affordable home away from home while you explore the region. Ideal for those who love to road trip, explore and get off the beaten track!
The dwellings that make up Case Volpi (houses of the fox) are all clusters of ancient houses. While some are vacant and abandoned, they still retain their old world charm. The dwellings that are lived in are generally plastered and painted, while the old ones are just stone. Some of the dwellings are over 700 years old!
Not far from the house are cafes and restaurants in the quaint little town of Santa Francesca. There is also convenience stores and grocery shopping. The town of Sora is a short (and very scenic) drive away if you're in search of more options for shopping/dining. The neighbours are all very friendly and it's common to see the local shepherd herding his flock down the middle of the street.
Room Type
Entire home/apt
---
Property Type
House
---
Accommodates
2
---
Bedrooms
Veroli, Lazio, Italy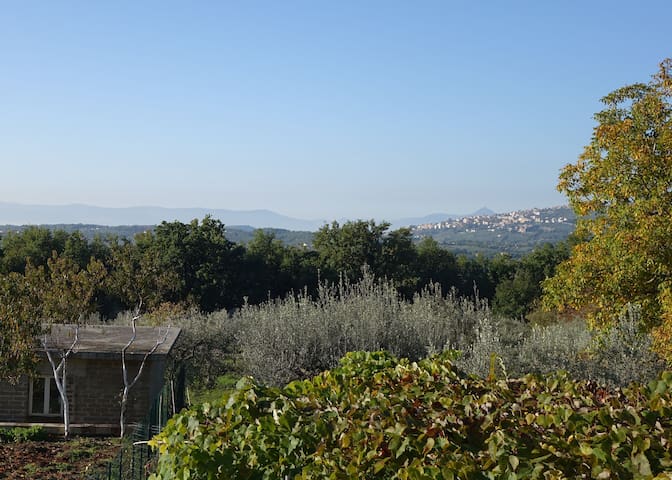 The house is composed by: 4 large sleeping rooms with a maximun of 8 bed accomodations (with impressive mountains view), 2 bathrooms, a lovely living room equipped with a broad fireplace. In total the house is around 200 sq meter.
In the middle of Italy, sorrounded by the magnificent Abruzzo Mountains, Civita d'Antino (904 mslm) is where the house is placed. Civita d'Antino is a little tiny village of pre-romanic origins, quite well known thanks to the frequent visits of famous Scandinavian Impressionists Painters. The most famous, Kristian Zahrtmann, spent long time in Civita where took great inspiration for his pieces d'oeuvre. Still today, Zahrtmann is recited and celebrated by the village citizens for his contribution to create a bridge between his art to the traditions and the culture of a genuine place. The House origins belongs to a wide architectural structure dated back to XV Century. The current owners did their best to preserve the heritage features and the beauty of the building. The house is composed by: 4 large sleeping rooms with a maximun of 8 bed accomodations (with impressive mountains view), 2 bathrooms, a lovely living room equipped with a broad fireplace. In total the house is around 200 sq meter. To complete the pleasant staying, you will experience the amazing delight of the private garden: its smelling roses, the unique and powerful view over the Roveto Valley, will provide unforgettable emotions. From here you can even see the waterfalls of Zompo lo Schioppo and the immensity of Viglio the top Mountain of the Valley. The house is not only for families but often plays a key place where to spend nice moments with friends. It is definitely ideal for those who want to enjoy nature and who like exploring the numerous mountain trails while getting fascinated by historical details visible in many angle as well as giving in to the pleasure of tasting the typical food (two small tiny restaurants in the village are managed by local families: "home made" is their "password"). Even the "youngest" little guests will enjoy the place and will feel the benefit of a limited use of cars along the streets of the ancient village where the preference goes for a pleasant walk. The house is highly recommended for those who practice Yoga and the enchanted garden has a huge potential for meditation Civita d'Antino is at 904 msls, many are the places you can uncover during your stay: Alba Fucens is  just 30 minutes far from Civita and should never be missed off the list of places to visit when exploring Abruzzo. Is a real impressive place where you can admire the ruins of an ancient Roman outpost built around 303 B.C. with a still standing and suggestive Amphitheatre.  Civita d'Antino is about 100 km from Rome, 80 Km from Pescara and 170 km from Naples.
Room Type
Entire home/apt
---
Property Type
House
---
Accommodates
10
---
Bedrooms
Civita D'antino, Abruzzo, Italy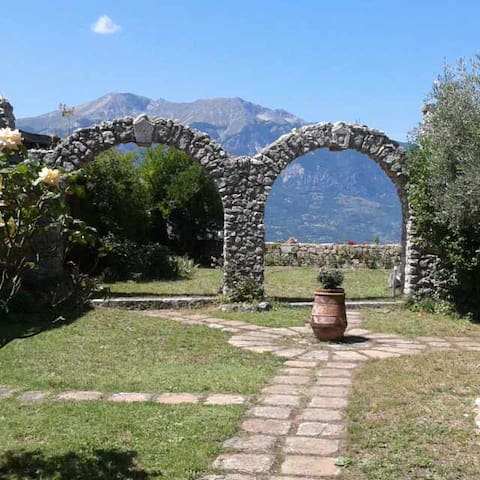 This romantic, small studio is located in the heart of the historical center of Fiuggi, an ancient village surrounded by history and tradition. It is a room of about 30 sqm, renovated and furnished with taste.
Perfect place!!!
Jo
2017-03-05T00:00:00Z
Roberta was very helpful and accommodating during our visit to Fiuggi. The Studiolo was one of the most unique places we've ever stayed. The medieval alleyways of the old town are fascinating for us Americans, and the views of the mountains from the piazza are amazing. The studiolo came well equipped for a comfortable stay, though we dined out for all meals. We visited Fiuggi in January, so it was chilly. The two space heaters and the fireplace warmed the place up and there were extra blankets for the bed. This is in the heart of the old town, which was a bit sleepy in the middle of winter, but I imagine it is busier during the spring, summer and fall. There were several restaurants, pizzarias and cafes a short walk away. La Grotta has good value, delicious food and a casual atmosphere, and the cafe across the street from the restaurant is a great place to start the morning. Parking is a short 2-minute walk from the apartment. It's a 20 minute walk or a short drive off the hill to get to the main part of Fiuggi. Overall, this was a great place to stay during our four nights in Fiuggi.
Andrew
2017-01-17T00:00:00Z
Roberta's place was lovely! The old town of Fiuggi was surreal with the tiny allies and stairways. The apartment was very romantic, in the heart of the little old town on the hill. It was perfect apart from the fact that it was a little cold in the apartment and the wood for the fireplace was quite damp. In summer it must be very nice!
Ronja
2017-04-03T00:00:00Z
Casa intima ed accogliente, Magari un letto matrimoniale risulterebbe più comodo. Camino funzionale e bello, riscaldamento elettrico poco efficace e rumoroso. Proprietario molto disponibile e gentile. Nota molto negativa: collegamento autobús molto scadente e difficoltà nel reperire informazione su orari in particolare nei giorni festivi. Sconsigliato per viaggiatori spovvisti di mezzo proprio
Stéphanie
2017-01-08T00:00:00Z
Un'ottima accoglienza da parte di Roberta e di suo padre, che ci ha aspettato pazientemente nonostante il quarto d'ora di ritardo. Il monolocale è, oltre che funzionale, molto carino nell'arredamento e centralissimo al borgo medievale.
Davide Pavia
2016-11-01T00:00:00Z
Tutto eccellente come sempre
Salvo
2017-02-15T00:00:00Z
L'accoglienza ottima. Roberta è scrupolosissima e gentile, si è presa cura di noi:)
alessandra
2016-10-30T00:00:00Z
Appartamento piccolo (ma con tutti i requisiti) ma molto carino, ci è piaciuto soprattutto il camino. Situato nell' incantevole centro storico di Fiuggi, dove ci sono ottimi ristoranti e a poca distanza delle terme nella parte nuova. Si parcheggia facilmente non lontano dall'appartamento. Siamo accolti dai genitori di Roberta e la madre ci aveva preparato un ciambellone. Simply delicious. Noi abbiamo usato l'appartamento come punta di partenza per fare una gita in montagna e sicuramente lo rifaremo un'altra volta.
Lou
2017-02-12T00:00:00Z
Room Type
Entire home/apt
---
Property Type
House
---
Accommodates
2
---
Bedrooms
Fiuggi, Lazio, Italy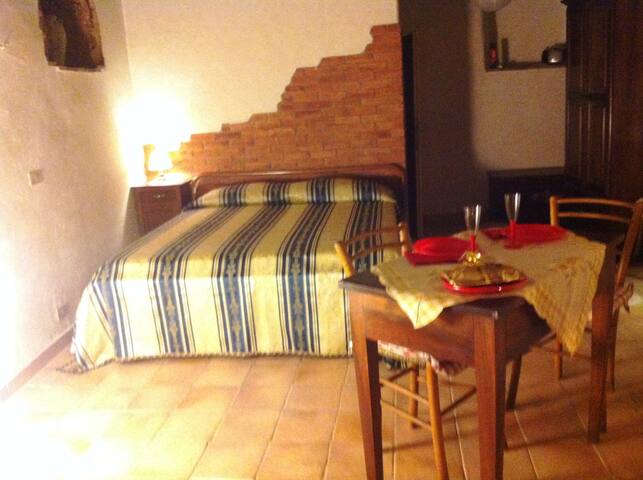 Il mio alloggio è vicino a trasporto pubblico. Ti piacerà il mio alloggio per questi motivi: gli spazi esterni e l'atmosfera.
Mi sono trovata benissimo. La padrona di casa ci ha regalato un'accoglienza strepitosa!!! Molta pulizia, disponibilità e cortesia. Consiglio a tutti gli escursionisti questo alloggio, è un ottimo punto di partenza per molte escursioni, e soprattutto un'ottima soluzione di alloggio. In tutta onestà credo di aver pagato poco per quello che ho ricevuto, ma non è per questo che conto di tornarci nuovamente!!! Grazie molte e a presto!
lilli
2016-11-02T00:00:00Z
La signora è stata molto accogliente e disponibile, ottima la camera che dire se andate in zona e vi serve un alloggio fateci un pensiero
NIcola
2016-12-06T00:00:00Z
Tutto ok.
Vincenzo
2017-03-09T00:00:00Z
Ornella e la gentilissima sig.ra Maria si sono rilevate host gentilissime, accogliendomi a casa loro e rendendosi disponibili ad ogni piccola richiesta. Si alloggia in una stanza della casa, con bagno privato a disposizione e posto auto interno alla proprietà. L'alloggio è posizionato fuori dal centro di Avezzano, ma poco distante dalla zona commerciale e dalla strada provinciale, ed è pertanto comodo per esplorarne i dintorni.
Marco
2016-11-27T00:00:00Z
Accoglienza perfetta. La casa è davvero carina ed confortevole. I servizi sono perfetti. Siamo stati davvero contenti di aver scelto questa casa. Torneremo di sicuro! Grazie di tutto
Lisa
2017-01-01T00:00:00Z
Room Type
Private room
---
Property Type
House
---
Accommodates
2
---
Bedrooms
Avezzano, Abruzzo, Italy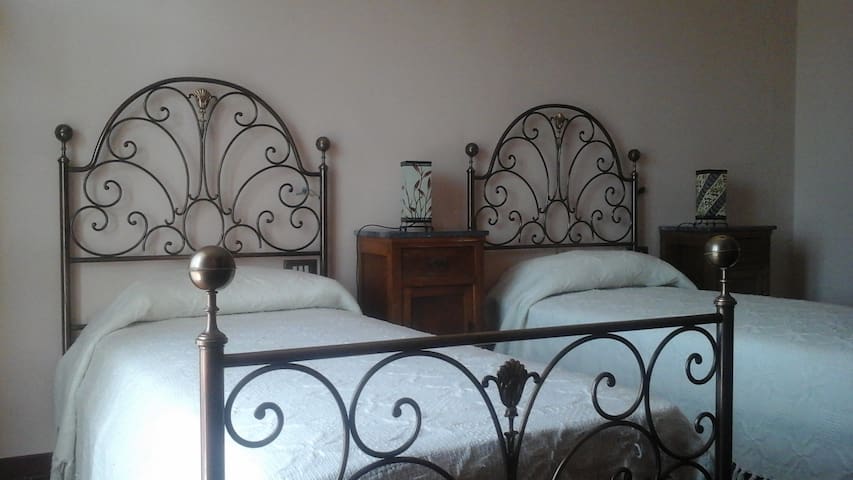 La casa è costituita da 2 camere, cucina, bagno e un grande salone. Lo spazio esterno è attrezzato con barbecue per fantastiche grigliate sotto le stelle. Perfetto punto di partenza per rilassanti passeggiate nei sentieri della Valle Roveto.
L'ampio spazio esterno comprende parcheggio e giardino
Zona tranquilla, poco trafficata, ma vicina al centro
The host canceled this reservation 23 days before arrival. This is an automated posting.
Niko
2016-09-29T00:00:00Z
Danila et sa maman ont été très réactives et ont répondues à nos besoins. Le logement est très grand. Nous y étions 5 à l'aise. Avec une meilleure propreté et quelques équipements supplémentaires (qui nous ont été fournis lors de notre séjour), ce logement pourrait être très agréable à vivre. Le barbecue a été aussi très apprécié !
Aurélien
2016-07-28T00:00:00Z
Room Type
Entire home/apt
---
Property Type
House
---
Accommodates
5
---
Bedrooms
Civitella Roveto, Abruzzo, Italy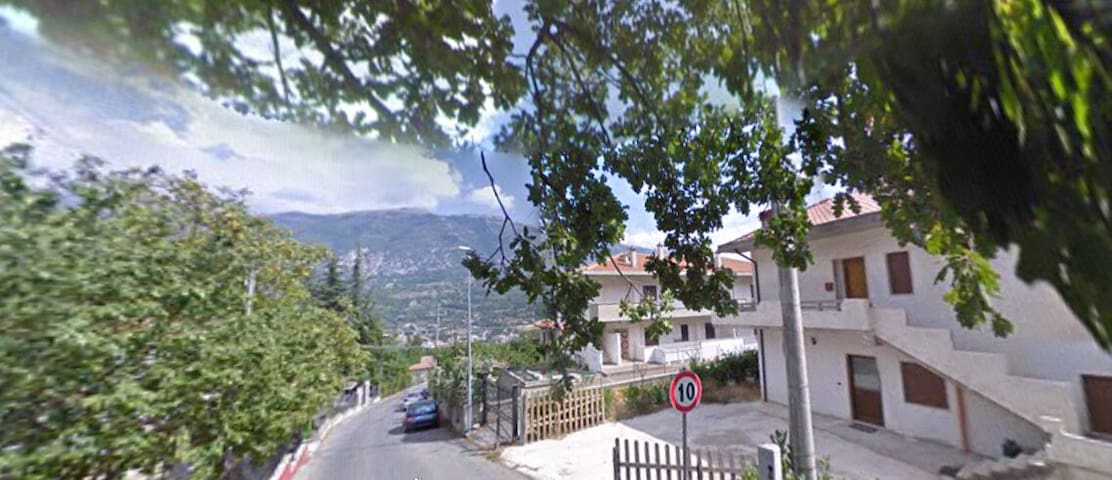 Ideal for escaping from the hustle and noise of the city. The beauty of the natural environment, clean air and healthy water. The simple house and welcoming atmosphere retro. Panoramic view of the mountains ernici. Ample parking nearby.
Being in the center of Fiuggi, the accommodation is quiet and peaceful, the guest will enjoy the warm atmosphere of the fireplace in the winter months and cool temperatures that the house itself offers in the summer months.
Take a short walk on foot ..... there are restaurants, bars, newsagents etc etc.
Anna's apartment is in an idyllic location in the historical center of Fiuggi. She and her husband went out of their way to make my stay comfortable. Anna prepared traditional Italian delicacies after the long day of traveling. She also left lots of pasta and coffee for the duration of stay. Fiuggi is not easy to get to without a car, but it was well worth the effort. Value for dollar was super too.
ruth
2016-06-17T00:00:00Z
Anna and Emilio provide a truly authentic Centro Storico experience with their characteristically rustic little house in Old Fiuggi. The parking is very convenient and there's fresh fruit and veg stalls there every day as well as aweekly market. A few minutes walk takes you to the ristoranti and pizzarie of the old centre. The newer centre is easily reached too. Anna and Emilio provide a truly generous and genuine welcome.
brendan
2015-10-19T00:00:00Z
Anna and Antoni Were very nice. They were waiting for us although we were late and arrived at night. Very nice apartment and charming town with stunning views. Highly recommend. Elad
Elad
2016-09-27T00:00:00Z
Soggiorno splendido in un posticino caratteristico. ottima la posizione in pieno centro e accoglienza ineccepibile : caminetto acceso e cordialità dell'host per ogni mia richiesta! Ambienti ben arredati e più grandi di quanto si possa pensare dalle foto. grazie di tutto Anna
Francesco
2016-03-02T00:00:00Z
Casa molto accogliente, ben fornita con un host molto disponibile. Ottima per passare un fine settimana più che tranquillo, sicuramente un'esperienza da rifare.
elisa
2016-04-18T00:00:00Z
Gentilissima la sig Anna e il sig Toni,ci hanno preparato anche un pranzetto
Lorenzo
2016-07-21T00:00:00Z
Proprietaria molto disponibile, ottima accoglienza. Casa molto pulita e rifornita di tutto il necessario. Cucina piuttosto piccola e bagno da ristrutturare.
Rosa
2016-08-14T00:00:00Z
Ottima accoglienza da Anna e Emilio , in modo molto familiare . Inoltre hanno molta disponibilità verso gli ospiti . La casa è molto carina e perfettamente accessoriata per qualsiasi esigenza , al centro di Fiuggi vicinissima a negozi e con comodo parcheggio . Come è scritto appunto nell'annuncio una tipica casetta nel centro storico . Esperienza molto positiva e da rifare assolutamente ...
Alessandro
2016-01-03T00:00:00Z
Room Type
Entire home/apt
---
Property Type
House
---
Accommodates
4
---
Bedrooms
Fiuggi, Lazio, Italy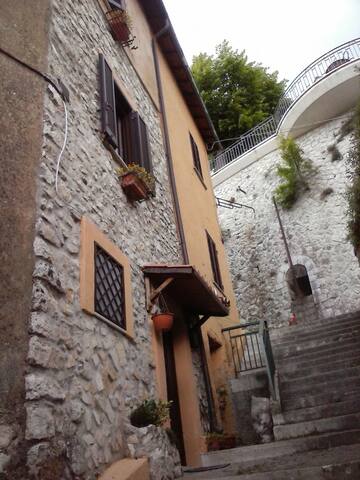 Accogliente e caratteristico trilocale sito nei pressi del Castello Piccolomini, a pochi passi dal centro storico. Ottima soluzione per gli amanti della montagna e per chi desidera rilassarsi in compagnia. Distante soli 8 km dalle piste sciistiche!
L'appartamento comprende: cucina in open space con salottino e camino, una camera da letto matrimoniale, una camera doppia con letto a castello e servizi. Il flat è inoltre dotato di due balconi: il primo nel salotto/cucina ed il secondo nella camera doppia; bagno e camera matrimoniale sono provviste entrambe di finestre. Ampio e luminoso e con pietre a vista, risulta ideale per famiglie, coppie e gruppi di amici. Must: camino! E' un dolce lusso per chi vuole sentirsi a casa e staccare la mente dalla frenetica vita di città e d'appartamento.
Per chi voglia passare con noi il periodo invernale, vi ricordo che le piste sciistiche di Ovindoli distano solo 8 km dall'alloggio: facilmente raggiungibili in auto e/o con i mezzi pubblici. L'appartamento, inoltre, è vicinissimo alla clinica "L'Immacolata".
The house was exactly as described. Very clean with everything we needed. As we were were visiting friends we were only in the house to sleep and shower. Thanks Annamarie
Amanda
2016-10-10T00:00:00Z
She met us on time and her family made us feel very comfortable right from the begining
Costantino
2015-07-20T00:00:00Z
L'appartamento è molto carino,pratico e funzionale. Facilmente raggiungibile è stato recentemente ristrutturato. Ci accolgono gentili e disponibili Annamaria e la sua mamma. Grazie Barbara e famiglia
Barbara
2014-10-27T00:00:00Z
Tutto bene, casa carina e comoda
Oreste
2016-06-20T00:00:00Z
Annamaria è stata gentilissima, presente nel momento del bisogno ed attenta a tutte le nostre necessità. Il nascondiglio dell'arciere è un gioiello nel centro di Celano con vista mozzafiato sulla valle. Ideale e strategico per raggiungere comodamente a piedi qualsiasi punto di interesse in città. Dal primo istante ci si sente come a casa senza rinunciare a nessuna comodità. Grazie di tutto Annamaria, se dovesse capitare tornerò sicuramente.
Tito
2014-10-31T00:00:00Z
La casa è pulita, ben ubicata, con viste panoramiche e tutto l'essenziale per trascorrere un piacevole weekend di neve; il camino una chicca, Anna María e famiglia molto cortesi e disponibili.
Maria Carmen
2017-01-29T00:00:00Z
La casa è molto bella e conforme alle foto, gli host cordiali e disponibili a risolvere ogni esigenza anche se generalmente non molto presenti (probabilmente per via del periodo). Comunque è andato tutto bene ed è stata un'esperienza perfetta.
Jari
2015-01-07T00:00:00Z
L'appartamento è molto carino e i proprietari sono stati gentili,l'unica pecca è stata la colazione,l'annuncio diceva che era compresa,ma non abbiamo trovato nulla.
Vanessa
2017-02-20T00:00:00Z
Room Type
Entire home/flat
---
Property Type
House
---
Accommodates
4
---
Bedrooms
Celano, Abruzzo, Italy
Graziosa casetta di paese. Il posto ideale per godersi una vacanza lontani dal caos cittadino e immersi nella natura. La casa si trova nella piazza principale di Canistro Superiore, di fronte alla chiesa del paese. L'ambiente caldo e accogliente è composto da una camera da letto, un bagno e un salotto con un grande tavolo da 12 persone, ideale per cene con gli amici, e il camino. La casa può accogliere comodamente fino a 4 persone.
Room Type
Entire home/apt
---
Property Type
House
---
Accommodates
4
---
Bedrooms
Canistro, Abruzzo, Italy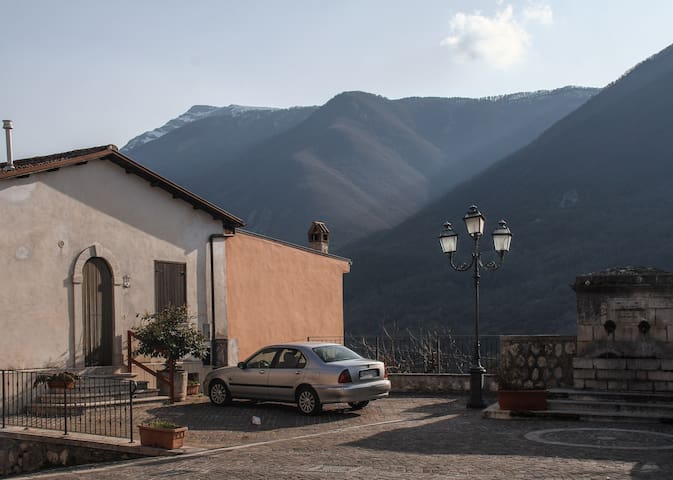 Un posto unico al mondo, senza inutili parole, nel titolo è racchiuso tutto quello che c'è da sapere... Per i più curiosi, non era la mia casa ma, trovatolo per caso, me ne sono innamorata ed adesso è diventata casa mia. Informo i miei ospiti che la casa è molto grande, quindi anche se da calendario risulta prenotata, potrebbe esserlo solo in parte e quindi consiglio a tutti di contattarmi per verificare la disponibilità Parliamo inglese. On parle francais. Hablamos espanol. Falamos portugues.
Casa di campagna, calda d'inverno, fresca d'estate, panorama da cartolina, nessun rumore se non quello della natura... Collocata esattamente al centro, tra Arpino, Sora ed Isola Liri, lo sguardo le abbraccia tutte e si perde all'orizzonte.
Room Type
Entire home/apt
---
Property Type
House
---
Accommodates
8
---
Bedrooms
Arpino, Lazio, Italy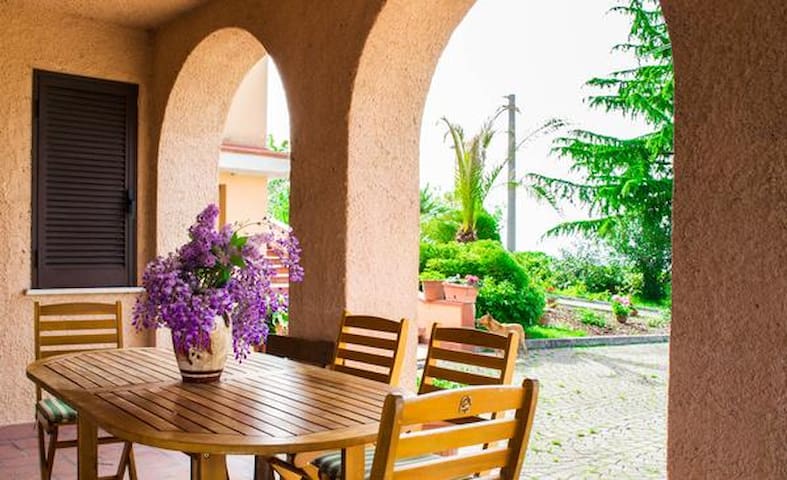 Un casale del 1900 che può accogliere gruppi di amici o famiglie con bambini: ideale per chi ama le passeggiate a piedi o in bicicletta nel verde, panorami di una natura incontaminata, avvistamenti di animali selvatici, antichi borghi e castelli
Una stupenda località in cui abbiamo passato uno splendido capodanno ad un prezzo veramente irrisorio! Gli appartamenti (due, nello stesso stabile) sono arredati in stile rustico, con mobili antichi e soprammobili che richiamano la vita contadina di diversi anni fa. Questo però senza rinunciare alle comodità odierne: si ha a disposizione infatti un buon riscaldamento centralizzato e due scaldabagno di ottima potenza, televisione e satellitare. Comodi e caldi i letti, una saletta abbastanza spaziosa da far stare a tavola 8 persone comodamente, un giardino immenso con parcheggio per almeno 6 auto, biciclette a disposizione e tante vie per passeggiare e scoprire Balsorano e dintorni! Ciliegina sulla torta la gentilezza e la disponibilità dei padroni di casa, perfetto contorno di una vacanza che ricorderemo per sempre!
Gabriele
2017-01-02T00:00:00Z
Room Type
Entire home/apt
---
Property Type
House
---
Accommodates
10
---
Bedrooms
Balsorano Nuovo, Abruzzo, Italy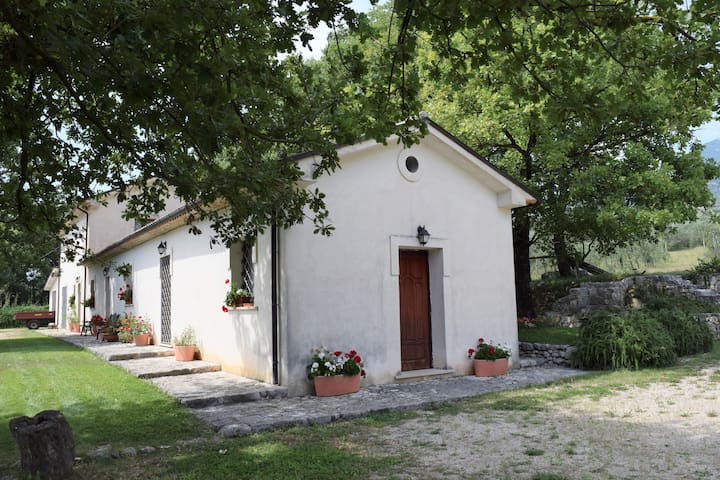 Il Casale Pozzilo è una casa rurale risalente circa alla metà del 1700, situata in un ampia radura ai piedi del borgo medievale di Vico nel lazio e circondato dalla bellissima catena dei Monti Ernici. La location è ideale per quel tipo di turista che è alla ricerca di luoghi speciali e incontaminati dove storia, natura e tradizione si incontrano. Il nostro Casale dista pochi minuti da Fiuggi e da Alatri e per circa un ora di macchina è facilmente raggiungibile anche da Roma.
Ottima accoglienza. Posto splendido, appartato ma non isolato.
Claudia
2016-10-17T00:00:00Z
Room Type
Entire home/apt
---
Property Type
House
---
Accommodates
6
---
Bedrooms
Vico Nel Lazio, Lazio, Italy
In the Aniene Valley, the trails and the woods once crossed by hermits and knights, and today a destination for those who for some day wants to be less "social" and less "connected." House authorized Holidays with Wake n ° 3659 of (PHONE NUMBER HIDDEN) Protocol
The Holiday House is located inside the medieval village, in the square called Piazza Civita, at the foot of the Caetani Castle. The territory which is part of the city of Trevi lies within the Parco dei Monti Simbruini The family's possession for about 1000 years, it was used to house the bishops and cardinals, as it was in ancient Trevi bishopric and the summer residence of the Pope of Rome. For that maintains the structure of a small convent.
Ancient medieval village located around a rock at the foot of the Caetani Castle (constructed in 1050)
We stayed for a long weekend at Marcos house and throughly enjoyed our stay. Marco was a very welcoming host who provided us with lots of information regarding the area and recommended a variety things to see and do, which included a walk to a chapel in the mountains where following local tradition we rang the bell. Marco also reccomended a visit to a waterfall which was simply beautiful. The town of Trevi nel Lazio, whilst small was picturesque and quaint. The property was cosy and had everything we needed. We brought with us our dog who was made welcome too. We would recommended staying at Marcos house and look forward to returning there soon.
Kim
2016-02-09T00:00:00Z
We loved the old town with its narrow streets and beautiful castle. Being so near, it appealed much to our kids' fantasy of being knights. The house was lovely; very authentic with the fireplace and antique interior. We found it sufficiently supplied. We appreciated that you contacted frequently with us and even dropped in. Thank you very much, also for setting the tour of the castle for us!
remmo
2016-04-29T00:00:00Z
This is a lovely location run by lovely people. If you love Italy, you will love this place. I hope to come back again soon. A truly lovely experience. Highly recommended.
Adam & Ania
2015-08-13T00:00:00Z
We had an amazing stay at Trevi. Marco was there to meet us with fire lit and told us where we could walk in the area it was a lovely friendly welcome. We had a lovely walk to the bell! and bit further. Trevi is a wonderful un-spoilt hill top town with a castle and a welcome relief after Rome and all the tourists... we did not meet any other tourists. The house has a wonderful sense of history with all the lovely old photo's thank you for a great stay and I would recomend Trevi and the house to anyone.
Joanna
2016-11-04T00:00:00Z
Thank you so much Marco for being very welcoming, helpful and friendly. He took us on small tour in the beautiful town. The house is really nice a cozy.
AJ
2016-01-31T00:00:00Z
Marco went out of his way to make us feel at home. It was very special to have the opportunity to stay in his family home in this small and ancient mountain village. We were the only tourists we came across during our stay and all the people of the village were welcoming. The home was big and we and our two young children loved all the old photographs of Marco's family, as well as the meditation room and balcony overlooking the surrounding mountains. The front door truly opens to the back of the castle. He also showed us a nearby hike that was fun to do -- one that ended by ringing the bell of the chapel on the mountain (a local tradition). Very highly recommended.
Tema
2015-08-03T00:00:00Z
We met Marco the first evening of our one week stay in his house, he gave us a warm welcome and many informations about places to see, was very helpful and carying. The house is big, has a nice terrace and we enjoyed very much staying there. Thank you, Marco!
Karolina
2016-07-10T00:00:00Z
Marco's place is a little gem in a charming village. The walks around are breathtaking, and the whole village has a special serenity. The bedrooms are very comfortable with great views over the countryside and mountains. The highlight of the trip is Marco, who's love of his ancestral home is contagious. Marcos gave us a tour of the village, indications of what to do, and even updates on which restaurant was opened when. Marco really made us feel welcome and just coming to meet him would have been worth the trip. A great Airbnb experience with a wonderful host.
Benjamin
2017-04-05T00:00:00Z
Room Type
Entire home/apt
---
Property Type
House
---
Accommodates
5
---
Bedrooms
Trevi Nel Lazio, Lazio, Italy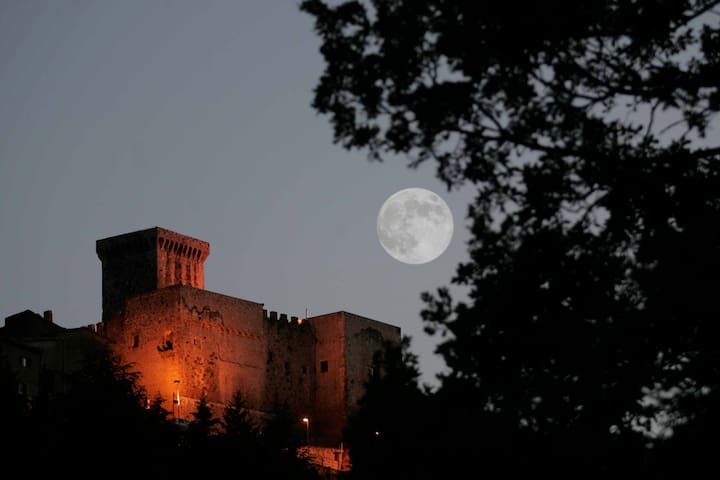 House in the mountains adjacent golf 3km skiing. from Camporotondo, 50 square meters. on two levels, in the kitchen there is a fireplace, a wood stove and a pantry, and 1 sleeping apliabile two, over there is a double bedroom, a bathroom and a balcony. Petrella Liri is located in the center of the Marsi to 1200 m. high, in winter good for skiing, and summer is perfect for trekking, walks, there is also the possibility for those who love rock climbing.
It also features a private wine cellar, two MTB bikes to be used by agreeing before.
Room Type
Entire home/apt
---
Property Type
House
---
Accommodates
3
---
Bedrooms
Petrella Liri, Abruzzo, Italy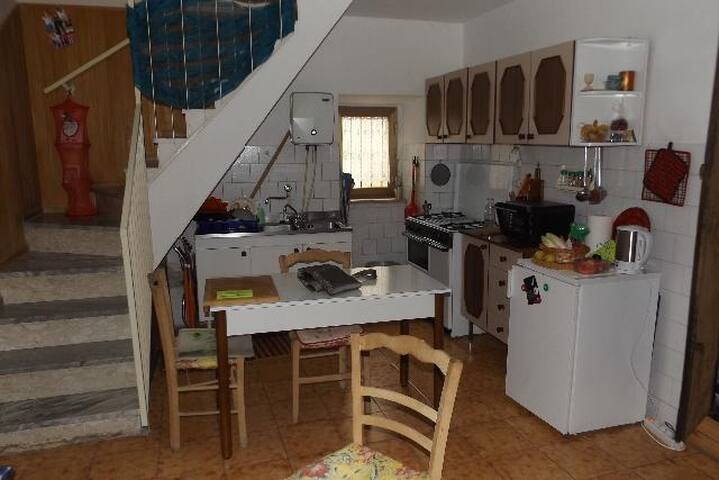 Rooms are simply furnished and practical. Wi / Fi available. Parking outside in fenced yard with entry through electric gate. four rooms with max capacity of 12 guests.
In a quiet Abruzzo country. Near one of the most beautiful parks in Italy, the National Park of Abruzzo, Lazio and Molise. A ca half an hour from the ski resort of Ovindoli and Campo Felice. On request we organize accompanied and guided tours. Upon request we offer transfer by private car from the train station and bus Avezzano to the b & b and vice versa.
San Benedetto dei Marsi is a quiet village with just over 3000 inhabitants. There is a central square, two pizzerias, one also to the cut, a restaurant and a steakhouse restaurant, 2 specialized in local burgers. a piscna Olympic 50x25mt with restaurant-pizzeria. from the archaeological point of view, in the village there is a Roman house dating back to the first century., a Roman road and a Roman amphitheater.
Ottimo posto tranquillo e vicino ai campi sciistici l'host anche se non presente è stato molto gentile e disponibile da rifare!
Stefano
2017-01-02T00:00:00Z
Casa molto bella e arredata con gusto e semplicita'. Essenziale con tutto quello che serve. Consigliatissima
Gian
2016-07-31T00:00:00Z
Room Type
Entire home/apt
---
Property Type
House
---
Accommodates
12
---
Bedrooms
San Benedetto Dei Marsi, Abruzzi, Italy