Single room with queen bed, dresser and night stand. Bathroom with shower immediately off the bedroom. Off-street parking and just 5 minutes to shopping, restaurants. Linens and bathroom essentials provided.
You'll be staying in the house's original master bedroom. The bedroom and bath have been recently updated, but some elements of the original remain, including the bedroom's hardwood floors and the original, solid wood bathroom door.
I enjoyed my stay at Tim's place. He was a friendly and respectable host! It worked out great!
Teresa
2017-03-24T00:00:00Z
This is a beautiful home with a lovely host. I would stay there again in a heartbeat.
Christian
2017-03-30T00:00:00Z
Tim is an incredible host, very welcoming and friendly while still giving us personal space. The room and bathroom (as well as the whole house) are beautiful, comfortable, and clean. Tim made sure we had everything we needed for a comfortable night. If we ever return to the area we would stay with him again. Thanks so much, we would highly recommend this host!!
Zack
2017-03-17T00:00:00Z
Room Type
Private room
---
Property Type
House
---
Accommodates
2
---
Bedrooms
Mount Airy, MD, United States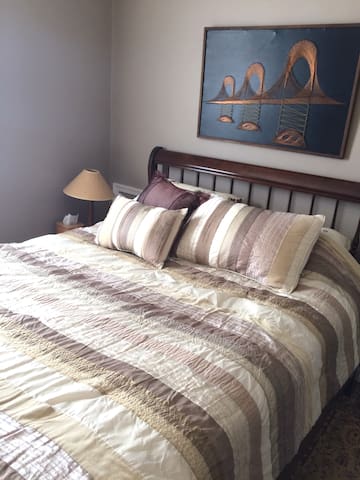 A turn of the century Victorian home located in the historic district of Mount Airy, MD. Our home is within a reasonable driving distance of D.C. and Baltimore, but is far enough removed to allow guests to enjoy a quiet and relaxing stay.
We have 2 separate rooms available for rent. Both rooms accommodate 2 people each. If you are interested in reserving the second room please return to the Air BnB site and go to 'Beautiful Victorian Home' to make your reservation. Large victorian house on 1.4 acres of land.
We are only a block away from downtown Mount Airy's restaurants, shops, and a great yoga studio.
John is a wonderful host who opened his beautiful home for us to enjoy. The house is conveniently located, being a short walking distance to historic downtown Mount Airy.
Michael
2016-10-13T00:00:00Z
Our host John was very easy & gracious to deal with. His home is very interesting & it's fun to see how it's being restored. Great & friendly pets! The house is very clean & welcoming. Thanks for being a host!
Ross
2017-01-07T00:00:00Z
Provided everything needed for a writers retreat- even over the top at times-with a very relaxed & casual - Loved the small town USA feel, beautiful house surrounded by trees, peaceful evenings on the porch, walking distance to everything. Spacious rooms in this custom crafted house on the hill -Host John was very talented & accommodating, felt like family - will definitely return! Most enjoyed his company while sipping wine & catching candy while watching the fireman 's parade go by!
morgan
2015-07-26T00:00:00Z
John made us feel welcome, despite a late arrival and short stay. We were visiting friends nearby and enjoyed our time here. The house is gracious and has been renovated extensively. We enjoyed sitting on the porch and discovering raspberries along the driveway. He already had guests scheduled after us, but he was able to accommodate our visit.
Greg
2015-07-12T00:00:00Z
We had a great time and really enjoyed meeting John and Ka'ren and their friends! A great stay! We plan to come back just to visit again - to visit our new friends ;)
Sue
2017-01-22T00:00:00Z
Very quiet and restful. Thank you! And a bonus we didn't expect: Tommy Hillfigger sheets!
Laura
2016-07-13T00:00:00Z
John is one of the kindest hosts I've stayed with. We were in Mt Airy to say goodbye to a friend in hospice at the Lorien - in other words, an emotionally trying trip. John made the arrangements with ease, welcomed us with warmth, and made it clear that we were welcome to as much privacy or company as we needed. We opted for company and enjoyed lively conversation in the evening. We woke up to fresh bagels that John had fetched before leaving for work. His hospitality helped alleviate the sadness of our journey. John's home is beautiful, clean, safe, well kept, and convenient to both the Lorien and Main Street businesses. Everything was as advertised in the listing. Because his business is nearby, John was able to communicate via text message and meet us upon our arrival even though our ETA was a moving target. Highly recommended.
Shannon
2015-10-28T00:00:00Z
John is a wonderful host and very accommoding. Made me feel very welcome, and his house is gorgeous. Hope to stay longer next time.
Bryan
2016-05-07T00:00:00Z
Room Type
Private room
---
Property Type
House
---
Accommodates
2
---
Bedrooms
Mount Airy, MD, United States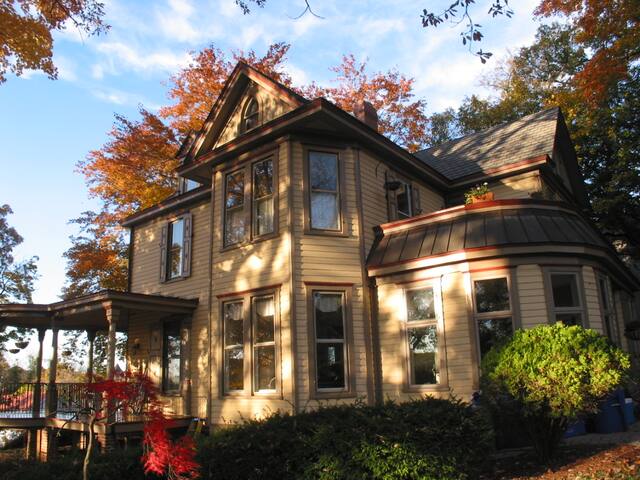 Enjoy a quiet time in the country setting with views of rolling hillsides,with just a train breaking the quiet once in a while. We set off the main road but are only35mins.from Baltimore Maryland& Washington DC.
Room Type
Private room
---
Property Type
House
---
Accommodates
3
---
Bedrooms
Mount Airy, MD, United States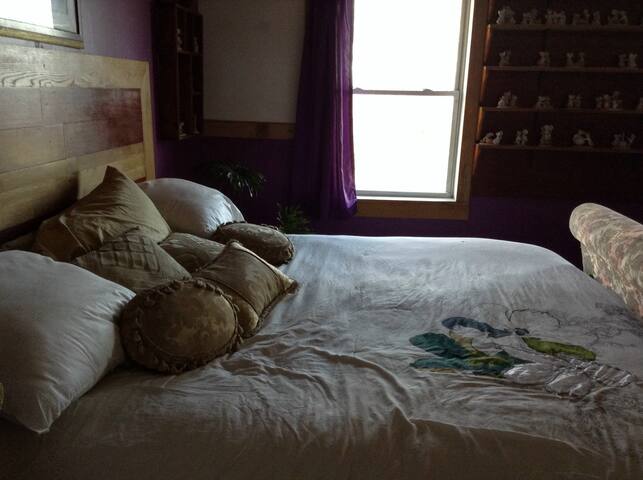 Cozy bedroom in cute house 1940's house with new full size bed, closet, dresser, nightstand and sitting chair. Coffee, tea, chai or hot chocolate available in the morning, along with bagels. Very close to Hood College, Fort Detrick and to great Frederick shopping! 30 min from Ski Liberty, 45 to Whitetail Resort. Run/walk/bike in adjacent Baker Park, visit downtown Frederick 1 mile away.
A bedroom with new full size bed, closet, nightstand, dresser and sitting chair. Very clean and cozy. Access to living room and dining room, place for work/laptop, access to kitchen. Keurig with coffee, tea, chai, hot chocolate for the morning, cream and sugar stocked. You can park behind the house if you let me know ahead of time, on the street is also fine. Backyard. Please don't park in the driveway!
Brigadoon is a very quiet neighborhood, lots of small houses build after WWII. Mostly older people but there is a nice family with small kids next door. Several restaurants within a short walking distance, downtown is exactly one mile away. Baker park is adjacent, a large, beautiful park with pond and historic tower. Great for running, biking.
Comfy, quiet, clean and practical. It s a giod place to stay. I recommend it
Felix
2017-03-20T00:00:00Z
Stayed there for an overnight stay during a road trip. Even though I arrived late, she explained everything in detail for smooth check in. Excellent room in a good neighborhood. Will definitely recommend!
Muhammad
2016-12-15T00:00:00Z
Treated as just one of family. The stay was great and comfortable...
Parimal
2016-12-20T00:00:00Z
Jennifer was really great, she even set out some tea for me after knowing how much I love tea. The neighborhood was quiet and safe. I highly recommend staying here.
Brianne
2017-01-31T00:00:00Z
Another great stay at Jennifer's house! No wonder it gets booked up in advance :)
Jennifer
2017-02-27T00:00:00Z
Everything was great. Jennifer is an excellent host and the place was really nice. A great value.
Robert
2016-10-21T00:00:00Z
Jennifer is a terrific host and the room is very comfortable. I would recommend this as a place to book.
Mary
2016-09-09T00:00:00Z
Great place - perfect for a stay over just outside of DC! A very welcoming host!
Joe
2016-12-16T00:00:00Z
Room Type
Private room
---
Property Type
House
---
Accommodates
1
---
Bedrooms
Frederick, MD, United States
Very peaceful townhome which will feel like your home away from home. Easy access to shopping areas, parks, and the highway not far from downtown.
Access to beautiful kitchen w island, living room, dining room, deck, patio, laundry room. Reserved parking included. Washer and dryer included. Cable and internet service are included. Only a few blocks from neighborhood shopping area with a grocery store and movie theater. A few minutes away from Downtown Frederick, 10 minutes away from mall. Light breakfast and refreshments provided.
Frederick is listed as one of the most friendliest neighborhoods in Maryland. It is very safe and quiet. There is something here for everyone. If you like the city vibe, visit Downtown. If you like nature, there are many parks with hiking and other things to do. Frederick is about 45 minutes from Washington, DC. My favorite restaurant in the area is Manalau. It's an Italian restaurant and the chef is from Italy. Great pasta and authentic Italian pizza. Virginia Wine Country is a great place to visit. I have a great itinerary to visit the local wineries if you are interested.
It was very good stay here at Courtney's place.
Vikas
2017-02-17T00:00:00Z
Courtney went out of her way to assist me in arriving at an unusual time. Quiet surroundings.
Mary
2016-12-27T00:00:00Z
Courtney was absolutely wonderful! She made me feel very welcome and right at home. We had some wonderful conversations and she was always offering me more snacks and tea! If I go back to Frederick I would definitely want to stay here again!
Amy
2016-12-04T00:00:00Z
My stay was better than expected. The room was very comfortable and Courtney was more than gracious. She's very knowledgeable of the area and an exceptional hostess. I look forward to staying here again.
Pitman
2017-03-05T00:00:00Z
Cute place is a convenient location. Courtney has a cat that I don't think is mentioned on her page so beware if you're allergic. Otherwise, I'd stay there again.
Rachel
2017-02-09T00:00:00Z
Courtney was polite and understanding. I got to Frederick a little early and she was at the house waiting to let me check in. She seemed present when I checked out early in the morning. The parts of the house that I saw were clean. The room being rented and associated bathroom were near and clean. The kitchen and dining room were spacious and neat/clean.
Shawn
2017-04-01T00:00:00Z
Absolutely one of the most comfortable places. Shops and grocery stores are walking distance but a quick Uber ride can take you downtown Historic district for more independent restaurants and bars. The natural surroundings give the whole environment a calm from the hustle and bustle of the nations capital. Courtney was extremely helpful and all the small details to help a guest were met.
Winston
2016-12-23T00:00:00Z
Courtney is super friendly, knowledgeable, and responds like a flash. While her cat is a little too shy, he is so adorable to look at. The house is incredibly spacious!
Kelvin
2017-01-21T00:00:00Z
Room Type
Private room
---
Property Type
House
---
Accommodates
1
---
Bedrooms
Frederick, MD, United States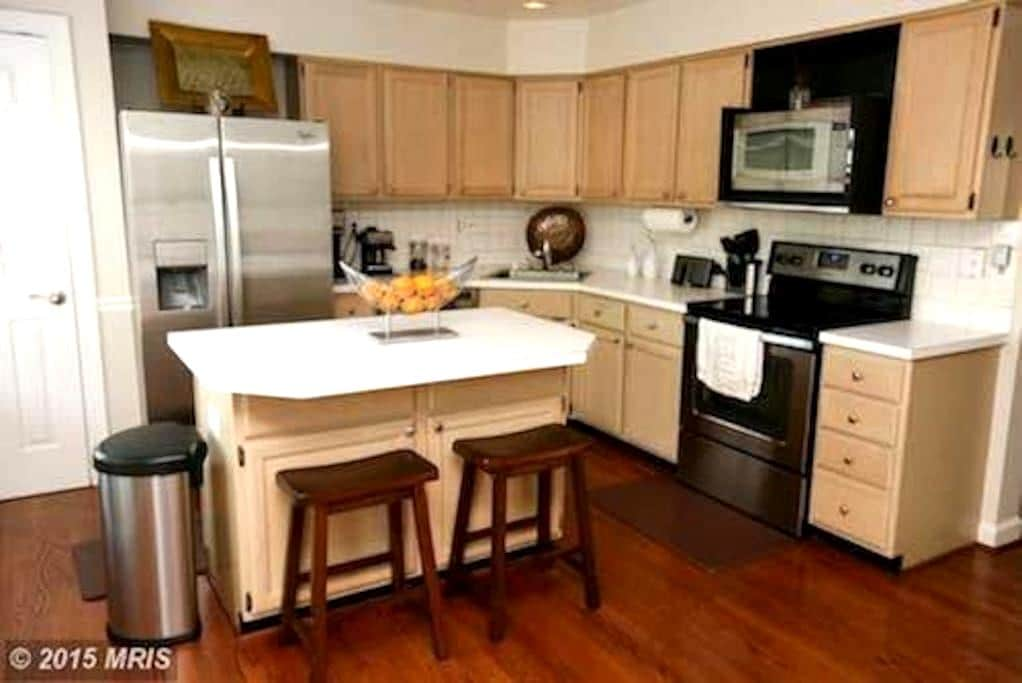 If you like the show Fixer-Upper, you'll love the Uptown Cottage! Near Downtown Frederick, great restaurants, beautiful parks, historic sites and shopping. Less than an hour from Baltimore and Washington DC. Fully renovated, a great space for relaxing when you are not out and about. You'll enjoy the high ceilings (shiplap), the big screened in porch, gas grill and the really comfortable accommodations. Good for couples, solo adventurers, business travelers, and families.
Equipped with full kitchen including, toaster, Keurig (and coffee), pots and pans, dishwasher, fridge w/ ice maker and outdoor grill. Home has central air and ceiling fans. Yard and screened porch for relaxing on warm days and nights. New Serta pillow top beds for your comfort. Smart TV and wifi. Easy, one level living in this bright home. Sheets and towels are included as well as the use of the washer and dryer.
Located in a quiet, quaint neighborhood less than 2 miles from beautiful downtown Frederick with it's great restaurants, shops and Baker Park.
We stayed at Peter & Lisa's place over a long weekend to get away from DC and check out Frederick. They were great with the simple & straight forward directions for checking in, as well as some tips for places to see during our stay. The cottage is in a nice & quiet neighborhood and only a 10min drive to downtown Frederick and an easy hop onto Rt 15 to access the highway for longer trips in the area. We thoroughly enjoyed our stay and would definitely consider coming back in the warmer seasons!
Bo
2017-01-16T00:00:00Z
We just finished our second stay at the cottage and again everything was great. This is a beautiful property and it is very easy to just check in and enjoy yourself!
Cassie
2017-01-06T00:00:00Z
Peter & Lisa are accommodating, attentive and thoughtful. They make sure you enjoy your time in the city and in their cottage. It want to getaway, while still feeling like you are at home, definitely book this cottage.
Melanie
2017-01-22T00:00:00Z
The Uptown Cottage is very cozy & centrally located to shops & restaurants. Peter & Lisa go out of their way to make sure your stay is perfect. I highly recommend the Uptown Cottage & will stay there again when I am in the area.
Kimberly
2017-02-12T00:00:00Z
No question - 5 stars. My family has travelled quite a bit over the past year or so and we often use Airbnb. We rarely have found hosts or accommodations that far exceed our expectations (as our expectations are quite high to begin with). This place was definitely an exception. Fantastic location, convenient to everything in Frederick. Parking for 2 cars right next to the house. Clean. Beautifully furnished & decorated. And clean. Great back yard and enclosed porch. Quiet neighborhood even though it's close to so much. Plenty of room for a family of 4. Very thoughtful hosts who are serious about being the best hosts in town. We will definitely be returning when we get the chance!
Regina
2017-03-25T00:00:00Z
Exceptional and perfect for the business traveler
Dusty
2017-01-20T00:00:00Z
Peter and Lisa were very welcoming and even had resources available for nearby shopping and attractions. This was an extremely clean and beautiful cottage and I would definitely recommend staying here.
Scott
2017-01-08T00:00:00Z
My friends and I really enjoyed our stay. The cottage house had everything we needed and more. Although we didn't get around to using all of the amenities, it was great to know we had the options, such as the grill, smart TV, new appliances, washer/dryer and extra beds. As native Marylanders, we also appreciated the Maryland themed decor around the house! The house is in a residential neighborhood, but a 5 minute drive from Frederick city center, major grocery stores, coffee shops and shopping centers. Definitely recommend this property to couples, families and small groups if they stay in Frederick!
Shazad
2017-04-02T00:00:00Z
Room Type
Entire home/apt
---
Property Type
House
---
Accommodates
6
---
Bedrooms
Frederick, MD, United States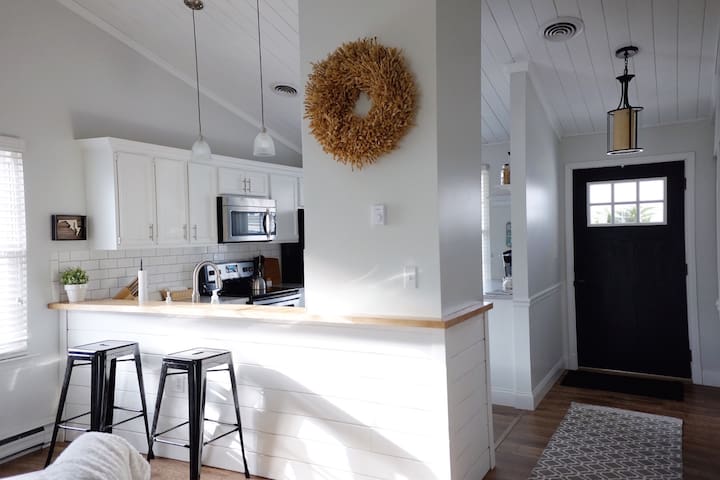 Lovely, private bedroom with shared bath boasts cool colors, new paint and floors. Ideal for an overnight stay whether your traveling on business or pleasure. Twin bed with wifi, keeps the room simple and perfect to unwind in. Toiletries, coffee, tea and fruit available in a.m. We love our guests, whether business or casual. Just off the hwy, mo. discounts too! Please note that this home has multiple listings and at times additional guests may be sharing this home with the owners. Thank you
Beautiful quaint room with shared bath, hosts fresh paint in both. Nice, quiet, friendly family home. We respect space and try to give privacy to guests while at the same time balancing a welcome atmosphere and company. Closet with hangers, extra blankets and dresser drawers. You'll find extra towels and toiletries in the bathroom to keep things easy while here. Fresh linens, Kitchen space and much more. Tv is found in the shared living room, with Cable, Xbox, games and movies available for use. Wifi and parking are free, street parking is offered with this listing. Ask about our monthly discounted rates.
Friendly, family neighborhood with walking trails, Walking distance to shops, restaurants, grocery stores and drug stores. Wegmans, Super Walmart, Black Hog, Benigans, Sport and Health, CVS and much more all within walking distance.
Nice accommodation for any individual who want some kind of refreshment.
Srikanth
2017-03-04T00:00:00Z
Heather was awesome! Very kind and attentive. I would highly recommend her home!
Matthew
2016-12-29T00:00:00Z
I've been saying here for awhile and it has been a convenient location for me while I am working downtown (10 minutes or less drive). It's located close some restaurants, and is easily accessible. Heather is a very accommodating host and I've had an enjoyable stay.
John
2016-08-21T00:00:00Z
Heather was a very nice host and welcomed me into her home for a night. She made sure I had what I needed to rest well and that I knew I was welcome to make myself at home. It was a very nice stay overall!
Joshua
2016-05-05T00:00:00Z
Is going to be my third week staying with Heather and I can't (URL HIDDEN) a great place everything is 3min away and her kids are very friendly.
Andres
2016-07-16T00:00:00Z
Packed my bags ..loaded my car... headed East to find the most amazing family. Moving here from the PNW, I was a little nervous to book a week in a strangers house. That stranger is now who I consider family. In one week, I felt so loved and care for but given proper space. The home is warm and friendly and very clean. Recommend this to anyone coming to Frederick area. So close to D.C. And Baltimore and so much more! Special treat is Heather knowledge of the Application trail. Her boys are very kind and respectful and those puppies... ADORABLE! Can't thank you enough.
Sheri
2017-03-31T00:00:00Z
Nice neighborhood and a lovely family.
Meaghan
2016-12-04T00:00:00Z
Great hospitality and cost and location
Keisha
2017-01-13T00:00:00Z
Room Type
Private room
---
Property Type
House
---
Accommodates
1
---
Bedrooms
Frederick, MD, United States
Location minutes from Downtown Frederick in a lovely quite neighborhood. Within walking distance to a Park just minutes from Westview Promenade with plenty of Restaurants and Shopping. Our place is good for couples, solo adventurers, and business travelers. We are located 9 miles from the C&O Canal at Nolands Ferry. Onsite Massage Therapy available for an additional fee.
Lovely Colonial Home with lots of space to unwind and relax. There in a hot tub to soak in and Massage Therapy is available for an additional fee
We are located 9 miles from the C&O Canal at Nolands Ferry. The Location is very convenient to Shopping, Parks, Downtown Frederick and Countless Restaurants. Very easy access to Rt 70 , Rt 15 and Rt 270.
Large rooms, very friendly couple Great Value
Dana
2017-03-19T00:00:00Z
Room Type
Private room
---
Property Type
House
---
Accommodates
4
---
Bedrooms
Frederick, MD, United States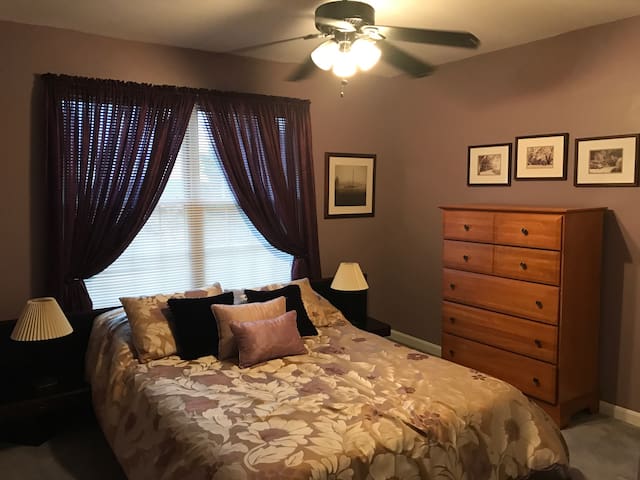 My place is close to parks, restaurants and dining, art and culture, downtown Frederick, Carroll Creek Project, and interstates.. You'll love my place because of the light, the comfy bed, quiet setting, and the gardens.. My place is good for couples, solo adventurers, and business travelers. This is a full apartment with its own private entrance.
Everything about this Cozy Suite goes even beyond the 5 stars attributed to it. Patricia has gone beyond the ordinary to make one's visit pleasant and like a "second home". I was amazed at all the amenities she added just to make sure her guests had everything they needed for a home-away-from-home.
Mary
2016-11-01T00:00:00Z
This was honestly the best and cleanest Airbnb ive ever stayed at. Communication was excellent, the neighborhood is amazing, the home is super clean and the place had everything I could ever need from breakfast to snacks, a comfortable bed and sofa and huge television, the list goes on. I hope to visit again soon!
Darwin Dion
2016-08-28T00:00:00Z
Patricia has such a welcoming attitude that every visit feels like returning home.
Mary
2016-12-09T00:00:00Z
I stay here frequently because as I work away from home. This Airbnb is so comfy and cozy, it feels like a home-away-from-home. And Patricia is so helpful and a marvelous host. Would highly recommend.
Mary
2016-11-15T00:00:00Z
Very clean and quiet! Patricia had to shovel the snow to the side entrance and had put down salt which was all done prior to our arrival. We were surprised to find water, yogurt, coffee and fruit (with other goodies) in the kitchen. Took about 8 minutes to drive to downtown Frederick. Highly recommended!
Debbie
2017-03-16T00:00:00Z
Can't think of any added item that has not already been thought of by this fabulous Airbnb hostess! Perfection!
Mary
2017-01-15T00:00:00Z
It was wonderful to stay there. The host makes me feel confortable and safe. the village is safe and very good for refresh.
jaeseong
2016-08-13T00:00:00Z
Patricia got out in the cold and snow to shovel the walkway clean for me. Awesome lady! Always thinks ahead for ways to make one's visit perfect!
Mary
2016-12-18T00:00:00Z
Room Type
Private room
---
Property Type
House
---
Accommodates
2
---
Bedrooms
Frederick, MD, United States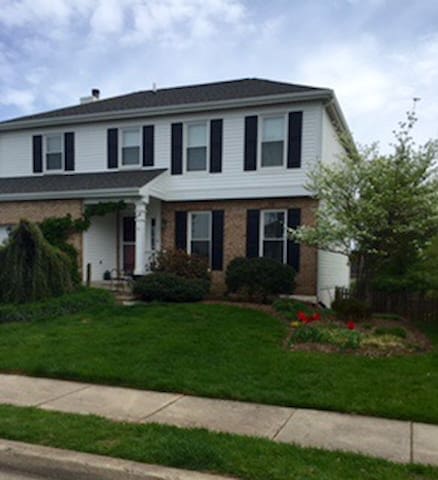 Charming 2BR house in quiet neighborhood one mile from downtown Frederick. Lovingly renovated with regard to classic charm. Very close to Hood College, Fort Detrick, and Baker Park. Coffee and bagels included. Diner-style seating for 6 people with window to kitchen. Great shopping nearby! Run/walk/bike in adjacent Baker Park, many restaurants and businesses walkable.
Two bedrooms with dressers and closets, one queen and one full size bed. Dining area for 6, also very good workspace. Sleeper sofa for extra guests. 48" TV with cable, internet, wifi. Parking behind the house or on the street. Friendly, quiet neighborhood. Newly renovated, original charm maintained when possible.
Friendly and very quiet! It's called Brigadoon and most homes were built for soldiers returning from WWII. Easy walk to Baker Park, great place for a run or walk, convenient to 15 and one mile from all of the great restaurants downtown.
We had a great time in Frederick! Jennifer was very responsive over text, and set us up with everything we could need for a comfortable stay. The place is charming and has a lot of space! Comfortably slept all three of us. We will definitely hit her up if we return!
Margaret
2016-09-06T00:00:00Z
Jennifer was a very responsive and gracious host.
Mike
2017-03-01T00:00:00Z
Jennifer was really good at communicating! Always available and responded quickly. Good location as it was close to downtown and many other amenities. Her neighbors were also nice and I felt safe there. Spacious. Nice of her to leave food and bagels available. Would stay again!
Kate
2016-10-16T00:00:00Z
A cozy place.... As expected. Worked perfectly for us. We enjoyed the coffee and the bagels. :) Jennifer greeted us with very accommodating check in instructions and left us everything we needed for a good nights sleep. Thank you! Would recommend to anyone looking for a place to crash in Frederick.
Kyle
2016-09-18T00:00:00Z
The location is great. You won't find very many places to stay that are closer to downtown Frederick. More than most of my Airbnb stays, the house feels like someone actually lives there. Jennifer was very responsive.
Jeffrey
2016-10-09T00:00:00Z
This is a great place to stay that is close to downtown Frederick.
Robert
2017-02-20T00:00:00Z
Cute home with a location close to downtown. Jennifer was very helpful and responsive!
Varun
2017-01-08T00:00:00Z
Everything was great. It's a small house, but was perfect for what we needed.
Joseph
2017-04-05T00:00:00Z
Room Type
Entire home/apt
---
Property Type
House
---
Accommodates
4
---
Bedrooms
Frederick, MD, United States
Beautiful 1920s two-story 3/1 duplex in downtown historic Frederick. Beautiful hardwood floors and large windows. Walk to restaurants, shopping, nightlife. Kitchen is fully stocked with everything you need. Our home is convenient to everything yet quiet with no street noise. Living/dining area perfect for relaxing. Gorgeous custom built farmhouse table. Family room with cozy wood stove, TV and large airy windows and private backyard.
1200 sq ft. home in great location to downtown Frederick. Restaurants and all Frederick has to offer is 8 blocks away! Our home has three bedrooms, two with queen size beds, the third bedroom is set up with office space and futon sofa. Stylish 1920s two-story 3/1 duplex in downtown historic Frederick. Beautiful hardwood floors and large windows. Walk to restaurants, shopping, nightlife. Kitchen is fully stocked with everything you need. Our home is convenient to everything yet quiet with no street noise. Cozy Living/dining area perfect for relaxing. Gorgeous custom built farmhouse table. Fully equiped kitchen stocked with basic staples. The lower floor offers a living room (comfy sectional sofa, no TV), a large farmhouse style dining room, modern kitchen with granite and stainless steel appliances and a large sunroom with two sofas, TV and wood burning stove. Upstairs, three bedrooms have a queen/queen/futon bed. One full bath upstairs with claw foot tub/shower. Historic houses such as this one, did not add electrical outlet in bathroom, so we set up a hair drying station in the 2nd bedroom! The basement has plenty of storage and full size washer/dryer. Our place is 8 blocks from the center of downtown Frederick, you can walk everywhere in town (or ride bikes like we do...) Street parking in front of house, but there is a garage at back of property if preferred. We never use it.. but you can if you want! Safety features Smoke/carbon monoxide detector.
The neighborhood is just off N. Market street, our home is situated a block off Market street. Around the corner is Lucky's Vietnamese restaurant and only 8 blocks away is the center of Frederick, with a multitude of restaurants and bars/nightlife to choose from. Baker park is walking distance, with beautiful walking trails, bandshell with summer music concerts, tennis, pool and play ground for children. Interested in cultural events? We love the Weinberg Theater.. there is always so much to do in Frederick.
Beautiful home in great location in Frederick. A few blocks to downtown and the best restaurants. The home was comfortable with all the amenities. We loved it and will stay again for sure.
Jarad
2017-03-14T00:00:00Z
Sandra's place was perfect for my husband and I's get away in Frederick. The house was spacious, clean and the bed was super comfy -it had everything we needed! We wanted to explore the restaurants and breweries and braved the cold and snow and walked the few blocks to downtown where everything is. Sandra and her husband also had great recommendations for where to eat and drink! Thanks for a great stay!
TashCros
2017-03-15T00:00:00Z
Room Type
Entire home/apt
---
Property Type
House
---
Accommodates
4
---
Bedrooms
Frederick, MD, United States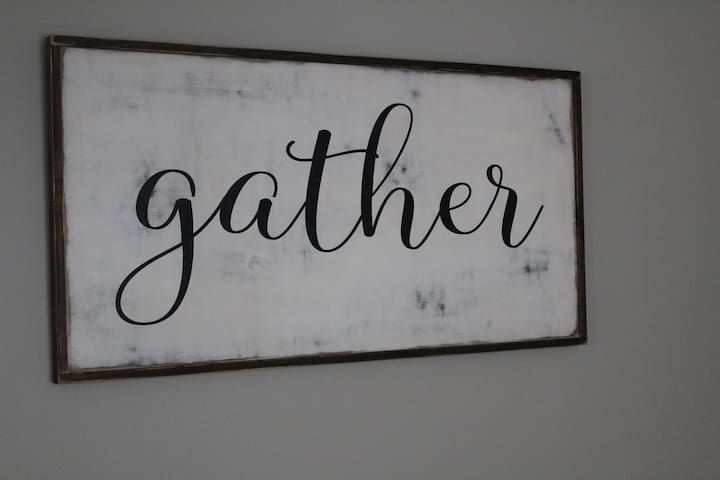 Come stay a while in this spacious, comfortable, quiet, well decorated home a short walk from all the action in Downtown Frederick. It features 3 Bedrooms: 2 Queen & 1 Full beds, & a couch bed, sleeping 8 guests max. Bedrooms feature full privacy shades for an ultimate sleeping experience. There is plenty of space to relax: Living room, formal dining room, updated kitchen, three porches, outdoor patio, & fenced backyard. There is plentiful parking, and open park space around the house.
Original wood floors & woodwork help to make the space warm & inviting. Our eclectic decor is unique & fun w/ mix of midcentury, rustic, & traditional. Well thought out design, yet cozy! I'm constantly re-investing in amenities to benefit the guest experience. There are Three Guest Bedrooms plus a pull out couch bed in the living room. One features a Queen bed, balcony, & washer & dryer in the closet. The 2nd has a very comfortable Full bed w/ a dresser & closet. The Third bedroom is the Master Suite. It features a Queen bed and en suite full bathroom with shower and a walk in closet, as well as a bench seating bay window. The first two bedrooms share a Full bathroom, which is located conveniently between them, which also provides added privacy. There's also a half bath "powder room" just off the kitchen. The house has 3 porches: Front, Back, & a Balcony overlooking the back yard from the Queen guest room. They all make great coffee spots or places to relax anytime. There is also a fully fenced in backyard & patio stocked w/ outdoor furnishings & a grill.
It's peaceful and safe here. Much quieter than being right on Market St, yet super close to all attractions. Within 10-15 mins you can walk to the heart of downtown. Baker Park and the Blue Side Tavern are even closer (8-10 min. walk). You can watch fireworks from the Frederick Keys games from the backyard or balcony during baseball season weekend home games. It's really convenient to be able to park your car & explore on foot during your stay. The neighbors are laid back. It's an ideal home base for whatever brings you to Frederick.
Samantha was very communicative. The house is very cute, and a short ride from the downtown strip. The beds were comfortable and there was plenty of space for our entire group! We enjoyed our stay.
Amanda
2016-08-28T00:00:00Z
We had a very pleasant stay at Sam and Elijah's home. We(husband, toddler and I) booked the house with another couple and their baby for a family wedding we were attending in town. We had a very comfortable stay, the downstairs was spacious and gave the kids plenty of room to play and the kitchen is well equipped too. Downtown Frederick was no more than a 10 minute walk, so the parks, restaurants and shopping were all at our fingertips. The bedrooms upstairs accommodated four adults and two babies(and portable cribs) well, though the smaller bedroom was a bit tight with the portable crib, it worked well for us. Sam and Elijah were very accommodating and were a quick call or text away our whole stay.
Emily
2015-10-11T00:00:00Z
An absolutely wonderful stay! The house is gorgeous - amazing style and a very cute house and neighborhood, legit 10 minute walk to downtown Frederick. The beds were super comfortable, lots of community space to hang out (large kitchen, backyard, etc) if with a group. The house was PERFECT! Sam was incredibly communicative, check-in couldn't have been easier and if I am ever in the area again, I will be staying here!
Paige
2016-09-25T00:00:00Z
Samantha and her home are both beautiful! She was amazing!! Super helpful and made sure any accommodations I needed, she had. Her home is so beautiful, I would definitely stay there again and recommend ANYONE to stay there .
Mercedes
2016-06-20T00:00:00Z
We spent a lovely weekend in Frederick chez Samantha. The space is charming and warm and easy walking distance to downtown. Samantha and Elijah were responsive and check-in/check-out couldn't have been easier.
Joanna
2016-03-27T00:00:00Z
Samantha is a wonderful host with a lovely home and we had such a nice time staying here. Its spacious and comfortable, well maintained and clean at a great location within walking distance to everything downtown. I would definitely recommend this house to anyone looking to stay in Frederick.
Andrea
2016-10-02T00:00:00Z
The listing was spot-on, and exactly as we expected. We rented the home in lieu of a hotel room, because we wanted a more comfortable sleeping situation for ourselves and young daughter while visiting friends for the weekend, and got exactly that. The neighborhood was quiet and safe and the home was clean and inviting.
Kate
2015-09-13T00:00:00Z
We really enjoyed our visit to Frederick and our stay at Samantha's home. The house is spacious, well-appointed, and very inviting. There are lots of great outdoor spaces (front porch, upstairs back balcony, backyard) to enjoy the nice weather. It's clear that Samantha has an eye for design as there are neat little touches throughout. The only clarification I'd add is that while the house is an easy walk to downtown, it's not smack-dab in the middle of it.
Matt
2016-05-31T00:00:00Z
Room Type
Entire home/apt
---
Property Type
House
---
Accommodates
8
---
Bedrooms
Frederick, MD, United States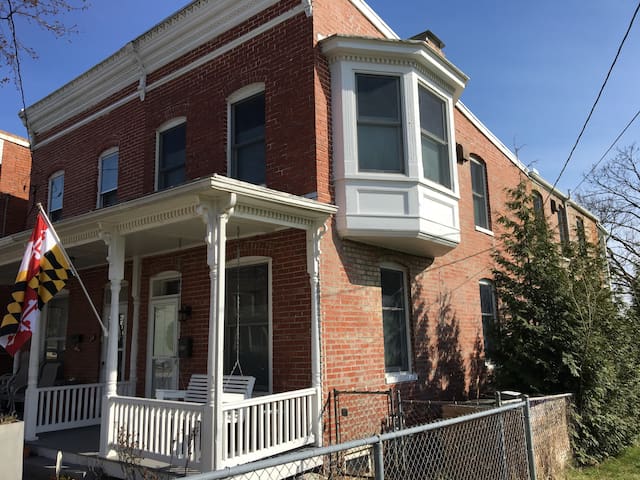 Our bright, freshly redecorated basement suite is the cozy home away from home perfect for your next trip!
When you stay here, this bright, cozy basement suite is ALL yours. There is a bedroom with a queen bed and two more guests can be accommodated by either the couches or our pillowtop air mattress. In the living area, the TV has a Roku for accessing Netflix or other streaming apps. And feel free to curl up under a blanket with a book or play one of the board games in the cupboard. In the kitchenette you will find a microwave, mini-fridge, and coffee station. We have stocked it with water and breakfast/snacks for you to enjoy, too!
Our quaint suburban neighborhood offers free street parking and walking trails along the Monocacy River. There is also a bus stop at the entrance to the neighborhood. A short drive will get you right downtown to Frederick's unique shops and awesome restaurants. If you feel like sticking closer to home, not a mile away is a plaza with Panera Bread, a Giant supermarket, Starbucks, California Tortilla and more! A bit further is a plaza with more shops and restaurants including Pie 5, The Noodle Company, and Black Hog BBQ to name a few.
Room Type
Entire home/apt
---
Property Type
House
---
Accommodates
4
---
Bedrooms
Frederick, MD, United States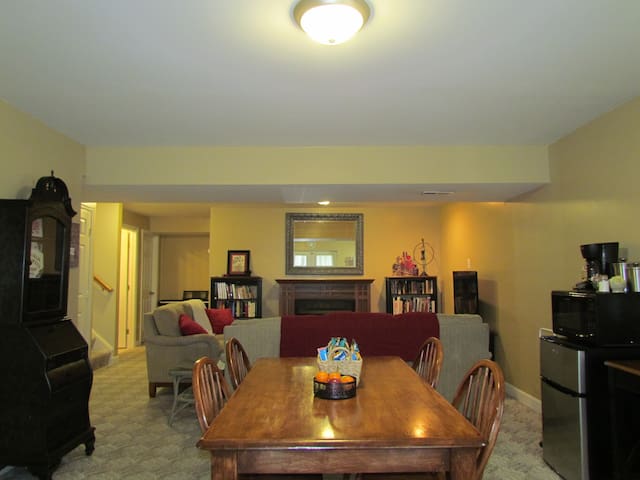 Welcome to the historic district of downtown Frederick and our cozy row home with courtyard and balcony. Baker Park is steps from the house and the city center only three blocks away. Walk to boutique shopping, experience great food, and enjoy lively nightlife. DC is an hour drive or take the MARC train. You'll love our place because of the neighborhood, a free parking spot, soy lattes for breakfast, and the gourmet kitchen at your disposal. Our little rescue dogs look forward to meeting you!
The house is in the historic district of downtown Frederick and is a combination of two late 1800's houses lovingly combined into one home. When visiting our home, your room will have the full finished third floor bedroom with single bed and chair and table. (An elevated air mattress is available for a second guest.) You will be able to use the balcony at the bottom of the bedroom stairs or patio if you like. Or feel free to enjoy the living room downstairs! Our guests will have access to a private bathroom as well. We do ask that guests follow the house rules.
The neighborhood is quiet and Baker Park is just steps away. Baker Park often holds concerts and events. Walk to VOLT, Glory Doughnuts, NOLA, and Zoe's Chocolates.
Stephanie and Jason were great!! They were so kind and welcoming and left out snacks and coffee for us which I always appreciate! The room was so adorable and cozy with the exposed brick and beams-exactly what I was looking for in my stay in Frederick.
Biz
2016-11-13T00:00:00Z
Stephanie and Jason couldn't have been nicer, and their home is heart-achingly adorable. They were more than accommodating and did everything to make me comfortable and feel at home. Definitely recommend!
Stacy
2016-12-09T00:00:00Z
We were in Frederick for the night. Stephanie and Jason were accommodating, friendly and communicative. They were very prepared for guests with some nice extras like coffee and snacks available for us. The place was clean and cozy. Even though it was in the heart of town, it was a quiet space. Fantastic location, walkable to everything. Perfect for our needs.
Kristen
2017-03-25T00:00:00Z
Cute house, cute dogs, perfect place to stay!
Mercedes
2017-03-12T00:00:00Z
I stayed with Stephanie and Jason while on a business trip in Frederick. Their home was exactly what I needed, a safe, quiet, clean and centrally located home base. The room upstairs is cozy and adorable just as pictured, perfect for one person looking for a place to lay their head and store their belongings. They offered coffee, tea and snack which was super nice. I highly recommend this for a solo traveller in town for business or to explore.
Julie
2017-01-13T00:00:00Z
The place is neat and organized and the room I stayed in is nice and cozy. The balcony is good for a cup of coffee and to hang around. The tray with a nice selection of teas, coffees and other snacks and fruits is thoughtful and it helps a person like me who is lazy, new to the place and has an erratic eating schedule. The dogs are cute and friendly and it's great to have them running around. Stephanie and Jason were great hosts and they made sure that my stay was a comfortable one right from the time the booking was made. I had several questions to ask them throughout the stay and they helped me in every way possible. Jason took time out to drop me off to the Transit Center as well. A place I would definitely recommend.
Vedanta
2016-10-22T00:00:00Z
Stephanie and her husband were so nice and chatted with me for an hour over tea. Their dog Pippen is a friendly muffin. The house is clean and nicely decorated. It was really nice how there was a toasted bagel for me every morning!
Eileen
2016-10-19T00:00:00Z
Stephanie is very accessible and reminds you where to park and what entrance to use. If there are any problems, she is available by text or cell phone.
Eileen
2016-11-09T00:00:00Z
Room Type
Private room
---
Property Type
House
---
Accommodates
2
---
Bedrooms
Frederick, MD, United States
We are a quiet, tidy couple looking to rent out one bedroom in our three bedroom home. Guests can stay for one night or multiple nights. We are less than two blocks from Fort Detrick and a short 4 block walk from the Frederick Hospital and Hood College. Our guest bedroom would be great for visiting military personnel, scientists, or single tourists interested in exploring Historic Frederick. Come visit! We would love to meet you.
Maureen and Brett are charming and gracious hosts. Their house is cozy and welcoming. They were open to a last minute booking which ensured I had a roof over my head. I very much enjoyed my stay.
Kate
2016-12-09T00:00:00Z
Maureen was a very nice host. The house is centrally located and close to downtown Frederick. My one main issue is that the bed provided is extremely uncomfortable . It is not flat, It is very hard and it tips when you either sleep or sit while on the right side.
Thomas
2017-01-05T00:00:00Z
Brett was very welcoming and offered tea and showed me everything right away. The location is on a main street in Frederick but the on road parking was safe.
Loretta
2016-12-22T00:00:00Z
Maureen and Brett were very gracious hosts and made sure i had everything I needed from the start. I didn't need to bring anything but the bare necessities. They live in a relatively quiet neighborhood that's very walkable anytime during the day. It's also a few minutes drive from Downtown which has a great selection of restaurants and shops. Overall, I would definitely stay here again!
Derek
2017-02-10T00:00:00Z
I had a perfect stay. A great couple that communicated very well with me, as I was on the road and they accommodated my spur of the moment request. A really great place in a great neighborhood with friendly hosts.
Jeff
2016-12-05T00:00:00Z
Room Type
Private room
---
Property Type
House
---
Accommodates
2
---
Bedrooms
Frederick, MD, United States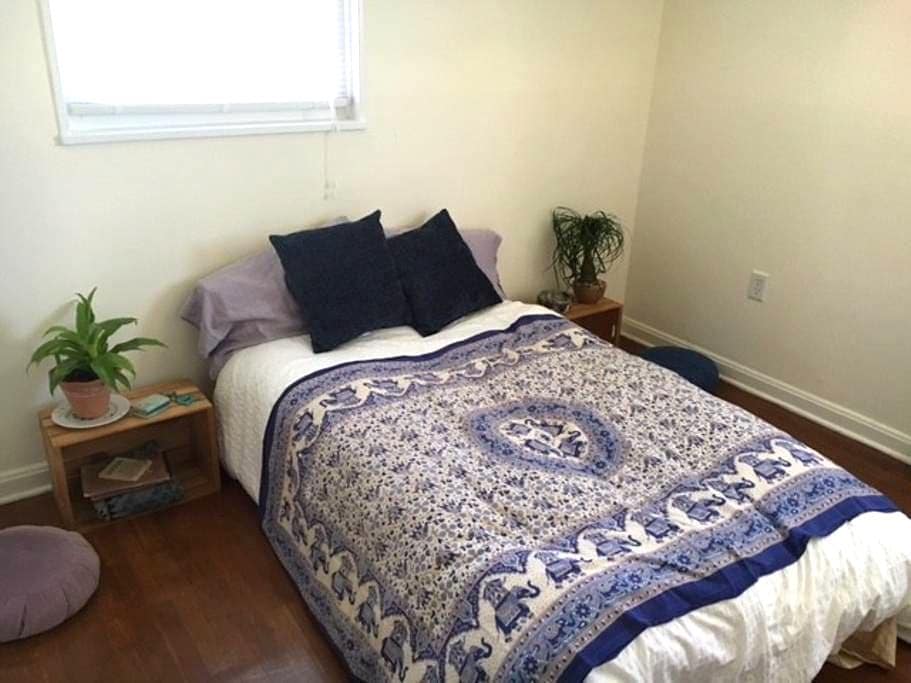 Our basement is recently updated and ready for your stay. You have the entire basement to yourself, including bedroom, living area, kitchenette and bathroom. Enjoy easy access to downtown Frederick and city parks or hang out in our spacious backyard.
Our basement suite includes a spacious bedroom with a queen size bed, secretary-style desk, and comfy reading chair. The living area has a couch, loveseat, and game collection. There is also a large SmartTV with access to the wifi. We don't have cable stations but guests are welcome to login to Netflix, Hulu, or other streaming services. A fancy queen-size air mattress can be used for guests as well. The kitchenette has a microwave, toaster oven, coffee pot, hot plate, medium fridge and dining area with bistro table (sits two for sure, and can accommodate four by pulling over two stools). There is also the necessary plates, flatware, etc. for up to four guests. The private bathroom has a shower, towels, and a basket of toiletries in case you forget something. Our standard breakfast offering is homemade muffins plus a basket of fruit on the counter and yogurt in your fridge when you arrive. This is flexible, so please let us know about any allergies or aversions.
Our neighborhood is close to downtown but without all the hustle and bustle. The homes were built in the 1940's and 1950's, and the residents are a mix of original owners, young families, and middle-aged professionals. The on-street parking is free and there is plenty of it. Our house is also conveniently located a few blocks from Hood College and Ft. Detrick including NIH and NCI. So if you're in town for work, we're a good home away from home.
Great place to stay in Frederick! Place was very clean and a close bike ride/car ride to downtown. Very friendly hosts. We'll be back when visiting Frederick.
Thomas
2015-10-11T00:00:00Z
Kristen was phenomenal. They were very welcoming and friendly. She was home when we arrived and explained everything to us including great dinner recommendations. She even surprised us with muffins. No complaints.
Shane
2016-09-11T00:00:00Z
Booked my stay with Kristen at her house in Frederick. She was great at answering emails and being very flexible about arrival time, etc. Made me great home-made muffins for my arrival. The basement apartment is clean and well organized. She provided a basket of toiletries in case I forgot something, which was nice! The only drawback was no cable on the huge television. Otherwise, she and her family were quiet and did not disturb me in any way.
Michael
2016-06-30T00:00:00Z
We loved staying at this place! They were very friendly, making arrangements for our 15 month-old who was traveling with us. They were courteous, kind, gave us our space, and gave us dinner recommendations, which we followed and were very happy with. If we come through again (which we might, because it seems like there is SO MUCH to do in Frederick!) we will definitely look to stay with them again if possible. Also, the breakfast was delicious.
Thomas
2015-10-12T00:00:00Z
Kristen and Kurtis were excellent hosts that went above and beyond to make our stay enjoyable. The space was clean and organized, the bed was super comfortable and there were even a few toiletries in case we forgot something. Breakfast (muffins, fruit and yogurt) was provided, which was a nice touch, and the location is extremely convenient to downtown. My wife and I stayed in town so that I could surprise her with an anniversary dinner and Kristen even helped me to coordinate getting an item to the photographer who was meeting us there. We would stay at Kristen and Kurtis' place again in a heartbeat!
Josh
2016-05-02T00:00:00Z
We both felt very welcomed by Kristen and her hubby, and her cute little 4 year old daughter, who showed us right where the bedroom was! We had privacy, with separate entrance to basement, but knew we would get immediate attention from Kristen if needed, via phone or text. We had the most delicious muffins waiting for us, and fruit and coffee available, which all was unexpected. I loved the neighborhood, very nice homes with yards kept up, and super close to downtown. Central location in Frederick, so really convenient to most places.
Tom
2016-11-17T00:00:00Z
Great all around.
Jeremiah
2015-09-16T00:00:00Z
Perfect in every way. I epsecially liked the board games!
Jeremiah
2015-10-15T00:00:00Z
Room Type
Private room
---
Property Type
House
---
Accommodates
4
---
Bedrooms
Frederick, MD, United States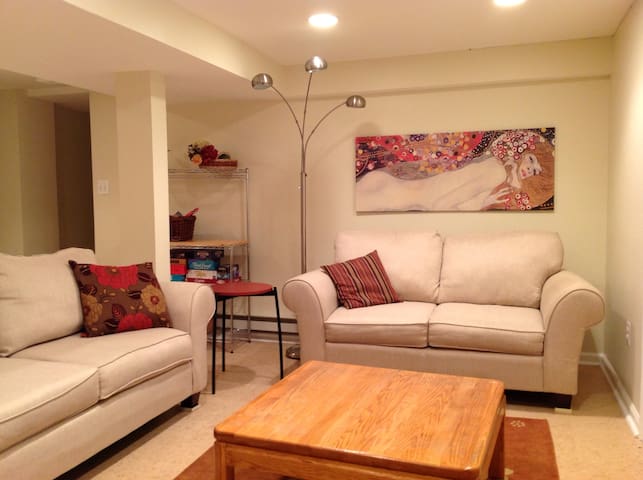 This charming luxury townhouse is a relaxing base to enjoy Frederick. Less than a mile to downtown Frederick shopping and restaurants. Enjoy the unique indoor/outdoor loft area with cozy fireplace - perfect place to relax with a glass of wine in the evenings after exploring Frederick! In addition to the loft area, the booking includes a private room (queen bed) and private bathroom. The townhouse is newly constructed in the past year.
Luxury townhouse, artfully decorated with unique indoor/outdoor loft area to relax
Swimming pool, common area, walking paths
Great, clean space! Jared had tons of restaurant recommendations and had maps available for us at check-in! Perfect for our quick night in Frederick.
Jess
2017-04-02T00:00:00Z
very clean. he is nice. bed is great.
Heonjun
2017-03-17T00:00:00Z
I stayed here for the weekend while visiting Frederick. This was an AMAZING find. The place was absolutely pristine and beautiful, only a mile or so from downtown Frederick, and our host was incredibly helpful (gave great restaurant recs, offered maps, parking suggestions). I would definitely stay here again
Angela
2017-03-05T00:00:00Z
Jared is very welcoming and accommodating. His home is lovely, clean and quiet. We will definitely return!
Sarah
2017-04-05T00:00:00Z
Jared's place is very nice and clean. It is also quiet. The bed is comfy and the bathroom is really nice. Jared is easy going and easy to talk to. He gave some great restaurant recommendations too. I would definitely stay here again.
Scott
2017-03-31T00:00:00Z
Room Type
Private room
---
Property Type
House
---
Accommodates
3
---
Bedrooms
Frederick, MD, United States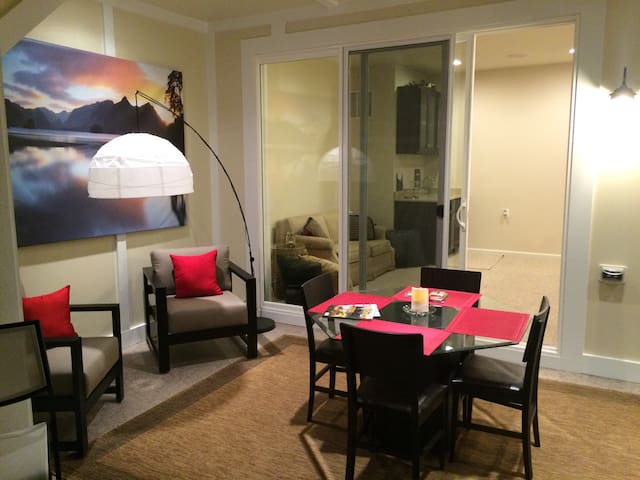 Our spacious & peaceful townhouse is a great home away from home and wonderful escape after a long day. Surround yourself with relaxation in this Eastern inspired room situated just 5 mins from Downtown Frederick. Beautiful views & great parking too
Come and enjoy with a stay near historic downtown Frederick. This room used to be our meditation and prayer room so as soon as you walk in, you'll want to exhale and relax. We are accepting of different lifestyles and backgrounds and are generally very flexible. Our spacious and peaceful townhouse offers a guest bathroom and a private bedroom. The guest bathroom has a shower and a tub. We are also fortunate to have a front porch and deck around back that you can sit out on and enjoy the weather. There's a beautiful open space in our backyard that is shared by our community association. The Monocacy River is there, open fields, walking paths and benches. Additional Highlights Include: +Fresh linens and towels will be ready upon arrival +Herbal Organic Teas & Coffee offered +Ice Machine & Water available +Iron & Ironing Mat +Hair Dryer +Extra toiletries +Electrical Plug Converter (for those traveling from other countries) We can also accommodate long term stays & last minute reservations. Typically, those who stay with us long term are in town on a work assignment or an internship. One of the benefits is that we have a washer and dryer that makes it more convenient during longer stays.
With the Monocacy River and open fields as a backdrop, you'll love how serene this neighborhood is. We live in the newer town homes which are maintained by a community association. Neighbors are friendly and will often say hello as they pass you. People love to walk the trails, sit out on the benches or go for a run, especially with their pets. There is a neighborhood gazebo in walking distance and a fountain park that is a bike ride away. Plus we are in walking distance to Ceresville Mansion and lots of other stores and shops.
I enjoyed my brief stay at Alex and Jackie's home. The room was very nice and the hosts' hospitality was excellent. I would recommend staying here for anyone exploring the Frederick area and would stay her again myself. Thanks!
Steve
2014-09-02T00:00:00Z
This Air BnB is a lively family home and I felt right in the mix. Their son is very cute and cheeky, full of toddler charm. Their baby Nia is very chill and doesn't make any noise at all. Alex was very nice to make me a Ghanan vegan dinner and they are very nice to share their produce with guests.
Eileen
2016-10-12T00:00:00Z
The house was clean and quiet, we enjoy a private bathroom not in the room but on the same floor. There is a lot of space to park the car in front of the house and the host are nice. We will definitely recommend them and the price is really competitive !
Aurélie
2015-05-19T00:00:00Z
Alex and Jackie were we're welcoming, accommodating, and easy to deal with. The room was comfortable and I slept great! Thanks guys!
Richard
2016-05-20T00:00:00Z
We had s great time in Frederick! Thank you guys for allowing us to stay!
Filippa
2015-10-19T00:00:00Z
Amazing. I slept like a baby. I was welcomed in like family. It truly is an oasis. I highly recommend their home. Will be back!
Deborah
2016-12-20T00:00:00Z
This place was a fantastic. I took a personal getaway, a retreat for self. The room was inviting and as the description said it was an oasis! The peaceful location and convenience to being in historic Frederick or the short drive out to trails, falls, and lakeside views; I cannot express how it all comes together with Alex and Jackie as host! Welcoming, warm, and all around wonderful people. If you are interested in living life fully, just ask Jackie. Alex is a great talk for food and sports lovers. :-)
Sequoia
2015-06-22T00:00:00Z
I felt like I was visiting a friend. Easy, relaxed hostess. Very comfortable accommodations, including the bed. Easy parking where you can see your car. I definitely recommend this place and would stay again.
Carmen
2015-01-23T00:00:00Z
Room Type
Private room
---
Property Type
House
---
Accommodates
2
---
Bedrooms
Frederick, MD, United States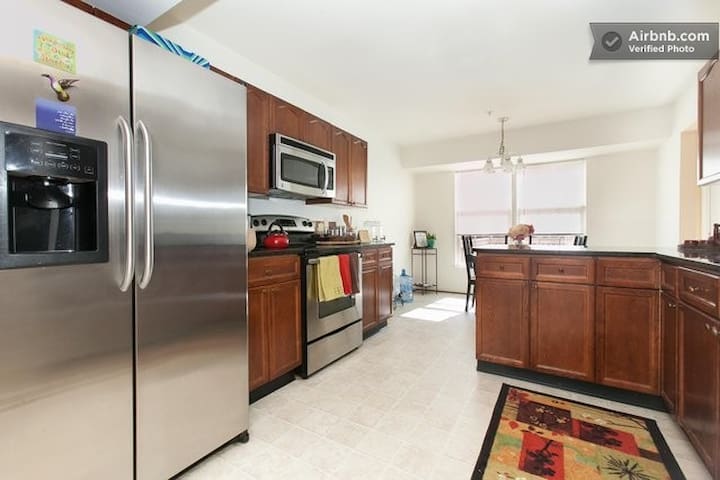 1

–

18

of

130 Home Rentals
Enter dates to see full pricing. Additional fees apply. Taxes may be added.