The Loft is an airy, spacious, private apartment, walking distance to historic downtown, shops, restaurants, marinas, parks & beaches. Close to Hwy 20 and San Juan ferries. Enjoy the chef-size kitchen, cozy up by the wood fireplace, rest in a new bed with down comforters & luxury linens. Eastern deck offers a peek-a-boo views of Fidalgo Bay and Mt. Baker, southern deck overlooks a peaceful garden.
You'll find an eclectic mix of old and new: from reclaimed wood floors, barn doors, steamer trunks and beach "treasures" to a large new kitchen and all new sleeping accommodations. Guests booking 7+ nights have access to their own full size washer and dryer (located in the unit).
The neighborhood is a quiet residential street in downtown Anacortes; we feel completely comfortable walking around, day or night. We are an easy walking distance from the local grocery store, downtown, library, beaches, parks, schools and the Fidalgo Island pool and recreation center and the Bellair Airport shuttle. Our street does not have much traffic, but it is very conveniently located to the main Hwy 20 arterial to the San Juan Island and Victoria B.C ferries, Whidbey Island and Deception Pass and Interstate 5.
Room Type
Entire home/apt
---
Property Type
Loft
---
Accommodates
4
---
Bedrooms
Anacortes, WA, United States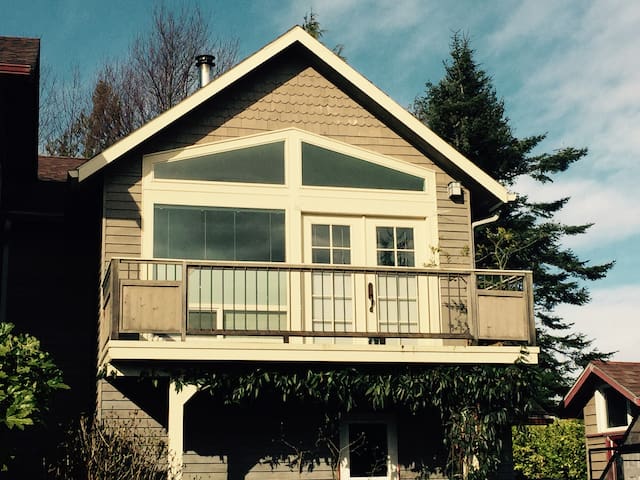 Only 7 minutes from town. One bedroom loft apartment nestled among fir and maple trees. Large living room, full kitchen, washer/dryer, and an additional futon bed that sleeps two more. Apartment sits above a quiet office used during business hours.
We loved staying at Anna's loft! It was spacious and comfortable. Anna and her family were nearby if we needed them, but also gave us privacy. It's everything I expect from an AirBnb!
Paul
2016-10-07T00:00:00Z
Super great place! I will definitely come back. Anne is super nice and welcoming and she was kind enough to give us fresh eggs that her chickens laid that morning! Also, the deck is awesome, great if you are looking for something quiet and serene.
Collin
2016-06-02T00:00:00Z
Stayed here with my husband and two kids. Very nice and clean. Very tranquil surrounding with gorgeous view. Has everything you need to live in a place including washer/dryer. Love love love this place. Anna is awesome. Had toys, books and movies for me and my 2 years old son. Our stay was fantastic. I will definitely recommend to everyone I know.
ekele
2016-04-11T00:00:00Z
The host canceled this reservation the day before arrival. This is an automated posting.
Aidan
2016-09-25T00:00:00Z
Anna's loft is so beautiful and peaceful. We enjoyed our stay there tremendously.
Kevin
2016-06-04T00:00:00Z
We had an awesome time at Anna's for a quiet New Years Retreat. Excellent kitchen for cooking and spending a cozy night in. Beautiful balcony with trees and ocean view. Easy check in and gracious host.
Erin
2017-01-01T00:00:00Z
Anna's communication is amazing! Extremely quick to respond and very understanding. The loft is very cozy and is everything you need for a weekend or an extended stay.
Curtis
2016-10-14T00:00:00Z
Great location and house. There was high speed internet and ample parking. The kitchen n had more than basics. The view was great and rooms were very clean. We would love to visit again.
Amit
2017-02-19T00:00:00Z
Room Type
Entire home/apt
---
Property Type
Loft
---
Accommodates
4
---
Bedrooms
Anacortes, WA, United States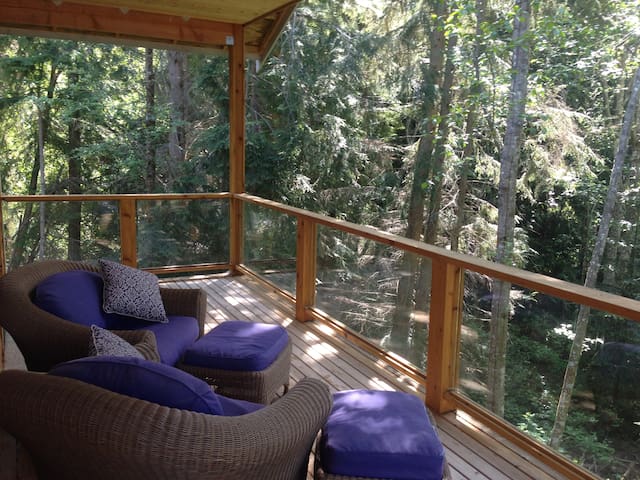 This newly-constructed, light-filled detached guesthouse has an open lofted bedroom (real stairs) and offers privacy, comfort and elegant simplicity. PLEASE READ THE HOUSE RULES (especially about parking) BEFORE ARRIVAL. (This is a non-smoking property.)
Northwest Modern Guesthouse was designed by the owners to be a cozy place to stay with a touch of environmentally-conscious luxury. We are thrilled to share this brand new space with like-minded travelers. You'll enjoy heated, polished concrete floors and gorgeous exposed fir all around. Climb to the lofted bedroom to see views out skylights and windows of Mt Baker and the Twin Sisters in the North Cascades to the east and the Chuckanut Mountains to the south. This comfortable getaway is a perfect springing off point for all the fun to be had in Bellingham and the North Cascades (including Mt. Baker Ski Area). Our midcentury home is on the same property as the guesthouse, but we are designing the yard to allow privacy for our guests. It's a work in progress. LIVING AREA: You may pair your phone via bluetooth or direct cable to a speaker system. High-speed wireless is available--see the book for instructions. We have made a conscious choice not to install a television. The radiant heat is controlled via a Nest thermostat to be warm consistently throughout the day. If your schedule varies significantly from this (i.e. You're gone all day), let us know so we can make adjustments to the program. There is no air conditioning, as it's rarely needed here. BEDROOM: Actual stairs (not a ladder!) lead the way to the open sleeping area, where you will be treated to a refreshing night's sleep on a firm, all-natural, latex foam hybrid mattress from Nest Bedding. In the morning you'll wake to views of the Chuckanut mountains to the south and the Twin Sisters and Mt. Baker to the east. KITCHENETTE: There is an induction burner, toaster oven, microwave, kettle and mini-fridge in the industrially-inspired galley kitchen. A pour-over brewing device, a basic coffee pot and an Aeropress are available. We also leave a growler in the guest house in case you want to pick up some local beer at one of our many breweries. PETS: There is a resident canine, Clio, who is not allowed in the guest house. We made every attempt to keep the studio clear of allergens for all visitors. LAUNDRY: We cannot provide laundry services but Q Laundry is just a few blocks away on Alabama and James. BECAUSE WE CARE: We used low- or no-VOC paints and stains and all products are free of chemical fragrances. A tung oil-based finish was applied to the loft floors and a similar non-toxic finish was applied to all the fir trim. The eco-friendly polished concrete floor is durable but will stain just like any other floor. Please wash up spills. Prior to your arrival, you will receive a code for the deadbolt that will be active from 3 pm on the day of your arrival to 11 am on the day of your departure. We do not use the handle lock but rely solely on the deadbolt. PLEASE READ HOUSE RULES ABOUT PARKING PRIOR TO ARRIVAL.
The guesthouse is located in Sunnyland, which is consistently voted Bellingham's favorite neighborhood. We are 3. miles from I-5, 1.2 miles from downtown and 55 miles from Mt. Baker Ski Area! Nearby establishments include Kulshan Brewery, Trader Joe's, Wander Brewing, Homeskillet and it is just a 20-minute walk or 5-minute bike ride to downtown. Four blocks to the east on North St. is the Railroad Trail which leads to Whatcom Falls Park, Lake Whatcom and all the mountain-biking goodness at Galbraith Mountain.
A beautifully designed space and everything has been thought of for a comfortable and cosy stay. Ash was really quick to respond to our questions and help out above and beyond with our requests. We felt totally at home right away.
Mark
2017-01-29T00:00:00Z
Really great space, perfect for 1-2 people. You can tell that lots of care was put into the creating of this Airbnb. Loved how private it was, yet so walkable to breweries/downtown. Heated concrete floors were a really nice touch, as was the view of the mountains when lying in bed. Ash was really great about checking in and communicating, very thoughtful and professional. We will definitely be back!
Erica
2017-01-23T00:00:00Z
My husband and I had a wonderful time while staying at this airbnb. The space was clean and we really appreciated the open feel. The guesthouse had everything we needed for our weekend trip. Ash was so helpful with responding to our questions and she even sent us a list of recommended restaurants and hiking spots. We felt well taken care of. The guesthouse is also located conveniently near downtown and a lot of shops. A great spot! We really enjoyed our stay here!
Jane
2016-01-18T00:00:00Z
Such a convenient comfortable stay! Feels like home.
Kelley
2016-10-23T00:00:00Z
We really enjoyed the modern guest house - the space is perfect for two people, and the neighborhood is very walkable. The light inside the house is incredible, and the house is well ventilated with many windows and skylights. We enjoyed the strong wifi connection inside the house, and there were several places to sit inside the property. Highly recommended!
Jeffrey
2016-08-24T00:00:00Z
Ash was the perfect host. The guesthouse was sited for privacy, the bed firm and cozy warm ( we slept so soundly)and all the personal touches Ash added throughout the home and when meeting us were so thoughtful and appreciated. We especially liked that it was centrally located to almost anything. I only wish we had brought our bikes. We have already recommended her place to a few of our friends.
elizabeth
2016-01-01T00:00:00Z
Two nights into our stay the power was cut to the property, as such we were without power, hot water, heating, wifi and communications. We tried contacting the owner for two hours + without success from a local coffee shop via text message and email (as international travelers we didn't have a cell phone). After this time and still without power, we summoned the courage to knock on the front door of the property and here found a disconnection notice from their power supplier. We quickly packed our bags and left for a local hotel. A phone call to Airbnb HQ and we had a refund arranged for the remainder of our stay however, this increased the price of our stay by $AUD70 per night (as we had been given a weekly discount). And we would not have stayed in this property for that price. Another smaller issue was that Ash was distracted on our arrival by her sick dog. She messaged us an hour before we arrived to say that she hadn't totally cleaned the property as she needed to go to the vet emergency. It wasn't as big an issue as the power outage but the rug still needed a vacuum and the coffee pot hadn't been cleaned. As first timers on Airbnb, we were really nervous when we received this text message. We left this Airbnb experience completely disappointed.
Brett
2016-06-23T00:00:00Z
The space is just like the pictures - modern and minimal, yet cozy and private. We loved the concrete floors, and the shower head is amazing. Note that there is no TV (which I loved, my boyfriend I think wished there was one) but the wifi worked flawlessly. Ash was a great host - prompt communication but gave us privacy. As everyone else has noted, the parking space is tight -- we shoehorned our Chevy Colorado into it, but if you have a few beers at one of the breweries you may want to take the hosts up on having them park next to the unit so you can park on the street! Overall a very good experience.
Lorelei
2016-10-09T00:00:00Z
Room Type
Entire home/apt
---
Property Type
Loft
---
Accommodates
2
---
Bedrooms
Bellingham, WA, United States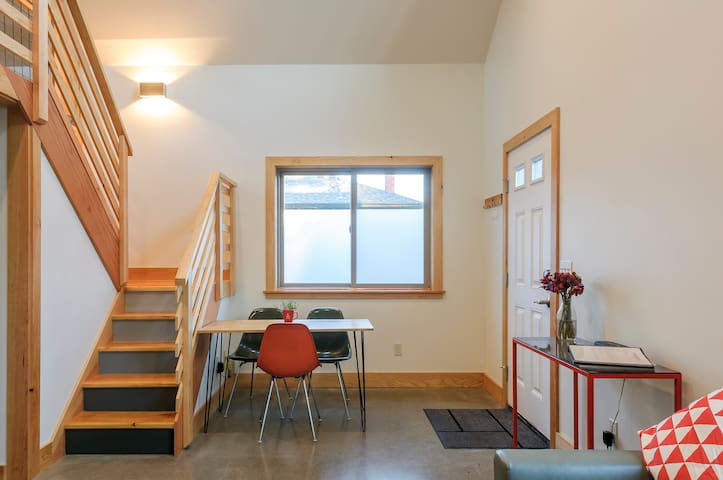 Two bedroom 2 bath home in quiet setting on 3acres. Bicycling, hiking, beach combing for agates, farmers markets, shopping for those inclined in charming Langley, Coupeville, historic Greenbank. We are located 3 miles from the Pt. Townsend ferry, walk-on and enjoy the oldest town in Washington.
I like that is in the end of a dead end road, hardly any traffic. I fell in love with the trees on the property, the clean air, and clear skies to view the Milky Way!
Beautiful, and relaxing. It is a perfect getaway for a couple, 2 couples or a family. So close to Seattle but perfect for escaping the hustle and bustle.
Mo
2016-11-20T00:00:00Z
This is a wonderful place! It's gorgeous, well maintained, clean and very, very quiet! We loved the porch and big lawn for the kids to play on. This was a great deal! Thanks!
Corina
2015-06-09T00:00:00Z
Beautiful property beautiful home! Great location on Whidbey Island. We enjoyed the wood burning stove (which was all stocked and ready to go), and our dog loved hanging out on the property.
Linda
2017-02-20T00:00:00Z
Erik's place is charming, cozy and comfortable. The house is just lovely and a true pleasure to experience, as is the setting. It is nicely secluded but with easy access to town. We just loved it and hope we have the pleasure of staying some other time.
Christiann
2017-04-03T00:00:00Z
Wonderful house, quiet and relaxing. Marvelous furnishings - reminiscent of the cabin I went to as a child.
Carolyn
2017-03-12T00:00:00Z
Great place! Hope to come back with our kids. And hope to model a home for us after this one! It was clean and well equipped. Can't wait to go back.
Michael
2017-03-18T00:00:00Z
Thank you for sharing your home with us. It was very comfortable and peaceful. We enjoyed our stay in the area. And hope to return again in the future.
Annette
2016-08-28T00:00:00Z
We had a great stay at Erik's home, he was very easy to work with and responded promptly to all of our questions. He was so kind as to mention that when we arrived there were fresh tomatoes in the garden and ripe plums on the tree for us to enjoy. The house was very clean and well appointed. I believe Erik did much of the woodwork in the home on his own- beautiful! An off the beaten path place for quiet rest, yet a reasonable drive to the quaint and charming town of Coupeville and it's history, Langley which is a bit bigger but still adorable with festivals and great restaurants and also an easy ferry to Port Townsend. Also a few minutes drive to a great farm and winery, I believe it is called Greenbanks farm with a pie shop, park and cheese shop as well. We let the kids have the upstairs room with the cool skylight the first night, what a view of the stars!! Thank you Erik!
melissa
2015-08-13T00:00:00Z
Room Type
Entire home/apt
---
Property Type
Loft
---
Accommodates
4
---
Bedrooms
Coupeville, WA, United States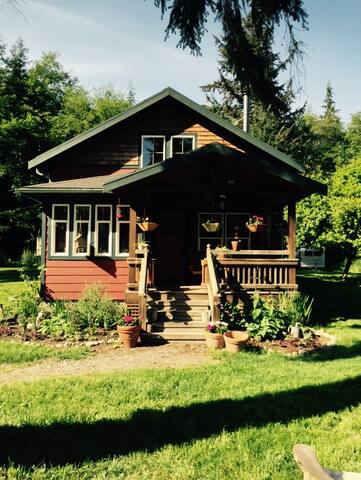 The Barn Loft is a located on the second floor of a barn-style building. Its comfortable living room includes vaulted, beamed ceilings, hardwood floors and lots of windows. There is a a wood stove on a brick hearth. Access to our private beach.
The Barn Loft is a located on the second floor of a barn-style building. Its comfortable living room includes vaulted, beamed ceilings, hardwood floors and lots of windows. There is a a wood stove on a brick hearth. The living room is nicely furnished with traditional style furnishings and has satellite TV, DVD player, radio with iPod port, and free wireless internet access. There is a full kitchen with electric stove, microwave, dishwasher and full size refrigerator. The light and airy bedroom has a queen sized bed, dresser and his & hers closets. In addition, there is a daybed and a single pull-out mattress in the living area. The bedroom and living area are separated by a library/desk nook. There is a full bath with tub/shower. The Barn Loft has a lovely view looking out over a sweeping lawn toward the water and mountains. It is within walking distance of our private beach. The Loft will accommodate couples or a small family. Maximum occupancy is four people.
Quiet-rural-deer in the yard-bald eagles, etc.
Jim and Betsy were great hosts! Betsy met us and showed us around and acquainted us with the lovely property. The Barn Loft is truly a special place and the views and beach access were amazing! We had a small snaffoo with the hot water, but they were super nice about it and fixed it almost immediately. This is the second time I have stayed with Jim and Betsy and I hope to again soon!
Lauren
2016-05-31T00:00:00Z
We had a great time and loved the barn loft. There were deer playing in the yard, and everything was exactly as advertised. There is a great wooden stove in the unit.
Eric
2015-04-18T00:00:00Z
Thank you Jim and Betsy for a wonderful stay. The room was beautiful and had everything needed for a comfortable stay (also, extremely clean). It was great to have appliances to be able to cook dinner there and enjoy the sunset. Internet was fast and reliable. Hopefully I will be able to come back soon!
Marina
2016-06-13T00:00:00Z
The loft is a great place to stay on Orcas Island. The kitchen and bath are spacious and easy to use. The bedroom is comfortable and the extra sleeping arrangements are fine. The setting is beautiful, quiet and close to the water. The host communicated well and gave efficient instructions when we arrived. We would like to stay here again.
James
2014-10-13T00:00:00Z
The Barn Loft was the most magical place to stay. Nice and private int he woods and yet a short walk to the beach for sunsets and sunrises. We loved lighting up the wood burning stove, reading on the day bed and cooking some good local Orcas food. Betsy and Jim were so sweet and made sure we knew they were there, if we needed anything. But what more could we need? Amazing place! I would love to stay at with Jim and Betsy when we return to Orcas, and we will return. Maybe in one of their other houses. The whole property is gorgeous!
Tora
2016-10-06T00:00:00Z
If you are looking for secluded relaxation this is the place for you! Beautiful private beach on the loveliest part of the island. Hope to come again!
Megan
2016-11-26T00:00:00Z
My boyfriend and I had a wonderful 3-night stay at Jim & Betsy's Barn Loft. The property is beautiful, tucked away among evergreens and not at all far from the main road. The space itself is tastefully decorated and immaculately clean. We didn't have the opportunity to meet Jim, but Betsy was lovely to talk to and beyond accommodating. When we first arrived, she gave us the option of switching to the Lummi Cottage or Bayside Cottage after I mentioned I had hoped for a view of the water, but after taking a good amount of time to view all of the spaces, we truly could not decide - each were perfect in their own way. For simplicity's sake we stuck with our original choice and were only disappointed that we couldn't stay longer.
Olivia
2015-05-22T00:00:00Z
Room Type
Entire home/apt
---
Property Type
Loft
---
Accommodates
4
---
Bedrooms
Olga, WA, United States
Mount Vernon - Airbnb
:
Average

4.93

out of

5

stars from

142

guest reviews
Enter dates to see full pricing. Additional fees apply. Taxes may be added.