The apartment (loft) is attractively furnished and equipped with a private entrance. It has a large roof terrace with small canopy and lovely rural views over the meadows and fields of tulips. Nice and calm.
The apartment is on the first floor with a beautiful staircase. Large roof terrace on the south.
Oosterblokker is a small village with beautiful hiking and cycling route programs. It lies between Hoorn and Enkhuizen, near the IJsselmeer. Golf Course West Forest is at a distance of 2 km. The city of Hoorn 5km. By car or train you in 45 min. In Amsterdam and a half hour in Alkmaar from the station in Hoorn. Egmond, Bergen and Schoorl (beach) is about 45 min. Away by car. Horn is a bustling city with a historic past, during the summer the city offers many opportunities for recreational area. A great attraction is the steam tram Hoorn -Medemblik and museum steam tram. More tourist tips: • Historic Triangle Hoorn, Medemblik, Enkhuizen (steam train and boat) • West Frisian Museum Horn • Open Air Museum, Enkhuizen Zuiderzee • Sprookjeswonderland Enkhuizen • West Omringdijk route (cyclists) • From Oosterblokker are many beautiful places to visit cities and natural areas: Medemblik (Foreshore Project), Enkhuizen, Alkmaar, Schagen, Kolhorn, Callantsoog (beach!), Wieringen (gorgeous!), IJsselmeer, Wadden Sea, Schoorl, Amsterdam, Zaandam (Zaandam Schans), Volendam, Texel (by boat from Den Helder) etc. • From Oosterblokker can also cycle to Enkhuizen. Enkhuizen can be taken by boat to Stavoren. The electric bikes are these longer distances. • Days Out: Enkhuizen the Streekbos (recreation) in Hoorn, the museum of the 20th century and the Westfriesmuseum in Waarland Vlindertuin Vlindorado in New Niedorp Jan Cees Rove Atmosphere Farm, in Tuitjenhorn zoo Estate Hoenderdaell and in the Wieringermeer in the Robbenoordbos make beautiful walks • Day-trip by bike are possible: Hoorn, Enkhuizen (beautiful bike ride on top of the embankment, overlooking the IJsselmeer), visit beautiful old villages in West Friesland, the IJsselmeer, the Egboetswater, Wieringen and Wieringermeerpolder.
We loved this because we really wanted to take some time out of the city to reboot. We got a great break and felt at home. The area is more country-side. But Amsterdam is 30 minutes away by car. The host is very friendly. I would suggest to text her rather than call, she always replies. The area is charming.
Tahira
2017-04-07T00:00:00Z
Room Type
Entire home/flat
---
Property Type
Loft
---
Accommodates
4
---
Bedrooms
Oosterblokker, Noord-Holland, Netherlands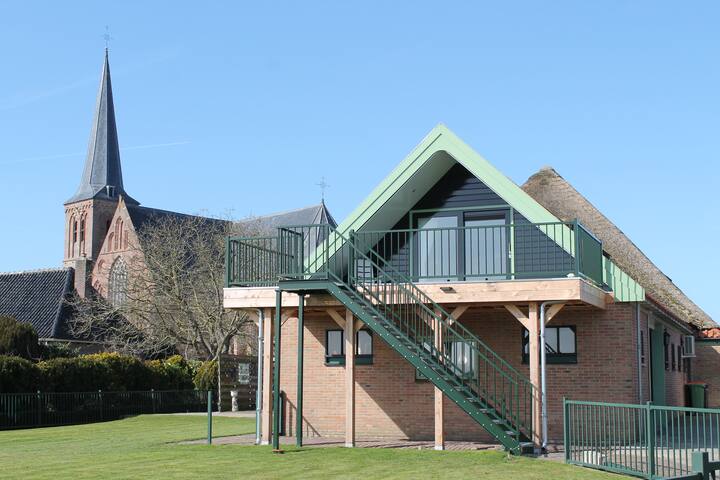 The stylish living room of Nije Linde (12m high, 160 m2, interior design) with fireplace, voids, four bedsteads, 4 bedrooms and 4 bathrooms and kitchen is for rent for families, friends, teams incl. B & B rooms and balcony rooms. Large garden & terrace
The farmhouse Nije Linde was rebuilt in 2015 and has two bed and breakfast rooms on the ground floor, a cottage and a balcony room with mezzanine. The large, stylish outhouse has the look of a loft and is perfect for inspiring meetings, creative workshops or cozy family gatherings. The section has four bedsteads and can be rented together with the 4 bedrooms (maximum 12 people). Nije Linde is quietly nestled in the nature reserve 'Rottige Meente' of Forestry. Across the Linde is the National Park Weerribben-Wieden. With us you can enjoy a special environment with lots of birds. In the morning you may be awakened by the sound of clattering storks. In the evening you will be surprised by the beautiful colors of the sunset.
Our big Stolp farm Nije Linde is located on the meandering river Linde, on the border between Overijssel and Friesland. The garden is enclosed by the nature of the 'Rottige Meente. This nature is, as a result of peat extraction in the past, a mosaic of water and land, peat and reed, flowering meadows and bog holes. The water mills have been placed in the landscape by cane growers to combat acidification. This unique natural area with rare animal and plant species (such as otters, butterflies and fire crab razor) is a paradise for bird watchers and an inspirational environment for artists and photographers. For cyclists and walkers is the age-old 'Footpath' highly recommended along the river Scheene. The National Park Weerribben-Wieden is also the area of the Fire Lake are nearby and invite to beautiful walks, cycling or canoeing. Nearby are nice towns like Blokzijl, Vollenhove Giethoorn and worth a visit.
What a fantastic, tastefully decorated and beautifully renovated farmhouse! We were there for the weekend, extended family of 11 people; there is plenty of space, with choices between great sleeping spaces in the wallside (old fashioned 'bedstee') or bedrooms. A modern spacious kitchen with everything you need and with great views of the fields around. In rural Friesland, near the Weerriben. Ingrid was very friendly, flexible and helpful, eager to learn how she can still improve on the experience. A great place for family reunions, a weekend out with friends, or even business retreats. Sorry if this sounds like a commercial, but it is a hidden pearl in Friesland!
harman
2016-03-22T00:00:00Z
What a beautiful place!! We were a group of 10 girls and we were really impressed. The house is really like on the pictures and Ingrid is so polite, nice and helpful. We stayed only one night but want to come back. The surrounding is quite and nice. We made a kayak trip only 5 min. away from the house. You could stay at the house with a big group or with your family - you have enough space - in- and outside. I hope we will come back in summer to use the pool as well. The house has everything you need: cozy spaces, big kitchen full-equipped, 4 or 5 bathrooms, cozy beds, garden and pool. What else do you need ;)
Olga
2016-04-11T00:00:00Z
We had a very great stay! The loft is absolutely perfect - very clean and much space. The hosts are very friendly and communicative. We can recommend the loft!
Karolina
2017-02-12T00:00:00Z
WAUW!! That was our first impression when we walked into the house. It is such an amazing place. We really like the style of the house. There is plenty of room for groups. We came with 5 couples for a long weekend and we have enjoyed it so much. The kitchen in amazing to cook in and also perfectly workable for a bigger group. The fire place makes it really cozy in the evenings. The beds were so nice to sleep in. Ingrid and her husband were really nice and have arranged everything into the details. Everything you need for a nice weekend is there and available. Thinking about towels, fuel wood, candles, table games. We would love to come back again soon when the weather is better so we can also enjoy the nice terras and swimming pool. We Loved It!
Chayen
2016-03-29T00:00:00Z
Ingrid is a great host, very helpful in providing useful information to make the most of the stay. Absolutely recommended, the location is amazing.
Ulf
2016-08-01T00:00:00Z
We had an awesome stay at Ingrid's place. All was as described: huge house, huge kitchen, many bathrooms, the nice fireplace... The surrounding is really calm and beautiful. Ingrid was also really helpful about how all the things you need to know to have a pleasant stay. We highly recommend this place !
Romain
2017-01-01T00:00:00Z
Highly recommended and an absolutely stylish, clean, cozy and amazing place to stay with a lot of people (in our example bachelorette party). The loft was exactly as described on the pictures. Ingrid and her husband were incredible hosts and let us feel very welcome at her beautiful place - many thanks for that again. communication was perfect and the loft is equipped with everything you need. We would definitely love to book this place again. In spring or summer it must be amazing with the pool and the wonderful nature around. we had a fantastic weekend.
Judith
2016-02-22T00:00:00Z
Ein ganz besonderer und zauberhafter Ort. Ein wunderschönes und liebevoll eingerichtetes Haus mit allem, was man für ein unvergessliches Wochenende braucht. Vielen Dank!
Greta
2016-05-09T00:00:00Z
Room Type
Entire home/flat
---
Property Type
Loft
---
Accommodates
12
---
Bedrooms
Nijetrijne, Friesland, Netherlands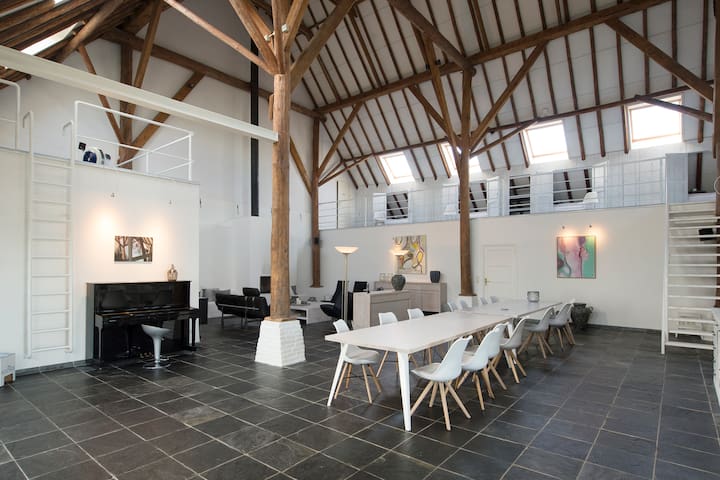 Your cozy loft with private entrance is located just 50 meters from the flats and in the most authentic village of Texel. Within walking distance is the fishing port with several restaurants and shops. The North Sea beach is only 12 minutes by car.
Wonderfully located on the dike and the historic Ruyterstraat in Oudeschild, The Wadden Sea, the cozy harbor of Oudeschild, the museum Cape Skill, the Wadden Little beaches and several shops and restaurants are within walking distance. From your living room .... or from the bench to the mudflats ... you enjoy the sunrise or the full moon. Inside you will enjoy the cozy decor, music or film and the warm wood stove. North Sea beach is about 10 minutes by car, and half an hour by bike. Bicycles can be rent in the village. The apartment is light, airy and spacious and occupies the entire top floor of a traditional fisherman's house from the 30s (more than 55m2). The loft can accommodate 2 people and has a private entrance and roof terrace, a spacious living room with fireplace (and central), bedroom (with Auping bed), a sleeping loft and a modern bathroom with sink, toilet and rain shower. Breakfast is not included but can be considered to be provided by us or in the nearby harbor restaurant. However, there is a refrigerator, Nespresso coffee machine, milk frother, electric kettle, microwave and crockery, as well as coffee and tea. You can also take care in privacy and on your own time, your own breakfast. Shop with fresh bread is within walking distance of the village. The Wadden Loft is not designed for pets or children. There is no kitchen, but a microwave.
Cozy fishing harbor, the Wadden Sea beaches, tidal flats and especially the beautiful light
Relaxing place to stay and an excellent starting-point to discover the island. We especially enjoyed the fireplace and the hospitality Will provided to us; all-in-all highly recommended!
Roelant
2017-03-19T00:00:00Z
Het Waddenloft is echt een heerlijke plek om er voor een paar dagen even helemaal uit te zijn! Het is een mooi appartement, inclusief wijn, fruit en ander lekkers van de verhuurder. En de bloemen niet te vergeten. Absoluut een aanrader :)
Jacqueline
2016-09-12T00:00:00Z
Supergezellige loft. Leuk aangekleed met kleine details als een bloemetje op tafel :). Alles wat je nodig hebt is aanwezig, kleine tv, waterkoker, koffiezetapparaat. Verhuurder is heel vriendelijk en bereid je wegwijs te maken op het eiland, en zelfs de afwas wordt gedaan! Zeker de moeite waard voor een heerlijk weekendje weg!
Merel
2016-04-26T00:00:00Z
Wil is een gastvrije verhuurder. We werden ontvangen met koffie en cake en het verblijf was tip top in orde. Ik raad zeker mensen aan om dit verblijf te huren!
joyce
2016-09-05T00:00:00Z
Wat een geweldige plek om een paar dagen te vertoeven. De loft is in het echt nog mooier dan volgens de advertentie. Bij aankomst stond er een mooie bos bloemen. Tevens een fles wijn, bonbons en een Texelse koek kaartje om ons welkom te heten. De omgeving was zo als omschreven, rustige plek. Wil is een zeer goede gastheer en doet alles om het je naar de zin te maken.Kortom een super verblijf.
rene
2016-05-07T00:00:00Z
Wij hebben een heerlijk weekend gehad in de prachtige loft. Het is sfeervol ingericht en de kachel maakt het helemaal af. Helemaal tijdens gure herfstdagen! Wil is een fantastische host, alles was tip top in orde! Oudeschild is op loopafstand en heeft een gezellige haven.
Christiaan
2016-11-06T00:00:00Z
Wil is een uitstekende gastheer. Er stond een lekkere rode wijn klaar en mooie bloemen! Het appartement is zeer ruim en van alle gemakken voorzien. Zeker een aanrader!
Edith
2016-10-01T00:00:00Z
De Waddenloft maakte alle verwachtingen waar: een prachtig sfeervol appartement op een prachtige plek. Alles was uitstekend verzorgd: van het hout voor de kachel, de wijn in de koelkast, de olijven tot de muziek. De loft was groter dan uit de foto's was af te leiden en smaakvol ingericht. Wil was een uitstekend gastheer: vriendelijk en zeer behulpzaam. Het ontbijt was uitstekend. Ik kan iedereen deze plek aanbevelen en ik hoop van harte er nog eens terug te komen.
juliette
2016-06-16T00:00:00Z
Room Type
Entire home/flat
---
Property Type
Loft
---
Accommodates
2
---
Bedrooms
Oudeschild, NH, Netherlands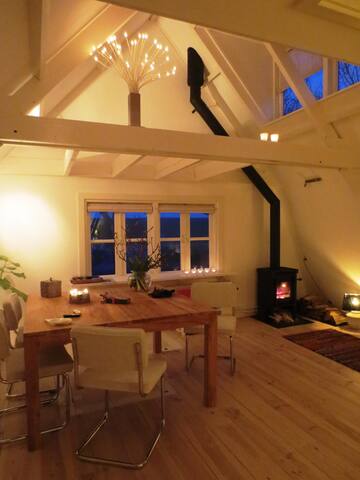 Nijemirdum - Airbnb
:
Average

5

out of

5

stars from

32

guest reviews
Enter dates to see full pricing. Additional fees apply. Taxes may be added.