Great neighborhood, schools, shopping, back yard, front porch, parking, AC, Heat, 1.5 bath, 2 bedrooms, living room, dinning room, kitchen, and basement.
Kimberlynn did not respons to any of my messages trying to confirm when we would be arriving. This was over a week in advance. When we finally did arrive, there was no one in the house, all the doors were locked, and we were forced to stay at a Best Western, which ended up costing us more than we had planned. This was unacceptable for an Airbnb host. I would not be willing to book with this host again under any circumstances.
Jonathan
2017-04-02T00:00:00Z
Room Type
Private room
---
Property Type
House
---
Accommodates
4
---
Bedrooms
Northfield, NJ, United States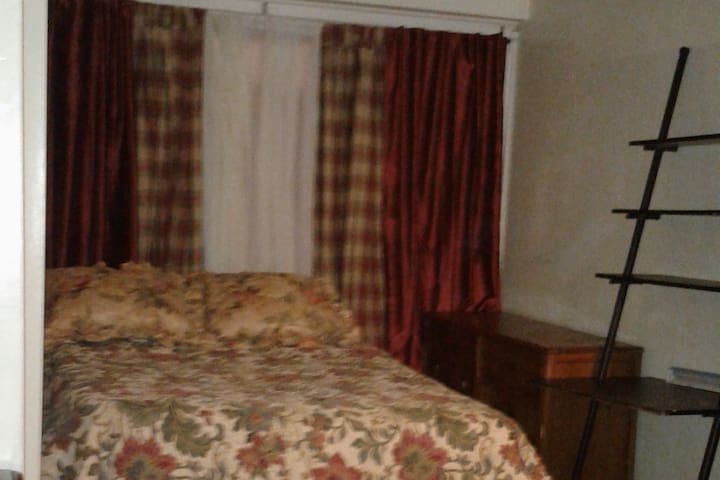 My charming 1925 craftsman home is situated in the heart of the shore. It is in a quiet neighborhood and has a beautiful front porch,3 bedrooms, hardwood floors and a new kitchen. Located near the bike path and over 6 golf courses within 5-15 minutes. We are 10-15 minutes to the beaches in Atlantic City, Ventnor, Margate, Longport, Somers Point and Ocean City. Perfect for a little summer vacation or a weekend getaway.
There is a Queen bed in the master as well as a elliptical. My sons room has a single bed and the office has a very comfortable portable bed. There is a gas grill and Keurig available for your use.
I live in a very close knit neighborhood. Everyone knows everyone and they look out for each other. Please be respectful of noise and how close the houses are. I am very close to the Garden State Parkway and Atlantic City Expressway. There are many restaurants, bars and activities for the kids close by. I live 3 houses from the bike path that extends from Absecon to Somers Point.
I did not stay here but my husband did with some of his staff. They had a blast being down closer to the shore and Atlantic city. Stefan said the place was very clean and was very organized for their stay. We really appreciated it!
Samantha
2016-08-15T00:00:00Z
The host canceled this reservation 56 days before arrival. This is an automated posting.
Eden
2016-06-11T00:00:00Z
Beautiful neighborhood! We enjoyed the front porch. Theresa was very helpful. She even offered to reimburse our beach tags since the season tags she had ordered had not arrived yet. House was comfortable and the walking trail ( 3 houses down) was great! Also enjoyed the Northfield Baptist Church while we were in town.
Justin-Preetika
2016-06-30T00:00:00Z
Room Type
Entire home/apt
---
Property Type
House
---
Accommodates
5
---
Bedrooms
Northfield, NJ, United States
This is a great beach house 1sr fl. unit in North End. Close to restaurants, downtown and boardwalk. The house is equipped with beach gear, towels and bikes. It has a big kitchen and a Gas grill outside. Unwind and relax in a quiet neighborhood.
We have just purchased the home and will be updating the furnishings, bedding & linens. We hope to make it your home away from home. Please contact us before booking if you want to bring pets.
House is located just short walk to Downtown Ocean City with shops and restaurants. Just out your front door is the public space with the Tabernacle, Tennis Courts and Skatepark. Short walk to beach and boardwalk and close to Wonderland Pier.
Room Type
Entire home/apt
---
Property Type
House
---
Accommodates
10
---
Bedrooms
Ocean City, NJ, United States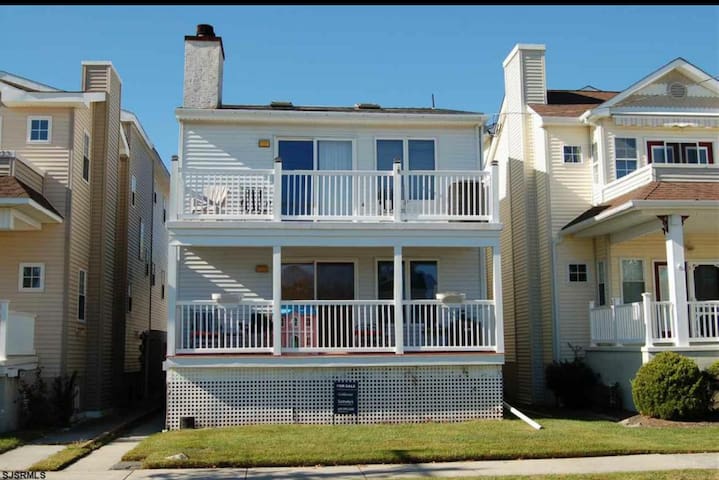 No groups under age 30. No Pets. No Smoking. Oceanfront townhouse with 2 decks. Sleeps 8. Wireless internet. 60 inch hi-def TV. Equipped kitchen. 30 minutes from AC. 3 parking spots.
Entire 4 story town house. 2 car garage on ground floor, Powder room, Living room with deck, tv, and sofa on 2nd level. Kitchen/dining level on 3rd level with views of ocean. , 3 bedrooms and 2 full baths on 4th level. 2nd deck off main bedroom.
Ocean City-great beaches, shopping, and close to A/C
Fantastic, upscale and modern Airbnb with an amazing beachfront view. The space was great and satisfied our hunger for a winter beach getaway. Right on the boardwalk and steps away from the sandy beach. The house itself was completely modern with a two car garage for parking and pretty much felt like home. Highly recommend.
Sergio
2017-02-12T00:00:00Z
This was the perfect rental for our family! The kids loved watching all the action on the boardwalk and we got to wake up to the incredible views of the ocean every morning. Frank always responded to my needs quickly and we had everything we needed in the home. Thank you for a wonderful week!
Christy
2016-04-02T00:00:00Z
Had great time celebrating New Year's Eve at Ocean city NJ. House was right on boardwalk and had plenty of room for large family.
Scott
2016-01-02T00:00:00Z
Amazing location, spacious condo, well-equipped kitchen. We loved being right on the beach and boardwalk!
Melissa
2016-04-24T00:00:00Z
Fantastic weekend with friends in this clean, beautiful, well-furnished, bright condo. Beachfront, excellent location just at the end (beyond) the boardwalk concessions. Walk everywhere! We watched the surfers from the balconies and waved to the boardwalkers. Dedicated parking garage spot was very convenient. Frank's communication was immediate and thorough. Highly recommend.
Terrill
2016-04-17T00:00:00Z
Room Type
Entire home/apt
---
Property Type
House
---
Accommodates
8
---
Bedrooms
Ocean City, NJ, United States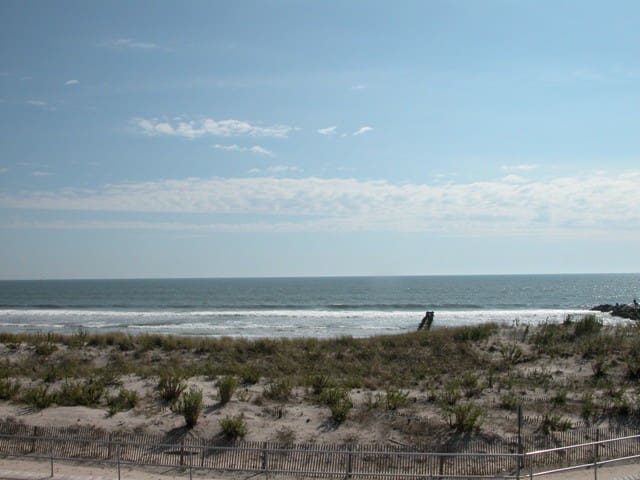 Beautiful Single Family Home with Bay Views
Beautiful newly constructed single family home with Bay Views from the master bedroom and back deck! This home features granite counter tops, stainless steel appliances, a Keurig coffee maker and a wine cooler. The master bedroom has bay views and features a master bathroom with an oversize bathtub! Come to OCEAN CITY and relax for the summer! Washer/Dryer Oven/Range Refrigerator Microwave Disposal Dishwasher Coffee Pot - Keurig Toaster Vacuum Blender Cable TV WIFI Deck Furniture Fireplace Outside Hose Outside Shower A/C - Central Gas Grill Wine Cooler Rooms Living Room Dining Area Kitchen Den (2) Porch Bedroom #1 (1) Bunk Twin/Full Bedroom #2 (1) Queen Bedroom #3 (1) King Den - (1) Trundle King Parking - (2) Cars Off Street / Garage
America's Greatest Family Resort and voted the #1 Beach in America in 2016! Here you`ll find two and a half miles of ocean front boardwalk, great fishing, swimming and surfing beaches, amusements, and the best restaurants in South Jersey!
Room Type
Entire home/apt
---
Property Type
House
---
Accommodates
9
---
Bedrooms
Ocean City, NJ, United States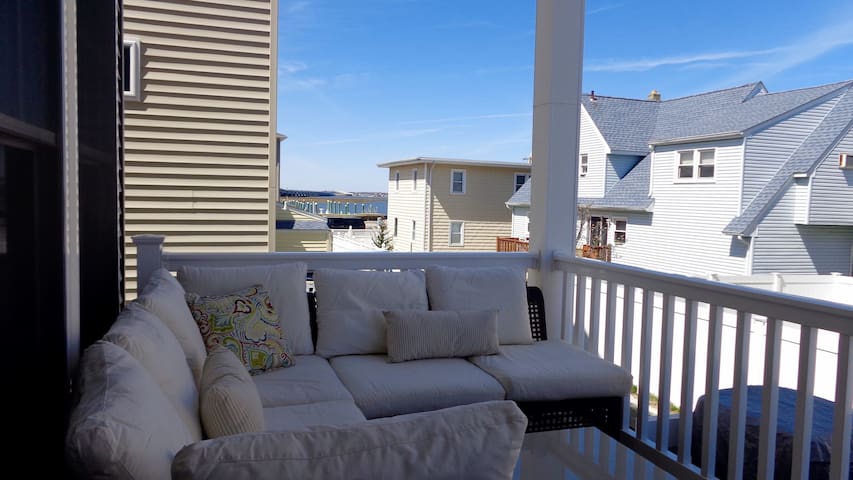 Our house is two blocks from the the beach and family-friendly activities. We are in the GARDENS in Ocean City, on the north end. You'll love our place because of the neighborhood. Our house is good for large families (with kids). In the winter our house is not available as we close it up for the winter, sorry!
Room Type
Entire home/apt
---
Property Type
House
---
Accommodates
12
---
Bedrooms
Ocean City, NJ, United States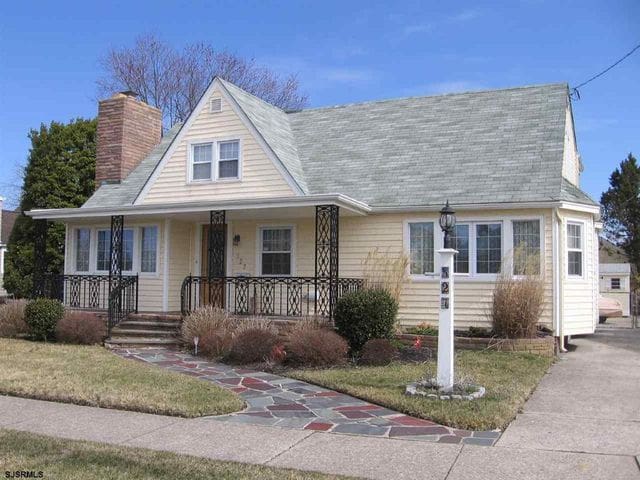 Our home is a large townhouse; common areas & bedrooms are spacious. Bedrooms on 3 different levels w/ a great deal off privacy. We say it has relaxed, casual, modern feel w/ just enough beachiness. No rentals to high school students - No Exceptions
Our home is a large townhouse; common areas & bedrooms are spacious. Bedrooms on 3 different levels w/ a great deal off privacy. We say it has relaxed, casual, modern feel w/ just enough beachiness. No rentals to high school students - No Exceptions.
House in located in the heart of downtown Ocean City with shops and restaurants just out your front door. Walk to Starbucks, Dunkin Donuts, Wawa or OC Coffee Company for your morning cup of joe.
Great stay here! Chris was attentive to our needs and reached out to us as soon as we reserved the space. The house is very spacious and great for big groups. I highly recommend this space!
Sara
2016-05-09T00:00:00Z
The house was lovely. The rooms were extremely spacious and comfortable. Christine was extremely organized and was on top of any question that might come up. It was a great weekend in Ocean City!
Lauren
2016-04-17T00:00:00Z
The house was as expected, beautiful, roomy and clean! Christine was availiable from start to finish so much so that my group was well taken care of before arrival. I cannot stress enough how comfortable Christine made us feel celebrating great news in her home and would definitely come back again. There isn't much to say outside of saying the words helpful, beautiful and clean!! Thanks Christine!
Christopher
2015-11-22T00:00:00Z
My parents, brother and I lived at Christine's place in Ocean City for about a month and a half in the off-season. We had a wonderful experience; we all live in different locations and Ocean City was a nice meeting place for all of us! Christine is an excellent host; very thoughtful, which is reflected in how each and everything in the house is set-up. Everything needed is provided. The kitchen is very well stocked. (We like to cook!) Bathroom supplies and cleaning supplies are also plenty. And, the entire place is nice, airy, very clean and tastefully decorated. A true home! On one or two occasions, when we had some minor logistical questions, Christine was very responsive, which we certainly appreciated! We, in-fact, wanted to extend our stay for another month and a half at Christine's place, but unfortunately the dates we needed were not available. In Ocean City, Christine's place is close-by to the Boardwalk. We also used to go to the library and the recreation center which is also nearby. The grocery store is walking distance. We would also, occasionally, go to the BJ's and the Hamilton Mall - about a 25 min drive - to get supplies. October-November is a great time to be in the area. The weather is not too cold and is just perfect for us. And, there are not big crowds around which we all also prefer! I would highly recommend Christine's place and hope to visit again sometime in the future!
M
2016-12-03T00:00:00Z
Christine's home is our new favorite! This is our 4th time coming to OC, NJ and we'll definitely book with them again. Owner kept in contact with me as I had a few questions and she was prompt in replying. We felt very welcome & nice touch with container of sheets on arrival with our name and tablecloth dressing up the dining room table.The Beachy decor, unique layout & cleanliness has us coming back. I loved how close we were to shopping,restaurants, grocery stores , and of course a short walk to the beach. We walked everywhere! The house is beautiful and the layout is roomy .This is a "must".
Lisa
2016-10-09T00:00:00Z
Chris was very responsive, honest and friendly. Townhouse is as nice as the pictures. Close to restaurants, coffee and supermarket. Seven minute walk to the beach. Private parking for several cars. Beach chairs, cart and toys for guests to use. Many other nice features. Great place to put kids to bed and then relax with the adults in the evening. Highly recommend.
Thomas
2016-06-04T00:00:00Z
Christine's townhouse is either new or recently completely renovated: it is airy, modern, with thoughtful details throughout. Set back a few blacks from the boardwalk, it was a great place for our small, off-season reunion of high school friends. We didn't use the kitchen, but it appeared to be fully equipped for extended stays. The multi-split level interior plan spread everyone out when they wanted to be, and the large front room held everyone easily. Highly recommended as a base of operations for a trip to Ocean City NJ. Christine was very attentive, with contacts via messaging.
Tom
2015-09-27T00:00:00Z
Room Type
Entire home/apt
---
Property Type
House
---
Accommodates
8
---
Bedrooms
Ocean City, NJ, United States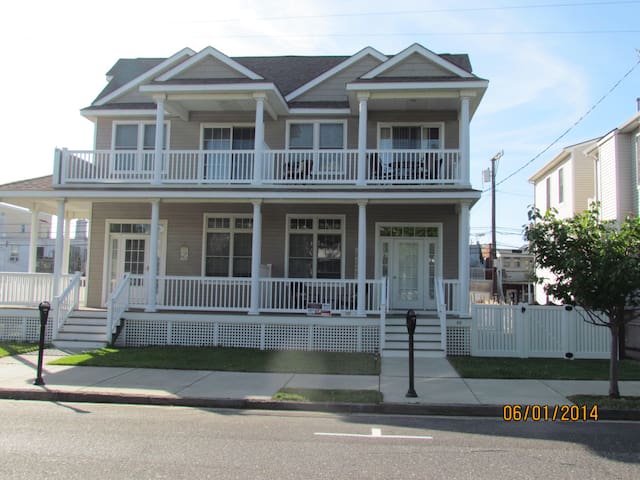 The Asbury Oasis is a cozy home in the best area of Ocean City. You are a few short blocks to the beach and boardwalk and there is dining and a coffee shop located half a block away! Shopping and downtown Ocean City are a quick bike ride or a leisurely walk away from the home as well. If you are looking for a comfortable and easy place to relax in for the week, Asbury Oasis is the spot for you! It is perfect for couples and small families as well as solo adventurers and business travelers.
Room Type
Entire home/apt
---
Property Type
House
---
Accommodates
6
---
Bedrooms
Ocean City, NJ, United States
Our home is a humble one, tall, narrow, full of history, mediocre art, a permaculture garden, and lots of light. It is in walking distance to the beach, the bay, boardwalk, downtown, and scenic bridges. Bicycling is even better! You can bring your own, or use ours if available. Beach chairs, beach umbrella, beach towels, and beach toy
Although this old home has six bedrooms it holds only 1.5 bathrooms. Guests are expected to bring a small bag for their bathroom necessities. Weather permitting, the sheets guests sleep in have been line dried, smelling of fresh, clean ocean air. This tall skinny house has lots of stairs and our private room is at the top of them.
Our neighborhood is the original Ocean City. Most Ocean City Historic District homes lack parking facilities, so you may have to look for a spot. We are, however, in walking distance to most everything. So, once you park your car, you can leave it there.
Everything in the listing was accurate and the house is in a great location, in easy biking/walking distance to the boardwalk. Helen is very friendly and thoughtful e.g. we made nachos for dinner and when she noticed she gave us a little bowl of guac to go with them.
Erin
2016-10-30T00:00:00Z
My girlfriend and I stayed with Helen for about three days and we thoroughly enjoyed our time there! Helen was extremely helpful in giving us directions to nearby stores, letting us use her beach tags to get on the beach for free, and giving us extra towels as well. The room is just what she advertises and definitely worth the price! Her house itself is beautifully decorated and there are always people coming and going so it feels like you're never entirely alone. That being said, the room is on the top floor, and with only one other person living on that floor, you'll feel right at home and have all the privacy you need. My one complaint is that the WiFi was spotty at times, especially at night for some reason. Oh, as a final note, there are two lovely dogs who will become your friends during your stay so you should totally come here. 10 minutes to the beach and a private room all to yourself, I'd say it's a pretty good deal!
Abraham
2016-06-21T00:00:00Z
I loved staying with Helen and Michael in their charming and welcoming home. I felt so comfortable, almost like I lived there. It was great to be included in their dinner and conversation. Traveling alone can be a bit overwhelming and scary, but staying here was anything but that. I feel like I made new friends with Helen and can't wait to see her on my next stay! I will definitely be back very soon!
Courtney
2016-04-08T00:00:00Z
Helen was such a great host! She reached out before we came and was able to be available to show us around her home when we arrived. Her 2 dogs, Chase and Mickey, were adorable and love people! The house was very sweet and homey and the room was great! We had a nice space up on the 3rd floor with great light and circulation. The room had extra blankets, towels and books as well as information books for us to enjoy! The room was nice and felt very private with a shared bathroom on the second floor. That may prove to be a challenge if there are those who are not so able to go up/down stairs. It was fine for us, though we felt bad at times that we may have been making noise at night from the going up/down the stairs. We didn't have the best weather this weekend, but our stay as definitely enjoyable! Helen also had bikes for use and beach chairs for the warmer weather! It was very easy to get to and from her home which was very convenient to the beach and other local restaurants - one of which we were able to visit and the food was fantastic! One thing that I thought was really great is the way they used old food to create compost - love the earth friendliness!! :) We usually have a game plan when we are in the area so we unfortunately didn't get so much time to spend with Helen and Mike, but I'm glad there were some other visitors who were able to! Thanks so much for your hospitality Helen! We definitely felt welcomed into your home and would totally visit again! Thank you!!! :)
Melissa
2016-10-09T00:00:00Z
Helen and Michael were a pleasure! They say "make yourself at home", and truly mean it, whether it be joining them to watch tv or sharing a cup of coffee in the morning! They leave it up to the guests to have as much, or as little interaction as desired, which was much appreciated - both when I holed myself in my room to work on my photography as well as when I joined them at the table and enjoyed two cups of coffee and very nice conversation! Their home is bright and cheery, and they provide you with towels, and even dibs at their leftover pot roast from the night before! A very warm couple and a very comfortable stay - I will absolutely be back, especially to see the garden and outside shower in all its glory!
Kristen
2017-01-22T00:00:00Z
The place was beautiful I felt very much at home the dogs could not have been any friendlier the owners were super friendly and very hospitable great location very clean highly recommend to anyone coming down to the area
Frank
2017-01-01T00:00:00Z
Great place to stay. Very comfortable, friendly, and clean. Quiet location, gracious hosts, easy check in and check out.
Gene
2017-01-12T00:00:00Z
Wonderful location and amazing hosts !
swetha
2016-11-26T00:00:00Z
Room Type
Private room
---
Property Type
House
---
Accommodates
2
---
Bedrooms
Ocean City, NJ, United States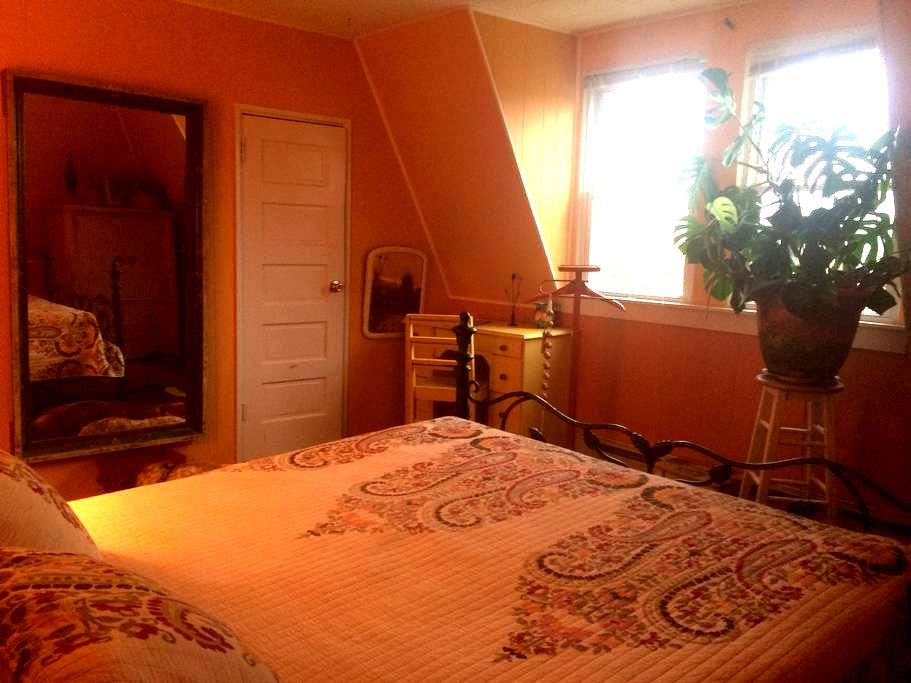 Our place is 3 blocks to Boardwalk &beach casinos & outlets (5 m drive), walk to restaurants, liquor store, CVS, Wawa. The room has a view, brand new queen bed, deck overlooking waterway with bistro set, parking, 2nd floor, bathroom. Clean and comfy.
The waterfront room with access to the deck is awesome. Sorry but no tv, only wifi. Coffee is available in our kitchen.
Safe neighborhood on a one way street. Walk to Wawa, CVS, restaurants, liquor store beach, Boardwalk.
Great spot just outside AC, quiet and lovely room with a great balcony overlooking the water. Great spot, great host
David
2017-04-02T00:00:00Z
The host canceled this reservation 88 days before arrival. This is an automated posting.
Rhetta
2017-04-06T00:00:00Z
The host canceled this reservation 2 days before arrival. This is an automated posting.
Erik
2017-03-15T00:00:00Z
Nice spot!
Derek
2017-04-01T00:00:00Z
Room Type
Private room
---
Property Type
House
---
Accommodates
2
---
Bedrooms
Ventnor City, NJ, United States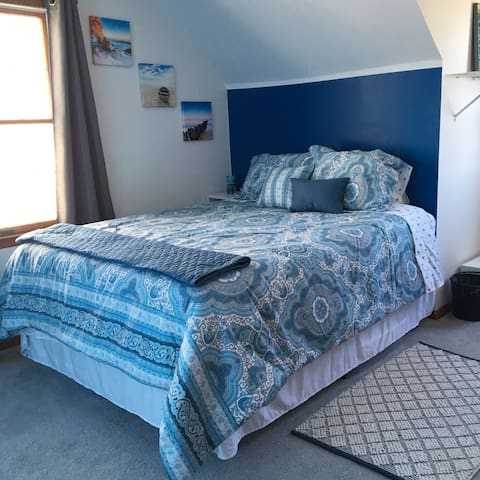 Awesome 5 bedroom house steps from the beach. Hardwood floors, bathrooms rehabbed in 2013, comfortable beds, amazing location and host :)
Great location, beautiful spacious home :)
Stefanie
2017-03-26T00:00:00Z
Room Type
Entire home/apt
---
Property Type
House
---
Accommodates
9
---
Bedrooms
Margate City, NJ, United States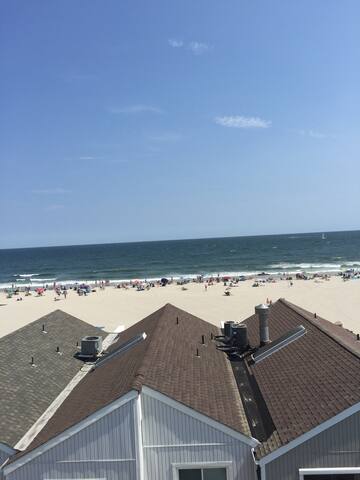 Fantastic Southside home 1 block to the beach and boardwalk ! Recently renovated - 4 spacious bedrooms 2.5 baths, 6-car off street parking, beautiful inlaid hardwood floors and an updated kitchen with granite! Wonderful outdoor space with 2 decks and views of the Atlantic ocean.
Our home is beautifully furnished and we hope you will find every comfort of home; including linens, pillows, bed spreads & towels. A washer and dryer are also available for your use as well as a gas Bar-B-Q. The kitchen is fully stocked with everything you will need to prepare and serve your meals, including a coffee maker and coffee! We also provide most condiments and spices. We ask that you leave the kitchen as clean as you found it; specifically, cleaning your pots, pans & dishes and stove top. (I can't believe I actually have to write this, but you wouldn't believe the greasy, filthy, dirt that we've had to clean and we don't want to have to charge a surcharge for leaving a dirty house). Although this is an AirBnB stay, we are not a hotel and we want to remind you that we DO NOT PROVIDE DAILY MAID SERVICE, CLEANING SERVICE, OR TURN DOWN SERVICE. This is our home and we are only looking for guests that will treat our home with respect and leave it in the condition it was found.
Start your day by walking to one of many quaint restaurants for coffee & breakfast, or perhaps an early morning jog on our 5 mile boardwalk. Then enjoy your day sunbathing by walking one short block to our beautiful Ventnor beach. There is a Life Guard stand at our beach and they are on duty during posted hours. We will provide 8 beach tags, which are required from Memorial day through Labor Day. Please don't forget to leave them on the kitchen desk when you check out or we'll have to charge you $15.00 each. Not a beach day? There are plenty of shops at the Tanger Outlet Mall in Atlantic City, as well as quaint shopping throughout Ventnor. With Atlantic City Casinos less than 2 miles away, you can a enjoy the Atlantic City nightlife with many fine restaurants, clubs, shows, & gambling. If you are traveling with children, we are a short 15 minute drive to Ocean City, which also has a boardwalk with amusement rides, a water park & plenty of food and shopping!
Ventnor City was lovely! Mostly residential with just the right amount of things to do near by! We walked the boardwalk to Atlantic City, found a fun thrift store as well as an antique shop near by upon which the owner recommended going to see the light house in Atlantic City. The moment we walked in we felt at home. The house is spacious, bright and cheery and comfortable! Frank and his wife left us wine to enjoy as well as some tastey snacks and a packet of information to make our stay as convenient as possible. The house was just one block from the beach and I felt it was accurate to its description. We were also only a few blocks from a really good ice cream shop!! Frank was friendly and excellent at communicating and answering any questions we had. we would definetly go back again!
abby
2016-05-23T00:00:00Z
Frank and Robin were excellent hosts and their home was a perfect getaway. The home was very comfortable and in a great location. There are many sites to see within driving distance of Ventnor City. Our family drove to Princeton, Cape May, Trenton, Atlantic City, etc. There are many good restaurants near the house. I highly recommend staying at this location. You will be happy.
Tyler
2017-01-01T00:00:00Z
Stayed here with a few friends for 3 nights and had a wonderful time. The house is very spacious and comfortable. Frank and Robin provided all the information we needed and were always available if I had any questions. The house is on a very quiet block so there were no disturbances. I would definitely stay again and recommend this house!
Chantelle
2016-10-10T00:00:00Z
My family rented Frank's place so we can visit members of our family that live locally. We crashed with comfort each night, made coffee then went off to see relatives each day. We had enough room for each family members, plenty of bathrooms so we could get ready in a hurry and and easy kitchen so we could make coffee and tea in the morning. We found a local bagel place that made fantastic fresh bagels too! We hope to return soon.
Kelly
2016-11-27T00:00:00Z
Frank was a very good host. He provided great information about local restaurants which we visited and were very pleased with the food and service. The house is beautiful and located in a beautiful town and the house has easy access to the beach just 2 blocks from the ocean and boardwalk. I would definitely stay here again if in Atlantic City.
Dwight
2016-09-20T00:00:00Z
We had a wonderful, relaxing weekend in Frank & Robin's home in Ventnor. Located in a quiet, residential area, we felt very comfortable. The home was clean and spacious and a nice distance from the beach. The 1 1/2 block walk to the beach was easy & convenient. Frank was very accommodating and wonderful with communication. We would certainly stay again.
dcarlton
2016-09-12T00:00:00Z
The host canceled this reservation 6 days before arrival. This is an automated posting.
Ahmad
2015-10-04T00:00:00Z
It was truly home away from our home. Clean, cozy furniture, spacious, some original details with comfort of new renovation, and close to the beach. Quiet neighborhood with private driveway. Check in/out and house instruction very clear but even with that Frank was one phone call away making sure that our stay is perfect.
Michael
2017-02-05T00:00:00Z
Room Type
Entire home/apt
---
Property Type
House
---
Accommodates
8
---
Bedrooms
Ventnor City, NJ, United States
#1 Location in Town. Three Sides Waters -- to the North, East and West. Views of Sunrise and Sunset. Enjoy Kayaking, Biking, or going the Beach.
Room Type
Entire home/apt
---
Property Type
House
---
Accommodates
6
---
Bedrooms
Ocean City, NJ, United States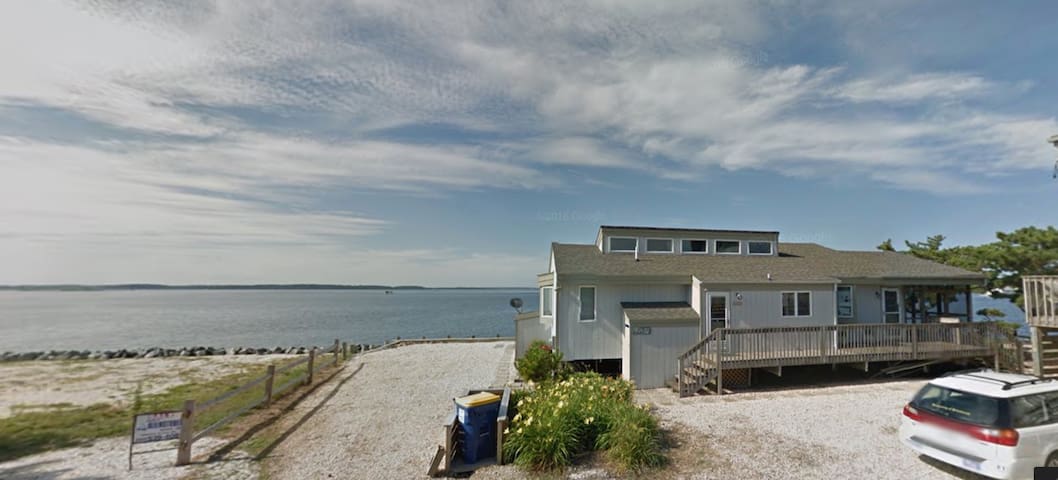 Located in the heart of Ocean City, it takes you 5 minutes to get to the ocean or any shops, you might like. Here you can find: comfortable room, kitchen with all modern conveniences, clean bathroom,cozy living-rooms where you can rest, read books.
I was looking for budget-friendly lodgings at our favorite beach town and this place was perfect. Ruslan and his family were very kind and gracious and we felt very welcome. The lodgings were exactly as described, nothing fancy but perfectly adequate and I would say a very good value for the price. The space is detached from the main house so we did not feel like we were disturbing anyone when we got up to see the sunrise. Off-street parking was very convenient though may not always be available. Great for a short visit and I would stay here again.
John
2016-05-29T00:00:00Z
We got there a little late. We didn't have time to talk. We were so tired. Next day we had to leave early and no time for anything. We slept very good, we got a bed each of us, we loved that, we were 4 friends. Very nice neighborhood.
Adda, Veronica y familia
2016-04-25T00:00:00Z
The hosts did their best to make us feel welcome. The neighborhood is quiet and friendly. The only problem is that listing description (first of all the photo provided by the hosts) does not live up to the reality. The room we got had a very different look, was shabby and definitely required some upgrade/upscale work. We do not complain about exorbitant rental price since it was a Memorial Day weekend but considering the grim look of the apartment it was still a ripoff.
Владимир
2016-05-30T00:00:00Z
The hosts made us feel most welcome! They immediately offered to help with our bags and showed us the accommodations. They frequently checked in with us to make sure everything was okay and to see if we needed anything. The host also responded to my messages very quickly.
Rachel
2016-04-11T00:00:00Z
Ruslan was very friendly, and his building is a great throwback to the Jersey Shore before all of the cookie cutter condos starting coming up. Conveniently located to the beach as well, you really can't beat the value.
Mason
2016-05-31T00:00:00Z
Room Type
Private room
---
Property Type
House
---
Accommodates
2
---
Bedrooms
Ocean City, NJ, United States
This brand new listing is located in an upscale neighbourhood within close proximity to many attractions, including The Stockton Seaview golf resort, The world famous Boardwalk, with all the exciting casinos and nightlife. The neighbourhood is quiet and great for walks, biking and running.
Themed bedrooms give this home a great vibe ,which my guests are sure to find unique and inspiring. The fourth bed is an extremely comfortable single air bed which my guests have had zero complaints . Huge fenced back yard with deck as well as front porch area with comfortable seating is sure to increase the functional living space of this ranch style home.
Neighbourhood is a quiet residential neighbourhood with many upscale homes nearby . It's great for enjoying walks, ideal for runners and bikers and there's also a beautiful park called Veterans Memorial park just a five minute walk away ,with picnic tables , playground for the little ones and memorials for our fallen heroes. My wife and I love this park and use it frequently. You'd be hard pressed to find a more perfect location for such an amazingly reasonable price. As they say in real estate location,location location!!!
Great communication, clean house, quiet neighborhood and good location. What more could you ask for?
Brian
2016-12-20T00:00:00Z
Great place to stay
Travis
2017-04-02T00:00:00Z
Lovely place; wonderful host; great value. It felt like home away from home as soon as you walked in. The wifi worked without issue, and food and basic cooking supplies were available. Everything was clean, neat, and welcoming.
Phoebe
2016-12-29T00:00:00Z
Carmelo was very friendly, was very easy to communicate with and always helpful. He has a beautiful, clean and easily accessible house which comes with everything!
Jean-Marc
2017-02-11T00:00:00Z
Carmelo and Ruth's home is lovely!! It is a 12 minute drive to Atlantic City! We had a blast and would love to stay again!
Kellie
2017-01-01T00:00:00Z
Carmelo is a fantastic host with a fantastic home. Well kept, extremely comfortable and perfect for what we needed. We were only 10 minutes away from the venue for a friend's wedding and we had an incredibly relaxing and wonderful stay. Carmelo gave us recommendations for breakfast and made sure we had everything we needed. I've been using Airbnb for over 6 years, all over the world, and this has been one of best experiences of them all. Thank you again for your hospitality.
Julio
2017-03-26T00:00:00Z
This home was perfect for my extended stay in the Atlantic City area for school. Comfortable, clean accommodations were exactly as advertised. Carmelo and Ruth were excellent hosts who went above and beyond even helping to find a local gym offering short term memberships.
Gregory
2017-03-24T00:00:00Z
Room Type
Entire home/apt
---
Property Type
House
---
Accommodates
8
---
Bedrooms
Galloway, NJ, United States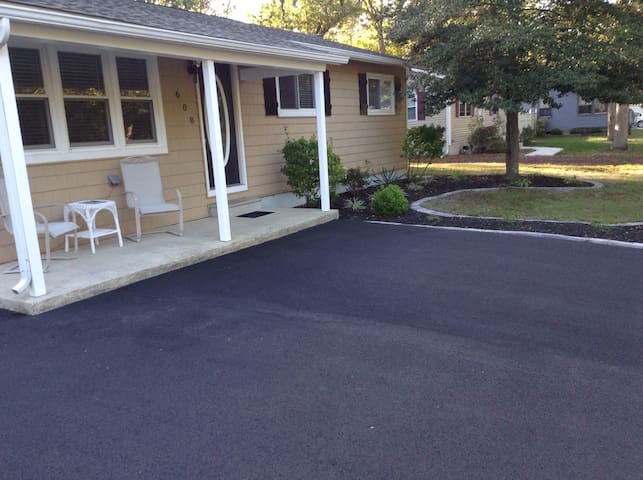 Great 3 bedroom/2.5 bath Beach House located on the beach block, in preferred Gardens neighborhood of OC. Hardwood floors, central AC, 2 Queen & 1 Full bed, wireless internet & TV. Large deck & spacious backyard with weber grill. WEEKLY RENTALS ONLY
Great location, close to the beach, all the furniture is brand new, single family home offers privacy and space.
We had a wonderful time in Ocean City and in Sheri & Bert's charming home! The location was perfect as it was 1 half block from a private beach. We were happy to be in a true neighborhood setting that was not right on the boardwalk. The home was beautifully appointed with ample space for our family of 4 (2 kids ages 6 & 8). The furnishings were so comfortable and we felt truly at home. There was nothing that we needed as Sheri & Bert provided everything - linens, sheets, multiple kitchen supplies, beach chairs & umbrellas! They even had bikes for my husband & I to use - which we did as OC is great for biking! Our hosts were available through email and text and were happy to assist us with any questions that we had during our stay. We would definitely love to come back!
Diane
2016-08-30T00:00:00Z
We had the best time at this pristine cottage-like yet spacious home. Very tastefully decorated with a great layout and awesome amenities including ample kitchen space, great couches in the living room, wood floors, renovated first floor bathroom, office nook with desk and free WI-FI, flat screen tv, crisp bedding and towels. Balconies off two of the bedrooms, Weber grill and spacious patio, outdoor shower. Everything you need is right there. The house is located on a picturesque block at the edge of town. Tucked away from the business of the boardwalk. Good for quiet walks and great for biking. But the best (URL HIDDEN) just a half-block away from a private beach. The beach access was the stuff dreams are made of. Homeowners provide pretty much everything, from scotch tape to extra dental floss to tons of beach chairs, umbrellas and even a wagon to haul it to and from the beach so no need to run out and buy stuff. Nice touches when you are renting a house for 2 weeks! The town of Ocean City is very charming-- great for families with young children. We had 3 under 3 with us and went to the boardwalk, restaurants and enjoyed the shops in town. Oh, the ice cream is definitely worth a try. Bert and Sheri were accessible through email at all hours. We even contacted them to find out about the best restaurants and got some great suggestions! Thinking of returning next year.
Allegra
2015-08-27T00:00:00Z
A lovely family home in a quiet neighborhood. We had a short walk to the large, not crowded beach at the end of the street. Our hosts left us fresh basil to enjoy which was a nice touch. Their home is well kept and tastefully decorated. The beds were quite comfortable and were nicely supplied with fresh sheets. There were plenty of beach chairs in the garage as well a Little Tikes wagon which came in quite handy. All in all it was a very enjoyable family vacation.
celia
2015-06-27T00:00:00Z
Room Type
Entire home/apt
---
Property Type
House
---
Accommodates
6
---
Bedrooms
Ocean City, NJ, United States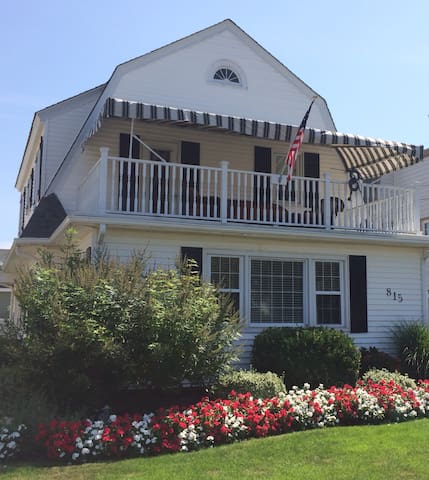 Our beach cottage is perfect for a get-a-away with your family or friends. Only three blocks from the beach and one block from the bay. Walking distance to locally owned shops and restaurants. A 7 minute Uber ride to AC; 10 minutes to Ocean City. We provide cozy sitting areas inside and relaxing lounging areas outside. The house has been recently renovated. Upstairs is a great space for the kids, with a half bath and two twin beds. The stairway is narrow, which, provides ideal access for kids.
Room Type
Entire home/apt
---
Property Type
House
---
Accommodates
7
---
Bedrooms
Ventnor City, NJ, United States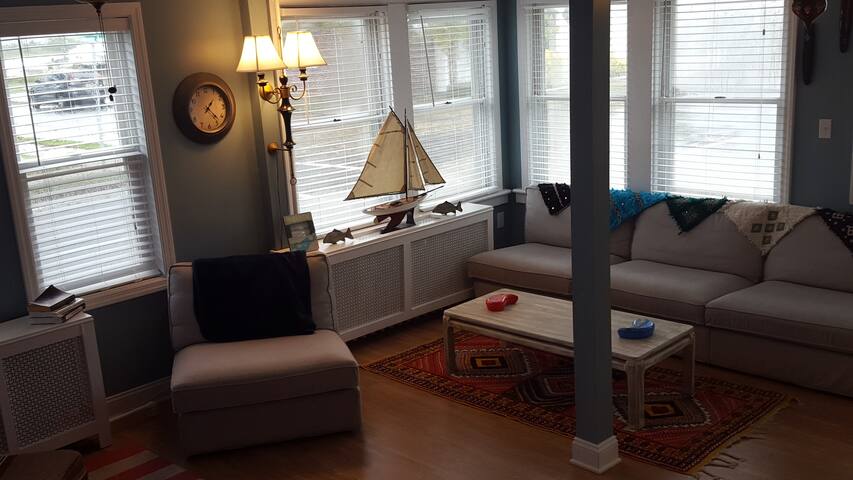 Looking for an unforgettable jersey shore beach vacation? Margate City is at the top. Our small little beach town has activities for all ages and a easy going, relaxed vibe. Our home is overlooking the bay and 7 minutes walking to the beach at Jerome Ave. Our KOSHER house has a big open renovated kitchen, huge dining room table, and two ovens, two sinks, and two dishwashers - all kosher amenities. There are 4 bedrooms upstairs, 3 with queen/full beds, and 1 with 2 twin beds.
Iris and her husband were kind and gracious hosts. They have a spacious, beautiful home with ocean views in Margate. The Kosher kitchen was top notch--it made travel possible for my observant friend. They were also quite accommodating of our late arrival. It's clear that they are used to having plenty of liveliness in their home, from the generously sized living room to the extra large dining table! We really felt like a part of their family.
Rebecca
2015-08-31T00:00:00Z
Host was great really felt like home and had the freedom like it was my own great view of the sunset over the bay. The layout of the house is really open, great for hanging out. Definitely going through Iris again.
Kyle
2016-05-30T00:00:00Z
Iris made us feel very welcome and was responsive to any of our questions and requests. Very friendly and invested. The neighborhood is great, a short walk to the beach.
ari
2016-05-02T00:00:00Z
Wonderful home, and Iris was very responsive and helpful. We loved staying here and exploring margate!
Matina
2016-05-16T00:00:00Z
Iris was very accommodating and we all had a very nice stay at her house. It was a little bit of a surprise when we found out that the house was located right in front of the toll gate but it didn't affect our stay at all. The house was very cozy and homey. Kitchen was very clean and the rooms were comfortable. Overall, it was a very good experience as my first Airbnb stay.
Yeji
2017-03-05T00:00:00Z
The hosts were very accommodating and warm, and were happy to let us use anything in the house. The house is very spacious, well lit and has an amazing kitchen/dining room area! The master bedroom even has a master bath which is split into a room with sinks and a bathroom/shower, so we used that room to put the pack and play for our toddler, so it as really like a 5 bedroom house for us. All the rooms are spacious, and the driveway accommodates 4 cars.
Alina
2016-09-18T00:00:00Z
Iris was very accommodating and welcoming. The house was as expected with easy parking and a great backyard for casual hangouts. Would stay again.
Kaitlin
2016-07-18T00:00:00Z
We were only there one night unfortunately but it was a Clean house, key was left under the mat, iris was very responsive before and during our stay. Willing to explain the kosher kitchen. We had a great time! Would def stay again!!
Gina
2015-09-28T00:00:00Z
Room Type
Entire home/apt
---
Property Type
House
---
Accommodates
8
---
Bedrooms
Margate City, NJ, United States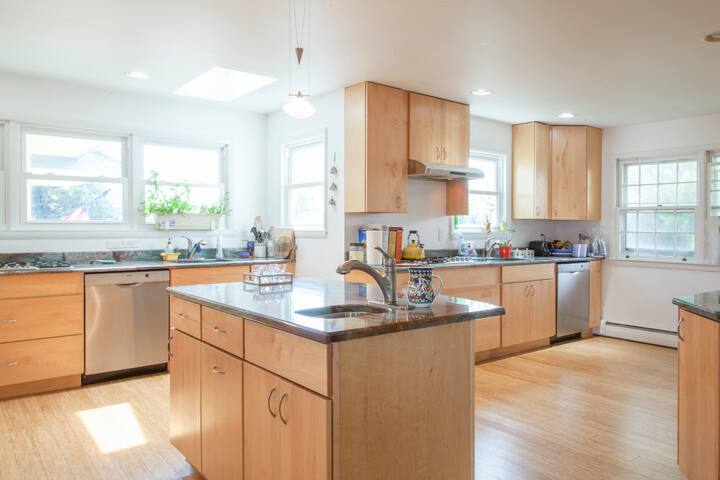 Northfield - Airbnb
:
Average

4.83

out of

5

stars from

132

guest reviews
1

–

18

of

160 Home Rentals
Enter dates to see full pricing. Additional fees apply. Taxes may be added.