The Portage Loft is a quiet and serene 700sf space ideal for a couple or small family. We provide an inflatable mattress for the 2 additional people. It is recently remodeled and features a comfortable space to relax, read and play board games. Our location is central making all places on the island relatively close whether you are driving or biking. Lots of good walks to the beaches, farms and Tramp Harbor fishing pier. The quiet is filled with the sound of birds, owls & sheep.
HOUSE RENTAL AMENITIES Portage Loft is in a separate building from our home, so you'll have maximum privacy. Its beautiful open plan has tons of natural light. Accommodations for up to four guests include a king bed, an inflatable queen size air mattress, and a spacious bathroom with shower. Curl up in the living room and read a book, use our free wifi, or play games at the dining table. If you need to do laundry we will make ours available. In the kitchenette you can prepare a simple meal if you'd like to stay in. It has a small refrigerator, single electric cooktop, microwave, and toaster oven and a propane grill. And don't forget the coffee stored next to the coffee maker as well as tea, hot chocolate, popcorn compliments of the owners. Miscellaneous staples are also provide. VACATION RENTAL DESCRIPTION Portage Loft is conveniently located near the center of Vashon Island, only a one-minute drive to the beach on the beautiful Puget Sound and a five-minute drive into town. It sits on four tranquil acres where you can escape the commotion of city life. There is a small deck for relaxing, sipping a glass of wine or taking in the morning sun, and the large, tree-lined yard offers plenty of space to play with your family. Short drives in several directions will take you to a variety of interesting hikes—some with the promise of wildlife sightings! From the moment you drive onto the ferryboat, you will definitely feel like you are on vacation.
Our neighborhood is Vashon. We provide a pamphlet that is full of things to do on Vashon. We have a new arts center, Vashon Center for the Arts ((URL HIDDEN) that has ongoing events of music, plays, talks. Also check out Vashon Events, (EMAIL HIDDEN) for a broad spectrum of weekly events and Open Space (URL HIDDEN) for performances of all types, First Friday is Art Walk and be sure to make reservations for dinner that night. We also have a great movie theater playing current movies. On weekends music is often playing at the Red Bicycle Bistro. We have maps for the numerous hikes on the island as well as bike rides. Lists of the restaurants and for coffee, tours of wineries, cider, distilleries go to (URL HIDDEN)
The place was lovely and we wished we could have stayed longer. It is impeccable and beautifully decorated to fit into the surroundings really well. Deborah was a great host and I would highly recommend her place for a short or long stay!
Leynete
2016-08-08T00:00:00Z
Deborah is a very welcoming host. We instantly felt comfortable there and settled right in. The loft is extremely clean, nicely redone and comfortable for a small family. We were very close to the main town and to the harbor. If we get back to Vashon, we'd definitely stay here again.
Jane
2016-08-22T00:00:00Z
Deborah and Thomas' Portage Loft was nothing short of perfection! My little family of four (my husband, two young daughters and myself) needed a last minute escape. We had a family party to attend on Saturday and turned it into a weekend getaway. Because the weather wasn't great... We spend most of our time Saturday in the loft! We played board games and cards. It was the perfect location to relax and enjoy some time as a family "unplugged."
Katie
2016-05-23T00:00:00Z
Deborah and Thomas were wonderful hosts. The loft apartment was the perfect getaway for our little family. Their property is beautiful and close to both town and the beach. Although it doesn't have a full kitchen, we had no problem cooking 2 breakfasts and a dinner there. We would stay there again in a heartbeat.
Maggie
2016-07-11T00:00:00Z
Wonderfully designed property with fantastic details and gorgeous NW setting. Deborah and her husband were gracious, friendly hosts, and their home is my dream home. Plan to stay there again soon
Megan
2016-08-12T00:00:00Z
Wow! What a lovely hideaway this is! We stayed at Deborah's for two evenings while on Vashon for our wedding this August. The space was perfect for us gals to get ready at the day of the wedding and a wonderful spot for my husband and I to spend our first night as a married couple. Deborah and Thomas are such gracious hosts and truly made our stay special. The loft is thoughtfully designed and provisioned with everything one might need. From the linens to the lighting, one can tell there was thought and care in designing this fantastic place. The patio is perfect for sipping coffee and soaking in the beauty of Vashon. I highly recommend staying at Thank you for everything!!!
Kristine
2016-08-29T00:00:00Z
We found everything to be as described on the website. The space is immaculate and warm, well appointed, quiet and private with nearby walking trails, coffee shops and gourmet dining. Deborah has put together a comprehensive book of things to do while on Vashon that we found very helpful and any time we saw her, she had suggestions for us of things to do and see. We enjoyed hiking around the Central Forest and Dockton Park. For dining, we especially recommend May Kitchen and Bar which is easy to miss from the outside but glorious inside from exquisite Thai food to attentive service and beautiful decor. Just look for the elephants on the roofline in the heart of downtown Vashon. We also enjoyed breakfasts at Cafe Luna and we found Minglement, which is inside the Rosterie very helpful in warding off the onset of a cold with a wonderful herbal solution. Giraff is also a great place to purchase gifts! Vashon is favorite of ours and we continue to make new discoveries with each visit. We'll come again. Thanks, Deborah, for your kind hospitality. Such a lovely retreat.
Carla
2016-10-15T00:00:00Z
They were very pleasant and gave us plenty of space to interact or be alone! They have a very clean and airy space. Our stay was everything we needed and more! They have lots of information about things to do and places to see on the island.
Cyndi
2016-09-26T00:00:00Z
Room Type
Entire home/flat
---
Property Type
Loft
---
Accommodates
4
---
Bedrooms
Vashon, WA, United States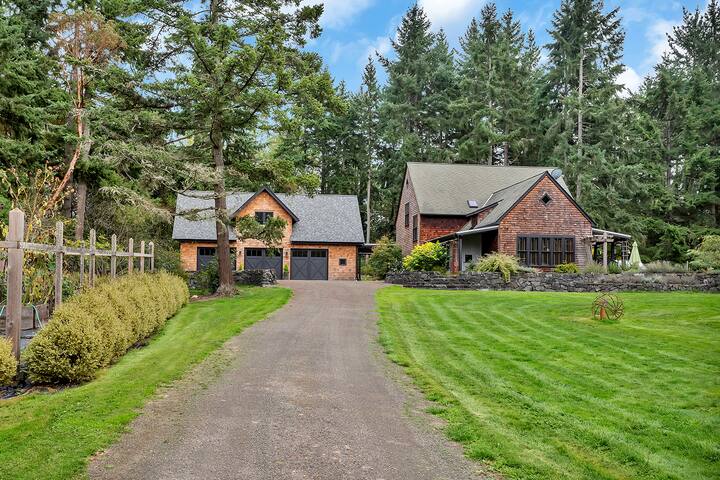 Visit Vashon Island, a ferry ride away from Seattle. Enjoy privacy and comfort in our suite in the woods located above a detached garage next to our home. It includes a king sized bed, as well as a queen futon and a 3/4 bath all in one large space.
The suite accommodates at least 4 comfortably within a large open space. If you have a larger family, we can provide a foam mattress for an additional person. The main sleeping area with the King bed is defined by a shelving unit which provides privacy and helps to make it more like a separate room. The comfortable couch is a Queen Futon that we make into a bed as needed. We have a treadmill if you are interested in some exercise during your stay. In addition, there is a cozy sitting area with a 42" flat screen television with Direct TV and a DVD player. The suite is accessed by an exterior staircase.
We love the privacy afforded by being down a long gravel drive in the woods. We back onto 360 acres of protected woods called Island Center Forest. There are amazing trails for walking, horseback riding and biking. Waking to the birds and the sounds of nature are part of the package here.
Had a very relaxing time at this comfortable, quiet studio in the woods. Very cozy, giant bed (the mattress is AMAZING!), and peaceful surroundings. Just the quiet weekend I was looking for, and the snacks/breakfast foods were much appreciated before a long days' work. Lisa made everything so easy.
Gregory
2014-11-17T00:00:00Z
Lisa is a superb host. We had a wonderful stay in her guest apartment and would not hesitate to book again if we return to Vashon. The apartment is clean and spacious and suited our needs perfectly. Lisa was friendly and helpful - even let us borrow bikes for an afternoon ride. Thank you for your kind hospitality!
Kelly
2015-08-15T00:00:00Z
Excellent experience staying with Lisa. The loft was very private and in a great location. We liked having a clean and quiet place to stay before our flight home. Lisa was great and provided some breakfast items to make our morning commute a little easier. The place was very clean and well furnished for our stay. Excellent experience and we would recommend her to everyone
Damon and Bethany
2014-10-06T00:00:00Z
This is a quiet, clean place that is lovely for a stay on Vashon. It was easy to find and the host was easy to communicate with about everything. We highly recommend it.
Melissa
2016-12-11T00:00:00Z
Thank you for a wonderful stay for my friend from overseas. He really enjoyed the peace and quiet and lovely surroundings.
Laura
2014-09-01T00:00:00Z
Great stay! Wonderful large loft, Lisa was very responsive and helpful
Leslie
2016-08-15T00:00:00Z
What a great place. We spent there only one night, but it was exactly what we were looking for. Very clean, quiet and the host provided coffee machine and a little breakfast which works perfect for small kiddos :) We found some toys for kids as well, thank you !
Ewa
2016-10-28T00:00:00Z
Lisa was very warm and helpful as our hostess. She gave us some ideas of activities to do while we were there and even let us borrow some board games to play. Their home is beautiful. It was a cozy home away from home experience. We loved hearing the woodpeckers and other birds in the morning and the view of the stars at night was breathtaking. She even had cereal, yogurt, organic milk and fruit for us in the morning. Thank you very much, Lisa!
Kelsey
2015-06-28T00:00:00Z
Room Type
Entire home/flat
---
Property Type
Loft
---
Accommodates
5
---
Bedrooms
Vashon, WA, United States
Enter dates to see full pricing. Additional fees apply. Taxes may be added.