2 private bedrooms on main floor with shared bathroom. 3 minutes off I80 for you coast to coast travelers not waning to spend a lot of money on a hotel. Very clean house with a hunting theme.
2 private bedrooms with a shared bathroom upstairs. Full access to kitchen and living room.
Small town USA, but 3 minutes from I80.
Room Type
Private room
---
Property Type
House
---
Accommodates
2
---
Bedrooms
Sidney, NE, United States
The Sedgwick Antique Inn has 14 bedrooms available in the historic bank building. Our guests tell us this is a wonderful place to stay. Please stay with us as long as you wish.
Lots of space and lots of room to let your imaginations flow.
We walk the streets at night. You will be safe in our friendly little town. We have the Jumbo Reservoir 5 miles west of us. Fishing and hunting is abundant in our area. Keep in mind we are a small town with a bar and a dispensary across the street.
Sedgwick is a tiny town with just a few businesses and a railroad track through it. Lupe is welcoming and talkative, and knows a lot about the area. It was fun to hear a bit about its history from her. Plenty of parking, but no gas station in town. There's a cafe attached to the inn where you can get an affordable meal. I recommend checking out the museum in Sterling, about 40 miles away.
Rae
2016-07-14T00:00:00Z
Lupe is a great host and a very interesting person to talk with. We enjoyed our visit with Lupe very much!
sharon
2016-07-24T00:00:00Z
Forget your American notion of a hotel when you walk through the doors of the Sedgwick Antique Inn. This hotel bring the amazing charm of a European venue to the states. We were greeted and welcomed by Stephen and made to feel right at home. After a quick tour where we saw the fully stocked breakfast nook and the amazing common area, we retired to our quaintly decorated double. There was exactly the right mix of fun and hedonism. It reminded me so much of backpacking excursions in Europe. If you have done that and are comfortable with that level of relaxed elegance, you'll do well at the Sedgwick Antique Inn.
Santha
2015-12-12T00:00:00Z
Loved the space, the host, and the town. Lupe is amazing! Can't recommend highly enough.
Kendra
2016-12-22T00:00:00Z
Lupe was very welcoming. She gave us a quick tour of the place and allowed us to choose our room. There are quite a few to choose from. There was also ample parking. Lupe gave us a brief overview of the town, which is quite tiny and set off from the highway. The town itself seemed peaceful, if a little isolated. It is also directly across from a dispensary if you're looking for that kind of thing. There are 2 bathrooms to share for all the rooms. The mattresses are a bit older and quite noisy, as is the center hallway that runs in front of all of the rooms. I also found it to be quite dusty (I'm allergic to almost everything) so I had to take a benadryl to get me through the night. Everything is a bit dated and worn, but some may find it to be kitsch. All in all, great host, but for the sake of my allergies and wanting a private bathroom, I would pass.
Princess
2016-05-27T00:00:00Z
We had a great stay with our 2 cats! Lupe was welcoming, generous, and can tell you a lot about the history of Sedgwick. Very cool building with a lot of character.
Rachel
2015-10-01T00:00:00Z
Lupe is a wonderful soul. She is welcoming and talented with an eye for antiques. This is a safe and beautiful spot for a restful night off the road and an oasis of beautiful people and surroundings. See you later Lupe!!!
Juliene
2016-08-08T00:00:00Z
Lupe wasn't there when we arrived, so someone else gave us our choice of rooms. The old building and decor were charming and exactly as shown in the pictures. Some routine maintenance and cleaning is needed. There are broken handles on the shared bathroom's shower and peeling stucco in the bathroom. However the bedding was clean and very comfortable. The restaurant next door was delicious. Very old west feel to the town and rooms. Quite charming.
Wendy
2016-10-02T00:00:00Z
Room Type
Private room
---
Property Type
Other
---
Accommodates
16
---
Bedrooms
Sedgwick, CO, United States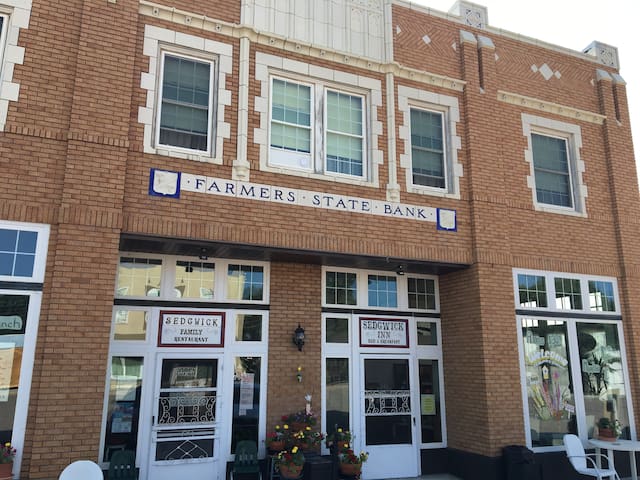 Enter dates to see full pricing. Additional fees apply. Taxes may be added.