Quinta do Castro is an ancient farm with 7 hectares where you can enjoy swimming pools, mini-golf, football field, slide, barbecure, tenis, horseriding ring in the midle of a wonderful natural scenery. The Grandma Mary's House has a vernacular kitchen with a wood oven, a large room with fireplace and another with tablesoccer, a bathroom (the water is warmed with wood) and a bedroom. The house offers yet a big balcony where you can glimpse nature while listenning the sound of birds and brook.
Room Type
Entire home/apt
---
Property Type
Villa
---
Accommodates
4
---
Bedrooms
Freixo, Porto, Portugal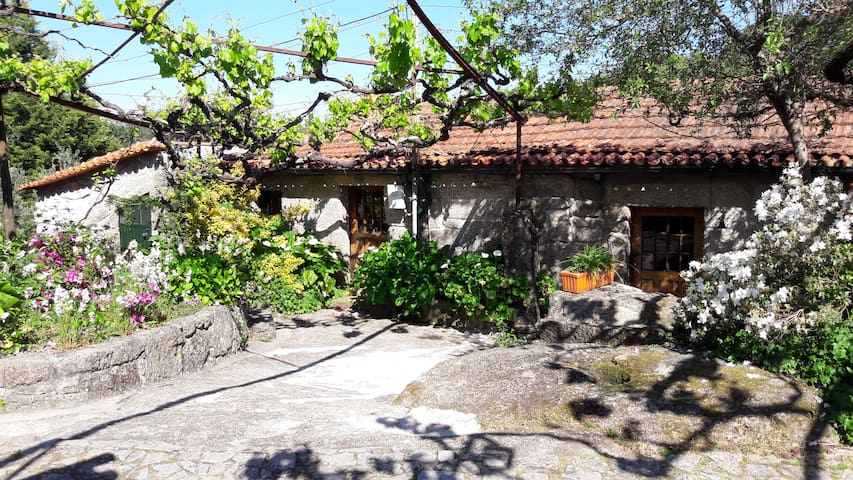 House with stunning views of the Douro River and very comfortably, surrounded by beautiful gardens, swimming pool, grill, where you can enjoy a fantastic holiday.
The house offers you comfort both indoors and outdoors, housing a group up to 10 people where they can enjoy the whole house, swimming pool, and various nooks and gardens and even a breathtaking view of the River Douro.
(URL HIDDEN)
We celebrated the new year with a group of 10 people, and that was fantastic! The description and the photos don't convey the atmosphere of this place. A lot of space even for few companies, solitude, splendid views, warmth, cozy houses full of antique and just beautiful things and very friendly hostess helped us to spend wonderful holidays. Ah, and if you are going to cook there, don't bring any kitchen appliances - there are everything, till a pot for live coals or a fondue set. Two kitchens, excellent bbq, outside rural oven.
Oxana
2015-01-03T00:00:00Z
Our 4-night stay at Quinta de Pias was an excellent introduction to the Douro river valley. Situated no more than an hour east of Porto, the winding roads and small villages attested to the country-side charm of this area. The house was very comfortable for two families with children, but the highlight was the multiple out-door living spaces, garden/yard and pool area, all of which made you want to spend the days (and nights) outside just enjoying the atmosphere and views. Manuel (the owner) and Helena (the manager) were very attentive to our needs when necessary, and the surrounding area is great to explore. NB: bring a good white sangria recipe, and don't forget your GPS ;-)
John
2015-09-02T00:00:00Z
we were a family of 8 and we had a perfect vacation mostly because of this house! the Landlords Manuel and Candida were so kind and friendly, they escorted us happily with their car all the way to the house even though we arrived very late at night. the house is perfect, the region is spectacular! 10 out of 10!!!
Omer
2016-04-23T00:00:00Z
Perfect spot, great house. really friendly host. Probably the nicest house I've ever rent.
Matthieu
2014-09-12T00:00:00Z
The Pictures Do Not Do This Justice! What a beautiful villa! And an Amazing host!! If you are just looking for a retreat then here it is. You can also hire the boat and go for a cruise down the river, few glasses of wine..... You must have transport though I wouldn't recommend going without some Thank you so much for an amazing break Adie
Adie
2015-06-20T00:00:00Z
We had an amazing time in Quinta De Pias. The house is even better than the photos, so much space, lots of terraces to use depending on the time of day, the wood oven was used every night and made the food taste delicious. I don't even think the Jazz room with great sound system and exercise bike is mentioned in the description, or the roof terrace, perfect for star gazing. We were 2 families and had so much space and such a great time, the pool is immaculate and of course that view. The hosts Manuela & Candida were so helpful and welcoming.
Rachel
2016-08-08T00:00:00Z
Fantastic place. Great location, spacious, and pool was fabulous. All amenities were excellent. Great for large groups, with plenty of room to spread out. Manuel and his wife were very welcoming and helpful. Highly recommended.
Tony
2015-09-27T00:00:00Z
We stayed for three nights and I wish we could've stayed longer! The house is absolutely wonderful and the pool is perfect. There's a kitchen but we especially loved cooking on the brick BBQ outside. We hired a car and had no trouble finding the house. It's a great house for groups or families and it's even better in real life than the pictures! Helena was a great host - thanks for a lovely stay.
Jade
2016-06-11T00:00:00Z
Room Type
Entire home/apt
---
Property Type
Villa
---
Accommodates
10
---
Bedrooms
Espadanedo, Viseu, Portugal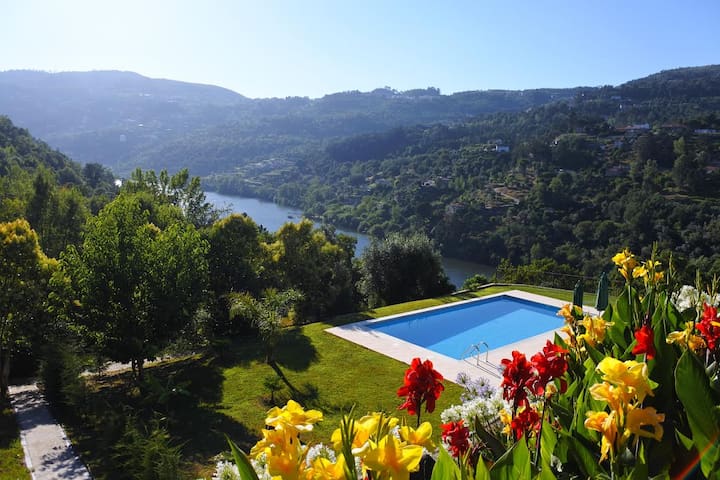 Se alquila esta casa con 9 habitaciones y capacidad para 23 personas, ideal para una familia grande, retiros de empresa o grupos de amigos. El precio es de 15 € por persona y noche. Alquilamos a partir de un mínimo de 10 personas y de 5 noches . El precio incluye el acceso a las piscinas y pista de tenis, que son compartidos. No alquilamos para fiestas ni despedidas. Solamente para gente que quiera relax y tranquilidad.
Cuenta con cocina, amplio salón con bar, comedor, terraza, 3 habitaciones con cama doble, 3 habitaciones triples (una doble y una cama individual) y 3 suites (una cama doble en el dormitorio y una cama individual en el salón). Las suites se pueden dividir en 2 habitaciones separadas. Todas las 9 habitaciones tienen baño privado. Autorizamos animales pequeños siempre y cuando se hagan cargo de la limpeza y por cualquier desperfecto que puedan causar.
Todos nuestros alojamientos están en una finca que se llama Quinta dos Agros.
Room Type
Entire home/apt
---
Property Type
Villa
---
Accommodates
16
---
Bedrooms
Sande, Porto, Portugal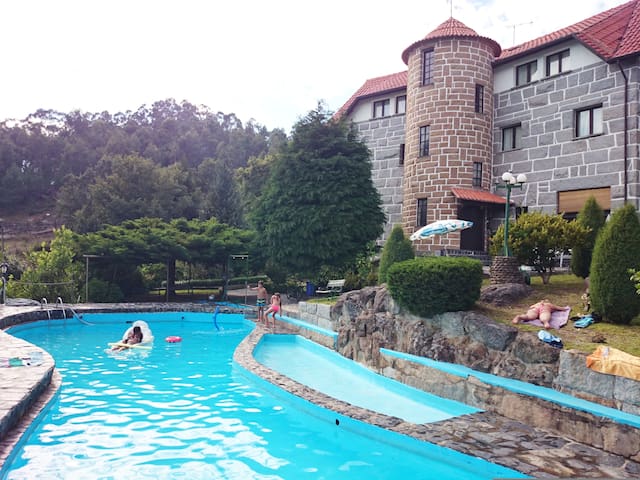 Casa da Mialú is a rustic house located between Douro and Tâmega rivers. It is surrounded by the historic Romanesque and Green Wine route. Casa da Mialú is the ideal place to fully relax and enjoy the permanent contact with nature.
Indoor area is tiny and romantic with all the comfort you need to make you feel at home. The house is fully equipped with TV and DVD and also Hi-Fi devices so you can enjoy music with your friends and family. Kitchen space is modern including oven, coffee machine (nexpresso), fridge and microwave. Outside area is huge with enough grass space to play sports, camping or just relax with an amazing view over the valley. The house also comes with other three distinct spaces: a bbq lodge ideal to prepare your meals or just listen to some music on the shadow. A chill out shack equipped with Brazilian bouncing beds with top view over the valley. And a little swimming pool with fresh cold water ideal for the kids and friends to play or just refresh when the weather is just too hot. Fore more info visit (SENSITIVE CONTENTS HIDDEN) page : A casa da Mialú.
Much could be said about the neighborhood of Ariz, shortly: - it's a very quiet area surrounded by mountain and valley. - people are very relaxed, humble and very friendly, though the majority does not speak good English. - all the region restaurants, bakeries and cafes serve the region specialities for a very low price.
We enjoyed our stay a lot in Ariz, for us it was a perfect place especially with the wonderfully maintained garden and swimming pool, and the several nice places to relax in the garden. The views are also spectacular. Lurdes is also a lovely person, thanks a lot for these days.
Sofie
2014-08-16T00:00:00Z
Our last 4 days in Portugal could not have been better thanks to cheerful Lurdes and her beautiful house, decorated with taste and with all comfort needed! We felt completely free and alone with total privacy at the end of this village with an amazing view on the Douro vineyards. The summer kitchen upstairs was just amazing. If you need quiet time to relax, run there, it s a portuguese Eden!
Caroline
2015-07-04T00:00:00Z
The house and the gardens are really beautifull. We had the best time. Every morning we woke up with with a cup of coffee and whatched the sunrise. During the day we enjoyed the garden and swimmingpool and in the evening we used the outdoor kitchen and bbq. We were completely relaxed after spending 5 days in this house. Lurdes is also really nice and the communication with here was good!
Judith en Jurijn
2016-09-11T00:00:00Z
My holidays at Lurdes' house were perfect, the house is even more beautiful than in the pics, so many details, the gardens were gorgeous, the summer kitchen is amazing and there is absolutely anything you can possibly need in the house. It was also extremely clean. I just can't think of anything else that I would add to the place. Lurdes was very welcoming and friendly making us feel at home right from the moment we arrive. We would definitely love to come back and we also recommend this place for anyone who would like to relax and feel at home during vacations. Thank you Lurdes!
Augusto
2015-09-08T00:00:00Z
Both Lurdes and her house are great! Lurdes was very welcoming and showed us around the place. The house has everything you need for a week of relaxing, including some groceries that you can buy when you arrive without food for the first day. The house is quite cool at nights because of the thick walls and blinds. Especially the outside area is lovely. The garden has several layers, as the house is build upon a hill. It offers a great view and you can always find a spot in the shade. We really loved it!
Sophie
2016-07-05T00:00:00Z
We've spent the last four days of our holiday at this beautiful spot and felt like Adam and Eve in this paradise. We loved the surroundings, the little swimming pool, the kitchen upstairs, the silence and the awesome views. A place to come back and relax again. Ask the priest from the opposite church why he always rings the church bells twice
Chris
2015-06-29T00:00:00Z
We had a great time staying at Lurdes's place. Lurdes was so friendly and helpful and provided us with lots of great information about the local area, close towns and Porto. Unfortunately the local restaurant she recommend the first night was closed which left us in a bit of a cuffufle but we managed to find a really lovely waiter at cafe ideal who made us a light dinner which was actually really tasty! The actual house is cosy and small but was great considering we were spending the days out and then in the evenings we spent our time in the upstairs kitchen in the garden which was so cosy and more spacious then the house kitchen. The special part about Lurdes place is the beautiful land - the three terraces with the fun teepee, the shallow paddle pool, the garden kitchen and the shaded lounge area was really really great! Would definitely recommend!
Zoe
2016-10-01T00:00:00Z
Lurdes is a very nice person - she always was helpful and all her recommendations were 100% perfect. The house is well equipped, clean and comfortable. It nearly has a touch of a museum as there are many tastefully collected things arranged all over. We had very relaxing days here and can absolutely recommend a stay! Bärbl & Gerald and kids
Gerald
2016-08-24T00:00:00Z
Room Type
Entire home/apt
---
Property Type
Villa
---
Accommodates
4
---
Bedrooms
Ariz, Marco de Canaveses, Portugal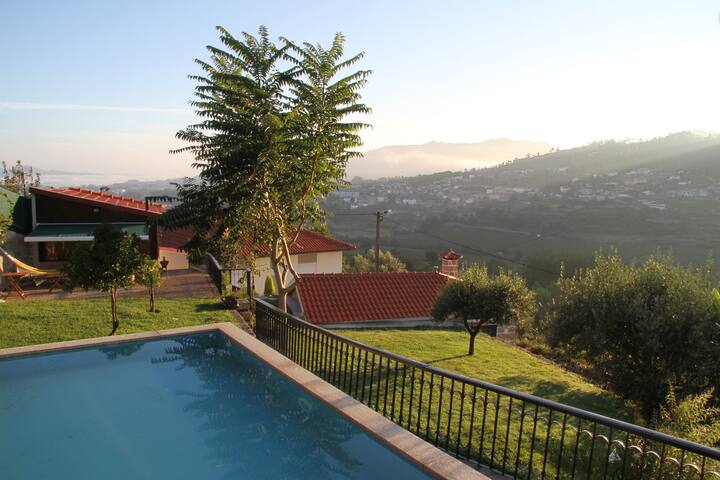 "Quinta das Pereiras" is a cosy property with breathtaking views looking on the Douro valley. It is ideal for days of tranquility, harmony and relaxation. It is the perfect place to enjoy the serenity of the Douro at any time of the year.
Property has 10000m2 of private land, being the house placed on the higher spot. The space has great privacy and discretion, which is ideal for those who wish to be away from the daily hustle and bustle.
Quinta das Pereiras is located in the suburbs of Vila de Cinfães, a quiet, peaceful area of high natural beauty.
We will have incredibly fond memories of our time here. Alfonso and his parents, Peter and Alexandra, were extremely helpful and attentive. The house has been lovingly restored and it was a wonderful place to relax . We explored the surrounding countryside by using the local roads rather than highways. It takes longer to get around and the roads are narrow and winding. But we felt we got a glimpse of the real Portugal. The beauty of the landscape and people is incredible and we hope to come back again when the grapes are on the vine. We would certainly want to stay here again.
Beth
2017-03-20T00:00:00Z
We loved meeting Afonso, Felipa and their family. The welcome by Afonso's parents was so warm and informative. We felt that it was a real privilege to stay in their place. The location is exceptional and very easy to find with a GPS. We would love to return and stay longer!!!
James
2016-10-04T00:00:00Z
We felt very welcome at Quinta Pereiras. We were welcomed by Afonso's dad, Pedro and his mom, Alexandra. Such warm and friendly people. They made us feel straight at home. The house has been in their family for a few generations. It used to be a farm house, beautifully converted into a Portuguese mountain holiday house. The house sits on a deceptively big plot of land. Due to the mountainous nature of the region, there are several decent size steps, where corn was grown, harvested and worked. Ask Afonso or Pedro for the story of the place, they are totally happy to tell you all about it. The main balcony of the house faces west. Beautiful views to the mountains and valleys carved by the Douro river. We saw some of the best sunsets we have seen in our lives sitting on the balcony chairs after a swim in the refreshing swimming pool. At night, the sky was full of stars, as there's almost no light polution. There are no neighbours above or to the sides of the property. You really feel like you are on top of the world with total privacy. The tap water in the house is directly from a mountain spring. Amazingly clean (lab tested) and tasty. The house has an amazing kitchen and there are several supermarkets near by, which makes it easy to cook in, as there really isn't much point to eat anywhere else. There's a good selection of locally produced green wine (very typical of the region) in the fridge. Pedro and Alexandra offered us one bottle as we came into the house. Thank you! We enjoyed it! It's very easy to get to the city of Cinfães with a car. The route is well signed throughout. To get to the house is a bit more complicated, but Pedro guided us through really well and was waiting for us at a crucial point. All we can say is, it was totally worth it, amazing price, amazing house, beautiful scenery, amazing people. Thank you for providing us with such an amazing weekend.
Jorge
2016-07-11T00:00:00Z
We were charmed by Alfonso and Filipa, their warm welcome, their kindness, we were helpfully guided , it s necessary to reach this lovely place, an absolutely astonishing view on the mountains landscape. The house, rebuilt with care and a sure taste, is an ideal and quiet place to rest and have some refreshing nights. For the ones who love old timer's style with all modern comfort and equipments. Water flows from a mountain well , a pump feed all the pipes of the house and it taste so good! Don t hesitate a second! We stayed only three nights, a pity! We warmly recommand this place! En francais, la maison est tout a fait dans l esprit de Airbnb, ou l on s y sent chez soi, et que l on aimerait habiter tout au long de l annee. Murielle et Hervé
Murielle & Hervé
2016-08-16T00:00:00Z
We highly recommend Afonso's place. We received a very warm welcome and were given some great local information. It's a lovely house, recently renovated, loads of character. We recommend swimming in the Rio Bestanca next to the bridge. The meat from the local butcher is superb. A very nice stay.
Luke
2016-07-15T00:00:00Z
O Afonso e a Filipa foram excelentes anfitriões, super disponíveis para esclarecer qualquer questão e para resolver qualquer problema e foram incansáveis em tornar a nossa estadia maravilhosa. Preocuparam-se em saber o que gostávamos e aconselharam-nos percursos e locais a visitar em conformidade. A quinta é absolutamente fantástica, um paraíso no meio do nada mas perto de tudo, perfeito para turismo de natureza ou apenas para relaxar no jardim. A casa foi remodelada muito recentemente e tem todas as comodidades necessárias, mantendo o traço rústico que a torna encantadora. A única coisa má é mesmo ter de ir embora! Recomendo vivamente e espero poder repetir a experiência!
Sara
2016-06-14T00:00:00Z
Antes demais, começaria por dizer que o Afonso e a Filipa são muito simpáticos e muitos prestáveis. Mostraram-se muito disponíveis, e puseram-nos à vontade na sua bela Quinta das Pereiras. O espaço é muito encantador, sendo que, até nos surpreendeu pela positiva, pois as fotos não conseguem transmitir a tranquilidade e o aconchego proporcionado pela casa, a sua decoração muito "humana" e "familiar", o "feeling" orgânico conferido pela predominância da madeira, e toda a envolvência do terreno (que é enorme), que nos lembra que estamos "no campo". A mesa de madeira que se encontra no exterior, possibilitou alguns almoços ao ar-livre, que tornaram a experiência ainda mais prazerosa. A presença da piscina é um bonus muito agradável, e proporcionou-nos momentos de muita diversão e frescura, intercalados pelos banhos-de-sol na eira, bem equipada de espreguiçadeiras. Foi sem dúvida uma semana muito bem passada, a qual voltaríamos a repetir na certa, e pode ser que isso venha a acontecer :)
Vasco
2016-08-20T00:00:00Z
Alexandra et Pedro nous ont accueillis très chaleureusement, nous avons concocté un programme ensemble, la maison était vraiment un havre de détente après des journées de visites bien chargées. Le portugal est un pays magnifique les touristes sont accueillis vraiment avec une chaleur non feinte si vous êtes avec un enfant ce qui était notre cas vous êtes entourés et choyés. Vraiment je conseille ce site pour un séjour réussi.
Fabienne
2016-08-29T00:00:00Z
Room Type
Entire home/apt
---
Property Type
Villa
---
Accommodates
6
---
Bedrooms
São Cristóvão de Nogueira, Viseu, Portugal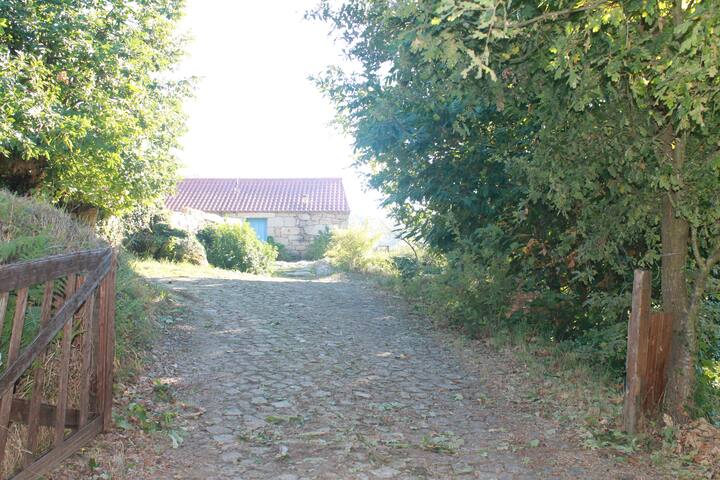 Family house with beautiful outside area, gardens and swimming pool
The property is located 70 km from Porto airport, and overlooks the Douro Valley, facing Cinfaes, montain village. Trecking around, fishing in Douro and nearby mountain rivers,bathing in montain pounds, train rides near Douro river, thermal leisure available in Aregos distant 20 km, typical restaurants nearby, or simply lying in the gardens and pool, relaxing and enjoying quietness of the spot.
The neighborhood is wellcoming and quiet.
Great place with much history. Nice garden with a superview.
Robbert
2016-10-23T00:00:00Z
We had a wonderful stay. The house is rustic, full of character and history; the grounds are beautiful; and the views are amazing. There were 10 of us and we found plenty of space and all the equipment we needed. We enjoyed swimming in the pool every day and collecting lemons from the tree. The house is in a peaceful location but we were able to walk to a cafe and some local restaurants - some are just across the road. Penha Longa is accessible on foot (along a road with no pavement) with a bakery, butcher and mini-markets. We needed a car to get around, as bus services are limited. Train services are good from stations around 15 minutes away by car; members of our party visited Porto and Pinhao, the heart of port production. Constanca and Maria were really friendly and helpful whenever we needed them, but gave us privacy. We would highly recommend the house for a peaceful, relaxing stay.
Cerys
2016-08-05T00:00:00Z
Constança ha sido una anfitriona maravillosa, atenta, generosa, muy amable y simpática. La casa tiene todo el encanto de la tradición y el sabor antiguo y rural más autentico. Es ideal para familias con niños, y para aislarse de la rutina urbana. El clima y el paisaje ideales, ubicada entre ríos y a 50 km del mar, satisface gustos variados. Sólo se echan de menos mejores comunicaciones por carretera con los núcleos urbanos principales, pero esto también preserva el entorno de la masificación turística.
Virginia
2016-08-22T00:00:00Z
Très bon accueil et grande disponibilité pour toutes les questions posées avant le séjour. Grande maison spacieuse dans un cadre paisible et verdoyant. Piscine très bien exposée et nombreux transats et coussins confortables. Nombreuses cartes type IGN disponibles. Nous avons passé un très très agréable sejour.
catherine
2014-08-24T00:00:00Z
Room Type
Entire home/apt
---
Property Type
Villa
---
Accommodates
14
---
Bedrooms
Marco de Canaveses, Porto District, Portugal
A nossa casa é o nosso refúgio! Só o chilriar dos pássaros, os mergulhos das lontras quebram o silêncio reconfortante e as vistas para o rio Douro. Dois dos quartos tem varanda e terraço para o rio, bem como a sala, a excepcional vista da piscina.
O Rio Douro, o sossego os passeios a pé e de comboio à Região Demarcada do Douro
Clara and Francisco received us warmly while allowing us the space to feel as if we were moving into our own home. As the days went by the more homely it felt, with all utensils needed for everday living available. Wonderful space, split on different levels, giving the house a mediteranean feel with wonderful views over the Douro. We had a wonderful stay, just too short! Thank you.
Constantina
2015-08-07T00:00:00Z
This is an amazing house with views of the Douro. The whole area is one of rural feel and outstanding natural beauty. You will need to get in your car to do stuff, if you can tear yourself away from the pool.
Alex
2016-08-02T00:00:00Z
We HIGHLY recommend this house for a quiet, scenic, relaxing get away. We traveled with 3 adults and a 16 month old kid. The house was spacious enough to handle another adult, and another kid -- especially if the kids/adults can entertain themselves outside (terraced patio + 2nd terrace with pool/lawn area). The three bedrooms upstairs are small but comfortable with good beds (2 full sized, 2 twins) -- two rooms have lovely views of the river, and terraces -- all have AC. The kitchen is well equipped for most cooking. Clara and Francisco were available and communicative before our arrival and responded to our questions (via text message) while we were staying at the house. They met us when we arrived, and left us a welcome basket -- and of course the beautiful home to stay in. Given the lack of reviews, we suspect we might have been one of their first guests -- and therefore we include some helpful tips from our experience: 1) We recommend renting a car. The immediate towns do not have much and grocery stores for provisions are 20-40 minutes away (scenic drives though!!) 2) (SENSITIVE CONTENTS HIDDEN) maps does not provide great directions from Porto (1-1.5 hours). The closest town is Pala, but this does not show up on all mapping websites. The hotel at the end of their road is a good landmark (Douro Royal Valley Hotel and Spa). The final 50-75m of their road before their house is narrow, and becomes dirt -- watch your car tires once it narrows. 3) The best wines are 40min - 1hr away (past Peso de Regua). Try port and table wines. The drive along 222 (on other side of river) is well worth it!!! We also took a train to Pinhao (Mosteiro train station is a 7-10 min drive from house). The train ride is cheap, easy and scenic and Pinhao is a cute town for a day trip, with several Quintas in town (walking distance). We had fantastic meals in Baiao and Folgosa (25-60 min drives). 4) There is wifi through a wireless hub they provide, but it was not great and ran out of credit on our first day – we could not figure out how to reload it. There is a hotel up the road that has a nice air conditioned bar (for a break from heat) -- they allow non-guests to use the bar. It has free highspeed wifi internet, good drinks and great views if you want to get back in touch with the world. 5) Make sure to ask the hosts at check in about appliances, garbage procedures and other assorted details. 6) They have a dvd player and a selection of movies. Bring good books. 7) Relax, cool off in the pool, walk along the river, enjoy watching the river boats lumber by, gaze at stars after an outdoor dinner on the patio, drink amazing portugese wine!!!!
Joshua
2015-07-13T00:00:00Z
Pros * Endroit exceptionnel dans une région qui l'est tout autant. * Vue magnifique sur le Douro qui est à moins de 50m. * Accueil de Clara et de son époux aussi bien avant, pendant qu'à la fin de la location. Un problème technique à par exemple été réglé dans les 24h par un technicien envoyé par Clara. * La maison est mignonne comme sur les photos. * La piscine est magnifiquement située un étage au dessus de la maison. La vue y est donc encore plus belle! Un souvenir inoubliable. Cons * Pas mal d'humidité dans la maison avec les inconvénients qui vont avec. À savoir des traces de moisissures et de rouille un peu partout. L'odeur persistante de moisi a fortement incommodé les plus "citadins" d'entre nous. Il faut toutefois ajouter que nous étions en début de saison (début juillet) et sans doute les premiers à occuper la maison. Des amis nous ont de plus confirmé que l'hiver et le printemps avaient été exceptionnellement humides. * Beaucoup de poussière dans cette jolie maison de montagne. Un grand nettoyage de "printemps" nous semble indispensable aussi bien dans les pièces que dans les armoires. En conclusion : magnifique maison qui doit juste être un peu mieux préparée à la location.
Laurent
2016-07-17T00:00:00Z
Nous avons passé un agréable séjour dans la maison de Clara. La maison est idéalement située au bord du Douro avec une vue splendide. L'espace piscine est très agréable. Quelques points à améliorer : une literie à revoir (matelas durs), un lave vaisselle qui fonctionne avec une aide manuelle, des poêles très abîmés et la wifi qui ne fonctionne pas. Inadaptés pour les familles avec de jeunes enfants (beaucoup de marches). Bien situé à une heure de Porto.
Réjane
2015-08-15T00:00:00Z
Une maison de charme paisible à souhait qui ne demande qu'à rendre heureux ses locataires !
Alexandre
2016-08-13T00:00:00Z
Room Type
Entire home/apt
---
Property Type
Villa
---
Accommodates
6
---
Bedrooms
Baião, Distrito do Porto, Portugal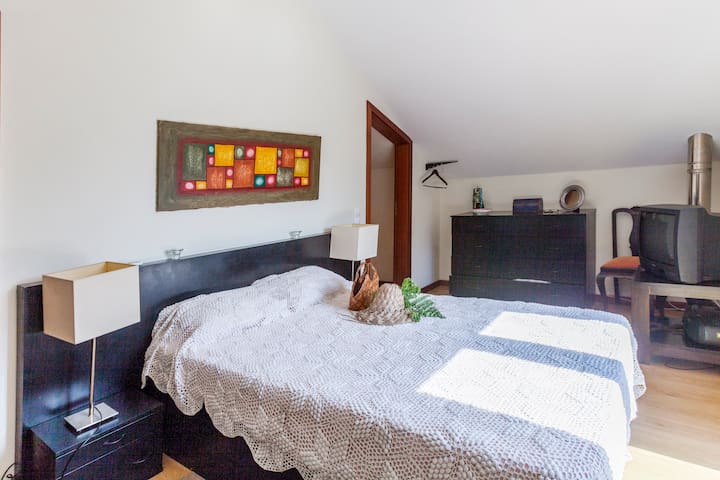 House Mountain in beautiful countryside, completely rebuilt, offers magnificent views, swimming pool and all the comfort you need to make vacation or weekend escape with friends or família.Perto the Douro River, hiking trails, waterfalls and parks is a place where time stands still.
Framed in a fantastic landscape with mountains, waterfalls, green fields and forest. Minutes from Ladário Park, the River Duero and simply unique landscapes, well worth making the trip and let loose for a land where everything is special. The landscape, the flavors and people.
A casa das Castanhas é de um incrível bom gosto! Espaço bastante acolhedor, com vizinhos simpáticos e muito prestáveis. O Nuno, que infelizmente não tivemos oportunidade de conhecer, desde sempre se mostrou disponível e fez-nos óptimas recomendações para conhecermos o espaço envolvente. A Dona Marcília, que foi quem nos recebeu, pôs-nos logo à vontade e ainda nos ofereceu lenha e legumes :) Para além da boa localização, óptima para quem desejar uma estadia harmoniosa e em convívio com a natureza, é um espaço decorado com muito bom gosto e bem preparado para acolher grupos grandes com o máximo de comodidade e conforto: todas as divisões tem áreas grandes, o que torna a casa bastante prática e funcional. Tenho a certeza que havemos de voltar para poder usufruir do espaço exterior. Recomendo vivamente!
Carlos
2017-02-26T00:00:00Z
A repetir :)
Anabela
2016-11-17T00:00:00Z
Um lugar com todas as estrelas merecidas, desde o local a casa é ao senhor Nuno sempre disponível para nos ajudar. Bem haja.
Paula
2017-02-28T00:00:00Z
Fantástica casa para gozar uns dias em família
Paulo
2016-12-18T00:00:00Z
A nossa estadia na casa das castanhas foi excelente. A casa é muito espaçosa e serviu muito bem o meu grupo de 10 amigos que nos reunimos para passar um fim de semana. O Nuno e a Dona Marcilia foram excelentes anfitriões, sempre disponíveis, fáceis de comunicar e muito muito simpáticos. Eu e os meus amigos voltaremos sem sombra de dúvida brevemente e de preferência no Verão para tirar partido da piscina. Recomendo vivamente a estadia na casa das castanhas.
Sérgio
2017-02-19T00:00:00Z
Adoramos a nossa estadia na casa das castanhas. O Sr. Nuno e a D. Marcilia sempre disponíveis, atenciosos e muito prestáveis. Adoramos a casa, bastante espaçosa e acolhedora. Seguimos o conselho do Sr. Nuno e encomendamos comida caseira e típica da região. E adoramos!!! Aconselhamos vivamente. Iremos de certeza voltar no Verão para que possamos aproveitar a piscina e tudo o resto que está casa tem para nos oferecer. Muito obrigado por tudo. Família Salgado
Tatiana
2017-01-29T00:00:00Z
Foi uma estadia óptima, a casa é super acolhedora, e o anfitrião é super atencioso. Uma experiência incrível e sem duvida para repetir!
Carolina
2017-01-02T00:00:00Z
Room Type
Entire home/apt
---
Property Type
Villa
---
Accommodates
10
---
Bedrooms
Cinfães, Viseu, Portugal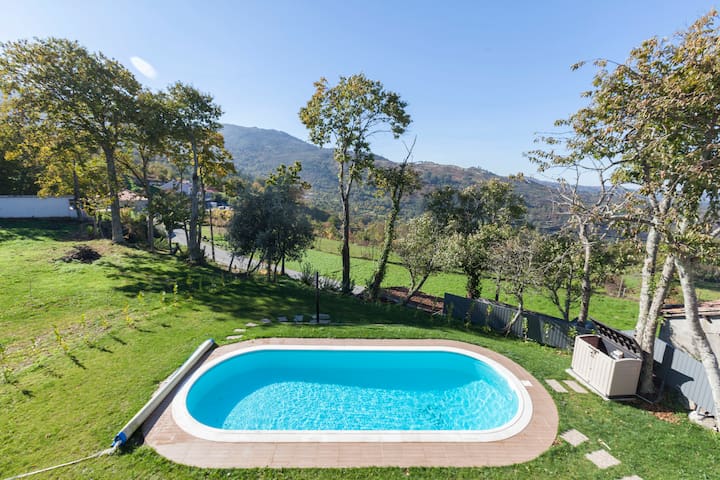 Quinta do Pinheiral is the ideal place for family holidays or friends. House set on 6 ha. with vineyards and fruit trees. It has a pool surrounded by a nice lawn that invites to rest, conviviality and smiling ...
Feel the Silence of Quinta do Pinheiral
We have been very warmly welcomed in the Quinta by Elsa. She took time to introduce the house and the Quinta to us and give us all necessary information. She was always easily reachable and responsive when we needed. What we have discovered was at least in line with the site description, and in reality even better: Splendid garden with nice & big swimming pool, with several different smartly designed places (barbecue area, resting areas at the shadow of trees, nice ) and long chairs to benefit from sun. The house was really spacious, well designed as well: simple, comfortable. We enjoyed it a lot, and felt like at home. It is in the middle of the Quinta, surrounded by vineyards. We could also benefit from the tasty vegetables of the garden. While the House itself is perfect to have rest and take time for your own (including children who could enjoy a very big and safe game field), the location of the Quinta is good for discovering the Douro river and also for visiting Porto and surroundings :Braga, Guimares, Almarante,... All these cities are at 1 hour or less by car. We recommend it very very strongly. Perfect for restful holidays.
Bertrand
2015-08-08T00:00:00Z
everything was amazing. the host was wonderful.
M iguel
2016-01-03T00:00:00Z
Elsa is a wonderful host, she gave us a lot of tips, was very helpful and responsive. The quinta is beautiful. We were overwhelmed by the size of the garden, the pool, the vineyards ... We loved the wines and the homegrown tomatoes, strawberries, melons,... The house is very clean, the beds are fine. The kitchen is very wel equipped. Our boys really enjoyed swimming and playing in the beautiful garden. They were excited to found some toys in the shed next to the bbqplace ! We did our best trying out all the relaxing chairs spread around the garden and even found the time to read! This is really the perfect place to relax, enjoy good food and wine and spend a familyholiday!
Sandy
2016-08-09T00:00:00Z
Simplesmente fantástico. O espaço ultrapassou todas as expectativas. O anfitrião demonstrou a arte de bem receber. Voltaremos numa próxima oportunidade
Paulo
2016-08-30T00:00:00Z
Séjour merveilleux. Endroit paradisiaque, à l'écart du reste du monde. Nous avions le sentiment d'être des privilégiés ! La maison est très grande et très bien équipée. Le jardin est splendide, plein de couleurs, avec différents recoins pour vivre différentes envies... Qui plus est, les hôtes sont adorables, très accueillants tout en étant discrets et confiants. Nous avons passé une semaine de rêve. Le rapport qualité/prix est également un sacré atout. Nous recommandons vivement ce logement, même si on aurait envie de garder l'info pour nous, car, c'est certain, nous reviendrons !
Bernard
2016-07-30T00:00:00Z
Hartelijke ontvangst door Elsa. Mooie ruime woning met alle comfort, veel knapper dan op de foto's, veel privacy in een groene omgeving. Proper en net. Alles aanwezig voor een geslaagde vakantie. Knappe omgeving om te wandelen. Ruime woning voor zes personen.
Walter
2015-07-21T00:00:00Z
L'ensemble est vraiment très agréable et avons chaleureusement été accueillis par les parents d'Elsa qui resta disponible par sms/mail malgré son absence. Cet endroit est propice au repos dans un cadre (maison, jardin, vignes, fontaine, vues environnante) vraiment charmant. Mérite d'y passer quelques journées sans prendre la voiture pour profiter du cadre.
Christian
2015-08-28T00:00:00Z
Room Type
Entire home/apt
---
Property Type
Villa
---
Accommodates
9
---
Bedrooms
Favões, Porto, Portugal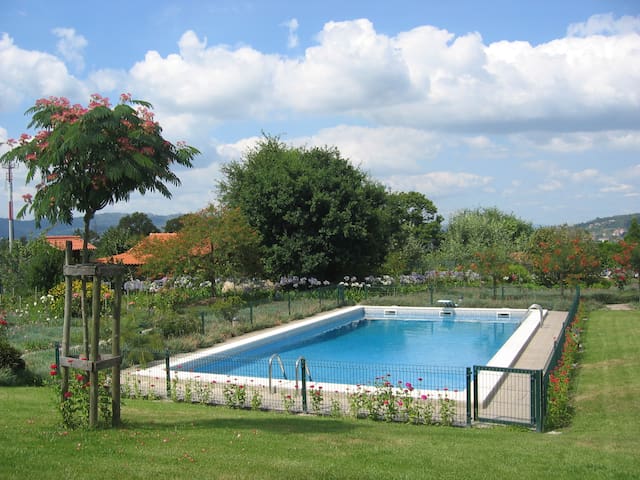 Casa da Povoa was built in 1700 and it is a beautiful house that can represent the architecture so typical of the era in the region DOURO. The Arms that exist on the door of the chapel are the arms of the family, at this time
Typical Portuguese Manor House from XVII Century, placed on River Douro banks, with 5 double rooms and able to receive until 11 people. The house was built in 1700 by my 6th Grandfather and rebuilt by me in 1996 after being abandoned for about 40 years and without a roof about 20 years. The farm is placed 9 km from Cinfaes do Douro and near the DOURO region classified by UNESCO as World heritage. The house is placed in the middle of a big garden, with area about 1 ha. In the garden there is a swimming pool with a very nice view towards the river. The farm is a big forest with about 100 ha, along the river south side, 2000 meters. In the garden there are a lot of fruit trees, such as orange trees, mandarins, cherry, peaches, lemons and plums trees. In the garden there is one small house where the maid leaves. She is a very good cook and is available for cooking and domestic services. Near the house you can find historic cities such as Lamego, Oporto, Vila Real, Amarante, Viseu and Regua, where you can find the new Douro Museum, recently inaugurated and Braga (European Youth Capital 2012) and Guimarães (Culture European Capital 2012). In Douro river you can sail in boats that make cruises between Oporto and Spain. Also is available nearby the house, horsing and Golf. Sailing boats are available to rent in the lake in front of the house. Good restaurants can be found with typical Portuguese food, and with famous Porto Wine and Douro Wine. Visits to the "quintas" of famous Porto and Douro wine is also possible.
Lovely house with a stunning view of the river. The pool provided top entertainment for kids and adults alike. We stayed 9 people in the house and had plenty of space. Super house.
Eva
2016-07-31T00:00:00Z
Alexandre and Teresa are fantastic Hosts. They took care of every detail and welcome us in such a way that we felt "at home" instantaneously. The house is beautiful, large, comfortable. We were 10 persons in 3 generations and we were very well. Children were amazed with cows, grapes and apples on trees, large garden to run, they were happy. Rosário, the cook, is fantastic and made us splendid meals. We all were happy. Thank you Alexandre and Teresa
Eugenia and Luis
2013-10-07T00:00:00Z
The House is fantastic with a great backyard. The configuration of the garden allowed us to enjoy the space during different time of the day. Big swimming pool for the kids and ... adults. Amazing view of the Douro. Mother Nature at its best. The House is very comfortable, big space. Wifi works very well, nice TV. Kitchen well equipped. Although the house is in the remote space, there are a lot of small shops here and there which sell local products. Intermarché at 20mn drive in Cinfaes for the meat ! The BBQ is a must do ! 20mn to access to the train station Mosteiro to go to Porto (San Bento or Matosinhos) for a day trip. Our host Alexandre was very responsive and helpful. We were a family of 9 and enjoyed the experience. It's a must do. Emmanuel
Emmanuel
2016-07-19T00:00:00Z
Really amazing stay at Alexandre's casa. He greeted us with a port tasting and a tour of the property. The weekend only got better from there. The house is in excellent condition, and it is truly beautiful - you can feel the history and the character. We were a large group and had more than enough space in the house. Further, the grounds of the property are STUNNING, with amazing views of the river. And much has to be said about Alexandre - he was the most accommodating host we've ever had - he was happy to help us organize many aspects of our weekend, and he was very responsive and communicative from the initial booking through our stay. I really can't say enough how perfect the place was, and I recommend it highly.
Charles Robert
2016-06-28T00:00:00Z
Very welcoming host, the house is a beautiful example of the Douro's grand architecture. Perfect for a large family as the kids loved running around inside and outside. Lovely views and walks. We had a lovely time.
Hugo
2015-01-02T00:00:00Z
Accueil très chaleureux, dans cette vaste maison de campagne, située à 1h30 de Porto. Le jardin est particulièrement agréable. La mise en place d'un service de cuisinière est une très bonne idée. Séjour parfois un peu terni par les incendies des forêts autour de nous.
nathalie
2016-08-13T00:00:00Z
O Sr. Alexandre foi um anfitrião exemplar. Desde o momento que fiz a reserva até à minha saída da casa foi sempre muito preocupado para que não nos falta-se nada. O próprio comprou-nos comida e esteve sempre disponível para nos tirar dúvidas sobre a casa e sobre a região do Douro. A Casa é muito grande, com quartos e salas espaçosas, tem aquecimento e várias lareiras com lenha disponível. Muito acolhedora. O jardim é muito espaçosos, com várias arvores d e frutos e piscina, tem uma vista incrível para o Rio e a zona envolvente é muito calma.
Eduarda
2016-01-03T00:00:00Z
Room Type
Entire home/apt
---
Property Type
Villa
---
Accommodates
12
---
Bedrooms
Cinfães, Douro Litoral, Portugal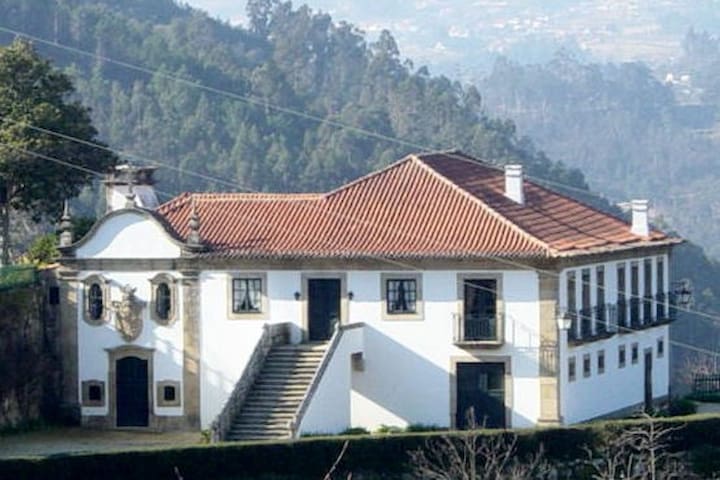 Quinta da Costeira is a Villa in Cinfães, which stands out for its stunning views over the River Douro and the extensive covered with vineyards property. Described by silence, contemplation and harmony with nature.
Casa Rural Da Costeira is located in the town of Cinfães and is an accommodation that blends rustic and modern elements on the slopes of the Douro. It features an outdoor pool and free Wi-Fi. Rooms feature central heating, wood tones and earth, and are distributed by two floors of the house. They also include a private bathroom, except for the quad room which has a shared bathroom. Guests can pick vegetables in the garden or get eggs from the hen house and cook meals in the shared kitchen. Outside guests can enjoy a wood oven and barbecue facilities. In addition guests can visit some of the restaurants in the center Cinfães, situated 1.5 km. Casa Rural Da Costeira has a communal lounge with sofas by the fireplace where guests can read or watch TV. Facing the slopes of the Douro, the hot tub is in a room in wood with glass walls, where guests can relax. The Porto International Airport is 80 km and the Douro River is an 8-minute drive away.
The landscape, the nature in its purest state, the food, the wine, the people!
It was a great experience at Quinta da Costeira. Very warm welcome by Tiago father who provides us with all the details about our staying. He even got us some nice local meat for one of the meals. The place is amazing I even dare to say that the place is better live that on the photos. Great landscape with a very very nice barbecue where we did all the meals , great pool and some games to play like snooker.
Nelson Benjamim
2016-07-04T00:00:00Z
Casa fantástica com excelentes condições, excelente hospitalidade, muito simpáticos e sempre disponíveis! A casa tem uma vista linda e está extremamente bem decorada, é mesmo muito acolhedora e confortável! Pena a estadia ter sido tão curta.
Susana
2016-01-01T00:00:00Z
Room Type
Entire home/apt
---
Property Type
Villa
---
Accommodates
12
---
Bedrooms
Cinfães, Viseu District, Portugal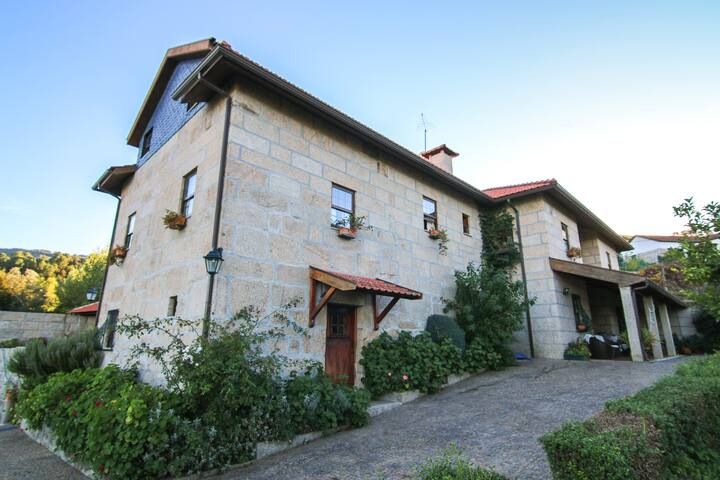 Quinta do Freixieiro is located in Pias, in Cinfães county. The House Pool has a private pool and a nice porch. The ground floor consists of a living room with two sofas (one sofa bed) fireplace, dining area, a bathroom and a kitchen with a terrace where you can barbecue. The upstairs consists of two rooms: one with double bed and bathroom and one with two beds and also a full bathroom.
Quinta do Freixieiro is located in Pias, in Cinfães municipality, Viseu district. The farm is in the family for generations and is fully designed and conceived by us. The House of the pool (see photos) built in stone and wood, has a rustic and at the same time modern and comfortable nature style. This is where we intend to install with all the pleasure and affection. The house has a private pool and a nice porch. The interior consists of a living room with two sofas (one sofa bed) fireplace, dining area, a bathroom and a kitchen with a terrace overlooking the back of the house, where you can barbecue . The first floor consists of two bedrooms: one with double bed and bathroom and one with two beds and also a full bathroom. The house has a balcony with stupendous views of the valley and the river. Both in winter and summer, our house is ideal to relax and enjoy a few days with all the comfort - both on a romantic trip as a family, with friends or even alone, one of the quietest and beautiful areas of the country. typical restaurants, dips in the river and the waterfalls ... are some of the area's wonderful, it's worth enjoy during your stay. Other tips and suggestions will be given on arrival, which hopefully soon :) ------ Quinta do Freixieiro is located in Pias, Cinfães, Viseu. The farm is in the family for generations and is fully designed and conceived by us. The House of the pool (see photos attached) is entirely built of stone and wood, with a rustic style and at the same time is modern and comfortable. This is where we will be delighted to accomodate you. The house has a totally private pool and a nice porch. Inside features a living room with two sofas (one sofa bed) with fireplace, dining area, a bathroom and a kitchen with a terrace overlooking the back of the house, where you have a barbecue. The top floor Consists of two bedrooms: one with double bed and bathroom and one with two beds and Also a full bathroom. The house has a balcony with stupendous views of the valley and the river. Both in winter and summer our house is ideal to relax and enjoy a few days with all the comfort - on a romantic trip, as a family, with friends or even alone, in one of the quietest and beautiful areas of the country. Typical restaurants, dips in the river and waterfalls ... are some of the wonderful areas que are worth enjoying During your stay. Other tips and suggestions will be given Beheerder on arrival, Which will hopefully be soon :)
We had al great time here, the house is really beautifull and clean! We received a very warm welcom and the service was excellent. Very friendly People. The swimmingpool is lovely, Just as the surrounding. You should definatelly visit the waterfall. We've been only here for 2 days which was too short; we could spend much longer here!
Wendy
2016-08-14T00:00:00Z
Uma Quinta fantástica localizada numa região deslbumbrante. Ficamos apenas uma noite, durante a passagem de ano e encontramos exatamente aquilo que procuravamos, um local tranquilo e intimista para celebrar com migos. Destaco o fato da casa estar muito bem equipada e de termos sido muito bem recebidos pela Dna. Gina que nos ajudou com com todos os detalhes da nossa estadia. Gostariamos de voltar, desta vez no verão, para poder usufruir da canvidativa piscina. Recomendo vivamente
Pedro
2017-01-01T00:00:00Z
Room Type
Entire home/apt
---
Property Type
Villa
---
Accommodates
6
---
Bedrooms
Cinfães, Viseu, Portugal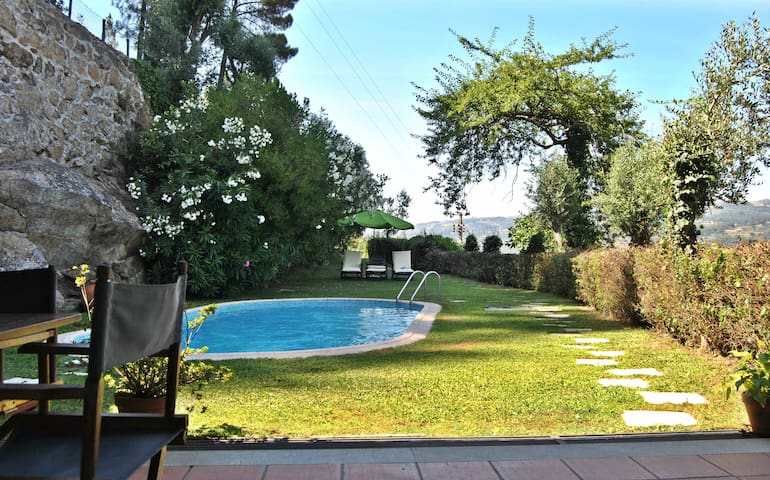 Na Margem do Douro à Margem de Tudo! As nossas casas possuem interiores confortáveis, limpos e práticos. A envolvente exterior é rural, tranquila e segura. A proximidade do rio Douro oferece bons momentos de relaxamento. Piscina com vista soberba!
The Douro Valley, where we are located, is a unique region and destination. We are surrounded by 4 areas classified as World Heritage by UNESCO: 1.Porto Historic Centre – 45 km 2.Guimarães Historic Centre – 65 km 3.Douro Wine Region – 65 km (Régua) 4.Côa Valley Paleolithic Art – 160 km
We had a wonderful time. The house is beautifully located, among the woods with amazing views of the Duero river from the house windows and the amazing porch. The pool is a real treat, few steps away from the house, again with amazing views. We were lucky to be there while Jose and Maria were working on their yearly home wine production and even gave them a little hand with squeezing the grapes, and got a tasty bottle of the result. The property around the house has lots of fruit and grape vines that Maria invited us to pick, that was fun and tasty too. The house has a trail down to the river where you can jump into the river and use the canoe to row down and up the stream. We also took Maria's warm advice about places to visit around the area. If you plan to visit Porto and the upper Duero area make sure you leave some days to stay and enjoy the house :) Make sure you know exactly how to get to the house cause it can be tricky, (SENSITIVE CONTENTS HIDDEN) maps did a great job for us. We wish we had more time at the house, and hopefully will come back.
Rony
2015-09-27T00:00:00Z
We were warmly welcomed by Maria and she explained us all the things we could do in the neighbourhood. The cosy clean house is situated in a paradise garden full of fruits. We had some lovely apricots and oranges from the garden in the house. One of the highlights of the holiday was using the casa de gondolil kayaks and explore the Douro and lovely Paiva river. Do take a swim in the Douro or in the lovely pool in the garden. The only thing we regret is that we didn't book more days in this little paradise.
Stefan & Bram
2015-09-11T00:00:00Z
We spent a wonderful time at the Douro. An impressive landscape, a very special home has a certain facility, the pool outside the door, in the sun have breakfast on the terrace with a great view ... we really had a very special time. But was very special, the warmth with which we were received and cared for. We got good tips for activities and Maria organized a very interesting shiptour on the river. Wir felt as if we were to spend a few days with good friends.
Heike
2015-08-08T00:00:00Z
The host canceled this reservation the day before arrival. This is an automated posting.
Laurent
2016-06-24T00:00:00Z
Maria Eugénia´s amazing stonehouse is situated in the middle of a very beautiful piece of land, between fruit trees (orange, lemon, peach, wine...). It is only a short walk down to the river where we were swimming and kayaking (kayaks and life jacketts provided by Maria). The pool close to the house was a very nice alternative when we were to lazy to walk down to the riverr. Maria encourages her guests to pick fruits from her garden. We enjoyed especially the oranges very much. The house itself is very tastfully renovated, equipped with everything you need, and has a lovely terrace with a gorgeous view over the river. Maria Eugénia is a very friendly host who makes you feel welcome.
Norbert
2014-07-13T00:00:00Z
We really enjoyed our stay and were very grateful to Maria Eugénia for contacting a local taxi driver to bring us from Porto (€60) with our bags and food for three days then return us to the airport (€55) for our flight home. We enjoyed seeing the bakery van that calls each morning, too. The pool was so refreshing in the 36-38 degree heat, as was the air conditioning! We also were taken to see their organic blackberry plantation, a real family enterprise! Thank you for your kindness.
Beth
2016-07-27T00:00:00Z
beautiful house in a beautiful spot, even more than in the pictures! the house is well equipped and comfortable, we stayed with 2 kids and they loved it too! Maria is a great host, filled the kitchen with groceries, gave us tips on what to do around and helped us with advice in a medical situation, thank you! only wish we didn't had rain which is rare in April, the pool and river looked like it would be great in summer time:) Highly Recommended!
Sivan
2016-04-20T00:00:00Z
The host canceled this reservation 56 days before arrival. This is an automated posting.
Richard
2016-06-04T00:00:00Z
Room Type
Entire home/apt
---
Property Type
Villa
---
Accommodates
4
---
Bedrooms
Marco de Canaveses Municipality, Porto District, Portugal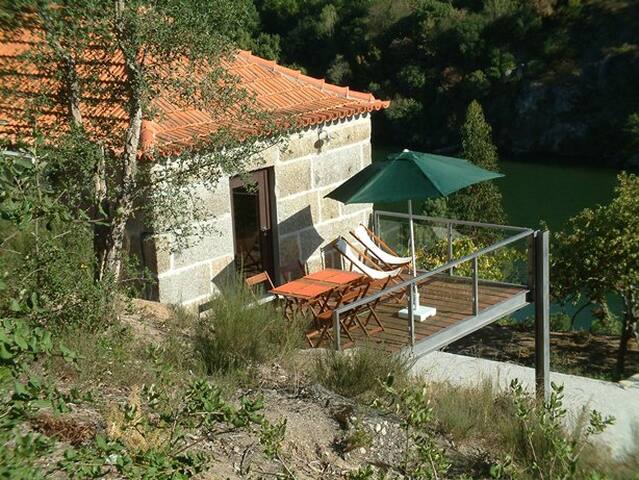 This is our family holiday house. It's in Marco de Canaveses between Tâmega river and Douro river. It's an ideal place for an relaxed stay with a large group or family.
Room Type
Entire home/apt
---
Property Type
Villa
---
Accommodates
12
---
Bedrooms
Favões, Porto, Portugal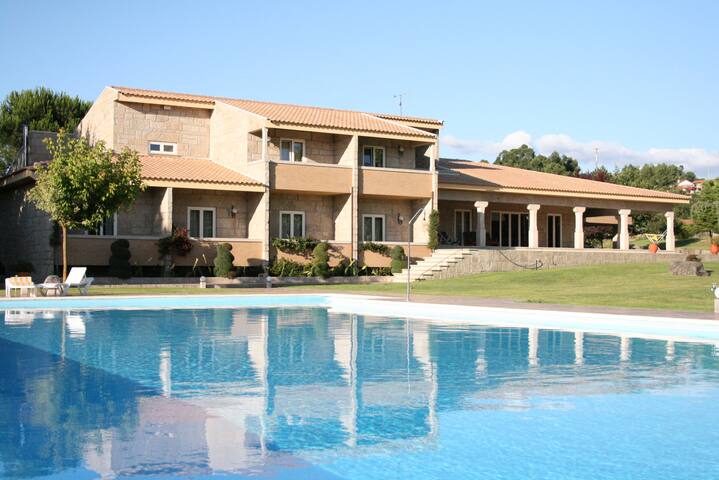 The "Casa do Quintal" (House of Quintal) is a property with approximately (PHONE NUMBER HIDDEN), located at a protected and calm place, but at about 5 minutes from the center of the Cinfães Village (31 mi from Oporto city) over the left edge of the Douro river.
The house, fully equipped, offers a living room with 540 ft2, three bedrooms and two wc. Shower cabin, air conditioning, private swimming pool as well as places for car parking. Its privileged location, at 5 minutes from the village center, guarantees our guests total privacy, In a rustic and quiet environment.
Cosy home, very friendly and hospitable owners. Just few minuts walking from the village Cinfaes. Swimming in Pias is nice and only 10 min driving. The Douro and the route N222 to Lamego is beautiful. The house is very clean and comfortable but is suitable for 4 persons and one child (there is a campingbed for a child).
Marjolein
2016-08-21T00:00:00Z
Notre séjour dans cette maison a été formidable. Manuel a été parfait et nous a parfaitement accueilli. Il nous a fait visiter le village et les alentours, nous a conseillé des visites, restaurants et est resté disponible durant la semaine (nous avons même pu passer une soirée en sa compagnie: c'était un plaisir!). Il parle bien français et la communication se fait facilement. La maison est parfaite elle aussi: bien équipée, très propre et confortable. Elle est au calme, tout en étant à proximité directe du village, et constitue un bon point de départ pour visiter la région. La piscine et le jardin sont très agréables. C'est une adresse que je recommande: vous pouvez y aller les yeux fermés! Merci encore Manuel: vivre dans votre maison et faire votre connaissance était un bonheur!
Marie
2016-08-14T00:00:00Z
Excellente semaine à la Casa do Quintal, accueil parfait de Manuel et sa femme, maison terrasse petite piscine et jardin très très agréable, magnifique vue sur toute la région - Le village de Cinfaes est à 3 min à pied avec boulangeries, restaurants, pharmacies, petits supermarchés, bars et magasins ; très pratique et sympathique.
Léa
2014-08-11T00:00:00Z
Nous avons passé une semaine début août 2015 à la casa do quintal. La maison est très bien équipée et la piscine est très agréables les enfants ont beaucoup appréciés. Manuel est très gentil et donne de très bons conseils sur sa région. Il parle un excellent français ! Merci encore
Emmanuelle
2015-08-09T00:00:00Z
Très bon séjour, maison et piscine vraiment agréables et demeure très proche des commerces.
Charlotte
2016-07-17T00:00:00Z
Manuel et Elisa sont plus que des hôtes, ils sont des ambassadeurs du Portugal, alliant extrême gentillesse, convivialité, simplicité, etc... Le logement et le site sont remarquables, la semaine passée à Cinfaes fut mémorable... Pour résumer, des vacances parfaites!
Céline
2016-08-01T00:00:00Z
Os dias passados na Casa do Quintal vão ficar na nossa memória. A casa é fantástica, o local e a natureza são fabulosos, as paisagens da região e os miradouros são de cortar a respiração. A casa e piscina tem privacidade total e todas as comodidades para umas férias bem passadas. Os donos foram impecáveis e incansáveis, disponíveis para qualquer eventualidade. Tudo está muito próximo, lojas, cafés, parque infantil, supermercados, comida de boa qualidade da terra, restaurantes típicos, praias fluviais, barcos, caiaques, e tudo tipo de actividades ao ar livre. O nosso filho de 7 anos teve uma experiência única nestas férias, todos os dias foram diferentes e enriquecedoras. A região é uma das mais bonitas de Portugal, se não for a mais bonita. Vale a pena visitar as vilas e cidades nas redondezas pela beleza natural e valor arquitectónico. O Douro e a zona do Alto Douro Vinhateiro é considerado Património Mundial da Humanidade e deve ser visitado obrigatoriamente. Gostamos muito de ter passado estas férias na Casa do Quintal. Obrigado.
Robert
2015-08-30T00:00:00Z
Room Type
Entire home/flat
---
Property Type
Villa
---
Accommodates
6
---
Bedrooms
Cinfães, Viseu District, Portugal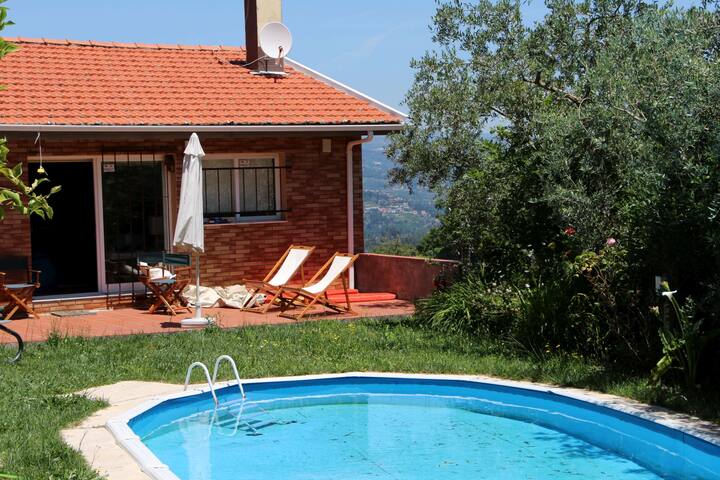 Casa de Arquitectura Moderna por dentro e mobiliário desenhado e integrado num conceito moderno e actual, sendo por fora, uma habitação que manteve os aspectos históricos e culturais, como a rusticidade de uma construção de pedra em junta seca típica
Casa inserida no interior de uma Quinta Agrícola - Quinta do Outeiro com possibilidade de passeios a pé no seu interior é visita ao Hotel Rural ArsDurium. A 10 min a pé de distancia no interior da Quinta. Possibilidade de visita à Aldeia de Boassas classificada pela Associação de Turismo de Aldeia (ATA) - Aldeia de Portugal.
The host canceled this reservation 44 days before arrival. This is an automated posting.
Pedro
2016-05-25T00:00:00Z
Nous avons passé un bon séjour dans la Casa do Lodao, l'endroit est calme et en pleine verdure. Les services proposés sont appréciables (proches de ceux proposés dans l'hôtellerie) . Nous recommandons ce logement.
Anne-Sophie & Carlos
2016-07-28T00:00:00Z
Room Type
Entire home/apt
---
Property Type
Villa
---
Accommodates
6
---
Bedrooms
Boassas, Viseu, Portugal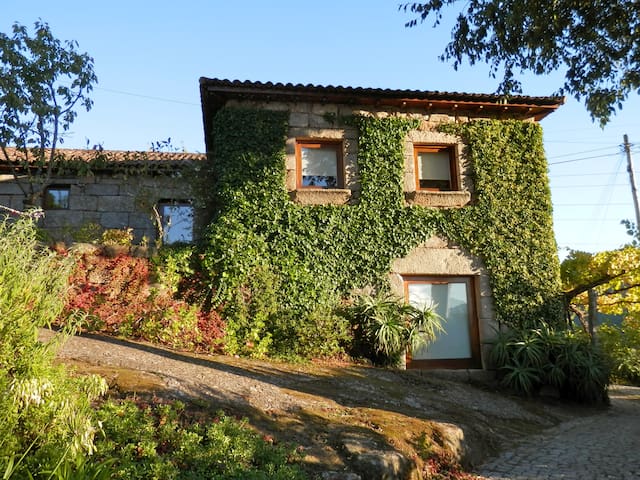 Espaço fica perto do centro da cidade do Marco de Canaveses e de Penafiel. Se pretende um espaço calmo e moderno vai adorar este espaço. Ideal para casais que queiram sair da rotina, dispomos de piscina.
El sitio perfecto,aunque mas para parejas en plan romantico que para familias,aunque limpieza,trato y comunicacion bien,lo unico el acceso un pelin complicado..lo demas ok..
Celsa
2017-02-26T00:00:00Z
Room Type
Entire home/apt
---
Property Type
Villa
---
Accommodates
2
---
Bedrooms
Marco de Canaveses, Porto, Portugal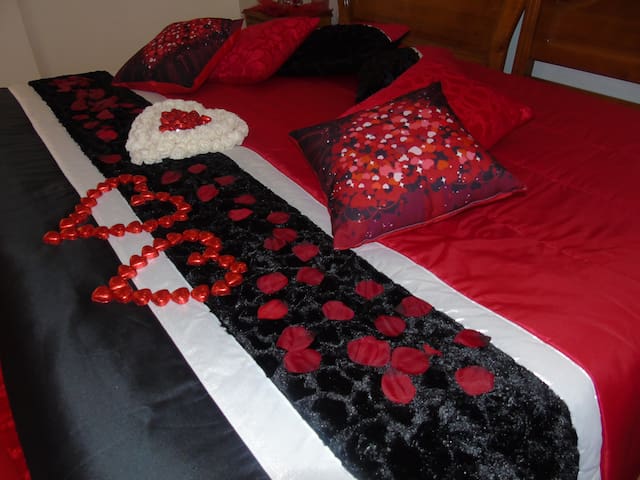 From the late 18th century, recently restored, about 300m2, located in the town of Gove, Baião. Contact with farm work and farm animals and enjoy great tranquility. Has a chapel and a granary. Visit various natural resources such as the Douro river.
The house has 4 bedrooms (a suite with a double bed, a suite with a single bed, a bedroom with a double bed and a bedroom with twin beds). It has 4 bathrooms: one with bath, two with shower and one with toilet service. You can enjoy a living room with fireplace and cable TV, a dining room, a game room with billiards and a bar. A typical village kitchen (with fireplace) and fully equipped. The house has central heating. Outside, you can enjoy a beautiful, large garden and a completely private swimming pool (above ground, 915cm x 475cm x 120cm).
I stayed at this property along with 7 other friends, and although we only stayed for a weekend, we had a great experience. The whole property is great, especially the house (even better than expected from the description and pictures on the site). The house was remodeled to have all the modern comodities, but keeping the original (ancient) style, which is very cool. The hosts were very nice with us (we met José and his close family) and very helpful. The property is located in a beautiful region to visit, especially the surroundings of the Douro river. If I visit the region again I will seriously consider another stay here, and I can definitely recommend it to friends.
Nuno
2016-05-16T00:00:00Z
Notre séjour dans la maison de José et de ses parents a été au delà de nos attentes. L'accueil est charmant, vraiment attentionné. José répond très rapidement si il y a une question. La maison est très spacieuse, très bien équipée, agréable, au calme et offre des loisirs pour chacun (piscine, baby-foot, billard). Le jardin est vraiment plaisant, tant coté piscine que la table à l'ombre des arbres. Un couple exploite et entretient le potager. Ils sont extrêmement discrets viennent tôt le matin et le soir pour l'arrosage et nourrir les lapins. La région du Douro est magnifique, les découvertes à faire sont nombreuses. Le réseau routier permet une circulation facile de la maison aux différents points d'intérêt de la région dont Porto. Les amateurs de cyclisme sauront apprécier ce terrain montagneux et exigeant. Nous recommandons bien évidemment chaudement cette maison à des familles ou groupes d'amis et y retournerions avec plaisir.
Laure
2016-08-06T00:00:00Z
Passei um fim de semana com um grupo de amigos, adoramos a casa, tem todas as comodidades para garantir conforto aos hóspedes e fazer com que se sintam na sua própria casa. Local muitíssimo sossegado, ideial para descansar... apenas os acessos exigem alguma "ginástica". O anfitrião é prestável e muito simpático. Recomendo vivamente.
Filipe
2016-09-18T00:00:00Z
Room Type
Entire home/apt
---
Property Type
Villa
---
Accommodates
9
---
Bedrooms
Porto, Porto, Portugal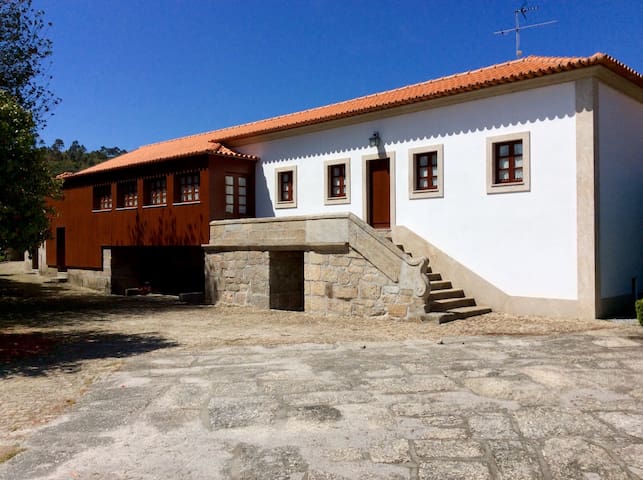 Penha Longa - Airbnb
:
Average

4.59

out of

5

stars from

127

guest reviews
1

–

18

of

82 Villa Rentals
Enter dates to see full pricing. Additional fees apply. Taxes may be added.