Enter dates to see full pricing. Additional fees apply. Taxes may be added.
2 Cottage Rentals
· Phu Quoc
2 Cottage Rentals
· Phu Quoc
Beautifull and peacefull corner in Otres Village 200 m from the beach. Perfect for two or one adult Couple. Share the yard with a Greg Yoga Teacher (he has his own chalet inside the property and does Yoga Class) Light, fan, hot water facilities. Wc and Lavabo in the bathroom upstairs, shower only in master bathroom downstairs Honda XR 250 cc. for Rent 17$ per day, bicycle available
Room type
Entire home/flat
---
Property Type
---
Accommodates
4
---
Bedrooms
2
Krong Preah Sihanouk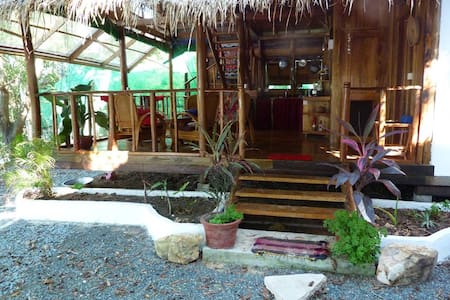 Our intimate bungalow surrounded by jungle in the center of Phu Quoc island will make a perfect hideaway for couple or family looking for relaxing moment walking distance from the best beach of the island. We have a nice monkey living in the garden that loves your attention, welcome!
Our hideaway bungalow is kept very clean and has all small things you might need during your vacation. All communal expense are covered, including high-speed optic internet. Playful monkey adopted as a baby who will love to enjoy fruits from your hands.
We have playful monkey adopted as a baby who will love to enjoy fruits from your hands.
My girlfriend and I spent 3 nights in Erik's cozy jungle bungalow and loved our experience. Prefect for a beach gettaway, and the monkey in the front yard is pretty cute. Erik was incredibly helpful with any problems we had. We would absolutely come back!
Stacey
August 2015
Arrival was pretty uncomplicated, slightly hard to hit the right side alley, though. Unfortunately, we got a double bed instead of two single beds, which was not too bad for us but I can imagine that it can be upsetting for some people. The room was really nice with AC, essentials and a nice bathroom. The only flaw were the many ants around, but I guess that's what you get for staying in the jungle. They were only in the kitchen and the bathroom, so it was no majer problem. We thought it was very nice to spend our stay outside a major resort and the monkey was super cute and playful. I would definitely stay here again only because of him.
Mike
April 2016
We stayed 4 nights at Erik's place. The bungalow has 2 big beds, one kitchen and a bathroom. All rooms were clean. It is well located, and it only takes you a few minutes to get to the main road and a few more minutes to get to the beach. There are some neighbouring dogs that like to bark during the night when you go out/get back to the bungalow, but there's no need to worry, as they don't do anything except of barking and *maybe* following you one or two meters. Mind though that ants might find their way into the bungalow, so don't leave any fruits opened inside the rooms.
Kim-Anh
April 2016
The host canceled this reservation 86 days before arrival. This is an automated posting.
Sara Amalie
The host canceled this reservation 14 days before arrival. This is an automated posting.
Daniel
When we arrived we were already a bit Lost and confused having to walk a long narrow path through the jungle & through a grave yard in the middle of the jungle. We felt the place was overpriced compared to some of the brighter bungalows right on the main thoroughfare & the absolute worst part was seeing the monkey tied day & night to the tree outside our bungalow with no food or water, no shelter, on a half a meter chain lead. As spmeone who adores animals this was a real low point of our trip. The monkey was not 'rescued' it was bought in a market & is frail & obviously tormented by its treatment. I implored the owners to build it a cage at least & was told I would need to pay an exorbitant amount for the cage. It was truly heartbreaking & nearly ruined an otherwise glorious trip. I sincerely hope the owners take this review to heart & work to create a better living environment for their 'pet' who is obviously sentient & needlessly suffering. The house is next to a graveyard for the superstitious or feint of heart be advised but that really wasn't an issue compared to the painful suffering of the poor monkey.
Sonya
April 2016
Me and my boyfriend stayed here for 10 nights. At the very beginning we were told that Eriks wife was going to meet us up at the supermarket nearby. When we arrived, we called her and she started to explain how to go to the bungalow by ourselves, because she couldn´t make it. After a while, we asked her if she could come because it sounded difficult to find, and se did at the end. The way to the bungalow, from the main road, is dark, bumpy, full of dogs that are barking at you and it takes about 5 minutes to walk (without bags). You need a flashlight. When we made it to the room it was a Clean and cozy room and the neighbourhood was also cozy. It´s 3 small bungalows at the same place with a nice garden and a little monkey. We would not recommend this to families, people that´s afraid of the dark or dogs. It was a private jungle hideaway, for sure :)
selma
May 2015
I really enjoyed staying in this secluded bungalow. It was clean & cozy, and the perfect size for one or 2 people. It's a short walk from the beach, and only a couple minutes down to the main road.
Jamie
February 2016
Room type
Shared room
---
Property Type
---
Accommodates
3
---
Bedrooms
1
Duong Dong