Enter dates to see full pricing. Additional fees apply. Taxes may be added.
3 Cottage Rentals
· Poddąbie
3 Cottage Rentals
· Poddąbie
Jarema was very kind and helpful, he prepared the hut for our arrival with candles, sweets and made fire in the chimney so that it was already warm. We stayed for a weekend, it was raining a lot but nethertheless we were able to enjoy the beautiful nature around the hut. The kitchen has everything you need to cook your meals and the hut is decorated in a very good style. We were also allowed to bring our dog. If we had time we would have liked to stay longer.
Lisa
November 2016
This little hut is a secret spot for those who love nature and want to really be "offline" for some days. You can enjoy the breathtaking flora and fauna, relax at the lake, cook your food over the fire and all this with the luxury of a hot shower, a nice bed and a fully equipped kitchen. It is really a great place! Even a ride in Lada Niva :-) Thank you for having us as guests! We will definitely come back!
Christopher
June 2016
Absolutely stunning. The hut had everything we need and more. Jarema was very helpful - meeting us and showing us facilities. There's a supermarket 10 mins down the road, we traveled by car from Gdansk airport (under 2 hours away). Great value. So much to explore. It got quite chilly at night by the lake - but the cabin was super warm and firewood was plentiful. Really didn't want to leave.
Jon
October 2016
The hut is everything you need if you are looking for calm, nature and peace. We were 4 friends and we spend a wonderful night in the hut. It's warm, the nature around you is beautiful. The hut is so well furnished. This place is perfection.
Leo
March 2016
The week "in the middle of nowhere" was wonderful! Perfectly situated with absolutely no neighbors, the hut was very clean and especially the porch with the comfortable chairs were wonderful to sit outside all day! Everything is set up with lots of love in small details. Stove, fridge, cooking utensils, towels, linings - everything is available. For sleeping there is a lovely small bed room as well as the two bean bags and a mattress on the top floor, which was very cosy! Also there is a nice city with a supermarket and pizza restaurant about 10 min by car. Check-in /out was very easy. We were in contact via SMS and everything was flexible and great! It was a perfect week to escape from the busy life, and we didn't even mind the rain as the porch is perfectly covered. Also we made a fire, used the canoe, sat in the hammock, used the bikes, went for a run to the nearest towns, etc. Thanks to our lovely host, who made sure that everything was fine. He made coffee for us, even found us a place to watch football and offered to find a Taxi service! I would love to come visit again
Nadine
June 2016
We, that is a young couple from Hamburg, stayed in the hut for nearly a week. Unfortunately only a week. We would have stayed for a month as well. The hut and the surrounding area is the perfect place for all people who like to enjoy silence, nature, fireplaces, fishing and doing nothing. We can really recommend this lovely hut. There is nothing that should be changed or can be improved. Kora&Kon
Konstantin
October 2016
We had a realy nice time in the hutch, all around was white and the little lake frozen. we enjoy the nice and quiet winter landscape and take some walks around. from the hutch we see some deers and foxes passing over. also some unknown footprints of animals in the snow arround the hutch :) we feel very welcome...like coming home. when we arrived, jaremas friend krzysiek made a warm fire in the oven and show us all to know in the hutch. we also enjoyed the lp - collection... very funny things there. so, what else to say... we can always recommend this special place! we come back for sure! best regards enikö and richard
Kristin
January 2016
We had a wonderful time staying at jamera's place. Very peaceful and relaxed! Hope to come back soon!
Stephan
March 2016
Room type
Entire home/flat
---
Property Type
---
Accommodates
4
---
Bedrooms
2
Darżkowo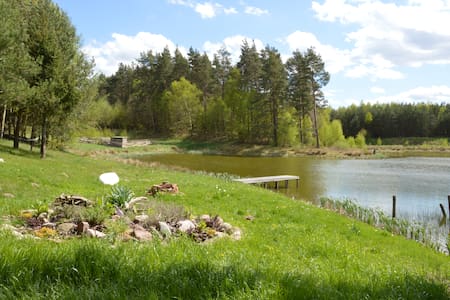 The host canceled this reservation the day before arrival. This is an automated posting.
Beth
We had a great time in Krag; the house itself had just enough space for 6 persons, was lovely, clean and well-equipped, the premises were perfect for children and adults alike and Krag is surrounded by some nice forests and lakes, perfect for exploration (ie. by the use of the provided mountain bikes). Thank you!
Doreen
July 2016
Wir hatten viel Spaß in der Hütte. Ruhige Gegend direkt am See, perfekt zum Abschalten. Die Kommunikation mit Pawel war super, schnell und zuverlässig. Gern wieder!
Friedhelm
June 2016
Wir waren zu fünft in dem Haus und hatten sehr viel Spaß, denn neben dem See zum schwimmen standen auch noch ein Grill, Boote und Fahrräder zur Verfügung. Das Haus an sich ist sehr niedlich, nur gibt es in dem Dorf keinen Laden. Außer einem kleinen Tante Emma Laden gab es nichts direkt in der Nähe also braucht man unbedingt ein Auto. Alles in allem waren wir sehr zufrieden und hatten trotzdem einiger Kommunikationsprobleme nur mit netten und freundlichen Leuten zu tun
Caroline
August 2015
Insgesamt war der Aufenthalt in Krag bei Pawel okay, wir waren nur enttäuscht, dass unser Haus nicht direkt am See lag! Die Fotos in der Anzeige haben uns glauben lassen, dass wir ein alleinstehendes Haus direkt am See mieten - das war nicht ganz so: Unser Haus war eins von vier Ferienhäusern auf dem großen Grundstück in der dritten Reihe ca. 150 m vom See. Die Tatsache, dass man sich das Grundstück mit wohlmöglich drei anderen Parteien teilt hätte noch genauer in der Beschreibung stehen müssen. Die Fotos von der Inneneinrichtung des Hauses sowie die Beschreibung der Ausstattung stimmen - es ist ein kleines gemütliches Haus.
Lina
August 2016
Super miejsce, cicho, bardzo miły gospodarz, na pewno kiedyś wrócimy z przyjaciółmi!
Patryk
March 2016
Kontakt z osobą wynajmującą - bardzo w porządku. Gospodarz cały czas był na miejscu, w swoim domku obok. Gdyby były jakieś wątpliwości (a nie było :)), od razu można by je było rozwiać. Samo miejsce zupełnie spełniło oczekiwania. Cisza, spokój, otoczenie lasów, jezioro, łąki. Synek realizował swoje najnowsze hobby - łowienie ryb, córeczka puszczała wodze wyobraźni podczas zabaw na olbrzymim, dostępnym terenie, a najmłodsza pociecha odkrywała uroki zabaw w piaskownicy. Wypoczęliśmy tak, jak sobie tego życzyliśmy :)
Dominika
August 2015
Room type
Entire home/flat
---
Property Type
---
Accommodates
6
---
Bedrooms
2
Krąg
Oh, what a wonderful stay! For my girlfriend and me it was truely the perfect place: a modern and clean wooden hut. Around a small village of maybe 6 houses, so it was quiet and very peaceful! The hosts are very friendly and even arranged a kajak tour for us, on the Lupawa-river, which flows next to the hut. Besides we had time for wonderful walks, and to sleep and talk and read and relax. We can absolutely recommend this place - and we'd love to come back!
Dominik
August 2015
While traveling aroung Poland this location was one of our best. We felt absolutely comfortable with the two hosts, a really friendly and nice couple who were very accommodating. The hut lies right next to a small river and the nature around is stunning. Thank you very much for this relaxing and inspiring time in Kozin!
Rebecca
August 2015
The host canceled this reservation 66 days before arrival. This is an automated posting.
Ida
Dears Wieslawa and Wieslaw! We had a great 2-weeks-stayin your little wooden house in sheer nature. Thanks for your kind and precious attention! We really enjoyed your place, the landscape, all the places you showed us and your hospitality. We left reluctantly our new friends and their beautyful resourcing place. Hope to come back soon. Barbara, Alain and Wolfi from Paris
Wolfram
July 2016
We totally enjoyed our experience with Wislawa! The neighborhood is quiet - we enjoyed watching birds & ducks on the beautiful steam behind the cabin! The hosts were very informative, helpful, accommodating & friendly! It is within an hours drive to the Baltic & close to many beautiful lakes. We hope our travels will some day bring us back!
Janet
September 2016
Domek to świetne miejsce na spędzenie weekendu za miastem w wspaniałych okolicznościach przyrody. Łatwy kontakt z gospodarzami, świetna okolica i wysoki standart pozwalają w pełni cieszyć się z pobytu.
Michał
June 2016
Prześliczny domek, w cudownej okolicy! Spokój, cisza i przemili gospodarze! Gorąco polecam na letni i jesienny wypoczynek.
Patrycja
August 2015
Room type
Entire home/flat
---
Property Type
---
Accommodates
4
---
Bedrooms
2
Czarna Dąbrówka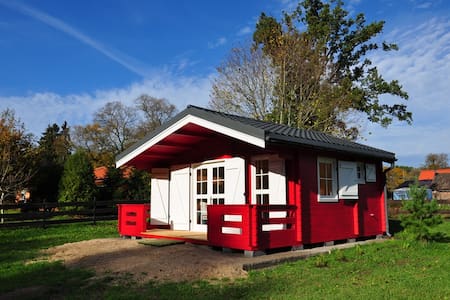 1

–

3

of

3 Cottage Rentals