Our apartment is situated in the heart of beautiful Senlis. It is an old, one room flat(40m²) with equipped kitchen corner, bath, toilet and beds for 4 persons. Restaurants, shops, sighseeings and cobble-stone streets are just in front of the house.
The Royal City of Senlis is 40 km from Paris to north, next to Parc Asterix, Mer de Sable and Chateau de Chantilly, only 30 minutes from airport CDG and one hour from Disneyland. Senlis is an old Roman city with it's pittoresque streets, Gallo-Romains walls, Medieval fortifications etc. A paradise for architectures and film makers. Come and discover the riches of the ancient city! Our holiday home is open for you, when we can´t be there. Kitchen -electric cooker (oven+hobs), fridge, coffee machine and toaster (no dishwasher, no microwave, no washing machine) Beds -doublebed 140x190 and adult size 90x200 bunk bed, bedclothes and towels are included. Car parking -there is a safe parking area about 100 meters from appartement, free of charge. Paid parking on the streets between 9am-7pm, sunday free. Overnight stay -we accept max. 2 persons for one night for normal price. Overnight stay is possible for families with less services, please contact us for details.
The Royal City of Senlis is 40 km from Paris to north, next to Parc Asterix, Mer de Sable and Chateau de Chantilly, only 30 minutes from airport CDG and one hour from Disneyland. Senlis is an old Roman city with it's pittoresque streets, Gallo-Romains walls, Medieval fortifications etc. A paradise for architectures and film makers. Come and discover the riches of the ancient city!
Tuula was a wonderful host. She met us on the street and helped us find parking right in front. The apartment was wonderful: clean, cozy, and right downtown. Senlis is a charming town, well worth a trip from Paris or a stay if you are flying in or out of CDG.
Luke
2013-12-17T00:00:00Z
Tuula's place is just as described and pictured - it is very well located in the centre of the ville (you may have to park a block or two away) and it's very quiet at night. It has everything you could want including coffee, tea, oil/vinegar, etc - even shampoo! Tuula was so kind waiting for us as we took an hour longer at the airport car rental. She was very accommodating and I highly recommend staying here. The town is very cute and easily walkable, and 15min to Chantilly. There is absolutely nothing but great things to say about this place, the town and the hostess. Thanks, Tuula!
Catherine
2015-06-21T00:00:00Z
Tuula is a thoughtful host and her apartment is lovely and in a stunning location. Senlis itself is well worth a visit - we were just passing through but wished that we had more time as the town is beautiful and the apartment very comfortable. Highly recommended.
Paul
2015-03-09T00:00:00Z
Our host was friendly and gave us a good description of the apartment and how to work things. It was comfortable, stocked with coffee and milk. Clean and welcoming feel to the apartment. My wife and I used the large double bed while our daughter used one of the bunk beds. The neighborhood (and the whole old town of Senlis) is amazing! It feels like you have been transported back several centuries because of the beautiful old houses and shops, cobblestone streets, and beautiful 12th century cathedral.
Keith
2014-12-31T00:00:00Z
Tuula was warmly welcoming us when we arrived. The appartment is fully equiped and located in the beautiful centre of Senlis, it was a surprise to find such a beautiful medieval city close to Paris. We had a perfect time. The kids enjoyed the bunk bed and we the large bed, perfect!
Jop
2014-10-13T00:00:00Z
The apartment is centrally located in the heart of Senlis. It is well-equipped, quiet and clean. We enjoyed our stay there while we visited Chantilly and Parc Asterix: the location is ideal! Communication is clear and Tuula gave us some useful tips upon arrival (free parking, bakery, grocery, pool, etc.). I would recommend the place to anyone who would like to visit this lovely area.
Bibi
2013-08-30T00:00:00Z
A really lovely flat in a very picturesque town. The experience was very enjoyable, the flat was big enough to either stay in for the night or head out to the many attractions in senlis. Also it had a great coffee machine! We had a comfortable stay and would recommend it highly to anyone else.
Jack
2015-01-13T00:00:00Z
Lovely town and a great place to stay in its center!
Shannon
2016-09-18T00:00:00Z
Room Type
Entire home/flat
---
Property Type
Apartment
---
Accommodates
4
---
Bedrooms
Senlis, Picardy, France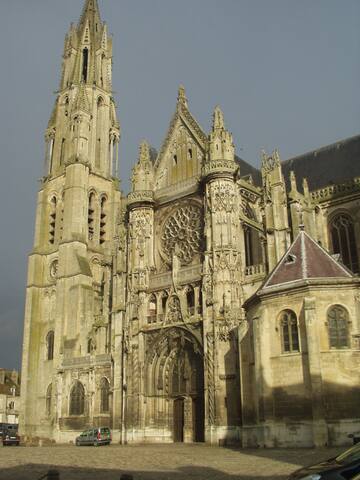 Je me ferai un plaisir de vous accueillir dans mon duplex de charme indépendant de 75m2 sur jardin clos de mur situé au plein coeur du centre médiéval de Senlis. Il comprend 2 lits 2 places. Les enfants sont les bienvenus.
Superbe Duplex sur jardin privatif clos de mur. Sa situation est idéale : en plein coeur mais au calme de la ville historique, sur une petite place pavée, vous pourrez réaliser toutes vos visites à pied. Vous disposerez également d'une place de parking privative qui vous affranchira du paiement du stationnement.
Après des années passées à Senlis, je suis tous les jours surpris par le détail que je n'avais pas remarqué au cours de mes ballades dans nos rues pavées. L'architecture médiévale de ma ville est authentique, préservée, un havre de calme façonné par l'histoire depuis l'époque romaine. Le rempart gallo romain est visible à différents points de la ville et si vous avez la chance d'entrer dans certaines bâtisses, vous le découvrirez au fond de certains jardins ou accolé à un bâtiment. Nous avons d'ailleurs le croyez vous des arènes romaines. Passionné de nature et de vtt, la forêt toute proche n'a plus de secret. A découvrir par toute saison sans modération. Nous avons la chance d'accueillir un marché intra-muros le mardi et le vendredi. Au delà de senlis, les environs sont riches de découvertes : Chantilly et son château, le château de Pierrefond, les trois golfs et pour les familles bien sûr le parc Astérix et la mer de sable.
Our two night stay in Senlis was a wonderful experience. We were originally looking for a cool place to stay the night before our flight from CDG. After finding this place and reading about Senlis, we decided to make it two nights, so we would have some time to explore the town. We ended up wishing we had booked more time. Short review: great host, great house, great town. More specifically, François is a wonderful host, providing terrific communication (and patience with my attempts at French) in advance of the trip, flexibility in scheduling, clear instructions for operations of the home, and helpful advice on what to see in the area. In fact, the email exchanges in advance of our arrival were so pleasant, I felt like I was meeting a friend by the time we arrived. We felt at home immediately, in part because François was so welcoming, and also because the house, while loaded with character, is also very comfortable and homey. This home is well decorated with personal artwork and pieces collected from his travels. We felt like we could live there. What a great combination of charm and practicality. The kitchen had all the basics we could need. The shower is really great. We didn't use the laundry room, but it sure is nice that one is there. The house is beautiful - as pictured, but better; centrally located in a lovely and lively town. It is close to everything you need - restaurants, boulangerie/patisserie, supermarket. François advised us to just get out and walk. We did, and enjoyed it. He also suggested we go take a look at Chantilly, which was definitely worth the short drive. We feel we've made a great discovery in finding Senlis and this home in particular, and in meeting François. We expect that this will be our new home for a few days at least whenever we fly in and out of Paris. We hated to leave.
Beth Ann
2015-09-06T00:00:00Z
Francois met us at the apartment at the agreed time and helped us to get settled. He was very helpful and said if we had any problems to give him a call. The apartment was very clean and tidy and full of character. Excellent hot shower and a comfy bed as well. Great location within minutes of some great shops and bars. Superb value.
James
2016-03-04T00:00:00Z
Thank you Francois, your home is just lovely and we couldn't have enjoyed our stay more! Your home's location, comfort, and charm are all remarkable. It was a pleasure meeting you and we hope to visit Senlis again- what a magical place! All the best, Amanda & family
amanda
2015-08-25T00:00:00Z
We had a lovely stay at this house. Francois is a fantastic host and has a beautiful home in the most pictuesque area in Senlis. Francois was extremely accomodating even to the point of purchasing a stairgate to ensure the safety of our children.
Lisa
2016-04-04T00:00:00Z
François' home is a lovely place in a beautiful town and François immediately made us feel at home. We enjoyed the stay with our family very much and would always come back!
Maike
2016-09-19T00:00:00Z
Lovely house in a fantastic location. Francois provides every home comfort and his communication is great even checking all was ok during our stay. Lots of information about the surrounding area provided in the house. House was spotlessly clean. And Senlis itself although small is charming with some lovely traditional shops, bars and restaurants, and beautiful old buildings. Would highly recommend a stay here.
Tracey
2016-10-03T00:00:00Z
Thanks to Francois for making us feel very welcome at his home. The house is lovely and homely and has everything you could possibly need. We wish we could have stayed for longer!
Eleanor
2016-08-30T00:00:00Z
Always a pleasure to stay at Francois his house is beautifully appointed with a private garden and you are always made welcome
Kenny
2016-04-22T00:00:00Z
Room Type
Entire home/flat
---
Property Type
Apartment
---
Accommodates
4
---
Bedrooms
Senlis, Picardie, France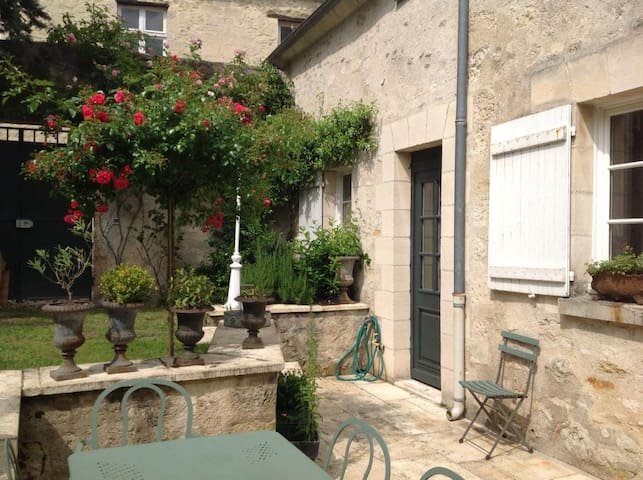 Centre historique, dans un hôtel particulier, au calme, très lumineux, duplex au 1er étage : 1 grand séjour avec cuisine ouverte, 1 chambre et salle d'eau-wc. Chic et charme avec balcon, proche des commerces, accès rapide à l'A1 et Roissy CDG.
Bel appartement duplex, pour 2 personnes, calme et très lumineux, avec cour intérieure, situé dans quartier historique à proximité de tous commerces.
L'appartement est très bien situé, à 2 minutes à pied du centre ville et très pratique pour accéder aux différents axes (autoroute, etc).
Lovely apartment, which is located in the centre of the historic part of Senlis. Martine's apartment was even more charming than these nice photos indicate. Beautiful space, fully equipped with a great location. Amazing courtyard with private parking. Our host Martine was lovely and communicates in both English and French.. Much appreciated! We hope to visit again soon!
Nataliya
2016-07-18T00:00:00Z
Lovely apartment in the centre of senlis. Amazing courtyard with private parking and beautifully arranged apartment. Martine made us feel very welcome and was there to meet us and show us around.
Jamie
2016-01-01T00:00:00Z
We couldn't have been more pleased with our stay in Martine's lovely apartment in Senlis. The location was perfect. Everything is in easy walking distance, with a lovely bakery just up the hill and to the right. We didn't cook, but it looked as if the kitchen was really well equipped. Loved the Nespresso machine! But this place is so much more than the sum of its amenities. It just plain oozes charm—from the exposed beams in the ceiling, to the balcony overlooking the peaceful interior courtyard, to the view out of any of the windows. We loved this place.
Dan
2015-07-08T00:00:00Z
Everything was perfect and beyond expectations
David
2016-09-19T00:00:00Z
The apartment is very charming and in walking distance of everything in Senlis. Martine was very helpful and pleasant in all things needed. I couldn't recommend the place more highly.
Judith
2015-08-04T00:00:00Z
Martine's apartment was even more charming and comfortable than these nice photos indicate. The location is perfect for parking your car and exploring Senlis on foot. Checking in was simple, and Martine communicates in both English and French. Overall an ideal Airbnb experience. Merci!
Anna
2015-12-29T00:00:00Z
We had a wonderful stay at Martines apartment which is very comfortable and charming . Senlis is a very interesting village and we thoroughly enjoyed our stay .
Judie
2015-06-09T00:00:00Z
The pictures of Appartement De Charme are lovely, but the actual experience was even better. This is a Very nice apartment for a reasonable price. The apartment is located in the center of a well preserved medieval town center that has a fascinating Cathedral and a wonderful local museum. There are remnants of Roman walls throughout the area. The neighborhood is very quiet, yet there is a wide choice of cafes and restaurants. I don't think Senlis has been "discovered" yet so now is a good time to visit. It is a reasonable distance to Paris for a day trip by car. We chose Senlis for our last two nights in France and then simply drove to the airport. Check on public transportation if you do not plan to drive. You need to be stable on your feet to feel comfortable with the circular stairway to the second floor. We are "seniors" and I simply took my time going up and down. My husband had no problem(URL HIDDEN)
Linda
2015-08-17T00:00:00Z
Room Type
Entire home/flat
---
Property Type
Apartment
---
Accommodates
2
---
Bedrooms
Senlis, Picardie, France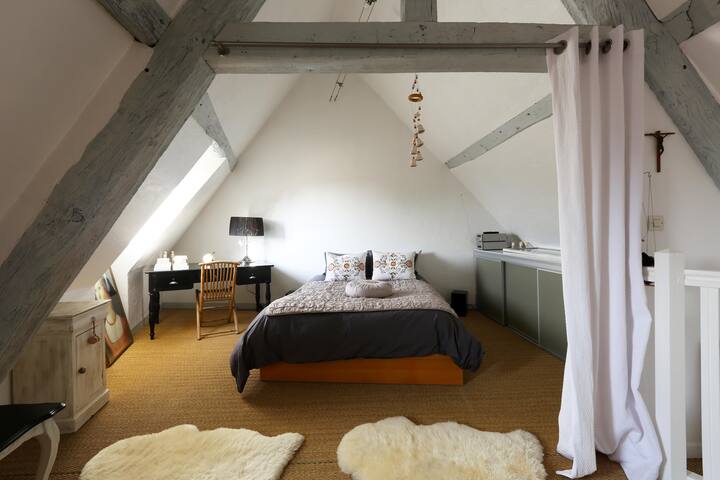 Appartement T2 en RDC de 57 m2 situé à environ 10 minutes à pied du centre-ville de Senlis. Il se trouve au calme, la forêt et les champs sont juste à côté pour les balades à pied où à Vélo. Jardin privatif de 90 m2
Appartement comme une maison avec son jardin de 100m2, au calme pour allier visite et repos en campagne. Canapé convertible en lit dans le salon (le salon possède une porte, ce qui peut servir de 2ème chambre). Pas de draps fournis sur place. Pas de barbecue dans le jardin mais vous pouvez soit ramener le vôtre ou en acheter un petit de Camping. Laverie automatique à 200m de l'appartement. Tabac et restaurants à 400m. Boulangerie à 500m Hopital à 500m Parc Astérix à 10 minutes en voiture Mer de sable à 10 minutes en voitures Château de Chantilly à 10 minutes en voiture Château de Compiegne à 20 minutes en voiture PAS DE WIFI DANS L'APPARTEMENT
Le quartier Saint Lazare est un quartier relativement calme, entre forêt et champs. Très agréable pour s'y balader et non loin du centre ville.
Lovely clean apartment. Spacious with everything you need.
Suzy
2016-09-26T00:00:00Z
Senlis is a beautiful village and Coralie's apartment was a convenient place to stay. However, please note that everything's closed on Mondays
Teri-Lin
2017-02-14T00:00:00Z
L'appartement est agréable, propre et très bien équipé. Merci à Coralie qui a répondu rapidement à toutes nos demandes. Séjour parfait à refaire
Bruno
2016-09-11T00:00:00Z
Appartement superbe. Propre, jolie décoration et environnement calme et agréable. Tout y est, très fonctionnel . Parfait pour notre séjour pro
Mélodie
2017-03-10T00:00:00Z
Logement top dans un cadre agréable. Je recommande !
Adam
2017-04-07T00:00:00Z
Logement parfait pour une petite famille grâce aux jeux mis à disposition, au jardin et à l'équipement. Coralie a correspondu avec nous par sms et tout s'est bien passé. L'appartement est rangé et décoré avec soin.
Nolwenn
2016-08-12T00:00:00Z
Appartement décoré avec gout, dommage que le jardin ne soit pas comme sur la photo. Très pratique pour aller au Parc Astérix.
Fabrice
2016-08-17T00:00:00Z
Logement qui a répondu à mes attentes, Coralie et son ami ont facilité mon arrivée et celle de mon départ, à une heure matinale pour la remise des clés car je devais partir assez tôt ! Facilités dans les échanges ! Mon séjour s'est bien déroulé. Merci à eux. Melani(URL HIDDEN)
Melanie
2016-09-09T00:00:00Z
Room Type
Entire home/flat
---
Property Type
Apartment
---
Accommodates
4
---
Bedrooms
Senlis, Nord-Pas-de-Calais Picardie, France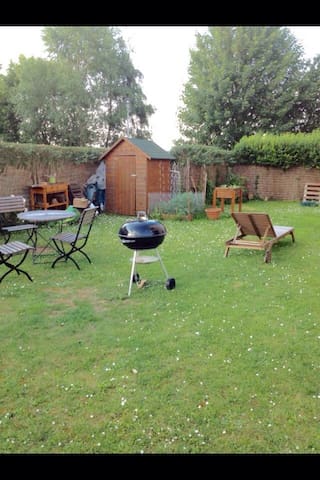 Gîte 6-7 personnes sur 2 étages tout confort à 10 min de chantilly dans une maison ancienne en pierres donnant sur une écurie familiale. Idéalement placé pour un séjour dans la région chantilly/senlis et à seulement 30km de Paris. Le gîte ne dispose pas d'espace extérieur.
A wonderful place to stay! Very cosy and Danielle was extremely kind to us. We couldn't have asked for more.
Xa
2016-11-06T00:00:00Z
Danielle responded quickly to our fairly last minute request to stay in her flat. Upon arrival she greeted us warmly and assisted in carrying in our luggage. She had supplied us with a special bread, orange juice and her wonderful homemade jam. The flat is a traditional older village home. There was plenty of room on three levels for my family to spread out. Everyone appeared to be comfortable. It was a good location from which to explore the Chantilly area. We also appreciated the cafe and boulangerie just across the street. One interesting feature of this listing is that just adjacent to the pretty back patio is a working horse stable with over 20 horses. Looking out the bedroom window it was possible to observe closely the daily operations of the stable.
PATRICIA
2016-07-06T00:00:00Z
Very nice place exactly as described - highly recommended !
Evgeni
2017-03-05T00:00:00Z
Excellent accueil, gîte fonctionnel et agréable
Pierre
2016-03-31T00:00:00Z
Danielle et son mari ont été d'un accueil fort sympathique, et aux petits soins quant à nos besoins. Nous avons passé un très bon moment dans leur maison.
Lau
2016-02-29T00:00:00Z
Accueil très gentil, confiture maison et brioche pour le petit déjeuner. Logement agréable et bien équipé, vue sur les chevaux et écuries.
Bruno
2016-07-04T00:00:00Z
L'accueil a été très chaleureux. Cependant, nous nous attendions à avoir un extérieur au vu des photos, ce qui n'était pas le cas, nous avions vue sur le jardin des propriétaires. Pour autant, la dépendance était propre et bien équipée.
Françoise
2016-08-29T00:00:00Z
Un cadre chaleureux et atypique avec une surprenante belle vue d'un côté de la maison. Logement est bien équipé et les propriétaires sont très accueillant, avec un petit pot de confiture maison et apéritif en guise de bienvenue ! A recommander
Arthur
2016-01-17T00:00:00Z
Room Type
Entire home/flat
---
Property Type
Apartment
---
Accommodates
7
---
Bedrooms
Pontarmé, Picardie, France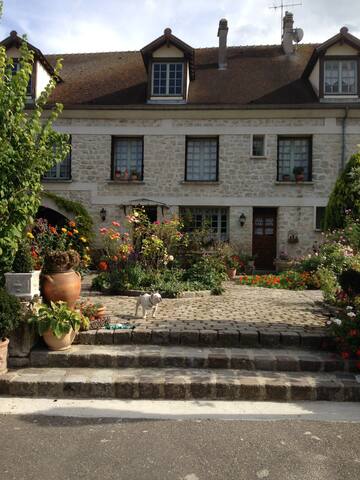 Appartement de 47m2, situé dans l'hyper centre de SENLIS, au pied de tous les commerces de proximité. Ce 2 pièces, rénové en 2017, se trouve au 2eme étage d'une petite copropriété calme. Idéalement situé au coeur de cette cité médiévale, il peut accueillir jusqu'à 4 voyageurs, petits et grands, avec la possiblité d'un lit bébé.
Charmant appartement donnant sur les rues pavées du centre historique, à partir duquel vous pouvez découvrir la ville, ses musées, ses monuments, et vivre à l'heure senlisienne : profiter du marché les mardis et vendredis matin, des commerces et restaurants et des diverses animations. L'appartement a été rénové en février 2017. Les parties communes de la copropriété vont être aussi rénovées, en octobre 2017.
SENLIS est une ville authentique et préservée, vous serez séduit par le charme de ses petites rues pavées et de son ambiance hors du temps.
The host canceled this reservation the day before arrival. This is an automated posting.
Clement
2017-02-26T00:00:00Z
Appartement très agréable et hôtes très attentifs. Vivement que l escalier de l'immeuble soit restauré ! Merci à Maud et sa maman pour leur disponibilité.
Dominique
2017-03-24T00:00:00Z
Room Type
Entire home/flat
---
Property Type
Apartment
---
Accommodates
4
---
Bedrooms
Senlis, Hauts-de-France, France
Independant studio in our house, with small kitchen and bathroom. King size bed + one single bed. baby bed available if needed. We are front of the forest very near from the railway station. Paris gare du Nord and Stade de France is 20mn by train Chantilly castle and Asterix park are also very close
we are just in front of the forest for nice walks and very near from the Chantilly castle
Very nice place in a beautiful area.
Matthew
2017-01-29T00:00:00Z
We spent two nights arriving on very chilly evening after a 27 hr flight & it couldn't have been more invitingly peaceful. Entrance is up an exterior spiral staircase into simple spacious large room with very nice lighting, simple lines. Is private, elevated, with views at both ends looking to forest & sky. Drive in through auto gates to courtyard.
Jacky
2016-12-10T00:00:00Z
Really nice place considering the price. Conveniently placed for both visiting local attractions and Paris. Host is really welcoming and helpful.
Alexander
2017-03-19T00:00:00Z
Very nice small flat, highly recommend.
Ben
2016-11-16T00:00:00Z
Thomas was the perfect host having been in contact throughout the process and making sure we had contact information and an arranged arrival time. The suite was to a high standard and the pictures don't do it justice. Located in a quiet village with good access from A1 and A16, close to Chantilly and just a few minutes walk to a 25 minute train into Gare de Nord. I highly recommend.
Alice
2016-06-24T00:00:00Z
The apartment is very comfortable and was ideally located for us to visit the Chantilly castle. We parked our car inside the property. Thomas was very available to make our arrival and departure as convenient as can be and he recommended the perfect restaurant for our night out. We would definitely visit again!
Christophe
2016-09-05T00:00:00Z
This place was great! In a lovely green environment and with a thoughtful and joyful host. Thomas was very helpful and friendly. The room is quite spacious and near to an amazing palace. I recommend this place to anyone wishing to explore the area north of Paris. Merci beaucoup!
Lex
2016-07-01T00:00:00Z
Nous avons passé une nuit dans le studio de Thomas. Tout était très agréable, propre et proche du Parc Astérix (là où nous devions nous rendre le lendemain). Je n'hésiterai pas à revenir, pour visiter la région, cette fois-ci. Merci Thomas pour votre accueil.
Amélie
2017-04-04T00:00:00Z
Room Type
Entire home/flat
---
Property Type
Apartment
---
Accommodates
3
---
Bedrooms
Coye-la-Forêt, Nord-Pas-de-Calais Picardie, France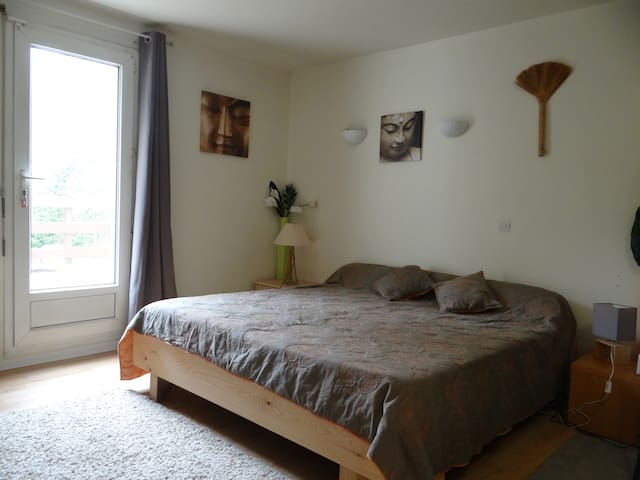 Petit appartement dans une résidence arborée, à 20 minutes à pied du centre de Senlis, et à 20 minutes en bus de la gare d'Orry la ville qui dessert Paris en 15 minutes.
Logement complet
Très bonne accueil de la part de Carole, la location était comme décrite, l'endroit est calme, pas de souci pour se garer.
Philippe
2017-03-30T00:00:00Z
Room Type
Private room
---
Property Type
Apartment
---
Accommodates
1
---
Bedrooms
Senlis, Hauts-de-France, France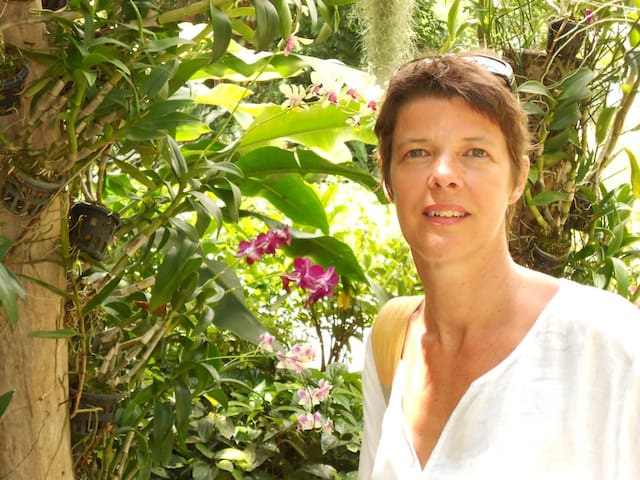 Apartment located on the ground floor of a house divided into 2 separate lots (ground floor and first floor). Ideal and functional for 2 people but can go up to 4 people by unfolding the sofa bed in the living room.
Cozy little country town with its small shopping center (5min walk).
Room Type
Entire home/flat
---
Property Type
Apartment
---
Accommodates
4
---
Bedrooms
Saint-Witz, Île-de-France, France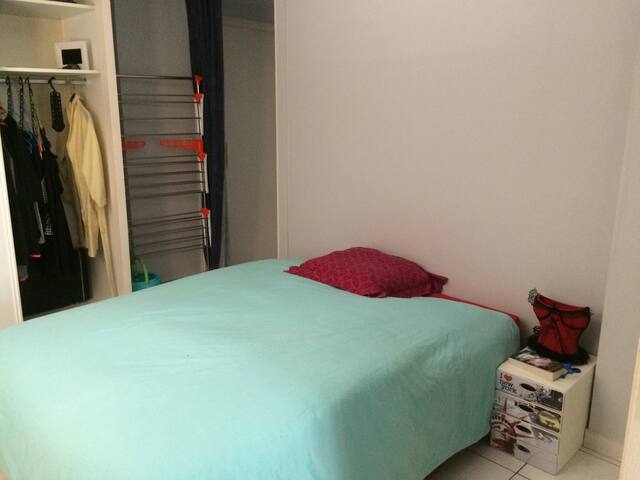 Joli petit studio tout confort et refait à neuf situé au cœur du centre-ville historique de Senlis. Venez découvrir le charme de cette ville médiévale grâce à son patrimoine architectural et naturel.
Situé au 1er étage sans ascenseur, le studio de 18m² est tout confort et composé d'une pièce de vie avec un canapé-lit en couchage tiroir confortable, d'une kitchenette équipée (hotte, 2 foyers électriques, four micro-onde/grill, cafetière Senseo) et d'une salle d'eau avec une grande douche et wc. Proche de toutes les commodités.
Le marché hebdomadaire se tient le mardi matin et le vendredi matin, de 8h à 12h dans le centre-ville : Places de la Halle et Henri IV, rues Odent, St Hilaire, l'Apport au Pain, Rougemaille. Nombreux commerces en centre-ville, cinéma, piscine, centre équestre, hôpital. Studio situé à 5 min à pied de la gare routière. A proximité : Château de Chantilly, Forêts (Chantilly, Ermenonville, Halatte), Parc Astérix, Mer de Sable, Parc des exposition de Villepinte.
Wonderful little "pied à terre" in the heart of quaint Senlis. On outdoor market days, it is literally right outside the front door. Léa was really helpful in providing an extra air mattress so that I could stay with my young kids.
Marie
2016-08-30T00:00:00Z
Logement très propre bien équipé et décoré avec soin . Très bon accueil .Emplacement idéal pour découvrir Senlis . Nous le recommandons vivement .
Marie-Josée
2016-10-19T00:00:00Z
Le sejour avec Lea tres bien avec d'explications sur le fonctionnement de l'appartament,l'appartament est tres prope,bien equipe et bien decore,tres bien situe au coeur de Senlis ,joli studio,confortable avec des commerces de proximite tres practique,je la recommande.Merci Lea.
Carmen Maria
2016-11-23T00:00:00Z
Estuve muy bien en el apartamento de Lea, es super atenta y ha cuidado hasta el mínimo detalle en el apartamento. Volvería otra vez.
Miriam
2016-10-10T00:00:00Z
C'est très bien séjour la bas, appartement très propres, bien localisé, non hésité pas de allouer à Léa qui c'est Beacoup atenciose. Mon français c'est terrible mdr...
Clau
2016-12-16T00:00:00Z
Merci à Léa de nous avoir ouvert son studio magnifiquement placé dans Senlis :)
Cyrielle
2017-03-19T00:00:00Z
Studio fonctionnel conforme à recommander
malika
2016-12-03T00:00:00Z
L'hébergement est très bien situé en plein centre ville. On stationne facilement et toutes les commodités sont proches. L'appartement est très joliment décoré et très pratique.
daniel & béatrice
2016-09-10T00:00:00Z
Room Type
Entire home/flat
---
Property Type
Apartment
---
Accommodates
2
---
Bedrooms
Senlis, Nord-Pas-de-Calais Picardie, France
2 grandes chambre doubles + cuisine dans maison individuelle. Une chambre est équipée d'un lit double et l'autre est équipée d'un lit double et canapé 2 personnes plus coin repas. Jouissance du jardin, coin privé avec barbecue et table de jardin. A 2 pas de la cathédrale . Découvrez le Château de Chantilly ou les Abbayes Royales de Châalis , Royaumont, le Parc d'Ermenonville. Egalement à 15 mns de Roissy CDG, 2 h. de Calais.
2 grandes chambres très lumineuses' dont une avec petit canapé, dans maison au centre de Senlis, et cuisine à disposition. Jardin, barbecue. Proximité Roissy CDG, 2 h Term Coquelles, car ferries Calais. Attractions, ParcAstérix, Eurodisney, Mer de Sable, Château Chantilly. Arrêt de bus à 2 mns. Base idéale pour visiter Paris ou la région de l'Oise. Idéal pour arrêt vers Calais/Coquelle. Jardin, barbecue. Quartier calme à deux pas de la cathédrale et du centre de Senlis et ses rues pavées médiévales. 40 mns du centre de Paris ( voiture ou RER D Chantilly). Bus pour Roissy CDG à 5 mns à pied. Nombreux départ pour les environs à la gare routière de Senlis, 5 mns. Le Sud de l'Oise, sa verdure et ses vielles pierres à 40 mns de Paris.
Le calme de Senlis à 40 minutes de Paris! A quelques pas de la cathédrale, ds cafés, épiceries fines, boutiques et ruelles pavées de Senlis. Fondation Cziffra et ses concerts.
Solange, very nice, your house beautiful.
Alicia
2016-06-15T00:00:00Z
Accommodation was exactly what we needed, 5 mins walk into the lovely town centre of Senlis. Very comfortable bedrooms. Well equiped kitchen, and Solange was able to accommodate are ever changing arrival time. Apologies for giving you a fright with our fancy dress costumes!!
Matt
2015-10-19T00:00:00Z
While on our way to the south of France we were looking for an accomodation for one night. We were lucky to have Solange confirm our request within a few minutes although she wasn't near here place. A nice friend of her wellcomed us warmly the time we could choose at the pretty house with a cute garden close to the very beautiful old french town Senlis with sufficient shops nearby. The apartement itself was clean and okay for one night and our need. The equipment of the house is basic and the price for the accomodation to high compared to others we got to know while traveling with Airbnb.
Hanno
2015-08-03T00:00:00Z
Solange accepted us at short notice . The apartment was well equipped and very comfortable. Solange had lots of info and very helpful on local attractions.
Ian & Jo
2016-05-26T00:00:00Z
The reservation was canceled 7 days before arrival. This is an automated posting.
CLAIRE
2014-09-12T00:00:00Z
The property is very comfortable, everything you need for you stay. It is very close to the town of Senlis within a few minutes walk. Senlis is a lovely town with lovely cobbled streets, nice restaurants and shops and a really good hunting museum.
Sylvia
2016-10-17T00:00:00Z
Quite place close to historical center. 2 big bedrooms, big kitchen. Very kind host - we asked for hair dry and additional towels - we received it almost immediately. Nice small garden at the entry to the rent apartment. Highly recommended
Leonid
2015-09-29T00:00:00Z
Senlis was a perfect last stop on our tour of France. It is an easy 25 minute drive to CDG airport and an interesting old town worthy of adding to your itinerary. Solange's flat is well located just short walk to the town centre. It provided us with two comfortable double rooms and is in a quiet location with ample parking on the street. Pierre - Laurent made sure everything was ready for us on arrival and the cats were also very friendly. Can recommend for a couples or family though no common lounge area except in bedrooms or kitchen...which didn't worrybus for our short stay.
Geoff
2016-08-11T00:00:00Z
Room Type
Entire home/flat
---
Property Type
Apartment
---
Accommodates
4
---
Bedrooms
Senlis, Picardy, France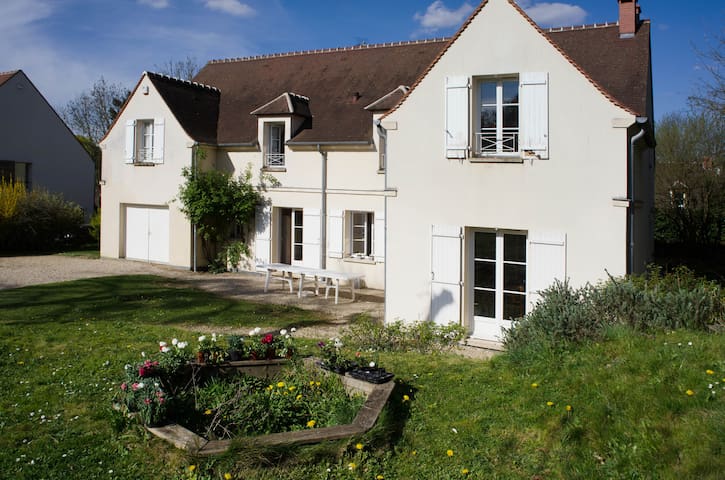 studio agréable et calme. 2 lits doubles confortables (un bz et une mezzanine ) 30 min du Parc Astérix en voiture, 30 min de l'aéroport Charles de Gaulle et 20 min de Paris en train Possibilité de se garer facilement dans la rue et de faire de belles balades en forêt animaux acceptés pas de télé ni d'internet serviettes de toilette et draps fournis mais c'est à vous de faire et défaire les lits. En partant le ménage doit être fait de manière à laisser les lieux aussi propre qu'à votre arrivée.
la cuisine est toute équipée: four, plaque électrique, réfrigérateur, tous les ustensiles nécessaires pour cuisiner, huile, vinaigre, sel, sucre, ect, machine à laver. dans la pièce principale, il y a un lit double en mezzanine et un bz confortable en dessous, draps, oreillers, couettes. dans la salle de bain: baignoire (qui vous permet de prendre des douches mais pas de bain car le bouchon fuit), lavabo, w-c, savon, serviettes... petit jardin collectif, fil pour étendre le linge. stationnement gratuit et facile dans la rue. Attention, il n'y a pas de télé ni d'internet dans l'appartement. Je vis dans ce logement, il y a donc mes effets personnels (bien rangés je vous rassure) et une déco propre à moi. Quand je mets en location, je vais dormir chez ma mère qui n'habite pas loin, je suis donc assez disponible si vous avez le moindre problème. Si je ne suis pas dans la région, c'est ma mère ou ma voisine qui gèrent les locations. Elles sont moins disponible pour vous accueillir mais la remise des clefs se fait très facilement.
The neighborhood is very quiet. So the neighbors do not like agitation, therefore not plan to party in this housing. There is a grocery store, a bakery, a butcher, a tobacconist, two bars, a post office, a pizzeria within 5 min walk. The forest is a street and ponds Commelles are not far either. It's enough to make beautiful walks!
Very accommodating host. Everything you need in the flat. The only negative is the very hard and uncomfortable top bed.
Nicolene
2015-12-19T00:00:00Z
We were a bit late cause our euro tunnel train had been delayed, however Marieke was super nice and waited for us to give us the keys and show us the flat. The apartment is really nice and cozy and there is coffee and tea for the morning breakfast. Really pleasant experience, would definitely stay again for a quiet retreat in the French countryside!
Maria
2015-10-22T00:00:00Z
Logement conforme à l'annonce. Séjour de 2 nuits, une journée à Chantilly (5 min), l'autre au parc Astérix (25 min). Parfait pour passer la nuit. Stationnement facile et tranquille. Petits commerces 2 pas. Contact rapide et précis. A refaire !!
stephane
2016-10-25T00:00:00Z
Studio agréable dégageant une belle énergie dans une belle région. Tout est conforme à l'annonce !
virginie
2016-10-27T00:00:00Z
Très bon accueil de Marieke. Nous nous sommes rapidement sentis à l'aise. Le studio se situe dans un endroit très calme et lumineux avec une jolie vue sur jardin. L'ameublement est fonctionnel et le lit excellent. Nous avons passé un week end agréable. Merci
Pierre
2016-06-13T00:00:00Z
Marieke a été très accueillante, son logement correspond aux photos. C'est un petit studio fonctionnel, propre et situé dans un village calme et sympathique. Marieke est plein de petites intentions, avec huile, sel café à disposition. Merci ! Stéphanie
Stéphanie
2015-11-14T00:00:00Z
Accueil sympathique, logement atypique et agréable pour un couple, salle de bain surprenante mais distrayante. Je le recommande pour les couples qui veuillent découvrir cette belle région.
Sylvain
2016-08-30T00:00:00Z
Marieke a répondu très vite à notre demande et avec grande courtoisie. Le studio correspond à la description; petit mais suffisant pour un séjour de quelques jours. Le matelas du clic-clac mériterait d´être changé, Marieke envisage de le faire. Pour le lit du haut pas beaucoup de hauteur sous plafond donc plutôt pour des enfants ? La maison est en retrait de la route donc l´endroit est très calme!
Luc
2016-01-02T00:00:00Z
Room Type
Entire home/flat
---
Property Type
Apartment
---
Accommodates
4
---
Bedrooms
Coye-la-Forêt, Picardie, France
APT QUIET AREA NEAR PARK ASTERIX DISNEYLAND PARIS CLOSE ANY FACILITIES LOGGIA RENTAL OPPORTUNITY TO DAY WEEK OR WEEKEND NEAR PARK ASTERIX PARIS ROISSY CDG CAPACITY 6 PEOPLE HOME 2 DOUBLE BEDS (OF WHICH 1 SOFA BED IN THE LIVING ROOM) + 1 SINGLE + POSSIBILTE matelat
Housing with 1 sofa bed for 2 people + 1 bed of 2 people + 1 bed of a person + a mattress
very quiet area supermarket bakery nearby + + pharmacy RER station
Apartment is very convenient for Parc Asterisk. Good space, and alternative to hotels nearby. Sabine was very responsive to our questions and cam quickly to deal with these, even though it was her son's birthday!
Daniel
2016-08-23T00:00:00Z
The host canceled this reservation 9 days before arrival. This is an automated posting.
Coco
2016-11-30T00:00:00Z
Apparemment idéal pour se rendre au parc Astérix (moins de 10 min en voiture). Intérieur agréable et très bien équipé.
Loïs
2016-10-03T00:00:00Z
Appartement agréable, fonctionnel, calme et bien aménagé. Nous avons été très bien accueillis par Sabine et elle a eu une excellente réactivité pour venir récupérer les clés et nous renseigner. Tout était très confortable. Je recommande pour ceux qui veulent aller aux parc Astérix entre amis.
Priscillia
2016-06-27T00:00:00Z
très bon accueil, hôte très sympathique, l'appartement est vraiment ce que ce nous attendions. Quartier très calme c'est vraiment une adresse à conserver je ne manquerais pas d'y retourner lors de mon prochain séjour sur paris
Isabelle
2016-05-16T00:00:00Z
Logement propre et fonctionnel fidèle à la description. Le calme règne effectivement dans la résidence au bénéfice d'un sommeil réparateur après une bonne journée. La maîtresse de maison a eu des petites attentions qui apportent un réel plu.
Alexandra
2016-05-26T00:00:00Z
Logement très calme. Nous avons été bien reçu par Sabine.
Jocelyne
2016-08-15T00:00:00Z
Super bien accueilli l hote mais tout de suite a l aise parfait rien a dire
laura
2016-06-13T00:00:00Z
Room Type
Entire home/flat
---
Property Type
Apartment
---
Accommodates
6
---
Bedrooms
Survilliers, Île-de-France, France
Appartement calme à 15 mn de Roissy, 20 mn de Villepinte .... Paris à 30 mn
Room Type
Entire home/flat
---
Property Type
Apartment
---
Accommodates
2
---
Bedrooms
Senlis, Hauts-de-France, France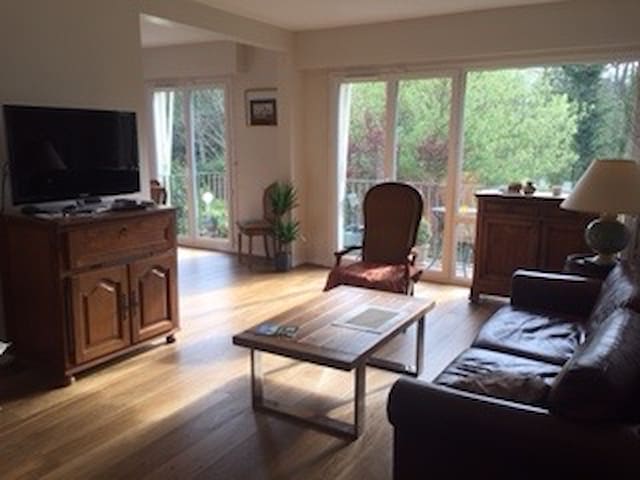 A beautifully appointed and completely renovated 50m2 ground floor apartment with luxurious finish, right in the heart of the gorgeous town of Chantilly. 25 mins to Paris Gare du Nord 30 mins to Paris CDG airport 2 hours to Euro tunnel
Beautiful decor! We have really tried to keep the character of the flat while adding a luxurious finish to all of the amenities. We have recently added CloudTV and NETFLIX for those who don't want to miss their favorite series! We are also just a few minutes walk from the Train station to Paris ( Gare du Nord is 25 mins away!) so trips to Paris are easy and there is no need to bring the car as we are in the centre of the historic town of Chantilly. Un appartement au rez-de-chaussée de 50m2 entièrement rénové et superbement aménagé avec une finition de luxe, en plein coeur de la magnifique ville de Chantilly. 25 minutes de Paris Gare du Nord 30 minutes de l'aéroport de Paris CDG 2 heures à Euro tunnel L'appartement entier ainsi que la cour. Nous avons un parking souterrain privé et sécurisé en face de l'appartement. Gratuit sur demande. Nous aimerions être sur place aussi souvent ou aussi peu que vous le souhaitez. Notre but est que vous avez un séjour agréable et confortable dans cette merveilleuse partie de la France. Nous voulons que vous reveniez!
We are just steps away from everything that Chantilly has to offer..the chateau, the racecourse, the horse museum etc. As well as being surrounded by restaurants and shops. This is also an ideal base to visit Paris, the Somme memorials and it's lovely bay, the medieval town of Senlis as well as being just a 30 min drive to Paris Charles de Gaulle airport.
We had a great stay at Susan's place from a really friendly welcome to the beautiful and well equipped flat right through to an early morning lift to the train station at the end of our stay nothing was too much trouble. The flat is really well located for all of the local attractions. All in all a perfect stay.
Iain
2017-04-07T00:00:00Z
The apartment is beautifully decorated and well equipped. It is within a short walk of the centre of Chantilly. Susan was very friendly and accommodating. It was lovely to be greeted with a bottle of wine and all the things we needed for breakfast.
Harriet
2016-12-10T00:00:00Z
Susan is an amazing host. She made our stay very comfortable. Excellent communication.
Rhiz
2017-03-04T00:00:00Z
Our experience with Susan was 100%positive and even more. A very welcoming host Susan was there to meet us and give useful tips and was very open and kind. The apartment is absolutely charming and you really have all you need to feel at home) Susan has prepared very nice little surprises like bottle of vine , fruits and etc, which touched us a lot. All is done with care and love in this place. Situated on the very centre, this place was perfect for 4 of us. This apartment is in true harmony with a magnificent Chantilly. Thank you Susan and see you next time. Highly Recommended!
Natalia
2016-11-13T00:00:00Z
My husband and I very much enjoyed our time at Susan and Fred's home. We immediately felt their hospitality and warmth from the first message exchange. Susan generously and thoughtfully provides snacks and drinks that were just what we needed between meals and walking around town. The WIFI is so so fast!! The Bluetooth speaker came in handy for playing background music from our phones. We watched our childhood favorite movie Sound of Music through their Netflix on the bedroom tv. We had travelled to other cities and stayed in two hotels- at Susan's place we had the best rest out of our 12 nights of vacation. And lastly, we so enjoyed the shower's strong water pressure!! Susan is readily available to help with questions that come up. We were touched by their thoughtfulness and care each step of the way. It was such a pleasure and delight to stay in Chantilly because we were able to meet Susan and Fred and stay at their lovely cozy home! We would not hesitate to stay here again. This stay reminded us of why we love staying at Airbnb homes.
Clara
2016-12-29T00:00:00Z
Susan and her Appartement is lovely !! You feel like in an english cottage ans this in a very central and calme area of Chantilly. The appartement is tidy, clear and has a lot of charm ... very good equipment... nothing missing!!! You get in and its like coming home. Susan received us more than friends than clients. The fridge was filled up with everything we needed for our breakfast and we appreciated a good bottle of red wine and fruits. Thanks again !!! The secured and privat parking is perfect ... all interesting places in Chantilly are in walking distance. We are vey proud that we have been the FIRST guest !!! Susan und Ihr Appartement ist super ... man fühlt sich schon beim Eintreten wohl und zu Hause. Alles ist wie auf den Bilder ... man denkt man ist in einem englischen Landhaus. Die Wohnung ist sauber, hell und mit allem Notwendigen ( und noch ein bisschen mehr ) ausgerüstet. Sehr geschmackvoll. Ein privater Parkplatz ist sehr praktisch. Das Appartement ist zentral und ruhig gelegen. Vom Appartement kann man in Chantilly alles zu Fuss erreichen. Zur Begrüssung war neben der guten Flasche Rotwein auch noch alles fürs Frühstück im Kühlschrank. Eine sehr nette Geste. Merci ... Danke ... Susan! We wil be back ... wir kommen wieder!
Sabine
2016-10-03T00:00:00Z
Susan was extremely welcoming and also contacted us during our stay to check that everything was ok. Chantilly was perfect for a day trip to Paris, and we were able to leave the car in secure underground parking, enjoy our day in Paris, then on our second day we walked around Chantilly to see the beautiful castle etc. The welcome basket and supplies in the fridge and cupboard was hugely appreciated. Susan also offered us a later checkout which was brilliant and meant we could enjoy more time in Chantilly. We had a lovely stay and we're hoping to come back again!
Laura
2016-10-26T00:00:00Z
The warm personal welcome, the special baskets of goodies to get us going, the beautiful place made the experience at The Courtyard perfect. Susan went out of her way to make sure every aspect of our stay was perfect. We felt special and spoiled. We will certainly stay at this place again on our next trip to Chantilly. Tom and Margaret Petty
Thomas
2016-11-08T00:00:00Z
Room Type
Entire home/flat
---
Property Type
Apartment
---
Accommodates
4
---
Bedrooms
Chantilly, Nord-Pas-de-Calais Picardie, France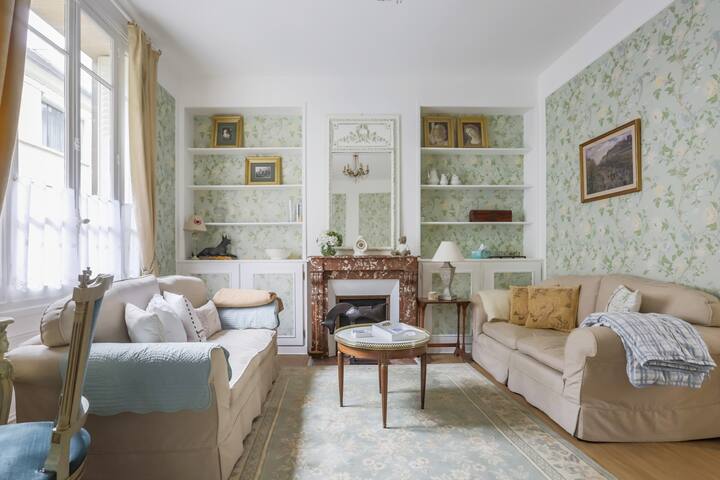 In the heart of medieval Senlis and only 40 minutes from Paris, our house dates from 1650 and is over 150 square meters. Ideal for couples or single travellers, your private room includes a queen-size bed, private bathroom with all amenities and a stunning view over our courtyard. Senlis is loaded with old-world charm and makes a perfect base to see all the sites that both Paris and Picardie have to offer. 15 minutes from CDG airport, 10 minutes to Chantilly and its Renaissance château.
Breakfast is not included in the reservation price. However, we are pleased to provide a continental breakfast at the price of 7 euros per person.
Senlis is in the heart Picardie's countryside and only minutes away from the Château de Chantilly and Charles-de-Gaulle Airport. At only 40 minutes from Paris, it makes the ideal base to explore the French capital - without the noise and pollution.
Absolutely Fabulous Apartment and Experience here!! Beautiful medieval town with bakeries and restaurants aplenty, not to mention the Incredible castle and surrounding grounds, And the forests galore!! Milan was a brilliant communicator in helping me reach his home, and once there I was made to feel more-than welcomed by his friend Christophe who provided ideas for local sightseeing and food, as well as offering great in-home necessities!! Would Love to come visit again!!
Ian
2017-01-08T00:00:00Z
Great stay! Needed a place to stay after arriving from the U.S. and having a 24 hr layover before going to Africa. Spending the day in Senlis with this lovely home as my base was great. Host provided lots of local information for me to plan my day!
Joseph
2016-12-04T00:00:00Z
Milan and Christophe were truly outstanding hosts: from discussing arrival details to the warm welcome, sharing information about sites to visit in Picardie and lovely conversations during the evenings. Apart from the nice and quiet bedroom (with view over inner yard) and its private bathroom, access to the large living room and kitchen was provided, which made the stay even more comfy and relaxed. Free parking was always easy to find on the streets around the house. Senlis itself is a hidden gem (lots of historical stone buildings, nice cathedral etc.) close to the CDG airport and Chantilly Castle. It can be also a good base for exploring Paris for those traveling by car - in this case I recommend driving to the nearest metro station (St Denis Universite), leaving the car in the nearby and cheap garage and then continue by metro to any of the sites in the capital city. All in all, a very nice residence in a lovely location and with wonderful hosts - highly recommended!
Daniel
2016-09-07T00:00:00Z
Excellent accomodation ! AWESOME location,very close to Chateau de Chantilly castle & Paris ! This is a true & amazing French experience , top class hosts Christophe & Milan - very friendly, genuine & a delicious breakfast layout. Lovely room with a view , peaceful & relaxing. Loved every moment.Highly recommend this magnificent place !
Frank
2016-08-29T00:00:00Z
Het huis uit 1650 van Milan en Christophe ligt in het oude centrum van Senlis. Te voet bereik je bezienswaardigheden, een kruidenier en er zijn een paar goede restaurants om uit te kiezen. De slaapkamer en badkamer die zij verhuren liggen tegen een heel rustige binnenplaats aan. De gastheren zijn gastvrij. Geven to - do tips en serveren een lekker ontbijtje als je er om vraagt. Aanbevolen !
Marijke
2017-03-19T00:00:00Z
Nous avons passé un excellent week-end dans cet appartement situé dans un bel hôtel particulier, au coeur de Senlis. Milan et Christophe se sont montrés très accueillants, accommodants et de bons conseils pour les restaurants et les visites de la région. Nous vous recommandons sans hésiter cet hébergement très bien équipé et joliment décoré, ainsi que cette ville chargée d'histoire et ses alentours, à seulement 45 mn de Paris.
Philippe
2016-08-16T00:00:00Z
De plek is perfect! Leuk stadje! Ontvangst prima, gastvrij, vriendelijk en behulpzaam!
JacQ
2016-09-25T00:00:00Z
De kamer is gelegen in een appartement dat veel charme uitstraalt en is smaakvol ingericht. Het onthaal was hartelijk en het ontbijt uitstekend. Alle nodige voorzieningen zijn aanwezig. De kamer is zeer rustig gelegen terwijl men zich toch in het centrum van de stad bevindt. Een aanrader!
Ruth
2016-09-18T00:00:00Z
Room Type
Private room
---
Property Type
Apartment
---
Accommodates
2
---
Bedrooms
Senlis, Nord-Pas-de-Calais Picardie, France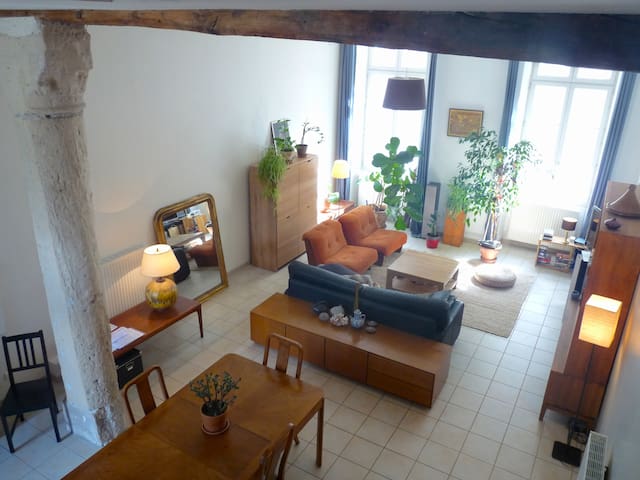 Welcome in this charming "duplex", 5 minutes walk to the station.The apartment is located in a nice and clean building in street "rue du connétable", very nice street with shoppings facilities, leading to the Castle. Thanks to large windows and good exposure, you would benefit from a panoramic view. This 2 bedrooms flat is on the 4th floor( no lift). The modern design and efficient appliances make this duplex a pleasant and enjoyable place to live . The top(like Chantilly famous whipped cream)
Welcome in this charming "duplex", 5 minutes walk to the station.The apartment is located in a nice and clean building in street "rue du connétable", very nice street with shoppings facilities, leading to the Castle. Thanks to large windows and good exposure, you would benefit from a panoramic view. This 2 bedrooms flat is on the 4th floor( no lift). The modern design and efficient appliances make this duplex a pleasant and enjoyable place to live . The top(like Chantilly famous whipped cream)
a lot of shops, restaurants , hairdressers and the castle, at the end of the road!
Bella y Claude fueron unos buenos anfitriones , la casa era mejor de lo que imaginábamos , nos ayudo Mucho a solucionar pequeños inconvenientes del viaje y a reorganizarnos para que la visita fuera mas completa y nos diese tiempo a todo. El apartamento estaba genial, tal y como descrito en el anuncio. Buena ubicación, fácil comunicación con los propietarios y perfecto para mis necesidades. Sin duda volvería!
Eloisa
2017-03-19T00:00:00Z
Margaux
2017-03-17T00:00:00Z
Room Type
Entire home/flat
---
Property Type
Apartment
---
Accommodates
4
---
Bedrooms
Chantilly, Hauts-de-France, France
Construction récente dans ensemble de pavillons. Petit nid douillet pour une famille ou simplement en amoureux. Il est tout équipé pour vivre indépendamment. Quand je dis tout, je dis tout : frigo, micro-ondes, tassimo, four, draps, serviettes, gel douche.... Venez profiter du calme de cette impasse avec son jardin et barbecue à dispo.
Cosy appartment perfect for a familly to visit Astérix, Chantilly, Paris,... Perfectly placed in north of Paris.
Last house in a dead end, your stay is going to be quiet.
Vincent was very welcoming on our arrival he took time to explain us everything. The flat is very practical, clean and comfortable. It has everything you need for a good stay!
Rosario
2016-08-12T00:00:00Z
Une première expérience Airbnb parfaitement réussie. Le logement est très fonctionnel dans un quartier très calme. Vincent nous a très bien accueilli. Je conseille ce logement.
francis
2016-08-13T00:00:00Z
séjour très agréable, l hôte a été disponible et serviable,je conseille à tous d y séjourner
michele
2016-10-14T00:00:00Z
bon accueil de la part de Vincent et sa famille, bons conseils pour la restauration. quartier très calme et logement fonctionnel. proche du parc Astérix. nous conseillons ce petit nid fort agreable !
Karine et Corentin
2016-05-16T00:00:00Z
Le logement est très bien . Hormis le fait qu'il se trouve dans un grenier ,donc niveau chaleur c'est étouffant et il manquais du nécessaire de cuisine et je trouve pas très hygiénique de remettre des produits déjà entamer ainsi que des gants brosse déjà utiliser . Pas de télé et wifi très lente Sinon couple très sympas , compréhensible et avenant . Petit bémol une caution non stipuler sur l'annonce qui nous a été demander . Et convient plus a des amis ou a des collègues qu'a une famille avec enfant ou a un (URL HIDDEN)
David
2016-12-01T00:00:00Z
Room Type
Entire home/flat
---
Property Type
Apartment
---
Accommodates
4
---
Bedrooms
Fosses, Île-de-France, France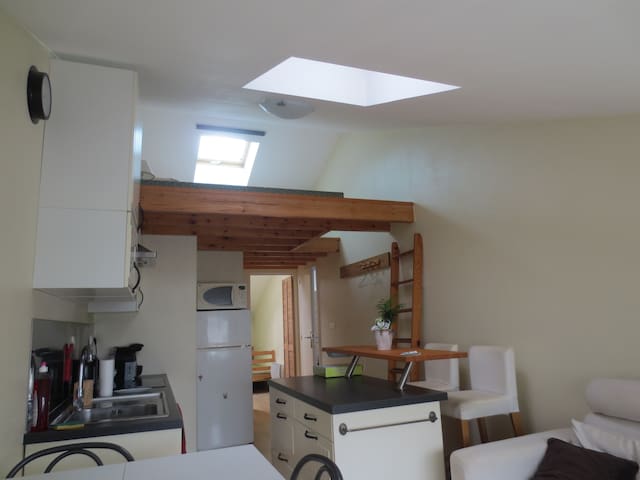 1

–

18

of

132 Flat Rentals
Enter dates to see full pricing. Additional fees apply. Taxes may be added.