The house is inserted in a hilly area overlooking the Po Valley. The secluded location amid the hills subtracts the guest from any source of noise nuisance, and allows us to capture the sounds produced by animals that are present both inside the park and in the surrounding woods. Is a 15-minute drive from Bologna and the motorway junction for Milan, Florence, Rimini and Venice. The Bologna Central Station and the city center are all within 30 minutes.
The house offers its guests a whole floor: two double bedrooms with double beds and possibly a the baby bed, a private bathroom and a study with a notebook and wifi. It also provides the family kitchen with appliances and kitchenware. Guests can also enjoy the large wooded garden and porch with tables and chairs.
The house is located in the municipality of Monte San Pietro, in San Lorenzo in Collina, inhabited until 2500 BC as evidenced by some archaeological finds which testify to the presence of Neolithic peoples. Other findings, attributable to more recent times, are attributable to the Etruscan civilization (VI-IV century BC.).
Beautiful rooms with stunning view over the hills. Easy and friendly communication and check in. Nice clean quiet rooms with good beds. Private bathroom and kitchen access. COOP supermarket 5 min away by car. Thanks for the coffee in the morning. Would have loved to stay more days.
Kristian
2017-04-09T00:00:00Z
The house is located in the beautiful country side and Andrea and his wife were wonderful hosts. Great stay.
Daria
2017-03-31T00:00:00Z
Esperienza assolutamente positiva perché, oltre ad essere immersi nella natura, la famiglia è stata molto cordiale e disponibile
Francesca
2017-04-02T00:00:00Z
host gentilissimi, come sentirsi a casa. Posto incantevole
Mirko
2017-02-09T00:00:00Z
Room Type
Private room
---
Property Type
House
---
Accommodates
4
---
Bedrooms
San Lorenzo in Collina, Emilia-Romagna, Italy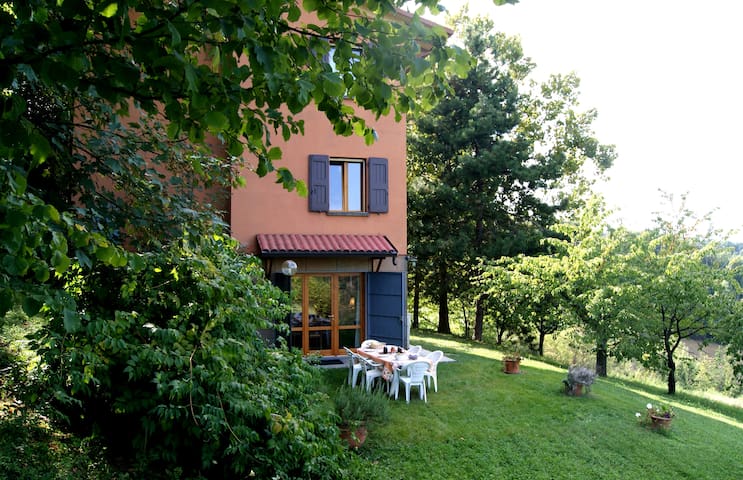 Alloggio mini appartamento nella prima campagna di Bologna, molto comodo in auto (20 minuti dal centro) ed immerso nel verde e nella tranquillità. La casa è accogliente, ristrutturata da poco mantenendo le caratteristiche originali, funzionale e comoda. Ideale per soggiorni brevi per lavoro (è vicina all'autostrada/tangenziale uscita casalecchio di reno) o vacanza.
Primo borgo di campagna a 10 km dal centro di Bologna. Nei dintorni si trovano bellissime colline tipiche bolognesi (calanchi), zone di produzione di vini locali doc ed ottimi ristoranti ed osterie con prodotti tipici e locali (Tigelle, Crescentine, Tagliatelle al ragù, etc.)
Gregorio ci ha accolti benissimo il 31 dicembre per il nostro capodanno a Bologna. La casa allegra, calda e accogliente ci ha fatto vivere lo spirito della vita underground di questa città! Massima privacy e tranquillità. Ideale per coppie e giovani. Il divano letto si è rilevato più comodo di quello di un albergo. Sarà un punto di riferimento assicurato dei nostri futuri viaggi nei dintorni.
Eulalia
2017-01-01T00:00:00Z
Consigliato per tutto .propietario gentilissimo
Veronica
2017-02-05T00:00:00Z
Ottima soluzione per chi vuole muoversi nei dintorni di Bologna. La posizione lontana dai rumori della città, la casa confortevole e i proprietari gentili e disponibili.
Giulia
2017-02-19T00:00:00Z
Gregorio mi ha accolto benissimo. Massima disponibilità e chiarezza sulla info richieste. La casa risulta immersa nel verde ed è veramente rilassante e piacevole trascorrere il soggiorno in un luogo così. Lo consiglio a tutti. Saluti Emanuele
Emanuele
2017-04-09T00:00:00Z
Casa davvero carina, posizione tranquilla e piacevole...peccato che durante il mio soggiorno nelle finestre non erano presenti le persiane perché a restaurare... mi sono trovata bene e Gregorio è una persona disponibile, educata e gentile.
Glenda
2016-09-30T00:00:00Z
Ottimo monolocale ben equipaggiato. Al costo di una stanza privata in casa di qualcuno, potete avere un bellissimo monolocale tutto per voi, e con tutto quel che serve. Gregorio poi è disponibilissimo, rimarrete soddisfatti.
Paolo
2017-03-10T00:00:00Z
Room Type
Entire home/flat
---
Property Type
House
---
Accommodates
2
---
Bedrooms
Cà Molinetti, Emilia-Romagna, Italy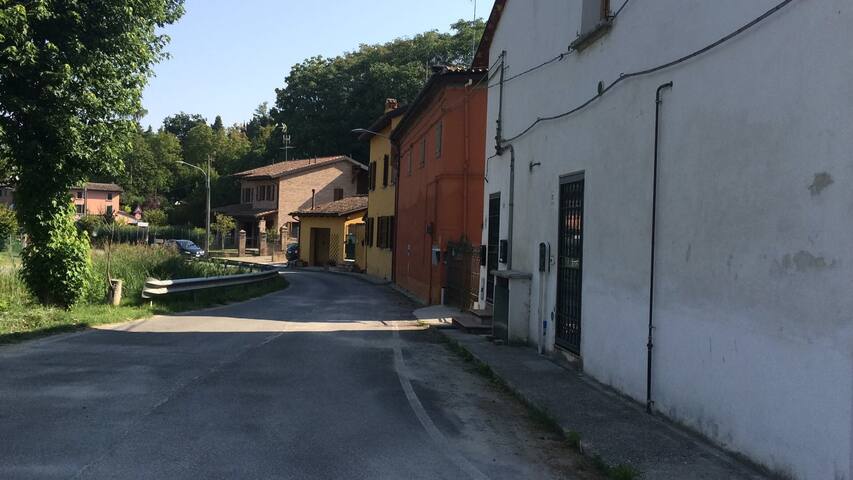 Ancient farmer house of my grandgrand parents, now a small villa on a hill, two floors, patio, two bedrooms, large kitchen, 3 saloons. 5 hectars park. 15 minutes to Bologna, 1 h to Florence by car. Search for Riallydrone on Youtube for a drone video
Wonderful scenery Old style country house, with ancient original stuff Barbecue Fireplace Strategic location (neighborhood of Bologna, 1 h drive to Florence)
The house is on a hill in Riale, immersed in green, trees, flowers, different kinds of animals (squirrels, birds and sometimes deers) The house is in a private area with 4 houses of our family
Ancienne maison de charme en plein cœur de la nature et à 20 minutes à peine du centre de Bologne! La maison est spacieuse avec toutes les commodités nécessaires. Il s'agit d'une très vieille maison chargée d'histoire! Elle se trouve, au calme, au sein d'un immense domaine commun à trois autres propriétés. Le cadre est exceptionnel avec une vue magnifique sur Bologne. Les hôtes, Marco, Cristina et leurs filles, ainsi que la propriétaire des lieux Paola sont absolument charmants et très accueillants. Il se sont montrer très disponibles lorsque nous en avons eu besoin et ont tout mis en œuvre pour nous faciliter la vie sur place. Nous y avons passé un excellent séjour. A recommander sans hésitation!
philippe
2016-10-01T00:00:00Z
Room Type
Entire home/flat
---
Property Type
House
---
Accommodates
6
---
Bedrooms
Zola Predosa, Emilia-Romagna, Italy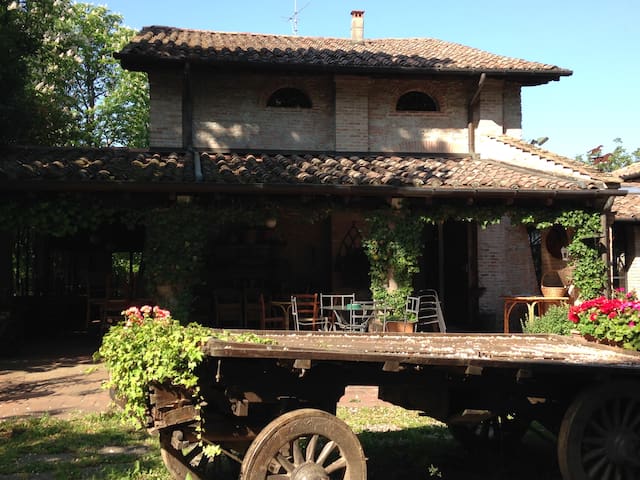 Large room with 3/4 beds for family or friends with a private bathroom at Ca 'Bronzina The ancient tower house on the road of wines and flavors, in a panoramic position extremely happy, with sweeping views of the valley and the hills of Monteveglio-
Io e mio marito ci siamo innamorati della nostra casa e del posto in cui si trova per vari motivi. Amiamo il paesaggio che ci circonda con una vista mozzafiato, la natura, il cibo il più possibile a km 0 anche dal nostro piccolo orticino, le passeggiate e vivere in un'antica torre dell'anno 1000 che ha un'incredibile memoria storica. Così nel 2013 abbiamo abbandonato la città che dista da qui circa 20 30 minuti con l'automobile, per venire a vivere in totale tranquillità e benessere.
Floriana and her husband were extremely hospitable and very pleasant people. Their house is rather far from Bologna, and you need car and gps, but the place is very beautiful. So you can feel the true italian spirit. On the second floor you get enough privacy and space. Floriana gave us very tasty cookies on breakfast and also provided us with a lot of suggestions.
Olga
2015-09-17T00:00:00Z
Floriana and her husband were great welcoming us!! They showed the house and breakfast was lovely and prepared the night before. Waking up with breakfast ready in a cozy living room with the firewall on was like... Home! They have a beautiful house in the surroundings of bologna! It is spacious, comfortable and charming! If you want to stay close to bologna but in a quite country side place, this is the best choice!
Raquel
2015-10-01T00:00:00Z
Floriana is a very friendly person and has two lovely kids. She welcomed us for a couple off nights in her house and we had a great stay! The house is beautiful and the view from our bedroom window was really great! It's a great place to stay if you want to discover the area around Bologna and Firenze (when you have a car).
Sigrid
2015-10-12T00:00:00Z
Io e la mia compagna siamo stati a bologna x lavoro, non avevamo moltissimo tempo per godere del paesaggio collinare che a parere nostro è bellissimo, tranquillo, silenzioso, verde molto verde. La famiglia che ci ha ospitato e molto giovane con due bambine bellissime. i genitori Floriana e Diego sono speciali, premurosi, simpaticissimi, affidabili e consigliatissimi. La casa è stata ristrutturata ed è unica.
Giuseppe
2016-09-27T00:00:00Z
Dobbiamo ringraziare Floriana e la sua famiglia per l'accoglienza, la disponibilità, la serietà e l'affidabilità dimostrata, nonchè la correttezza di quanto offerto. Siamo rimasti entusiasti, del calore umano ricevuto immerso in un contesto di pace e tranquillità a poca distanza dal centro di Bologna.
Santi Roberto
2016-09-04T00:00:00Z
Famiglia molto accogliente, luogo molto calmo idéale per qui ama la natura rimanendo tutta via vicino la bella citta di Bologna. Ci hanno dato degli ottimi indirizzi di luoghi e posti simpatici dove andare e soprattutto dove parcheggiarsi e il pullman da prendere. Bel soggiorno soprattutto con bimbi perche le 2 bambine di Floriana e Diego sono molto socievole.
Philippe
2016-03-20T00:00:00Z
Sono stata nella casa di Floriana perché dovevo ambientare una serie fotografica in un posto che non fosse un banale studio. Floriana è stata gentile e disponibile sin da subito all'ascolto, ha messo a disponsizione i suoi ambienti nonostante il mio non fosse un soggiorno "ordinario". Sin da subito, entrando in questa amorevole dimora, ho sentito nell'aria un profumo di buono, di sano, di genuino. La casa di Floriana, è una casa con la C maiuscola. Gli ambienti sono accoglienti, ed emanano calore, non parlo soltanto del calore in senso scientifico. Che Floriana è un'artista, l'ho capito dal primo momento in cui l'ho vista. La cura nei minimi particolari per questo posto credo le venga dal cuore, in maniera del tutto spontanea, naturale. Ogni cosa è al suo posto, ed è bello così. Questo luogo non ha fatto altro che invogliarmi a tornare e a fermarmi per più tempo, cosa che sicuramente farò. La delicatezza di questa casa è unica, è una cosa che senti e l'empatia fra queste mura e chi vi abita è evidente. Il posto è fantastico, meraviglioso. Una vista panoramica mozzafiato: e pensare che è a solo un'ora da casa mia. Tornerò sicuramente! Il riguardo e l'amore messo in ogni particolare lo si sente forte e chiaro! Carinissime le bimbe, gli animali, Diego gentile, Floriana, che dire, unica.
Sara
2017-01-28T00:00:00Z
La casa è molto carina, in collina in una posizione panoramica. La camera è accogliente e si trova al primo piano dove è presente anche un salottino e una stanza dei giochi. La famiglia è ospitale e i nostri figli si sono divertiti a giocare con le due bimbe.
Elena
2017-01-22T00:00:00Z
Room Type
Private room
---
Property Type
House
---
Accommodates
3
---
Bedrooms
Oliveto - Monteveglio, Bologna/Emilia-Romagna, Italy
room on the second floor of the farmhouse, with private bathroom inside the room, car parking with automatic gate. Breakfast Room. the house is close to Unipol Arena Casalecchio, freeway, highway, equipped axis to Bologna.
the room is on the second floor of the house surrounded by two hectares.
the house is located in a small-scale industrial area, convenient to all directions and close to major roads such as highway and ring road. the advice is still to be traveling by car or with the possibility of being accompanied or taxi.
Beautiful & serene stay... friendly, discreet & most helpful host... a little outside Bologna
Anthony
2017-03-18T00:00:00Z
Guenda è una persona molto gentile e disponibile. L'alloggio è nelle campagne di Casalecchio, indispensabile la macchina per raggiungerlo. L'alloggio è una cameretta di un palazzo in una bella corte, sembra un po' di essere a casa. Arredamenti stile anni '70 ma ben tenuti e curati, con una libreria personale da ragazzi ben fornita. Pulizia ottima. Son rimasto molto soddisfatto.
Michele
2017-03-17T00:00:00Z
L'alloggio è molto pulito e comodo. Guenda e la sua famiglia sono molto friendly e discreti. Consigliatissimo!
Vito
2017-04-07T00:00:00Z
Room Type
Private room
---
Property Type
House
---
Accommodates
1
---
Bedrooms
Zona Industriale, Emilia-Romagna, Italy

Quiet apartment with garden located in the first outskirts of Bologna convenient to highways, ring roads, airport and shopping centers. Train station 200m convenient for Bologna city center in 15 minutes. Unipol Arena 500m.
Nice quiet and bright apartment located in Reno (five minutes by car to Bologna center) and well served by public transport. Two hundred meters away is the train stop Casalecchio Palasport that in just 15 minutes allows you to reach central Bologna. On this line you can load bicycles and animals cost the city ticket. In addition a bus service a few hundred meters allows more movement in and out of town. The palezzetto Sport (Unipol Arena) is about 500 meters, and several shopping malls (Carrefour, Ikea ..) are within walking distance in two minutes. Hospital more accessible by car in a few minutes as the equipped axis Bologna-Vignola is located near the apartment. Hubs highways, ring roads and streets of expressway are all extremely comfortable. Convenient to reach the fair district because of the convenience of access to the ring road that few exits and ten-minute drive leads to the pavilions. The apartment consists of a lounge / kitchen area (which gives access to the garden via french doors) which is one of the three beds. The kitchen has a fridge and freezer, stove, microwave oven, gas oven and dishes, glasses, cutlery, pans various. The bathroom has a bathtub with shower and laundry use. The bedroom has twin beds fitted with sheets and duvets. The central heating is used to adjust at will the temperature and the air conditioning alleviates the summer heat! A small pet is well accepted
new and quiet neighborhood at the foot of the beautiful hills of Bologna. very close to the highway to Modena and Florence
Paolo has welcomed us in very cosy and super clean apartment. We were very happy to stay in Bologna and enjoyed calm area a lot!!!
Michaela
2015-05-17T00:00:00Z
Sandra and Paulo were great hosts. The apartment was clean and tidy. Sandra was kind enough to be flexible with my arrival time which I really appreciated. She was there to meet me and show me around. The spot was ideal for me, close to the hills for a morning run and 15 mins drive to the airport. We had a few problems initially with the aircon and the Internet not working, but they were quickly sorted out and they even found me a mug for my cup of tea. Would come here again.
Steve
2015-07-19T00:00:00Z
La casa è pulita, accogliente e originale. E, come dice l'annuncio, molto allegra. Sandra è stata paziente con il nostro ritardo e ci ha accolte nel migliore dei modi, lasciando anche un quaderno con indicazioni su trasporti e ristoranti. Nella cucina c'è tutto quello che serve, il divano è grande, il letto comodo e il bagno pulito. Menzione d'onore al phon simpaticissimo! L'ubicazione è ideale per gli eventi all'Unipol Arena; vicinissimi sono anche il centro commerciale e la fermata del treno (che giunge a Bologna in venti minuti). È stata un'ottima esperienza e ci torneremo sicuramente!
Giulia
2016-12-11T00:00:00Z
Casa originale, colorata, calda e arredata con gusto. Siamo stati benissimo in 4 una notte di passaggio e dovesse ricapitare torneremo lì. Sandra è stata disponibile e ci ha a che indicato un agriturismo dove abbiamo cenato divinamente! Comoda per chi deve fare una sosta vicino all'autostrada o deve andare all'Arena.
Myriam
2015-10-18T00:00:00Z
Appartamento comodo e molto accogliente. I colori ti mettono allegria. La signora Sandra e' cordiale e disponibile. E' ben servita e vicino a tutto. Da consigliare agli amici..
Salvatore
2014-12-06T00:00:00Z
Appartamento carinissimo, arredato in modo molto originale e dotato di tutti i confort, facile da raggiungere, si trova vicino l'autostrada e la tangenziale. La signora Sandra e suo marito sono stati gentilissimi, spero di tornarli a trovare presto.
Valerio e Silvia
2015-09-21T00:00:00Z
Sandra ci ha accolto nel suo confortevole appartamento, accogliendo anche due nostri amici che si sono aggiunti un paio di giorni prima del arrivo. Casa pulita, dotata di giardino a 10m da Bologna, comoda anche per 4 persone. Sandra é stata molto gentile e super disponibile, ci ha consigliato anche trattorie dove andare a mangiare. Siamo rimasti tutti e 4 molto soddisfatti, se tornassimo a Bologna, sapremmo dove andare!
sarah
2016-01-03T00:00:00Z
Appartamento molto grazioso, pulito e luminoso, la posizione è ottimale per raggiungere moltissime attrazioni di Bologna e Sandra è stata un host gentile, premurosa e molto cordiale!
Arianna
2017-03-26T00:00:00Z
Room Type
Entire home/flat
---
Property Type
House
---
Accommodates
4
---
Bedrooms
casalecchio di reno, Emilia-Romagna, Italy
VIA PUNTA 8 is a recently renovated farmhouse with a separate entrance for guests, garden of 1000 square meters area (solarium, BBQ, sun loungers, tables and chairs) and private parking;
The house is situated in a green oasis, a charming and quiet just few minutes from the city center and offers free parking and free high-speed Internet (Wi-Fi). The house consists of: - The 'attic', with en suite bathrooms, a spacious, warm and charming room with wooden ceiling and parquet, air conditioning, vintage design lighting, table, chairs, LCD TV 32', and a kettle. - the 'turquoise room', with Art Deco furnishings, a double bed and a single bed (can be used as a sofa) and TV. - The 'orange room', which has a kitchenette, living area with sofa, LCD TV 32', tables and chairs. this room can be used also as a bedroom with twin or double bed as you need. There are 2 bathrooms in the house, one internal in the attic room, the other external on firts floor. The kitchen and turquoise room have both direct access to a large, covered, panoramic terrace, furnished with table and chairs.
Our stay was in a word ... perfect. The accommodation is perfect, the host was perfect and our stay overall was just perfect. Communication in advance of our arrival was perfect fast and extremely helpful. We were welcomed upon arrival and shown round the accommodation, given some tips about practical matters (such as supermarket location and bus into Bologna .... far easier than driving in) and Federica was on hand to help with any queries we had. Stunning accommodation and location and the balcony area was amazing as was the garden play items which our 7 year old twins loved. Thank you Federica - just amazing!
Douglas
2016-08-12T00:00:00Z
Awesome location, great and welcoming host. The house has a nice garden and the view from the balcony is good too! The best feature of the house is the peace and quite it offers (while being really close to the city centre). Do not be deterred by the proximity to the airport - airplane noise is practically non existent. cleanliness: 5/5 proximity to city centre: by car it is easy (parking's not once you get there :) ) - by public transport is also easy but I can imagine it will take a bit longer. Ask host for details local knowledge of host: always in the know of things to do around the city (saves time checking trip advisor!) host very willing to adapt to our arrival-departure schedule, and other requirements re. the accommodation. Two friendly dogs roam the garden and they are very good fun to play with!! Overall very positve experience - 5/5. 4.5 / 5 had we not have a car to move around with and relied entirely on public transport!
Tsele
2013-05-14T00:00:00Z
Abbiamo avuto un splendide soggiorno. L'appartamento è comodo. C'è un giardino grande con molti fiori. Federica è un' ospite gentile. Nel dintorno ci sono molte cose da vedere.
Caroline
2014-07-13T00:00:00Z
Room Type
Entire home/flat
---
Property Type
House
---
Accommodates
7
---
Bedrooms
Bologna, Emilia-Romagna, Italy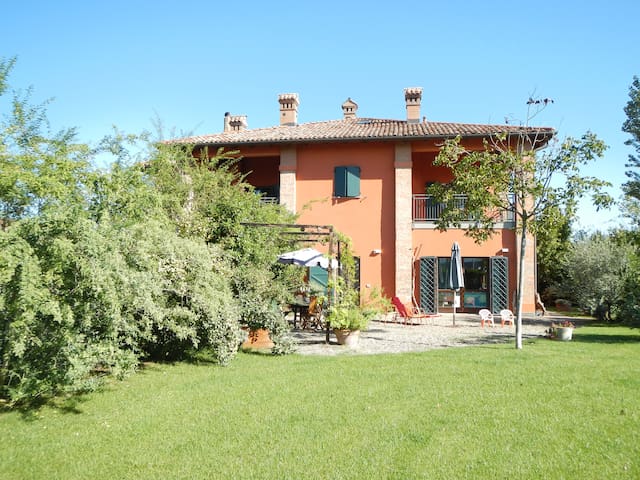 La perfetta sistemazione per chi vuole fermarsi a Bologna senza avere preoccupazioni!! Comodissimo ad aeroporto e tangenziale; la tua auto sarà custodita in una corte di fronte all'appartamento! Ti sentirai proprio come a casa tua!!
La grande cura nella progettazione e nella realizzazione ha consentito di ottenere un appartamento a basso impatto ambientale, completamente insonorizzato e con certificazione energetica in classe A. Sul tetto è installato un pannello solare per la produzione di acqua calda. I materassi e i piumini sono ignifughi con certificazione del Ministero dell'Interno e i coprimaterassi cerati sono impermeabili e anti-acaro. L'appartamento si sviluppa in un grande ambiente che si affaccia sul giardinetto privato sul retro. E' dotato di sala con tavolo e 4 sedie, divano, tv 32" lcd, ampio angolo cottura completamente attrezzato e forno a microonde. Bagno finestrato con doccia, phon e stenditoio in dotazione. Tre comodi posti letto: un letto matrimoniale (a richiesta due singoli) e il terzo in ampio divano letto. E' sempre possibile alloggiare un quarto ospite di età inferiore ai dodici anni. Gli ambienti sono arredati finemente con mobili di design moderno, dotati di aria condizionata, rilevatore di fumo con sirena di allarme e rete WiFi gratuita. Nella corte, chiusa da un cancello automatico e protetta da un impianto di sorveglianza, c'è un posto d'auto riservato comodissimo al vostro alloggio.
Arrivare è comodo sia con i mezzi pubblici (treno / aereo) che in automobile. Borghetto Panigale si trova a soli 2,8 km dall'AEROPORTO; è vicino alla STAZIONE DEI TRENI di Borgo Panigale, che conducono in stazione centrale in soli 6 minuti! Si trova a 15 minuti dalla FIERA di Bologna poiché è assai prossimo alle entrate della TANGENZIALE. La fermata degli AUTOBUS è proprio girato l'angolo, e collega l'appartamento con il CENTRO di Bologna e con l'AEROPORTO. Il bus 13, che conduce al centro città, passa ogni 10 minuti dalle 5.00 del mattino all' 1:00 di notte Il bus 54 ti permette di raggiungere l'aeroporto in 10 minuti esatti! (nell'appartamento troverai la tabella degli orari). Via BUS si possono raggiungere anche l'AUTOSTAZIONE, la STAZIONE CENTRALE e la FIERA, ma suggeriamo di servirsi del comodissimo trenino di superficie per ridurre i tempi di percorrenza. (nell'appartamento troverai la tabella degli orari).
We spent an enjoyable two days in Bologna, staying at the very well located apartment near to a train station which was very handy for travelling into the centre. Despite the close proximity to the station, no noise could be heard inside the apartment. The apartment was well presented and clean with a powerful shower and toiletries to use. The owner, Anna, was incredibly accommodating, offering us advice on the local area and even booked us a table at a nearby restaurant - the food was delicious! It was very handy to have a parking space right outside the apartment too. Thank you, Anna.
Jake
2015-10-19T00:00:00Z
Borghetto Panigale is a perfect place to stay in Bologna! Everything was so pretty, clean and welcome. Our host Anna was amazing, she is smiley person and she does everythink to make us feel like home. The internet is fast and the place is quiet. It's next to the bus and train stations, so you an reach every spot in a minutes. She gave us bus tickets, she explain where the markets and station are and at the and she make us a present - free diner in a pastaria next door for our honeymoon! Thank you Anna!
Valeria
2015-09-15T00:00:00Z
The apartment was great... clean and neat.. Anna was a good and understanding host.. But i do not understand why is there a 4 euro tax which I thought it is already included in the AirBnb amount?
Siti Raudha
2016-10-14T00:00:00Z
Anna was a great host. I would highly recommend anyone to stay at any of his many Airbnb apartments in Bologna. We arrived 2 hours late to our arranged arrival time due to getting lost, he went out of his way to direct us the nearest bus stops that would take us to our place. A very sweet and hospitable man. Clean facilities!
Randy
2016-08-01T00:00:00Z
Great location next to the train station and 10 minutes by car to the airport. Parking was secure and right in front of the apartment. It was very clean, new, and well equipped. Anna was very friendly and thorough as she provided information about the apartment and the surrounding area. She even had train tickets that we could purchase from her instead of having the buy them on our own. Lacking a wine opener, Anna, helped us borrow one from the local bar.
Suzanne
2016-05-11T00:00:00Z
Anna was brilliant. She met us as soon as we arrived even tho we got stuck in traffic. The place was so nice and clean as well as modern. She gave us loads of info on transport and with the appartment being behind an electric gate we felt very secure. We would recommend to anyone.
Nick
2016-08-16T00:00:00Z
Fantastic place!
Igors
2017-02-15T00:00:00Z
So. Communication is good,but there is no personal contact. Everything is keycodes supplied by the host. I prefer someone meeting you,but ok. On arrival its not easy to find. GPS and (SENSITIVE CONTENTS HIDDEN) maps don't take you to the location. The space was not the one in the pictures,i think they use one apartment profile for all the apartments. The wifi is rubbish and after 10 minutes nothing. Ok for me as i use my English 4g on my cell,but for others from USA/Canada could be an issue. There was no hot water in the morning for a shower. The space itself is ok but these issues i express is what happened to me.
jimmy
2017-01-07T00:00:00Z
Room Type
Entire home/flat
---
Property Type
House
---
Accommodates
4
---
Bedrooms
Bologna, Emilia-Romagna, Italy
GiuCla Guest House è in posizione strategica: tra Tangenziale (2 min in auto), Aeroporto (3 min in auto, 15 min a piedi), Stazione di Borgo Panigale (5 min a piedi, in 5 min di treno si è in Stazione Centrale), Ristoranti (Tigelle/Crescentine, Pizza, etc.), Attività per la Famiglia (Parco dei Pini), Trasporto Pubblico. Ti piacerà perché è un Loft molto Silenzioso con travi di legno, immerso nel verde e vicino a tutti i principali servizi. È adatto a coppie, singles e chi viaggia per lavoro.
Dotato di ampio parcheggio privato e riservato, oltreché di moderne sistemazioni in stile rustico (con soffitto realizzato in travi di legno), ed immerso in un bel parco verde, GiuCla Guest House sorge a Borgo Panigale, a 800m dalla stazione ferroviaria di Borgo Panigale (5 minuti a piedi con strada e pista ciclabile riservata), e a 3 minuti di auto dall'Aeroporto di Bologna. Disponibile anche il servizio navetta da e verso l'aeroporto, che comodamente vi verrà a prendere o porterà in aeroporto quando ne avrete la necessità. La casa dispone di connessione ad altissima velocità (Fibra 300Mbps) a cui poter accedere via Wi-Fi in maniera del tutto gratuita e sicura (password di accesso fornita al momento della prenotazione), TV a schermo piatto e bagno privato con doccia e asciugacapelli. Ogni mattina viene servita una colazione a dolce o salata, in base alla scelta effettuata la sera precedente dal Guest. GiuCla Guest House dista soli 5 minuti di treno dal centro storico di Bologna (15 minuti in auto). Parliamo Italiano, Inglese, Spagnolo e Francese!
Il toponimo Borgo Panigale, risalente al medioevo, deriva dal nome di epoca romana Vico Panicalis, che ebbe probabilmente origine dal fatto che nella zona era intensa la coltivazione del panìco, un cereale simile al miglio[5]. Tre spighe di panìco compaiono, intrecciate, anche negli stemmi di comune e quartiere. Borgo Panigale è conosciuto per essere sede della nota casa motociclistica Ducati che produce moto famose in tutto il mondo. Oltre ad essere uno degli snodi principali della tangenziale bolognese, è anche sede della stazione meteorologica locale di riferimento per l'Aeronautica Militare. Nel quartiere è presente anche l'aeroporto Guglielmo Marconi, uno dei più importanti aeroporti italiani, e la Fabbri (settore dolciario).
Totally fine, very close to the airport
Blanche
2017-03-11T00:00:00Z
Giuseppes place was great for my stay before my flight. He was helpful and flexible with my plans and even accommodated for my early morning flight. Thanks Giuseppe!
Megan
2017-03-12T00:00:00Z
Giuseppe is the ideal host.Very helpfull, responsive and polite.His place is entirely renovated soon,clean and convenient.Park area around.Also plenty of parking space.You can have good rest there and to head to the Airport which is very near.Highly recommend his place and service.
Elena
2016-12-11T00:00:00Z
Comfortable, cozy, tidy, clean and sweet place. We felt like home staying there! The best part was that it took us 10 mins by foot to get to the airport. We would go there again! :-)
Rositsa
2017-03-15T00:00:00Z
The host canceled this reservation 2 days before arrival. This is an automated posting.
Hakan
2017-03-13T00:00:00Z
Giuseppe was a super nice host, always there for anything you need. Very good communication. It was a pleasure to meet him. The house was very clean and tidy and was in the middle of the nature just 15min walking from the airport which was really handy. I recommend it to anyone!!
Beatriz
2017-03-28T00:00:00Z
Io e il mio ragazzo ci siamo trovati benissimo, è venuto a prenderci in aeroporto, situato a 3 minuti dalla sua abitazione. La stanza è accogliente, la casa pulitissima. Comunicazione chiara e veloce. Giuseppe è stato attento alle nostre esigenze, molto cordiale e gentile, molto disponibile a darci tutte le informazioni di cui avevamo bisogno ed è stato piacevole ritagliarci uno spazio per scambiare due chiacchiere a fine giornata. Consiglio assolutamente, alla prossima :)
Carmen
2016-12-10T00:00:00Z
Giuseppe è stato un perfetto host. Disponibile e gentile. L'appartamento è luminoso, accogliente e molto vicino all'aeroporto e alla stazione ferroviaria di borgo Panigale. Colazione buona e con ampia scelta. Se avrò necessità tornerò sicuramente da Giuseppe! :-)
Denise
2017-01-27T00:00:00Z
Room Type
Private room
---
Property Type
House
---
Accommodates
3
---
Bedrooms
Bologna, Emilia-Romagna, Italy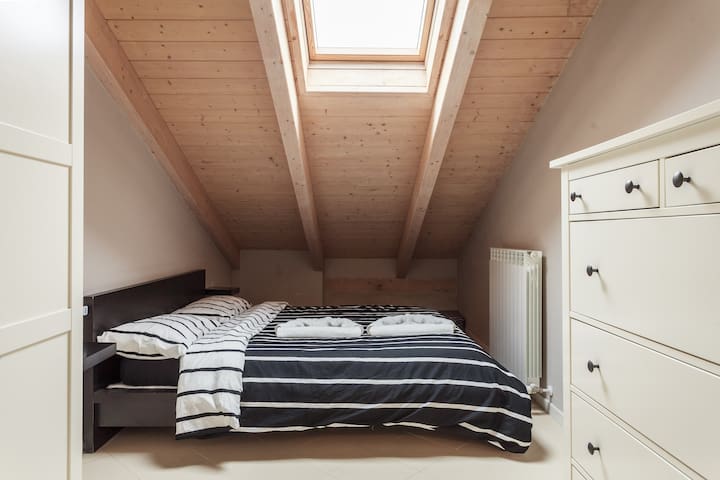 Grazioso monolocale in zona tranquilla e silenziosa ma allo stesso tempo con tutti i servizi necessari. Appena ristrutturato, il monolocale ha una suggestiva zona notte soppalcata, cucina attrezzata, zona giorno con TV e bagno completo di lavatrice.
Lorena and Andrea are very kind and helpful people, we really enjoyed our stay at their place! Breakfast was included in form of fresh fruits, coffee/tee, juice, biscuits and some pastries. The apartment is conveniently located between the airport and city center, so nothing's too far away and public transport takes you anywhere in no time!
Kiira
2017-04-09T00:00:00Z
Monolocale delizioso, i proprietari molto disponibili e alla mano! Consigliatissimo!!!
Alessandro
2017-04-03T00:00:00Z
Lorena e Andrea sono veri ambasciatori dell'ospitalità, puntuali, disponibili e premurosi, ti fanno sentire a casa. L'alloggio è in un'ottima posizione dalla quale si può raggiungere in pochi minuti di bus/auto il centro di Bologna (varie linee urbane attraversano il quartiere) . Per chi fosse interessato a una ubicazione vicina all'Ospedale Maggiore esso è raggiungibile a piedi. Quanto all'alloggio in sè è accogliente, ben ristrutturato e dotato di una cucina fornita di ogni necessità (forno a microonde compreso) quindi comodo anche per restare più giorni. Per chi giungesse in auto è possibile parcheggiarla nel viale privato senza troppe difficoltà per la ricerca di un parcheggio. Consigliato per ogni tipo di viaggio a Bologna.
Roberto
2017-01-01T00:00:00Z
Il soggiorno nell'appartamento di Lorena è stato divino! La casa era delizioso e curata nei minimi particolari! A disposizione tutto il necessario per fare un'abbondante colazione! Tutto pulitissimo! È il nostro soggiorno assicurato a Bologna!
Mary
2017-03-20T00:00:00Z
Room Type
Entire home/flat
---
Property Type
House
---
Accommodates
2
---
Bedrooms
Bologna, Emilia-Romagna, Italy
Whatever the purpose of your stay in our wonderful city, my apartment is always the sweetest choice! > If you come to VISIT THE CITY or the DUCATI factory museum > If you come to join EXHIBITIONS at BOLOGNAFIERE, EVENTS in the city or just as a stop of a longer trip
> If you come to VISIT THE CITY or the DUCATI factory museum, my flat can offer you comfort, relax and privacy in a location that is just 7 bus stops (15 min) from the (noisier) city centre and 5 minutes from the Airport. And be sure that you will receive as many advices and tips as you'd like about the restaurants, the events and Bologna's cultural heritage! We'll be more than pleased to share what we know about the city where we were born and raised. > If you come to join EXHIBITIONS at BOLOGNAFIERE, EVENTS in the city or just as a stop of a longer trip, my flat offers you a free reserved parking in the house yard, in a very convenient location both to go the City Centre (10 minutes) or to reach Bologna's ring road and the highways (airport exit number 4 is just at 5min). So you can avoid the "anxiety and the fines due to the restricted traffic areas" (Bologna city centre is closed to non-resident traffic) as well as the "luxury parking" (2.40€/h is the rate in the city centre)! Staying at the apartment means… •60 sm (645 sq ft) completely reserved to our guests (bedroom, living room, eat-in kitchen, bathroom). BSH is an apartment, so you will have the whole flat just for you! •Double bed (for 2 people) and the availability to add 2 other single beds (max 4 people) •Free reserved parking in the house yard (parking in the street is still free, in the case you'll come with two cars or more) •WIFI (fast and free); •55" plasma tv with dvd and blu-ray reader, PS3, HDMI cable available, home theatre; •Hi-Fi Stereo compatible with aux input, cds, radio; •Bench press and weights; •All the tips needed to visit and enjoy Bologna in the best way, coming for our personal experience! Suggestions for a 2h, 4h and 8h tour; public and private transportation; restaurants, bars and events lists •Blankets, towels and all the necessaire for the bathroom (shampoo, hand soap, hair dryer, etc.) •Coffee (free use of Nespresso machine or Italian Moka coffee machine)
Great place in Bologna, offered by a wonderful and attentive host. The flat is clean, spacious, cozy, and secure. YOu will get a sense of the city in a locals area, far away from the tourists and only 5-7 minjtes away from the airport and 10 minutes from central station and city center. Some great restaurants nearby. The flat even has workout equipment and a very well stocked kitchen. Perfect for 2 people or a family that can make do with one bathroom.
Gene
2017-03-19T00:00:00Z
Room Type
Entire home/flat
---
Property Type
House
---
Accommodates
4
---
Bedrooms
Bologna, Emilia-Romagna, Italy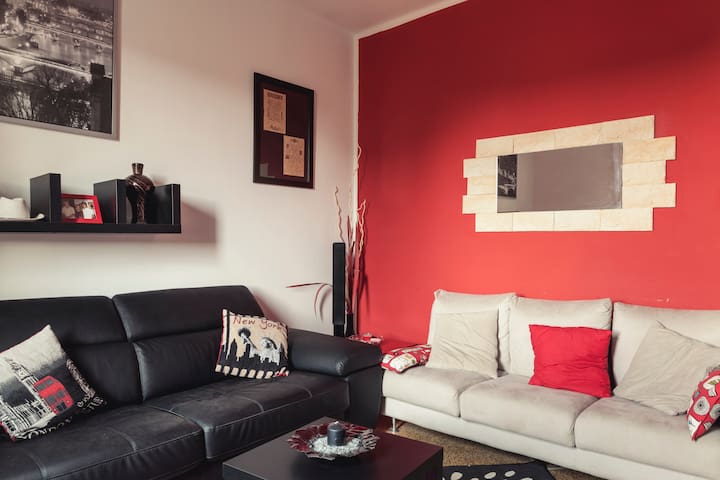 Ca 'Driano is a beautiful holiday home in the hills between Bologna and Modena. Outside, the view of the valley is breathtaking and there is the possibility, in the summer, outdoor dining under the spacious portico fully equipped.
Downstairs is the kitchen with refrigerator, freezer, gas cooker dishes and everything you need to cook. Also on the upper floor, positioned close to the bedrooms there are two bathrooms (one with bath and one with shower). Also on the upper floor there is the living room with flat screen tv.
Excelent place, excelent reception I sure will come back as soon as possible Elena the owner And Wilma And her husband Aristides are fantastic. The place is magnific! We are very happy with our choice We do recommend these place.
Arthur
2016-09-27T00:00:00Z
A very special thank you to Wilma and her husband who were exceptionally hospitable and generous. They are a delightful and genuine couple.Their home is beautiful and authentic with all the modern comforts. The house is located within easy reach of Bologna and yet it is blissfully tranquil. Having visited Bologna frequently over the last five years this is unquestionably my new favourite place to stay. Grazie 1000. Ottimo!
Lindsay
2016-11-13T00:00:00Z
Lovely house on a hill with a beautiful view and big garden. Everything is available in the house, large kitchen, beautiful bathrooms and lively decorated. Sweet and lovely host couple live in the house next to it and willing to help you with everything you need..... They even brought us some delicious home made pasta......
Andrew
2016-08-15T00:00:00Z
Super!
Olesya
2016-09-16T00:00:00Z
This is a wonderful stay! Wilma and her husband are very kind and nice. The communication is smooth and quick. The house located in the countryside but easy accessed by car. It's very spacious for our big family with every detail out of expectation. Moreover, the heater and hot water are excellent for our stay in winter. This is a real home away from home. Highly recommend!!!
Sarah
2017-01-02T00:00:00Z
We hebben genoten in Casa Ca'Driano! Wilma en haar man zijn geweldige hosts, erg warme en prettige kennismaking met hen. Het huis is zeer ruim en erg mooi ingericht en onderhouden. Idyllisch gelegen in een rustige hoger gelegen omgeving. Wat ons betreft een topper, een echte aanrader ;)
Anne
2016-09-08T00:00:00Z
Spazi ampi. Accoglienza premurosa e gentile.
simone
2016-10-31T00:00:00Z
Room Type
Entire home/flat
---
Property Type
House
---
Accommodates
5
---
Bedrooms
Monteveglio, Emilia-Romagna, Italy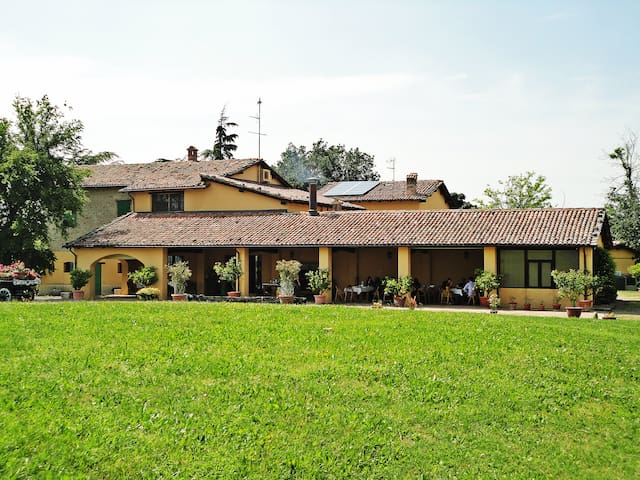 FURNISHED HOUSE, VERY ILLUMINATED, QUIET AND COMFORTABLE
IDEAL FOR TWO PEOPLE, NOT 'SMOKING AND PETS ARE ALLOWED ONLY IF ACCUSTOMED TO LIVE IN THE GARDEN.
THE NEIGHBORHOOD WHERE AND 'HOUSING SITE IS IN THE FIRST SUBURBS OF BOLOGNA. FAR IS APPROXIMATELY 15 MINUTES FROM THE CENTER OF BOLOGNA AND 1 KM FROM THE CENTER "THE MERIDIAN", LINED THE MULTIPLEX CINEMA "UCI" HERE THERE IS 'EVEN THE RAILWAY LINE IS COVERING THE PORRETTA TERME - BOLOGNA. A 2 KM YOU WILL 'ENJOYING THE PRESENCE OF THE PALACE OF SPORT "UNIPOL ARENA" AND ANOTHER GREAT MALL "CARREFOUR" And with the famous "IKEA". ALSO ONLY 10 MINUTES TO REACH THE STADIUM it will take "RENATO DALL'ARA". AIRPORT "Guglielmo Marconi" It 'REACHED IN JUST 10 MINUTES. BUS STOP THAT CONNECTS CASALE IN BOLOGNA CENTRE IS 2 minutes from guest.
Antonino and Family were very welcoming and showed us the whole place when we arrived. The place was very accurate with the description, everything brand new and extremely clean! Extremely quiet neighborhood even though is right next to the highway. Taxis were available in the area with no more than a 8 minutes waiting. We totally recommend.
Paulo
2017-04-03T00:00:00Z
Like second family me and my sister! All amazing❤️ love to recomend to all!
Eliška
2017-03-20T00:00:00Z
Room Type
Entire home/flat
---
Property Type
House
---
Accommodates
2
---
Bedrooms
Casalecchio di Reno, Emilia-Romagna, Italy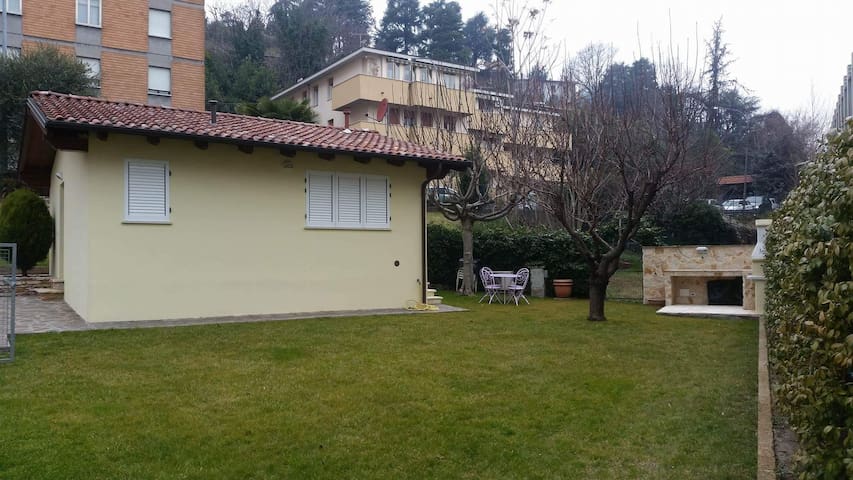 If you are looking for a cozy and independent apartment for your holiday in Italy (Bologna is 1 hour train between Venice and Florence) Borghetto Panigale is waiting for you in this brand new home.
The apartment has a kitchen with electric oven and all the set you need for cooking, living room with table and 4 chairs, tv 32" lcd, first room with queen size, second room with 2 beds, bathroom with shower, terrace, garden and parking.
If you are looking for a cozy and independent apartment for your holiday in Italy (Bologna is 1 hour train between Venice and Florence) Borghetto Panigale is waiting for you in this brand new home. Few minutes far from the airport, near the Borgo Panigale railway station, 10 minutes from Bologna Fair. Strategic point for visiting Ducati holding, Unipol Arenai, the center of the city, from here you can walk till some very good restaurants, pizzerie, icecream parlors.
the host welcomed us and went through all the features of the house. It was spotless and really comfortable. Really enjoyed our stay.
Jane
2016-08-16T00:00:00Z
Anna is a very good host, we felt like home during the time we stayed there. There's a train station and bus stop nearby. Highly recommended.
Peter
2016-05-07T00:00:00Z
This cute and clean bungalow was just the perfect choice for our purposes. The location and available public transport was very convenient. It's more of a rental apartment than a real AirBnb, you need to get your own toilet paper, coffee, etc. Anna was a very caring host and communication went very smooth.
Jan
2016-01-22T00:00:00Z
Very nice clean place! Very helpful host.....wonderful experience.
fausto
2015-06-20T00:00:00Z
Anna met us and showed us through the lovely apartment. She gave us helpful information on places to eat and where the local supermarket was. The apartment is new and part of a small complex of rental apartments just out of town. We chose the apartment for its appearance, size and parking spot right outside our door. It's next to the train station (but very quiet) so very convenient for getting into town to see the sights. The only problem we had was the many mosquitos! Our apartment had a dozen or so inside, and after being bitten numerous times within our first 20mins of arriving, a quick trip to the supermarket was needed to get some insect spray. I recommend keeping all the windows and doors closed and use the air conditioning. Apart from that, it's the perfect place for a family with a car.
Carol
2016-07-13T00:00:00Z
Everything was great. The place is perfect- very clean and new. The host were very helpfull. Everything is as described.
Stoyanka
2016-05-08T00:00:00Z
Our stay was so lovely. Lorenzo met us at the appartment where he kindly welcomed us and gave us recommendations, how to use public transport and we were so pleased with it all we stayed an extra night. The wifi was great, the place was warm (we travelled in late winter), very clean and although close to railway you can't hear a thing which is fantastic. Only thing is I thought we'd get the apartment in the photos but we got a different one (just as pretty!) so definitely not a fault. I'd positively recommend it! Lorenzo and his family are lovely!
Camille
2017-03-27T00:00:00Z
This was a lovely, spotlessly clean, modern apartment near a train station and a bus stop which will bring you into central Bologna very quickly. Our host communicated quickly and efficiently. We thoroughly enjoyed our stay and would recommend this apartment with its lovely rooftop terrace.
Martina
2015-07-26T00:00:00Z
Room Type
Entire home/flat
---
Property Type
House
---
Accommodates
6
---
Bedrooms
Bologna, Emilia-Romagna, Italy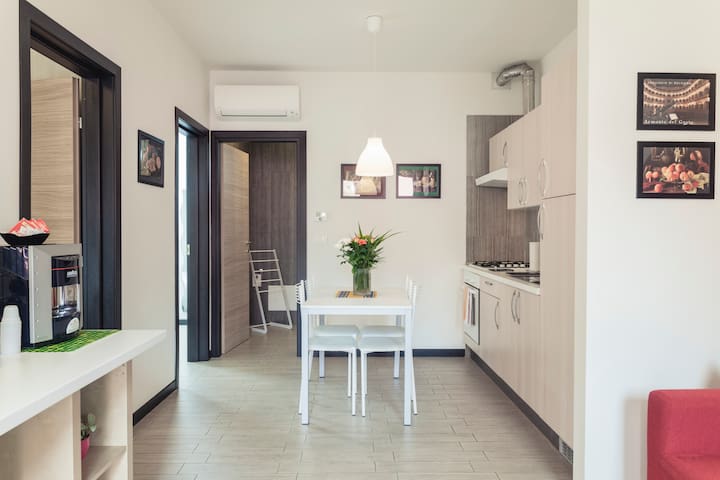 Double or triple room with private bathroom. Indipendent entrance. Living room (25 mq) with sofa bed and Kitchen. Max three adults and one child.
Indipendent solution. Wide free parking.
Room Type
Entire home/flat
---
Property Type
House
---
Accommodates
4
---
Bedrooms
Osteria Nuova di Sala Bolognese, Bologna, Italy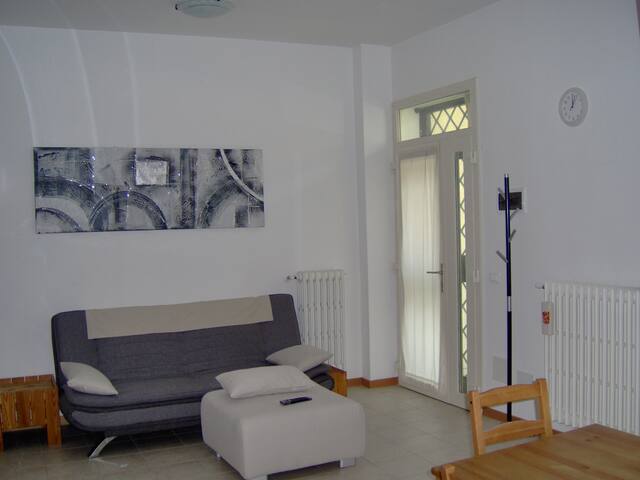 piccolo monolocale con ingresso indipendente, molto accogliente ideale per brevi soggiorni all'interno un letto matrimoniale e un divano letto da una piazza e mezzo
molto luminoso con tre finestre , accessoriato con tv , frigo , pompa di calore e condizionatore , lavatrice ,
Vincenzo's apartment is situated in a quiet neighbourhood. It was really tidy and clean. If you have a car it's really convenient. I really appreciate that I could find food and drinks when I arrived. You can also find everything that you need in this neighbourhood like shops, supermarkets etc.
Maria
2016-04-12T00:00:00Z
Vincenzo is a very nice man and good host. The apartment is clean and nice. Just note that the address is not Via Battindarno 156, but 159 and that's some walking to do. And it is quite chilly, takes time to warm the apartment. Otherwise, it was a pleasant stay and I would recommend considering this apartment is you're going to Bologna.
Alexei
2015-12-09T00:00:00Z
Super! Kleine aber gute, ruhige Unterkunft nahe Zentrum. Bestens geeignet für einen kurzen oder spontanen Aufenthalt in der schönen Stadt Bologna! Mir hat es sehr gefallen. Vielen Dank an Vincenzo, er ist ein sehr freundlicher und angenehmer Gastgeber!
Sebastian
2015-11-24T00:00:00Z
Vincenzo è una persona gentilissima, l'appartamento è ubicato in una zona tranquilla a pochi passi dal centro. Consigliatissimo!!!
Daniele
2016-11-13T00:00:00Z
Vincenzo è una persona molto gentile, disponibile e simpatico. Si è reso molto disponibile sia per il check-in che per il check-out e per darmi tutte le informazioni necessarie. Purtroppo abbiamo avuto dei problemi con il bagno e nello specifico con la doccia che ha avuto dei rigurgiti con lo scarico e riempiva il piatto della doccia di cose poco piacevoli e maleodoranti (che si propagavano in tutto il monolocale) e che ci ha impedito di fare la doccia sia il 31 dicembre che il 1 gennaio.
Alessandro
2017-01-01T00:00:00Z
Abbiamo soggiornato nel monolocale di Vincenzo due notti e l'esperienza è stata positiva. Vincenzo è stato davvero molto disponibile, gentile e preciso nella comunicazione. Si tratta di un monolocale con tutto l'occorrente per dormirci e per fare la prima colazione (come correttamente scritto non è possibile cucinarci). Non essendoci radiatori, l'impianto è riscaldato a pompa di calore e quindi si raffredda in fretta, ma essendo un unico locale si scalda anche facilmente. La posizione seppur defilata dal centro è ben raggiungibile tramite i mezzi pubblici grazie alle molte fermate dei bus adiacenti all' appartmento.
Lorenzo
2016-01-04T00:00:00Z
Monica
2017-03-20T00:00:00Z
Siamo stati da Vincenzo due notti e ci siamo trovati molto bene. L'appartamento è molto accogliente e pulito, in una zona tranquilla e raggiungibile con tutti i mezzi. Ottima la disponibilità del proprietario ed ottimo anche il piccolo frigo bar dove per pochi euro puoi mangiare (abbiamo così fatto colazione in casa ed evitato di spendere al bar). Le uniche pecche sono state: il terzo letto non aveva lenzuola ma solo un copri materasso e una piccola coperta (e visto il freddo non era assolutamente sufficiente). Inoltre nel sito l'indirizzo della casa è sbagliato!! Ci siamo ritrovati a vagare all'una di notte per tutto il quartiere. Per il resto assolutamente consigliato!!
Monica
2015-12-02T00:00:00Z
Room Type
Entire home/flat
---
Property Type
House
---
Accommodates
2
---
Bedrooms
Bologna, Emilia-Romagna, Italy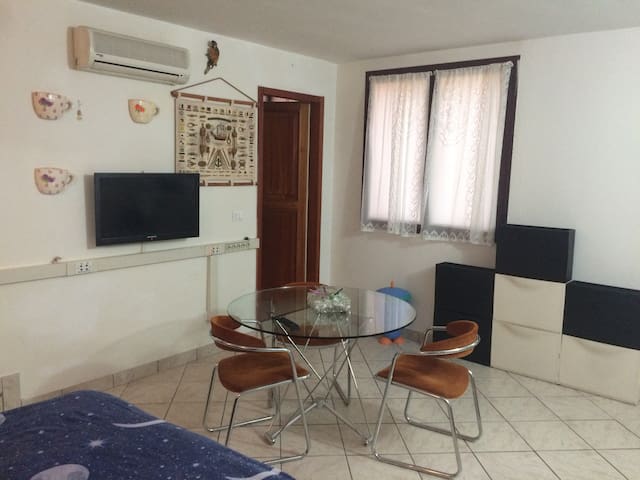 Bellissimo appartamento, colorato e suggestivo, deliziato nelle serate estive da grande e profumata terrazza. Possiamo ospitare da due a quattro persone in una camera dotata di soppalco. La posizione della casa è ottima e centrale a soli due passi dal centro storico e dotata di tutti i servizi.
La bellissima terrazza e una accoglienza sempre calorosa e gentile
Beautiful appartment, my boyfriend and I felt very comfortable. What we really liked was the huge terrace, which we could use whenever we wanted. Germana was always friendly and very helpful.
Kathrin
2015-09-21T00:00:00Z
Germana and her partner were very friendly hosts and wanted to make sure that we have everything we needed. The flat was beautiful, especially the terrace that we could use whenever we wanted to. The flat is in a nice area which is not too far away from the city Center, you can get there easily by bus (10 mins) or walking (20-25 mins). We had free access to the kitchen as well. All in all we had a pleasant stay in Germanas home and would definetely stay again there :) highly recommend!
Ayana & Leonie
2016-09-18T00:00:00Z
We highly recommend this perfect and beautiful place... we enjoyed Bologna at Germana's house. The apartment is very comfortable, everything was at our disposal and easy to use. It was very easy to park the car nearby. Germana was a great host ! ---- On recommande vraiment cette parfaite adresse... qui a contribué à notre beau séjour à Bologne. L'appartement de Germana est très confortable, tout est à disposition et facile à utiliser. Nous avons très facilement pu garer la voiture à proximité. Germana est super, souriante et à votre service !
Radia
2014-07-18T00:00:00Z
we had a good time in Germanas flat. Its quiet close to the city center and we enjoyed sitting at the beautiful terrace! Thanks for hosting us!
Nele
2016-04-07T00:00:00Z
We had very nice days with our fantastic host Germana. We enyoid the huge sunny patio and friendly people. uta and carsten
Uta
2014-06-23T00:00:00Z
We had a very pleasant stay at Germana's Stanza Blu. The hosts are very accommodating and helpful. The room is spacious and light. It is located in a nice area that is very easily accessible to the center of town by bus or on foot. I would recommend this pace to anyone staying in Bologna for a few days
Jennifer
2014-05-07T00:00:00Z
I recomend Stanza blu as a nice place located near to the bus stop - so if you want to go to the city center or historical center of Bolonia it will be very good choice. And I must admit that Germana is a very kind and helpful person.
Radosław
2013-09-22T00:00:00Z
Very nice local experience, we went to sample the food from the region. And it did not dissapoint. Germana, has a cozy and humble room. Everything was as listed.
Jens
2016-09-30T00:00:00Z
Room Type
Private room
---
Property Type
House
---
Accommodates
3
---
Bedrooms
Bologna, Emilia-Romagna, Italy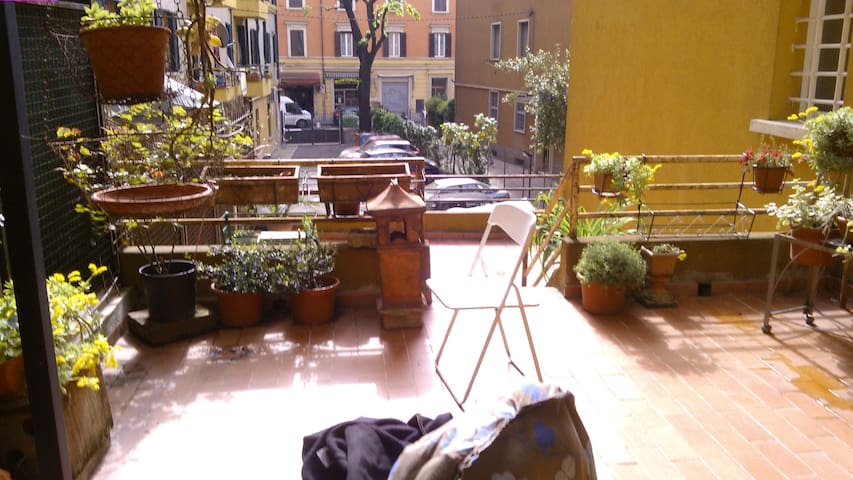 Strategica soluzione per chi è in città per lavoro e deve prendere un aereo, o un turista che vuole visitare il centro. "I sogni nel cassetto airport" fa al caso tuo. La casa è indipendente e si trova a 500 metri dall'aeroporto (il parcheggio è gratuito) e a 2 passi dalla tangenziale per raggiungere qualsiasi punto di Bologna (Fiera, Centro, Ospedali ecc.).Autobus per il centro e la stazione a 10 minuti a piedi. Nonstante la casa sia a fianco dell'aeroporto, non si sentono decolli o atterraggi.
"Dreams in the drawer Airport" is a journey into the art and design world ... conceptually developed in 3 comfortable rooms and an exhibition evolving common areas. The room # 1 is presented in warm colors, very bright and with a large walk-in closet. Framed by an artistic library tailored. The room # 2 returns with the mind and the view to the Baroque style (including the bed). Perfect mix between art and design. The room # 3 dubbed "room Salvador Dalì" is dominated by a sculptural portrait and a four-poster bed from the typical surrealist suggestions.
Room Type
Entire home/flat
---
Property Type
House
---
Accommodates
6
---
Bedrooms
Bologna, Emilia-Romagna, Italy
1

–

18

of

188 Home Rentals
Enter dates to see full pricing. Additional fees apply. Taxes may be added.