We offer a self-contained sleeping and living area located within the Ring of Gullion. The Loft is a cosy hideaway and a great base from which to explore this Area of Outstanding Natural Beauty, with beautiful views over the City of Newry and the Mourne mountains.
The Flagstaff Loft is a relaxing and quiet self-contained space attached to a family home but has its own independent entrance ensuring your privacy. Overlooking the City of Newry with wonderful views of the Mourne mountains, upstairs in the Loft consists of a comfortable double bed (you'll get a good night's sleep after your travels & wake up feeling rested and refreshed) and living area where you can relax, read a book or plan your next day adventures. All towels and bed linen are provided. The Loft also has a hairdryer, iron & ironing board for your use. Downstairs you have a small modern bathroom with electric shower, as well as a kitchenette area. The kitchenette is equipped with a kettle, toaster, fridge, crockery, cutlery and glasses. A Nutri-bullet is also available on request. Complimentary tea and coffee is provided. * Please note there is no hot plate or other oven. You will also have access to a beautiful outdoor seating area, and an outside open fire, where you can relax in Adirondack chairs with a nice drink!
Halfway between Belfast and Dublin, the Flagstaff Loft is located in the Ring of Gullion Area of Outstanding Natural Beauty, just a 5-minute drive from Newry City and is the perfect base from which to explore the local area including Slieve Gullion (offering views as far away as Antrim, Dublin Bay and Wicklow on a clear day), the Flagstaff viewpoint, the Cooley Peninsula and the picturesque village of Carlingford. It is also the ideal place to stay while travelling between Ireland's two main cities and is only a 1-hour drive from both Dublin and Belfast International Airports. The area has a number of great restaurants and pubs with regular traditional music sessions. At the summit of Slieve Gullion you will find the highest surviving passage grave in Ireland and for those interested in the rich history of South Armagh and the surrounding area, Peter can provide recommendations for local places of interest including dolmens, ancient standing stones and burial tombs, as well as information on our more recent history.
Amazing stay - 10 stars. Peter was delightingly welcoming, friendly and interesting. Warm welcome, offering everything to make the stay be a rememberable experience. The room was very romantic with a stunning view - everything super tidy and welcoming. Cool area around - good for daily hikes and a mix of beautiful nature and interesting history involved. We made a 3 day trip to Giant's Causeway but the stay at Peter's was the highlight of that tour :) Even took us for a surprise sightseeing tour in the area with very interesting insights on the history. Also, there is a great self made Viking Stature - come and check it out if you want a delightful Airbnb stay. Thank a million Peter! :D
Adrian
2016-05-29T00:00:00Z
Peter is a true gentleman and showed us warm, easy-going hospitality throughout our stay. The loft was very much how we expected it to be from the online description and photos. It was very clean, warm, comfortable and private. We enjoyed chatting to Peter and felt very welcome and well looked after. Flagstaff loft is just a few minutes from the town centre yet surrounded by beautiful countryside views. It's a great place to stay and great value.
Heather
2016-04-24T00:00:00Z
When we arrived, Peter was most welcoming, my wife and I loved the loft, beautiful views. My favourite part was the "Star Wars" books, much to my wife's annoyance! I read, looking out to over the spectacular views, while my wife slept in the very comfortable bed.....Sadly as we were visiting family, our plans changed and had to leave before staying over night. Peter was very understanding. I would not hesitate to stay there again... In fact I'm sure we will, as my wife is Irish. would recommend it.
Daniel
2016-07-19T00:00:00Z
It's a beautiful, well appointed and comfortable space in a truly welcoming home and although it was only meant to be a pitstop I found it a truly relaxing experience. The gardens are absolutely stunning and I'd love to return on a proper summers day to experience them in their true glory and avail of the outdoor fireplace! Peter, the host, was completely welcoming and gracious even though I arrived much later than I had hoped and even slept in for breakfast! Breakfast itself was perfect and I could have sat and chatted to Peter all day- a really interesting and inspiring person with a wealth of knowledge and insight on the locality and many other subjects. I will hopefully return someday without the pressures of work hanging over me! It's a real gem and I couldn't recommend highly enough.
Brian
2016-07-10T00:00:00Z
This spot is great, nice view and Peter is one hell of a nice chap, he showed me around a few mountains and spots for dinner, very very knowledgable man right here. I would highly recommend peters place!
Max
2017-02-27T00:00:00Z
We spent a wonderful weekend at Flagstaff Loft with a friend of mine and truly enjoyed our stay. We couldn't have wished for a better host, Peter was very helpful when guiding us, telling interesting stories and making us feel like home. And the Flagstaff point view is a must when staying at Peter's place!
Minni
2016-08-21T00:00:00Z
Peter was a wonderful host, I booked my stay very last minute after my previous stay plans had fallen through, he was very kind and hospitable and his place is stunning! We were greeted with a wonderful warm fire and a fresh pot of tea with biscuits and a natter before bed. The room itself is a peaceful and very comfortable loft space with your own lounge area and bathroom. He even cooked us a yummy breakfast before we had to leave! I would definitely reccomend this place to someone looking for a peaceful stay with gorgeous views. Thankyou again Peter for a wonderful stay!
Luna-Rose
2017-03-23T00:00:00Z
We've stayed at a few Airbnb accommodations now, and Peter was by far the most gracious host. He knows so much about the local history. And his own family story really thought us a lot. He even drove us around the countryside and gave us our own private tour of ancient ((PHONE NUMBER HIDDEN) year old) burial sites. I can't recommend him enough.
Jeff
2016-06-06T00:00:00Z
Room Type
Entire home/flat
---
Property Type
Loft
---
Accommodates
2
---
Bedrooms
Newry , Co. Armagh, United Kingdom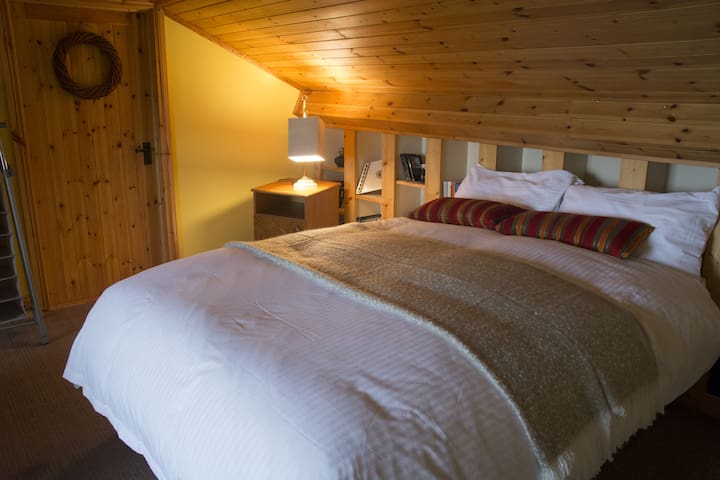 Large studio loft apartment, set in the surrounding South Belfast hillside, with fantastic views over the city and surrounding countryside. Set on secure private grounds, adjacent to the main house we can accommodate up to four guests. The loft is very well appointed, also with a pool table, fast Wi-Fi and desks, should you need to work. The loft is stocked with all the basics including shampoo, shower gel, toothpaste and soap; tea, coffee, milk and some snacks.
The loft comprises of a large studio space, shower room and kitchen. The studio area is well appointed with a double bed, sofa bed and separate sofa and chairs. There is also a dining table that can seat 6 people, a pool table and two desks with chairs. A double airbed & bedding is also available upon request. There is a television with Chromecast in the studio, along with excellent Wi-Fi.
The loft is located in the countryside to the south of Belfast, with views down into the city. Only 20 minutes from Belfast City Airport, and 35 from the International. Great location to explore the City and all the Northern Ireland has to offer
co-operative host. beautiful scenic location, very comfortable and cosy stay, highly recommended
Nishant
2017-02-06T00:00:00Z
Lovely peaceful location, yet not too far from Belfast. The studio is totally self-contained and very private. John and Nichola very helpful.
Robin
2017-02-13T00:00:00Z
I can't recommend this place highly enough, the area is beautiful with great views of the countryside and the city. It is very comfortable with everything you need for a few days, the pool table is great! Self check in/check out is quick and easy and John and Nichola replied straight away to any messages I sent. It was so nice coming back to this peaceful spot after a long day, we had a fantastic stay.
Alyssa
2017-03-22T00:00:00Z
Excellent place to stay highly recommended
Maureen
2017-02-11T00:00:00Z
Beautiful views in very peaceful area. Communication was a breeze
Rachel
2017-03-17T00:00:00Z
John and Nichola have been great, thoughtful hosts. Their place is absolutely lovely, my husband and I liked it very much.
Annalisa
2017-01-17T00:00:00Z
We loved our two nights in the loft! It's spacious, comfortable and private. It offers great views over farmland and down to Belfast. We had our own car, so getting around was easy. John was quick to communicate and was there to meet us with his cheerful smile on our arrival.
Lynelle
2017-03-03T00:00:00Z
Fantastic property with great views of Belfast hills, the property is fairly secluded down some narrow roads so care must be taken, it is secure with locked key-fob controlled gates. The area is quiet with no traffic noise and minimal lighting, the smell from the nearby farm can be strong at times but this does not permeate through to the property itself, the property is warm without any heating on. The property is very clean and very well presented, there is a three piece suite at one end with two large desks and chairs, a TV, an american pool table with two cues, a dining table, a leather futon sofa, and a standard double bed. The cooking equipment in the kitchen area is a microwave that also works as a convection oven, we did not use it but imagine this would work for simple cooking. I would say this property is suitable to a couple or a friendly group (due to the open-planned studio layout). This is our first booking on AirBNB and has prompted us to consider using this site more often, a very enjoyable stay!
Callum
2017-02-19T00:00:00Z
Room Type
Entire home/flat
---
Property Type
Loft
---
Accommodates
4
---
Bedrooms
Drumbo, Northern Ireland, United Kingdom
Newly refurbished, open-plan hideaway in beautiful rural County Down, conveniently close to A1, 30 mins from Belfast, 80 minutes from Dublin. Perfect base for exploring Ireland, walking in the Mourne Mountains, trips to the beach & local Irish pubs.
Please check in between 4pm to 9pm and check out before midday. Please contact us if you need to check in outside these times. No smoking. No parties. No pets unless by special agreement.
Michelle was really nice and told us everything we needed to know. The place was exactly as described and just what we wanted. Would come again...
Ross
2015-11-10T00:00:00Z
Prophets Barn was a great little place to get away for the weekend. Everything was in great condition and couldn't have asked for anything better!
Matt
2016-01-24T00:00:00Z
Prophet's Barn is a wonderful little place to stay. It's comfortable, private and incredibly quiet. My wife and I were able to catch up on jet lag and still make our way around Northern Ireland seeing a few attractions. Matt and Katharine communicated very well during our stay and were thankfully accommodating on the check in time when our car rental got delayed. Great hosts and would absolutely stay again!
Tyler
2015-10-13T00:00:00Z
Wonderful. My wife & I stayed here on the 3rd leg of our honeymoon and we loved it. It was clean, cozy, and charming. Matt & Katherine were excellent host and even left a card & chocolate for us! It was perfectly located in the quaint town of Dromore and close to everywhere we wanted to go. We highly recommend Prophet's Barn.
Jeremy
2016-07-05T00:00:00Z
We did not meet Katharine and Matt as they were in Abu Dhabi but Michelle was a spectacular host, very accommodating and went out of her way to make sure we were comfortable. The barn is clean, charming, and exactly what I was looking for. Would definitely recommend!
Han
2015-09-18T00:00:00Z
A very enjoyable 2 nights at prophet barn. Warm welcome from Matt and Catherine. The apartment was very spacious, comfortable (the sofas in particular were great) and clean with all you could ask for available. The surrounding area was very peaceful and exactly what we wanted. Matt and Catherine were very attentive and although we didn't need anything they were always on hand. We had such a nice stay that we will be returning again near the end of the summer. The apartment was very reasonably priced. All round 5/5
Christy
2016-07-18T00:00:00Z
A lovely place; where we were greeted on our arrival and given help with taking our luggage into the Barn. Very clean and fresh. A pretty location with everything that we needed and only a very short drive (1.5 miles) to Dromore. Perfect for what we needed! Thank you.
Laura
2016-10-29T00:00:00Z
We didn't actually mee(URL HIDDEN)Rob was given the key by their son who was nice and polite and explained what was necessary (we understood there were some recent medical issues). This was not a problem for us. We did not need further communication. Other than some problems with the directions, the place is outstanding! We loved staying here - it was totally quiet - the views of the gardens and night sky were great - the place was immaculate - the kitchen great to use, great bed and shower - and the living room spacious and comfy. Highly recommend..
Lorie & Robert
2016-09-17T00:00:00Z
Room Type
Entire home/flat
---
Property Type
Loft
---
Accommodates
2
---
Bedrooms
Dromore, Banbridge, United Kingdom
Wonderfully romantic, with its period style wooden beams and freestanding bath on the first floor (there is no shower). Highly functional kitchen and living room on the ground floor. We provide tea/coffee/milk/cereal. Parking. 2 Sofa beds. Hope you enjoy your stay.
Living room and kitchen on ground floor. Toilet and basin on ground floor. First floor bedroom, High ceiling, Stylish wooden beams. Freestanding bath on first floor, in the bedroom. Washbasin also on first floor which will be enamelled soon. If you have any problems with the room etc, then please tell us and we will do everything in our power to help out. Hope you enjoy the space.
A leafy suburb with historic buildings in a conservation area, surrounded by walks, parks and cycle trails. Along with a 2 minute walk to Lisburn Road known for its shops, cafes and restaurants and a 10 minute walk to the University Quarter.
Sophia was there to welcome us and show us around. The apartment is really lovely, and the neighbourhood is quiet yet with easy access to shops and cafes. very easy to get to by public transport.
Nicola
2016-06-03T00:00:00Z
We really had a great time and the host was very friendly and helpful.
Tom
2017-04-02T00:00:00Z
Great location, although a little more of a walk to the City Centre than we anticipated, despite this it's a gorgeous and affluent area and definitely worth a stay! The hosts were so accommodating to our needs and very helpful. The bedroom is beautiful and maintains an old world feel which is so comfortable and romantic! We have no issue in recommending this property for a nice little weekend away, close to the vibrant University area and great nightlife! We have told all our friends intending to stay in Belfast to stay here for something different, and we would happily stay again when we are back! Definitely go for it and thanks again to the hosts!
Mark
2017-02-19T00:00:00Z
We stayed one night at the Coach house and it was perfect. There's is a large downstairs living and kitchen area with the most beautiful large bedroom above. The house is so warm and cosy and we wished we could have stayed longer than one night. The roll top bath in the bedroom area is fantastic and the room has all original features and wooden beams. It is just a short way out of town and there are some lovely bars and restaurants just down the road. We would definitely recommend a stay.
Conor
2016-12-31T00:00:00Z
Great little coach house with loads of character, we loved the style of the house. Great location with a very short taxi ride in to the centre of town. Thanks again for the restaurant tips, we had a fantastic time.
Stu
2016-02-15T00:00:00Z
Very nice place to stay in. Very close to shops and bars and food. Would like to stay again in the summer time as i bet it would be lovely. Really enjoyed myself and would recommend to anyone :):)
Georgio
2017-02-15T00:00:00Z
Perfect spot in Belfast!
Matthew
2016-12-28T00:00:00Z
Comfortable and cozy accommodation, in a decent location. Friendly and flexible hosts! Would recommend highly!
Ben
2016-12-13T00:00:00Z
Room Type
Entire home/flat
---
Property Type
Loft
---
Accommodates
4
---
Bedrooms
Belfast, United Kingdom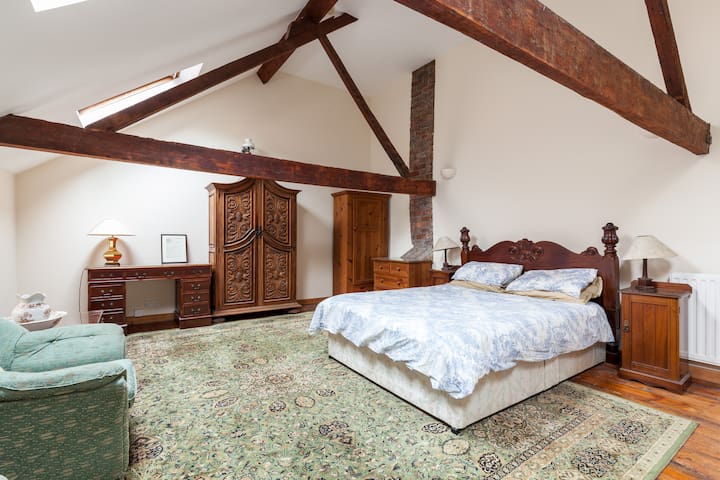 Enter dates to see full pricing. Additional fees apply. Taxes may be added.