My place is good for couples, solo adventurers, and business travelers. Production recording studio, and horse boarding for additional cost, based upon availability.
My boyfriend and I were in town for my BFF's wedding and we stayed in a little suite on the side of the house with a separate entrance. We were only there to sleep and shower. The place was clean, the bed was very comfy, and the water pressure in the shower was good!
Amy
2016-09-05T00:00:00Z
John was very nice with us. He didn't receive our message saying we would arrive in the evening and so felt a bit worried that we could have lost ourselves. He also gave us good advices before we leave in the morning knowing we were going in a secluded area. That might seem nothing but we were very touched by his concerned. The "manor" in itself is a very lovely place where you can have a chance to see non tamed deers. The room was not as described since we were installed in a studio. For us it was perfect, cause we had what we wanted plus a little room with a sofa and a microwave. It even has its own entry. We would definitively would visit again if we by any chance come again in Prineville
Sylvain
2016-09-12T00:00:00Z
Traveled to Prineville due to work... Had a great experience with John and Terry. The place is nice and cozy, privacy is not an issue at all. I will be back for future stays at their house. Great value for the space.
Aaron
2016-07-15T00:00:00Z
The Hosts: I can't think of better hosts than John and Terry. They're welcoming, unpretentious, attentive, and casual. They open their home in a very open and honest way. They made sure our experience was the best it could be. The Place: Clean, comfortable, private, and a great value for the price. The room is simple, which is our preference, and it had all we needed. The deck is amazing! Dependable bathroom, and the kitchen was so easy to use. The coming and going is really easy, which went a long way with us. The Locale: About three minutes outside of downtown Prineville, it's very convenient and easy to get to. The neighborhood is small ranches and farms, very idyllic and we could take in the stars at night for hours. We loved the sound of the the cows and frogs in the distance, and the air is clean and refreshing. Overall: Five stars without question. I can't wait to go back there. The area has a rugged remarkable beauty and there is so much to do in this part of central Oregon. Prineville is a crossroads and really convenient, it has stores for what we'd want and easy to get around in. John and Terry's home made our time there fantastic.
Chris
2016-05-31T00:00:00Z
The location/neighborhood was "country" as expected in Prineville central Oregon. I was planing on only a room but the hosts now provide a nice mini-alcove including your own private bath.
Steve
2016-08-22T00:00:00Z
Nice neighborhood and nice clean room and close to town. Don't forget to check out the pet deer!
KEITH
2016-08-30T00:00:00Z
Very nice and comfortable house located in a quiet place in the city. John and Terry are very nice people. We have been very well received. Would go back again. I recommend.
angela
2016-08-05T00:00:00Z
The house is in a very quiet and peaceful location. The room, with en-suite bathroom and small sitting room with kitchen facilities was perfect and had its own access. The hosts, John and Terri were very welcoming and were great hosts. A great place to stay and we would definitely try to book with them again if we are ever in the area.
Chris
2016-08-14T00:00:00Z
Room Type
Private room
---
Property Type
House
---
Accommodates
2
---
Bedrooms
Prineville, OR, United States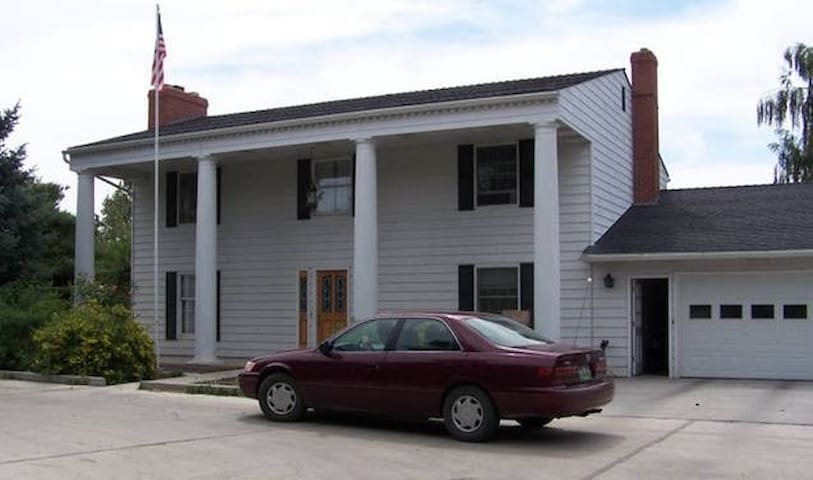 The rooms for use in this hillside house are one basement room and office with independent access. Guests are welcome to use the bathroom, kitchen, washer, and dryer.
Bedroom is located in our downstairs garage, and doesn't have windows so it makes for a great rest. The office is located in the room next to the bedroom, and has one couch, monitors, and a business desk for those who need to catch up on some work.
The house is located in a residential neighborhood, and offers a limited view of the valley from the hill side heights area.
Room Type
Private room
---
Property Type
House
---
Accommodates
3
---
Bedrooms
Prineville, OR, United States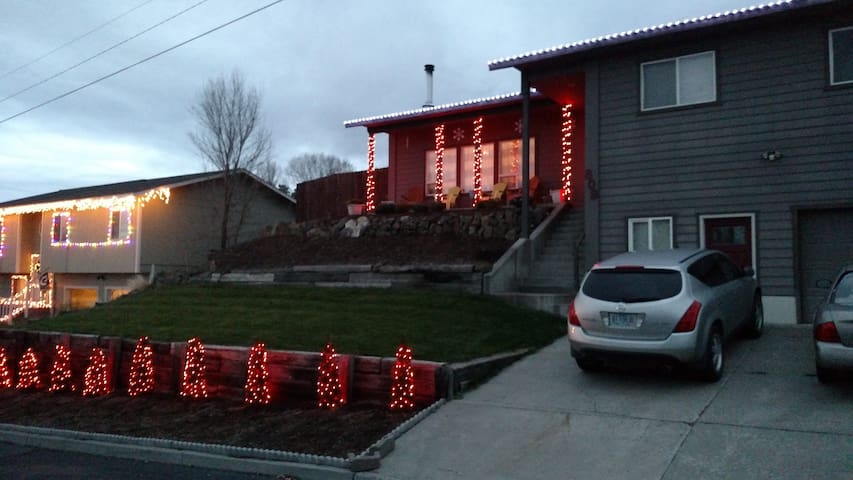 Close to Smith Rock , multiple lakes and Reservoirs, Hiking Destinations, Mt. Bachelor Skiing in Bend , OR (30-45 minutes). Restaurants and Dining, and Great Views. You'll love my place because of its central location and warm cozy feel! Good for couples, solo adventurers, and business travelers.
Cozy house and friendly host!
Beautifully landscaped with lots of open space! Big bonus-neighborhood swimming pool!
The host canceled this reservation 10 days before arrival. This is an automated posting.
Caleb
2017-03-21T00:00:00Z
Room Type
Entire home/flat
---
Property Type
House
---
Accommodates
6
---
Bedrooms
Prineville, OR, United States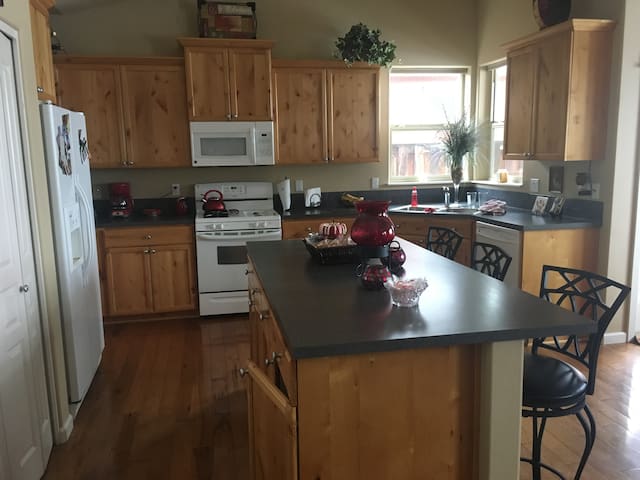 Comfortable 2 bedroom and 1 bath duplex. 2 blocks from the local grocery store and walking distance to downtown and local restaurants. Driving distance for Lazy Rocking Stirrup Fest, which is located in Paulina. Nearby to major eclipse events and towns. Madras, Symbiosis and other events all going on that week! It in the path of the totality so you can see the full eclipse.
A two bedroom duplex, with a dish washer, washer dryer, and small backyard. Walking distance to the heart of Prineville and only 2 blocks from a local grocery store. Each bedroom has a comfortable queen bed.
A comfortable neighborhood, two blocks from a local Mexican Food restaurant and from a local grocery store.
Room Type
Entire home/flat
---
Property Type
House
---
Accommodates
4
---
Bedrooms
Prineville, OR, United States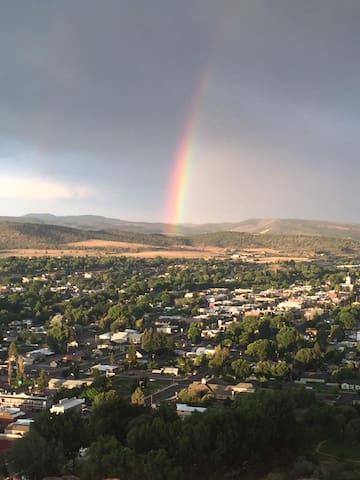 Come see what beautiful Prineville has to offer. We are located about 3 miles from the center of town. Easy drive to the Ochocos and Crooked River.
One of the best locations to view the August 2017 solar eclipse!
Room Type
Private room
---
Property Type
House
---
Accommodates
3
---
Bedrooms
Prineville, OR, United States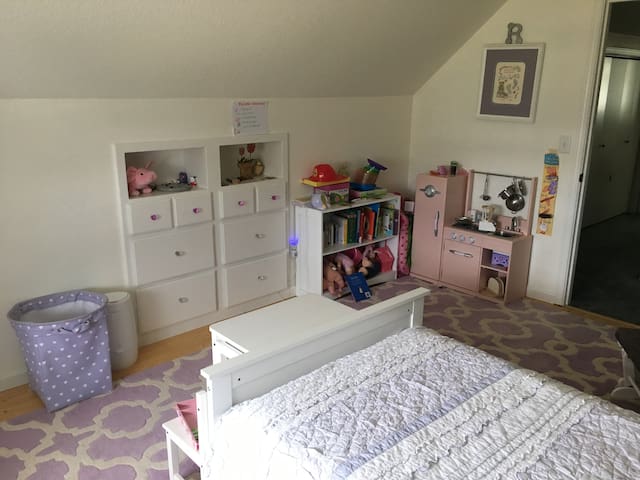 Views to die for in Central Oregon. Beautiful rustic (but very nice) cabin/home situated on 20 ACRES overlooking lake and river. 17 miles SE of Prineville. You will feel totally secluded, but just a mile down the hill to state park and marina.
Wonderful getaway for couples, family, business, or friends. Deck off master bedroom perfect for morning tea, or sunbathing in solitude. Stay in touch with internet, Bike, explore, rock climb, boat, fish, hunt, or just simply relax in hot tub or in front of the stone fireplace in the most incredible surroundings. Pool table for your inside enjoyment. Ask about a special rate for only 2 person Memories of bright blue skies and fresh clean air will linger long after you've departed. This property isn't about crowds or malls, although the trendy city of Bend with its Mount Bachelor Ski Lodge and tons of shopping is just a quick 35 minutes from Prineville.
Stand on the porch and watch eagles, deer and other wildlife. Step out the door at night, and you will be enthralled by the brightness of the stars and galaxy. In town The Pine Theater shows great films for $8 with treats you can afford! Stop by Tastee Treat across from Pioneer park for chocolate shakes. It's an authentic diner with burgers and homemade desserts. Then stop in Prineville Men's Wear, where they haven't changed the decor in a hundred years. Nice outdoor clothing, Pendleton and country wear. One of the best historical museums around on the corner of Main and 3rd.
This was the perfect weekend trip. It was even more remote than we had anticipated and were really able to sit back and enjoy our silence. Thank you!
Sarah
2017-04-09T00:00:00Z
This was the perfect location for a group trip to the Smith Rock area. We spent the day hiking, and enjoyed coming back to the cabin to grill on the back porch, soak in the hot tub, and enjoy the gorgeous views. Definitely recommend this place to anyone looking for a relaxing mountain getaway. Note that there's no cell service at the cabin, so make sure you ask for wifi info in advance of your stay.
Julia
2016-04-14T00:00:00Z
The host canceled this reservation 338 days before arrival. This is an automated posting.
Lindsey
2016-09-15T00:00:00Z
This cabin and location are just beyond wonderful. My girlfriend and our two older dogs stayed here for a week and we were so sad to leave. The views are indescribable. The air, scenery, secluded nature of the area, wildlife kept us dazzled the entire time. Sitting by the fireplace on chilly nights, watching the sun go down while enjoying the hot tub, and taking little hikes while still on the property was so amazing. The cabin itself was so cozy and comfortable. It felt like our new home for the week. Lorrie was quick to respond back when we contacted her and was very helpful. Great hosts for a great cabin. We will definitely be back.
Nick
2016-09-11T00:00:00Z
Absolutely perfect! This is such an amazing home with an even more spectacular view. Photos can't possibly do it justice. Lorrie was helpful with clear instructions, but beyond that we had complete solitude. Our only regret was not being able to stay longer.
TJ
2016-07-07T00:00:00Z
This place is princely. It was such wonderful breezy weather with the superb hot tub just like the picture. We were very comfortable and the teenagers and my husband loved challenging each other at the pool table. We made our way to the water on foot one evening - hard scramble down for 15 minutes and harder climb up for 25 min, but doable. The other day we drove to the picnic area about 10 min away by car. We also walked to the marine store which had very minimal supplies, Folgers coffee was all she wrote, ha ha. That was a 50 min walk down and back up the hill a tough hike in the sun, but good exercise. I saw a golden eagle on this hike so it was well worth the work. An excellent stay, with a cabin with very cool architecture and beautiful kitchen. Remote and calming!! I highly recommend this place!
Virginia
2016-07-24T00:00:00Z
Oh man, the view. Stunning. This place is a gem if you're looking for a laid back central Oregon experience. We were and we loved it. Its a bit out of the way if you need to stay connected but if your goal is to be out of the way for a few days, it's perfect. The one bummer was AT+T doesn't service the area, so we were forced to unplug for a few days without knowing in advance. Stressful as a small biz owner but otherwise would have really enjoyed it. Would love to return in the winter.
Janice
2016-08-13T00:00:00Z
We wanted a secluded getaway and had no idea how secluded we could get! This was the perfect weekend spot- cozy, intimate and offered all the amenities we were looking for. The views from the hot tub, and from anywhere in the cabin, were breathtaking. We played pool, made some dinners in the open kitchen, sat and ate breakfast on the covered porch and relaxed on the leather couch. We talked about coming back with friends, but we have decided to keep this one a secret and make it an annual trip to get away from it all and celebrate our anniversary. You might want to bring your own lighter, to get the fire going. Also, if you are not a fan of bright morning sun, bring an eye patch or a t-shirt to cover your face, as there are no curtains. This is a MUST for the ultimate "do nothing" weekend.
Patty
2016-04-18T00:00:00Z
Room Type
Entire home/flat
---
Property Type
House
---
Accommodates
8
---
Bedrooms
Prineville, OR, United States
Peace, tranquility, and memory making await you at Juniper Ridge Retreat. Beautiful views of Prineville Reservoir and surrounding wilderness from all rooms and the wrap around deck allow you to take in the beauty of this unique area. Definitely NOT a party house.
This house is amazing. Loved views Very clean and new.
Tim
2016-11-22T00:00:00Z
The house was amazing! Great view and nice layout! The only problem we had was with the WiFi and that was easily overcome. I loved the fact a washer & dryer were on site. We had a wonderful time hanging out and visiting friends. I would stay here again!!
Lora
2016-07-25T00:00:00Z
The house was great, very clean and roomy, we had a great time and would defiantly rent again
Shawn
2016-06-27T00:00:00Z
We had the most wonderful time at the Juniper Ridge Retreat! It is the most clean and well cared for vacation home we've stayed in and hope to return. The home had everything we needed for cooking, and our kids had a ball with the air hockey table, Wii, and movie collection. We were within 1/2 mile to lake access and spent a lot of time there. Amanda was so nice to interact with as well!!
Sara
2016-08-22T00:00:00Z
If you are considering this property for you and your family or group, you should have no hesitations whatsoever. The attention to detail and amenities will surpass your expectations. Amazing view, peaceful setting and resort-like features will make you glad you chose this one!
Randy
2016-12-29T00:00:00Z
A lovely place well equipped kitchen. Comfy beds. Beautiful views.
Kathy
2016-08-15T00:00:00Z
Amanda was so kind from the start and gave great instructions on how to get into the home. The house was absolutely beautiful - the windows looking out to the view were to die for. The kitchen was like a dream come true and all of the guests felt at home. We definitely would like to plan a trip back in the summer when we can experience more of the outdoors in and around Prineville, but it was the perfect weekend to relax with some friends and just appreciate the view.
Ashley
2016-05-16T00:00:00Z
Room Type
Entire home/flat
---
Property Type
House
---
Accommodates
14
---
Bedrooms
Prineville, OR, United States
Located in a rural development 12 mi. south of Prineville (25 minutes), 5 mi. north of the popular Prineville Reservoir State Park (15-20 minutes), this home offers 2 bedrooms, a bonus room with sleeper sofa, 1.5 baths, 2 balconies, a patio, grill, and views from every window.
We built this two story, Cascade view home from our own design in order to maximize views. It is our dream home with a million dollar view. We love it so much, we spend most of our vacation time here too. It sits on 5.5 acres of high desert landscape (mostly sage, juniper, and rabbit brush) and has views of Mt. Bachelor, Broken Top, the Three Sisters, Mt. Jefferson, and the profile of Smith Rock. Sunrises, sunsets, storms, and star-gazing can be spectacular. Ample shade in the junipers behind the house provides a relaxing oasis after a day at the rodeo, the lake, or hiking and exploring. Picnic table and hammocks are available for this area. The patio under the pergola has a table and chairs as well as a propane firepit. The grass adjacent to the patio has a porch swing with mountain views. The house is not really appropriate for very young children. The window blinds, second story windows, kitchen cabinets, and electrical outlets do not have child-safety mechanisms. Second story balconies have inherent risks. The west side retaining wall with cactus is, well, a jumble of basalt with cactus ;-). This is a great place for travelers with pets, but we do ask that you spend some extra time vacuuming, sweeping, and picking up after your pet outside. We cut the lawn bordering the house, etc., so poop pick up is much appreciated. We recently drilled a well, so water restrictions formerly described here no longer apply. Nonetheless, this is the desert and conservation and conscientious use are appreciated.
The house is located at the back of Prineville Lake Acres, Unit 2, a rural development of homes on 2-5 acre lots. It takes about 25 minutes to get here from downtown Prineville.
A wild west experience with the luxury of plenty of human comforts. You cannot beat the mountain views! Marylynne was a fantastic host and our time in her home was relaxing. The home was spotless when we arrived and the instructions she left were very helpful. The home is large and seems newly constructed. Two of us and our dog stayed in the house, though it could easily accommodate four people. This home is located far enough away from town to feel like you are on a desert adventure but close enough that it is convenient. In two days we were able to visit Smith Rock and the Painted Hills easily. Overall, we really enjoyed our experience and I would recommend this space to others.
Brittany
2014-12-01T00:00:00Z
This place was awesome! Don't be afraid of the water (URL HIDDEN) group of 4 used less than 1/4 of our allotment during our 3 day stay. The views are breathtaking and the house was very comfortable. Thank you!
Ryan
2014-12-27T00:00:00Z
The Cascade View home was a lovely home, with nearly everything you would want to have to make an enjoyable and relaxing stay. The location on the hill gives great view of the sunset, and the quiet, peaceful home lulls you to sleep at night in your comfy bed. Marylynne outlined everything in her visitor instructions clearly and was responsive when I had a question. I was easily able to reach the places I wanted to see, and enjoyed coming back to the comfort of the house. If you want to kick back and relax, and enjoy a spectacular view in comfort, this is the place!
Lesli
2015-07-15T00:00:00Z
The home was made ready for our stay. The instructions to start the water and propane were easy to follow. The bedding was laid out, towels easy to locate and Marylynne was available via cell if there were any difficulties. We loved the home and the wonderful view from the front windows. The Cascade Mountains from Broken Top to Mount Jefferson were visible each morning as sipped our coffee. We visited the John Day Fossil Beds one day and came home to a nice warm house and just watched the wild life roam through the sagebrush. The place was amazingly quiet given you can see places around the house. Wish it had been warm enough out to use that swing.
Jan
2015-04-03T00:00:00Z
Really enjoyed our stay at this peaceful house in the high desert! We had a relaxing weekend using this house as our base camp with visits to the Painted Hills and Smith Rock. The house is charming and has plenty of space! Spent one evening by the fire pit outside. The kitchen was great for cooking meals and we slept like babies in the comfy beds. Would definitely stay here again! Marylynne communicated everything we needed to know and made it very easy for us! Definitely would recommend the Ochoco Brew Pub in Prineville for dinner!
Matt
2015-10-19T00:00:00Z
My stay at Marylynne's beautiful home in the Cascades was wonderful. The views are amazing and I was in awe of the night sky. Marylynne's directions were easy to follow and the house quickly felt like home. I hope to get a chance to return soon!
Meg
2014-10-28T00:00:00Z
This was a great house for our family of 5. The only thing that was difficult was the long slow drive into the area the home was located. It was a little further off the beaten track than expected.
Catherine
2015-07-29T00:00:00Z
The house was better than as viewed on line. Everything was ready for our arrival with clear written instructions for the home. The view was amazing. Nice comfortable home.
Kathy
2016-05-31T00:00:00Z
Room Type
Entire home/flat
---
Property Type
House
---
Accommodates
5
---
Bedrooms
Prineville, OR, United States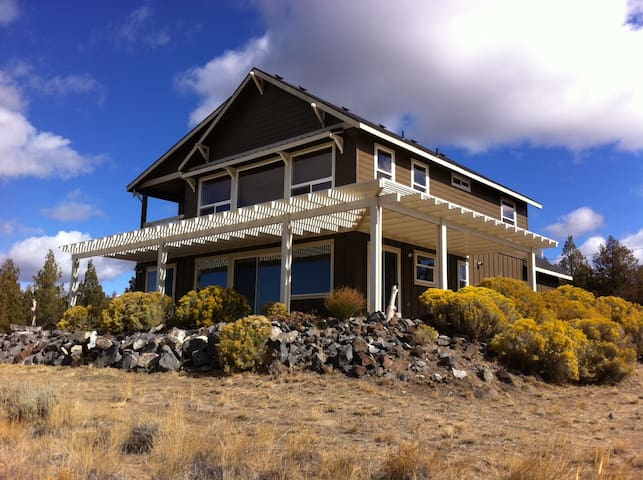 Perfect stay for you and your group to see the 2017 Solar Eclipse. Further, at the house the eclipse should last between 2-4 minutes. This hillside house has plenty of area to accommodate large groups, or for event stays. Moreover, there is a dining room table, woodstove, office, and plenty of kids toys to accommodate your family needs.
Room Type
Entire home/flat
---
Property Type
House
---
Accommodates
9
---
Bedrooms
Prineville, OR, United States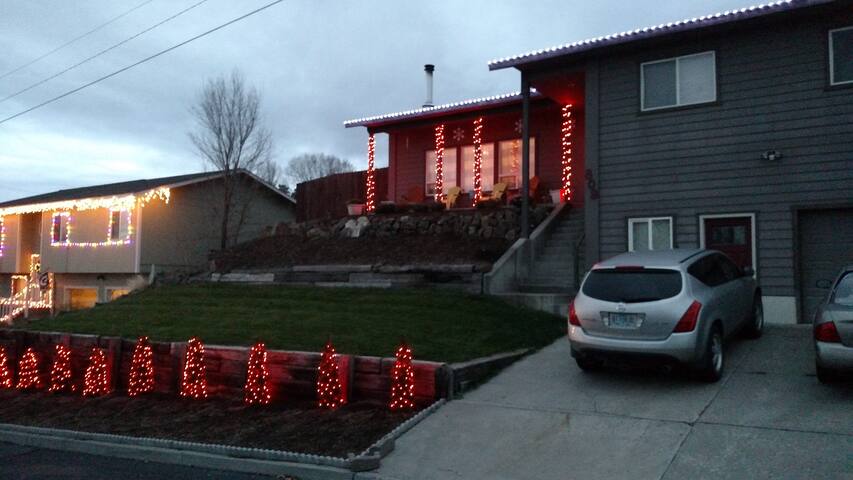 Peaceful 2088 sf country living home on a mountaintop with breathtaking views situated on 1 1/2 acres. Enjoy your evening outdoors around the firepit or whip up a hearty barbecue and enjoy your company. 4 miles from town, 10 to Smith Rock for hiking and 25 minutes to Madras. Spacious enough for friends and family! Small pets welcome.
Enjoy walks and picnics or just relax!
Only one home close by. All others are scattered on the mountain covered by trees
Room Type
Entire home/flat
---
Property Type
House
---
Accommodates
12
---
Bedrooms
Prineville, OR, United States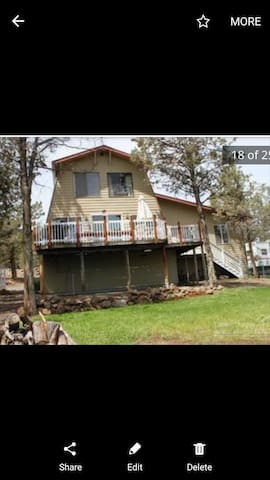 My place is close to Smith Rock, family-friendly activitiesY. You'll love my place because of the outdoors space, the light. My place is good for couples and families (with kids).
Room Type
Entire home/flat
---
Property Type
House
---
Accommodates
8
---
Bedrooms
Prineville, OR, United States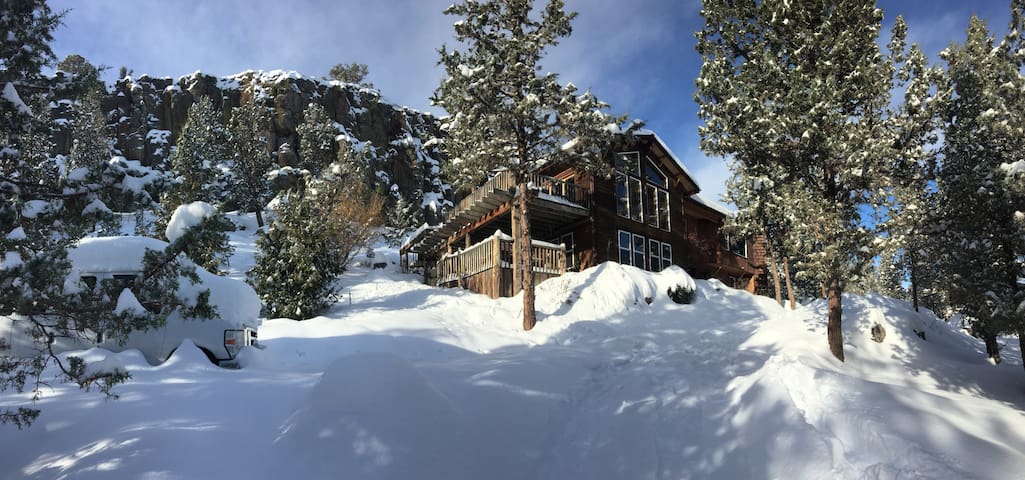 Very large bedroom with bunkbeds. Plenty of floor space for sleeping bags/mats. Shared bathroom.
Room Type
Private room
---
Property Type
House
---
Accommodates
4
---
Bedrooms
Prineville, OR, United States
3 bedroom, 1 and 1/2 bath, sleeps 7 (2 queens, twin over full bunk beds), garage. Easy walking distance to downtown and fairgrounds. Completely updated throughout. Fenced in backyard with large deck and outdoor furniture.
Perfect for friends, coworkers and families visiting Central Oregon! Large fenced in backyard for children to play with a large deck for the grown-ups to relax on. Close to downtown area as well as Crook County fairgrounds. Easy access to Prineville reservoir, Ochoco Mountains, Smith Rock, Redmond (20 min.), Bend (40 min). Within town, you can walk almost anywhere.
The Claypool House is located a few blocks from the main drag in an established neighborhood. It's a low traffic area where you can ride your bike or take the kids on a walk.
We had a wonderful nights stay here, the house had everything we needed. Would be absolutely wonderful for families with children. As the multiple child locks helped many of our husbands stay out of everything ha. :) We had a good laugh. And a wonderful time. The house was clean, and comfortable. Perfect for our single night stay. Darcy kept in contact with me the entire time and was very helpful, along with patient! Would definitely stay here again. Good location in Prineville.
Justine
2015-05-25T00:00:00Z
What a wonderful home. Very kid and family friendly! This rental was clean, comfortable and wonderfully decorated. So much better than staying in a hotel, since everyone has their own space to spread out and enjoy the amenities. Darcy and Nona were wonderful hosts who promptly answered all our questions, and made sure that we had everything we needed. Would highly recommend and plan on staying again when my needs take me to Prineville in the future!
Kelsey
2015-08-17T00:00:00Z
Darcy and Nona were great hosts and answered our questions in a timely manner.
Subikshan Vallabhan
2015-07-06T00:00:00Z
The house was adorable! It was perfect for our visit. It was so nice to have a welcoming space that felt like home!
Kate
2015-04-20T00:00:00Z
We stayed at this place for a few days during a family reunion. It was clean, cute and a great place for a family with kids. They were accommodating and responded almost immediately to any questions we had. This is one of the best experiences we've had staying in a rental!
Kristen
2015-06-09T00:00:00Z
We've been coming to Prineville for over 20 years to visit my wife's family... We either cram into uncomfortable family places or use the Best Western in town. Darcy and Nona's place was perfect for our family of 5. Close to town, nicely decorated, great backyard and very comfortable. Darcy and Nona were easy to communicate with. The house was very clean
Marc
2015-09-15T00:00:00Z
On our way from Painted hill to Crater lake we stayed here for one night. The beds with memory foam pads are very comfortable, we had a great sleep here. The kitchen is well stocked. There is no wifi, I hope this will be added in the future.
Yuxin
2015-06-20T00:00:00Z
We had a wonderful stay in Prineville for the NPRA Finals. The house was clean and absolutely adorable! We will be staying again!
Gabrielle
2015-09-28T00:00:00Z
Room Type
Entire home/flat
---
Property Type
House
---
Accommodates
7
---
Bedrooms
Prineville, OR, United States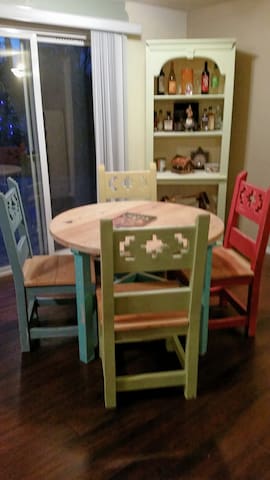 Thank you for your interest in The Lookout. We require a two night booking except when there is only one night available between bookings then we will accept a single night. When Monday is a holiday, we prefer a three night booking for the holiday week-ends. We have already accepted a booking during the total solar eclipse.
Our unique three story lookout tower was fashioned after a Forest Service fire lookout tower, the cozy 20' x 20' square upper living/kitchen area offers a 360 degree unobstructed view of Central Oregon's 13 snow capped volcanic Cascade Mountain peaks. The deck on the top level completely surrounds the structure and has deck chairs and a gas BBQ for your enjoyment. Built with reclaimed lumber from a navy shipyard, it has many features that make it very cozy. Bedrooms and bathrooms are located on the middle and lower levels. Our home is on 5 acres of natural landscape on the Crooked River Ranch development. It is a perfect artist/writer retreat. We have an outdoor hot tub and free wireless internet so you need not venture out unless you choose to. A first class golf course and community salt water pool are available for your enjoyment in the summer. The Deschutes River is near by that many fishing and rafting enthusiasts enjoy. Smith Rocks State Park is across the highway for hiking or rock climbing. Winter sports are available at Mt. Bachelor just 50 miles away. It is a 3 1/2 hour drive from Portland International Airport or 20 minutes from the Redmond, Oregon Airport to our vacation home. Terrebonne, OR is 15 minutes away and offers a grocery store and restaurant. Driving 5 miles further south on Hwy 97 you come to Redmond, OR and then 20 miles more Bend, OR where you can enjoy wonderful restaurants, theaters and shopping.
Crooked River Ranch covers 10,000 acres of rural residential, recreational and commercial property, of which 9,900 acres are divided into 2646 privately owned lots. The remainder of the acreage consists of common and community property, along with buildings and equipment, which are owned by the Association. The common and Community property is scattered throughout the Ranch. The most prominent areas are the Crooked River Ranch (CRR) Golf Course and Pro Shop and the CRR RV Park. During the summer the main attraction for the kids is the swimming pool. Other community property widely utilized is MacPherson Park with Pavilion for Picnics, reunions, and parties. Other attractions are the Dick Chandler Baseball Field, the basketball court, the tennis/pickleball courts and the Lions' Memorial Park. There are many walking and hiking trails on the Ranch. You can hike Sand Ridge Trail, Otter Bench Trail (Difficulty level, Easy-Medium) or Scout Camp Trail (more difficult). You won't believe your eyes as you climb down this trail and take in the view of the canyon - sun shining on the rocks at sunset and the sound of the Deschutes River flowing below. For an easier stroll take a walk around the North Pasture with your dog or horse. You can also ride your horse at the enclosed arena along the golf course. If you like fishing you'll love the Crooked River, but you'd better be prepared to take a hike down Lone Pine Trail to get there. Once you get there you will be awed by the canyon's scenic views. The Ranch has its own falls, Steelhead Falls that is! There is a great hiking trail down to the falls area where there's a great place for a picnic. You'll always see a lot of wildlife on the Ranch, whether it be a deer with her fawns in spring or every kind of bird you can imagine! You can see quail by the score with the chicks crossing the road and jack rabbits and cottontails looking for goodies in a garden. Coyotes can be seen quite regularly and occasionally heard howling at the moon. (URL HIDDEN)
Once you arrive you'll be planning your next trip back. It's was a fantastic experience! Thank you, Pati!
Jasibe
2016-04-28T00:00:00Z
This place is truly special! All of us were mesmerized by the view and found ourselves on the deck in a variety of weather, appreciating our fortune to have found such an amazing place. Thank you Patti for making this beautiful spot available.
Linda
2016-06-20T00:00:00Z
Patti's listing is incredible! The space is unique, comfortable, and relaxing. Patti had clear instructions and was proactive in all communication. I had never been to smith rock before and now I'm in love:) this has been my favorite Airbnb experience to date!
Dennis
2016-02-15T00:00:00Z
We were hoping to stay at the Solar Lookout in August for the Perseid Meteor Shower, and unfortunately the house was booked. We checked back two days ago, just to test our luck, and we were thrilled to see that it was available for two nights on our postponed week-long road trip through Oregon! Patti responded immediately saying that the house was ours if we wanted to book. A short drive from Portland later, and we were snuggled up in this wonderful abode while a beautiful storm moved in. Not only was this a perfect little getaway, Patti was extremely helpful and responsive. We're already looking forward to coming back to Oregon and to the Solar Lookout!
Sean
2016-10-18T00:00:00Z
We loved staying at the lookout and greatly appreciated Patti's instructions and communication. Strongly recommended, staying here was extremely easy and quite delightful.
Ben
2014-03-29T00:00:00Z
Everything was perfect. We're already planning our next visit!
Kevin
2016-03-13T00:00:00Z
We absolutely loved everything about our stay at the Lookout! It was obvious that Patti had put a lot of thought and love into the place, down to the detail of having Maldon salt! We spent hours just staring at the mountain peaks, explored Smith Rock, and grabbed a beer in Redmond. Overall a lovely, peaceful, rejuvenating trip. We will definitely be back.
Chelsea
2015-06-08T00:00:00Z
Patti was an amazing host! We never crossed paths but we texted frequently and chatted on the phone briefly. The Lookout was incredible, and a shockingly more epic of a place then I really could have imagined. I spent Labor Day Weekend there with my girlfriend and another couple, and we had an awesome time cooking good food, soaking in the hot tup, and going on hikes and adventures nearby for 3 days. We scrolled through the #thesolarlookout hashtag on Instagram while drinking wine after dinner and agreed we had to try and come back in the winter to try and experience the ridiculous 360-degree views when the place has some snow. Check that for additional photographic proof of the magic of the Lookout. Conveniently super-close in proximity, Smith Rock is always worth a hike. Also cliff-jumping and swimming at Steelhead Falls is very recommended and beautiful. Overall insanely happy with the Long Weekend. : )
Tom
2014-09-01T00:00:00Z
Room Type
Entire home/flat
---
Property Type
House
---
Accommodates
4
---
Bedrooms
Terrebonne, OR, United States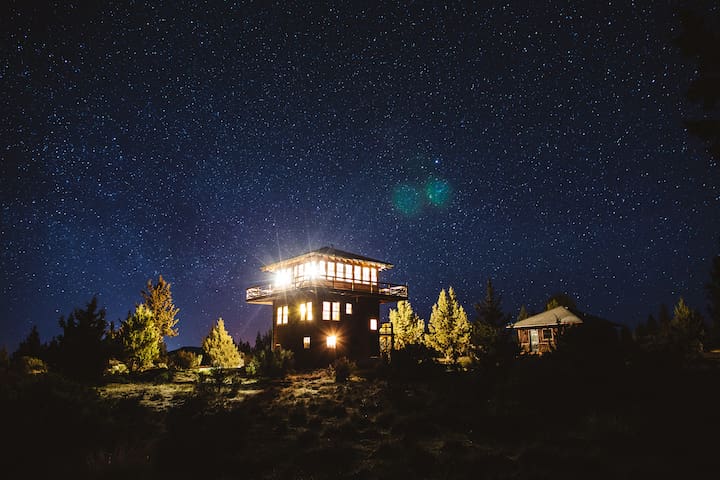 We are offering you a comfortable studio with a private entry and parking which is located in beautiful Central Oregon. The quiet neighborhood allows fast access to highway 97 and only 4.5 miles from Smith Rock. The studio includes a queen bed, stocked kitchenette and a full size bathroom with all the essentials.
Welcome to our sweet and cozy 300 square foot studio which we have put much time and love creating just for you. There is a comfortable queen size bed and our kitchenette is equipped with a refrigerator, microwave, griddle, hot plate, blender, coffee maker, and electric tea kettle bringing you a sense that you haven't left your own home. The space is located in the back private part of our home.
Our neighborhood is quiet country living with acreage surrounding neighbors. There are many things to enjoy in Central Oregon like rock climbing, fishing, golfing, rafting, hiking and biking to name a few. The world famous Smith Rock is located just 4.5 miles away and we are 5.5 miles from Redmond downtown and easy 35 minutes from downtown Bend and the Old Mill District which has endless access to restaurants, bars, music etc.
Linda was so sweet and hospitable towards us, and super understanding when car problems caused us to check out later than expected. The guest house was clean and cute, and you could tell she goes out of her way to make her guests feel at home. : ) Best Airbnb stay yet!
Kaylee
2016-08-28T00:00:00Z
This was my first time ever booking with airbnb and Linda made me feel right at home. The cozy one bedroom studio had everything I needed. I would love to stay again!
Devanie
2017-02-08T00:00:00Z
Linda and Robert (and the boys) were incredible hosts and with the hospitality we received we felt at home right away. If we are ever back this way we will definitely be checking the availability of their place :)
chris
2016-10-29T00:00:00Z
This home was perfect for what I needed! It made feel like I was home which helped me a lot since I was fighting off a cold! So comfortable and welcoming. I will definitely be looking this up when I am back in the area!
Margot
2016-09-19T00:00:00Z
My husband and I value reviews highly, and were impressed by the reviews for Linda and Robert's home. After staying there three nights, we can only agree with every positive thing people have said. Linda's hospitality was beyond compare, and we were so appreciative of the ways she went above and beyond to be a wonderful host. We would definitely recommend this place to anyone!
Kelsey
2016-08-15T00:00:00Z
We were blown away by the beautiful welcome we received from Linda and her family. This is exactly why we stay in AirBnBs. The studio had everything we needed for a comfortable, convenient stay but it was Linda's hospitality that made our stay. She was so accommodating and helpful and they have made such a beautiful home for their family. As we were climbing in Smith Rock, it was in the perfect location (5min away) and Bend is just down the highway. Could not recommend highly enough.
Jasmin
2016-08-18T00:00:00Z
The host was very warm and welcoming. The studio is very cozy, a little smaller than I was expecting, but still cozy, quiet, and private.
Kim
2016-08-27T00:00:00Z
Linda and her family were extremely hospitable and the space was clean and clean. We enjoyed the central location of the space and used it as a home base to visit Smith Rock, Painted Hills, and Bend. Only our third or fourth airbnb experience, we were very satisfied with our stay and wish Linda, Robert, and all the boys well with their endeavors. Thank you all so much!
Andy
2016-09-24T00:00:00Z
Room Type
Entire home/flat
---
Property Type
House
---
Accommodates
2
---
Bedrooms
Terrebonne, OR, United States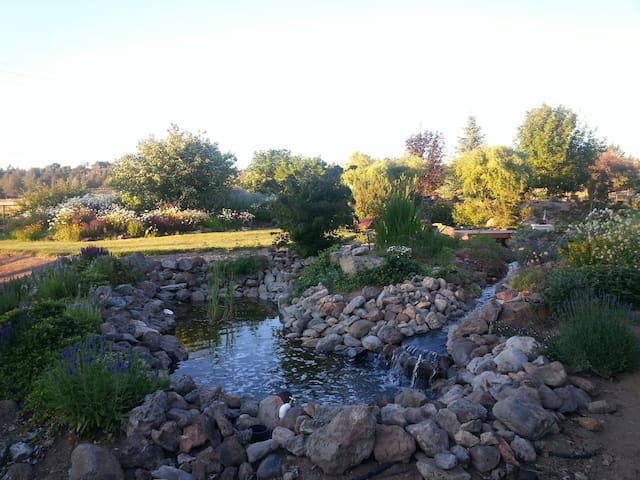 Comfortable and the View is Breathtaking! "Staying on the Edge" is not an understatement. The rim rock is 30 ft out the back door and we sit directly across from Mt. Jefferson. Deschutes River Canyon is over 750 ft deep rapids and enjoy 12 mountains from Bachelor to Mt. Adams in Washington State. This is truly a special place that offers a quiet and comfortable retreat to recharge. Visit Smith Rock, golf, trailheads to Crooked River and the Deschutes River for some fine fishing!
Please Relax and enjoy yourselves....... Our hope is that you will find the various spaces I put together will meet your needs or exceed them. From a TV room to reading and gazing upon the mountains. The kitchen has all the basic needs to cook a meal with breakfast items, like coffee, milk, orange juice, oatmeal or pancakes mix. The Kitchen has the basics of flour, sugar, coffee, pots and pans to mixing bowls and the all important chefs knife. If you need something or forgot something, I probably have an extra one someplace. Like a rolling pin, pizza stone, basil and garlic....... ?
The Neighborhood can best be described as Not Too Many Neighbors. Sage brush and Juniper trees.
We were warmly greeted upon arrival to this wonderful getaway with an out of this world view. The house was clean and well stocked. It's location was great for us since we had plans to hike and fish. It is quiet and fairly secluded. The hot tub in the back was so relaxing after long hikes. We couldn't have asked for a better anniversary weekend.
Whitney
2016-09-12T00:00:00Z
Excellent views, very attentive host who also respects your privacy. Nice, clean, house
jacob
2016-12-26T00:00:00Z
What a great location! Breathtaking views, great amenities and a hot Jacuzzi are just some of the comforts to be had at the canyon house. Monica was sweet and friendly the whole time we were there. When coming back to Smith Rock, we will definitely be booking this location again in a heartbeat
Brian
2017-03-19T00:00:00Z
We had a wonderful stay at the Canyon House. The location is spectacular - right on the rim of a canyon. The mountain views were beautiful. We sat in the hot tub every evenong enjoying the amazing sunsets, The house was comfortable and well equipped and Monica was lovely. We can hardly wait to go back!
Kate
2016-07-12T00:00:00Z
Had an amazing experience here, the view is out of this world and the accommodations were very nice. Enjoyed the hot tub after dark, it felt like you were floating above the canyon. Would definitely recommend this place to other people.
Jeremy
2016-08-22T00:00:00Z
Jeff and Monika are fantastic! What a great place and amazing views! This property is nestled right on the top of the canyon. If you're looking for a clean, comfortable and quiet getaway look no further. The property is connected to the main house yet completely private and has everything you need including a hot tub, bbq and wooden swing with an unobstructed view of Mt. Jefferson, Three Sisters and the canyon below. Communication was great from the get-go. Upon arrival late at night (using our GPS) we we were greeted by Monika and given a tour of the property. She was really helpful and had even gone out of her way and left us a couple of beers and fresh ingredients for breakfast! We spent the days in the local area visiting Redmond, Smith Rock and Madras. The rest of the time was spent in the hot tub and relaxing on the deck overlooking the canyon. The hosts were very hospitable and knowledge of the local area. Although its a little out of the way (20mins from Terrabonne), it was completely worth it. Just make sure to do your grocery shopping if you're planning on eating in. Its worth it for the tranquility and gorgeous view!
Marc
2016-06-20T00:00:00Z
My wife and I love this place. Dark skies, bright stars, cool mornings and warm evenings. Home was very comfortable. Best part for me was the choir of coyotes every night, reminded me of childhood. Barr & Suzy, Vancouver, WA.
Barry
2016-06-29T00:00:00Z
The view from the house and hot tub is even better than the photos. The house is very spacious and cozy (love all the extra fleece blankets and pillows!). We only had a clear night once on our stay but we saw so many stars, meteors, the international space station AND the Milky Way! My wife and I had a great time here and can't wait to come back. Jeff was an excellent host!
Josiah
2017-01-16T00:00:00Z
Room Type
Entire home/flat
---
Property Type
House
---
Accommodates
4
---
Bedrooms
Terrebonne, OR, United States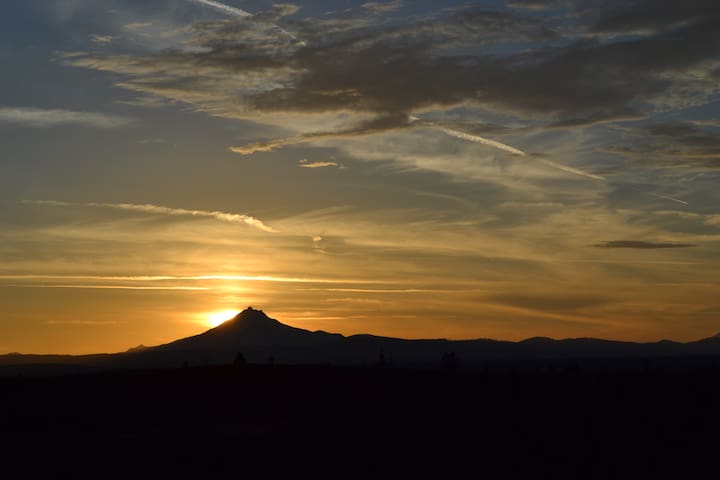 Enjoy a beautiful sunset illuminating Smith Rock while sitting by a cozy outdoor fire. Our lovely private suite offers a separate entrance, private deck, bedroom with a queen bed, another bedroom/living room with a queen hide a bed, a full tile bathroom, refrigerator, coffee maker, microwave, and breakfast goodies!
Our comfortable private two room suite on 5 acres is just off Hwy 97 a mile from Smith Rock State Park in Terrebonne. We provide an opportunity for climbers or outdoor enthusiasts to relax after a day of adventure and enjoy a beverage on the deck while watching a sunset on Smith Rock. Dine in near by restaurants or barbecue with your own food. Our suite is fully equipped with dishes, glasses, utensils, a refrigerator, microwave, fresh coffee and breakfast goodies. Use our home as your "base" to experience rocking climbing and hiking at Smith Rock or make the short 25 minute drive to Bend and the wonders of Central Oregon. Our front garden and deck are available for your private use. Our large deck and gazebo are shared spaces you are welcome to use and be greeted by our English Springer Spaniels and two cats. Please leave your pets at home:)
Terrebonne is a small town just North of Redmond. Although our town is small, we have a very nice supermarket and two excellent restaurants to choose from. You may also make the 10 minute drive to dine, sample beer at local breweries and shop at the newly restored downtown part of Redmond. We live in an area of small acreages. Many of our neighbors are professionals and retired seniors who have chosen to live in the country. It is very relaxed and relatively quiet. Bring your bikes and enjoy the scenery on the country roads surrounding the house.
This was, hands down, the best Air BnB stay I've experienced yet (of about a dozen). Sallie's place was even better than in the pictures (a rarity), well-equipped, tidy, and perfect for my friend and I. Sallie went above and beyond in helping us out with a storage issue, as well. The extra touch of coffee, creamer, fruit, yogurt, and delicious pastries was a wonderful bonus. You can't find a sweeter place close to Smith... It was a perfect adventure base. (Thank you, Sallie!)
Dacia
2016-07-09T00:00:00Z
This was such a dreamy place to stay! Sallie and Eric were very welcoming, and the space was very large, comfortable, and well-maintained. Would definitely stay again!
Melody
2015-10-04T00:00:00Z
What a fabulous experience. Sallie and her husband were excellent hosts. The rooms were spacious and comfortable. We loved sitting on the deck and watching the birds. Such a beautiful setting. Sallie suggested the Depot for dinner and it was a great dining choice.
Linda
2015-10-02T00:00:00Z
Great hospitality and privacy! It is beautiful and peaceful! I will stay again!
Maria
2017-03-10T00:00:00Z
Sallie is a great host. We had such an amazing time at this adress. Sallie guides you around and even gives you a notice when Smith Rock is on it's most beautiful during sunset. Definately recommend this place. All amenities are available and the rooms are very tidy and clean.
Hidde
2016-06-14T00:00:00Z
My husband and I loved staying at Sallie's. Everything was very clean and nice, beautiful views and delicious scones. We'd definitely stay again if we're in the area.
Mia
2016-12-30T00:00:00Z
Very clean, quiet and peaceful. Great hospitality--left us coffee, cream, fruit, and delicious pastry.
Maureen
2016-06-06T00:00:00Z
Sallie provided a wonderful space for anyone who cares about comfort and meticulous attention to detail in providing an ideal lodging experience. The bed was perfect--everything was clean and sparkling. The fresh scones, fruit, and yogurt were a great way to start the day. I hope to have the chance to stay here again.
Melanie
2016-03-23T00:00:00Z
Room Type
Private room
---
Property Type
House
---
Accommodates
4
---
Bedrooms
Terrebonne, OR, United States
Welcome to the Studio 360, located in Crooked River Ranch, OR! This is a quiet, scenic setting that makes a great base camp for climbing activities at nearby Smith Rock, as well as tons of other recreational opportunities nearby in Central Oregon, such as hiking, fishing, skiing, snowboarding, snowshoeing, etc.
We had a great time at Carl's place! The bed was really comfortable, we were impressed with how much room there was and Carl was really responsive and helpful when questions came up.
Heidi and Marenda
2017-04-08T00:00:00Z
Awesome place! Like a spaceship or a boat, our in the high desert. Loved our stay, cooled dinner both nights and adventured in the area both days.
Shandy
2017-04-02T00:00:00Z
This modern, beautiful, clean tiny home is fabulous. We enjoyed the well thought out design and found it a great place to come back and relax after a day exploring the area. We will highly recommend to friends and family and will surely book the next time we make it out to central Oregon!
Krissy
2017-03-20T00:00:00Z
I absolutely loved my stay in this tiny house! The location was perfect - close to Smith Rock and Terrebonne, but it was also very peaceful and quiet on the property. The features in the house are amazing and, although it's a tiny house, we had more than enough space and never felt cramped. I would definitely stay here again!
Siena
2017-02-26T00:00:00Z
I found this tiny home to be quite comfortable and relaxing. Thank you Carl for being a kind and helpful host! I will be looking to book here again next time I'm in town.
Courtney
2017-03-09T00:00:00Z
JILL
2017-03-27T00:00:00Z
Room Type
Entire home/flat
---
Property Type
House
---
Accommodates
3
---
Bedrooms
Terrebonne, OR, United States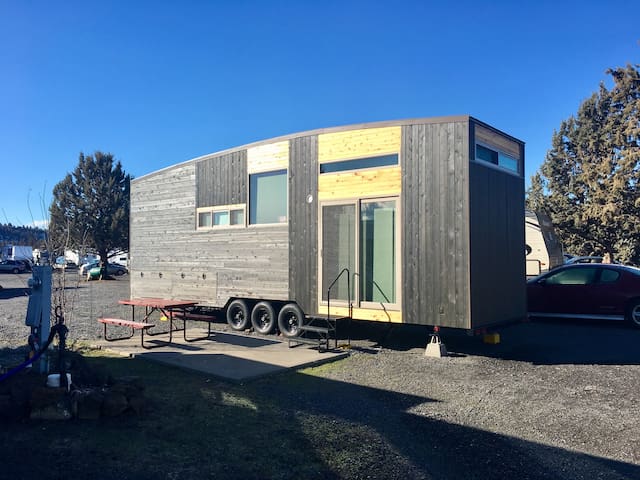 1

–

18

of

300+ Home Rentals
Enter dates to see full pricing. Additional fees apply. Taxes may be added.