Spanish guy living alone. Working here from Monday till Friday. I have got a bedroom left in a apartment next to the beach and with swimming pool. Perfect for people coming for a few nights!
Fabian was a great host and is a very nice and laid back guy. His place is great and with good facilities. Private pool area with an access to the sea is fantastic, and the beach and restaurants are only 2min walk away. I chose this place for my cycling holiday as Fabian kindly agreed for me to keep the bike indoors and as the apartment is on the ground floor with a separate private entrance, it made it lot easier. I recommend Fabian's place and would they there again.
Kaspars
2017-04-02T00:00:00Z
Casa tranquila y acogedora, Fabián muy simpático y amable adaptándose a mis necesidades. Lo recomiendo.
Helena
2017-02-01T00:00:00Z
muy buena onda
Adrian Oscar
2017-02-13T00:00:00Z
Room Type
Private room
---
Property Type
Apartment
---
Accommodates
2
---
Bedrooms
Palmanova, Illes Balears, Spain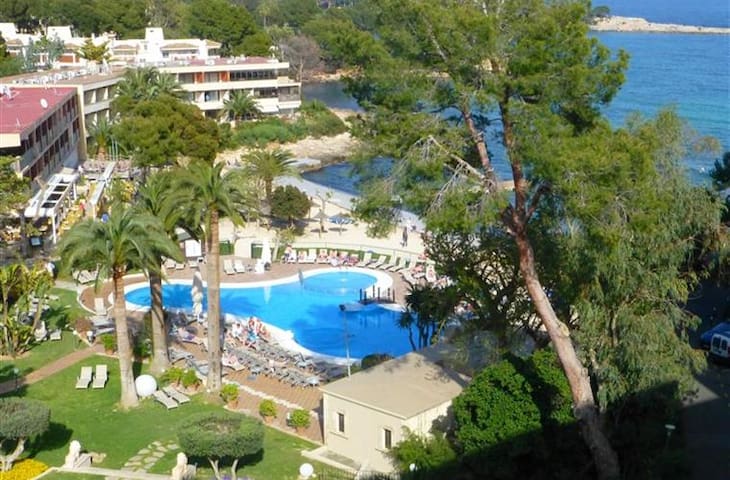 BRAND NEW FULLY FURNISHED APARTMENT WITH AIR CONDITIONING, DIRECTLY ON SEA AND BEACH, RESTAURANTS, SHOPS AND SUPERMARKETS. SUITABLE FOR 3 ADULTS 1 BABY OR 2 ADULTS WITH 2 CHILDREN AND 1 BABY.50 SQUARE METERS WITH 12 SQUARE METERS TERRACE, INTERNET, INTERNATIONAL TV, BALCONY, ROOF TERRACE WITH COMMUNITY POOL BARBECUE KITCHEN AND LOUNGE CHAIRS.
Palma Nova is a well known village , it owns a little harbor and is well connected to the only high way in Mallorca.
Room Type
Entire home/flat
---
Property Type
Apartment
---
Accommodates
3
---
Bedrooms
Palmanova, Illes Balears, Spain
Ideal for 2 people, can also accommodate maximum 4. It has equipped kitchen with small appliances, kettle, toaster, refrigerator, oven, gas.Tiene double bed and a sofa bed, air conditioning and fans, TV and DVD.Lavadora, WiFi.Esta very well located in quiet area, 150m from beautiful beach in a cove and 700m from the beaches grandes.A just 20m autobús.Cerca stop supermarket and several restaurants and cafes and beautiful walks by the sea.
Generally apartment was clean, well organised and in good location with easy find parking space. The only issue were cockroaches literally even 5 at the time finding even in the oven or fridge... I understand that it is an old building and this is how it is in the island, but sth should have been done about it or at least guests should have been warn. I lived in the island for a while but my mom who is not used insects was constantly freaking out.
Katarzyna
2016-09-16T00:00:00Z
Bonjour j'ai passer un très bon séjour . Tout c'est bien passer . L'hôte a était correct sur les heure d'arriver et de départ les photos sont bien réel .
Khalid
2016-09-27T00:00:00Z
Room Type
Entire home/flat
---
Property Type
Apartment
---
Accommodates
4
---
Bedrooms
Son Caliu, Illes Balears, Spain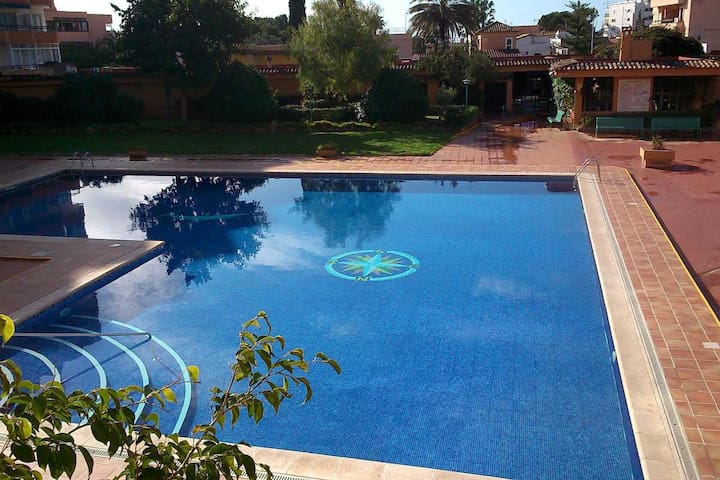 The farm is located just in front of the sea, with pool and deck, located in a tourist area and yet close to the center of Palma, has just one 20 minute drive, ideal for enjoying the beach and off a few days.
The farm is right on the sea front and just outside you can enjoy the sea and the Beach bar with pool
It is a tourist area close to the center of Palma
For the price was didn't expect much but I hired an apartment so I could enjoy cooking my own food but there was no crockery, kitchenware or even a fork. Was offered a much better place in the same complex for $35 a night with sea views and kitchenware. Not one to complain but truth is it's pretty ordinary.
Damien
2016-05-11T00:00:00Z
We are very thankful to Esteban. Everything was perfect, except 4 small things: there was no rubbish bin in the apartment, the view from the room was poor, the lifts stopped working and the neighbours were not cool. Esteban is a great, helpful and kind host with nice, clean apartment. I would rate the stay 9/10 - the sea and swimming pool are really close and the best recommendation is that we would like to return there asap :)
Dominik
2016-09-16T00:00:00Z
My friend and I loved our stay in Esteban's apartment! It was clean, exactly as pictured, and the location was incredible. The photos don't do the pool and beach area justice. Esteban was more than helpful with everything and it's great that he is on site practically all the time for any questions you could have.
Ella
2016-10-09T00:00:00Z
It was a pretty smooth transaction. They work at the bar on the other side of the building, so even though I was a couple of hours late because of traffic an my phone service, things worked out well. If I needed something I knew that I could find them at the bar.
Jeremy
2016-06-08T00:00:00Z
The stay at Esteban's apartment went smoothly. The apartment is cheap, so don't expect a 5 stars hotel, but it's descent it is does the job! The area is a British party place, but if you don't mind or if you like it, then it's alright. If you are looking for a quiet neighborhood, you are not at the right place. That said, You will be straight at the beach and you can even enjoy the pool. All in all, it was a fair deal.
Antoine
2016-09-11T00:00:00Z
Very nice and clean place. Great and considerate host. Beach right down the stairs. Many restaurants and night clubs walking distance. Only thing is long commute to Palma. Overall great though
Jorge
2017-03-19T00:00:00Z
Nous avons passé une nuit dans ce logement. Plus grand que ce que les photos montrent. L'immeuble est calme et bien situé. Avec le studio nous avons accès à la piscine et aux transats face à la mer. Point négatif, beaucoup beaucoup de moustiques dans le studio..
Sandra
2016-09-17T00:00:00Z
Mon séjour s est très bien passé Malgré mon problème de langue je ne parle que français Mon hôte à été très cordial et disponible appartement simple mais propre et fonctionnel tout y est pour passer un bon séjour Je le recommande et je reviendrai
Martine
2016-09-30T00:00:00Z
Room Type
Entire home/flat
---
Property Type
Apartment
---
Accommodates
2
---
Bedrooms
Torrenova, PM, Spain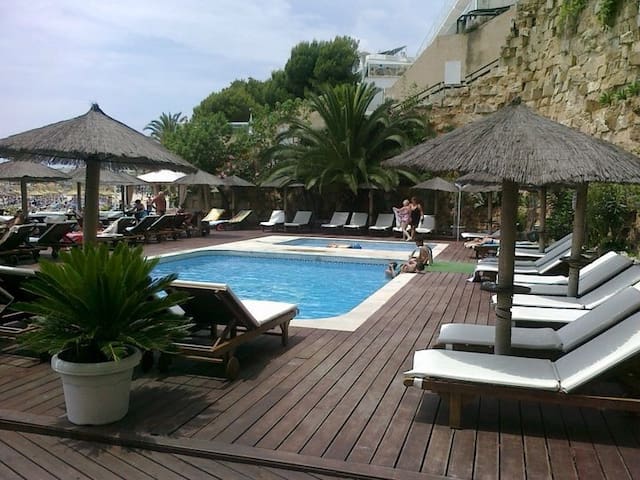 In the apartment you will have: AC and heating, big bed 160×190, microwave, fridge, toaster, kettel and iron with board. We provide linen and towels. In the kitchen you will find all the necesary to cook and alsobasic staff like salt, sugar, oil. The bathroom has a very spaciouse and confy bathtub, shampoo and showergel are included. Big swimming pool available for the guest. Walking distance from the beaches. Supermarket just across the street. Some restaurants at the door
Brand new full equipped apartment, situate in a big building with swimming pool. Just few step from bus stop and supermarket.
The flat it's located in a residential distric very quiet. The neighbour are all family and couple, of course something could happen to hear the people from the other apartments. You can find everything you need, just a few step from the door. If you rent a car it's possible to park in the streets around the building for free.
Fantastic apartment. Great location. Everything clicked into place thanks to Elena. I will be back.
Derek
2017-02-28T00:00:00Z
Everything perfect, Elene met me and showed me the apartment told me to message her if any problems. No problems. The appartment was spotless clean, it's got everything i needed and the location could not be better, shops, bars, excellent public transport, pool & sea just a few minutes walk. I will be definitely be stopping again if Elena will have me. A1++++++++
Jim
2017-03-20T00:00:00Z
We had a really nice stay here and everything we needed in the apartment. It was clean and even got heating which we appreciated when we came home at night. We could cook some meals when we didn't want to eat out and the next supermarket is right around the corner. The bed was very comfortable. We rented a car so we could reach all our destinations quickly and had no trouble finding a parking spot in the evening.
Fanny
2017-02-19T00:00:00Z
All was perfect. We had a very nice stay. We can strongly recommend this accommodation for single or couples. Thanks for all...
Roland
2016-12-27T00:00:00Z
be careful with the toilet, it seems to get clogged easily. And whatever you break or if it doesn't work: she doesn't have insurance, so she is going to want you to pay (happened for us with the clogged toilet). She was always a bit in a hurry and seemed therefore unfriendly, but I guess it was just because she was in a hurry.
Teresa
2017-01-01T00:00:00Z
Qu'il manque un fer à repasser
Samir
2017-01-30T00:00:00Z
El apartamento nos encanto, no hizo falta nada, hasta plancha y blower tiene! El balcon esta estupendo desde cual uno puede ver el atardecer.
Melina
2017-04-01T00:00:00Z
DieWohnung ist genau so wie sie auf den Fotos zu sehen ist. Sie hat alles was man für eine Woche Mallorca braucht. Der Kontakt mit Elena war sehr unkompliziert.
Sabine
2017-03-08T00:00:00Z
Room Type
Entire home/flat
---
Property Type
Apartment
---
Accommodates
2
---
Bedrooms
Son Caliu, Illes Balears, Spain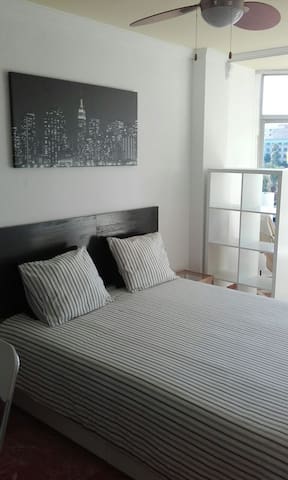 Its a small apartment (loft) but it has all the necessary, and its in a perfect location. Close to the beach (just two minutes), swimming pool at the building. Nice views. Lugares de interés: la playa, actividades en familia, increíbles vistas, y restaurantes y comida. Mi alojamiento es bueno para parejas y aventureros.
Room Type
Entire home/flat
---
Property Type
Apartment
---
Accommodates
2
---
Bedrooms
Son Caliu, Illes Balears, Spain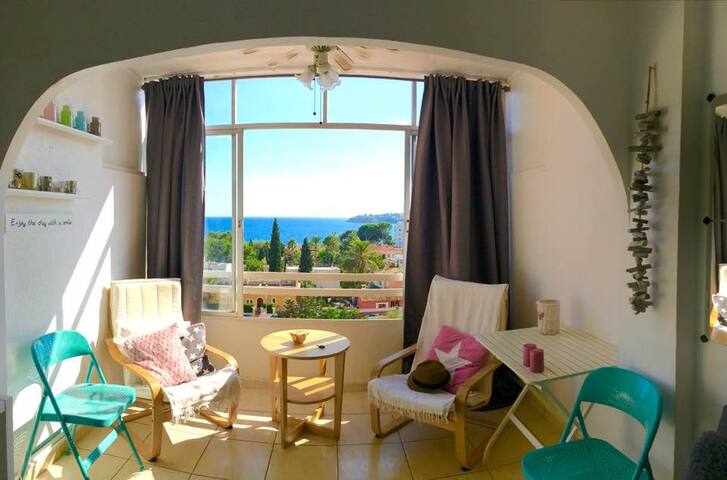 Ich wohne in einer kleinen gemütlichen Wohnung.Gut aufgeteilt und lässig eingerichtet.Das Schlafzimmer bedindet sich direkt am Eingang der Wohnung, das Bad dahinter und dann kommt der Wohn/Kochbereich.Der Balkon bietet Platz zum entspannen mit Sonne.
Ich lebe in der Nähe Magalufs, ein beliebter Partyort. Auch die Stadt Palma ist nur 8 Autominuten entfernt. Die Wohnung ist ruhig gelegen. Direkt vor dem Balkon befindet sich der 90 Meter breite Strand von Son Caliu.
The host canceled this reservation the day before arrival. This is an automated posting.
Gabriela
2017-03-09T00:00:00Z
Sehr schöne und saubere wohnung mit einer tollen aussicht. Vielen dank an peter für die tolle gastfreundlichkeit gerne wieder ! Mit dem auto findet man unten auf der strasse immer einen parkplatz und das ganze sogar gratis.
Simon
2017-04-03T00:00:00Z
Room Type
Shared room
---
Property Type
Apartment
---
Accommodates
1
---
Bedrooms
son caliu, Calvia, Spain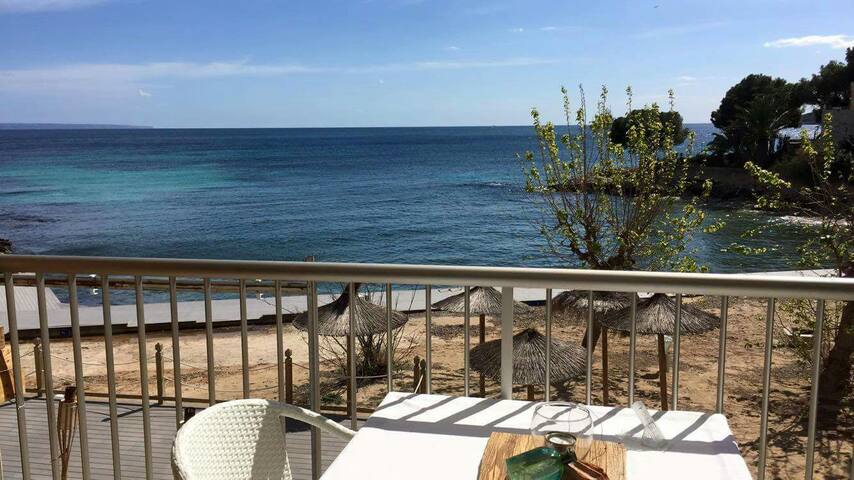 Attractions: the beach. You'll love my place because of the sea to be in front of the beach. The space is cozy, comfortable and well laid out. You can listen to live music until twelve o'clock in summer but if you want peace there is a double glass that prevents the sound from inside, the rest of the quieter year beach to enjoy the peaceful sound of the waves and orange sunrise at sea without leaving the house.
Terracita con barbacoa, baño con jacuzzi e hidromasaje, armario amplio de 4 puertas, cocina con lavavajillas, aparcamiento propio ... en frente de Playa de Palmanova con acceso a minusválidos, duchas y wiffi en la playa.
Los paseos por la avenida de la playa y la música en directo de los bares son un placer para los sentidos.
We spend a perfect week in Asuncion's flat. She was very careful with us and gave us the best places to visit in Mallorca ! I recommend.
Swany
2016-08-28T00:00:00Z
Asunción made us feel very welcome and provided us with loads of tips on what to do on the island. The flat is in a perfect location to explore the surrounding area, and relax at the beach. The view from the balcony is also very nice. The place itself is nice, you get what you pay for.
elli
2016-09-30T00:00:00Z
Very nice appartement with an incredible view! Perfect for 2 people. The location is nice, it's closed to every thing, easy to get everywhere on the island from Palmanova. I recommend this appartement if you want to discover Mallorca.
Sonia
2017-04-05T00:00:00Z
We spent 9 nights with a friend in Asunción's apartment. We really enjoyed our stay, the apartment is confortable, the kitchen is well equiped, the view is stunning with a central position. The apartment is located in the center of the animation in Palmanova near Magaluf so all the restaurants are very accessible. Its animated but not noisy once the windows are closed. Asunción is a very nice and very welcoming host. I warmly recommend.
Geraldine
2016-08-21T00:00:00Z
Id stayed in Asun's apartment for 5 nights in Aug 2016! It is a small studio apartment with a fold out bed in an top top location! It contains everything you need and is about 30 metres from Palmanova beach! The balcony has a lovely view of the sea and every night you can sit out and enjoy the live music from the restaurant downstairs! Asun herself was lovely and extremely accommodating and helpful during my stay! I would recommend this place to a solo traveller or a couple who are looking for a no frills apartment at a good price with no compromise on location!
Robert
2016-09-03T00:00:00Z
Tout est très bien sauf pour les couches tôt,il y a des bars restaurants avec chanteurs de chaques cotés de l'appartement .C'est très bruyant de 20h a minuit .
clément
2016-09-24T00:00:00Z
Room Type
Entire home/flat
---
Property Type
Apartment
---
Accommodates
2
---
Bedrooms
Palmanova, Illes Balears, Spain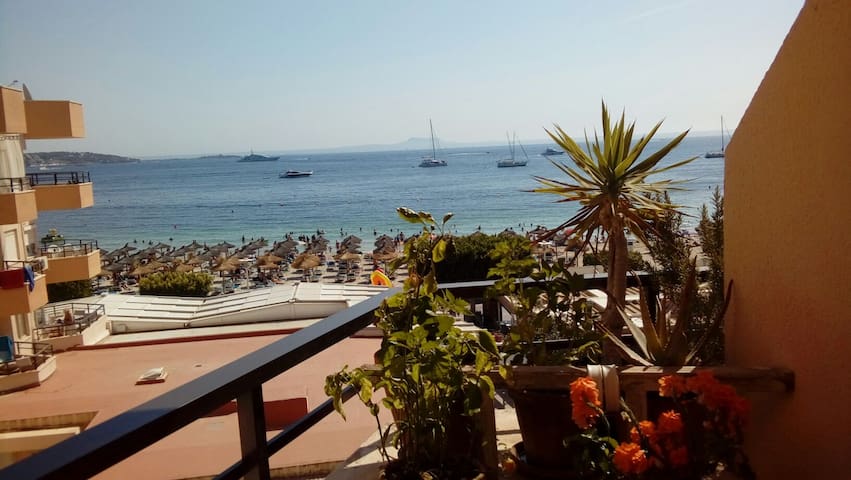 Self-contained, private, studio, kitchenette, walk-in shower, swimming pool, stunning sea views , 3 mins to beach.Double couch/ bed settee. Very relaxed -sit on the enclosed veranda in the evening and watch the ships sail by. Supermarket close by. When you get to the beach take a walk on path less travelled by turning right onto the cliff top and you are in the wilderness. Best tip - dine at Rincons on the beach, casual - great food very reasonable -locals use it a lot.
Because the apartment is three minutes to the beach You can walk to the sea in the morning for a swim and walk back in your swimming gear. Close to Palma nova for a comfortable 10-15 minute walk yet quiet in Son Caliu. The is a frequent bus service outside the door to Palma. 3 Minutes to lovely outdoor restaurant by the sea frequented by locals because it has one of the best views and best prices in Majorca.
It is in the centre of everything yet shielded from noise. There is a major supermarket just across the road.
We spent a wonderful week in Ian's apartment. Everything was perfect. Taylor and Ian are very kind and helpful. The apartment is clean, bright, quiet and the view is magnificent. Thank you.
Csilla
2016-09-28T00:00:00Z
Really good and clean studio and the best location.
Thiago
2016-10-06T00:00:00Z
Ian and Taylor were fantastic - very helpful and Taylor was on hand for whatever we needed. The apartment was well kept and clean. All I would say is it is a little way from Palma nova beach. But still definitely walkable. The pool is very clean, but you don't get sunbeds which was a bit of a shame- having said that, Taylor did provide us with some when we asked. Everyone there was very nice and overall I would say very good value for money :)
Astrid
2016-06-30T00:00:00Z
The apartment is in a very good location , close to the beach and sea, but also the bus stop from which you can get to any part of the island. The view from the window is fantastic, you can use the swimming pool whenever you want, there is very calm and safe there, because the area is protected by guards, equipment is very basic, for me personally it is not very important , because I always spend all day outside, besides the price was adequate to the conditions, but if I can suggest any changes , it would be nice little " refresh" the apartment , maybe you can add a little color and improve cleanless and it would be perfect. Wifi connection would be an additional advantage. Generally everything was OK, Taylor is really kind and friendly person, he explained everything to us, and gave maps of the entire region, he is also available on the phone, in case of any requests or questions. Thank you for your hospitality.
Katarzyna
2015-08-09T00:00:00Z
Ian and Taylor were very kind - very helpful and Taylor was on hand for whatever we needed. The apartment was well kept and clean. The location is very quiet and pleasant. Thank you.
Célia
2016-07-27T00:00:00Z
The apartment is very basic but it offers everything you need for a stay in Mallorca. Kitchen area is well equipped. The whole apartment was spotless when we've arrived. Swimming pool is awesome, however we've only used it once because we spent most of the time visiting different beaches. The apartment is also really well located. The access from Palma is super easy, you can reach different parts of the island in just a short ride. If you plan to rent a car, this apartment is a good choice because it's really easy to find a free parking spot around the building or in the nearby streets.
Antonina
2016-08-22T00:00:00Z
Our stay at Ian's apartment was perfect in every way. The location is perfect with the local beach only a couple of minutes away. The pool at the complex was clean and nice, the area is quiet and comfortable, and people are very friendly. Taylor, the on-site manager, was very helpful and he helped us with the keys for the apartment. When we arrived, the apartment was equipped with 2 towels, a bit of breakfast and water. Really nice in the middle of the night after coming from the airport. We thank Ian and Taylor for a loveky stay.
Anders
2016-08-10T00:00:00Z
L'appartement est bien situé et idéal pour un couple de voyageurs. Nous avons vraiment apprécié la vue sur la mer et la grande piscine à disposition pour l'ensemble des appartements. Plusieurs plages sont facilement accessibles à pied, mais si vous voulez voir d'avantages de paysages il est très facile de louer une voiture. Concernant l'appartement, le seul bémol est qu'il manque quelques équipements pour cuisiner, mais je suis sûr que ce sera vite arranger pour les prochains locataires!
Jules
2016-09-04T00:00:00Z
Room Type
Entire home/flat
---
Property Type
Apartment
---
Accommodates
2
---
Bedrooms
Illes Balears, Illes Balears, Spain
The apartment is located in one of the most tourist areas of Mallorca, with many bars, restaurants, discos and leisure areas. The beach is very nice and it is in front of the apartment. Located next to a bus stop and taxis. Access 35 minutes from the airport. My accommodation is perfect for couples, young peoples,families with children who like relaxing near the beach
Room Type
Entire home/flat
---
Property Type
Apartment
---
Accommodates
5
---
Bedrooms
Magaluf, Illes Balears, Spain
Renovated apartment in front of the beach of Magaluf, located in the complex of Hotel Wave House 4 *, with direct access to the beach and swimming pools. Decorated with style and offering the highest comforts in an idyllic setting with sea views and swimming pools. It is a loft style apartment in which, from the same bed, you can already smell the sea and spectacular views of the bay. The area offers many leisure services for both young people and families with children.
This loft is located inside the complex of the Hotel Wave House Melià (4*), reformed in 2015. In it coexists the hotel guests with the residents of the apartments. It has all the comforts like full bathroom, kitchen, TV with international channels, wifi and a balcony from where you can see the whole bay and the beach.
The host canceled this reservation 14 days before arrival. This is an automated posting.
Mitul
2017-04-03T00:00:00Z
Ester was the best host! She was incredibly friendly and helpful! She answered all of our questions and was more than willing to help us at anytime. The apartment was exactly as pictured as well! And the location was amazing. Close enough to the nightlife, but also far enough away that it wasn't noisy. I would highly recommend staying at Esters place if you can!
Trista
2017-04-07T00:00:00Z
Room Type
Entire home/flat
---
Property Type
Apartment
---
Accommodates
2
---
Bedrooms
Calvià, Illes Balears, Spain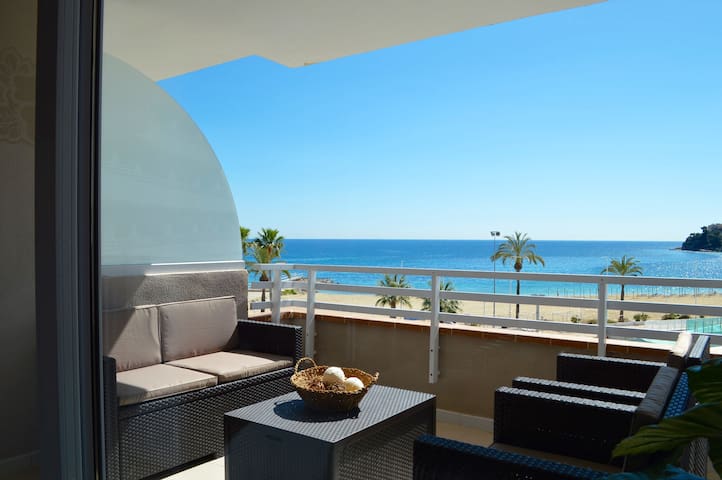 apartment of 54 m2, with a living room to live with a small balcony overlooking pool, and a double bedroom, a kitchen is available as well as a bathroom with bathtub. the beach is 50 meters, 1 minute walk
the property is ideally located, it has a large pool, and the beach is 1 minute walk. there right a small park for children, and to your left, are also found children's rides. herosky a supermarket is a few meters from the apartment (derière left)
the property is ideally located, it has a large pool, and the beach is 1 minute walk. there right a small park for children, and to your left, are also found children's rides. herosky a supermarket is a few meters from the apartment (behind left)
The apartment was very nice! The location was perfect, only a 2 minute walk to the beach. It was very spacious and had everything we needed. Would highly recommend staying here!
Thiago
2016-06-17T00:00:00Z
Nice location, close to beach, restaurants and with own pool. Slight problem finding the apartment (as it is set back from the road a bit and a pizza place has number 7) but this was only a slight confusion. Enjoyable stay
Stuart
2016-07-06T00:00:00Z
Host was very communicative and made us feel welcome.
Jacob
2016-07-25T00:00:00Z
Appartement fonctionnel et propre. Parfait pour 4 personnes. Sissi a été très réactive pour répondre à nos questions
Marta
2017-03-06T00:00:00Z
J ai passer un agréable séjour dans cet appartement , qui possède tout les atouts ( emplacement , parking ,piscine , balcon ) , l appartement était bien équipé , nous avons manquer de rien , bonne expérience
Karim
2016-07-12T00:00:00Z
Расположение удачное. Близко к морю, магазинам, автобусной остановке. Рядом много детских площадок.
Сергей
2017-01-01T00:00:00Z
tutto perfetto!! super appartamento un pò piccolino per 5 persone ma noi ci siamo adattati lo stesso. grazie mille dell'ospitalità e del vino...a presto Cinzia
Cinzia
2016-05-24T00:00:00Z
Alles super es gab nur Problem beim Schlüssel Übergabe da müssten wir 2 Stunde Warten da der Mitarbeiter nicht da war.
Kia
2016-08-30T00:00:00Z
Room Type
Entire home/flat
---
Property Type
Apartment
---
Accommodates
5
---
Bedrooms
Calvià, Illes Balears, Spain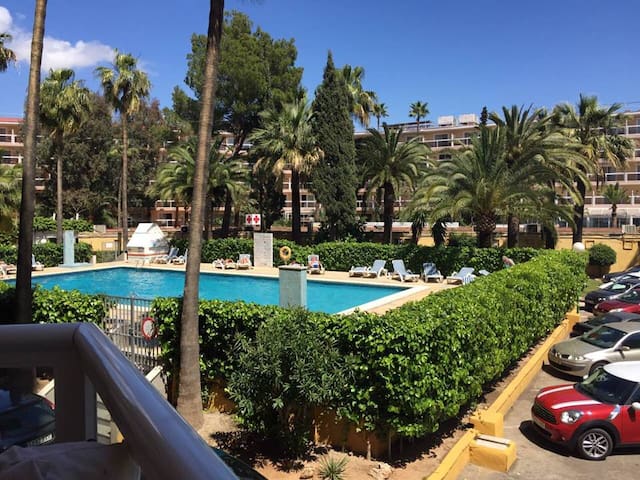 Beautiful apartment very quiet seafront in Palmanova (15 km from Palma and 10 minutes walking from Magaluf). It has 2 bedrooms, 1 double and 1 with twin beds, 1 bathroom with bath, kitchen equipped with kitchenware, fridge and washing machine both new, living room with tv, and has a terrace overlooking the sea with table and chairs with spectacular sea views (front port). From the bedroom you have an exit to the balcony as wel as the living room. The furniture, and the sofa are new with a moder style, as you can see in the photos. The apartment has A/C and 2 places of paking included in the price. The apartments have a playground, outdoor pool and heated indoor pool. Includes two parking spaces. The sunsets are spectacular! Around the apartment there are many restaurant, shops August Max price € 770 / week. Public tranpost near the apartment. If you have any question, please send me and email or by (SENSITIVE CONTENTS HIDDEN).
The reservation was canceled 5 days before arrival. This is an automated posting.
Nils
2015-04-21T00:00:00Z
The place was amazing and the view from the balcony was awesome. It was the perfect place to spend the holiday. The host was very helpful and nice. The apartament had all the things that we needed. Great experience with the perfect location. Thank you Sofia and Miguel. We were 100% glad that we had chosen you and we will recommend you to others too.
Catrinel
2016-09-15T00:00:00Z
My host was very nice and fixed problems directly, the initial contact over airbnb was equally great. The apartment was exactly as in the photos and very nice and the beach right next door. Sofia was a very nice person :)
Alicia
2015-07-29T00:00:00Z
We loved our stay in their apartment! Good size, clean, great view, and awesome location in a cute beach town! Miguel and Sofia were fast with communication and very accommodating. My only issue was that it was not specified in the listing that you have to pay separately to get wifi in your room which we did not know. Can easily fit 6 people but more comfortable for 4 or 5 i think! Other than that we had a great stay! Would recommend!
Casey
2017-03-21T00:00:00Z
we enjoyed our stay in Sofia's apartment. Booking was easy quick response to my queries. Easy Check in, home & car park keys were available at 24 hour reception. Apartment was clean, beautiful pool & sea view from balcony. Walk able distance to beach, restaurants & shops. Highlight was indoor heated swimming pool. only issue was both sliding door to balcony was bit noisy while opening and closing. Overall happy, thank you Sofia.
Reema
2017-02-21T00:00:00Z
This apartment was exactly what we needed - clean, close to the beach and near to lots of lovely restaurants. It's an apartment within a hotel meaning you can enjoy all the benefits of the hotel including entertainment, the swimming pool and the bar. Miguel and Sofia responded to any questions I had promptly and made sure I had an enjoyable stay.
Denis
2014-06-07T00:00:00Z
Communication with Sofia could not have been better, both in terms of speedy replies and very helpful information. The apartment is delightful, a wonderful view and a perfect location. Underground parking is a bonus. A very secure apartment as there is a 24 hour reception in the apartment block. We are hoping to return soon!
Leslie
2015-11-04T00:00:00Z
My friends and I had a great time staying at Miguel's apartment. It was clean with modern furniture and it had the most amazing view from the balcony. Supermarket and restaurants are at your doorstep. Miguel was very helpful and kind, prior to and during our stay at his apartment. He always responded very promptly to us. Great host! Also, hotel staff were very nice and on our last day we were let to leave our bags in luggage left room and we were provided with the towels and we were able to have a shower in the evening, just before our departure to the airport. I would definitely recommend this place to anyone looking for a lovely apartment with a great balcony and swimming pool to anyone who is looking for a peaceful holiday. Magaluf is only 25mins walk!:) Greetings to Miguel! Justyna
Justyna
2013-09-18T00:00:00Z
Room Type
Entire home/flat
---
Property Type
Apartment
---
Accommodates
6
---
Bedrooms
Calvià, Balearic Islands, Spain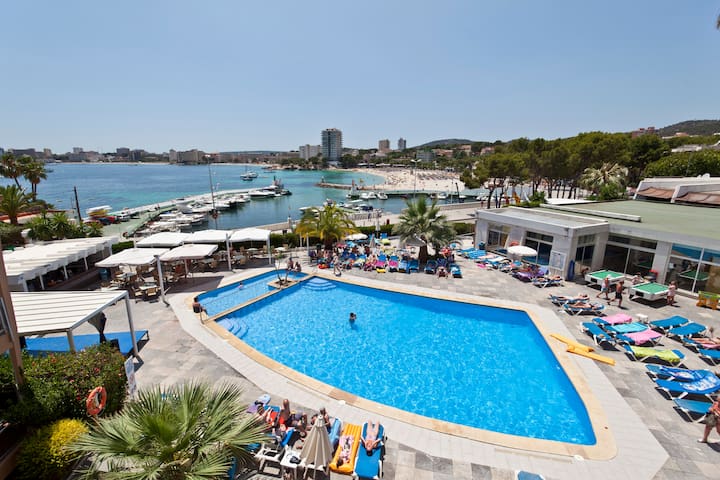 Venez vous ressourcer ds ce bel appartement douillet, posé sur la plage, vous laisser bercer par le bruit des vagues, profiter de la terrasse ensoleillée et sa cuisine équipée et tous les commerces de l'autre côté . A 20 mn de palma et au pied des montagnes, sa situation privilégiée ses marchés, ports et longues balades vont vous enchanter.
Très bel apartemt Joliment meublé av climatisation et chauffage où il ne manque rien, meme les draps et serviettes de bain sont fournis. Il est Composé d une cuisine équipée d'un réfrigérateur congélateur, bacs a glacons, d un véritable four, 1 micro ondes, d une plaque vitrocéramique 4 feux, d une machine à laver neuve, cafetière, bouilloire, presse agrumes et grille pain. Le salon est équipé de mobilier assorti: canapé convertible et 2 fauteuils, d une télévision à écran plat (francais anglais) d un buffet blanc et une grosse lampe de chevet. La chambre est pourvue d un grand lit de 160 av placard et commode 3 tiroirs tout en bois de rose av miroir, et sa salle de bain avec grande baignoire d angle, toilettes, lavabo, meuble sous vasque et meuble haut de rangement ainsi qu un sèche cheveux. Les rideaux a lames bicolores vous donnent la luminosité que vous choisirez puis la terrasse et sa vue a couper le souffle d'ou vous pourrez profiter d un bon apéritif local comme la sangria et d un bon repas autour d une table ronde. Sérénité et pleinitude...pour amoureux de la mer et surtout de MALLORCA!!!
De septembre à juin pour repos, tranquillité, balades, visites, marcher sur le sable fin des belles plages les pieds dans l eau ou en velo, des kilometres de promenade parmi la verdure sont disponibles , n hesitez pas a vous aventurer,à visiter, la ville est bordée d une grande forêt de pins, des criques, forêt visible depuis la terrasse, le casino y est caché. ... Du 20 juillet au 31 aout, tout à proximité pour faire aussi la fête toute la nuit si vous le souhaitez, seulement à cette période le quartier est plus bruyant le soir et la nuit .
The host canceled this reservation the day before arrival. This is an automated posting.
Richard
2016-07-09T00:00:00Z
Great apartment. Even better than described! Perfectly situated to enjoy the beach. The apartment was perfect for our small family (Mom, Dad and a 7 year old). We loved the easy access to the beach each day (just go down the elevator and there you were!) There is also a restaurant on the beach that has a pool you can use if you are a customer (buy a drink, use the pool!) We were there in the middle of July and had no problems with noise. A bit could be heard from the "party people" down on the beach and at the clubs, but nothing that kept us up. Just outside the apartment building is a small but stocked grocery store, and an office that books excursions (which we used, and was super helpful), lots of restaurants and shops within just a few minutes walk in the neighborhood or along the beach boardwalk. Nathalie was a great host, and communicated well, checking on us during the week. We'll be back!
Charlie
2016-07-21T00:00:00Z
Nathalie was very kind and made us feel very special going to her apartment for our 30th anniversary. She has the most beautiful place--and it is beautifully furnished --very clean and the location is perfect with a magnificent view of the ocean!! Having access to the pool and the lounges and to have a restaurant right there was so nice, but also the promenade to walk to restaurants was wonderful. It is a fantastic place and Nathalie is a most gracious host! Thank you again Nathalie for an unforgettable trip!
laura
2016-09-05T00:00:00Z
Highly recommended! The apartment is not that big but offered everything you need and was enough for our family ( mom, dad and 7 years old twin boys) good location, close to shops. The apartment looks exactly like on the pictures. You have directly access to the beach and pool. Very good communication with Nathalie
Agnieszka
2016-10-05T00:00:00Z
Nous avons passé un merveilleux séjour, la situation de l'appartement est parfaite avec une vue imprenable sur la mer et surtout bien équipé, nous reviendrons c'est certain !
Sou
2016-07-17T00:00:00Z
Super endroit, dans le centre de Magaluf, vue magnifique, appartement au top, Nathalie est très sympa elle sera vous guider et vous donner des conseils au besoin.. Je recommande vraiment ce lieu
Julien
2016-08-09T00:00:00Z
dentro de la casa todo bien .....el barrio un poco ruidoso, pero la casa con esas vistas y el aislamiento muy bien
Juan Andres
2016-08-14T00:00:00Z
Room Type
Entire home/flat
---
Property Type
Apartment
---
Accommodates
3
---
Bedrooms
torrenova, punta ballena, Mallorca, Spain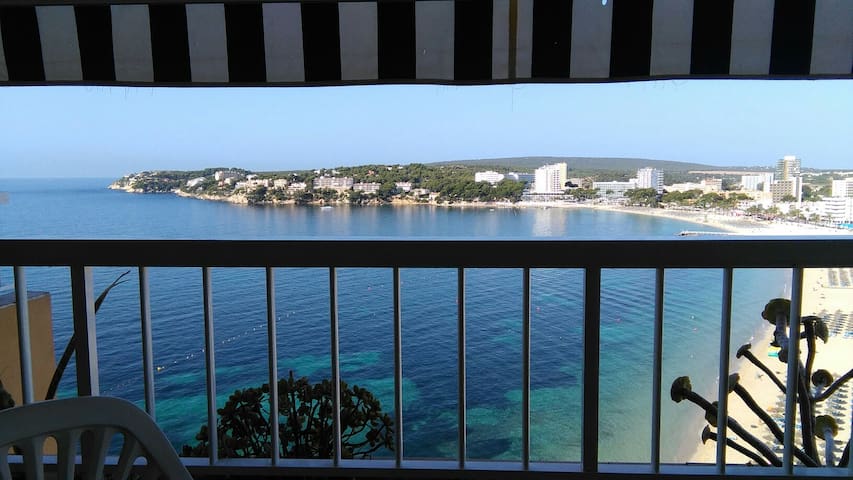 Apartment with fantastic location on the beach walk in Palmanova/Son Matias. Ideally for families. 2 bedrooms, bath, small kitchen, living room and a big terrace. Suitable for 5 persons but we can arrange with an extra bed for the living room, also baby cot if needed. Ceiling fans, washing machine, safe, wifi and parking. The Mediterranean sea is your closest neighbor.
Location is great with supermarkets, restaurants, parks, beach, taxi station, bus station everything around the corner.
Very quiet building so we have chosen only to rent out to families or adults ¨35 years and over.
Room Type
Entire home/flat
---
Property Type
Apartment
---
Accommodates
5
---
Bedrooms
Calvià, Illes Balears, Spain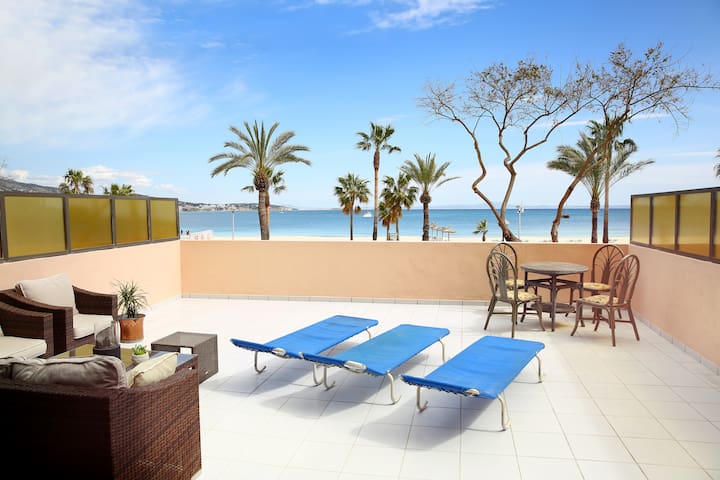 Lugares de interés: la playa a 100 metros,.
The host canceled this reservation 10 days before arrival. This is an automated posting.
Rosemary
2016-10-03T00:00:00Z
The checkin has been very flexible, according to our travelers needs. More over communication was perfect by (SENSITIVE CONTENTS HIDDEN).The apartment is well-maintained and very clean. Angel was friendly and kind, and we would like to visit again.
Radovan
2017-03-02T00:00:00Z
Wi-Fi was really bad. Everything else was perfect!
Ville
2017-02-15T00:00:00Z
Angel was there too meet us on arrival, very kindly showed us where everything was and made sure we had all that we needed. The apartment was exactly as described online and is in the perfect location so that you can get to numerous supermarkets and beaches on foot or use public transport if you wanted to go further away (e.g. Palma) The apartment has large sliding windows so you can sit on the sofa with a cup of tea in the warm sunshine in the morning and look out over the swimming pool, is big enough for 4. Has a lovely new bathroom as it has recently been refurbished and reasonable cooking facilities. I would highly recomend, thank you Angel for your hospitality!
Bethia
2017-01-09T00:00:00Z
Friends excellent choice. Location super, nearby all three beaches, the embankment for walks, three large supermarkets. Very pure Apartameta. All necessary for production of food. A big loggia with a beautiful look!!!!!! I advise. Angel many thanks. Also thanks for excellent delivery us at the airport. We will come back!!!!!!!!!!!!!
Svetlana
2016-09-23T00:00:00Z
Bel appartement d'environ 42m2, fraîchement rénové, au calme, situé au 4ème étage d'un immeuble qui en compte 5, à 300m de la plage et avec vue sur la mer. Il y a une petite télé et tout le nécessaire. En avril des places de parking sont disponibles au pied de l'immeuble. Bel accueil de Angel qui nous attendait près de l'immeuble alors que nous lui avions même pas encore téléphoné.
Claude
2017-04-07T00:00:00Z
Angel a ete vraiment sympathique et arrangeant.nous avons pu rentre dans l appartement bien plus tot que l heure indiquee. il nous a meme aide a porter les valises. L appartement est tres bien situe, dans une residence tres calme. equipement del appartement tres complet. je recommande vivement
Sylvain
2017-01-02T00:00:00Z
Sehr schöne, saubere Unterkunft. Ruhig gelegen, gut beschrieben.
romano
2017-03-15T00:00:00Z
Room Type
Entire home/flat
---
Property Type
Apartment
---
Accommodates
4
---
Bedrooms
Palmanova, Illes Balears, Spain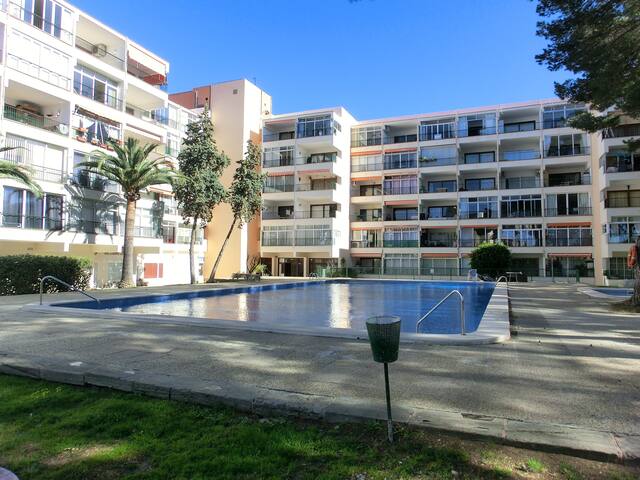 This apartment with 2 bedrooms, big living room, fully fitted kitchen and spacious terrace with stunning view. Fully equipped for living and has front line location with the direct access to the sandy beach. Situated in the most prestigious area in Majorca – Palma Nova. There are lots of restaurants, shops, bars and English pubs near by. The complex has its own parking. In the apartment are satellite TV and Wi-Fi.
Having an incredible views out to the open sea, this modern apartment in Palma Nova is an ideal place to spend marvelous holidays in Majorca under the Mediterranean sun. Spectacular apartment enjoys a perfect front line location with direct access to the beautiful bright blue sea with a sandy beaches. There is a beautiful park around the house where you can go for evening walks. For those who are having children with them, complex has a playground. All shops, restaurants , bars , English pubs and services are only a few steps away and Palma can be reached within a short drive. The bus stops can be reached in 2 minutes walk from the apartment and bus easily get you to Palma. This apartment is on the 9th floor, offers 2 bedrooms , one bathroom where you can find all you need : shampoos , towels , hair dryer, hair conditioners; there is a bright living room with dining area and open, fully fitted kitchen which also opens onto the sea view terrace. The sea view terrace invites to enjoy the amazing atmosphere while drinking your morning coffee and the free Internet connection is perfect to stay in touch with the loved ones at home. It also has an exercise bicycle, which you cane use to keep fit during your stay. Additional features include air conditioning , ironing board , iron , washing machine , fitted wardrobes , safe , satellite TV and a parking place.
Situated in the most prestigious and rich area of the ireland this modern apartment offers spectacular sea view.
Room Type
Entire home/flat
---
Property Type
Apartment
---
Accommodates
5
---
Bedrooms
Palmanova, Illes Balears, Spain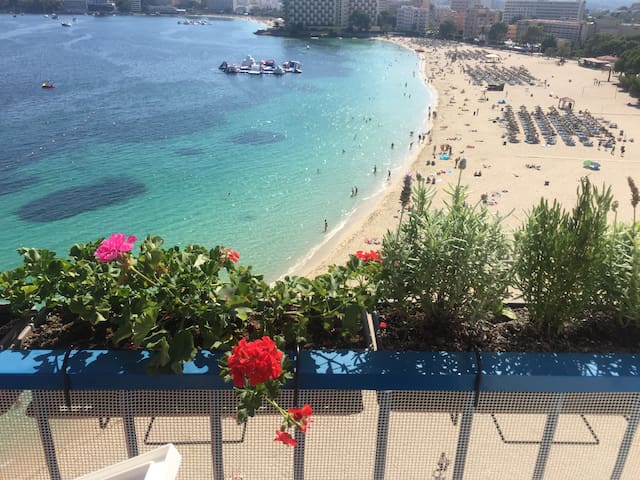 Nice apartment with 1 bedroom and a terrace. The building is located front line on Son Matias beach in Palmanova/ Magaluf you just cross the beach walk and you're on the beach! You can be maximum 4 persons, with 2 person sleeping on the sofa bed. Walking you can find all the services you need : pharmacy, restaurants , bar , supermarkets , taxi and buses , playgrounds and a lovely walk along the beach that connects to Magaluf nightlife area.
Notre hôte très sympa nous as tout de suite mis à l'aise, l'emplacement de l'appartement est extra juste la rue à traverser pour rejoindre la plage.
Mounes
2016-09-08T00:00:00Z
Room Type
Entire home/flat
---
Property Type
Apartment
---
Accommodates
4
---
Bedrooms
Palmanova, Illes Balears, Spain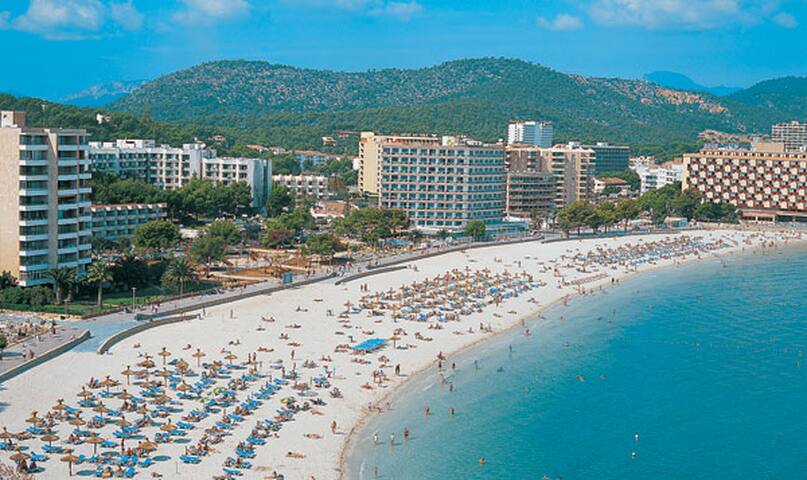 Punta Negra - Airbnb
:
Average

4.38

out of

5

stars from

131

guest reviews
1

–

18

of

300+ Flat Rentals
Enter dates to see full pricing. Additional fees apply. Taxes may be added.