Enter dates to see full pricing. Additional fees apply. Taxes may be added.
We have a lovely loft above the garage with private stairway, Internet, microwave and small refrigerator. The entrance is completely separate from the main house. Available for up to 7 days (maybe longer). All proceeds go to a child's college fund.
Our family and friends like the privacy. You'll never disturb us either coming or going. It's a very quiet neighborhood. All proceeds go to the college fund of two little munchkins. Check in after 1pm, check out 11am. Mainly, just the loft area. The backyard is private. We are open to social conversations if you wish, but will never impose on your privacy. We love stories of adventures and travel. We are world travelers also.
12 home Cul-de-sac with the best neighbors in the world. Quiet area and walking distance to La Costa Resort, nature trails, shopping, restaurants, and a great library. The Coaster train station is 3 miles away (we take it to the airport). The bus service (nearby) goes directly to the train station. Walking distance to car rentals. Within walking distance to the resorts, library, nature trails, shopping, restaurants, coffee house, movie theater, and post office. Private parking for one car in our driveway (left side) If you like gardening, we'd love to show you the fruit trees and plants we grow. We are as interactive as you wish us to be and wish to respect your privacy also.
Bill is a splendid bloke with fantastic hospitality - from offers to use surfboards to hot totties to fresh home baked brownies (which were amazing!). The loft is a beautiful, clean living space in a nice neighborhood with easy access to shops and major roads whilst still in a quieter part of Southern Cali. We would certainly return.
Liam
November 2014
Bill was an amazing host. Such a sweet man. My girlfriend and I had the best time staying at his place and we were sad to leave. The place was immaculate and had everything you could ever want in an Airbnb rental. I highly recommend his place to anyone. He tended to our needs and then some. We might have to make an excuse for a trip in the area again just so we can stay at his lovely pad.
Alan
July 2014
Bill was an excellent host and his loft was just what I needed. The neighborhood was peaceful and a short drive from the local attractions.
Cheng Ting
March 2015
I had a fantastic stay at Casa Huss. The room was clean, well equipped and the hosts very accommodating in my requirements. Can't really ask for anything else. I will definitely stay there again when in Carlsbad.
Louise
March 2016
Bill and Karen were wonderful hosts. They showed me around the space, which was clean and perfect for my stay. The bed was comfortable, shower worked great, and entry was well-lit and safe. This is within walking distance to the Omni Resort, for those attending conferences there; also within about a 20 minute walk to great coffee- La Costa Coffee.
Nancy
December 2015
Bill was a great host with a great space! The loft had everything we needed (except maybe a chest of drawers/shelf for clothes), and it was private enough for us yet close enough to the house in case we needed anything. It was cozy yet very functional. The location is great too - close to everything we wanted to do. Love that there were extra toiletries and even coupons to neighborhood eateries! Thanks Bill! We'd definitely stay again if we get the chance.
Denise
June 2016
This place was perfect. As described and in the pictures. Bill was great, easy to communicate with and just an all around good guy. Perrier and beer in the mini fridge for me. I would recommend for anyone looking for a loft in North County San Diego.
Nathan
July 2015
Bill was a wonderful host for my 4 days in Carlsbad. The loft studio had all I needed and more. Quiet neighborhood and I felt like I had my own place there. I would definitely return.
Kevin
December 2014
Room type
Entire home/flat
---
Property Type
Loft
---
Accommodates
2
---
Bedrooms
1
Carlsbad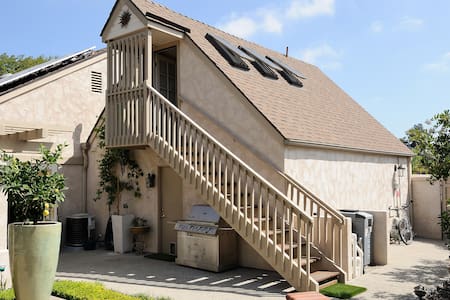 This beautiful 2 bedroom living space is set upon a private residence *Located just a mile east of the 5 freeway and a 5 minute drive to the beach. *Upper-level loft floor plan with light cooking area and standard size fridge *2 Bedrooms with queen size beds *Large comfy sofa sleeper in living area *Private balcony with serene canyon views
Interaction depends on personal needs. From 10 to 80 percent interaction.
Suburban yet close to all city needs (markets, restaurants, beach, highway) Walk to Sprinter Station and easy close access to main Oceanside Metro Link & Amtrak Station Very peaceful setting with plenty of guidance to direct you to all sites and attractions.
We had a great time, thank you. Your home was very comfortable and tidy. We felt very much at home and slept very well. The porch was also a nice touch as well. The cookies were amazing! We ate them all!
Lynh
September 2016
This home was the perfect setup for us. We had two couples and needed to easily get to/from downtown Oceanside. The location was close enough to take a cheap taxi/uber ride. The hosts were great. We were able to have privacy and anything we needed they were very receptive and willing to help. The amenities were also perfect, including a surprising dish of cookies waiting for us. The house was clean and obviously well taken care with airbnb guests' needs taken into consideration. We would absolutely stay here again. However, if you plan on cooking meals there isn't a full kitchen so you need to keep that in mind.
Hansen
September 2015
Great place and great location. We took the kids to Legoland and this was a great, relaxing place for us and the kids to come home to. Bryn was super accommodating and responsive to our needs. Thanks for another wonderful airbnb experience.
Keith & Karen
June 2015
The quiet Oceanside neighborhood the home was in made our entire family feel really safe. There was a large Park very close to the house that our 4-yr old grandson absolutely loved. He rode his scooter in the Church's parking lot directly across the street. There is a nice store called Frazier's Farm that had lots of healthy food choices & Starbuck's was also close-by. Lots of other stores like Target are not far, either. While there was a heat-advisory in Las Vegas, where we live, it was not much over 70 degrees during the day in Oceanside. We could leave the windows open at night & we were very comfortable. If it had been hotter, there was a room air conditioner and if it had been cold there was plenty of extra bedding. If it had been in the winter, there is an electric fireplace in the living room with a flat-screen TV with Direct TV. One of the two bedrooms had a Smart TV w/ Netflix & Amazon TV. The hosts had some wonderful cookies for us to enjoy when we arrived, which was very welcoming! They even welcomed our small shih-tzu, even though later, I found out our daughter, who made the reservation, forgot to declare her. In closing, I would highly recommend this home to everyone visiting Oceanside!
Mary
June 2016
Great experience! Our hosts were more than gracious with snacks and board games for the kids. We will certainly be back!!!
Charles
August 2015
Bryn was there to welcome us and even stayed up until 11:00 pm to recieve us. He was very welcoming. The house is very close to everything and parking is a cinch. I recommend this house, as it is a good value for the price.
Mercedes
December 2015
We had a wonderful time and the unit was very comfortable. I love the fact there was air conditioning. The hosts were great and available any time. Parking was right in front of the house.
Nadia
June 2016
Bryn was great. Nice space and location. We enjoyed the balcony!
Nick
June 2016
Room type
Entire home/flat
---
Property Type
Loft
---
Accommodates
6
---
Bedrooms
2
Oceanside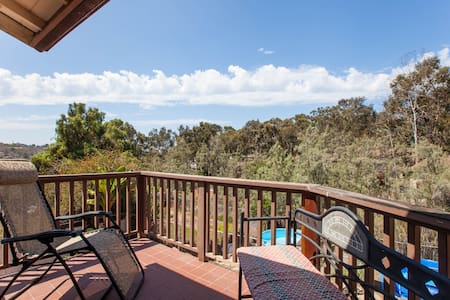 Our modern industrial loft is perfect for your next San Diego getaway! You are a few blocks from the beach, incredible restaurants, the train station, fun bars, and so much more. And if you are coming for Ironman, you are walking distance from the start and finish. If you like to cook, our kitchen is a chef's dream and perfect for a fun night of dinner and drinks. We also offer a bbq, a beach cruiser and corn-hole for outside activities.
Our 1942 quonset hut home is an artist and culinary's dream! We kept the original structure and turned it into a modern, spacious, cozy home! Our cantina style doors allow you to open up the home into an indoor/outdoor space, creating a 25ft opening to the beautiful ocean breeze. Since our home was a manufacturing facility, our courtyard remains open and has a spacious concrete area to bbq, play yard games and lounge in the sun. New front gate with key code access for easy entry and exit to the property. Our home is your home! We are available by phone, text and email if there are any questions or problems! We provide recommendations for everything you might need upon arrival, whether its a place to get dinner to a local yoga studio.
Only three blocks from the ocean and Oceanside strand, our home is a beach lovers dream. Enjoy a quick dip in the Pacific ocean or take a leisurely walk along the strand to start your morning off right. We are also surrounded by amazing restaurants, places to grab a drink, and coffee shops. And if you are in the need of exercise during your stay, we provide running loops straight from the front door, yoga studio schedules, a rock climbing gym around the corner from our house, and the Pacific ocean for surfing, paddle boarding, swimming, etc! Our home is a quick drive down the coast (35 miles) to downtown San Diego and a twenty minute drive to Orange County. The train is also two blocks from our home in the case you want to skip traffic and ride the coaster to the fair, downtown, a baseball game, etc! We also provide a beach cruiser for a quick run to the store! New front gate
The hosts were fabulous - flexible in our arrival and very helpful in orienting us to their home. The home was terrific! The description and photos don't do it justice - the outdoor space and free flow from the inside to outside made us want to move in and stay! A beautifully converted quanset hut with amazing details and loving attention. Kitchen is well equipped, home remarkably clean, met all of our needs. Easy walk to beach, quirky local that was fun to explore, great nearby restaurants and brew pubs, and relaxing beach adventure.
Leslee
August 2016
The cleaning fee of $175 for a weekend was completely shocking. If I had realized that charge I would not have booked this space. In addition, the host claimed damage (small burn on bathroom rug) and dirt on carpet and is now asking for an additional $250. $425 to clean a small space with concrete floors seems ridiculous and I am really disappointed that the trip ended this way. The space itself is nice, not cozy, actually very cold at night. Although close to the ocean it is situated in a more industrial part of Oceanside and the beach is extremely rocky forcing us to drive south to find a place to swim safely. The overall experience would have been fine if there wasn't a huge cleaning fee involved plus the action from the host to collect more money. Sorely disappointed and would definitely not stay again
Kerry
October 2016
We absolutely loves this place!!! Annie communicated clearly with us and was very accommodating, welcoming, and clear. The actual loft is exquisitely designed to include top notch amenities with just enough industrial to keep its charm. The indoor / outdoor living arrangement is superb and the space is inviting and welcoming for entertaining and hanging out. The loft is very clean, spacious, and tastefully and artistically decorated with both local and global art. It has WiFi, cabe TV, and bluetooth audio for rocking your jams. If you are not up for cooking; food, coffee, and fermented beverages are in ample supply of of high quality all within walking distance. The location is centrally located and we felt safe and secure and private the whole time. This place rocks!!!
Cliff
July 2016
Annie and her boyfriend were very communicative, flexible, and accommodating. They greeted me upon arrival and were very thorough about the check in/check out process. Their home is clean, has modern amenities, and lots of natural light. It's also centrally located and walking distance to restaurants, coffee shops, breweries, and to the beach.
Kristine
September 2016
Room type
Entire home/flat
---
Property Type
Loft
---
Accommodates
5
---
Bedrooms
1
Oceanside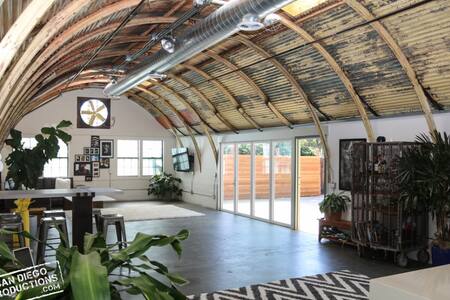 Enjoy our brand new corner 3 story beach loft 1.5 blocks from beach and walking distance to Carlsbad Village shops and restaurants. Hip and modern, the first floor features 2 bedrooms with 2 queen beds, the 2nd floor has the living room, kitchen, and dining room with large cozy sectional and pull out couch. The 2nd floor also features the the Master bedroom and large scissoring doors opening up to balcony with ocean view. The balcony has bbq for grilling. The 3rd floor features a loft with full bath, full size very comfortable futon, and an ocean view.
Brand new, 1.5 blocks to beach, hear the ocean and walk to the famous Carlsbad Village restaurants, bars, and shopping. Entire home except master closet and garage None
The neighborhood is great with a mixture of beach residences. I love being able to walk everywhere and enjoy the large beautiful beaches. Legoland is a few miles away and you can also walk to train station and head to San Diego or up to orange county. Disneyland is about 70 miles north. The Carlsbad train station is 4 blocks away and both uber and lyft are prévalant. My home is not child proofed, so while kids are welcome, there are not any cabinet locks preventing access to cleaning materials and other potentially dangerous chemicals a child could ingest.
Room type
Entire home/flat
---
Property Type
Loft
---
Accommodates
8
---
Bedrooms
3
Carlsbad
Light, spacious studio loft with kitchen in funky Leucadia. Comfy California King bed, Sofa converts to double bed, Big Flat Screen TV with cable and Netflix access, Record Player, Equipped Kitchen with bar dining. Blocks to Beach / Surf.
Light and Spacious Studio loft with Tree Top views in Funky Leucadia. Space includes big comfy California King Bed, Sofa that easily turns into a Double Bed, Flat Screen TV, Record Player and internet access, Equipped Kitchen with Coffee and a Bathroom with spacious shower. Child Friendly with amenities for babies or kids available. Guests have a private entrance with small yard and Balinese daybed ( we are in process of updating landscaping to be water wise ). TV with cable, wi-fi, Small Deck for outdoor dining, kitchen with basic amenities, Spring Water and Coffee including a Keurig and French Press. Beach cruisers are also available for guest use. Studio is an above garage loft that is private from main house. Guests can have complete privacy or are welcome to hang out on property.
Charming and funky Leucadia neighborhood with surrounding greenhouses. Nice walking neighborhood that is 6 blocks from the beach, fun restaurants and coffee shops. Easy walk to Leucadia businesses, beach cruisers available for easy bike ride to downtown Encinitas, Access to Freeway and close to Encinitas Train Station. We are an active and sometimes "spirited" family. My husband is energetic and sometimes speaks as if he is addressing a stadium. We have an energetic, curious 4 yr old boy and a 2yr old daughter, so if hearing kids once in a while is not your thing, this may not be the space for you. We will respect your space and privacy, but when it's hot and windows are open , you may hear us or the children, and hopefully it's laughter. My husband has a catering business, so he may be loading or unloading his equipment, which you may see and/or hear occasionally, but that is mostly during the day or early eve. This neighborhood is a great neighborhood, but as one of the older neighborhoods in the area in close proximity to the beach, there is a lot of construction going on. Our neighbors are currently rebuilding their home and soon a few properties away will be developing a new development of 4 properties. There will be some sort of construction happening for the next year until 2017. It may be loud at times.
There was a bottle of wine and snacks waiting. Every time they greet us, very friendly.
darren
March 2016
This was without a doubt the best airbnb experience we've had. Courtney and her family couldn't have been more welcoming- they had everything we needed and made traveling with our 11 month old so smooth! The loft and neighborhood are beautiful! We will be back. If you're traveling with kids- this is your spot!
Molly
May 2015
We loved staying at the Treetop house. It was comfortable and had everything we needed. It was raining a lot one night, and we didn't even care that we couldn't go out because it was fun staying in this cozy place. The Keurig coffee was a nice touch, and so was the welcoming wine and chocolate.
Leila
January 2015
This studio space was beautiful! We didn't want to leave, even to go to the beach closeby. Care and attention were taken in every part of the home: from the wine, crackers, & chocolate to welcome us, to the diverse record collection and TV DVR recordings, to the half-and-half in the fridge to accompany Keurig coffee, to the shampoo and conditioner alongside the large bath/shower. We felt very well taken care of and hope to go back to Courtney's space soon!
Ann
January 2015
Awesome experience! Courtney and Tyler were very welcoming and chill. The loft is as cool in real life as the pictures : ) We would definitely recommend staying!
Michael
November 2014
The Treehouse was our first Airbnb experience, and it set the bar very high! Everything was delightful... the cool putt putt green near the entrance, the snacks & wine upon arrival, coffee & kitchen essentials, cozy bed and amazing ocean air blowing through the many windows. We will definitely plan to stay here again... or another one of Courtney's properties, as she's a wonderful host!
Sabrina
July 2016
My boyfriend and I stayed in this loft for Valentine's Day weekend, and we loved the space. The loft is just as pictured and comes stocked with everything you could possibly need/want. We briefly met Courtney and her husband and they were very friendly hosts.
Danielle
February 2016
The Encinitas / Leucadia tree-loft was everything I wanted it to be: spacious, creative and fun. If you want to know what is like, the pictures on the site are representative. The location was an easy walk down to the restaurants (Fish101!), coffee shops (Revolution Roasters) and beaches (Beacon) and the immediate neighborhood is super cool. Lastly, the hosts were generous and responded quickly to any questions I had. I had a great time and have already recommended the location to colleagues.
Matt
December 2015
Room type
Entire home/flat
---
Property Type
Loft
---
Accommodates
4
---
Bedrooms
0
Encinitas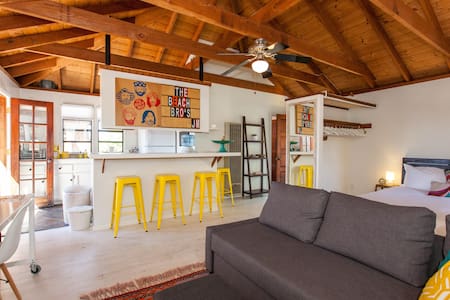 Cozy studio with private entrance on a quiet street one half mile from the beach, within walking distance of downtown, restaurants,parks and public tennis courts. We have loaner sur(SENSITIVE CONTENTS HIDDEN)oards, tennis rackets and some other odds and ends upon request.
This is a one of a kind space with sleeping in the loft away from the couch and TV. We are close enough to the beach without beach parking problems or the marine layer, but close to the freeway and the new mall. We have a microwave oven, coffee maker and a refrigerator, but sorry, no kitchen. We can loan long boards and a boogie board, tennis racquets, beach chairs, etc. Just ask us, probably we have it and can lend it to you. This space is located below our private home so you will see us every day as you come and go. We have been living in SC for decades and can provide you with suggestions of entertainment, dining, and sporting activities in the area. We are a surfing and hiking family, so we know the area.
Our neighborhood is quiet with little traffic. We are close to everything in San Clemente. See the YouTube video "San Clemente Sky" to see our town by sky. There is a bus stop down the street that will get you around all of Orange County, and within a half mile the San Clemente train station will provide easy access to San Diego and Los Angeles.
We had the most perfect weekend at the loft. It was cozy, welcoming and very private. Estella was there if we needed her but also allowed us to enjoy a quiet time as a couple which is exactly what we were looking for. The loft is full of special touches like drinks in the fridge, snacks and even mini toiletries. This was my first experience using airbnb.com and it could not have been better. Thank you Estella for opening your home to us and allowing us to experience the beauty and fun of San Clemente.
Stephanie
January 2016
Estela was so welcoming when we first got to the loft and during our whole stay. Although we didn't see her often, she stayed in constant communication throughout our trip. The loft had everything you need and the space was so quaint and homey. I would highly recommend this space for any couple traveling to the San Diego area.
Victoria
March 2016
We absolutely loved our stay at the loft. Estela and Greg were so friendly we felt right at home! Couldn't of asked for a better place to stay! We will be coming back for sure.
Alyssa
March 2016
Estala's loft was a perfect place to stay for my time in San Clemente. Its clean, cozy, quiet, and in a great location. Everything was provided to me, from toiletries to even Netflix! I would stay here again in a heartbeat.
Bobby
January 2016
Estela is extremely welcoming and accommodating. She was there to greet us when we arrived and beforehand and given me some suggestions of places to hike and visit while we were in town. Estela went above and beyond while hosting us. She lent us her boogy board and had snacks and drinks in the loft. She also left extra toiletries such as mouthwash, toothbrushes, etc. in case we had forgotten. My husband, myself, and our preschooler stayed at the loft very comfortably. The beach and downtown is just a little over a mile away. The neighborhood is nice and quiet with easy parking. We definitely want to return and stay at Estela's Loft again.
Lindsey
April 2016
We loved the loft! The bed was really comfortable and it was a great spot on our honeymoon road trip
jerry
June 2016
Estela was incredibly generous providing snacks and allowing us to borrow beach their equipment. She was easy to get ahold of and quick to respond. The loft was adorable and well stocked with anything you think you might need. A fabulous place to stay.
Megan
July 2016
We had an awesome first experience with Airbnb at Estela's loft! We looked for sthg just big enough to sleep at yet comfortable to hang out at on rainy days. We found just that! The small details at the loft were perfect for us...almost every morning we enjoyed a cup of coffee and a hot bowl of oatmeal. We were able to store some food in the small fridge and even keep ice cream in the freezer. We had a wonderful time! San Clemente is a I pretty, quaint city with a wonderful shopping street and a nice pier. We want to return some day!
Maria
March 2016
Room type
Entire home/flat
---
Property Type
Loft
---
Accommodates
3
---
Bedrooms
1
San Clemente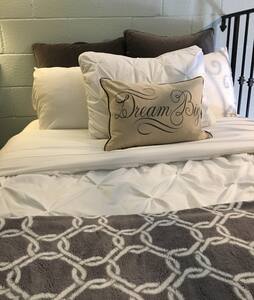 Less than a mile from the train station, 1.3 miles to the beach, 5 minute drive to Carlsbad outlets and 10 minute drive to Carlsbad village. Close to Ralph's grocery store and fine restaurants/ beach bars.. You'll love my place because of It's modern and elegant furnishing and ambiance. The open loft style is great for sophisticated adults looking for luxury while away from home as well as for couples, solo adventurers, and business travelers.
Entire house
Each loft in the neighborhood has a home-based business on the first floor. Walking around the neighborhood, you can find two hair salons, eye lash extension service, music teachers, jewelry store, cupcake store, and much more! Walking distance to train Uber 10 minute drive to private airport in Carlsbad or 45 minutes to downtown San Diego airport
Room type
Entire home/flat
---
Property Type
Loft
---
Accommodates
6
---
Bedrooms
2
Carlsbad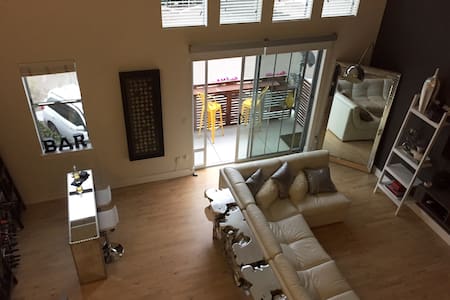 Oceanview Penthouse across from State Beach. Unobstructed view of State Park and Ocean. Entire penthouse recently updated with three bedroom, three baths. Master bedroom has premium Cal King with ocean view windows, flat screen, master bath with dual sinks and dual shower heads. Private master patio. Additional bedrooms have a bunk bed and queen bed. Renovated kitchen with new appliances, separate laundry room and WIFI. Short walk to beach. Beach gear available for use.
Amazing opportunity to stay in Ocean View penthouse that was recently renovated with a modern loft feel. Three bedroom, three bath in 2100 square feet. Short across street to State Park and beach. Close to Trestles, State, Rivi and multiple surf breaks. Surf board and bike rentals available. Private chef available upon request. We will be in town and available should anything come up.
Located in South San Clemente across from State Beach. Two parking spaces available in front of garage.
Great San Clemente spot, close to the beach and beautiful downtown area. Our hosts greeted us when we arrived and kindly showed us around the entire place. Lots of toys for our kiddos to play with and great kitchen for cooking with the family. Lots of windows and natural light! The master bedroom was completely remodeled and beautiful! The master shower was pretty amazing, and spa-like. Modern feel in the home and open concept layout, which was excellent. Only drawback was the freeway noise, which is a little louder in the master bedroom.
Holly
December 2016
Room type
Entire home/flat
---
Property Type
Loft
---
Accommodates
6
---
Bedrooms
3
San Clemente