A beautiful, spacious flat in a 500 year old former farmhouse - something very special. Enjoy low-key luxury with perfect internet access, sauna, hot tub, and a fire pit in the 2000 sq. m (half-acre) garden for a relaxing barbecue.
Relax in our newly renovated 150 sq. m (1600 sq. ft) flat where the charm of 200 year old beams and exposed brickwork is combined with modern bathrooms, a new kitchen, lots of space and blazing 50MBit internet access. The flat has 3.5 bedrooms for 6-7 people, each with a large closet. A new Nolte kitchen features an induction stove, dishwasher and Senseo coffee machine. If it's cold outside, warm up with a cozy fire in the wood stove. The half-acre (2000 sq. m) garden, with its lovely old fruit trees, Sauna and fire pit invites you to kick back and unwind, barbecue, enjoy life. In case you cannot play all the time, the super-fast wifi is even available in the garden. Sitting by the fire with your laptop is a completely new definition of "work". Best suited for: - family with kids - management retreat etc. The location is perfect for excursions e.g.: - Take the kids to the Skyline Amusement park (2 min) or Legoland (40 min) - Pamper yourself at the thermal baths of Bad Wörishofen where Sebastian Kneipp perfected his hydrotherapy method (5 mins) - Visit Munich for shopping and sightseeing (45 min) - Hike in the Allgäu (Breitachklamm) - Tour the Bavarian castles of Neuschwanstein / Hohenschwangau (1 h) or Linderhof (1:15h) - See the oldest stained glass windows (Augsburg - 40 mins) or climb the highest church tower (Ulm - 60 mins) … and much more or simply relax in the typical bavarian beer garden just across the street, no car required … Rammingen is a village with a number of working farms. The upside is that you get to see real German farming and the downside is … you get to see real German farming. This means there may be some noise as farm equipment (tractors and such) go by on the street, and your nose will on occasion let you know that horses do indeed live nearby.
Die Lage ist ideal für Ausflüge z.B. - mit den Kindern in den Skyline Park (2 Min.) - nach München zum Bummeln (45 Min.) - Zum Wandern ins Allgäu (Breitachklamm etc.) - Nach Füssen ins Schloss Neuschwanstein (1 Std.) oder einfach nur in den gemütlichen, bayrischen Biergarten schräg gegenüber. Da bleibt das Auto dann besser stehen....
Me and my family had a great vacation in Bavaria. An important part in this was Lars' flat that really did match the given description - luxurious in every way. Also our hosts were very nice and helpful, and we certainly would have missed some of the best attractions without their good advice, like the breathtaking Breitachklamm. The house in Rammingen was nicely located so that within 150 km there are multitude of fantastic places to visit, and with the German motorways it is fast and easy (if the rather extreme driving speeds do not scare you). It is hard to find anything to complain except the rainy weather that kept us from testing the fireplace in the garden!
Pertti
2014-07-12T00:00:00Z
What a great place! The apartment is clean, airy and bright. It's newly redone so all is in tip-top condition. The big bathroom is downright decadent with the large tub and walk in shower. Made a fire in the wood stove - easy to use! - nice and toasty on a chilly evening. Lars and family are terrific hosts. Ask Lars' dad for restaurant and food shopping tips. The village is quiet and pretty, but there's not much to do there. There's a meat/cheese shop and a bakery within walking distance (both very good), a beer garden across the street, and a few restaurants and an amusement park within walking distance (didn't try them though). There are many working farms with cows and even alpacas. A downside of that is that sometimes the breeze brings a strong smell of manure. So if you want to sightsee, you'll want to get out and about. It would definitely be good to have a car, but if you like trains, the Rammingen (Bay) station is a five minute walk away. I do like trains, and I visited Augsberg, Ulm and Munich by train. For a family, the Bayern ticket is a good value - up to 5 people can travel anywhere in Bavaria for a day (starts after 9am on weekdays). Don't miss the Thermal Bath at Bad Wörishofen! It is one town over or about 5 minutes by car. Wow! I went for a day, then had to go back for another. If you are comfortable being nude, buy the sauna ticket - 15 different saunas, indoor and outdoor pools, steam room, waterfall ... I could go on and on :) All in all a great place, and a great time. Would love to go back!
Kristin
2014-04-23T00:00:00Z
The property was awesome; it's spacious, fully equipped, with every thing you could imagine. The rooms are very spacious and are beautifully decorated. There was accommodation of drinks and fruits. Most importantly, the property was clean and kept tidy. Its exactly what see in the picture and much more. The location is beautiful, quiet, and great for relaxation. Also, we have met Lars parents, and they are such a wonderful and super nice couple; they provided us with all information we needed and assistant. We highly recommended it. Its a clean and great place to stay in. Its amazing
Hamed
2015-08-12T00:00:00Z
Amazing appartment, very large, sun light shining in most of the day, great garden with barbecue place, a sauna, all that in the middle of the wonderful and quiet Alb-Donau. Closed to many sightseeing areas, supermarkt 10 mins away, what else could I wish? Lars and his family were also amazing, always looking forward to improve my stay or provide assistance whenever needed. My dog also very much enjoyed this place, he keeps sleeping since we got back home, ran too much in the surrounding area :) Thanks Lars, you will see me again :)
Pierre
2014-04-08T00:00:00Z
Probably one of the best airbnbs I've stayed in and I've stayed in 20 or so. It's obviously a bit far from Munich (less than an hour drive) and we used it as a base to see Ravensburg, Lamdsberg, Ulm, Andech Monastery and Munich. The quality of the apartment was outstanding and had everything we needed plus some. We are doing a road trip around Europe in our electric tesla and the owners were nice enough to let us charge freely. All in all, I give it my highest recommendation.
Patrick
2015-06-25T00:00:00Z
Lovely apartment that met our expectations. On arrival we were made very welcome by Lars father who showed us everything. The apartment was very clean and comfortable and fully appointed. The village is rural and quiet which suited us well. We hired a car and had good access to all of Southern Bavaria and the beautiful small towns and castles. Wonderful stay.
Niamh
2016-01-07T00:00:00Z
The house is spacious and nicely renovated with all the necessities. Lots of towels and blankets for guests ;-). It was cold during our visit but the house is has heating facilities so we felt so warm and nice in the beautiful house. The owner is a very kind and gentleman who has provided us lots of local info .. highly recommended place
CH
2016-11-14T00:00:00Z
Lars is a great Host..great adviser..his family are very helpful too..Lars luxury apartment is very comfortable..cosy and fully equipped..I would very strongly recommend to family and friends.
Neela
2016-12-18T00:00:00Z
Room Type
Entire home/flat
---
Property Type
Apartment
---
Accommodates
7
---
Bedrooms
Rammingen, Bavaria, Germany
The apartment is located in a secluded location amid the natural diversity of the Allgäu. The comfortably cut, fully furnished apartment is suitable for 2 people and provides, inter alia, a double bedroom, dining area, living room, kitchenette, washing machine and more shopping venues are in place. Ideal for assembly workers
Room Type
Entire home/flat
---
Property Type
Apartment
---
Accommodates
2
---
Bedrooms
Tussenhausen, Bayern, Germany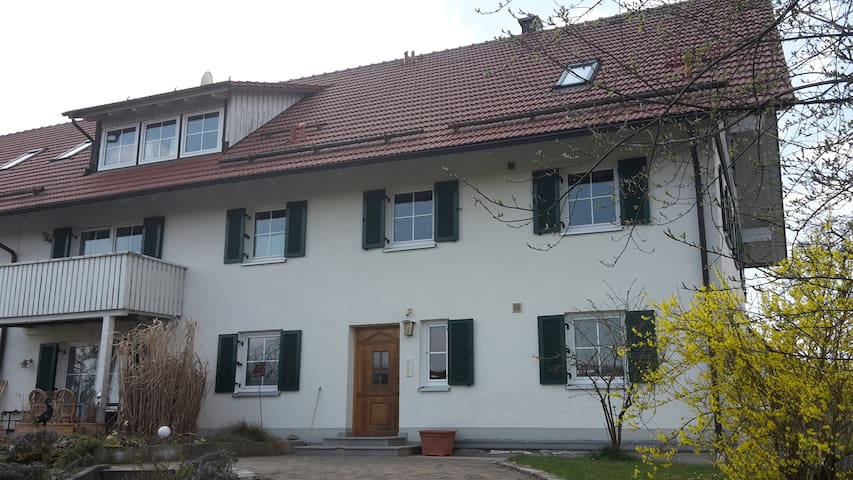 Old farmhouse with modern but rustic cozy apartment in the attic. Large lounge, sleeps for 5 persons (if required also 7 people), well equipped kitchen, bathroom with shower - tub, sink and toilet. Parking. Due to the small hallway leads into the large living room. Here, the furniture can transform to a double bed.
Superb! A nice place to unwind in a calm location which is about an hour from Munich. It's a nice place for families and the house has everything you need including a full fledged kitchen.
Shylendra
2016-12-27T00:00:00Z
We used this as a 1 night stopover on a long drive and it did the job, spacious loft with baby cot, close enough to the motorway. It would have been helpful to know the apartment is in Mattsies when arriving. The place was very cold when we arrived but we called Ilhan and he came straight away with fire wood.
Romana
2016-12-22T00:00:00Z
Thanks a lot for everything?
Kieran
2016-09-11T00:00:00Z
Ilhan was great and the apartment was very nicely set. It was a nice stay.
Ana
2017-01-02T00:00:00Z
Верхний этаж деревенского дома. На улице аутентично пахнет навозом (рядом коровник). Много места. Много кроватей. Все есть. Разноколиберные вилки-стаканы-ложки легко компенсируются наличием настоящей печки-буржуйки с запасом дров. Для большой компании или большой семьи - идеальное место отдохнуть по пути в/из Мюнхена.
Andrey
2016-12-24T00:00:00Z
Останавливались на одну ночь, главная проблема - очень холодно, оставшийся от предыдущих жильцов мусор и полотенца на этом фоне мелочи. В доме печка которую можно растопить но мы не смогли этого сделать, не было спичек.
Михаил
2017-01-04T00:00:00Z
.
Lola
2017-03-03T00:00:00Z
Room Type
Entire home/flat
---
Property Type
Apartment
---
Accommodates
5
---
Bedrooms
Tussenhausen, BY, Germany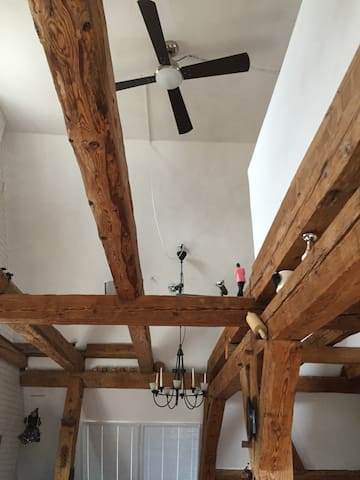 Quiet apartment in rural Unterallgäu, Non smoking apartment on the ground floor (about 90 m² + terrace), nice dining room, vollausgest. Kitchen, large bathroom with bath, shower, washing machine separate entrance, parking in front of the house, WLAN
It was great to stay at Anka's place and we would love to stay again.We received a warm welcome and our hosts were on hand if we needed them. It is a big apartment with spacious rooms. It is great to have a washing machine when travelling with a family. The outdoor patio is a lovely feature. The neighbourhood is quiet and safe. We found the kitchen to be well resourced with all the things you need from kitchen roll to tin foil.
Stefan
2016-07-25T00:00:00Z
We enjoyed immencely our stay at cozy and comfortable house of Anka. The place is spacious and have everything you may need during your trip. Washing mashine and dishwasher were really appreciated. Nice Haloween decorations made us feel very welcome. Very comfortable beds in both bedrooms. Descreet hosts who are ready to help in any case. The location is peaceful and tranquille, fields and small river nearby, horses in stable that we went greeting every morning, nice little village. During our week stay we visited Munich, Legoland, Alpes, Kings castles and Reinfall - the house is conveniently located inbetween, but of coarse you do need a car and with helpful GPS as in our case. Many thanks to Anka and her husband and wishing them good customers!
Natalia
2016-11-04T00:00:00Z
Delightful open hosts. The appartment was spotlessly clean and had everything we needed. We enjoyed the wine and conversation. Many thanks for making our stay so enjoyable.
Derick
2016-08-30T00:00:00Z
The house was very comfortable and very clean and cozy. Also the terras was a great spot to relax morning till evening. The garden was very well tended with all kinds of plants and flowers. We liked the silece. Our dogs were welcomed too and all neighbors we encountered were very nice. The beds were fine. We prefer firmer pillows and Anka brought them over right away. The extra's like bathoil and detergent for laundry makes you feel at home. Also the flowers and drinks that were waiting for us were very attentive. The surroundings are very beautifull. It's a central location near the Romantische Strasse. We would love to visit another time!
Edith
2016-05-09T00:00:00Z
Lovely place to stay. Clean and had all the things you would want. The outside space was lovely and we used it every day. Looks just like the photos. We enjoyed our stay. Anke is a lovely host and is very accommodating. Little town with a restaurant backers and supermarket nearby.
Alison
2016-08-26T00:00:00Z
they were a very nice and polite couple.
Agni
2016-08-28T00:00:00Z
Amazing and cozy place to stay if you are around the area. We stayed here because we were going to Legoland in Gunzburg which is only 50 mins drive in local street. Really nice house, big open space for family or group. Definitely will stay here again when I am in the area. Thanks again The Baur family!
Marco
2016-05-29T00:00:00Z
Lovely place to stay And very friendly and helpful host The place is very comfortable and clean In a quiet location ideal for a retreat or a weekend break.
svetlana
2016-08-17T00:00:00Z
Room Type
Entire home/flat
---
Property Type
Apartment
---
Accommodates
5
---
Bedrooms
Tussenhausen, Bayern, Germany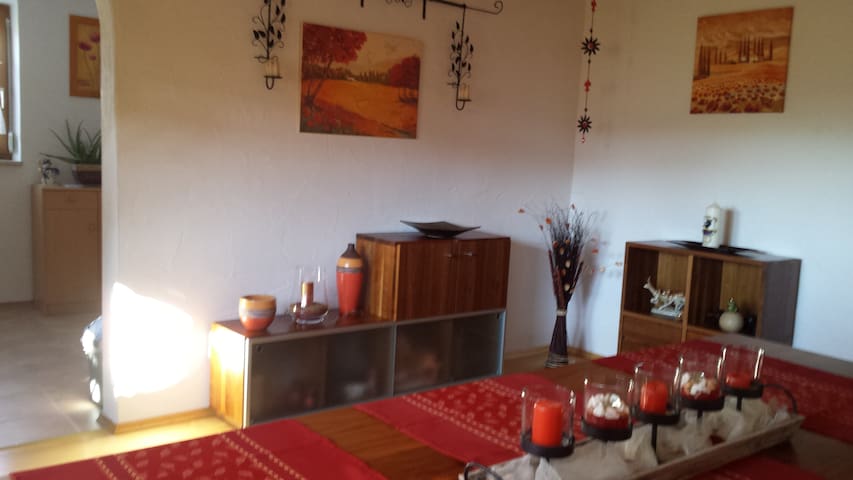 Small Non smoking apartment in a traffic road, 2 min. From the city center. Shops, supermarket, train station, cafes, restaurants; Spa, all within less than 5 min. WiFi available for a fee
The apartment is equipped with real wood flooring and a material stretch ceiling, so we also ask not to smoke. A single bed is present in the separated sleeping area. For another person, the sofa can be folded out in the living area to sleep.
Our house with another four apartments located very close to the center, but still very quiet in a traffic zone (30Km / h). The apartment is located in the back of the house without any traffic noise.
This is a cute unit in a FANTASTIC location. There is great parking, but you don't need a car since the unit is within walking distance of shops, restaurants, the Therme, and the quaint town.
Joseph
2016-03-31T00:00:00Z
Klein aber fein, wir haben uns hier sehr wohl gefuehlt. Sehr sauber und liebevoll eingerichtet. Alles bestens. Man sollte nur vielleicht wissen, dass es etwas kuehler sein kann, da im Schatten gelegen. Aber Heizung ist da und funktionstuechtig sofern benoetigt :)
Vanessa
2016-08-02T00:00:00Z
Sehr gemütliche Unterkunft,Angaben alle korrekt und äußerst unkomplizierte Abwicklung/Kommunikation :)
Ruth
2016-11-27T00:00:00Z
Alles wunderbar. Super Gastgeberin. Immer sehr zuvorkommend und jederzeit freundlich. Absolut weiterzuempfehlen ohne Einschränkungen.
Fidelia
2016-11-14T00:00:00Z
Accueil assez correcte, hôte sympas au départ puis ils m'ont menacé, moi, étudiant français, qui effectuais un stage de 2 mois, ils voulaient me virer de l'appartement sous prétexte que je gaspillais trop d'électricité alors qu'il faisait très très froid dans l'appartement j'ai été très affecté par ce comportement, je me suis senti en danger puisque je ne savais pas où trouver un autre logement, jai contacté airbnb mais nous n'avons pas trouver d'autres appartements aux alentours. Le logement est très humide, le lit est très fragile et est penché au niveau du dos. Pour finir je ne recommande absolument pas cette appartement à cause de ce problème. - -
Khaled
2016-07-16T00:00:00Z
Ich durfte 5Tage hier in Bad Wörishofen verweilen. Das Apartment hat mir sehr gut gefallen. Es liegt in guter Lage ruhig und doch Zentru(SENSITIVE CONTENTS HIDDEN)ah. Das Apartment hat alles was man braucht und natürlich sauber. Auch einen Sitzplatz im Garten leider reichte bei mir das Wetter dafür nicht aus. Ich kann das Apartment mit gutem Gewissen weiter empfehlen. Barbara ist sehr nett und Hilfsbereit, leider kennen wir uns nicht persönlich nur vom telefonieren. Aber es hat alles super geklappt auch wenn es nur übers Telefon ging.
Petra
2016-05-30T00:00:00Z
Sehr nette und freundliche Frau. Die Wohnung auch war in Ordnung. Alles frisch geputzt. Die Wohnung findet in einem gute Lage. Gerne wieder. Vielen dank. :)
Gábor
2016-01-03T00:00:00Z
Super petit studio, tres bien placé, au calme et tout près de toutes les commodités et Barbara tres accueillante. Si je retourne à Bad Worishofen, c'est certain que je retourne là-bas!
Anne
2016-12-31T00:00:00Z
Room Type
Entire home/flat
---
Property Type
Apartment
---
Accommodates
2
---
Bedrooms
Bad Wörishofen, Bayern, Germany
Here you can let your soul dangle and allow you and your loved ones a relaxing holiday! Our accommodation is suitable for up to 8 people, whether for a large family holiday or together with your best friends and acquaintances, we will find space for everyone! With us, you can watch a movie, cook or relax in our fireplace corner. The apartment is conveniently located for the main attractions of Bad Woerishofen such as the Therme or the Skylinepark.
Our newly renovated and designed accommodation in a central location invites you to relax and feel good. The rustic wooden furniture by our joiner, paired with modern elements give you a feeling of home. The modern fitted kitchen invites you to cook, all utensils such as pots and pans are of course available. Our stylish bathroom with walk-in shower also lets you forget the last bit of stress from everyday life with this view of the beautiful mountain lake. In our bedrooms you will find enough storage space for your luggage in our open wardrobe systems. For a cozy light at a later hour, our lamp designer has placed real treasures of nature in the accommodation, built of driftwood and ladders, they dive the apartment into a cozy light.
Der Kneippkurort Bad Wörishofen liegt im Unterallgäu, etwa 80 km westlich von München und 35 km östlich von Memmingen. Der Skyline Park liegt in unmittelbarer Nähe zu Bad Wörishofen. Die Therme Bad Wörishofen ist von unserer Ferienwohnung in ca. 5 Minuten zu Fuß zu erreichen.
Überzeugt hat das ausergewöhnliche Design derWohnung, ihre Sauberkeit und Ausstattung. Vom gemütlichen Filmeabend bis zum gemeinsamen Kochen mit der Familie ist hier alles möglich. Ruhig bleibt es auch nachts durch die Abgeschiedenheit der Wohnung im Norden von Bad Wörishofen. Insgesamt: Top!
Lukas
2017-03-05T00:00:00Z
Wir durften diese wunderschöne Wohnung mit 5 Erwachsenen 2 Kinder + 1 Baby einweihen. Christina hat uns herzlich am Abend empfangen. Die Wohnung war perfekt hergerichtet und man merkte, dass hier an jeder Ecke eine Designerin am Werk war. Man fühlt sich direkt wohl. Die Lage ist sehr ruhig (da etwas abgelegen) und man hört keinen Verkehr von der Straße. Wir nutzten das Wochenende für einen Ausflug in den Schnee. Tirol war ca. 1 Std. entfernt. Wir kommen bestimmt wieder, da die Therme direkt nebenan auch sehr einladend war.
Paul
2017-02-19T00:00:00Z
Vielen lieben Dank für die Überlassung der gut ausgestatteten, sauberen und toll eingerichteten Wohnung!
Frederik
2017-03-20T00:00:00Z
Room Type
Entire home/flat
---
Property Type
Apartment
---
Accommodates
8
---
Bedrooms
Bad Wörishofen, Bayern, Germany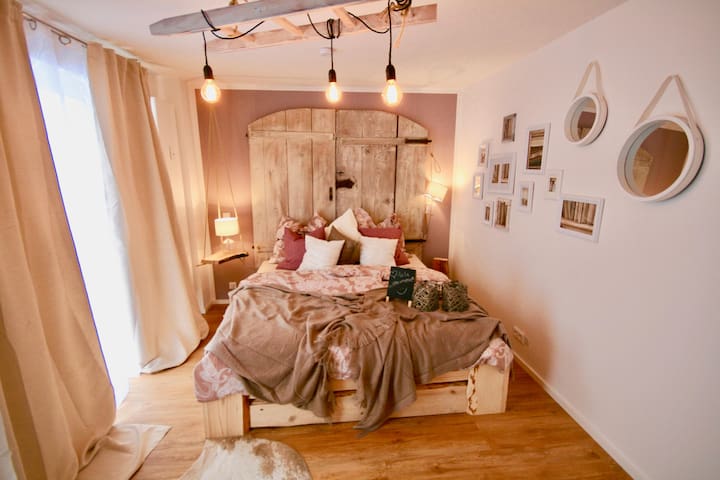 My house is near the center of Bad Wörishofen. You'll love my property because of the cool and bright atmosphere above the rooftops of Bad Woerishofen with balcony. My accommodation is good for couples and guests traveling alone. If you are on third, there is a top sleeper sofa with comfort pad.
The apartment is located right in the middle; there are grocery stores, bakeries, health food store, hairdresser and many cafes and restaurants in the immediate vicinity. We have the apartment completely renovated and equipped with quality furniture.
The central location you have only short distances to both the city center, as well as directly in the nature. Wörishofen has great hiking trails and great destinations in the near and far. You are in about 1 hour, both in Munich, Augsburg and Kempten; in the mountains you need about 1 - 1 1/2 hours and in less than an hour you are at Lake Constance or Neuschwanstein.
Mr Kay was very friendly and helpful, first when we arrived he helped us carry our luggage, and he provided us with emergency contacts, he also gave us extra blanket without us asking for it, and he offered us to ask him if we need any help, the place is very clean, it has everything we needed, I highly recommend family and friends to stay at his place, I felt like home.
Moe
2017-03-27T00:00:00Z
Room Type
Entire home/flat
---
Property Type
Apartment
---
Accommodates
3
---
Bedrooms
Bad Wörishofen, Bayern, Germany
The room is in an apartment building on the 2nd floor. Comfortable is the sitting area with television, refrigerator, coffee maker and kettle. Cooking you can in the communal kitchen on the 1st floor. A long balcony invites you to sunbathe.
Comfortable is the sitting area with television, refrigerator, coffee maker and kettle. A long balcony invites you to sunbathe.
Our house is located right next to the cultural center "to Gugger". The pedestrian area of Bad Wörishofen is located 3 min. Walk. Bad Wörishofen has a beautiful "Spa". Munich is an hour away.
The apartment is composed by a bedroom, a little kitchen and the bathroom. Helga is nice, and the position is good to visit Landsberg am lech, and also to go at the Therme of Bad W. , the are at 3,5 km.
omar
2016-12-29T00:00:00Z
Sehr nette, zuvorkommende Frau! Das Zimmer war sauber und geräumig. Absolut zu empfehlen
Ali
2016-02-08T00:00:00Z
Wir hatten einen sehr schönen Aufenthalt in Bad Wörishofen. Das Zimmer war sauber und sehr zentral gelegen. In ein paar Minuten waren wir zu Fuß in der Fußgängerzone von Bad Wörishofen. Wir wurden freundlich empfangen und Helga hat uns sogar den Kühlschrank mit einem Frühstück und kleinen Snacks gefüllt. Insgesamt waren wir sehr zufrieden.
Johanna
2016-06-13T00:00:00Z
Die Unterkunft ist ideal gelegen in einer Wohngegend, die Fußgängerzone, Restaurants und der Kurpark sind in wenigen Minuten zu Fuß zu erreichen. Diejenigen, die selber kochen möchten, können dies in einer Küche tun. Das Zimmer verfügt zusätzlich über einen Kühlschrank, einen Wasserkocher und Geschirr, ein Tisch steht ebenso zur Verfügung. Der Balkon lädt zu gemütlichem Verweilen in der Morgensonne ein.
Nicolas
2017-03-30T00:00:00Z
Es war sehr sauber ordentlich und perfekt gelegen. Helga war sehr freundlich und wir hatten einen super aufenthalt!
Claudia
2016-01-06T00:00:00Z
Netter Empfang,sogar eine Grundausstattung Essen und Trinken war vorhanden. Danke
Fred
2016-11-26T00:00:00Z
Helga ist eine wunderschöne Gastgeberin! Sie hat uns vom Bahnhof abgeholt und zurück zum Zug gebracht (wir reisten ohne Auto). Nach unserem Ankunft brachte sie uns in einen Supermrkt, damit wir einkaufen könnten. Das Zimmer ist ganz schön sauber, alles Notiges ist da. Helga ist sogar unser ersten Frühstück besorgt. Sie ist immer freundlich und hilfsbereit und hat unsere Probleme, die wir selber uns geeschafft hatten::))sofort gelöst.Danke schön! Also, alles war toll. Die Lage des Hauses ganz günstig - einge Minuten is zum Kurpark und bis zur Fussgängerzone. Nochmals . Vielen Dank! Margarita
Margarita
2016-07-11T00:00:00Z
Room Type
Private room
---
Property Type
Apartment
---
Accommodates
2
---
Bedrooms
Bad Wörishofen, Bayern, Germany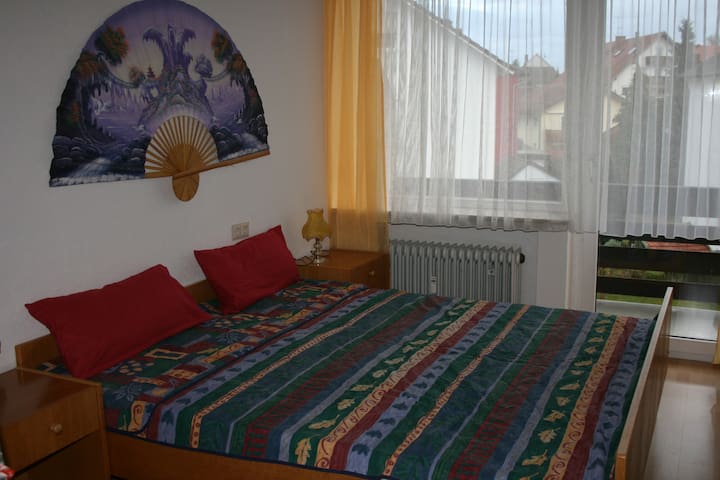 Ein herzliches Grüß Gott lieber Gast, unsere Wohnung liegt in Rammingen im schönen Unterallgäu. Essen - Wohnen - Schlafen alles in einem Haus. Die Wohnung wurde im Dezember 2016 neu renoviert. Wir bieten zwei Doppelzimmer und ein 3 Bettzimmer sowie ein Einzelbett im Durchgangszimmer. Im Wohnbereich können wir Ihnen auf Wunsch einen Schlafplatz für 2 Personen anbieten. Natürlich stellen wir Ihnen Kinderbetten zur Verfügung. Genießen Sie ein paar erholsame Tage bei uns in Rammingen:-)
Das war sehr schön und wunderbar
Sang Eun
2016-12-23T00:00:00Z
Die Wohnung liegt wunderschön ländlich in Rammingen oberhalb eines Gasthofs. Die Wohnung wurde erst vor kurzem renoviert und ist in einem entsprechenden, guten Zustand, alles entspricht den Beschreibungen. Die Kommunikation mit Markus im Vorfeld sowie die Schlüsselübergabe bei An- und Abreise verlief reibungslos und unkompliziert. Wir können diesen Gastgeber uneingeschränkt empfehlen.
Marten
2017-03-05T00:00:00Z
Der Aufenthalt war grossartig. Vielen Dank für die gastfreundliche Unterkunft. Wir waren sehr zufrieden.
Pathma
2017-02-13T00:00:00Z
Sehr freundlich und gute Wohnung!
Qifeng
2016-12-31T00:00:00Z
Schöne Unterkunft. Da passen 2-3 Familien hinein.
Xavier
2017-02-27T00:00:00Z
Room Type
Entire home/flat
---
Property Type
Apartment
---
Accommodates
10
---
Bedrooms
Rammingen, Bayern, Germany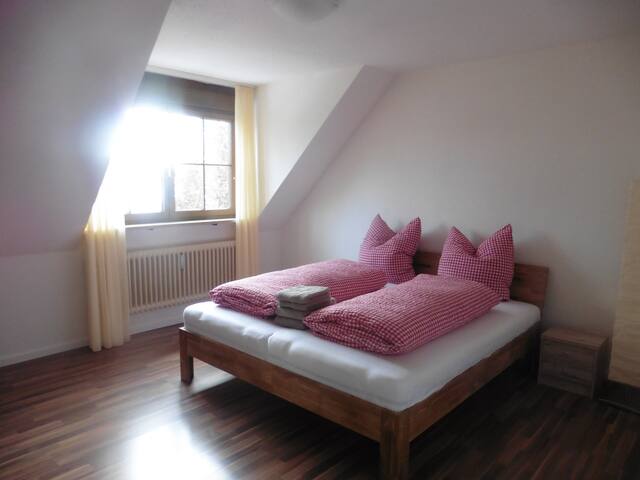 The warm living room lets you and the family and friends gather together; the clean bright kitchen facility is complete, the room is equipped with the air conditioning, the refrigerator, the washer. To travel is to leave the familiar place of life, travel, and to recognize it again.
Room Type
Private room
---
Property Type
Apartment
---
Accommodates
2
---
Bedrooms
巴特弗里斯霍芬, 巴伐利亚, Germany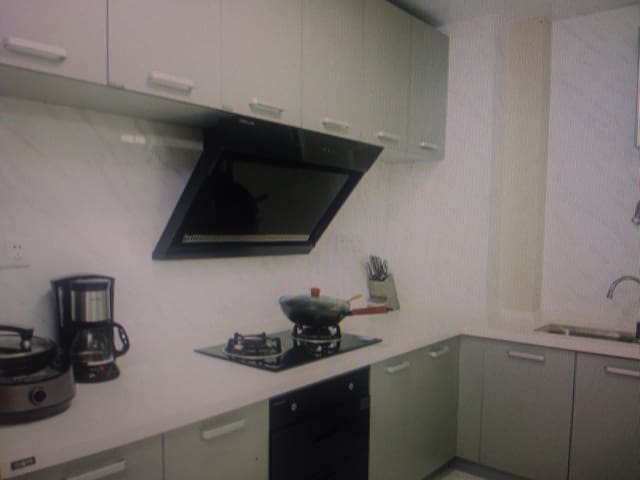 My house is near shops, public transport, the airport, city center, nightlife, spa gardens, park. You'll love my guest for the location and surroundings. My accommodation is good for couples, solo adventurer and Business Travellers.
Нормально, но не больше
Kirill
2016-12-17T00:00:00Z
Wir verbrachten sehr sehr schöne tage in Bad wörishofen die Wohnung ist sehr sehr gut gelegen und die strasse gleich davor ist traumhaft man findet alles was man will bars restaurants und super caffees um zu frühstücken:) das zimmer ist sehr schön und man fühlt sich gleich wohl.
Desiree
2017-04-01T00:00:00Z
Room Type
Private room
---
Property Type
Apartment
---
Accommodates
2
---
Bedrooms
Bad Wörishofen, Bayern, Germany
The apartment is located halfway between the city center and the spa. Very close to the calibration Forest.
Room Type
Entire home/flat
---
Property Type
Apartment
---
Accommodates
2
---
Bedrooms
Bad Wörishofen, Bayern, Germany
Die Wohnung befindet sich im renovierten Dachgeschoss eines Mehrfamilienhauses im Ortszentrum von Zellerberg bei Bad Wörishofen. München, der Bodensee, die Schlösser in Füssen und die Alpen sind in weniger als einer Stunde mit dem Auto erreichbar.
Die Wohnung mit 100 m² befindet sich auf dem obersten Stock eines Mehrfamilienhauses und wurde neu renoviert. Rieden ist von malerischen Wäldern, Hügeln und Feldern umgeben, und ist ideal zum Fahrradfahren, Wandern und Golfspielen. Rieden mit einer Bevölkerung von knapp 1400 Einwohnern bietet alles für einen besonders komfortablen Urlaub: zwei gemütliche Restaurants mit Außenterrassen, eine Bäckerei und viele Einkaufsgelegenheiten in 3 km Entfehrnung. Nur 10 Minuten von der Wohnung zu Fuss entfernt befindet sich der 18-Loch-Golfplatz des Golfclubs Bad Wörishofen.
Ob Sie sich in der Therme Bad Wörishofen (10 Minuten mit dem Auto) oder einem anderen Bad in der näheren Umgebung verwöhnen lassen wollen, eine Runde Golf ( 10 Minuten zu Fuss) genießen, den Kindern im Freizeit- und Erlebnispark "Allgäu Skyline Park" (15 Minuten mit dem Auto) Freude schenken oder die Sehenswürdigkeiten der bayerischen Region erkunden möchten (Schloss Neuschwanstein, München, Augsburg, Lindau am Bodensee (alles in ca. 1h mit dem Auto oder dem Zug zu erreichen), bietet unsere Gegend eine Fülle an Möglichkeiten für einen unvergesslichen Urlaub. Im Winter erreicht man die nächsten Skilifte ebenfalls in knapp einer Stunde. Für Geocacher gibt es Tips und Unterstützung vom Hausherrn, um die besten Stashes in der Gegend zu finden.
Very hospitable hosts. Sunny spacious apartment. Good equipment. I recomended it very much.
Antonina
2017-04-04T00:00:00Z
Excellent stay home and clean and quiet village And also the owner of the house someone cheerful and jovial I enjoyed to stay and certainly if you go there you will live in the same house
Nasser
2016-04-12T00:00:00Z
It was a wonderful stay with Roswitha. The space is absolutely gorgeous, the local baker is great and we had a wonderful comfortable space.--Es war so schön bei Roswitha. Die Wohnung war absolut wunderschön, die Bäckerei in der Nähe ist super und unsere Zeit hier war absolut toll. Vielen Dank!
Mikeala
2016-12-21T00:00:00Z
We loved our stay at Frank & Roswitha's place! We booked our stay on the day of our arrival and they responded quickly and prepared the apartment for us even with such short notice. Communication was great, the apartment was very clean, modern, and very spacious. I would say that it's even nicer than the photos make it look. Well stocked kitchen, comfortable beds, and an amazing view. I highly recommend staying here!
Christopher
2016-09-24T00:00:00Z
The host canceled this reservation 8 days before arrival. This is an automated posting.
Garry & Anna Barbara
2016-06-30T00:00:00Z
The house was better than the photos, very confortable and clean. The area is beautiful and very near of important places to visit. Roswitha was very friendly and helpful. I really recommende it. La casa es perfecta para una familia con niños, en medio de Baviera, en un entorno rural precioso. Con muchos lugares importantes para visitar. La anfritiona es majísima y te ayuda dándote muchos consejos. Hemos pasado unos días muy a gusto.
David
2016-08-02T00:00:00Z
Very nice people and excellent apartment for holiday with kids in Bavaria. You can easily reach therme in Bad Worishofen, 30 min from Fussen and 1hr drive from Munich. We would definitely come back.
Roman
2016-05-08T00:00:00Z
The host was very very nice and helpful with transportation information.
Lily
2016-09-22T00:00:00Z
Room Type
Entire home/flat
---
Property Type
Apartment
---
Accommodates
4
---
Bedrooms
Rieden, Bayern, Germany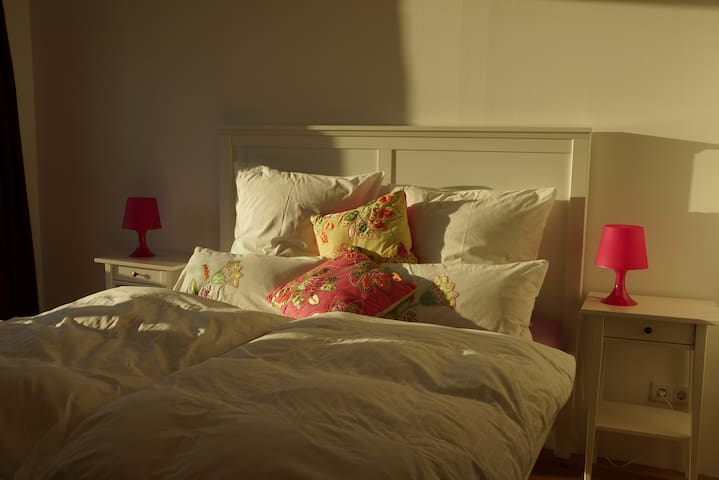 Great 38sqm renovated studio - apartment in a former farmhouse. Full-fledged kitchen, double bed and bathroom with spacious shower. Easy access to the attractions in the Allgäu.
Is characterized by the extremely quiet area and easy access to the near tourist attractions of the Allgäu.
The proximity to Bad Wörishofen offers a range of recreational activities, beautiful cycling and hiking trails, Wassertretstellen, Skyline Park, swimming pool and a well-known spa (Therme), which is open all year. Guests should have a car or motorbike to visit the surrounding sights (Castle Neuschwanstein, Hohenschwangau castle, basilica of Ottobeuren, Wies Church, etc.).
Quite cute village. The flat is big and comfortable with all equipment needed and parking place. You can find lots of restaurants in a beautifull little village nearby.
Andrey
2015-12-07T00:00:00Z
Fantastic accommodation! The best I have ever seen on airbnb (and I am travelling a lot)! Beautiful studio with comfortable large bed, couch, kichen, fridge, large dining table. Very romantic wooden beams hold the roof. Fully renovated (including bathroom) with a very good taste and ultimate precision. Extremely clean. We have even found a few drinks in the fridge - a very very kind service! The hosts are friendly and good people, and flexible. We were late arrivals but they were patient with us. Many thanks and happy new year!
Istvan
2016-01-04T00:00:00Z
Brilliant communication in between Rose Marie and us.n The studio is really comfortable and Rose Marie warmly welcomed us. Will definitively look forward to enjoying another stay in the future.
Paul
2016-01-06T00:00:00Z
We stayed here for second time which already gives a positive feedback for this flat. Quite comfortable renovated furnished apartment. Not far from city with restaurants. There is a parking place next to the house. The flat is a one big room with kitchen, one big bad and small sofa that also can be used as another bad. bathroom is outside the flat, but since you are the only guests on the floor this is totally okay.
Andrey
2016-07-10T00:00:00Z
Rose Marie was a wonderful host to a beautiful place. Extremely friendly, funny and helpful, and would recommend anyone to choose to book their stay here. It was exactly as described, clean, relaxed and very pretty. Thank you, we'll be back soon!
S
2016-06-27T00:00:00Z
The host canceled this reservation 44 days before arrival. This is an automated posting.
David
2016-07-24T00:00:00Z
I really liked this place (and highly recommend) but it is off in the country so a car is needed. The place is very clean, has a modern feel but with a quiet country atmosphere. We were traveling down the romantic road and changing locations a lot so decided to stay here for two nights. It was half the price as places around Fussen but close enough for a day trip down to see the Ludwig castles and other sights in that area. It's a long day but we were coming back north anyway so staying here is a great option if you have a similar path. The closest restaurants are about a 5-10 min drive away which is also a consideration, but the nearby town was very nice to stop in for a meal and to have a quick explore up the main street. I would recommend this location.
Daniel
2016-07-04T00:00:00Z
Rose Marie and her husband are so nice and friendly hosts. Their apartment is very calm and comfortable place and I can only recommend to stay there:-)
Matyáš
2016-08-11T00:00:00Z
Room Type
Entire home/flat
---
Property Type
Apartment
---
Accommodates
2
---
Bedrooms
Dirlewang, Altensteig, Bayern, Germany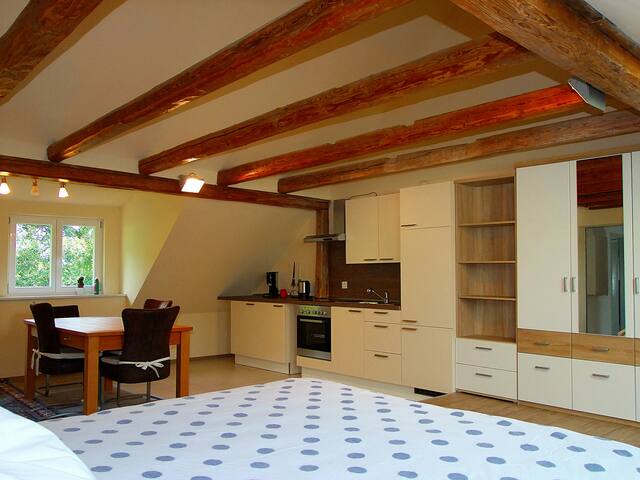 APARTMENT - WOHNUNG in PFORZEN Allgäu in Bayern ideal zentral gelegen als Stützpunkt zwischen München - Lindau Bodensee, Augsburg - Füssen, Deutschland! Aus 45 Jahren eigener internationaler Reiseerfahrungen in Top-Hotels, Pensionen, Apartments + Privatunterkünfte verstehen wir IHRE Wünsche & Bedürfnisse von behaglichem Flair unter PRIVATSPHAERE bei einmaligem Preis-/Leistungsverhältnis! Kommen Sie als Gast und Sie kommen bald wieder als Freund! Wetten dass! Wir sind bereit für Sie :-)
Das Haus: Traditionelles Bayerisches 1 1/2 - Familien Landhaus mit eigenen 2 PKW-Stellplätzen (+2 Garagen) auf dem Grundstück, mit grossem Garten mit Teich sowie mehreren eingebetteten Sitzecken und Gemüse-/Kräuter Gewächshaus, am Ortsrand mit freiem Bergblick gelegen und vielen Möglichkeiten direkt ab dem Haus die freie Natur mit Wiesen, Wäldern und Flüsse erleben zu Fuss, Rad, Pferd. Um das Haus herum: Garten-Mitbenutzung mit Terrasse, Bergblick in die Allgäuer Berge, Infrastruktur: #Dorf, in unmittelbarer Nähe der Stadt Kaufbeuren, mit ländlicher Prägung, mit kompakter Versorgung aller täglichen Bedürfnisse wie Shops, Tankstelle, ärztlicher Grundversorgung in Human- & Dentalmedizin, Banken & Geldautomaten #perfekte Verkehrsanbindung mit Auto, Bus, Bahn, Flughäfen 10x Golfplätze: Bad Wörishofen 4km, Türkheim 15km, 2x Kempten 45km, Igling 30km, Ammersee 40km, Memmingen 45km, Lechbruck, usw. 10x Allgäuer Badeseen: 10-40km Therme Thermalbad Bad Wörishofen: 12km Bergwandern in den Allgäuer Bayerischen und Tiroler Alpen in 12km, 45km Skifahren in den Allgäuer Bergen in nur 1 Autostunde erreichbar (Nesselwang / Pfronten sowie Jungholz/Tirol mit Schneegarantie) Nutzen Sie unseren ideal gelegenen Standort für individuelle und wetterabhängig spontane Tagesausflüge in einer Vielzahl von Varianten in einem Radius von >1 Autostunde im Sommer und Winter, dies mit unseren attraktiven Rabatte für ab 7 Tage bzw. 30 Tage Aufenthalt.
Das Haus #ist grossteils mit Hecke und Sträucher sichtgeschützt, #liegt in einem sehr ruhigen erholsamen Wohngebiet ohne Lärm aus Strassenverkehr; #man schätzt hier die Ruhe und respektiert unter Nachbarn die üblichen Ruhezeiten ab 22 Uhr Abends; genannt Nachtruhe
Room Type
Entire home/flat
---
Property Type
Apartment
---
Accommodates
4
---
Bedrooms
Pforzen (bei Kaufbeuren), Bayern, Germany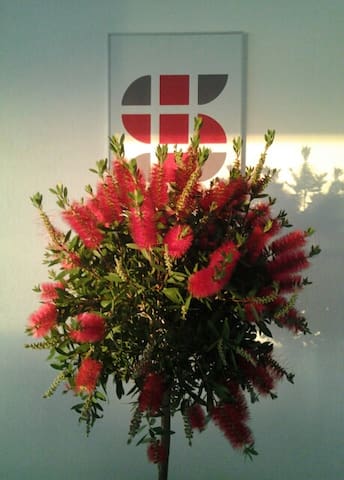 The apartment is located on the first floor of a new two-family house on the outskirts of an idyllic village Waal - the gate to the Bavarian Alps. The town is surrounded by picturesque fields, hills and forests. The holidays start at the door!
The apartment (116 m2) is located on the first floor of a new two-family house on the outskirts of an idyllic village Waal - the gate to the Bavarian Alps. The town is surrounded by picturesque fields, hills and forests, ideal for hiking, cycling and horse riding. The holidays start right at the door of the house! The town with a population of 1250 inhabitants offers everything needed for a comfortable and convenient holiday: three cosy restaurants with outdoor terraces, two bakeries, a butcher shop, a beverages shop. In the crystal clear waters of the stream in the city center there is a public place for the Kneipp therapy. Whether you want to relax in the thermal water of Bad Wörishofen (15 km), to enjoy a round of golf at the golf club "Castle Igling" (9 km), to amuse the children in the adventure park "Allgäu Skyline Park" (20 km) or to explore the attractions of the Bavarian region (Neuschwanstein Castle (64 km), Munich (77 km), Augsburg (50 km), etc.), - our area offers multiple opportunities for an unforgettable holiday. For horse lovers, horse rides are offered next to the house. And in winter the nearest ski lifts are situated ca. 70 km from the house. The apartment offers to its guests a 100% autonomy. Appealing interiors, a spacious kitchen and a dining room with a bar table and a dining area, a cosy living room with a sitting area and TV. The first bedroom has a double bed and a separate entrance to the bathroom. The second bedroom has three single beds and can be expanded with an additional folding bed. If necessary, we provide a cot and a highchair. The spacious bathroom is equipped with a shower and a bathtub. In the utility room you will find a washing machine and a dryer. The apartment was decorated by a well-known Belarusian designer, artist and photographer, Anna Koroleva. Her works create a particularly beautiful and cosy atmosphere. Some of them are offered for sale. The apartment is designed for 5 (max. 6) persons. It is a non-smoking apartment, but a compromise can always be found. Pets come on request. We can communicate with you in English, Russian, German, Italian and Portuguese and will gladly give a piece of advice for your trips. We will be glad to welcome you in Bavaria! Olga and Hermann Arnhofer
The host canceled this reservation 49 days before arrival. This is an automated posting.
Éric
2017-02-26T00:00:00Z
We had a really great stay at Olga's apartment! The location is very quiet and secluded, perfect for exploring Bavaria. Apartment is very spacious, bright and clean, we had enough place for three and two small dogs. Kitchen is fully equipped and supermarket is only 5-10 min ride. Olga and Hermann are very nice and easy-going persons! And the dogs are very nice, too.) Highly recommend)
Alina
2016-12-29T00:00:00Z
I spended almost a week in the Olga's house with my family (three kids). It is a modern flat on the first floor of a modern private house in a quiet and beautifull countryside. A spacious hause, with two big rooms, an fully equipped kitchen, a big bathroom with shouer and bath and a full of light livingroom. Clean, modern and in order. Olga is a very kind and helpfull person, she loves to receive guests. I reccomend to stay in her house.
daina
2016-03-30T00:00:00Z
Friendly atmosphere, good contact. Multiple languages covered - we have used English and German during my stay. The offer was accurately described. Suffice to say, all was perfect - exactly as I expected.
Patryk
2016-08-01T00:00:00Z
This house is more beautiful than it looks in the photos. The house is well equipped with all necessities as a 5 star hotels will do. Our stay was a very good experience thanks to our hosts who helped making it that good. The house Is located in a quite beautiful bavarian village.The only note we had is that there no nearby grocery or supermarket.
Khaldon
2016-08-11T00:00:00Z
Siamo stati da Olga e Hermann per una vacanza davvero fantastica all'insegna della tranquillità, il paesino è piccolo ma a pochi chilometri abbiamo trovato una vasta scelta di negozi e supermercati, Hermann parlava anche un po' di italiano e questo ci è stato molto utile per avere informazioni preziose per il nostro viaggio, Sia Olga che Hermann sono persone molto disponibili ma anche molto discrete;l'appartamento ha proprio tutte le comodità che si possono chiedere per cucinare compreso il forno , lavare con la lavatrice , asciugtrice, tutto davvero al TOP ! la zona della Baviera ci è piaciuta molto e la consigliamo a chi vuole una vacanza rilassant ma anche ricca di spunti naturalistici e storici .
cinzia
2016-08-19T00:00:00Z
Die Wohnung von Olga war ideal für uns: zwei Paare ohne Kinder. Sie ist grosszügig geschnitten, die Zimmer sind komfortabel und geschmackvoll möbliert. Auch die Küche bietet alles, was man für einen kurzen Aufenthalt braucht. Waal bietet eine ideale Ausgangslage um nach München, zur Zugspize, nach Landsberg und nach Garmisch zum Neujahrsspringe zu gelangen. Auch eine Therme ist in der Nähe von Waal anzufinden. Im Ort gibt es zwei Bäckereien, die fußläufig sehr gut zu erreichen sind. Bereits im Vorfeld hat uns Olga und ihr Mann mit allen notwendigen Infos versorgt, so dass keine Fragen offen blieben. Sollten wir nochmals in die Berge reisen , werden wir auf jeden Fall wieder bei Olga anfragen. Auch unsere Freunde waren von der Wahl der Wohnung begeistert. Vielen Dank für alles!
Francesca
2016-01-02T00:00:00Z
L'appartamento è veramente spazioso, pulito e comodo. Olga e Hermann abitano nella stessa casa, sono molto gentili e disponibili. Hermann parla italiano e questo ci ha fatto molto piacere. Il paese è tranquillo e si raggiungono facilmente i luoghi turistici. Consiglio di portare dei dispositivi contro le zanzare perché non ci sono zanzariere alle finestre, ma se anche ci fossero non fermerebbero delle noiose zanzare piccolissime. Un caro saluto a Olga e Hermann
Manuela
2016-07-23T00:00:00Z
Room Type
Entire home/flat
---
Property Type
Apartment
---
Accommodates
5
---
Bedrooms
Waal, Bayern, Germany
My husband and I look forward to it. Since we ourselves have children and grandchildren, and younger guests are welcome to join us. All the other, whether from Germany or from abroad - we are happy to come over your.
Description of the apartment: The 84 square meter cozy apartment with central heating is situated on the 1st floor of our house, which was recently renovated and has through the roof slopes a special charm. It has fitted kitchen (dishes for more than 6 persons present), built-in refrigerator with freezer, kettle, microwave, 4 ring ceramic hob with oven, coffee maker, washing machine is in the basement and can be used. The bathroom has a bathtub, sink and toilet, hair dryer available. The living room of a size of about 30 square meters offers comfort of a large dining table, desk and cozy couch which pulled even sleeps 2 offers. TV, internet access are available and the wood stove gives cool evenings a pleasant warmth. The 1 bedroom has a fitted wardrobe and a double bed, the 2 bedroom 2 single beds (which can easily be pushed together) containing 3 rooms (walk-through room to bedroom 2) has a single bed and a couch, cot is also available upon request .. The lovingly decorated garden can be shared and in summer invites you to cozy barbecues. Location: Our house (Haus Helene) stands in a district of the quiet, pretty town of Kaufbeuren in a very quiet side street (4 km from the center), via the B 12 is easily accessible, the railway station is only 10 minutes away (on weekdays drives every 15 minutes in front of our street a bus for the city and train station), shopping are within walking 5 mins away ready. The adventure swimming pool is within walking distance in 10 minutes. The Skyline Park is about 15 km away, and the Therme in Bad Wörishofen-site is 10 km away. Feet with magnificent castles and lakes can be reached in 40 minutes, and various ski slopes. If the children are still small, also a district of Kaufbeuren offers a children's lift. The romantic town of Landsberg am Lech can be reached in 30 minutes, Ammersee Wörthsee ud well. Munich is about 80 km away and can be reached by train every hour. If you visit us early / mid July, found in this medieval, traditional "Tänzelfest", where approximately 1400 children participate.
We live in a quiet side street with nice neighbors. Shops and pharmacies are within walking in 5 to 10 min. Reachable. In summer, a very attractive, interesting especially for children and adolescents Erlebnisfreibad. Also within a 10 min. Reachable.
We are a spanish family (6 people). The house is very comfortable, quiet, spacious and luminouse. Rooms are big and nice. Owners are lovely and very caring with us. We have known many places in Bavary and we will repeat in that house if we go back Bavaria. Wir sind eine spanische Familie (6 personen). Es ist eine sehr Komfortables, ruhig, breite und sonnig Wohnung. Die Besitzer sind sehr freundlich mit uns. Wir haben viele Orte in Bayern bekannt. Wir werden ein anderes mal zurückkommen. Vielen Dank
David
2016-08-15T00:00:00Z
The host canceled this reservation 206 days before arrival. This is an automated posting.
Kinga
2015-12-06T00:00:00Z
Beautiful apartment, Everything you could need was there . Much more space than we expected. Gorgeous neighborhood quiet zone , Luxury house surrounding . Surely we'd love to come back and settle here to travel around south of Germany .
Samuel E
2016-10-14T00:00:00Z
Everything is complete. Rooms are so big. Very well equiped. Host is so kind and helpful. Highly recommend.
유미
2016-08-08T00:00:00Z
Although I did not meet Benjamin, he made sure our stay was good. His mother met us to let us into the apartment which was nice, very big, and modern. I would definitely recommend this stay!!
Kyle
2016-01-31T00:00:00Z
Benjamins apartment has everything what you would need, the flat is very clean, spacy and pretty. Benjamins parents who met us were really friendly, and kindly showed everything. They are very friendly, i`d recommend you a lot to stay in this house!!
Lyudmila
2016-06-23T00:00:00Z
Helene was really nice. She lives downstairs so she was already there when we arrived. The apartment is calm, clean and there is a lot of space!
Héloïse
2017-02-13T00:00:00Z
The host canceled this reservation 34 days before arrival. This is an automated posting.
Liudmila
2016-04-24T00:00:00Z
Room Type
Entire home/flat
---
Property Type
Apartment
---
Accommodates
6
---
Bedrooms
Kaufbeuren, Bayern, Germany
Dies ist eine sehr große Wohnung, in der man sich zurückziehen oder auch gemeinsam schöne Zeiten verbringen kann. Größe der Wohnung 135 qm Man fühlt sich sofort wohl und die Einrichtung wird Sie beeindrucken.
Zentrale Lage Füssen, Garmisch, München, Augsburg Oberstdorf usw.
Bäcker in zwei Minuten erreichbar. Gasthaus grüner Baum in fünf Minuten erreichbar.
Room Type
Entire home/flat
---
Property Type
Apartment
---
Accommodates
4
---
Bedrooms
Westendorf, Bayern, Germany