Au coeur de l'Avesnois, sous un couloir d'oiseaux migrateurs, notre maison se situe dans une réserve protégée, proche d'activités de randonnées nature, circuits vélos, lacs et sports d'eau) et de Brussels-South airport. Vous apprécierez son confort, ses équipements, la grande terrasse fleurie et la vue sur le bocage.
La chambre "petite suite" est équipée d'un grand lit double, lingère, penderies, fauteuils, table, TV. Elle est idéale pour un couple ( avec Bébé, éventuellement)
La région du Solrezis ( dans l'Avesnois) est reconnue pour ses agréables ballades à pieds, à vélo et aussi à cheval. Nombreux sont les circuits balisés. Point de départ pour randonnées pédestres, équestres ou encore à vélo. à 15 min du lac du Val Joly, à 20min du lac et parc aquatique de l'Eau d'Heure, à 30 min du zoo de Maubeuge, chevaux au manège du Pont de Sains,
Room Type
Private room
---
Property Type
Villa
---
Accommodates
2
---
Bedrooms
Solre-le-Château, Hauts-de-France, France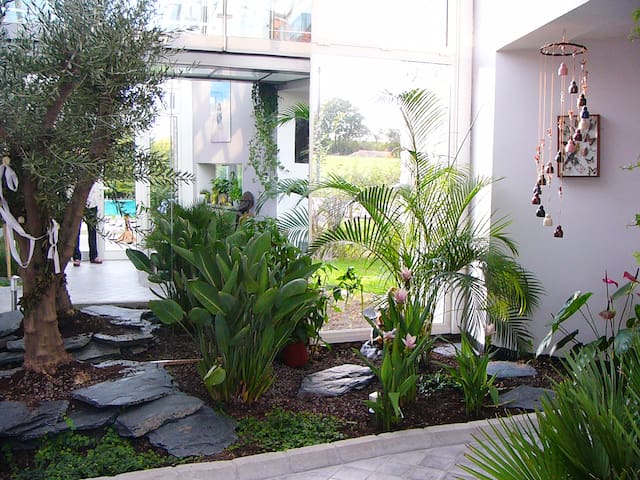 Pour votre location maison de vacances 6 personnes, venez vous relaxer dans notre gîte, en pleine campagne de la Thiérache. Notre gîte est idéal pour un weekend romantique, vos vacances ou anniversaire Espace détente, anti-stress.
Villa en pleine campagne. Vue sur les champs, la forêt et le parc. Terrain arboré de 4000 m2 avec plan d'eau naturel, le tout clôturé. Espace silence, propice à la récupération, à la plénitude du corps et de l'esprit. Un séjour plein de charme et inoubliable !
Endroit calme et reposant.
It is a beautiful house, Andre and Gabriella are really nice. You will miss nothing in this house.
Julian
2017-01-04T00:00:00Z
Très belle maison complètement équippée, dans un environnement naturel et tranquille. On a passé quelques jours très agréables ici! un grand merci pour l'accueil chaleureux!
Iris
2016-01-02T00:00:00Z
Nous avons passe un tres bon sejour dans une maison tres agreable et tres bien equipee. Tres grand jardin arboré. Andre et Graziella ont ete tres accueillants et adorables. Great place where it feels like home! The house has everything to satisfy your needs and to enjoy a lovely stay. The hosts, Andre and Graziella are very very nice. Thank you
Grégory
2015-05-22T00:00:00Z
Room Type
Entire home/apt
---
Property Type
Villa
---
Accommodates
6
---
Bedrooms
Esquéhéries, Picardie, France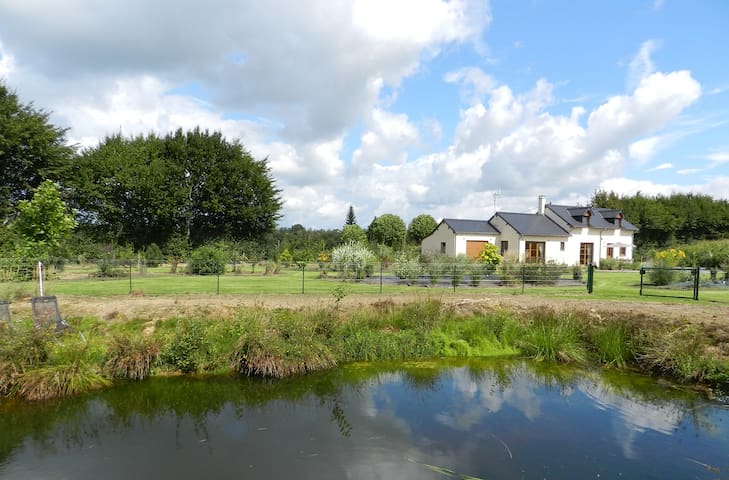 La harde se situe dans un écrin de verdure en plein coeur d' une forêt classée Natura 2000 et vous offre une vue imprenable sur l'enclos du cerf et de ses biches.
The host canceled this reservation 52 days before arrival. This is an automated posting.
Fabian
2016-11-02T00:00:00Z
Room Type
Entire home/apt
---
Property Type
Villa
---
Accommodates
8
---
Bedrooms
Momignies, Wallonie, Belgium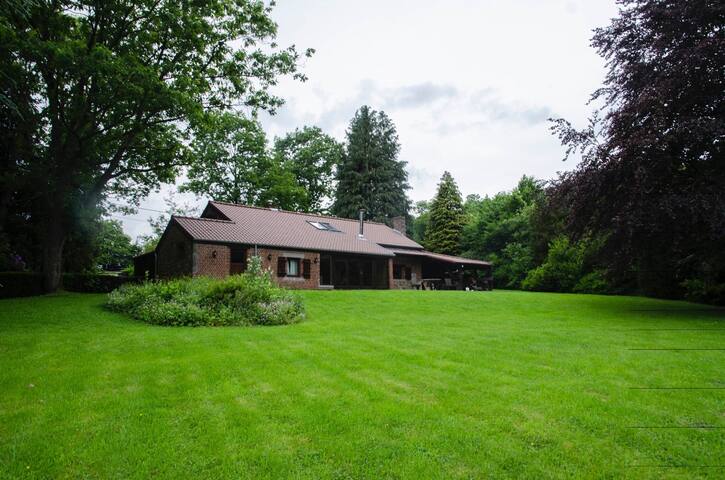 Kom genieten van de stilte en de ongerepte natuur! Onze zeer ruime, alleenstaande woning in de natuur biedt alle comfort voor wie er enkele dagen of weken tussenuit wil. Geniet van de tuin van 1,25 hectare, de vijver, en het zwembad. Het huis is dichtbij vele bezienswaardigheden, zoals het versterkte Rocroi, de valleien van l'Eau Noire en de Viroin, het kasteel van Chimay, Nismes met de Fondry des Chiens, en de ongerepte, diep uitgesneden vallei van de Franse Maas midden in eindeloze bossen.
Natuur, stilte, 's nachts échte duisternis met een echte sterrenhemel. Dit alles gecombineerd met modern comfort in een modernistische jaren '70 architectuur. De grote leefruimte, met vleugelpiano, geeft uit op de natuur, met glazen wanden van het plafond tot de vloer. De tuin, van 1,25 hectare, met vijver en zwembad, is grotendeels beschermd in het Natura 2000-programma. Op de kleinste slaapkamer na is het leefgedeelte akoestisch volledig afgeschermd van het slaapgedeelte, zodat de kinderen niet wakker gehouden worden door de volwassenen indien deze willen 'natafelen'. Ongeveer alles is aanwezig: alle mogelijke kookgerei, wasmachine en droogkast, barbecue,... en uiteraard (in de zomer) het zwembad!
Cul-des-Sarts is verscholen tussen de bossen op het Plateau van Rocroi, omringd door de vallei van l'Eau Noire. Het dorp ligt op een hoogte tussen 300 en 400 meter en de belangrijkste economische activiteit bestaat er uit bosbouw en het telen van .... kerstbomen. Al is het geologisch een deel van de Ardennen, is het enige streek in de wijde omgeving met een kleigrond, waardoor de traditionele architectuur gebaseerd is op klei en hout. Cul-des-Sarts heeft verscheidene bars en restaurants, een apotheker, een bakker en een kleine supermarkt die open is op zondagochtend (maar niet op maandagochtend). Voor grotere supermarkten moet u naar Rocroi (5 km) of Couvin (14 km). BEZIENSWAARDIGHEDEN: De lijst bezienswaardigheden is haast eindeloos, dit is dus slechts een beperkte opsomming: - Vlak naast het huis ligt een klein natuurreservaat - het was ooit een 'tourbière', waar turf werd gewonnen en lijkt een beetje op de Hoge Venen in het klein. - Chimay, kasteel van de prinsen van Chimay en de abdij van Chimay - Couvin, met de Grottes de Neptune (waar je met een bootje op de ondergrondse rivier vaart), en de Caverne de l'Abîme waar ooit neanderthalers woonden (maar die op dit moment niet toegankelijk is) - het museum 'de la vie rurale' van Cul-des-Sarts zelf - de dubbel omwalde stad van Rocroi - Het oude centrum van Marienbourg, ook ooit omwald, en de stoomtrein van Marienbourg naar Treignes - de valleien van l'Eau Noire, de Viroin en het diep uitgesneden, grotendeels ongerepte Franse deel van de Maasvallei - de eindeloze bossen tussen Cul-des-Sarts en de Maasvallei (een gedeelte van de bossen van Cul-des-Sarts zelf is niet toegankelijk) - de langlaufpiste van Eteigneires - de afdammingen van de Ry de Rome, de bassin de Whitaker, en zeker niet te missen in de zomer: het wondermooie Lac des Vieilles Forges met zijn aangenaam strand NATUUR VLAKBIJ Aansluitend op de tuin ligt het natuurreservaat van de 'tourbière' van Cul-Des-Sarts, geklasseerd als een 'site de grand intérêt biologique'. In de tuin zelf vind je allerlei planten en dieren waar de natuurliefhebber droomt: het is een natte bodem (ooit moeras) met reuzepaardestaart, verschillende soorten orchideeën, varens, riet, en een bos van elzen, berken en enkele naaldbomen. Qua fauna zie je er regelmatig talrijke roofvogels (die 's zomers hoog in de lucht rondcirkelen met hun typische klagende kreten), witte en grijze reigers, ooievaars, verschillende variëteiten kikkers, salamanders en hagedissen (die op het terras zonnen in de zomer) en een enkele keer een (voor de mens volstrekt ongevaarlijke) ringslang. Er komen ook regelmatig herten, vossen, marters en eekhoorns voorbij. TIP: Breng in de zomer, indien mogelijk, fietsen mee. Het is heerlijk (en gemakkelijk) fietsen op het plateau de Rocroi, er zijn talrijke 'Ravel' fietspaden en een fietstocht langs de jaagpaden van de Franse Maas is een onvergetelijke ervaring. ZOEK JE HET WAT VERDER? Cul-des-Sarts is een prima uitvalsbasis voor een bezoek aan Charleville-Mézieres, de gezellige geboortestad van Rimbaud met zijn authentieke Place Ducale en zijn wereldwijd vermaarde marionettentheaterfestival. Neem ook een kijkje in Sedan, met het grootste kasteel van Europa. Sommigen rijden ook door tot Reims of Laon (beide hebben een prachtige kathedraal, op ongeveer 1 1/2 uurtje rijden) of zelfs Parijs.
Great spacious place for rest in the silence of nature. House that's been lived in, with very well equiped kitchen. Cozy fireplace.
Bart
2017-01-05T00:00:00Z
Merci, super séjour, maison originale, parfait pour de la tranquillité entre famille et amis. à une prochaine ;-) Raffi
Raffi
2017-02-12T00:00:00Z
Nous avons passé un très bon séjour. La maison est très belle. Gerda et Guido ont été très accueillants et la communication très facile. avec beaucoup de propositions sur les activités et restaurants alentours. Nous recommandons cette maison !
Hélène
2017-02-05T00:00:00Z
William
2017-02-19T00:00:00Z
Room Type
Entire home/apt
---
Property Type
Villa
---
Accommodates
8
---
Bedrooms
Couvin, Wallonie, Belgium
rural village 25km of water dams hour close enough means of transport train 6km, bus 500m villa in a residential area, away from traffic, we hear the birds Wireless
A haven away from the bustle of the city. In the countryside but with everything at hand: pharmacy, doctor, Delhaize stores, Spar, Action, butcher, physiotherapist, Peugeot garage, gas pump. 25 km of the Eau d'Heure lakes, 13 km from Philippeville, 16 km from Charleroi, 6 km from Walcourt,
quiet street in a residential area (very little traffic). Places to visit : the Eau d'Heure lakes the Basilica of Walcourt Lake Bambois Lake Virelles Chateau des Princes de Chimay Line
Jacqueline is a wonderful host, kind and considerate. She made me feel very much at home in her house which was nice and clean. The bedroom had a very large and comfortable bed in which I enjoyed an excellent night's sleep. One note of caution here - the stairs to the bedroom are steep and there is no bannister rail. It was a shame that I was passing through and only stopped one night; I would have liked to have stayed longer. I have no hesitation in recommending Jacqueline as a host, it is a great place to stay. Thank you, Jacqueline.
Neil
2015-08-08T00:00:00Z
Jacqueline make us feel very welcome. The room was spacious and nice. We wasn't able to enjoy the garden because of the wether, but it looks really great.
Todor
2015-09-13T00:00:00Z
Beds are very comfortable and the house is very clean. Jacqueline and family did everything for us to feel welcomed. Highly recommended to take dinner and breakfast with local and in-house made products. Jacqueline is really a very nice and helpful host.
Mircea
2015-11-01T00:00:00Z
Everything has been perfect. Jacquelin is a perfect host. Moreover the dinner and the breakfast have been a very good experience. We have appreciated the food and the pleasant chat with Jacquelin and her husband.
Paolo
2016-07-19T00:00:00Z
Very Nice people with coasy house. Nice garden, huge bed. They prepared a huge meal and breakfast for a small ampunt. Highly recommanded.
Roald
2015-07-26T00:00:00Z
I can say I spent an awesome, great hospitality, kindness and a lot of sensitivity. Here at the home of Jacqueline I and other three of my friends spent some wonderful moments. The rooms are spacious and clean, the bathroom clean and the kitchen, but unlike other experiences with airbnb, here with Jacqueline we shared not only the house but also pieces of life, will definitely return because as I always say the trip will not do places but the people. thanks for everything Jacqueline! Lorena Greetings also to Andrea, Marta and the greedy Carlo
andrea
2016-01-04T00:00:00Z
Due to the road repairing, our navigator works very bad. It takes us almost two hours in a wrong direction. So we arrivaled a little late. We couldn't communicate with English very well, so we make some mistakes for breakfast. The bed is comfortable, but the steep stairs should be careful. The host is nice.
Zhi
2015-09-18T00:00:00Z
We had a really good time at her house. Jacqueline is a very great host, she even showed us some places near her house. The room was cleaned. Highly recommended!
Ágoston Attila
2016-04-03T00:00:00Z
Room Type
Private room
---
Property Type
Villa
---
Accommodates
4
---
Bedrooms
Somzée, Région wallonne, Belgium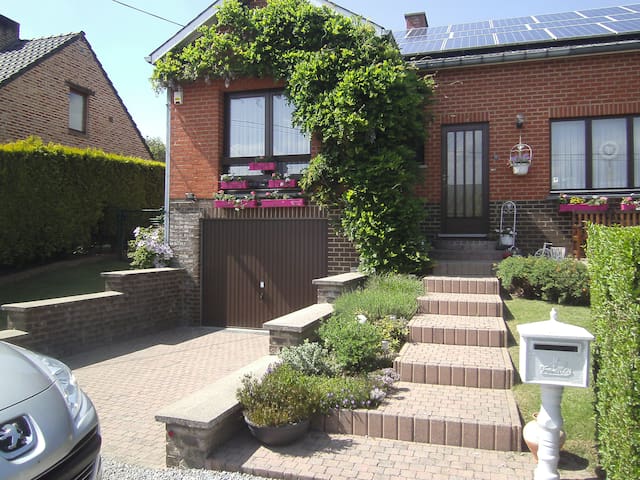 Schitterend vakantiehuis naast le Manoir des sarts met rond zwembad op een domein van 4 hectare met een fenomenaal zicht! Alle moderne voorzieningen aanwezig (Wifi, TV, ..) Biljart, petanque, mountainbike, gezelschapspelletjes, lectuur, houtkachel. Bakker, keurslager, apotheek en superette op wandelafstand. Voor de liefhebbers van natuur zijn er uitgestrekte bossen, heerlijke restaurants, de trappisten van Chimay
Het huis bestaat uit 2 delen. Het linker gedeelte is de gite. op de verdieping : Er zijn 5 slaapkamers, 1 salon met grote TV, en 2 badkamers op de eerste verdieping en apart toilet op gelijkvloers : Een gezellig salon met houtkachel, eetkamer, ingerichte keuken, extra kamer met zetelbed , toilet en bureel , en een biljart-dartsroom ! terras en mooie parktuin.
Bakker, keurslager, apotheek en superette op wandelafstand. Voor de liefhebbers van de natuur zijn er uitgestrekte bossen, heerlijke restaurants, de trappisten van Chimay. 400 km mountainbike parcours , maneges binnen de 10 km tennisterrein, grote meren voor te duiken, zeilen enz binnen de 25km Champagne kopen in Reims ..
Wij hebben een zalig kort verblijf gehad in het prachtige witte huis. Ons gezelschap bestond uit 10 man, niet echt evident om dan een toffe en deftige locatie te vinden. Maar, gevonden dus. Mooie slaapkamers, de badkamers zijn modern, fris en proper. Gezellige gezamenlijke ruimtes en vanuit de keuken/eetkamer een heerlijk weids zicht over de tuin en landerijen waar de schapen (of waren het nu moeflons?) grazen. De keuken was nog wat 'under construction' maar dat hebben we opgelost met een gezellige lente barbecue, prachtige entrecotes van de plaatselijke slager, gewoonweg genieten! Het was helaas nog iets te koud om het zwembad te testen, maar daar komen we graag in de zomer nog eens voor terug. Een pareltje in de Ardennen, waarvan wij blij zijn dat we het ontdekt hebben.
Suzanne
2017-04-05T00:00:00Z
Room Type
Entire home/apt
---
Property Type
Villa
---
Accommodates
14
---
Bedrooms
Couvin, Wallonie, Belgium
Cosy room with TV + nice private bathroom. Very calm and safe place between the historic center of Mons and the campaign. A guest room in our house means for us meeting new peoples and helps us to travels :-) We will be pleased to give you some advices for a nice stay in our region. UCL Mons 2km / Mons historic center 3,5km / SHAPE 9km / Pairidaiza 22km The breakfast is not forseen.
Cosy room in a recent and confortable villa. Quality bedding, Private bathroom with bath and shower, Flat TV (with cable) in the room, wifi... Confortable temperature, night & day.
Very calm and safe place between the town and the campaign. Nearly no trafic in the street.
Frederic is an amazing, caring, kind host. Frederic did everything he could to make my stay as comfortable as possible. The house is amazing! Only 5-10 minutes away from the center by car. Very clean, and very cozy! I only have great things to say about this experience. When my friends will come visit me in Mons, I will always recommend Frederic.
Eric
2016-10-12T00:00:00Z
Merci à Frédéric pour son accueil, sa gentillesse, sa simplicité et surtout sa disponibilité au besoin. Je recommande vivement cet endroit très agréable.
David
2016-10-28T00:00:00Z
Tout d'abord, merci Frederic de m'avoir accueillie dans ta jolie maison. Déjà ,au moment de la réservation la réponse a été instantanée. Le contact très bon et puis l'accueil formidable. La maison se situe à 5 minutes en voiture du centre de Mons dans un quartier résidentiel et très calme. Un parking pour la voiture et une très jolie maison magnifiquement aménagée par les mains du maître de (URL HIDDEN) chambre est spacieuse avec une bonne literie et tout est pensé pour un confort maximum. Que dire de (URL HIDDEN) recommande cet endroit à 300% où Frederic fait tout pour rendre votre séjour des plus agréable.
Sylvie-Anne
2016-10-02T00:00:00Z
Room Type
Private room
---
Property Type
Villa
---
Accommodates
2
---
Bedrooms
Mons (Saint-Symphorien), Wallonie, Belgium
Bonjour, j'habite une jolie maison à Bermerain (10 km de Valenciennes, à la campagne). J'ai également des chevaux, je vous propose de loger chez moi en toute tranquillité. A bientôt
Excellent accueil. Maison bien fonctionnelle. Endroit idéal pour découvrir l'Avesnois et y randonner.
MARIE
2017-02-24T00:00:00Z
Tout est parfait chez Florence, j'ai passé une nuit douce et tranquille :D
Alexis
2017-02-02T00:00:00Z
Un accueil chaleureux et familial. Une très belle maison située dans un endroit calme. On appréciera le confort et le magnifique jardin que nous avons eu la chance de voir couvert de neige, et si vous appréciez la nature et les chevaux, c'est l'idéal. La salle de bain est assez grande, le petit déjeuner fourni par Florence et son mari est assez généreux. Un bon rapport qualité-prix pour toutes personnes voulant passer un moment dans la tranquillité, donc les fêtards à éviter!
kevin
2017-01-15T00:00:00Z
Un très bon accueil chez Florence et un petit déjeuner très copieux. Je recommande et je reviendrai avec plaisir.
Olivier
2017-04-02T00:00:00Z
Room Type
Private room
---
Property Type
Villa
---
Accommodates
4
---
Bedrooms
Bermerain, Hauts-de-France, France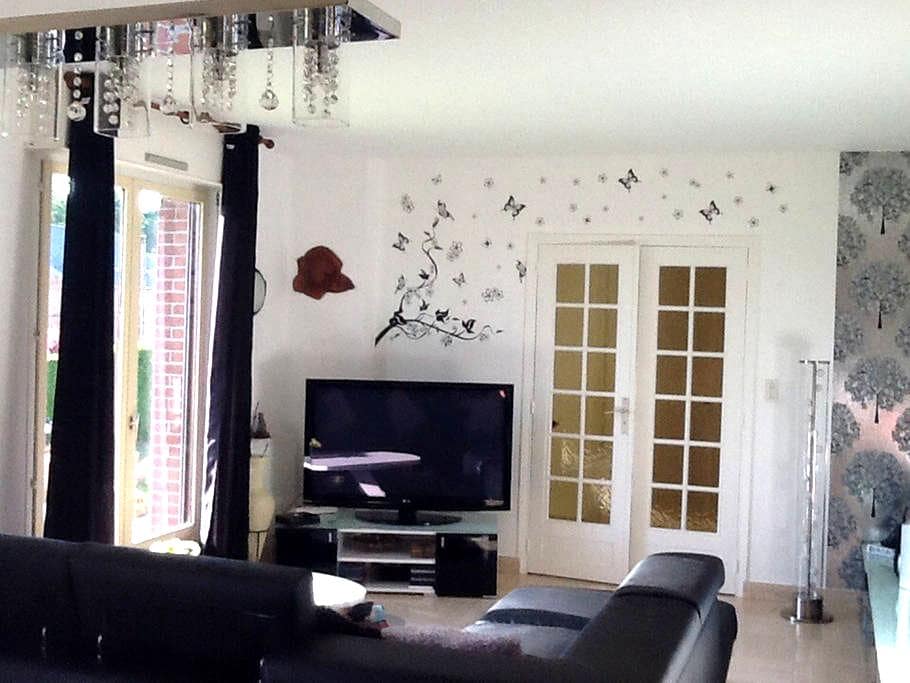 Mon logement est proche des lacs de l'eau d'heure. Vous l'apprécierez l'été pour sa piscine et toute l'année pour son espace, son confort, son calme et sa situation exceptionnelle. Mon logement est parfait pour les couples, les familles (avec enfants) et les grands groupes. Vous séjournerez en pleine campagne et profiterez de galeries commerçantes et d'attractions touristiques à moins de 10 minutes.
Le calme, la nature, le confort, l'isolement par rapport au voisinage
Notre maison se situe dans une rue peu fréquentée, à côté d'une ferme. On y circule à vélo ou à pied en toute sécurité. Le 1er arrêt de bus est à 1,3Km, la gare à 10Km.
Ruime woning, netjes en met veel ontspanningsmogelijkheden (tv, kickertafel, snooker, zwembad, trampoline). Ideaal voor familie uitstapjes. Enige minpuntje: geen drinkbaar water uit de kraan!
Naomi
2017-03-19T00:00:00Z
Heel vriendelijk, goed ontvangst.
Wout
2016-10-23T00:00:00Z
Room Type
Entire home/apt
---
Property Type
Villa
---
Accommodates
12
---
Bedrooms
Walcourt, Wallonie, Belgium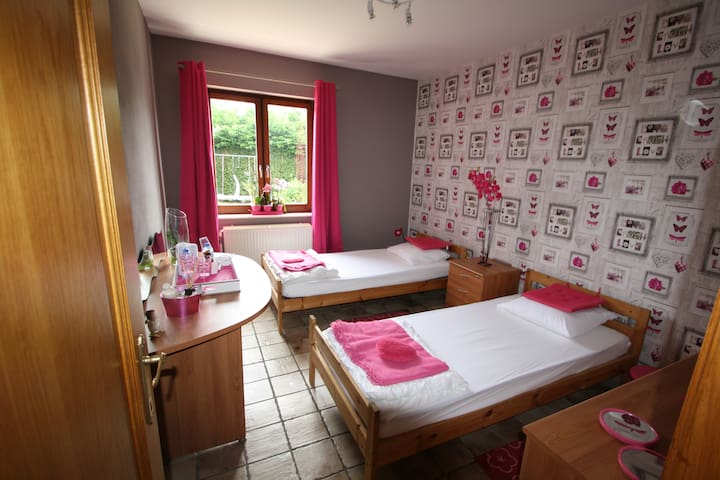 Mon logement est proche de la campagne et à la fois de MONS. Vous apprécierez mon logement pour l'accueil que je vous réserve et la tranquillité des lieux....
Room Type
Private room
---
Property Type
Villa
---
Accommodates
4
---
Bedrooms
Estinnes, Wallonie, Belgium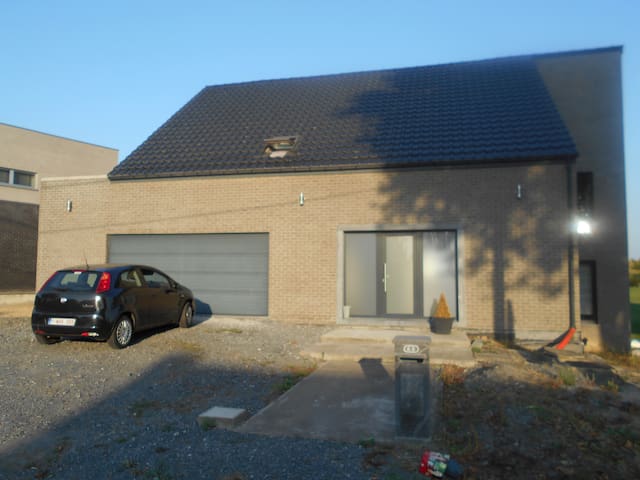 Belle chambre privée et très confortable pour passer un très agréable séjour Salle de douche et WC privatifs Entièrement rénovée et décorée avec goût Literie très confortable TV et wifi disponible 5 km de l'aéroport de Bruxelles Sud
Maison respectueuse de la planète. Chauffage et eau chaude avec pellets donc : CO2 = 0 g
One of the finest, most welcoming Airbnb stays I've had (and some hotels). Despite their busy schedules, Erik and his wife went out of their way to give me a lift to and from the airport. I was even welcomed with a cold beer and good conversation when arriving at the house. I would recommend this to anyone staying in Charleroi as Erik and his wife will provide you with first-class accommodation and a warm welcome to Brussels.
Joshua
2016-01-30T00:00:00Z
Lovely room with en suite shower and toilet, recently renovated, spacious and light. Great wi-fi connection, spacious and comfortable double bed with a desk to work at. Location is close to Charleroi airport and walking distance to the bus and tram stops. Good communication with the host prior to arrival and a flexible attitude and a very warm and hospitable welcome on arrival! The host made sure that I had all the information and comforts that I required.
Benjamin
2015-05-19T00:00:00Z
Nice suite hotel like in Charleroi
Bjarne
2016-02-07T00:00:00Z
The reservation was canceled the day before arrival. This is an automated posting.
Christian
2015-05-04T00:00:00Z
Very nice room and very friendly service. Great value!!!
Huong
2016-06-10T00:00:00Z
Amazing host and very welcoming! The place was clean and in order and we had everything we needed. Even a ride from the airport! A great welcome to Belgium and a great first exeprience! Thank you Erik!
Nejc
2015-11-08T00:00:00Z
Erik and his wife were incredibly kind, helpful and welcoming. They helped us find a restaurant and made reservations for us upon our arrival and were all-around wonderful hosts! This was our first time with airbnb and we were very pleased.
Piotr
2015-06-24T00:00:00Z
Erik drove us from airport for 10 euros to a nice and cozy place where we had a warm room prepared. We chatted a little had a laugh and felt very comfortable in there.
Lukáš
2016-01-16T00:00:00Z
Room Type
Private room
---
Property Type
Villa
---
Accommodates
2
---
Bedrooms
Charleroi, Région wallonne, Belgium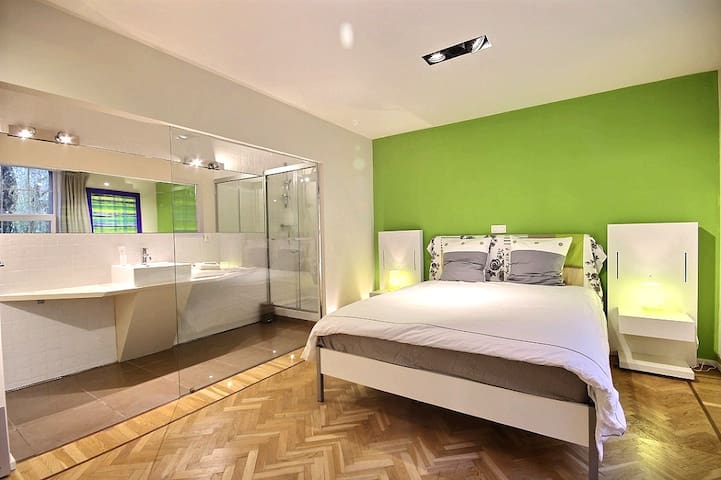 Deux chambres et une salle de bain à l'étage d'une villa située dans un écrin de verdure, à proximité de l'Abbaye d'Aulne, Thuin, Ham-sur-heure où de nombreuses marches sont organisées.
Tranquillité et chant des oiseaux au réveil!
Room Type
Private room
---
Property Type
Villa
---
Accommodates
4
---
Bedrooms
Montigny-le-Tilleul, Région wallonne, Belgium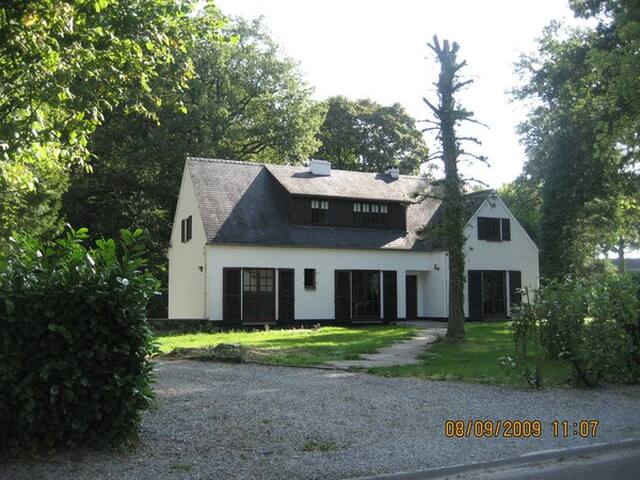 jolie petite chambre dans une villa de 4 chambres très belle villa de caractère dans un endroit calme possibilité de petit déjeuner salle de bain ,super grande terrasse plein sud a - de 15 minutes aéroport, CAT, sonaca,sabca
chambre Equipe d un double lit a Sommier électrique réglable a la tète ou au pied l endroit est très calme, vous serez, a - de 3 minutes des autoroute, toutes direction - de 10 minutes de , aéroport Charleroi air port, caterpillar , sonaca , sabca, thales alenia, a 30 muinute de bruxelles capital
Courcelles aurait vu le jour au lieu-dit "Marais Colau", où l'on découvrit un atelier de pierres et d'outils datant de la préhistoire, bien avant qu'un village gallo-romain s'y développe à la rue de Viesville. Les premiers écrits indiquant l'existence de Courcelles datent de 960. Environ une vingtaine d'années avant l'origine de Gouy-lez-Piéton qui, au centre de cette région industrielle, a su entretenir son orientation rurale. Trazegnies a également une histoire romaine puisqu'on y découvre les traces d'une villa construite entre 268 et 275, mais c'est surtout à une longue lignée de seigneurs – une ancienne famille nobiliaire des Pays-Bas méridionaux - que la commune doit sa renommée. Enfin, Souvret, jadis hameau de la paroisse Saint Lambert de Courcelles, fut déclarée libre sous le Premier Empire avant de connaître un formidable essor grâce aux charbonnages3.
Very friendly hosts! Great communication and everything was arranged perfectly. Merci beaucoup :)
Marske
2016-03-11T00:00:00Z
Aicha, her husband, and their daughter have received me into their house with great kindness. House is large, garden is huge. The neighbourhood looks a very shabby, but criminality appears to be very low, so no worries. Would totally recommend this host.
Aldo
2016-05-08T00:00:00Z
Aicha is kind lady who gave me a lot of help about pick me up, the trip around brussel. Her husband is also a kind person who did much work to try to communicate with me because he could say French but I could say English only, which brought me quite a lot trouble. In short, the room there is quite clean and comfortable, and the people there is also quite good.
Chengcheng
2016-06-01T00:00:00Z
Excellent accueil d'Aicha et de sa famille. On se sent tout de suite à l'aise. Famille très ouverte et amicale. Emplacement parfait. Très belle maison et très belle chambre avec une excellente literie. Je recommande.
Juliette
2016-10-21T00:00:00Z
Accueil très chaleureux. Super adresse. Quartier calme.
Mathieu
2015-11-09T00:00:00Z
Tres bonne experience, nous avons ete tres bien acceuilli. Je recommande fortement. Si je retourne du cote de Gosselies, cela sera le premier choix!
Jean-Michel
2016-09-11T00:00:00Z
Accueil vraiment sympa... Belle maison dans un endroit surprenant : ville et campagne
Didier
2016-11-25T00:00:00Z
Hôte très accueillant, discret, et sympathique. A recommander.
Michel
2016-11-27T00:00:00Z
Room Type
Private room
---
Property Type
Villa
---
Accommodates
2
---
Bedrooms
Courcelles, Région wallonne, Belgium

Kom met familie of vrienden genieten van onze ruime klare vakantiewoning met uitzonderlijk uitzicht en rustige ligging. Treignes en de omliggende pittoreske dorpjes zijn ideaal om te voet of met de fiets te verkennen, verder is er: de stoomtrein, 4 kindvriendelijke musea, kajak, park met bootjes, ski/ mountainboarden, klimpark, zwemparadijs/sauna/bowling...
Recente natuurstenen gite voor 2-9 personen: bubbelstoombad, kindvriendelijk grote verrassende tuin, verkleedkledij, speelgoed, DVD's 3 slaapkamers: 1 met douche + 3 bedden, 1 met douche/bubbelstoombad + 2 bedden, 1 zolderkamer met 4 bedden en kindermatrasjes
Authentieke buurt: Treignes is een pittoresk dorpje met bossen, velden, kasseien, typische oude natuurstenen huizen en kerkjes Er is een café/restaurant/terras, 4 musea, apotheek, winkel, riviertje met veel plaats op de oever onder de bomen
Room Type
Entire home/apt
---
Property Type
Villa
---
Accommodates
9
---
Bedrooms
Viroinval, Wallonie, Belgium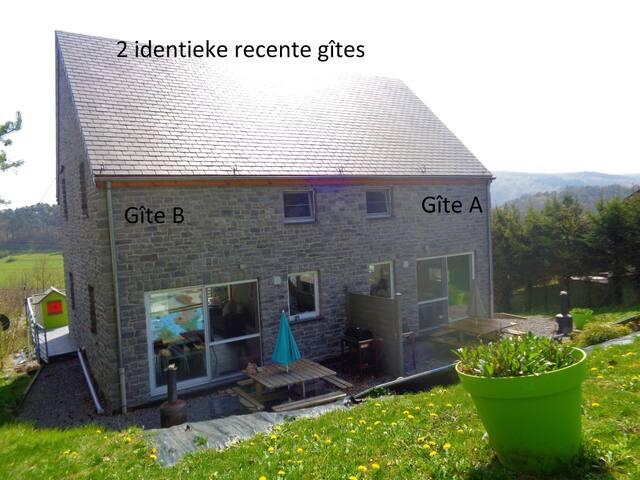 With four spacious bedrooms and a garden, this tastefully decorated and fully updated, farmhouse-style stone home offers the perfect, centrally located countryside base for families and groups.
Becosy guesthouse welcomes you since March 2013 in English, Dutch, French and German. Escape to the comfort and luxury of an authentic farmhouse updated with all the modern amenities, including wifi, flat-screen t.v., Bose home cinema and DVD player; a fully equipped kitchen; four spacious bedrooms and two bathrooms with bath and shower; a reading room and lounge; and garden with a terrace, pond and volleyball and bocce courts. Barbeque facilities available. Landlords on property are available for assistance and special requests. Living room : Leather lounge with wood fire. Electronics : free wifi, flat screen TV, bose home theater, DVD player Fully equipped kitchen, senseo coffee, dishwasher, built-in oven and microwave, fryer, raclette-grill, kettle and toaster. Reading corner with local touristical information and bicycles/hiking maps. Outside : Large garden with pond and patio, children wooden playground, outside games like volley-ball, football, pétanque, etc. First floor : Bathroom with shower and bath, bathrobes and towels provided, 2 separate toilets in the ground and first floor. Rooms: 4 spacious bedrooms upstairs, all linen and towels provided. - The zen room (Indonesian style, 2 single beds, that can be assembled on request if 3 couples) - The disco room (double, 80s style) - The African room (double bed) - The junior suite (4 bunk beds), we can ad a comfortable inflatable bed for 2 people Baby ready : we provide cot bed, changing table, high chair and stroller. All basic supplies are provided: garbage bags, dish soap, shower gel, dishwasher tablets, kitchen utensils, basic ingredients (sugar-milk-flour-oil-vinegar-ketchup jam), toilet paper, paper towels all dish towels. Garage : Small fitness room Bike rental 10 €/pers/day (RAVeL network nearby)
Very quiet, rest is assured ! Close to main roads located in the heart of Wallonia Picardy, enjoy the dynamism of the region Eurométropole. You're middle in the Parc Naturel des Plaines de l'Escaut.
It was great to be in this nice house again. It was my second stay and now my wife joined me as well. I was on a business trip and my wife enjoyed the house, discovering the environment and visiting Peruwelz. She found it a nice place to go to. She could use a bike from the host. The house was nicely decorated for the Christmas period with a Christmas tree etc. Once more: a place to be.
Henk
2016-12-16T00:00:00Z
The reservation was canceled 93 days before arrival. This is an automated posting.
Stijn
2014-09-29T00:00:00Z
Valeries house is very comfortable, quiet, neat, spacious and luxurious. Nice fireplace, good audio system and nice TV set. All very clean and well equipped. Recommended!
Henk
2016-11-10T00:00:00Z
The house was perfectly clean and we tried to leave it as clean as possible. Back garden is beautiful and kitchen also directly receive the morning sun. At the end of the garden there is a small lake. That was a suprise for us. You should be careful if you have children. And the last word, we used fireplace a couple of nights when watching movies or reading books. Thank you Valerie & Thierry.
HALIL
2014-12-31T00:00:00Z
We had a very pleasant stay in Wiers. Everyone, no exception, was pleasantly surprised to see what your B&B had to offer. Nice decorated, well equipped and the place is cosy and clean. Valérie and Thierry are fantastic hosts who are very helpful with any question you have and they provide lots of info about activities in the area. They are very kind, helpful, thoughtful and hospitable! Thank you!
Christel
2013-05-06T00:00:00Z
Valérie's home is beautiful and well appointed. It was perfect for our group of families traveling with children. The bedrooms are large and comfortable. The kitchen and living/dining areas were comfortable and large enough to accommodate our whole group. Our favorite part was the garden. The kids really enjoyed running around and playing. The play structure is large and in great condition. The deck was large with comfortable furnishing, it was the perfect place to relax after a day or driving and sight seeing. I can't recommend the home enough and we would definitely stay again.
Amanda
2016-10-10T00:00:00Z
We spent three days at Valéries place and had a great time. The house provided everything we needed and lived up to our expectations: It is a really lovely, homey and carefully furnished house and looks as on the pictures. We did not meet Valérie herself, but her neighbor who gave us the keys was very kind and made us feel comfortable.
Lea
2016-01-05T00:00:00Z
Nice stay. House looks just like the pics. Great kids games in the garden. A few things weren't working but got quickly taken care off. In my opinion, pricing per person makes it a bit overpriced for a large group.
Magued
2016-07-18T00:00:00Z
Room Type
Entire home/apt
---
Property Type
Villa
---
Accommodates
13
---
Bedrooms
Peruwelz, Walloon Region, Belgium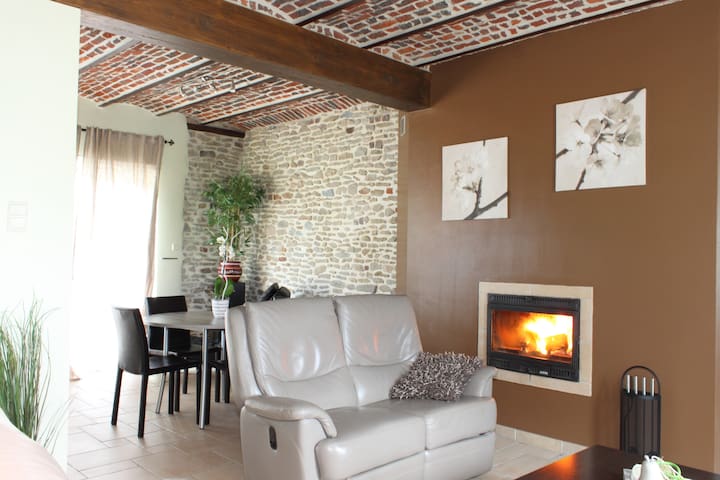 Magnifique villa d'architecte avec une vue à couper le souffle sur les champs et la campagne. Vous serez bien sur conquis par sa beauté extérieur mais également pour sa décoration intérieur réalisé par une grande architecte d'intérieur. Proche de la vallée de la molignée, de l'Abbaye de Maredsous, de Maredret et du circuit de Mettet. A seulement 20 minutes de Namur et Dinant.
Le rez : Hall d'entrée, toilette, vestiaire, 2 salles à manger, salon avec feu ouvert (bois gratuit), cuisine italienne Arclinea, électro Kupperbusch. La plus part des pièce ainsi que la terrasse sont équipé d'un système SONOS pour diffuser votre musique. immense terrasse extérieure ainsi qu'une deuxième couverte. 1 garage pour 2 voitures. L'étage : 4 chambres dont une master bed room avec terrasse et Spa, 2 magnifique salle de bain avec toilette, 1 dressing, 1 hall de nuit.
Room Type
Entire home/apt
---
Property Type
Villa
---
Accommodates
8
---
Bedrooms
Saint-Gérard, Walloon Region, Belgium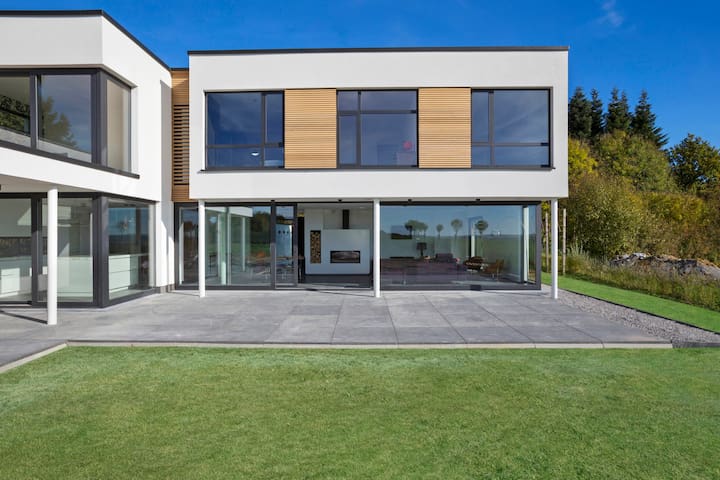 Vous disposerez d'une chambre et de toilettes individuelles avec douche en très bon état. Salon et salle à manger. Possibilité de prendre le petit déjeuner.
Nous avons été super bien accueillis par Michel. La maison est très agréable, le lit très confortable. Je retiens l'adresse pour une prochaine fois. Merci Michel.
Sophie
2016-05-16T00:00:00Z
Room Type
Private room
---
Property Type
Villa
---
Accommodates
2
---
Bedrooms
Nivelle, Nord-Pas-de-Calais, France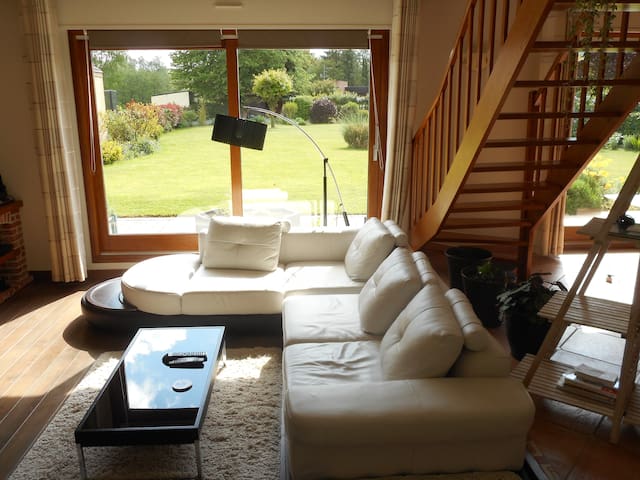 Located in a century-old farmhouse, Studio, ideal for 2 people, can accommodate up to 4 people with sofa beds. It offers all modern comforts during your stay in a quiet and green nature. The room is a small attic loft, accessible by a fairly narrow staircase pictured. A 4 adults, one can quickly run out of intimacy, it is ideal for 2 people or a family with 2 children.
ideal character studio for 2 people but with a capacity of 4 beds (convertible sofa). The room is a small attic loft above the living room, accessed by stairs (note it is a little tight, see photo) Spacious bathroom with dressing and washing machine. A dryer can be made available if necessary. Kitchen: induction hob, microwave, kettle, toaster, fridge and freezer. The lounge is equipped with a pellet stove to keep you warm during the winter. There is also a convertible sofa for 2 additional persons. Attention, the studio is small, 4 adults, one can quickly be cramped and lacking intimacy, it is ideal for a family with 2 children for example. Free WIFI access! Parking space reserved for travelers, just in front of the studio.
Malonne is a pretty village located 11 km from Namur, Discover the pleasure of a stroll on foot or by bike, with family or friends in the countryside and forests of Malonne. Visit among other things, its abbey of Saint Berthuin-old more than 13 centuries! You can also choose to hang the bike on Ravel 1 or 2 in the Meuse valley, not far away.
Very cosy house exact like the photos. I can limitless recommend. Leila was very helpful and her parents very pleasant.
Sven
2016-03-13T00:00:00Z
Leila's house is very beautiful and has beautiful surroundings. Her parents are very friendly and supplied us with enough wood for the stove. We visited the village Dinant with its nice fortress and the nature of Ardennes which are close by.
Marjolein
2014-11-17T00:00:00Z
It was a nice stay at Leila's place. Everything was in the house. A beautiful place and Leila's mother is a lovely host, very concern and friendly.
Anna
2015-05-29T00:00:00Z
Sweet cottage with all amenities. Excellent location: close to everything but still has the feel of being in the country side. Beautiful garden. Host Leila is very kind and welcoming, as is her mother. We'll be back!
Tessel
2014-07-18T00:00:00Z
Leila and her parents was very helpful and nice. Quick response to my enquiries: ) A very nice house with a garden. Highly reccomend to all those who want a peaceful and beatuiful stay in Belgium.
Cherry
2014-12-04T00:00:00Z
The stone cottage in the river valley near the town of Namur was beautiful, and the yard is full of fruit trees and flowers. The room inside is completely clean and attractive, and great walks are nearby. And the price was extremely reasonable.
Eric
2015-06-19T00:00:00Z
We had a great time in the small romantic studio in Malonne. The surrounding is perfect! We arrived late in the evening and we had to drive up the hill in the dark. That was a great arrival! Leila wasn't there anymore because of the fact that we would arrive earlier. She was available for us anyway if we would need assistence. The house was really clean and the woodstove was already turned on for us. The bed on the attick was nice but not easy to reach via a really small stairs. Her mother is leaving on the prioperty as well and is really nice. She only speaks French. Leila's English is more than good enough to have a chat.
Aimée
2014-10-21T00:00:00Z
A nice small house in the country side. All that was needed. We only spen the nights their, we where ther just to sleep. Can highly recomend.
Johan
2016-05-16T00:00:00Z
Room Type
Entire home/apt
---
Property Type
Villa
---
Accommodates
4
---
Bedrooms
Malonne, Namur, Belgium
1

–

18

of

75 Villa Rentals
Enter dates to see full pricing. Additional fees apply. Taxes may be added.